Are you looking for the best Great Ocean Road beaches? Not sure which of the Great Ocean Road's best beaches to visit?
Not everyone can be lucky enough to visit them all, but in this guide, we will help you pick which ones are the best for you.
The Great Ocean Road Australia is famous for its pristine white-sand beaches, warm crystal clear waters, and towering limestone cliffs.
However, every beach has its own unique draw that appeals to visitors.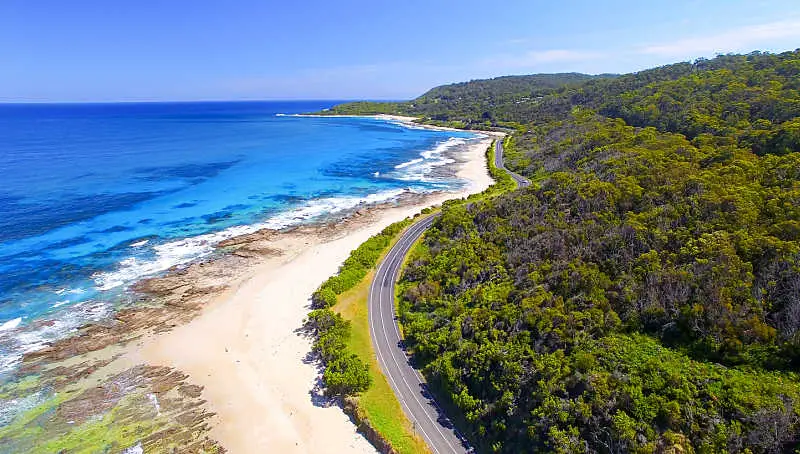 Whether you are here for the surfing, swimming, or scenic views, each spot along the coast is different from the next.
Avoid the crowds, get the best local recommendations, and know what's there before you go with this guide to the best beaches – Great Ocean Road.
We review all the Great Ocean Road best beaches, including available facilities, where to park, and the best places to eat. At the end, we've added a handy map so you can see exactly where each beach is.
So, read on to find your perfect Great Ocean Road beach. Let's start!
Best Beaches Great Ocean Road
1) Torquay Front Beach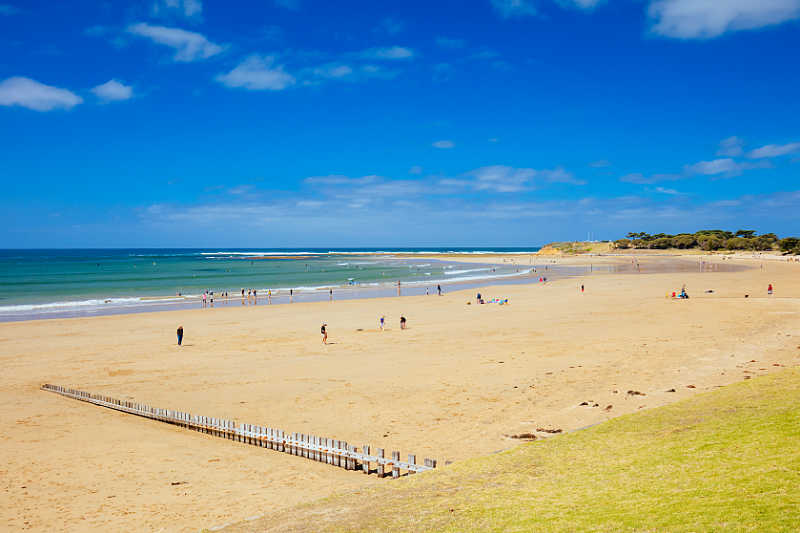 Every beach in Torquay has its own charm. But of the many beaches in Torquay, Front Beach Torquay is one of the most popular.
This beautiful beach has lots of rock pools to explore and is the perfect spot to relax with an ice cream. It's popular with families as it's safe and protected from the wind.
Zeally Bay is patrolled by lifeguards all summer and is great for swimming, just make sure to avoid the strong currents by Point Danger.
Surfers flock here to ride the "Escalator", the southern current and rips formed by rocks on either side of the beach.
It can get pretty busy in summer, but there's always plenty of space to spread out and relax.
While you're in Torquay why not head to the Australian National Surfing Museum? There's even a "Surfing Hall Of Fame".
Where to eat at Torquay Beach, Victoria
Torquay town is located right behind the beach, so there are plenty of food options.
Torquay Beach is just next to Taylor Park, leading on to Fishermans Beach, and is where you'll find the Salty Dog Cafe. Open from 6 a.m – 3 p.m, 7 days a week, it serves up an amazing specialty coffee and a great Avo and Eggs.
Try Sandbah Cafe (open 6 a.m – 3.30 p.m 7 days a week) for laid back breakfasts and lunches.
For dinner try Fishos Torquay (open 12 – 3 p.m & 5 – 8 p.m daily), for top-notch fish and chips and some of the best seafood around.
Facilities at Front Torquay Beach, Torquay, Vic:
Parking.
Picnic tables
Toilets and change rooms
Wheelchair accessible toilet
See the end of this article for the best dog beach, Torquay.
2) Bells Beach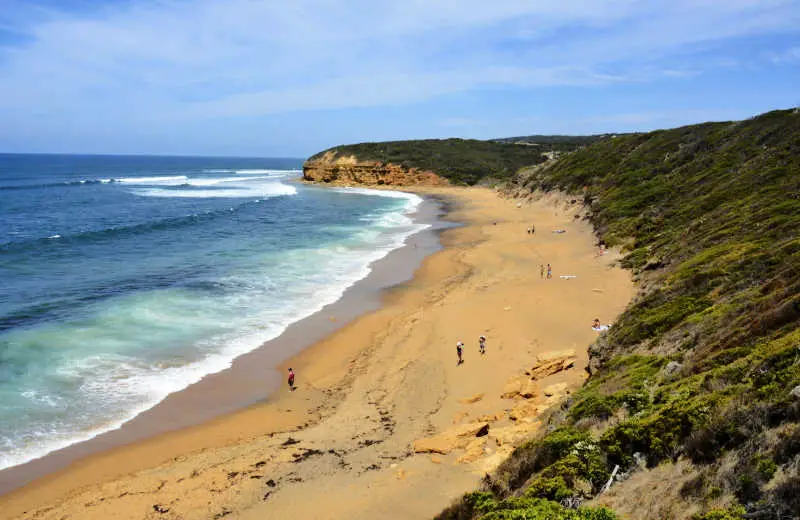 Just down the road (5 km southwest of Torquay) you will find Bells Beach Victoria, a must stop on a Great Ocean Road trip.
The world's longest running professional surfing event the Rip Curl Pro takes place here every Easter.
People come from around the world to spectate and participate in this renowned event. The Bells Beach Rip Curl Pro has been running for over 60 years.
It's not a good spot for a swim though, with high cliffs and large ocean swells. The Bells Beach surf area is for experienced surfers only, with breaks including Winkipop, The Bowl, Outside Bells, Rincon, Southside, and Centreside.
Bells Beach is in Wadawurrung Country, and the reserve has been a part of the Wadawurrung people's culture for thousands of years.
But it's now perhaps better known for being the destination for the climactic finale of the Keanu Reeves/Patrick Swayze film, Point Break.
Where to eat at Bells Beach Torquay
For places to eat you have to travel a little way as Bells Beach Torquay is a little off the beaten track. Jan Juc is the nearest place to find a good feed.
Sell Foods and Coastal Catering (open 6 a.m – 5 p.m) serve up a hearty brunch, from pancakes to burgers, as well as great coffee.
For dinner, Bird Rock Jan Juc is a safe bet. Pizza and all-you-can-eat dumplings with a community feel (closed Mondays and Tuesdays).
Facilities at Torquay Bells Beach
3) Anglesea Beach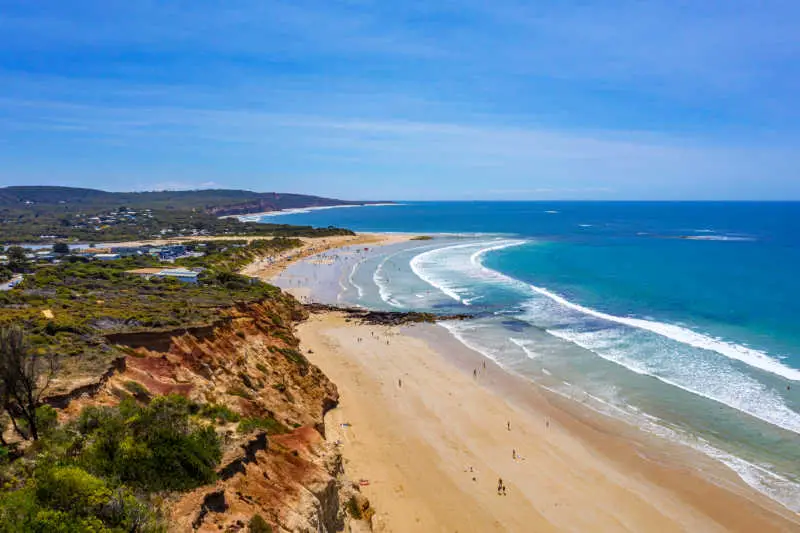 Anglesea Beach is just 10 minutes West of Torquay, a quaint surf town great for nature lovers and thrill-seekers alike.
Visit Anglesea Heath, an area of heathlands and woodlands it's home to a quarter of Victoria's plant species.
Spot kangaroos, wallabies, spring wildflowers, and colourful orchids to name but a few local treasures.
It's also well known for its mountain biking trails. Like the Four Cross Track at Anglesea Bike Park and the Great Otway National Park with tracks around Eumeralla.
The Anglesea surf scene is laid back and welcoming, and there are some great places to stay. Spend time relaxing at Anglesea Main Beach or go for a swim in the Anglesea River.
Where to eat at Anglesea Victoria
There are plenty of options for food. Bumblebeez Cafe Anglesea comes highly rated (open 8 a.m – 2 p.m Fri – Tues). With generous portions and great customer service, it's the perfect stop on the Great Ocean Road, Victoria.
For something a little different try Rose Chinese Restaurant. Run by Rose, a professional chef who moved from Asia to Australia, the food is inspired by her mother's favourite traditional Asian dishes.
Facilities at Anglesea, Victoria
Parking
Public toilets
Change facilities
Lifesavers patrol in summer.
4) Aireys Inlet Beach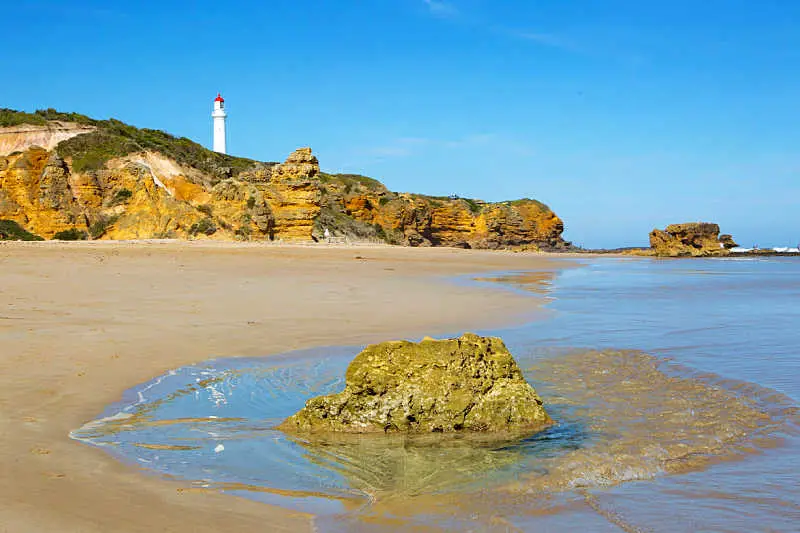 If you're looking for a small secluded beach that you can have all to yourself, Aireys Inlet Beach is a good option. This beach is much quieter than Torquay, Anglesea, or even nearby Fairhaven.
Spot famous landmarks like Eagle and Castle Rock, or just relax in the small town. The beach has a chilled out vibe and is perfect for families with small children as it has convenient facilities and a picnic area.
There are some great secluded coves in the area that are perfect for rock pooling, swimming, surfing, snorkelling, and beach combing.
Explore the area between Urquhart Bluff and the Inlet to find your favourite.
If you're into walking there are some fantastic trails around Aireys Inlet including; the Surf Coast Walk, the Cliff Top Walk, and the Lighthouse Precinct Walk.
Step Beach – Split Point Lighthouse Aireys Inlet
For an even more out of the way spot, visit the allegedly haunted Step Beach just under Split Point Lighthouse.
Due to the angle the beach is facing, it's usually protected from strong winds and big waves.
This little known spot is a great place to get away from the crowds of the most beautiful beaches in Victoria.
But you won't find it on Google Maps. Find the gravel car park of Split Point Lighthouse (about metres from the actual lighthouse) and take the steps down to Step Beach.
Where to eat at Aireys Inlet
Try the gluten free banana bread at the Lighthouse Tea Rooms (open 9 a.m – 4 p.m daily). With outside tables and a welcoming atmosphere, it's also pet friendly.
For a beasty brunch head to Onda Food House (open daily 7 a.m – 3 p.m), they cater to everyone, including tasty vegan desserts!
Facilities at Aireys Inlet Beach
Small car park accessed from Eagle Rock Parade via a staircase.
Toilets are located in the skate park or next to the creek.
5) Fairhaven Beach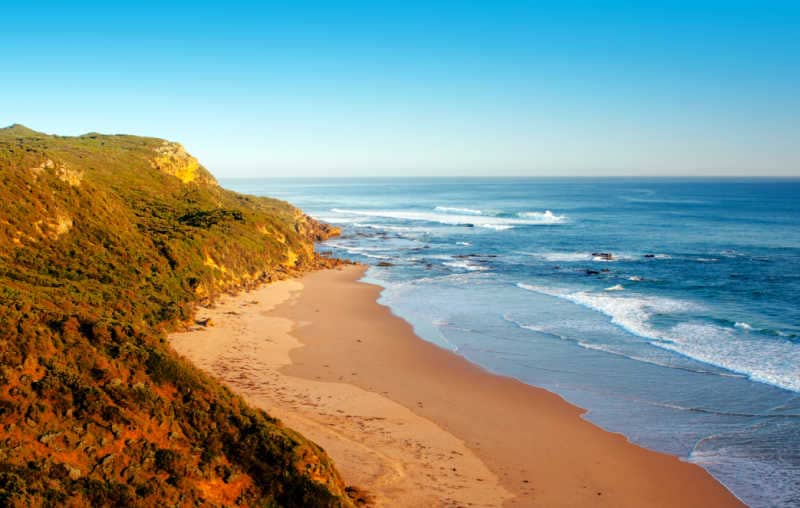 Fairhaven beach is a stunning 6 kilometre stretch of sand and sea. The beach is excellent for surfing with popular spots like Moggs Creek, The Spot and Spouts Creek.
Catch the best waves at the eastern end of the beach by the Surf Life Saving Club. The walk from Fairhaven to Eastern View is 8 kilometres of pristine beach and is accessible from parking areas off the Great Ocean Road.
Fairhaven is also a great beach to choose to stay away from the buzz of Torquay, but rips can be strong so make sure to stick to the patrolled swimming area.
Where to eat Fairhaven Beach
See where to eat at Aireys Inlet above.
Facilities at Fairhaven Beach
Side of the road parking
Parking at Fairhaven Surf Club
Toilets.
6) Lorne Beach (Main)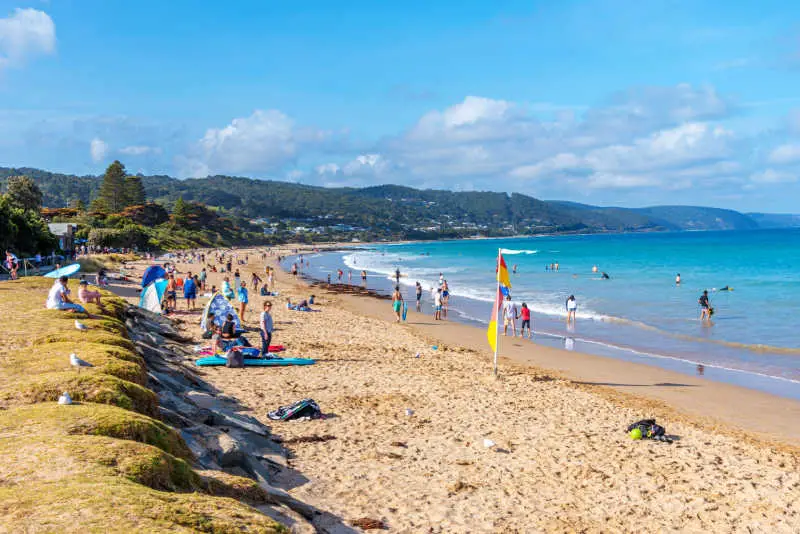 Visit the Great Ocean Road Lorne for one of the safest beaches for swimming, boating, and other water sports. This sheltered two-kilometre beach, is safer than most, as it's protected by Point Grey.
Located on the coast of Loutitt Bay, Lorne, Victoria attracts mostly families looking for an easy day of picnics, sunbathing, and swimming in the sea.
Stroll down the Lorne Pier, see the view from Teddy's Lookout or take the St George River Walk. A 2.7 kilometre walk through towering Eucalyptus trees, usually takes up to an hour.
It's one of the most popular spots for an easy day out for the locals. Lorne town is also close by, so anything you need is easily accessible.
Where to eat at Lorne Beach
The Salty Dog Fish and Chippery is open daily for lunch and dinner, except Mondays and Tuesdays.
They offer old favourites at reasonable prices as well as grilled and steamed fish if you're watching the calories!
If fish and chips aren't your thing try Lorne Pavillion. Open daily, it's a relaxed cafe and restaurant with sea views offering brekkie, burgers, and locally sourced dishes.
The Bottle of Milk is also a great place to grab a burger or two.
Facilities at Lorne Beach
Parking
Toilets
Wheelchair-accessible toilets
Playground for children
Barbecue area
Shelters
Picnic tables
7) Apollo Bay Beach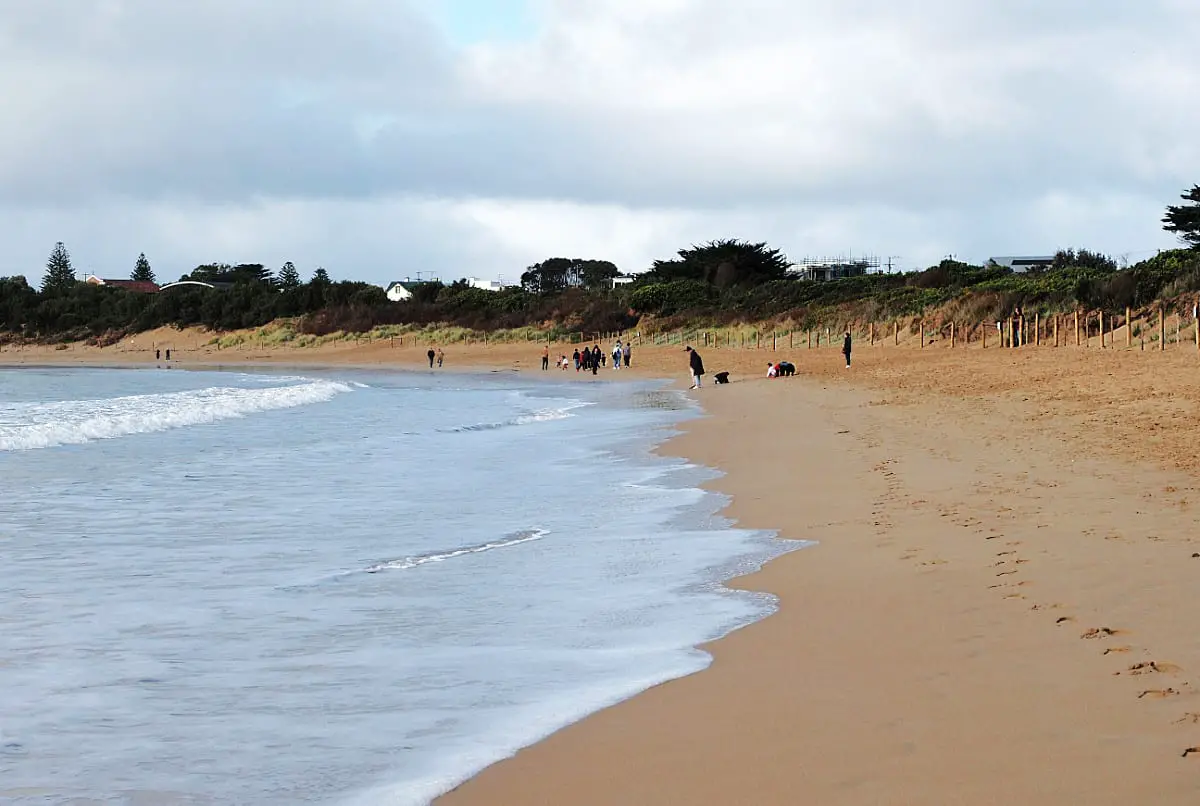 Another popular spot on the Great Ocean Road, Apollo Bay Beach is a top attraction for tourists.
It provides safe, patrolled waters for walking, swimming, surfing, fishing, boating, sand castle building, and beach cricket!
The Apollo Bay surf scene is more open to all than just "pro surfer" types; anyone can have a go. You can even get a close-up of local seal colonies (not too close though as it can scare them).
There's so much to do in Apollo Bay at any time of year. Go wildlife spotting in the rainforest, find glow worms at Melba Gully, or go in search of the elusive platypus at Lake Elizabeth.
If you visit in February don't miss the Apollo Bay Seafood Festival. A yearly celebration of the many delights the ocean has to offer.
Where to eat at Apollo Bay Victoria
A great spot to grab a sunset dinner with views across the bay is Chris's Beacon Point Restaurant, it's best to reserve a table in advance as this place can get booked up.
Try a fresh seafood platter at Apollo Bay Fishermen's Co-Op (open 11 a.m – 7 p.m, except Mondays).
The Fishermen's Co-op was started at the harbour seventy years ago when local fishermen banded together to sell seafood from Bass Strait: abalone, scallops, snapper, flake, and our world famous Southern Rock Lobster (crayfish). Boats today still bring their catch to us here at the last working fishing harbour on the Great Ocean Road.

Apollo Bay Fishermans Co-Op.
No Great Ocean Road trip is complete without a visit to the Great Ocean Road Brewhouse. With a 100-large selection of craft beers, there's something for everyone at this old school establishment.
For a lighter bite try the Apollo Bay bakery, sangers and pies ready to go, open daily 6 a.m – 4 p.m.
Facilities at Apollo Bay Victoria
Parking
Toilets
Wheelchair accessible (all terrain).
8) Marengo Beach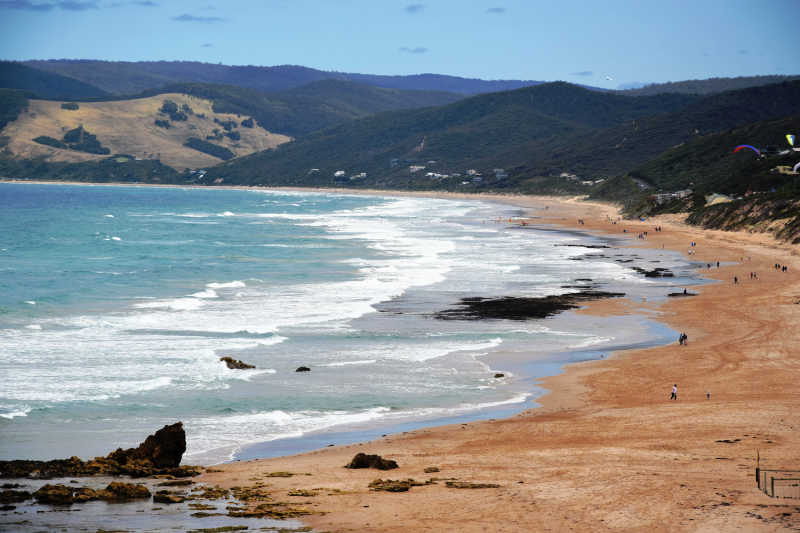 Just down the road from Apollo Bay is the lesser known Marengo Beach. You can enjoy both snorkelling and swimming at Marengo Beach.
It's a great place to explore nature, with a huge limestone reef about 150 metres off-shore, known as Little Henty Reef.
The Marengo Reefs Marine Sanctuary protects 12 hectares of ocean waters and holds a plethora of sea life.
Discover bull kelp forests beneath the surface and closer to the island's soft corals, sponges and gardens and sea urchins.
Meet a conservation guide at the nearby Wildlife Wonders to spot koalas and explore the beautiful flora and fauna of the area.
Where to eat at Marengo Beach
There's not much in the way of food options here, but it's very close to Apollo Bay (see Apollo Bay above).
Facilities at Marengo Beach
9) Johanna Beach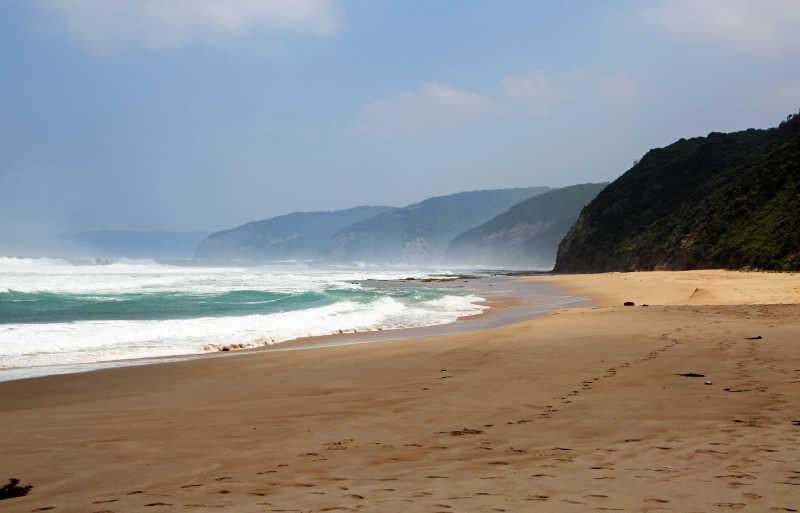 Johanna Beach has a stunning 3.6 kilometre shoreline.
It's one of the best beaches on the Great Ocean Road for surfing, but it's unpatrolled so it's more suitable for experienced surfers.
There are other things to do at Johanna Beach besides surfing, however. Pools of salmon make for some great fishing opportunities for anglers.
And if you enjoy camping the Johanna Beach government-run campground has 25 sites available to the public. It's the perfect spot to sleep under the stars.
Where to eat at Johanna Beach Victoria
There aren't really any places to eat at Johanna Beach as it's mainly just sand dunes. The nearest places to get food are about 15 minutes away by car in Glenaire of Lavers Hill.
Facilities at Johanna Beach Victoria
Toilets are located on Old Coach Road
Picnic area
Camping ground
10) Gibson Steps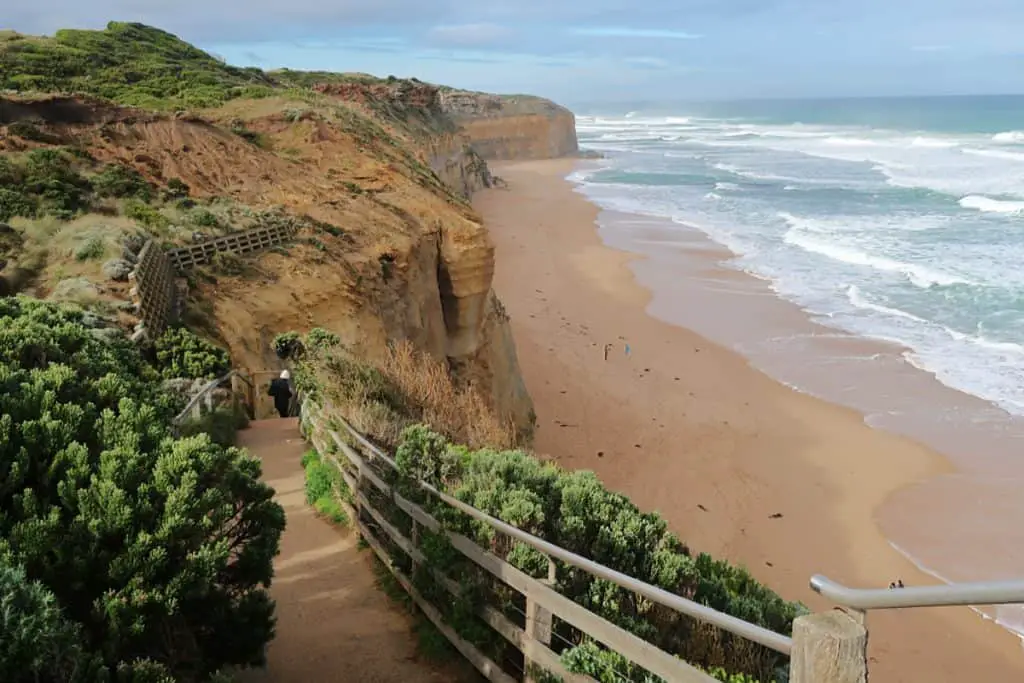 Gibson Steps is a great stop on any Great Ocean Road visit with its dramatic 70 metre high cliffs and enormous off-shore rock stacks.
Journey down the 86 steps to find a secluded cove and an excellent spot for sunbathing. It's not safe for swimming though as the rip currents are too strong.
You can however make the one kilometre trek along the cliffs to visit the Twelve Apostles.
These great limestone stacks sit precariously out at sea and are gradually being consumed by the ocean.
The views are spectacular at sunset and you can watch the tiny penguins come ashore after a day at sea.
Where to eat at Gibson Steps Great Ocean Road
The nearest place for food is at Port Campbell (see below).
Facilities at Gibson Steps
Parking
Toilets are located at the 12 Apostles Visitors Centre
11) Loch Ard Gorge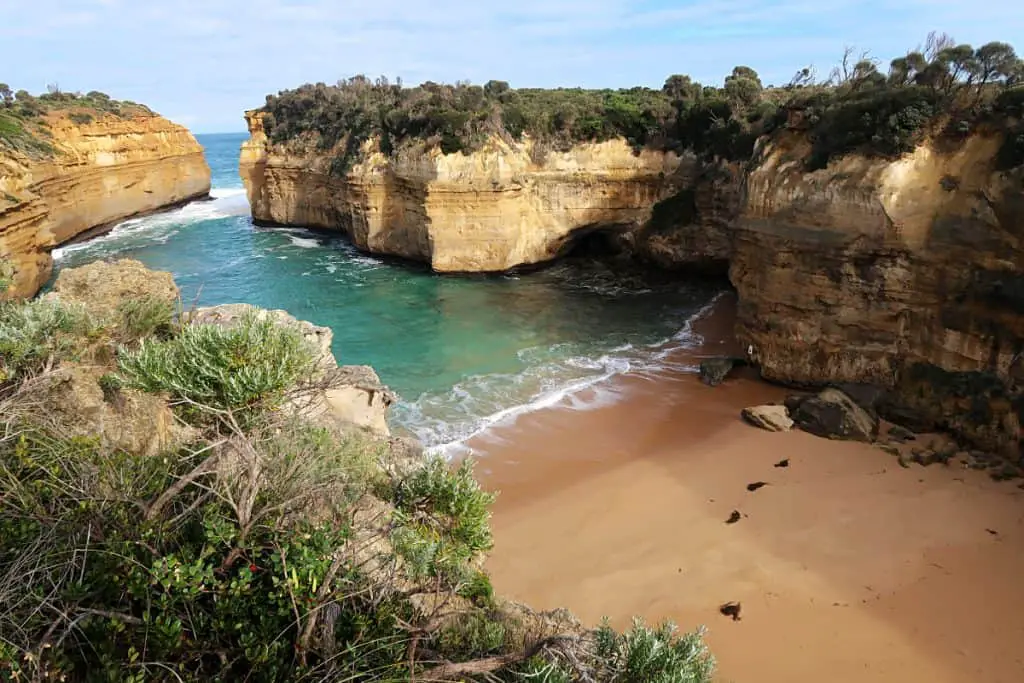 Loch Ard Gorge is part of the Port Campbell National Park in regional Victoria. The name Loch Ard comes from a famous shipwreck in the area.
Visit Loch Ard Gorge Beach to stroll among the towering limestone cliffs and spot birds nesting on Mutton Bird Island.
Like the nearby Gibson Steps, it's not a place for swimming or surfing as the seas here are too powerful.
Where to eat at Loch Ard Gorge Great Ocean Road
The nearest place for food is Port Campbell – see below.
Facilities at Loch Ard Gorge
Multiple parking areas
The nearest toilets are at the 12 Apostles (3 minute drive away).
12) Port Campbell Beach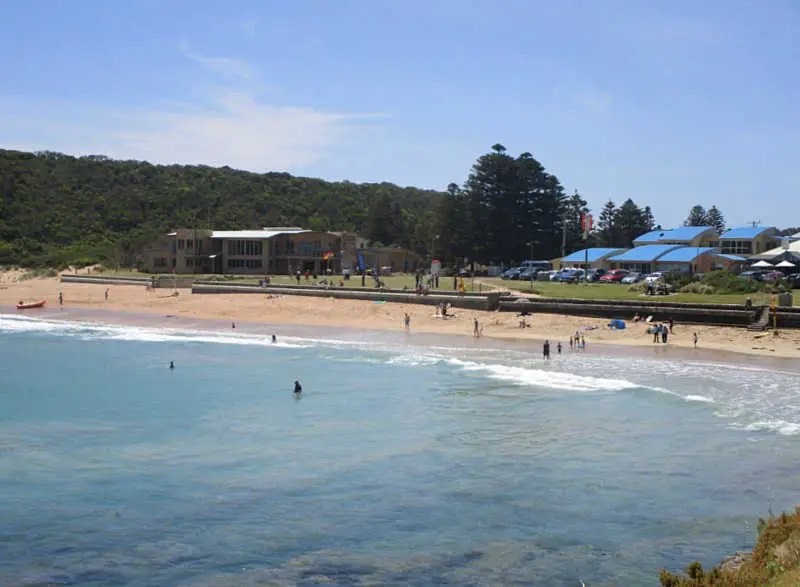 Port Campbell is a well-known stop on the Great Ocean Road. It's one of the few beaches on this stretch where you can swim and surf safely, and it's patrolled seasonally.
You can hike along the Port Campbell Discovery Walk for cliff top views of the foreshore and Port Campbell town.
Continue along the hour-long walk to get uninterrupted views out to Sentinel Rock and the 12 Apostles. This track is not suitable for strollers, prams, or wheelchairs, as the surfaces are uneven.
Although Port Campbell isn't very big it has everything you need for a quick visit. It's a great place to relax for a night or two, and it's one of our favourite towns along the Great Ocean Road.
Where to eat at Port Campbell Beach
Try the Grassroots Deli Cafe (open daily 8.30 a.m – 3 p.m), or Forage on the Foreshore (open 9 a.m – 3 p.m Friday to Tuesday) for a tasty lunch stop.
For dinner the Waves Cafe Bar and Restaurant is a popular choice with locals, it's an all-day eatery offering seafood meals, soup and Devonshire tea.
You can also try the Craypot Bistro for the best seafood around.
Facilities at Port Campbell Beach
Parking
Picnic tables
There are toilets on Cairns Street as well as in the Visitor Centre
Dog Friendly Beaches, Great Ocean Road
13) Whites Beach Torquay
Just a 5 minute drive north of Torquay main beach you will find Whites Beach.
The sand at this beach seems to go on for miles stretching out towards Barwon Heads and Queenscliff.
It's a relaxed beach without any patrols so be careful if you're going for a swim.
Whites Beach Torquay is dog-friendly all year round, with no restrictions on timing or seasons and has ample poop bins.
The car park is handily named "Dog Beach car park" making it easy for dog owners to find!
14) Torquay Back Beach
For obvious reasons, the dog-friendly Torquay back beach is also known as Torquay Dog Beach.
This Torquay surf beach is less crowded than other beaches in Torquay, and you can rent a surfboard, and a wetsuit, and take surfing lessons.
Torquay Surf Life Saving Club is on hand to keep everyone safe, and there is ample parking and toilet and shower facilities.
The Third Wave Kiosk (open 7 a.m – 2 p.m daily) is nearby where you can grab a coffee, check out the surfers and maybe even spot a whale breaching!
15) North Lorne Beach
Lorne Dog Beach is another great spot for a sea loving pooch.
It's an off-leash beach with long expanses of sand and rocky outcrops where dogs can walk freely and swim in the sea.
Finding a place to park in Lorne town centre can be tricky, especially on weekends and at the height of the summer season (when up to 10,000 tourists can be visiting at any one time).
So North Lorne Beach is perfect if you just want to stretch your legs, let the kids and dog run free and enjoy a quiet picnic.
There are public toilets and picnic tables, but steep steps to the beach make disabled access difficult.
Best Beaches Great Ocean Road Victoria Map
Below we've included a handy map that shows the exact location of each beach along the Great Ocean Road that we've listed and reviewed here. Take a look to find your perfect Great Ocean Road beach!
Final Word On The Great Ocean Road Victoria Beaches
Australia has many of the great beaches of the world, and a lot of them are right here in Victoria on the Great Ocean Road.
This region is full of stunning beaches with lots to choose from but these are some of our favourites, and we hope you've found your perfect beach with this list of the best beaches, Great Ocean Road.
Whether you have just a few days, or a month or two to explore, make sure not to miss these top Great Ocean Road beaches.
This part of the world is well known for surfing but there's so much more to discover. Dive in and make the most of a visit here by joining our FREE Great Ocean Road Travel Planning Facebook Group here!
Remember when you are planning places to swim on the Great Ocean Road to always check whether they are patrolled or not, visit Beach Safe or Life Saving Victoria to find out more.
Related Posts: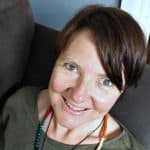 By Audrey Chalmers
Audrey grew up in Victoria and travelled the world but she always called Victoria home. She loves nothing more than exploring her home state and sharing it here.