Want To Know The Best Warrnambool Beaches? You're in the right place!
We visit Warrnambool regularly and have done all the "hard research" for you.
We've put together this guide to the best beaches in Warrnambool so you can find the perfect beach for you.
In this article we will look at the best beaches in Warrnambool, the secret spots not everyone knows about, and what to do at each beach while you're here.
So, if you're ready to discover the best Warrnambool beaches, let's start!
Join our Great Ocean Road Travel Planning And Tips Facebook Group here. It's the perfect place to ask your questions and be inspired!
9 Unmissable Warrnambool Beaches
The Warrnambool beaches are probably most famous for the abundance of ocean wildlife that migrates here every year.
From Logan's Beach Whale Watching Platform, visitors can expect to see many species of whales and dolphins.
But there are plenty of other reasons to head to the beautiful beaches in Warrnambool too. Below you'll find them all.
1) Logans Beach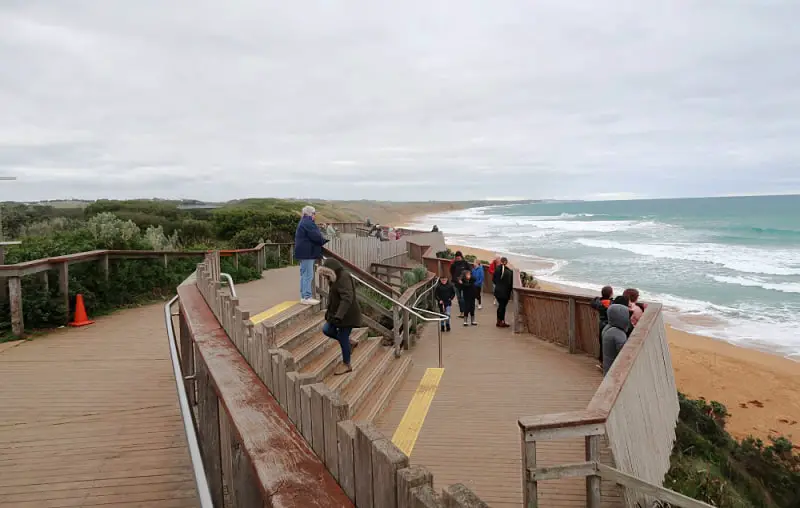 Probably the most famous beach in Warrnambool, Logans Beach is located just outside of town on the eastern bank of the Hopkins River mouth.
Here you may spot humpbacks and orcas, but Logans Beach Warrnambool is best known as the safe nursing ground for the Southern Right Whale.
Visit between May and early October to spot the whales returning to Logan's Beach, they make the epic journey every year from their summer home in the sub-Antarctic to give birth and nurse their young.
In the sheltered waters of Lady Bay you can clearly see the majestic creatures playing and relaxing in the light-blue ocean.
For the best chance of seeing the Southern Right Whale females calving, head here in the peak season between June to September.
The most epic views are had from Logans Beach Whale Watching Platform, specifically made for seeing the whales.
You can also head down to the beach or catch a small boat charter that takes visitors out whale watching on the ocean.
Logan's Beach is also one of the best dog friendly beaches Warrnambool has to offer.
There is plenty of space to run around and dogs are permitted off-lead at Logans Beach all year round.
2) Moyjil Beach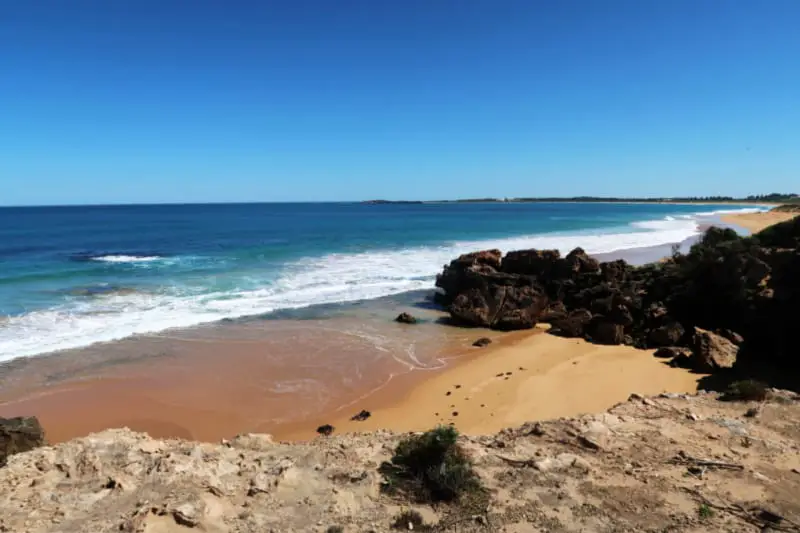 Moyjil Beach is known for entirely different reasons. Here it's not the nature or wildlife, but the history that will take your breath away.
Point Ritchie is one of the most historically significant Aboriginal sites in Victoria's South West.
Shell deposits found at Point Ritchie have been linked to the existence of Aboriginal people living in this area for tens of thousands of years, and maybe even longer…
Deakin University's John Sherwood explains;
"there is one shell deposit that could go back 80,000 years and if that's the case it would be easily the oldest human site in Australia and would have significant implications for the migration of people across the planet."
There are several fascinating informational plaques at the viewing platform where you can read and find out more about the discoveries in the area. You can also head to the Moyjil Place website for more information.
Moyil Beach is located at Point Ritchie, right at the mouth of the Hopkins River in Warrnambool.
From here you can also see Lady Bay, Hopkins River and explore the walking tracks and sandy beaches around the Blue Hole.
3) Blue Hole Beach Warrnambool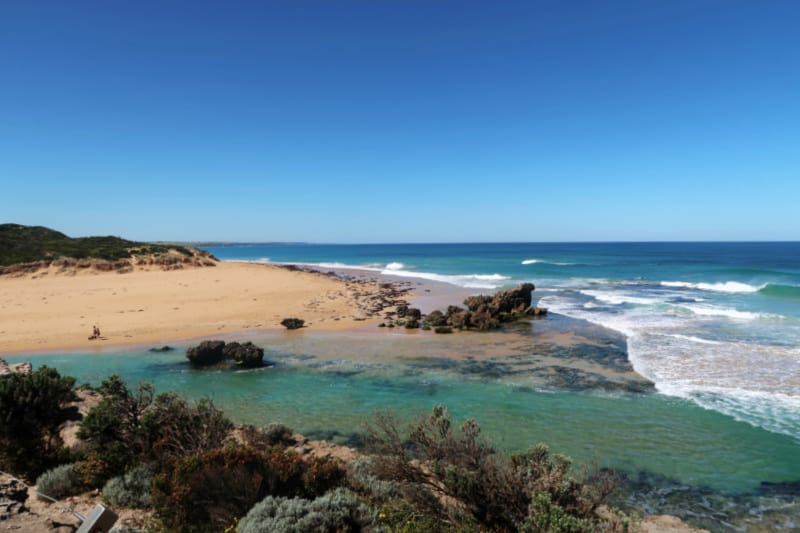 Not far from Moyil, the naturally wide section of the Hopkins River that empties out into the ocean is known locally as the Blue Hole.
The Hopkins River Mouth is a great spot for sightseers as there are beautiful rock formations, cliffs, and a whole load of rock pools to explore.
If fishing is your thing Blue Hole Beach has plenty to offer. Six fishing jetties are strategically placed up the river, with common catches that include bream, mulloway, and perch.
You might also be able to spot eels in autumn slithering across the wet sand. Too impatient to wait for high tide as they make their way on a 3000 kilometre journey to the Coral Sea to spawn.
Blue Hole, Warrnambool, is also popular for dog walking – you can bring a four-legged friend between April 1 and November 30 when dogs are allowed off-leash on the east side of the river bank.
4) Granny's Grave Beach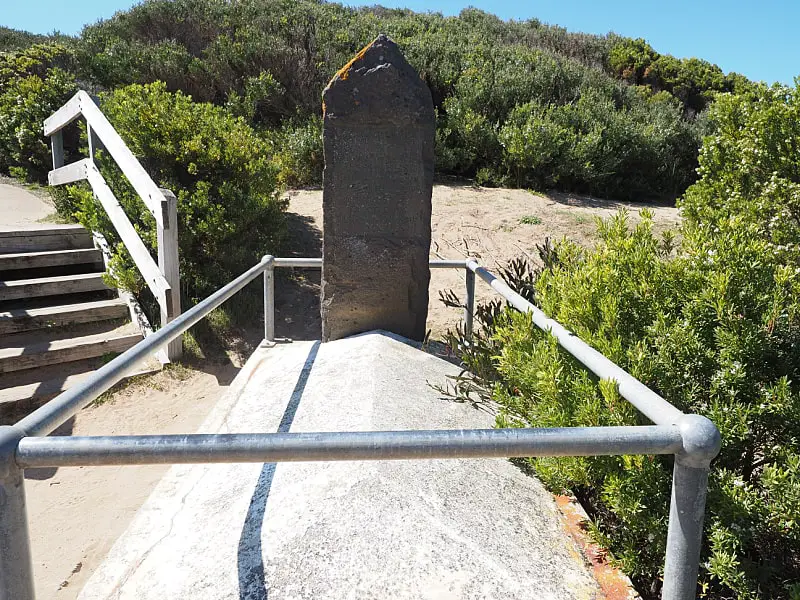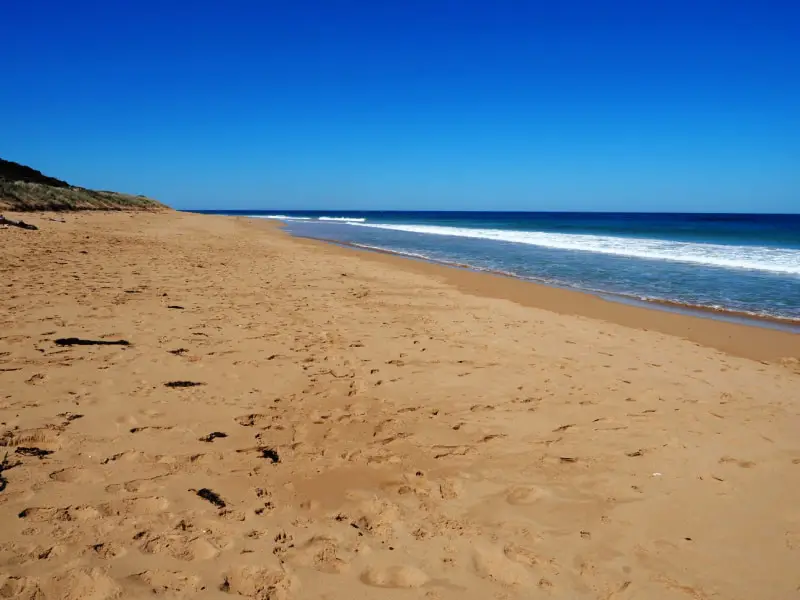 The morbidly named 'Granny's Grave Beach' might put off visitors, but this small beach is quieter than the main beach in summer and even features a children's playground.
The name Granny's Grave is rooted in fact though, there you can find a gravestone that marks the first European woman to be buried in Warrnambool.
The headstone was placed here by the local council in 1904, and there is now a timber deck and seating area for visitors to rest on.
It reads; 'Mrs James Raddlestone was buried here in 1848'.  However, since then research surrounding 'Granny' has revealed that her actual name was Agnes Ruttleton.
In 2014, a plaque was added by the Warrnambool City Council correcting the name from Raddlestone to Ruttleton.
Apart from its historical importance, the beach is also popular with locals and families and has a friendly atmosphere year-round.
It takes around 20 minutes to walk from the main beach in Warrnambool to Granny's Grave Beach.
The unpatrolled beach isn't suitable for swimming but it is popular with surfers. With an exposed beach break, there is reasonably consistent surf providing left and right-handers.
Although it's never too crowded here, surfing can be difficult due to the risks of having to negotiate dangerous rips.
5) The Flume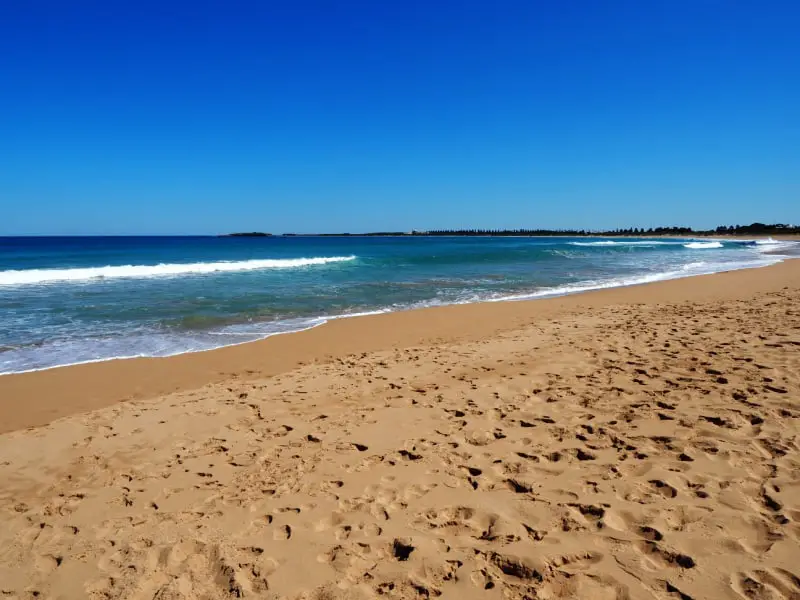 The next beach you will come across as you head west along Warrnambool Bay is Flume Beach. A popular spot for surfers, Flume Beach offers clean, large beach breaks that are easy to paddle out to.
The Southern Ocean is known for its big swells and waves and many people come to the Warrnambool area just to go surfing.
Stingray Bay and Main Beach are popular spots but The Flume is less busy in peak season.
The Flume Beach is a good spot for families and beginners, but it's good to always be aware that rip currents can still be dangerous so it's best to get lessons.
The beach itself is wide and open and is much quieter than the main beach. There are rugged sand dunes that make it a great spot for walking and exploring. Kids will love running around amongst the dunes.
If you're looking for a dog beach, Warrnambool has a few options but this is one of the best for off-leash walks.
Dogs are allowed off-lead on the main beach from The Flume all of the way to Hopkins River. Be careful to pay attention to what side you are on though.
Further along between Breakwater and The Flume dogs are generally permitted on-lead, but they are banned in the peak season from 1st December to 31st March.
6) Surfside Beach Warrnambool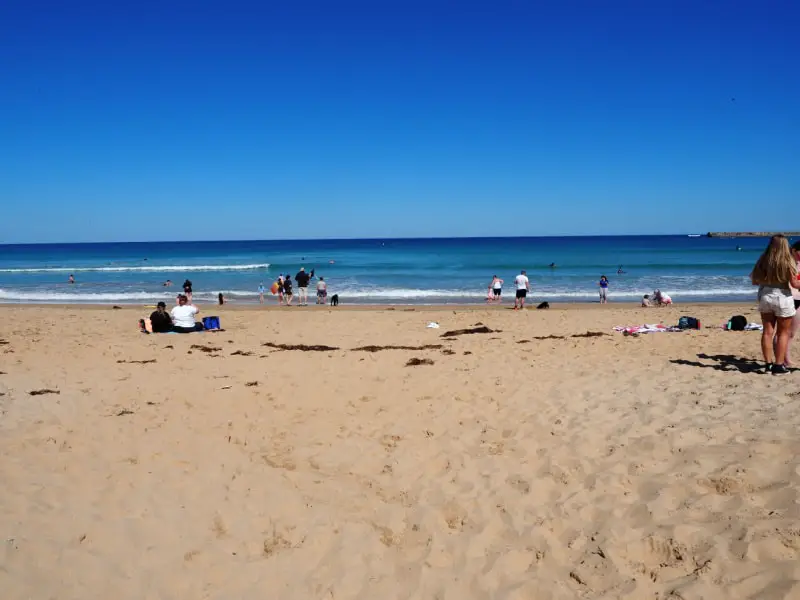 Another quiet beach in Warrnambool is Surfside Beach, located just in front of Warrnambool Surfside Holiday Park.
The large campground has direct access to the beautiful beach, making it a great option if you're looking to stay at a caravan park while you're in Warrnambool.
The campsite has all of the amenities you could want, and there's plenty of room for everyone as it's not too crowded – even in the summer.
It's also clean and well-kept and just an 8-minute walk to the Flagstaff Hill Maritime Museum.
There are campsites and caravan sites or choose between studios, 1-bedroom cabins, or 2-bedroom chalets, with kitchens, bunk beds, and flat-screen TVs.
There are also BBQ and picnic areas, as well as a coin-operated laundry.
The stretch of beach by the campsite isn't usually as crowded as the beach in front of the town itself, but it is a little harder to get to if you're not staying at the holiday park.
You will need to walk along the beach for around 10 minutes to reach this part of the beach.
7) McGennans Beach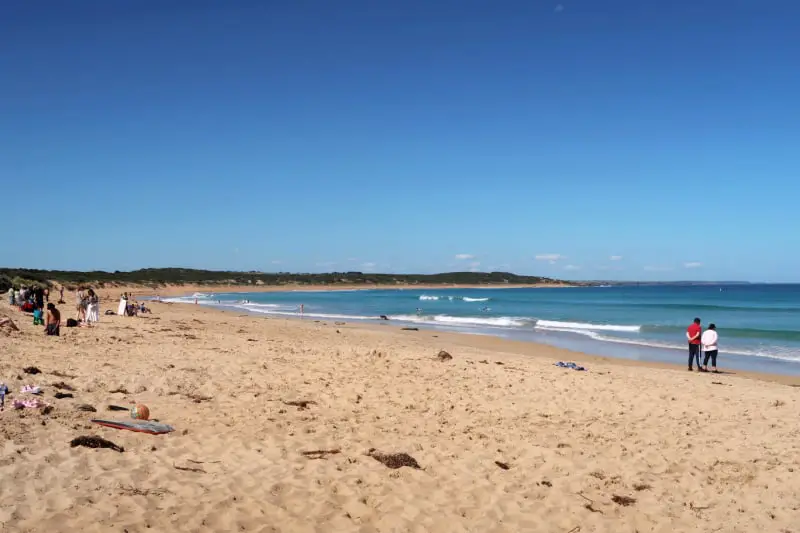 McGennans Beach, or Warrnambool Main Beach, is the easiest to get to and the most popular beach in Warrnambool.
The near-white sand stretches for over 3.5 kilometres along Warrnambool Bay, so even if the main area gets crowded if you walk a little further you will find that there's plenty of room for everyone – even in the height of summer.
McGennans Beach backs on to the Foreshore Reserve and other recreational areas in town so there are plenty of facilities too.
Just behind the main beach, you will find Lake Pertobe, with an adventure playground and trampolines for the kids, as well as boats for hire, BBQ areas, and water fountains.
It's a great spot for paddle boarding and taking part in other water sports and activities.
There's also a great summer market on Lake Pertobe that is worth visiting on your trip to Warrnambool.
The Fresh Market Warrnambool is held on the 1st and 3rd Sunday of the month all year round, you can usually find it on the 'Fresh Green' at Lake Pertobe – right next to the Warrnambool Foreshore.
8) Stingray Bay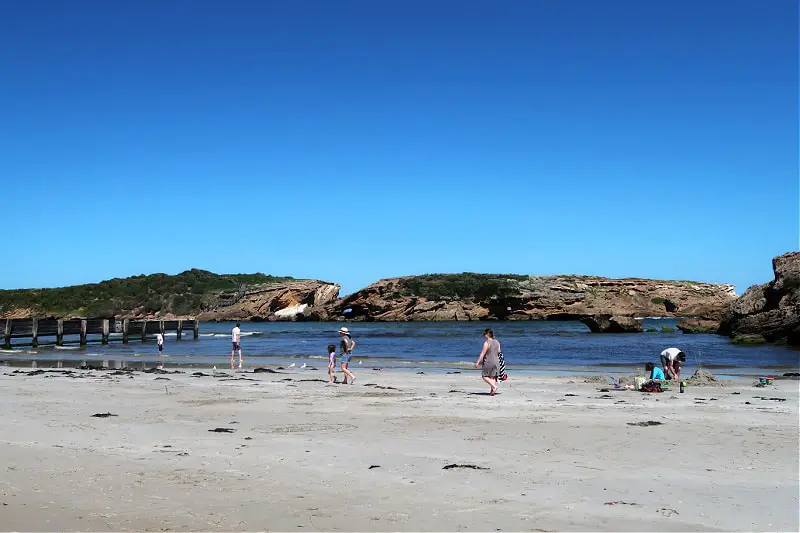 Stuck out at the end of the peninsula, Stingray Bay can be found close to the harbour and Warrnambool Pier – there are some great views to be had from the Breakwater here that was built back in 1890.
But the real gem is the sheltered cove of Stingray Bay that's hidden in the mouth of the Merri River.
Part of the Thunder Point Coastal Reserve, Stingray Bay is a haven for marine life, bird life, and wildlife, with plenty of rock pools to explore as well as tidal pools to bathe and relax in.
Just across the bay, you can see Middle Island. Although closed to the public for the protection of the birds, at low tide you can walk down the beach and get a closer look at the tiny residents that call this island home.
Middle Island is home to Short-tailed Shearwaters, the Black-faced Cormorant, and a colony of Little Penguins – the smallest (and cutest) penguin species in the world.
They are all protected by the Maremma Project – a  program that uses a unique breed of Italian Maremma dogs to protect birds and penguins from foxes and domestic dog predation (it almost goes without saying that dogs are prohibited on the beach at Stingray Bay as well as at the mouth of Merri River).
9) Shelly Beach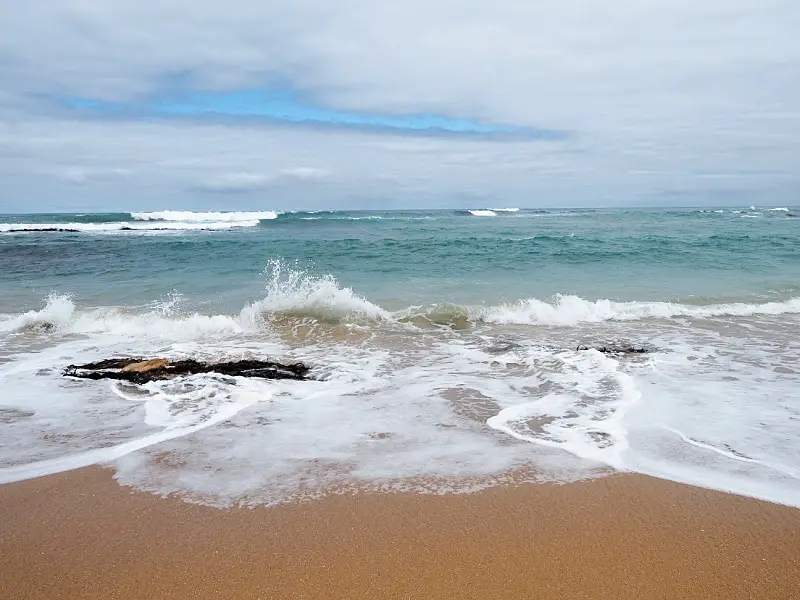 If you really want to get away from it all, why not head to one of Warrnambools 'secret beaches'?
Shelly Beach Warrnambool is a rugged ocean beach that can only be accessed by a 900 metre unsealed walking track from Thunder Point.
Due to this, it sees a lot less visitors than the other beaches in Warrnambool and it's the perfect place to escape the crowds.
At the end of MacDonald Street, Thunder Point car park marks the start of an easy-going 45 minute return walking trail to Shelly Beach.
Named after the abundance of shells, the secluded Shelly Beach is a quiet and isolated beach that's great for walkers and couples wanting to spend a romantic sunset together.
Shelly Beach is also another popular spot for surfing but currents can be very strong and swimming is not advised.
It's best left to the pro-surfers as there are no patrols of lifeguards on duty either.
Beaches In Warrnambool Map
Where Is Warrnambool?
Founded in 1855, Warrnambool Australia is a seaside city in Victoria located 285 kilometres southwest of Melbourne.
Its spot at the far western end of The Great Ocean Road means it's the perfect place to head to on a road trip.
Why not spend a few nights enjoying the scenery, before heading back along the mighty Shipwreck Coast?
By car, it takes as little as 3 hours and 15 minutes to reach Warrnambool from Melbourne.
But for the best views and photo stops, it's best to take the longer 5-hour drive along the scenic Great Ocean Road.
FAQs
Does Warrnambool have nice beaches?
Yes Warrnambool has nice beaches. The city's beaches have long stretches of golden sand and aquamarine waters that draw locals and visitors alike. Many of the beaches are popular with surfers, runners, walkers, holidaymakers, and boaters year-round. But, Warrnambool also has beautiful secluded beaches you can have all to yourself.
Can you swim at Warrnambool?
Yes, you can swim at Warrnambool beaches. The picturesque Lady Bay offers protected swimming and the Surf Lifesaving Club patrols the beach during the summer months and busy long weekends. Other popular water activities include surfing, yachting, stand-up paddle boarding, and windsurfing.
Are dogs allowed on the beach in Warrnambool?
Yes, dogs are allowed on the beach in Warrnambool. They're allowed off lead at Logans Beach and the main beach from The Flume to Hopkins River, and on lead at all other beaches. They are prohibited at Stingray Bay and the mouth of the Merri River, and between the Breakwater and The Flume from 1st December to 31 March.
What ocean is Warrnambool coast on?
Warrnambool's coastline borders the Southern Ocean. The city sits on Lady Bay between the Merri and Hopkins rivers, 265 kilometres south-west of Melbourne at the western end of the Great Ocean Road. Known as the Shipwreck Coast, 200 shipwrecks have been documented in these wild Southern Ocean waters.
Final Thoughts
We hope this guide to Warrnambools beaches has helped you to make a decision on which to visit, each one has something unique to offer.
If you aren't short of time, why not try to see them all?!
Recommended: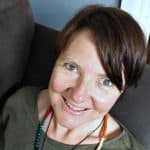 By Audrey Chalmers
Audrey grew up in Victoria and travelled the world but she always called Victoria home. She loves nothing more than exploring her home state and sharing it here.