Looking For Things To Do In Port Fairy? Then you're in the right place!
In this guide, we walk you through what to do in Port Fairy to help you plan your perfect Port Fairy holiday.
Located 290 kilometres south-west of Melbourne Port Fairy is great for weekend trips or as part of a bigger Great Ocean Road adventure.
The seaside village was voted number 1 in the Top Tourism Town Awards of 2021, so it's no surprise that there's a long Port Fairy 'to do' list.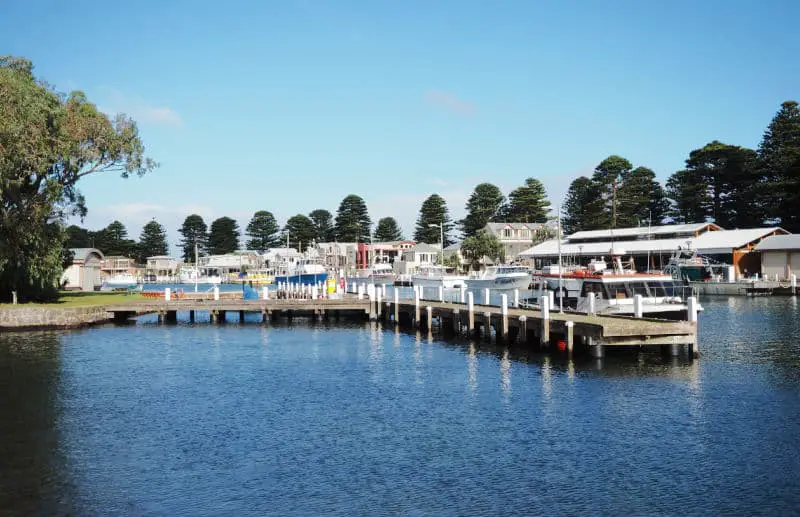 Whether it's relaxing on Port Fairy Beach, taking a day trip to one of the nearby islands, or visiting some of the many Port Fairy attractions, you'll be kept busy by all the wonderful things this town has to offer.
There are some great places to stay here as well as some interesting places to visit in Port Fairy.
Below you'll find all the best things to do in Port Campbell as well as a handy map showing the location of each Port Campbell attraction listed.
So let's start!
Visiting the Great Ocean Road? Join our Free Great Ocean Road Travel Planning & Tips Facebook Group. It's the perfect place to ask questions and be inspired.
21 Best Things To Do In Port Fairy
Port Fairy Australia, is a beautifully preserved 19th century shipping port, where history can be seen at every turn.
This added to the artsy shops, surfer crowds, and nearby nature reserves, makes Port Fairy an unforgettable holiday destination.
Here are some of our favourite Port Fairy things to do.
1) Relax At Port Fairy Beach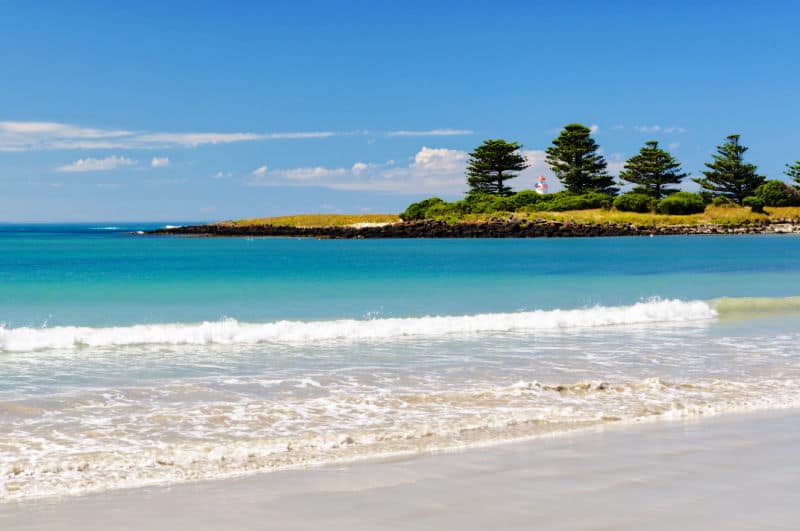 The Port Fairy beaches are a must-visit while you're in town. Spend a day relaxing by the sea, while taking in some of the best sights of the Shipwreck Coast.
East Beach
Visit East Beach Port Fairy, with a 5.8 kilometre long arc of fine sand, it's a great place to relax with a barbeque or a sunbed for the day.
East Beach is located in Port Fairy Bay and is patrolled at weekends in the summer months, but avoid the northern end of the beach as rip currents can be strong.
Pea Soup Beach
Pea Soup Beach Port Fairy is a pristine and beautiful beach that is also clothing optional. Less crowded than East Beach it has clear water, easy access, and is safe for swimming.
At around 1 kilometre in length, it provides beautiful views out to the ocean. It's also known as Pea Soup Beach No 1 and is right next to Southcombe Beach.
Killarney Beach
For something a little more out of the way head out of town to Killarney Beach, it's a lot quieter, especially in the summer months.
Killarney Beach is dog friendly, and is popular for whiting fishing, safe snorkelling, and for paddling in a natural lagoon.
Visitors are mainly from the nearby Killarney Beach Caravan Park, and it tends to attract an older crowd as well as dog owners.
2) Spot Birds On Griffiths Island Port Fairy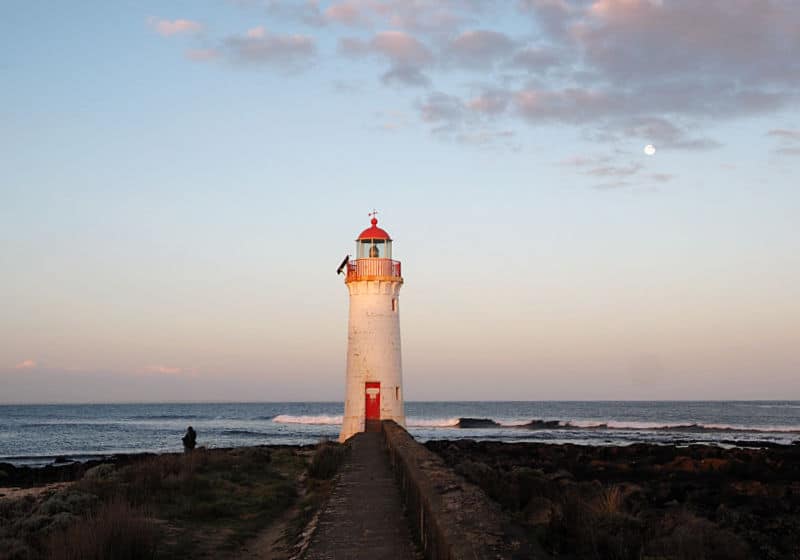 Griffiths Island Port Fairy used to be a whaling station, but it was abandoned in 1843 when the local whale population was all but wiped out.
Nature has reclaimed this once morbid site, and Griffiths Island is now the home of a protected mutton-bird colony, which arrives in town each October and stays until April.
Griffiths Island is located where the Moyne River meets the ocean and is home to the Port Fairy Lighthouse. It's a lovely place to visit for easy walks and some good swimming spots around the area.
Visit the Griffiths Island Lighthouse at dusk to capture the best sunset views and witness the wildlife coming in to roost for the night.
3) Party Like A Local At The Port Fairy Folk Festival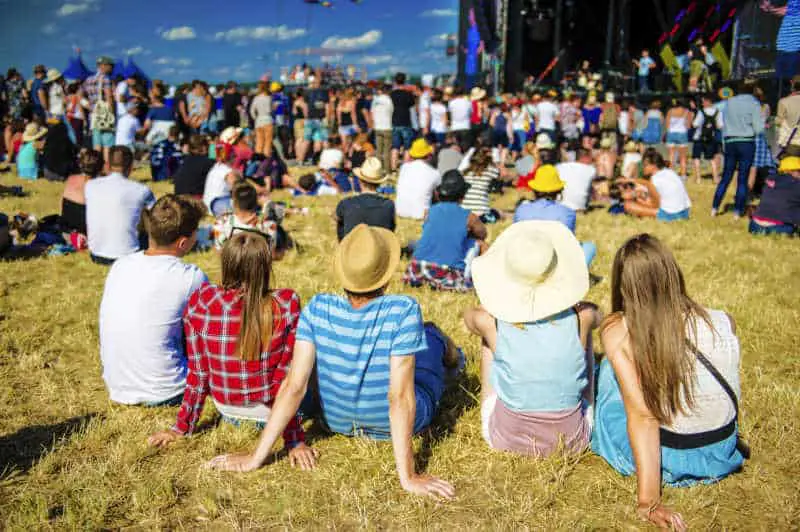 Since its humble beginnings back in 1977 the Port Fairy Folk Festival has become one of Australia's largest and most loved festivals.
Artists such as Eddi Reader and Sinead O'Connor have headlined the main arena in the past.
There's also free entertainment in Port Fairy including exhibitions, community markets, interactive workshops, forums, theatre, film, handmade crafts, great food, and family friendly entertainment.
The Port Fairy Music Festival runs in early March each year, visit the Port Fairy festival website for more information, tickets, and dates.
4) Explore The Port Fairy Wharf Area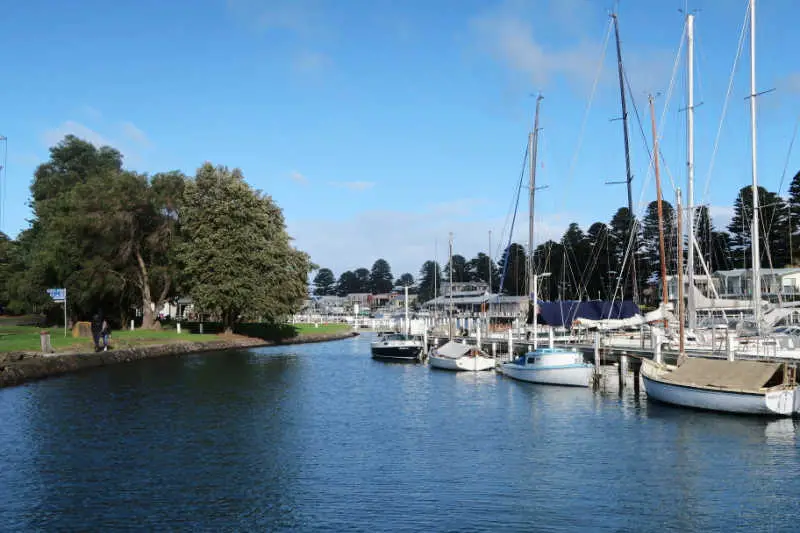 In 1850, the Port Fairy wharf was a central departure point in the state of Victoria for ships loaded up with wool, gold, and wheat exports bound for Great Britain.
Although it's lost its importance in trade the wharf still attracts visitors and locals alike. Spot luxury yachts and well-weathered boats docked side by side in the marina.
The area is a great place for taking a walk or doing some people watching, it's a real hub of the community in Port Fairy.
5) Spend A Rainy Day At The Port Fairy Museum And Archives Centre
On a rainy day in Port Fairy spend a couple of hours at the Museum and Archives Centre.
Learn all about the history of the small town through historical reenactments and explore photographs of the town's history in the gallery.
The changing displays cover various aspects of the town's past and also sell a small number of local history publications.
It's a good starting point to find out about all of the best spots to visit in the town, especially those of historical interest..
Opening hours are seasonal:
Summer, Spring, and Autumn – Saturday, Wednesday & Public Holidays: 2.00 p.m – 4.00 pm. Monday mornings and Thursday afternoons by appointment only through email.
Mid Winter July and August – Saturday and Wednesday: 2.00 p.m – 4.00 pm. Sunday by appointment only through email.
6) Learn To Surf At The Port Fairy Surf School
Learn to Surf at Port Fairy's longest running professional surf school.
They offer classes for 7 to 70 year olds,"from couch potatoes to elite athletes", so everyone is welcome to try out this fun sport.
The knowledgeable Port Fairy surf instructors take you into the waves at the safe East Beach, giving professional tips to grab that all important first ride.
They also offer kayaking, paddleboarding, snorkelling and gear hire. Open 10.00 a.m – 3.00 p.m, weekends only in the off season.
7) Try Wine Fresh From The Vine At Basalt Winery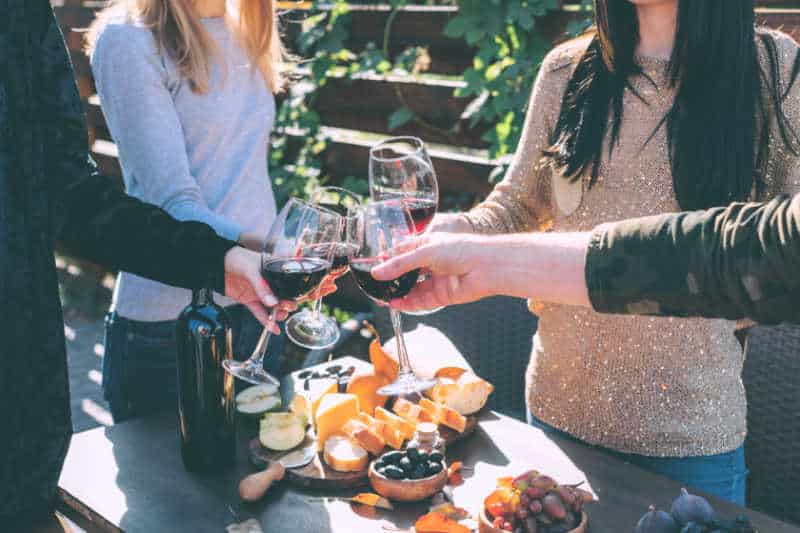 Basalt Vineyard is perfectly located about 9 kilometres east of Port Fairy in south west Victoria.
Visit the rustic cellar door of the Basalt Winery for wine tastings, delicious bar snacks, and to learn about the ancient art of winemaking.
They also offer Spanish and French inspired tapas. Try some of the best Basalt wines for a $15.00 tasting fee.
Open Thursday 10.30 a.m – 5.00 p.m, Friday 10.30 a.m – 5.00 p.m, Saturday 10.30 a.m – 5.00 p.m, Sunday 11 a.m – 4.00 p.m.
8) Take The Port Fairy Historic Town Walk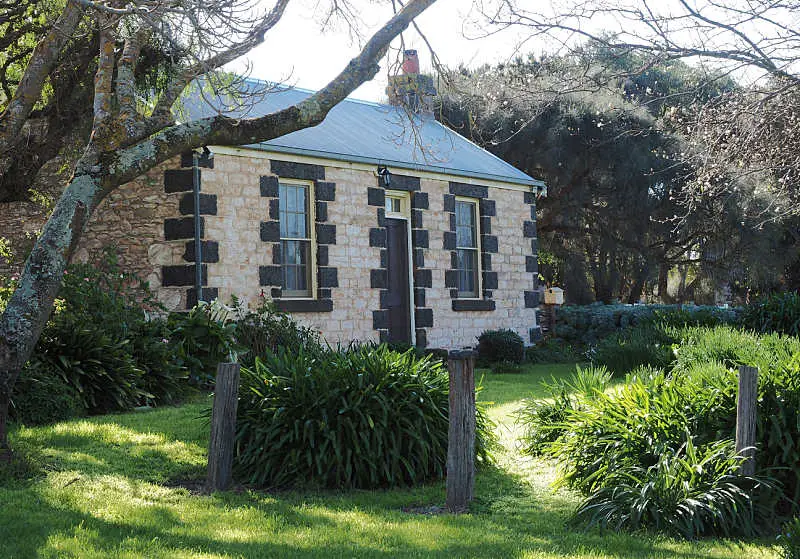 There are many beautiful buildings to admire in Port Fairy, the town has over 50 buildings listed with the National Trust, like the iconic two cottages that share one chimney.
Join an expert guide on a Port Fairy Historic Town Walk. Explore the town's rich history, uncovering fascinating tales about the characters and the events that have shaped Port Fairy into what it is today.
Tour costs: Adult $15.00, Children free. Check the website or at the information centre for running times.
9) Visit The Crags Viewpoint
The Crags Port Fairy is a viewpoint around 10 kilometres up the coast from the main town.
It's part of the Crags Coastal Reserve, a wild and scenic section of Victoria's coast with calcified tree roots, jagged rocks, and views out to Deen Mar or khinmar (Lady Julia Percy) Island.
You will get to see strange rock formations formed by 120,000 year old tree roots.
Unusual patterns have been hollowed out in the rock and reinforced with calcium carbonate.
For thousands of years the Crags was used as a gathering place for Aboriginal people, its cultural significance is listed on the National Estate of Australia.
10) Search For Local Treasures At The Port Fairy Markets
Why not visit a local Port Fairy market while you're in town? Whether you are looking for a unique gift for someone special or a delicious treat for yourself, the Port Fairy markets have something for everyone.
Port Fairy Farmers Market
The Port Fairy Farmers' Market takes place at Railway Place, Bank Street. Offerings include fresh local produce like fruit, vegetables, flowers, honey, plants, preserves, wine, cheese, cakes, eggs, fudge, and more.
The Farmers Market is open 8 .00 a.m – 1.00 p.m, on the 1st and 3rd Saturday of each month.
Port Fairy Community Market
The Port Fairy Community Market is also held at Railway Place. It focuses on locally grown and handmade products and produce.
The Community Market is open from 9.00 a.m – 1.00 p.m on the 2nd and 4th Saturday of each month and weekly during January.
11) See Emus At Tower Hill Wildlife Reserve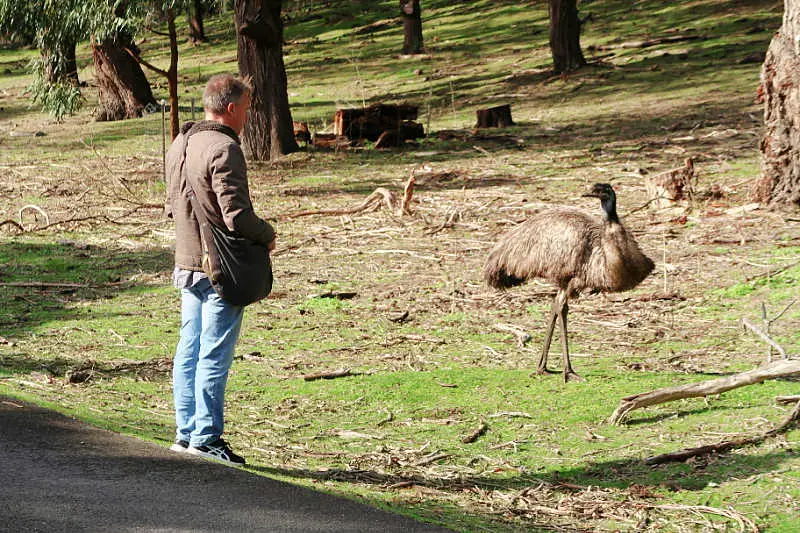 Tower Hill Volcano sits in a large volcanic crater, its cone-shaped hills rise from the lakes. It's one of Victoria's most significant geological formations and it's well worth a trip to Tower Hill Reserve.
Declared a National Park in 1892, Tower Hill Wildlife Reserve was in fact mainly used for grazing.
But since the mid 1950s local volunteers have planted over 300,000 trees to restore the area to its former natural glory.
Take the 'Lava-Tongue Boardwalk' trail to spot koalas and emus up-close, as well as other reptiles and bird life. It's easily one of the best day trips from Port Fairy.
There are lots of trails to choose from in Tower Hill State Game Reserve, all looping back to the main car park. Although the longest is just 2 kilometres, they are very steep in places, so be sure to wear sturdy footwear.
12) Play A Round At Port Fairy Golf Club
Book a session at Port Fairy Golf Club, a classic 18 hole natural links course that winds its way through unspoilt sand dunes and provides spectacular views of the Southern Ocean.
A popular spot for locals, Port Fairy Golf Links is now becoming one of Australia's 'must play' golfing destinations.
With its beautiful location along the coast and affordable rates, it's hard not to see why so many people choose to spend a day here.
Port Fairy Golf Course is open weekdays from 7.00 a.m to 6.00 p.m, and weekends from 8.00 a.m to 5.30 p.m.
13) Take A Guided Tour At Codrington Wind Farm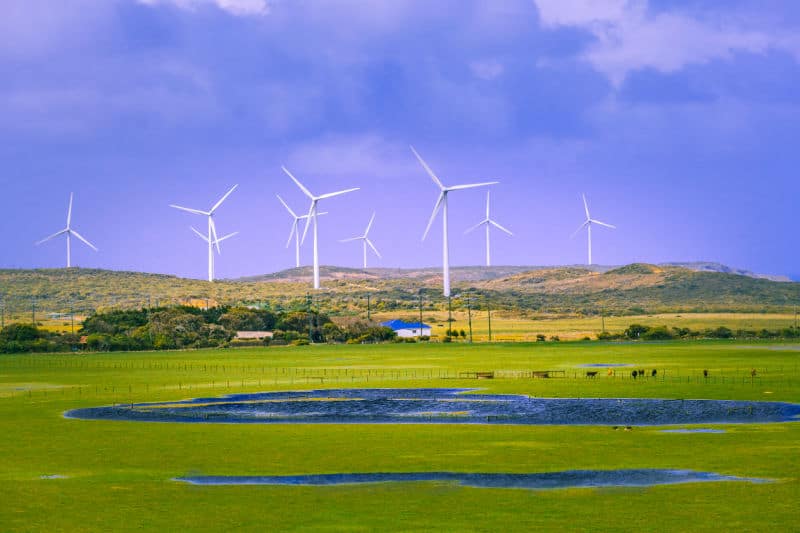 See giant turbines at Codrington Wind Farm, near Yambuk on the coast of south-western Victoria, Australia.
The wind farm was completed in June 2001, when it opened it was Australia's largest wind farm and the first in Victoria.
Take a guided tour to learn about the 14 wind turbines that generate 51 GWh annually, and how the local farmers benefit from the development.
14) Hear History Come Alive At Battery Hill And The Historic Lifeboat Station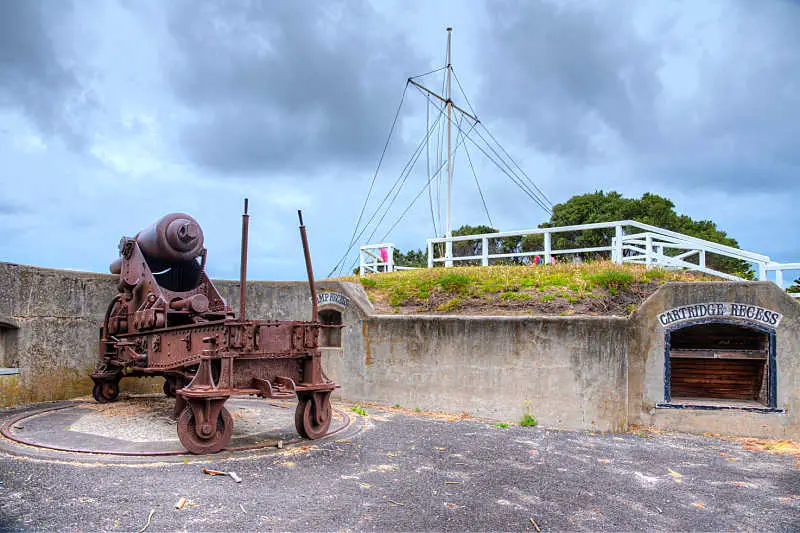 Battery Hill, Port Fairy is located on the opposite side of the Moyne River to Griffiths Island.
Every Sunday morning in January the cannons are fired to celebrate the New Year and to share the story of the town's history.
Old fortifications, which have been in place since the early 1800s, house six cannons which have never been fired in "anger".
A wooden round-topped lifeboat house contains the oldest surviving self-righting lifeboat in the world. Visits inside are available by appointment only.
Tip: Keep an eye out for the black wallabies that live here.
15) Learn About Gunditjmara Culture at Budj Bim National Park
Budj Bim National Park is one of only two UNESCO Heritage Sites in Victoria.
There's lots to do here including camping, walking, mountain biking, and 4WD driving.
Visit the 700 metre long Lake Surprise for crater lake views and walks. The lake is teeming with fish and surrounded by birdlife making it a great place for nature lovers.
Budj Bim Tours offer a half day tour through Stone Country. The Tungatt Mirring tour takes visitors through the history of Budj Bim Cultural Landscape.
Insightful local guides will show you the living Indigenous culture and the landscape through Gunditjmara eyes.
16) Experience Port Fairy Day Spa
For a little light pampering why not spend an afternoon at the Port Fairy Day Spa?
Book a spa package from $127, with optional upgrades like tea and cake ($20), a cheese platter in the Reflection Room ($27), or an extra 15 minute massage ($24).
Open Monday to Friday 9 a.m – 5.30 p.m, Saturday 9 a.m – 5.30 p.m, & Sunday 11 a.m – 4.00 p.m.
17) Take A Boat Trip To Lady Julia Percy Island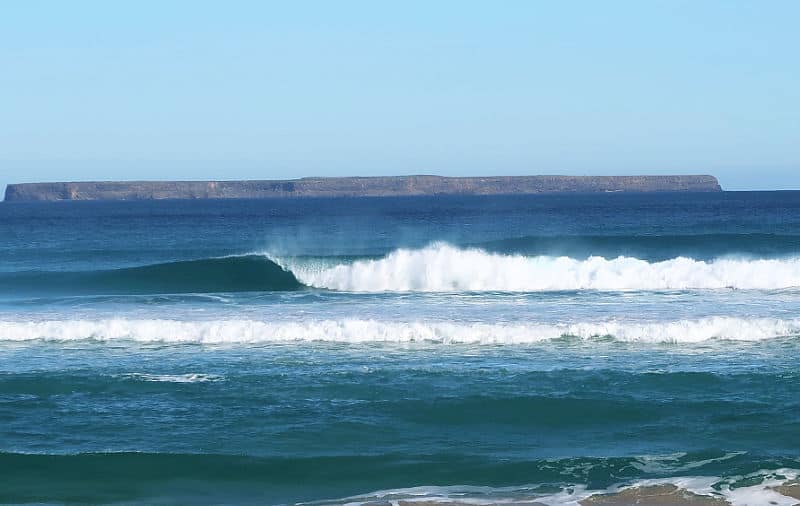 On a sunny day take a trip offshore. Lady Julia Percy Island sits on Australia's only undersea volcano, formed around seven million years ago.
A great place to spot wildlife, Australia's largest population of fur seals inhabits Lady Julia Percy Island.
There are also several bird species including the Little Penguin, Diving Petrel, White Fronted Chats, Fairy Prion, and the Australian Pipit.
A keen eye may also spot some rare plant species surviving in the caves around the island.
Lady Julia Percy Island can be visited on a sightseeing boat tour that takes four hours and costs $100 per adult and $70 per child (12 passenger minimum – maximum of 28).
18) Go For A Ride Down Yambuk Slide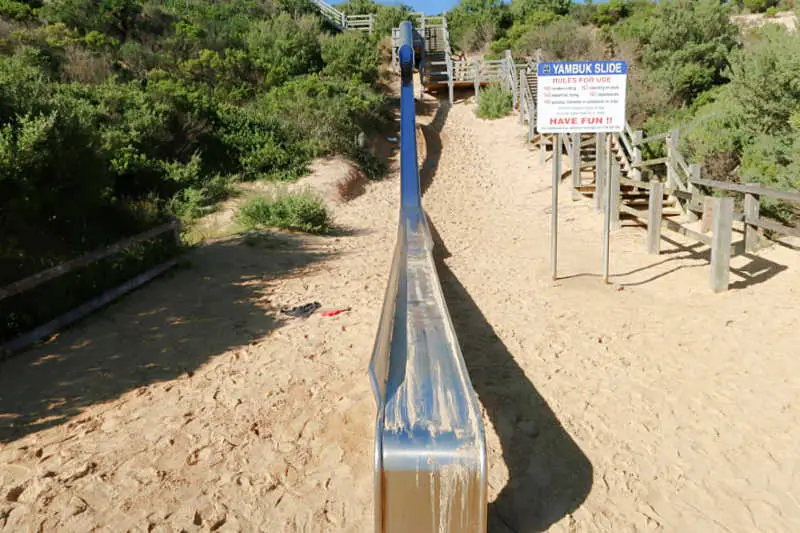 One of the best things to do in Port Fairy for fun is to slip down the Yambuk Slide. A giant 33-metre slide that sits at the top of huge sand dunes.
The climb to the top of the dunes gives you amazing views over Lady Julia Percy Island and up and down the coast.
Admittedly the slide isn't that fast, but it's still one of the best things to do with kids in Port Fairy – and the views are fantastic.
19) Spot Eels at Hopkins Falls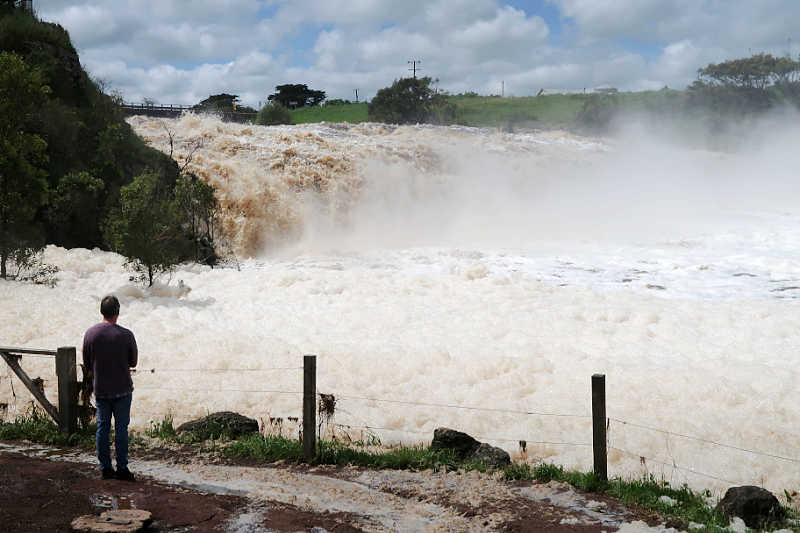 At an impressive 90 metres wide, Hopkins Falls is around 30 minutes from Port Fairy. There are excellent views to be had at either the viewing platform or at the foot of the falls.
It's called Thankang-poonart in the native Kirrae Whurung language meaning 'eels bite the stones'.
This is due to the fact that, for a few days each summer, baby eels migrate upstream and over the falls in an epic display of nature.
Pack a picnic, enjoy a spot of fishing, or head out for a walk. There are great facilities like a gas barbeque and toilets provided.
20) Head To Warrnambool Whale Watching Platform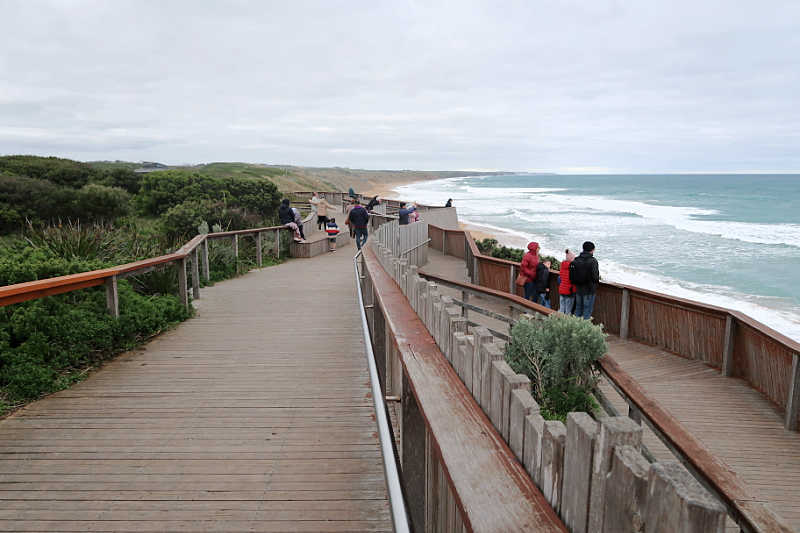 Visitors flock to Logans Beach Whale Watching platform every year between June and September for one of the most magnificent sights in nature.
Female Southern Right whales travel to the peaceful waters of Warrnambool's Logans Beach to calve, often swimming within a hundred metres of the shore.
They can be seen from a specially constructed platform in the sand dunes, it's free to access and open at all times.
A ramp allows easy access to the platform so people of all abilities can enjoy Warrnambool Whale watching.
Read our complete guide to Warrnambool here.
21) Learn About The Shipwreck Coast At Flagstaff Hill Maritime Village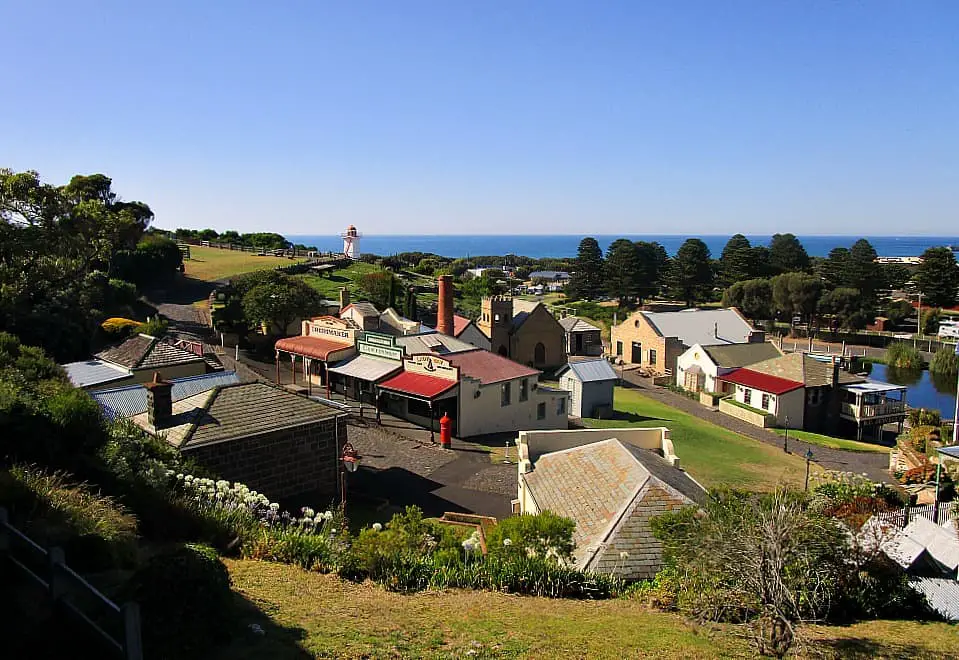 Also in neighbouring Warrnambool, just a 30-minute drive east of Port Fairy, is Flagstaff Hill Maritime Village.
The Living Museum and spectacular Sound and Light Show really make history come alive, telling stories of the 19th-century crewmen who met their fates along the Shipwreck Coast.
Ticket prices for the museum and village admission are: Adults $19.00, Concession $15.00, Child $9.00, and Family $49.50.
Open daily: 10 a.m – 5 p.m (Closed Christmas Day), Extended operating hours during summer holidays.
Tales Of The Shipwreck Coast Sound & Light Show nightly at dusk.
Best Things To Do In Port Fairy Map
Below you'll find a handy map that shows the location of all the Port Fairy things to do. Use it to plan your Port Fairy itinerary.
Final Thoughts
Whatever the season there's something for everyone in Port Fairy.
With heaps of historic charm, an abundance of wildlife, and plenty of pristine beaches, there are lots of things to do in Port Fairy.
So jump on a giant slide, try a local wine, get out into nature, and make the most of your time in this quirky little town.
Recommended: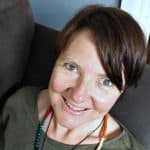 By Audrey Chalmers
Audrey grew up in Victoria and travelled the world but she always called Victoria home. She loves nothing more than exploring her home state and sharing it here.