This article may contain compensated links. For more information read our disclaimer here.
If you're planning a visit to the fifth biggest city in Victoria and need somewhere to stay overnight, then this complete guide to motels in Warrnambool will point you in the right direction.
There's a great choice of accommodation in Warrnambool, including motels offering good value rates as well as top-notch standards.
Warrnambool motels range from places located in the heart of the CBD, close to the coast, to spots that are a little further out.
Amenities offered vary from one place to another, so if you choose carefully you can access facilities like a heated outdoor pool, a kids' playground, and even tennis courts.
Many properties also offer gardens with guest barbecues.
Every one of the following 11 motels is praised for offering a warm welcome plus clean, comfortable accommodation.
Below, we don't just have a Warrnambool motels list, we also have a comparison table so you can easily see our top 3 Warrnambool motel accommodation options.
At the end, we've included a handy map of each reviewed motel in Warrnambool we've listed so you can see their exact location.
So no matter what you're looking for, with the information below you can be booked and set to go with the best motel Warrnambool has for your trip.
Let's start!
11 Of The Best Motels In Warrnambool
When you want to find a great value Warrnambool motel, look no further. Here are 11 of the best motels in Warrnambool to make your search so much easier!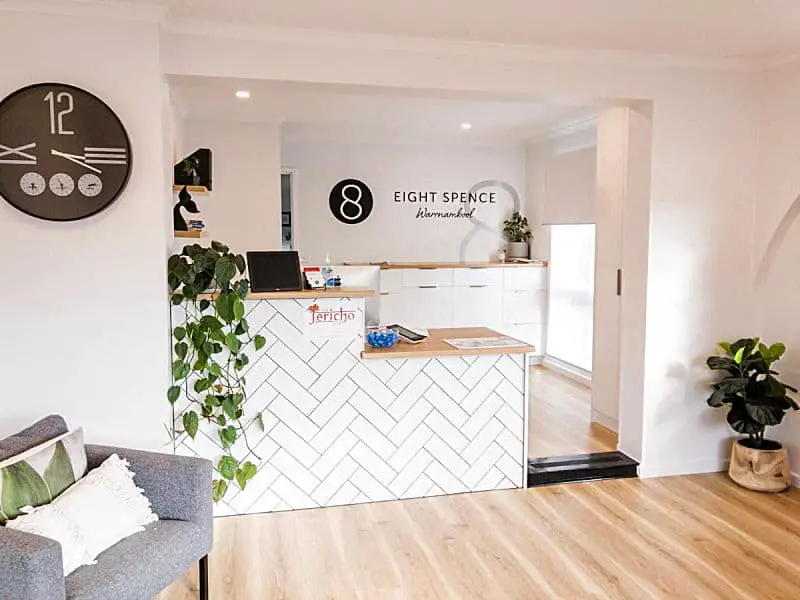 Eight Spence Warrnambool is positioned on a peaceful street away from the main highway.
This residential location is just a block from the CBD, so it's easy to reach all the amenities of town while enjoying your stay in a quieter spot. There are local shops within a couple of minutes' walk too.
Eight Spence has been fully renovated, so it offers more modern accommodation than in some other Warrnambool motels.
Rooms come with air conditioning, a flat-screen TV, a microwave, tea and coffee making facilities, crockery and cutlery supplies, and a fridge.
This means some basic self-catering is possible while staying here, and there's also an outdoor barbecue area with tables and chairs.
As you'd expect at motels in Warrnambool Vic parking is available on site. What you might not expect, though, is the standard of accommodation offered here.
It's extremely bright and clean throughout, and rooms feature contemporary furniture plus light tones of grey and blue, giving the property a subtle coastal feel.
Hotel style amenities like a small mini-bar with snacks and drinks and super comfortable beds make your stay here a really pleasant experience.
The staff are unfailingly obliging and a continental style breakfast is available daily.
Room types range from Queens, Twins, Kings, and Triples to a two bedroom suite for up to 7 guests.
What Past Guests Have Said:
Excellent little motel. Rooms good size and set out plus being extremely clean and tidy. Quiet location yet central to the city. Bed was beyond comfortable…best motel bed have come across. Overall brilliant and would definitely stay again when in Warrnambool. – Happy

Read more reviews.
Best Things?
Bright, fresh, and modern
Outdoor barbecue area
Very helpful staff
Close to the centre of town
Summary:
Renovated motel with bright and modern rooms close to the centre of town. Suits couples and groups. An excellent choice.
➡️ Check Rates and Availability Here!
The Mid City Motor Inn in Warrnambool has also undergone extensive renovation work in recent times, so it's up there with Eight Spence when it comes to offering contemporary accommodation in the heart of the city.
What makes Mid City Warrnambool really stand out, though, is the facilities offered at this resort-style motel. There's a garden with a barbeque area, plus an outdoor swimming pool and a children's playground.
Even though from the outside the building looks pretty uninspiring, inside you'll find comfortable, modern, well-equipped rooms.
With Elements restaurant and bar right here on site, you'll never go hungry or thirsty when staying at the Mid City Motel in Warrnambool.
Unlike other motels in Warrnambool, Victoria, you don't even need to leave the building when it's time for lunch or dinner or you want one last drink before bedtime.
This motel with a restaurant and pool provides great family accommodation in Warrnambool, and you can book a family room or suite if you want more space.
There's also a guest laundry here, so there's no need to return home with bags full of unwashed clothing if you don't want to!
What Past Guests Have Said:
The rooms were nice and modern. We ate at the restaurant and the food was delicious and there's a really cool coffee shop around the corner that had great coffee. Great stay. – Anita

Read more reviews
Best Things?
Outdoor swimming pool and playground
Bar and restaurant on site
Modern decor
Garden with barbecue area
Guest laundry
Summary:
A resort style motel with spa rooms, a pool, restaurant, and a playground. Great for families and couples. Another excellent choice.
➡️ Check Rates and Availability Here!
The Best Western Olde Maritime Motor Inn is closer to Flagstaff Hill Maritime Village and the ocean. Yet, it's not too far from here to Warrnambool's CBD.
This is another motel in Warrnambool that's undergone a revamp, and it offers accommodation with more of a holiday feel than other options in the centre of town.
The building housing this Best Western in Warrnambool is more attractive than the norm for a motel. Covered walkways surround the structure, and pretty filigree detailing really completes the look.
This is a property with a historic feel which can make it feel like a more special place to stay in Warrnambool.
Inside the look is slick and modern, with art deco touches here and there adding character.
Within a few hundred metres you'll find local attractions and eateries, and Warrnambool Bay Foreshore is just over half a kilometre away.
The Olde Maritime Inn also has the spacious Covelly restaurant and bar on site, and there's even a guest gym at this place.
With room types ranging from budget or standard to a King spa suite, heritage family mezzanine, or even a two-bedroom apartment, there's accommodation to suit everyone here.
What Past Guests Have Said:
We loved this beautiful old hotel! Our room actually had 3 little rooms with an old fireplace…The restaurant and bar were very cozy and the food was delicious. – Joan

Read more reviews
Best Things?
Character property
Recent refurbishment
10-minute walk to the beach
On-site bar and restaurant
Guest gym
Summary:
An attractive motel with character. Offers an on-site restaurant, bar, and gym. Suitable for people who want to be close to Flagstaff Hill and the beach.
➡️ Check Rates and Availability Here!
The Comfort Inn Warrnambool International is one of three motels in Warrnambool whose names begin with 'Comfort Inn'. So, it can get a little confusing!
This one is located at the end of Banyan Street which is closer to town rather than the ocean.
It's convenient for both the CBD and the highway with all the downtown shops, bars, cafes, and restaurants just a few hundred metres away.
On the flip side, the beach is further away than it is from the Olde Maritime Inn at the other end of the same street.
Painted bright white with colourful doors, what was once a standard-looking motel, is now pretty as a picture.
Inside, the Inn is modern and clean, and you get plenty of space as each room comes with a seating area.
Tea and coffee supplies, a fridge, and a toaster can also be bound in each room, so you can make breakfast before heading out for the day.
A selection of two bedroom suites and apartments provides scope for bigger families or groups, and accommodation that's accessible for people with a disability is also available here.
Guest barbecue facilities are also provided and this is a sustainable travel property.
What Past Guests Have Said:
I loved the range of the amenities the property provided, including a Smart TV and EV car charging. The bed and couch were very comfortable…Complete value for money. – Guru

Read more reviews
Best Things?
Clean, comfortable, and spacious rooms
Quiet street
Convenient for the CBD
Fridge and toaster in the room
Travel sustainable property
Summary:
A travel sustainable property with clean comfortable rooms that's located just a few hundred metres from town. Offers two bedroom suites, apartments, and accessible rooms.
➡️ Check Rates and Availability Here!
If you want to stay at a place with more of a neighbourhood feel than other cheap motels in Warrnambool, it's worth thinking about Hopkins House.
This one's further from both town and the beaches than the others, but there are local amenities in this residential area including a Coles supermarket, a fish and chip shop, and a bakery nearby.
What the Hopkins House motel on Whites Road doesn't offer in terms of location is more than made up for by the amenities.
There's a swimming pool at this motel, and the rooms are generously sized. Some come with a spa bath, and all have a dedicated seating area for daytime use.
Hopkins House also offers a daily breakfast delivery service to all rooms and has a sociable shared barbeque area for you to use.
As well as twin, double, and queen rooms, the motel offers a two bedroom apartment that has two singles, a double, and a sofa bed.
The fact that this place is family-run and in the suburbs gives it more of an intimate feel than city centre properties.
And guests really appreciate the outdoor pool here – not least because it's heated during colder weather!
What Past Guests Have Said:
I can recommend this property from the prompt response, excellent host, and a lovely clean and comfortable room. 5 stars from me! – Janis

Read more reviews.
Best Things?
Outdoor heated pool
Family run
Neighbourhood feel
Daily breakfast delivery service
Supermarket and takeaways nearby
Summary:
A family run business with motel rooms and two bedroom apartments. Features a heated outdoor pool and a breakfast delivery service.
➡️ Check Rates and Availability Here!
Like Spence Street, Kepler Street also borders the James Swan Reserve. Here you'll find the Elm Tree Motelin Warrnambool, and it's a great part of town to be in.
It's relatively peaceful and you're close by to green space, yet there are plenty of shops and cafes within walking distance.
Rooms within this accommodation at Warrnambool come with modern amenities like flat-screen TVs with Netflix.
Rooms also have tea and coffee making facilities, a mini bar, a hairdryer, a work desk, and complementary deluxe toiletries in the bathroom.
The choice of room types is simpler than at some other accommodation in Warrnambool, Victoria.
You can pick between Queen and deluxe King rooms for up to three, or opt for more space by selecting a family suite or room with twin and double beds.
Guests who've stayed here really rate the quiet yet convenient location, as well as the helpful service offered by the staff.
What Past Guests Have Said:
Very happy, the location was great, the room was clean and comfortable, shower loved it. We walked to the shopping centre, it was so close to where we stayed. Would absolutely recommend to family and friends. Would stay there again. Loved it. – Tangi

Read more reviews.
Best Things?
Helpful staff
Flatscreen TVs with Netflix
Central yet peaceful location
Work desk and free Wifi in all rooms
Summary:
Traditional motel with queen, deluxe king, and family suites in a quiet location that's close to shops and cafes. Features Netflix and free wifi.
➡️ Check Rates and Availability Here!
As with Hopkins House, the Best Western Colonial Village Motelis located a little out of town.
The beach and Flagstaff Hill are about two kilometres away, but with some great amenities on site you'll not need to go so far when staying at this accommodation.
The facilities at this cheap accommodation Warrnambool offer more than most, so if you're exploring by car it's worth considering a stay here.
On site you'll find a garden with barbeques, a guest laundry, balconies, and even tennis courts.
Accommodation here is generously sized, making each unit like a home away from home.
All units are very well equipped with dining and lounge areas as well as the bedrooms.
There's a good range of room types to choose from too. Some have spa baths, or you can book one with a balcony, garden views, or space for up to six guests.
What Past Guests Have Said:
Rooms were spacious and clean – beds were comfortable with electric blankets; water was hot with excellent water pressure from the rainhead and spa was amazing after a long drive. – Tania

Read more reviews.
Best Things?
Tennis courts
Children's play area
Garden with barbeques
Spacious accommodation
Some rooms have a balcony
Summary:
Spacious accommodation that offers spa baths, balconies, and rooms size rooms for 6 people. Facilities include a playground and tennis court.
➡️ Check Rates and Availability Here!
The Comfort Inn on Raglan is one of three Comfort Inns the city has to offer.
It's situated just off the Princes Highway, so it's very convenient for people arriving or exploring by car. And you can drive into the centre of town in just a couple of minutes.
Though it looks like a typical motel from the exterior, this property offers some surprisingly luxurious rooms.
This 4-star motel has cable flat-screen TV in all accommodations, and to keep the kids happy, guests staying here benefit from free entry to Aqua Zone, a local fitness and aquatic centre.
A range of room types means there's something to suit everyone, whether you're a solo traveller, couple, or family.
A budget family room is ideal for cost-conscious families of four, while if you're visiting as a couple without children you may like to treat yourself to a Queen or King room with a spa bath.
A room service breakfast is offered seven days a week.
What Past Guests Have Said:
The room was big which was great. Bed was great, shower was great also. Air conditioning was wonderful. Room looked great, loved the chairs in our room. Lovely color coordinated. – Thomas

Read more reviews.
Best Things?
Deluxe rooms with a spa bath
Free Aqua Zone entry for guests
Foxtel cable TV in all rooms
Breakfast service available
Summary:
A 4-Star motel with a range of room types including deluxe spa rooms and family rooms. Features include a breakfast service and free entry to Aqua Zone.
➡️ Check Rates and Availability Here!
Mahogany Motel Warrnambool can be found on Raglan Parade. It's a handy spot with the beach around 10 to 15 minutes' walk away and the amenities of the CBD even closer.
While rooms here are fairly simple in style, there's plenty of space, especially in the family rooms which have a double and 3 single beds.
Some of the double rooms also include a spa bath for long, relaxing soaks.
There's a lovely courtyard garden with a barbecue at the Mahogany Motel, so it's possible to cook outdoors while meeting other guests during your stay.
Some units also come with other self-catering facilities such as a fridge, microwave, and toaster.
In terms of location, this is a great pick, and the accommodation is also very clean and comfortable.
What Past Guests Have Said:
Our accommodation was great. We enjoyed our stay very much. It was very clean. Bed was super comfy. Curtains kept the light out so I had a sleep in. Wifi was excellent. Bathroom was very clean. Water pressure was excellent. The location was great…Excellent value for money. We will definitely stay there again. Highly recommend it. – Z

Read more reviews.
Best Things?
Convenient location that's close to everything
Garden with barbeque and picnic area
Spacious accommodation
Clean and comfortable
Summary:
Offers simple but spacious rooms, some with a spa bath and self-catering facilities. An excellent budget option in a good location.
➡️ Check Rates and Availability Here!
The Raglan Motor Inn Warrnambool is also positioned on Raglan Parade.
This is one of the best value motels in town in terms of price and is thus hard to beat if you don't mind a more basic standard of accommodation.
In addition to free parking, the Raglan Motor Inn offers rooms with flat-screen TVs, DVD players, and complimentary wifi.
Outdoors there is also a barbecue area with garden furniture, and you can choose between family, twin, and double rooms.
All accommodation comes with tea and coffee making facilities, an ironing board and iron, a minibar, and a kettle.
With just 15 rooms this place has a more intimate feel than larger properties.
What Past Guests Have Said:
Brilliant location, lovely facilities, and extremely friendly staff. Highly recommend. – Georgia

Read more reviews.
Best Things?
Convenient location
Great value rates
Garden with barbecue
Ironing facilities in all rooms
Summary:
A small affordable motel with twin, double, and family rooms in a good location. Facilities include a barbecue area and free wifi. Another good option for budget travellers.
➡️ Check Rates and Availability Here!
The City Heart Motel in Warrnambool can also be found on Spence Street, a quiet residential location close to the CBD.
While it's not the cheapest motel in town, it offers what the owners claim to be the best value for money in the city.
With exposed brick walls, modern furnishings, and fun animal prints, accommodation here is more modern than some.
As well as free parking and wifi throughout, this motel also has a garden with barbeque facilities and shaded seating.
Rooms at the City Heart Motel are air-conditioned and come with a kettle, small fridge, and satellite flat-screen TV.
Guests can also request the use of a DVD player and a microwave for their stay.
Accommodation here ranges from doubles perfect for couples to rooms for families with one or two single beds plus a double.
While there is no bar or restaurant on site, it's not really a problem at all when you're this close to the centre of town.
What Past Guests Have Said:
Great value, comfy room, friendly communicative staff. Very impressed. Super happy with our stay. – Amanda

Read more reviews.
Best Things?
Residential street
Good value for money
Clean, comfortable rooms
Garden with barbeques and seating
Summary:
A traditional motel close to the CBD with barbeque facilities. Offers simple attractive rooms for couples and families.
➡️ Check Rates and Availability Here!
Best Motels Warrnambool Map
You can see all the above options for the best motels in Warrnambool on the map below.
Heading down the Great Ocean Road? Join our Great Ocean Road Travel Planning Facebook Group for tips and information to help you plan your perfect trip
Final Word
Accommodation in Warrnambool motels offers a great option when you want to stay close to the Great Ocean Road area.
As well as what the city itself has to offer and the beaches, the wider regions of coastal Victoria are easy to access when you book into a motel in Warrnambool.
Whether you're headed here to encounter nature, surf the waves, sample fine food and wine, or delve into local history, Warrnambool makes a great base for your break on the southern coast of Victoria!
If you're heading to Warrnambool, don't miss this guide to all the best things to do, or find the best beaches on the Great Ocean Road here.
Recommended: