Going on a trip and want to know all the best things to do in Port Campbell? We've got you covered!
Below you'll find our guide to the top things to do in and around Port Campbell, Victoria to help you plan your ultimate trip.
Port Campbell was settled in the 1870s and the port and town are named after the whaler Captain Alexander Campbell, a colonist of the Port Fairy region.
Visiting Port Campbell is great at any time of year and it's a wonderful place to stay as it's surrounded by some of the most iconic attractions of the Great Ocean Road.
👉 Make the most of your trip by joining our FREE Great Ocean Road Travel Planning & Tips Facebook Group here!
With nearby sights like the Twelve Apostles, Gibson Steps, and London Bridge, Port Campbell is an ideal base for exploring the Shipwreck Coast.
Some of the most popular activities in Port Campbell include sightseeing, hiking, swimming, and sampling the local cuisine.
Read on for a complete guide on the best Port Campbell things to do.
21 Best Things To Do In Port Campbell
There are so many things to do in Port Campbell, you really are spoiled for choice when visiting this tiny town.
1) Go For A Dip At Port Campbell Beach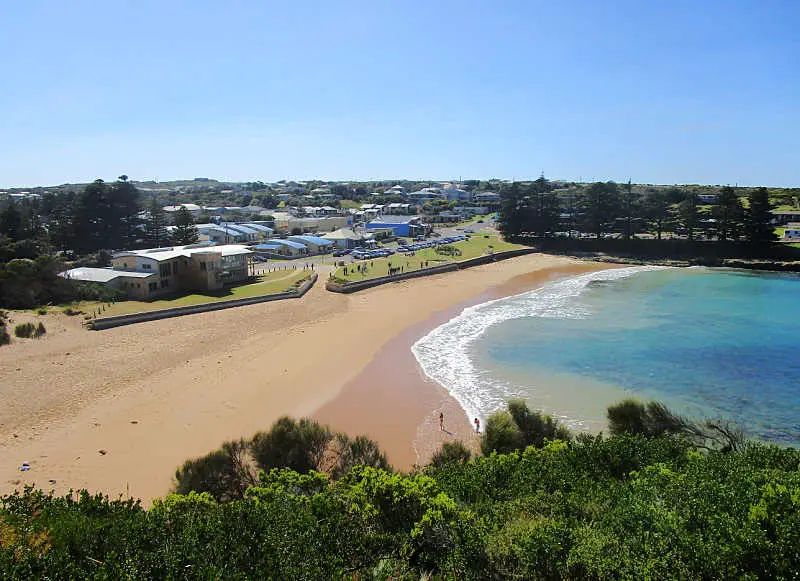 You don't have to look too far when thinking about what to do in Port Campbell. Like many Great Ocean Road towns, the beach is the best place to start.
Port Campbell offers the only sheltered inlet between Apollo Bay and Warrnambool. This makes the beach one of the safest spots to swim on the Great Ocean Road.
Take a trip to Port Campbell beach and relax on the sandy shoreline. The beach is family friendly and has a lovely relaxed vibe.
There are seasonal patrols keeping swimmers safe in the summer months.
For stunning views of the beach, take a stroll along the Port Campbell jetty at sunset and watch the waves crash against the limestone cliffs.
2) Get The Best Views In Town From The Port Campbell Lookout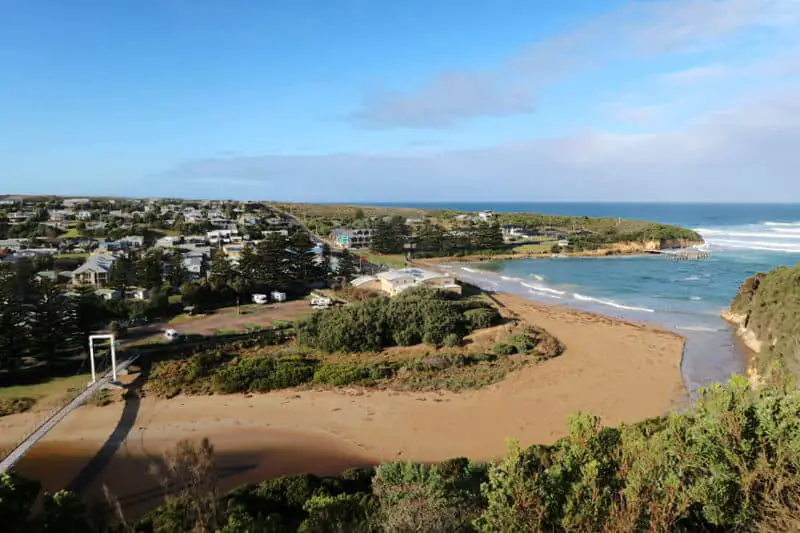 A little further along the main beach are a set of stairs that lead to Port Campbell's scenic lookout.
Climb the steep steps to get an incredible view of Port Campbell Beach and the town itself.
If the stairs aren't for you it's also possible to drive to the lookout where there is a small car park and accessible views.
3) Hike The Port Campbell Discovery Walk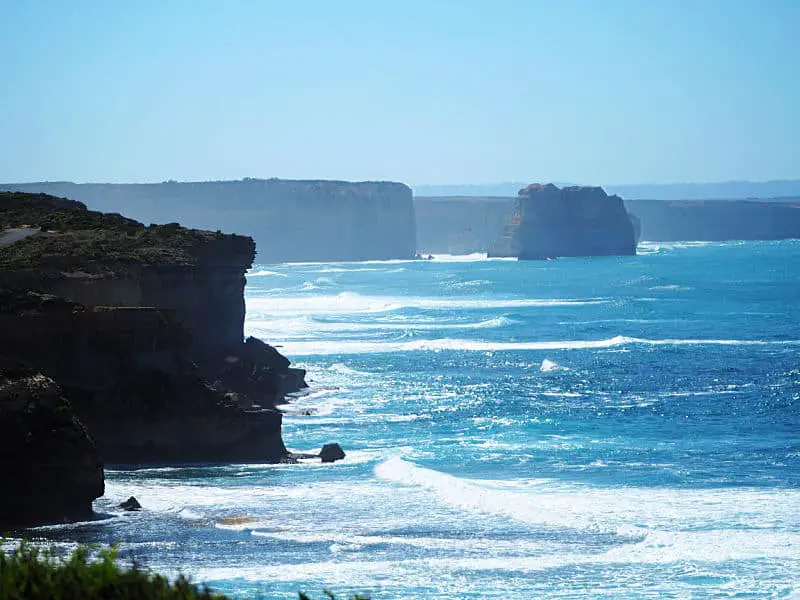 Start from the Port Campbell Lookout and head out on the 4 kilometre return Discovery Walk.
You will spend around an hour and a half traversing cliff tops and exploring coastal heathland, getting the chance to spot wildlife along the way.
The walk has unobstructed views out towards Sentinal Rock and the rugged southern ocean coastline.
Note: Unfortunately the Port Campbell Discovery Walk is unsuitable for prams and wheelchairs, and dogs are not allowed.
4) Stroll Along Port Campbell Pier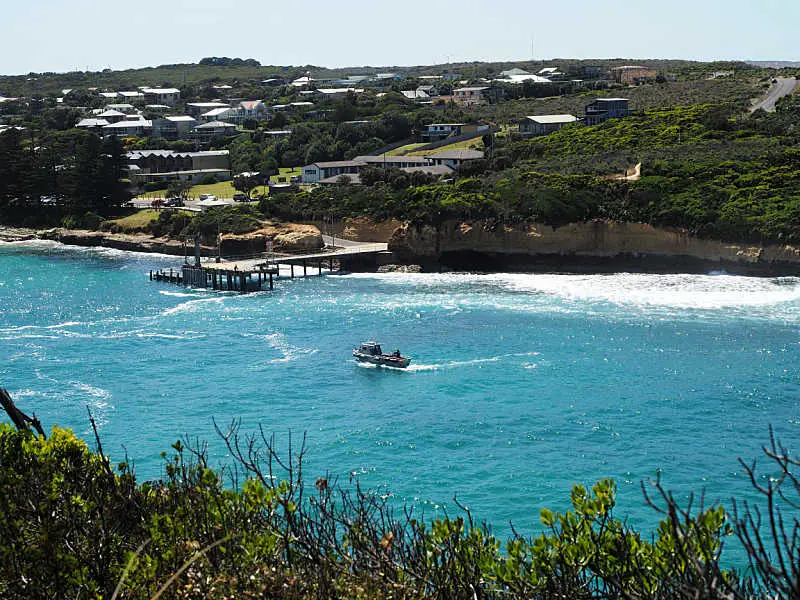 At just 50 metres long Port Campbell Pier is more of a jetty than a pier.
It's mostly made of concrete with some boardwalk sections, but it still has some beautiful views of the beach and cliffs.
First constructed during the 1870s, the pier has been rebuilt several times after being destroyed by ferocious storms.
This rough weather has lent Port Campbell a reputation, it's now renowned as the centre of the internationally known Shipwreck Coast; there have been over 80 shipwrecks along this 130 kilometre stretch of coastline.
5) Grab A Beer And Pizza At The Sow & Piglets Micro Brewery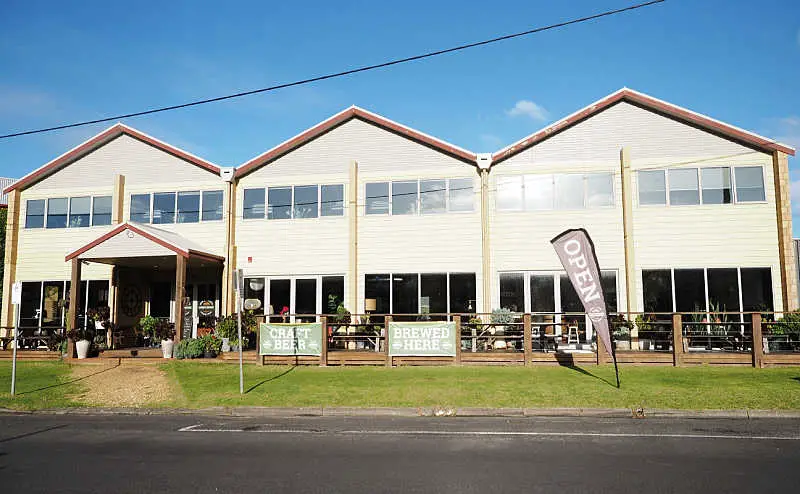 For a chance to hang out with the locals, grab a seat at the Sow and Piglets Brewery. You can choose to relax on a cosy indoor couch or at sunny outdoor tables.
The decor is a mixture of worldwide artefacts, from the well-travelled owner, and vintage 80's relics, offering a welcoming atmosphere and a relaxing way to spend the afternoon.
Try local craft beers along with a freshly cooked pizza for a lazy evening by the sea. At just a minute's walk from the beach, the brewery is easy to find.
Sow & Piglets Micro Brewery

Where: 18 Tregea Street, Port Campbell

When: Open daily from 2 p.m to 8 p.m

Phone: (03) 5598 6305
6) Learn The Craft Of Whisky Making At The Timboon Distillery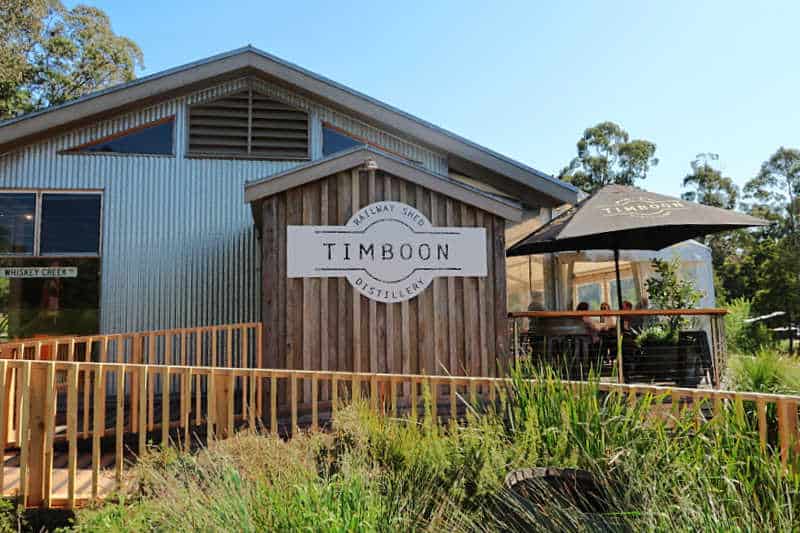 Be sure to make a stop at the restored railway shed which now houses the Timboon Distillery and the largest collection of true, Australian craft spirits in the country.
The Timboon Railway Shed Distillery offers gin, vodka, liqueurs, and of course single-malt Timboon whisky.
Phone ahead to book lunch or simply stop by for a whisky-tasting experience and tour.
It's a great way to get an insight into the distilling process and will give you a whole new appreciation for this fine tipple.
Whisky Tastings are $15.00 which includes 4 X 7.5 ml pours, with the fee waived if you buy a bottle – a great souvenir or gift.
Timboon Railway Distillery

Where: 1 Baily Street, Timboon, 3268

When: Open 10 a.m to 4.30 p.m daily

Phone: (03) 5598 3555
7) Get Your Fill At The Timboon Cheesery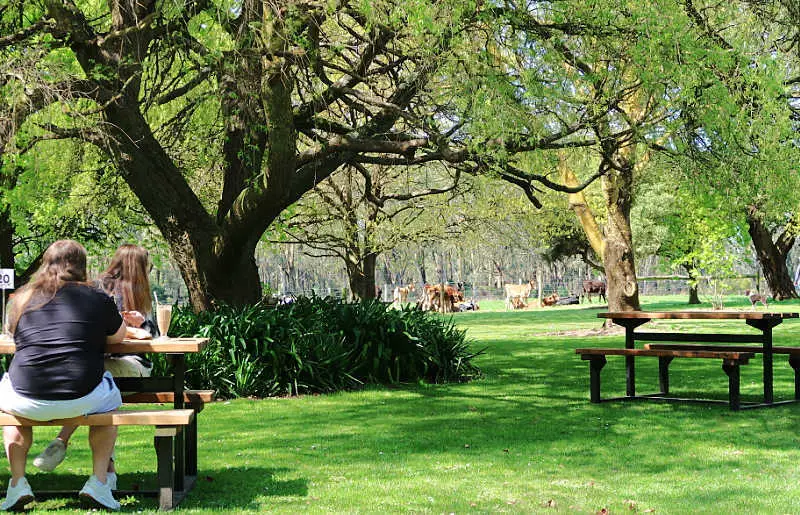 Just a 15 minute drive from Port Campbell is the famous Shultz Organic Creamery & Cafe formerly known as Timboon Cheesery.
This Timboon cheesery is housed on a thousand-acre dairy farm just outside of Timboon, Victoria.
Stop in at the seasonal cafe and try out pastry chef Hila Perry's creations, celebrating the best of Schulz Organic Dairy products alongside hand-selected local produce.
Farm tours are coming soon too!
Schulz Organic Dairy (Timboon Cheesery)

Where: 23 Ford and Fells Road, Timboon 3268

When: Open 10 a.m to 4 p.m daily

Phone: 0490 876 509
8) Pat Dingoes At The Great Ocean Road Wildlife Park
For a great day out with the kids in Port Campbell visit the Great Ocean Road Wildlife Park and Dingo Awareness Centre.
Located just 15 minutes from the famous Twelve Apostles, the wildlife park is family run with a strong eco vision.
They house all the animals at the park in a spacious and natural environment.
The park offers people the unique experience to get up close and interact with some of Australia's iconic wildlife, including a guided dingo encounter.
Grab a bite at the Earthbound Cafe, which offers homemade and healthy food as well as a cosy space to relax and enjoy a good cup of coffee or organic tea.
Great Ocean Road Wildlife Park

Where: 29 The Boulevarde, Princetown, 3269

When: Open daily 10 a.m to 5 p.m

Entry: Adult $25.00, Concession $20.00, Child $13.00, Family $65.00, Dingo Experience $15.00

Phone: (03) 5237 5262
9) Drink Hot Chocolate And See The Alpacas At GORGE Chocolaterie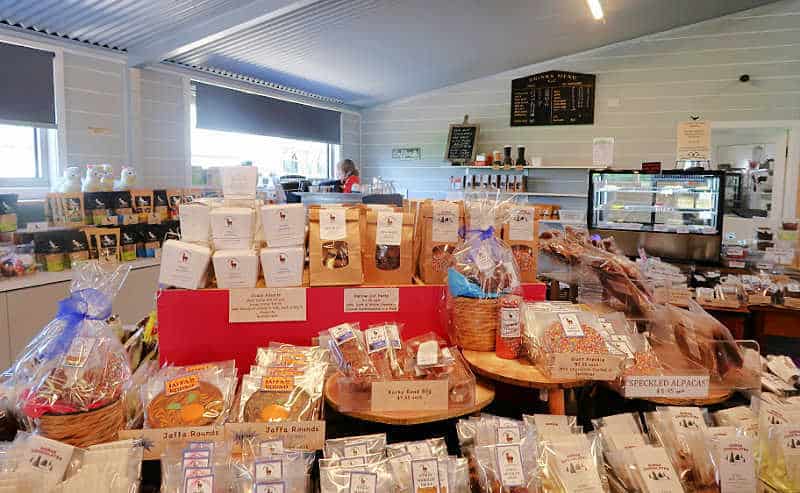 Situated on 100 picturesque acres of countryside GORGE Chocolates was established in 2004.
The business was purchased by new owners in 2019, who rebranded the chocolaterie as 'GORGE Chocolates at The Chocolate Alpaca'.
Alpacas may not be the first thing that comes to mind when visiting a chocolate shop, but at this establishment, they are the real stars of the show.
As you drive down towards the shop, you will be greeted by alpacas and llamas as you pass by a small vineyard.
After a warm furry welcome, try the hot chocolate inside accompanied by a piece of rocky road.
You can also find homemade jams, sauces, sweets, candles, cakes, clothes, carpets, and gifts made from alpaca wool.
GORGE Chocolates are proud members of the 12 Apostles Gourmet Trail.
G.O.R.G.E Chocolates

Where: 1432 Princetown Road, Cooriemungle, 3268

When: Open daily 10 a.m to 5 p.m, "If the gates are open we are open"

Phone: 0427 931 789
10) Pick Your Own Strawberries At Berry World
Get out into nature and pick your own fruit at Berry World PYO Strawberries.
Kids will love finding out where their fruit comes from, as well as feeding the resident pony and sheep along the way.
For lunch, stop in at Berry Thai, famous for its Thai red curry, pad Thai, and red duck curry.
Then head to the shop to stock up on homemade jams and sauces as well as their beautiful light and fluffy scones.
Berry World

Where: 26 Egan Street, Timboon, 3268

When: 10 a.m to 10 p.m Fri, Sat, Sun, Tues, 10 a.m to 8 p.m Wed & Thu, Closed Monday

Phone: 0417 475 885
11) Lookout To The Twelve Apostles And Climb Down Gibson Steps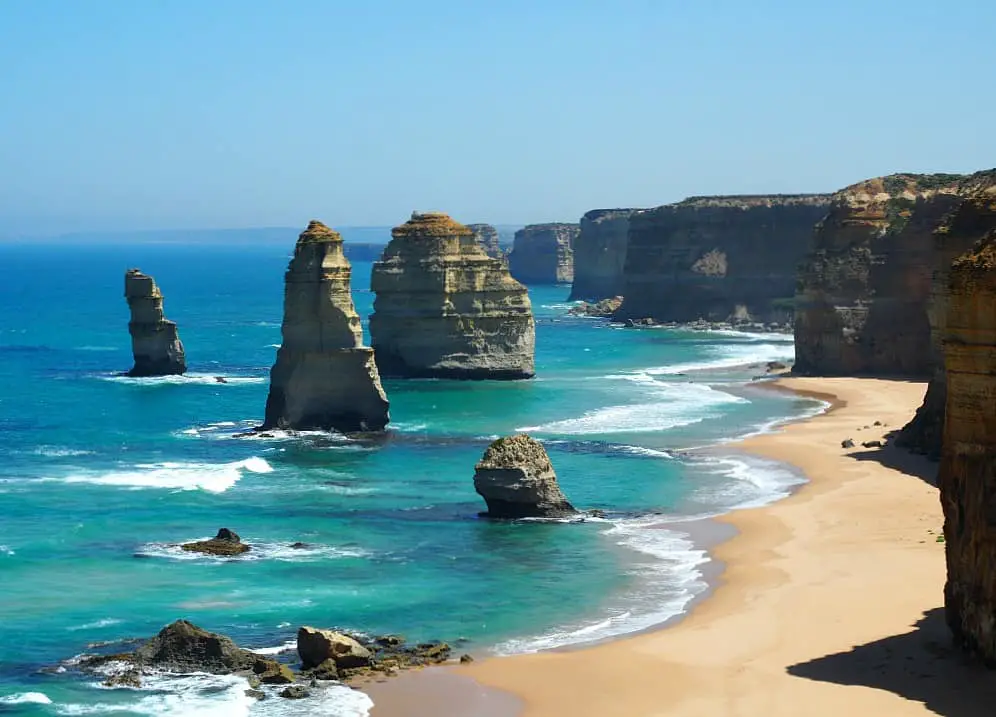 The Twelve Apostles Victoria were torn from Victoria's rugged limestone cliffs by the turbulent Southern Ocean over 20 million years ago.
Arches and stacks of rocks were separated from the cliffs by gradual erosion, some up to 50 metres in height.
This Victoria landmark was originally known as the 'Sow and Piglets' but was renamed The Apostles in 1922 – a brilliant marketing move!
Witness a 12 Apostles sunset and you can well and truly say you've experienced the magic of the Great Ocean Road.
Just a little further along the clifftop take the 86-step staircase known as Gibson Steps down to Gibson Beach.
Enjoy incredible views of the Gog and Magog sea stacks from either the lookout or the beach.
12) Discover The Port Campbell National Park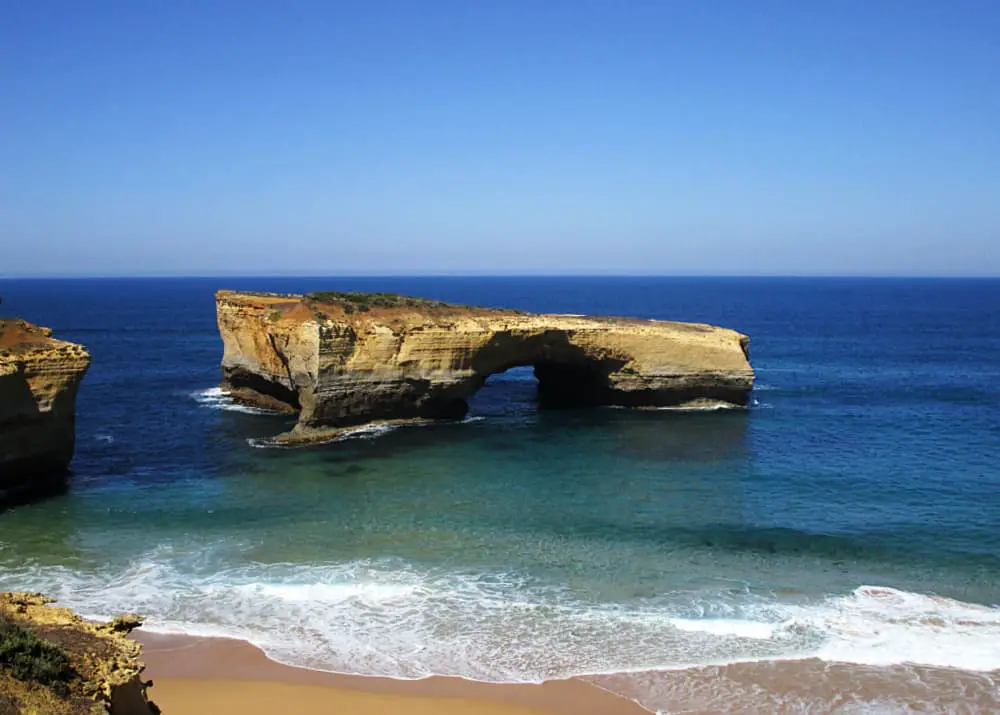 Port Campbell National Park is home to many of the most famous Port Campbell attractions.
Take some time when visiting the area to explore the many stunning natural wonders of the park.
The 1,750-hectare Port Campbell Recreation Reserve is also home to London Bridge, The Grotto, and Loch Ard Gorge.
Go for a gentle hike along the Port Campbell Discovery Walk to Two Mile Bay.
Pass the iconic clifftops of the Great Ocean Road, navigate coastal heath, and see epic panoramas all the way back to Port Campbell.
The London Bridge, Great Ocean Road is a popular tourist attraction and it can get busy during the day.
It was formed over hundreds of years through natural erosion from the wind and sea.
Now also known as the London Arch it used to have a walkway connecting it to the mainland, making it look much more like its famous moniker.
But, in 1990 the "bridge" rock formation collapsed leaving it detached from the mainland, and two tourists stranded on what was left of the stack! (They were rescued by helicopter.)
London Bridge, Port Campbell, is a great alternative to the Twelve Apostles at sunset as it's less busy and just as beautiful.
Just around the corner, you can also spot The Arch, Great Ocean Road, a less impressive arch that is still worth a look.
13) Visit Loch Ard Gorge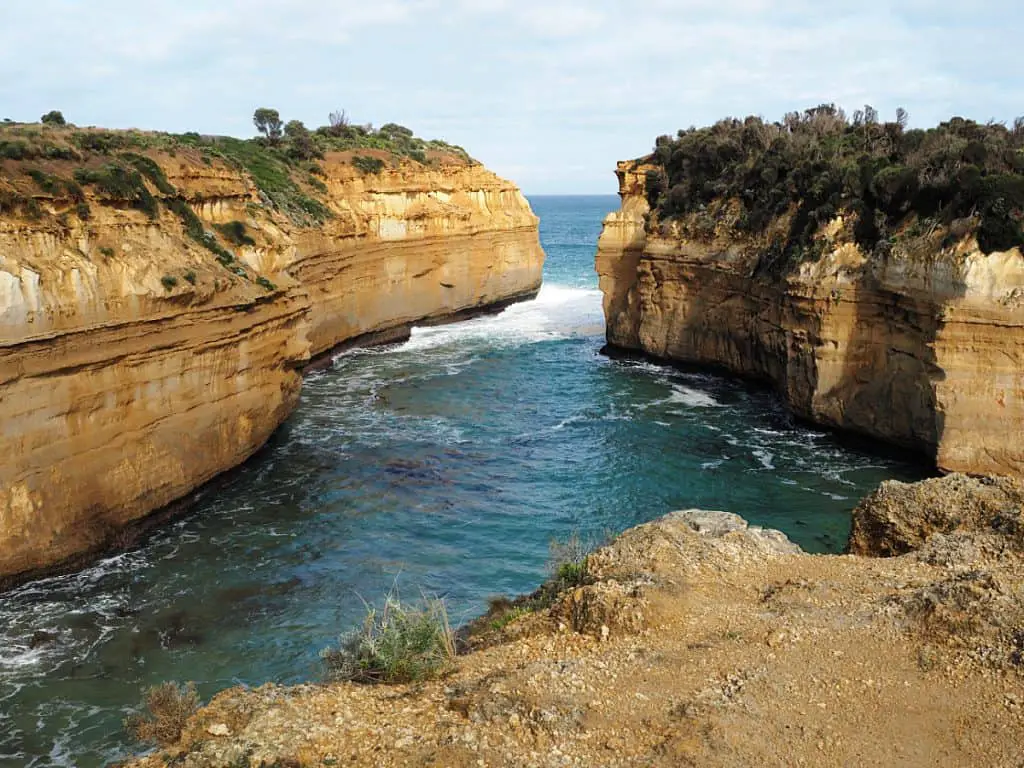 Another beautiful stop to add to your Port Campbell, Great Ocean Road trip is Loch Ard Gorge. Climb down to the beach and look out to the rocky islands of the Shipwreck Coast and you can clearly see how it got its name.
There have been many tragic shipwrecks in Australia's history but the Loch Ard was one of the most tragic.
The Loch Ard was a clipper, a long fast passenger ship, carrying people from Liverpool to Melbourne.
Of the 54 people on board, only two survived when it struck Mutton Island. It sank quickly and violently within just 15 minutes of impact.
The two survivors, Tom and Eva, became local celebrities and Tom was given money and medals for his bravery in rescuing Eva from the seas.
Although both eventually returned to England and Ireland respectively, the Tom and Eva Lookout remains at Loch Ard Gorge as a reminder of those tragic events.
14) Snap The Perfect Photo At The Grotto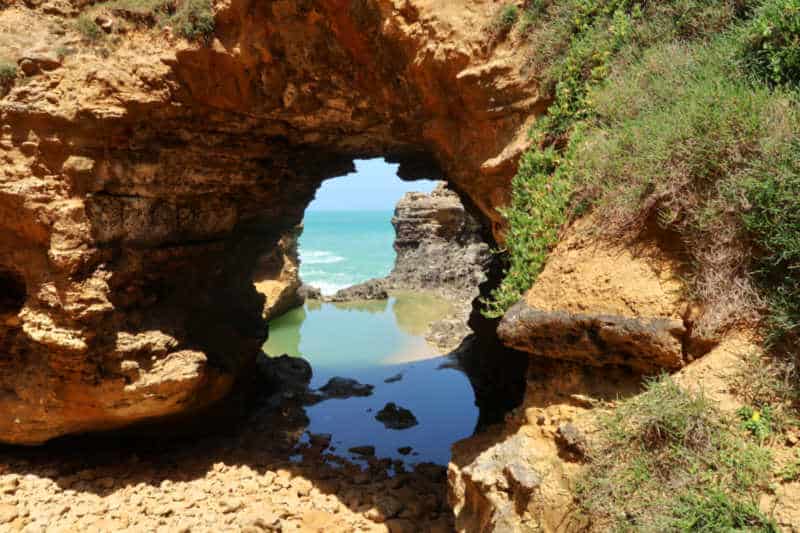 Located 9 kilometres west of Port Campbell, this incredible sight is well worth a visit if you're in the area.
You may think you've seen every arch imaginable by this point but The Grotto holds its own.
Less busy than other Port Campbell attractions, The Grotto is part blowhole, part archway, part cave.
It's made up of smooth boulders and rock pools that have been carved out of the limestone cliffs.
Get the best view by looking into the Grotto from the lower platform. From this spot, you can get a great picture of the horizon, the pools, and the beautiful rock formations.
The Grotto, Great Ocean Road is accessible via a decked stairway that leads down from the viewing platform at the top.
A top tip is to visit at sunset to catch a glimpse of the sun disappearing through the archway of the rock formation.
15) Satisfy Your Sweet Tooth At Timboon Ice Creamery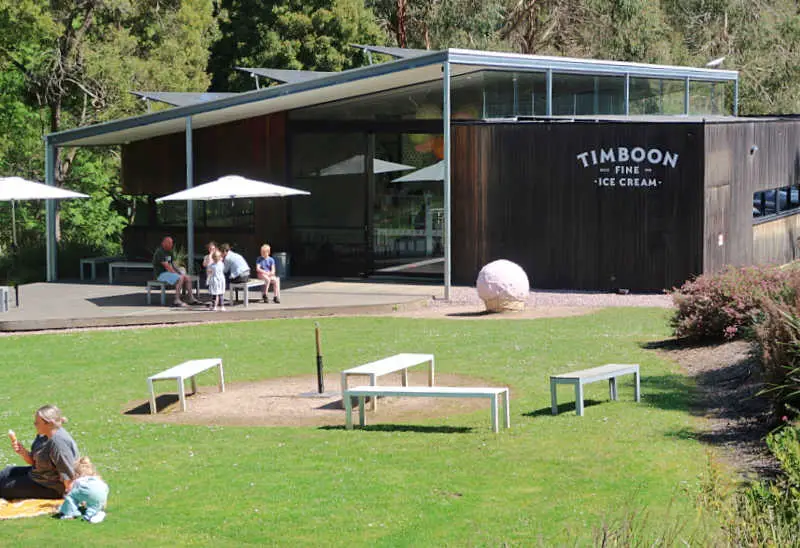 Try up to 24 premium flavours of Timboon Fine Ice Cream.
Farm fresh, locally made and delicious, Timboon ice cream has earned a reputation as the best frozen treat around.
The all-natural ice cream indulgence is churned with milk direct from the neighbour's farm.
The cream comes in fresh from the local dairy and is then mixed with regional ingredients to create mouthwatering flavours.
You will want to try them all if you have enough time in Port Campbell, and the views aren't bad either.
Timboon Ice Creamery

Where: 1a Barrett Street, Timboon, 3268

When: Open 11 a.m to 5 p.m daily

Phone: (03) 5501 9736
16) Sample Soft, Creamy Delights At Dairyliscious Farm Fudge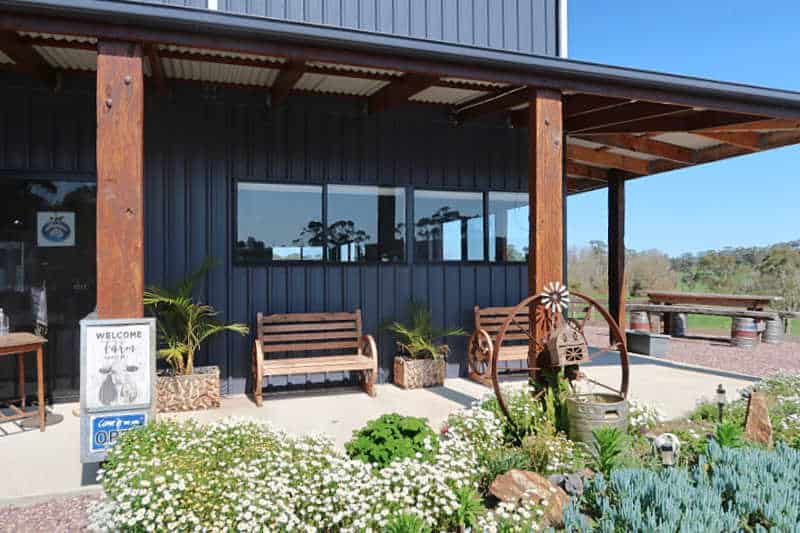 Another must on the Great Ocean Road food trail is Dairylicious Farm Fudge.
Get a tasting board to sample some of the fantastic flavours of homemade fudge.
Are you a chocolate fudge, salted caramel, or choco mint kind of person?
With a labour intensive fudge making process involving no preservatives, and only the best Aussie ingredients, Dairylicious Farm Fudge is proud to be part of the 12 Apostles Food Artisans and Gourmet Trail.
But it's not just the fudge that makes this worth adding to your list of things to do in Port Campbell. The cafe serves up great coffee and awesome milkshakes too.
Dairylicious Farm Fudge

Where: 1281 Timboon-Colac Road, Jancourt East, 3266

When: Open 9 a.m to 5 p.m weekdays and 10 a.m to 5 p.m weekends

Phone: (03) 5594 6370
17) See The Fairy Penguins At Sunset At The 12 Apostles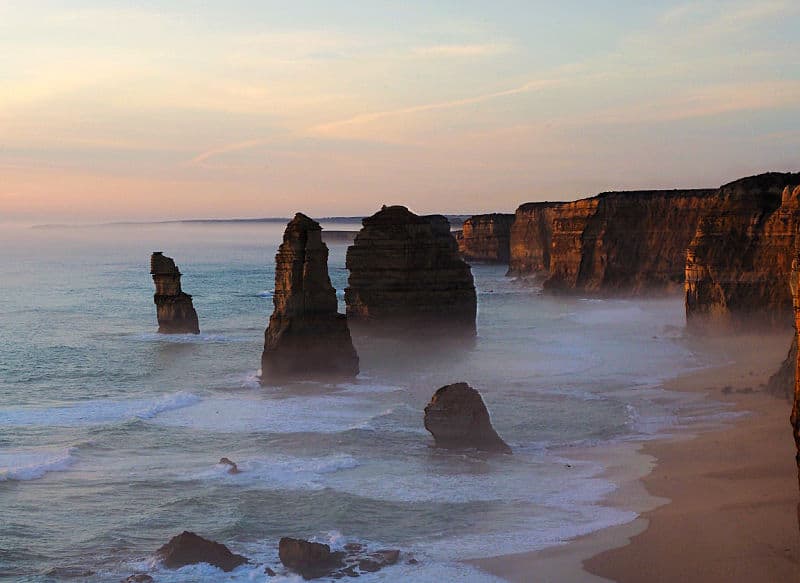 Port Campbell National Park is also home to a bounty of wildlife. Intrepid animals who carve out an existence on this seemingly inhospitable coastline.
Head out at dusk for a great chance to spot wildlife returning from their feeding grounds out at sea.
Make a stop at the Twelve Apostles or London Bridge at sunset and look down at the beach, and you can see hundreds of Little Penguins.
They congregate along the beach to socialise and recover before the next day's fishing.
Another spectacular sight to witness is thousands of Short-Tailed Shearwaters returning to roost on the nearby Muttonbird Island, close to Loch Ard Gorge.
You may also be able to spot whales all along this coastline.
18) Jump On A Scenic Helicopter Flight Over The 12 Apostles On The Great Ocean Road
One of the best ways to see the Great Ocean Road Port Campbell section is from above.
Great Ocean Road helicopter flights take in the scenic vistas of Cape Otway, London Bridge, and the Bay Of Islands.
Spot the 12 Apostles on a luxury helicopter flight while enjoying views of the endless coastline and the Great Ocean Road from new heights.
It's a fantastic way to see the best of Victoria's Shipwreck Coast.
Opt for a helicopter tour or private flight with experienced pilots. They have an intimate knowledge of Victoria's Shipwreck Coast and will recount tales of days gone by.
The 12 Apostles Helicopter Tours run daily in summer from 10 a.m to 7 p.m.
19) Escape The Daily Rind At Apostle Whey Cheese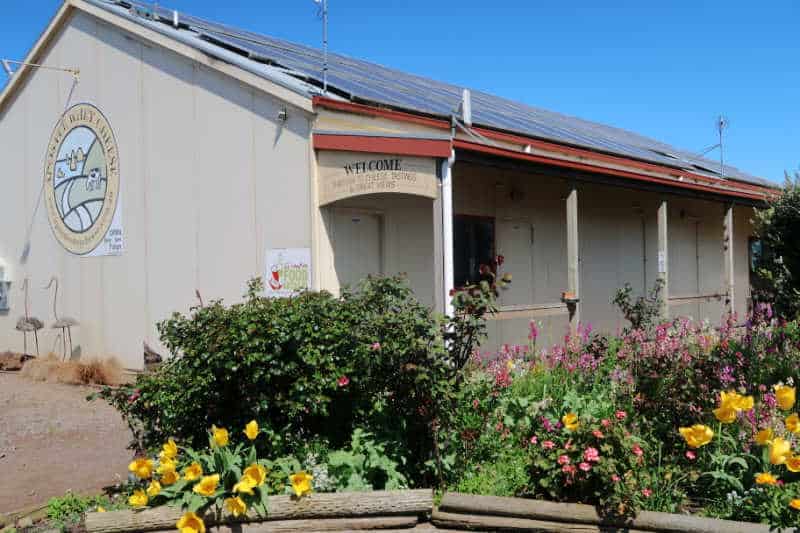 For the true cheese connoisseur, Apostle Whey Cheese is an absolute must-visit in Port Campbell.
Sample some of their award winning delectable hand-made cheeses like Camembert, Brie, and Chilli Havarti by trying their famous $1.00 cheese platter.
They boast a paddock-to-plate operation, which means all of their cheeses are made from pure milk that has been produced by their very own specially-bred herd of Aussie Red/Jerseys.
If you're still a little peckish you can also get fresh toasties and coffee, available all day.
If you visit around 4 p.m you can even watch the cows being milked!
Apostle Whey Cheese

Where: 9 Gallum Road, Cooriemungle, 3268

When: Weekdays 8 a.m to 5 p.m, Weekends 10 a.m to 5 p.m

Phone:0437 894 337
20) See The Cascades Tumbling Over Hopkins Falls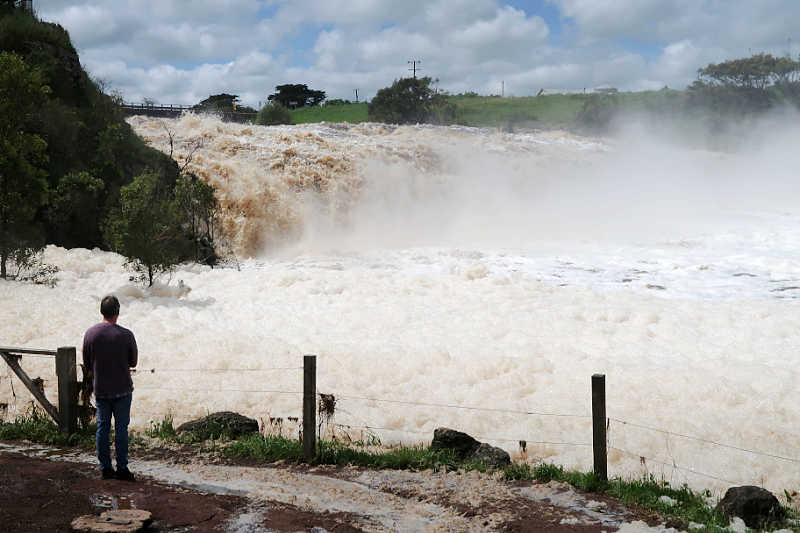 Located about a 45-minute drive from Port Campbell, Hopkins Falls is nestled in Victoria dairy country.
It's best to visit these falls when you're spending several days in the Port Campbell Great Ocean Road area.
These magnificent cascades are among the state's (if not the country's) widest at an impressive 90 metres.
They are spectacular in winter or after heavy rain, while in summer you have the chance of spying baby eels as they migrate upstream. So keep your eyes peeled!
The upper viewing platform is just a few metres from the car park and offers excellent views over the falls.
For a closer look and a different view, there is a set of stairs to take you down to the base of the falls.
Signs provide some information about the history of the area and the bridge that saved people's lives.
Facilities include gas barbeques, picnic tables, and toilets.
21) Go Whale Watching At Warrnambool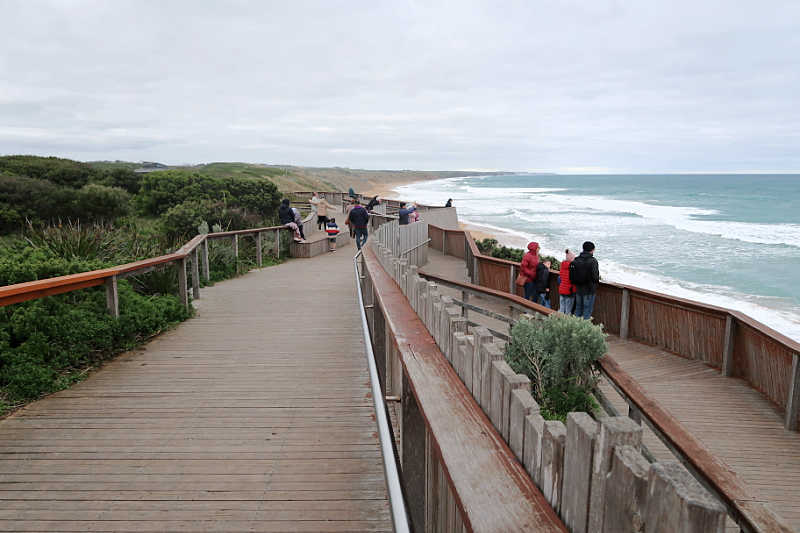 If you're visiting Port Campbell in winter then head to Logans Beach in Warrnambool.
Known as a whale nursery, between June and September, Southern Right Whales migrate here to give birth in the warmer waters.
They usually remain in the area with their young for several months and they can be seen frolicking in the waters from the shore.
A specially built whale watching platform makes it easier to spot them.
While you're in Warrnambool be sure to stop by Flagstaff Hill Maritime Village and Museum.
The reconstructed outdoor village is of particular interest as it shows what life was like for Australia's early settlers.
Port Campbell Things To Do Map
You can find all the above things to do in Port Campbell on the map below.
Final Thoughts
There is so much to do in this tiny town, from enjoying the stunning views and sunsets at Port Campbell and the national park, to trying many local artisanal delights.
So make sure to put Port Campbell Vic on your travel list, and enjoy your time here!
Recommended: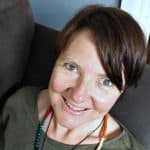 By Audrey Chalmers
Audrey grew up in Victoria and travelled the world but she always called Victoria home. She loves nothing more than exploring her home state and sharing it here.