This article may contain compensated links. For more information read our disclaimer here.
This guide to 31 iconic landmarks in Victoria was inspired by the garden state's lush landscapes, rugged mountains, surf-battered coastline, and more.
With so many natural and man-made tourist attractions in Victoria to see, this article highlights the best so you can choose the ones that appeal to you most of all.
Landmarks in Melbourne and beyond include Australia's first train station and the site of Ned Kelly's last stand.
Meanwhile, things to do in Victoria, Australia include exploring street art, riding a steam train or paddle steamer, visiting a zoo, touring wineries, exploring the waterfront, and much, much more.
Read on to discover which landmark in Victoria you might want to rush off to see.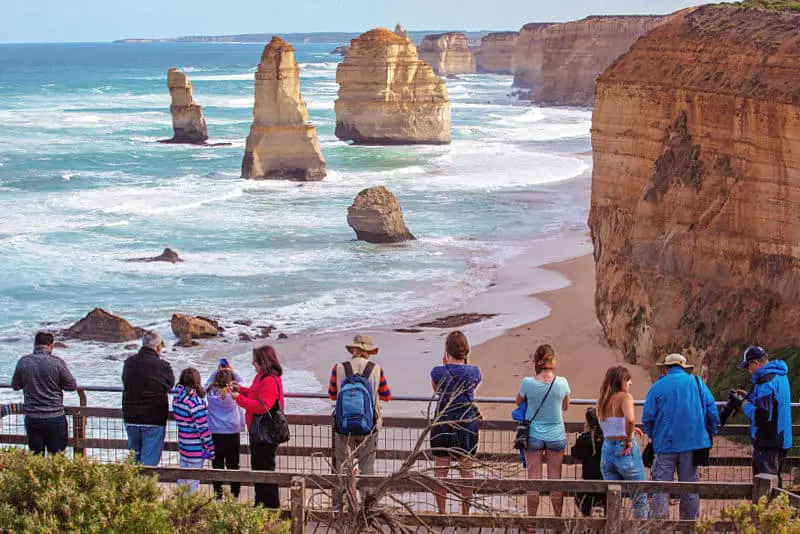 From famous buildings in Melbourne that play a useful role in the life of the city to places of interest in Victoria that are a world away from the state capital, these are the places and experiences that can really make you smile, and leave you wanting more.
Here are 31 of the best landmarks in Victoria to add to your itinerary for the school holidays, a week off work, or your next holiday in Australia.
31 Ummissable Landmarks In Victoria
1) Flinders Street Station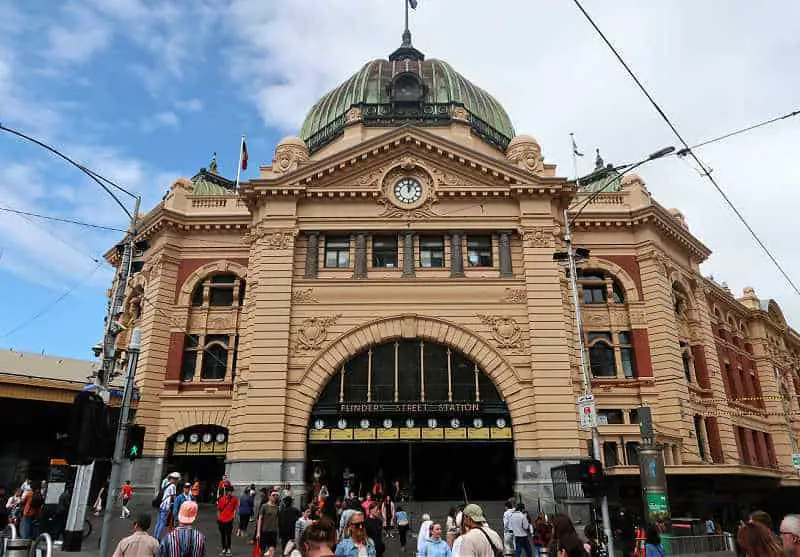 One of the most instantly recognisable Victorian landmarks is Flinders Street Station in central Melbourne.
Dating back to the very beginning of the 20th century, it's one of the most historic places in Victoria.
It's located on the corner of Swanston and Flinders Streets in the CBD and was constructed in a French Renaissance architectural style.
Flinders St Station was the first in Australia to be built, and at the time was created for steam trains. Its arches, clocks, green dome, and yellow brickwork are very distinctive.
It's also one of Australia's busiest train stations and a popular place for Melbournians to meet.
2) Federation Square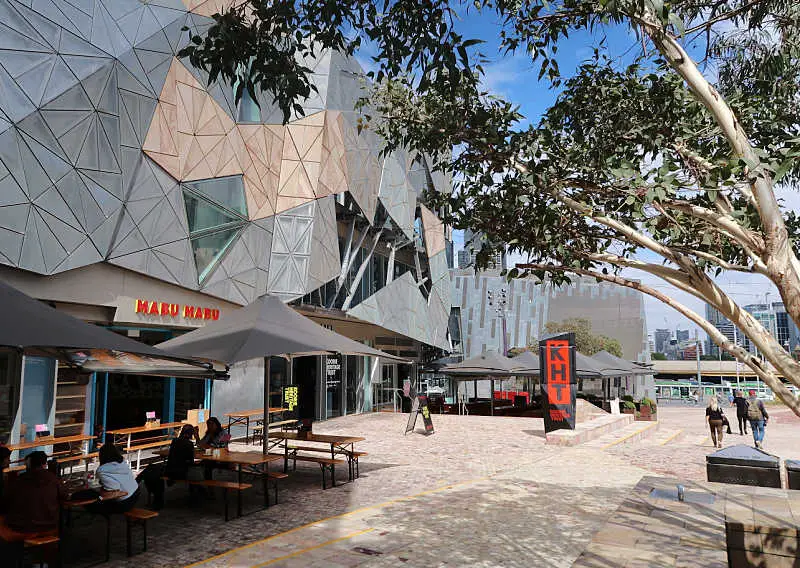 Another of the most famous Victoria tourist attractions, Federation Square in Melbourne is located close to the iconic train station.
The popular public space occupies a site of around eight acres, close to where Flinders and Swanston Streets intersect
Known by us locals simply as Fed Square the plaza is at the heart of life in Victoria's capital city.
Things to do here include attending exhibitions and events, visiting galleries and sampling Melbourne's fine foodie scene.
3) Puffing Billy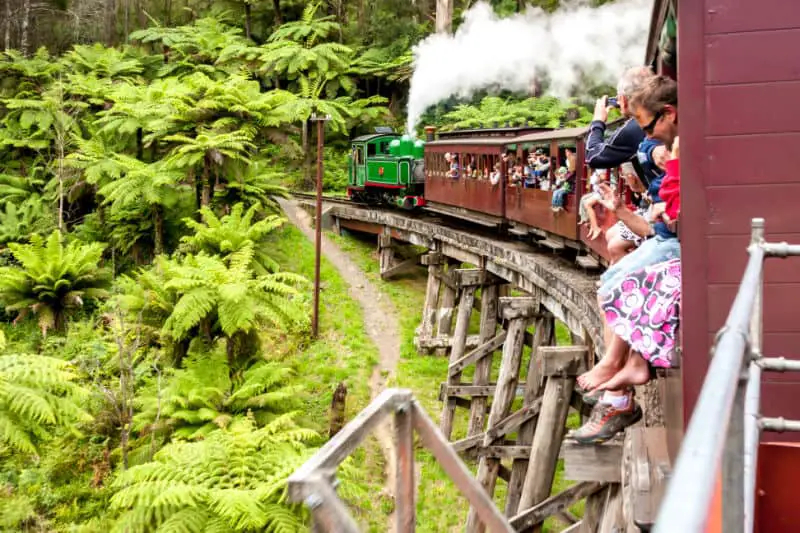 You'll need to venture outside of the city to visit one of the most popular Victoria attractions for kids and adults alike.
The Puffing Billy Railway is located among the foothills of the Dandenong Ranges, in the Belgrave area east of Melbourne.
Board the Puffing Billy train and you can spend several hours stepping back in time to the era of steam train travel while enjoying scenic views of the Dandenong Ranges from the open-air carriages.
Do allow time to explore and enjoy Lakeside too: at this stop, you'll find a boating lake, places to eat and trials to follow.
For a truly magical day, this Puffing Billy Day Tour includes a ride onboard the steam train as well as a trip to the world-renowned Healesville Sanctuary (see below) where you'll get to meet cute Australian wildlife.
The tour ends on a high note with a visit to the Yarra Valley Chocolaterie.
A steam train, cute furry animals, and chocolate treats, what more could you ask for?
🚂🐨 Click here to book the Puffing Billy And Healesvaill Sanctuary Scenic Tour.
🚂 Just want to ride the Puffing Billy Steam Train? No worries! Get your Puffing Billy Steam Train tickets by clicking here.
4) Healesville Sanctuary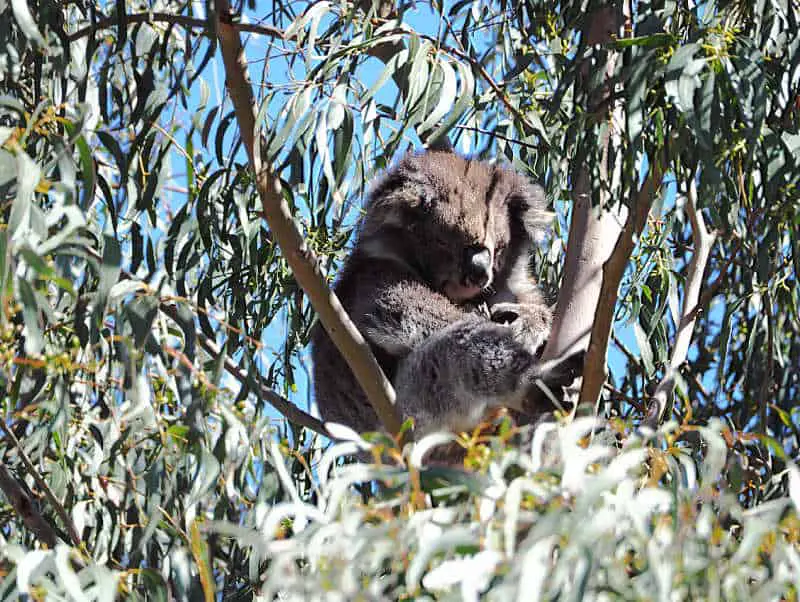 Head to rural Victoria for a family day out at the zoo. Lovers of wildlife and in particular native fauna will love Healesville Animal Sanctuary – otherwise known as the Sir Colin MacKenzie Sanctuary.
This attraction in the Yarra Valley is renowned worldwide for its native Australian wildlife in a natural bushland setting.
As you might expect, Healesville Zoo is a favourite for family days out and one of the best places in Victoria to visit with kids.
The creatures are of course very cute, but it can be an educational experience too as they'll learn all about how and where each animal lives.
🐨🦘Click here to buy your Healesville Sanctuary tickets now.
🐨🚂🍫 Click here for tickets to see Healesville Sanctuary, Puffing Billy, and the Yarra Valley Chocolaterie all in one day!
5) The Great Ocean Road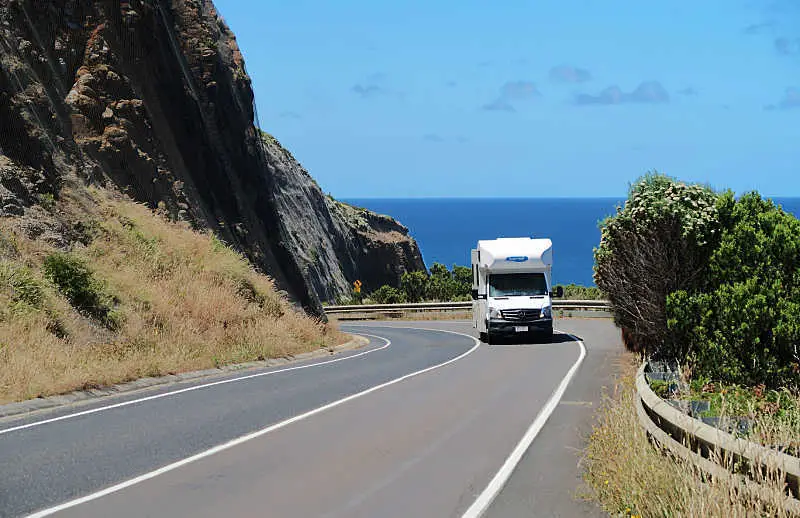 The Great Ocean Road is one of the most famous Victoria landmarks of all. It's also the gateway to the other Victorian attractions that can be found along, or close to, the scenic route.
The route lies between Torquay in the east and Allansford in the west: the latter is close to Warrnambool.
The Great Ocean Road in Victoria is first on the list for many people deciding what to do in Victoria.
It's one of the most revered and picturesque drives on the planet and dates back to the early 20th century.
For rugged and untamed coastlines, native wildlife, spectacular hiking and biking trails, and some of the best surfing beaches you'll find anywhere, the Great Ocean Road is surely the jewel in Victoria's crown.
The easiest way to visit the Great Ocean Road from Melbourne is on a tour. There are plenty of tours to choose from including one day trips, multi-days, and even tours that include the Grampians.
6) Twelve Apostles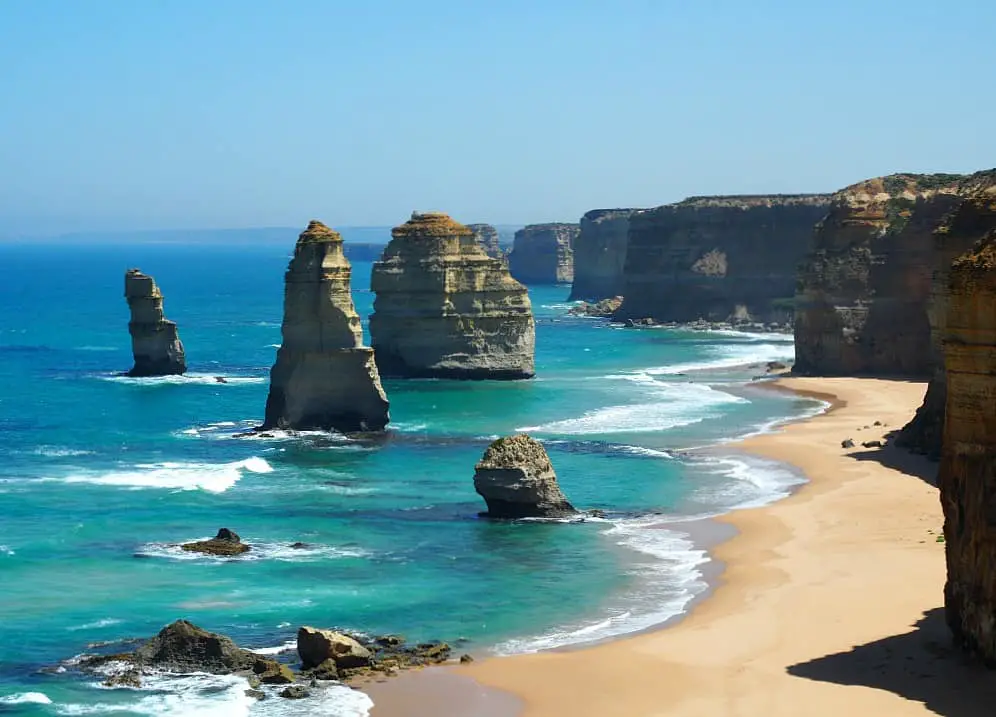 The Twelve Apostles in Victoria is the Great Ocean Road's most iconic sight. These limestone stacks were formed over many millennia, and loom over the ocean in a most imposing fashion.
They were once attached to the limestone cliffs at the southern edge of mainland Australia.
The 12 Apostles Visitor Centre offers scenic helicopter flights so you can view the natural limestone towers from the air.
At around 45 metres (or 150 feet) high, they're a pretty impressive sight from local points along the coastal road.
Of the original stacks, only eight now remain, and the process of coastal erosion will forever be ongoing.
7) Great Otway National Park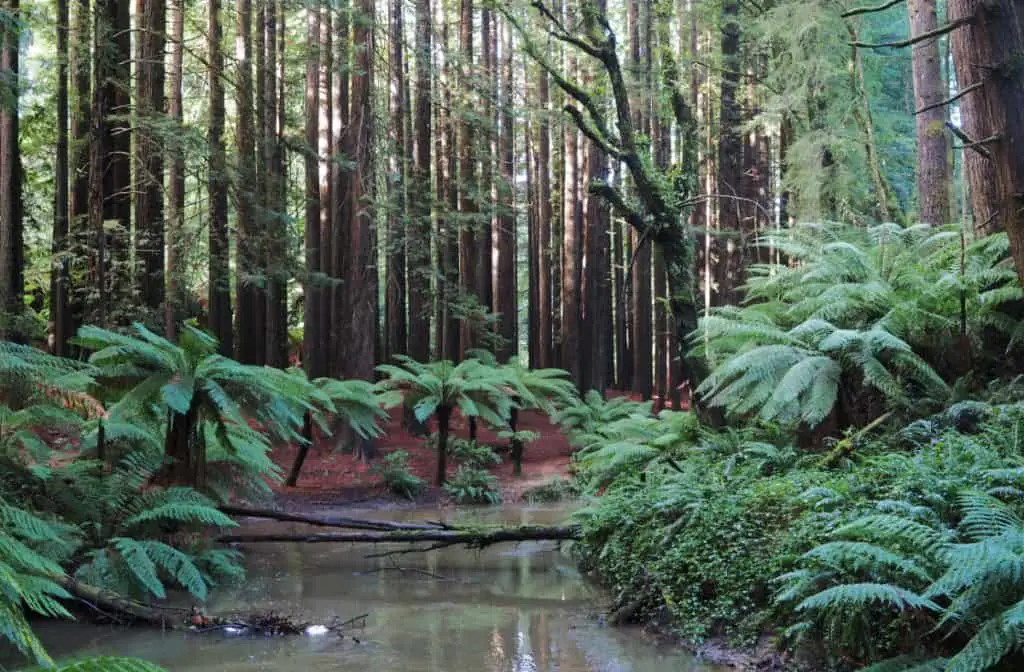 If you want to walk to the 12 Apostles, you can do so by following a route through Great Otway National Park in Victoria.
The park is often simply called The Otways. It's situated in southern Victoria, and its area includes rugged coastline, windswept beaches and the Otway Ranges mountains.
In the Otways you can see temperate rainforest, gaze out over Bass Strait from a historic lighthouse, trek beneath aromatic eucalyptus trees, look out for local flora and fauna or walk between Torquay and Aireys Inlet via the Surf Coast Walk.
There are some splendid Otways waterfalls to see in the area too, such as Erskine Falls, Triplet Falls, and Beauchamp Falls.
8) Bells Beach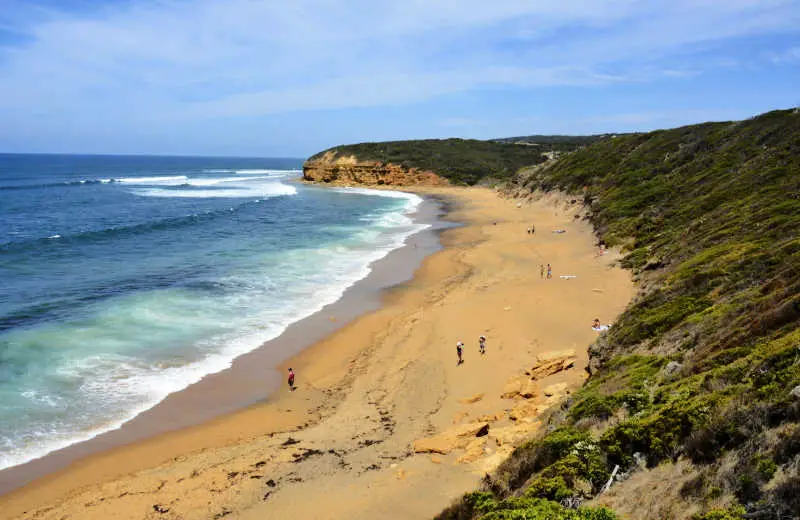 Bells Beach in Victoria isn't only one of the most famous surfing beaches in Australia – it's widely regarded as one of the best in the world.
Bells Beach surfing is therefore the main draw, but even if you don't want to take part, watching professional level water sports enthusiasts riding the waves is a spectacular sight.
The Southern Ocean swells rolling into the curved bay is what creates such idyllic surfing conditions here.
At Easter each year, the Rip Curl Pro Surfing Contest is held here and is named after the brand which was established in nearby Torquay.
9) Torquay, Victoria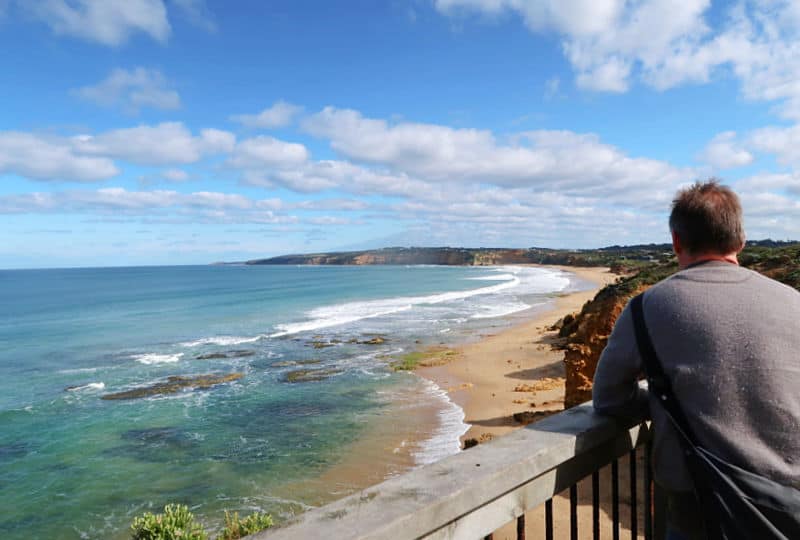 There's more to Torquay beaches than just Bells Beach, and if you want to swim, you're better off heading to some of the others.
These include Torquay Front Beach, which is ideal for swimming, paddle boarding, and picnicking.
For more peaceful alternatives for surfers, try Jan Juc or Point Addis. Whites Beach is also perfect for walking and is dog-friendly.
Other attractions of the town include the great range of Torquay surf shops for clothing, equipment, and accessories, and the Australian National Surfing Museum.
You can also enjoy some great hikes and incredible views while visiting the area.
10) Werribee Zoo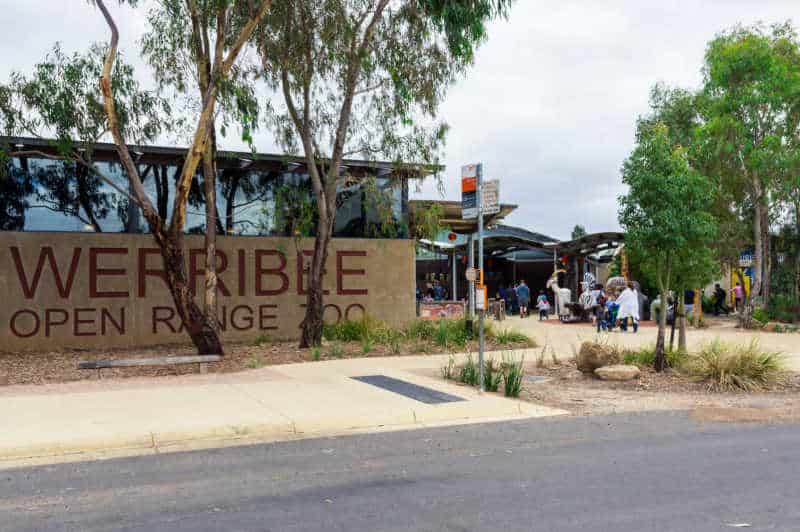 Even if you've visited Healesville, Werribee Open Range Zoo is also worth adding to your weekend or holiday itinerary.
It's located southwest of Melbourne, in the Werribee area. You can take a Werribee zoo safari here to see animals from another continent grazing on the African-style savannah.
Werribee zoo experiences allow you to encounter African wildlife in a natural habitat without leaving Australia.
Expect to see creatures such as rhinos, lions, zebras, hippos, giraffes, gorillas, and monkeys during your day out.
Click here to buy your Werribee Zoo tickets now.
11) Sovereign Hill, Ballarat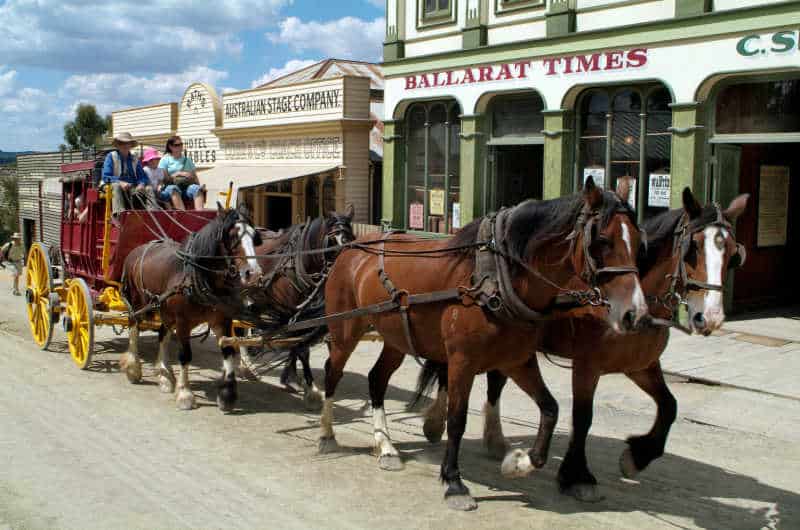 Since opening in 1970, Sovereign Hill has become the best-known of all Ballarat landmarks. It's an open air museum devoted to telling the tale of Victoria's gold rush.
The history of what happened during the decade after gold was discovered here is fascinating, and the museum is today one of the most popular tourist destinations in Victoria.
The Ballarat attractions you can see at this living museum all help to tell the story of the biggest gold rush on the planet.
Actors in period costumes, working machinery, and a variety of exhibitions help to bring this exciting part of Australian history to life.
12) Queen Victoria Market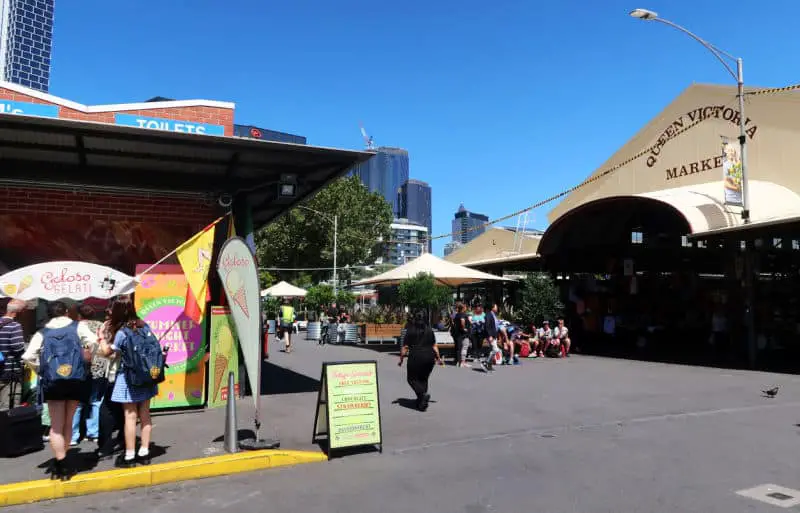 Fondly known to Melburnians as the Queen Vic Market, this is the biggest market of its kind in the entire southern hemisphere.
The historic shopping site in Melbourne's CBD is around seven hectares, and the market has operated here since 1878.
You can buy all kinds of goods at Queen Victoria Market in Melbourne. It's open on Tuesdays, Thursdays, and Fridays and at weekends when it's particularly busy.
It's closed on Mondays, but on Wednesdays during summer, a Summer Night Market operates throughout the season.
All sorts of food is sold here, there are also yummy cafes and restaurants to tempt your tastebuds.
From clothing, toys, and homeware to hardware, books, and accessories, you can purchase practically anything at this bustling city market.
13) Melbourne Cricket Ground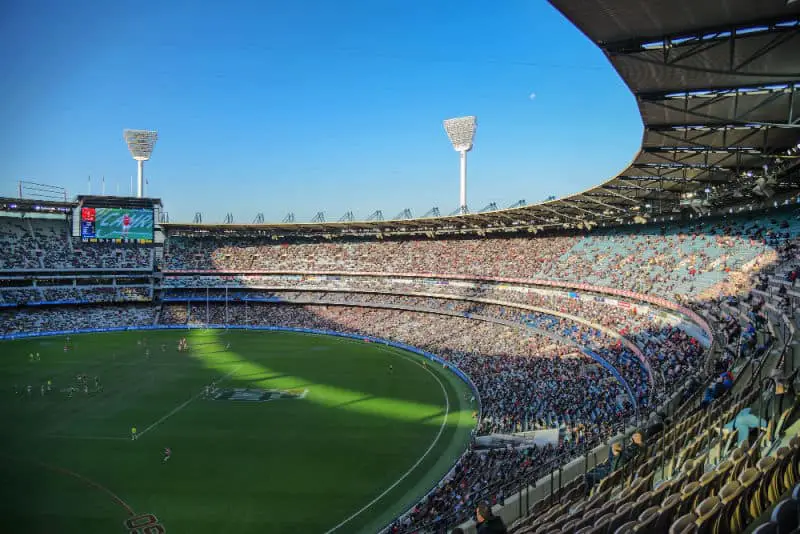 For many, Melbourne MCG is hallowed ground. You can visit the sporting venue seven days a week, and the MCG tours available here are seen as second-to-none.
Locally, the famous MCG stadium is simply known as 'The G'.
What foreign visitors often don't realise is that there's more to MCG Melbourne than just cricket.
If you take an MCG tour, you'll learn along the way that the ground is also seen as the home of Aussie Rules Football. One Day International and test cricket also originated here.
The stadium was built less than two decades after Melbourne was formed, and was used for the 1956 Olympics.
For sport-mad Australians, this is the spiritual home of all sports.
On this Melbourne Cricket Ground Tour you'll get to visit the famous MCC Long Room, the players changing rooms, and the cricketers' viewing room along with the Cricket Victoria Bill Lawry Centre and Melbourne City Terrace.
The tour also includes the interactive Australia Sports Museum where you can learn about the greats of Australia's most popular sports.
➡️ Click here to book your Melbourne Cricket Ground Tour now.
14) Hosier Lane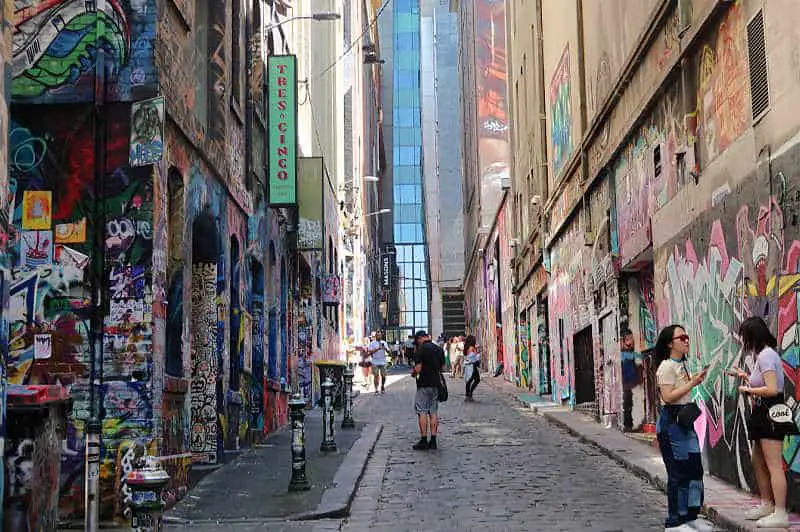 Hosier Lane in Melbourne is renowned for its artwork. This location has made Melbourne stand out on the global street art scene, and people flock here to see the colourful Hosier Lane graffiti.
It's unmissable for fans of street art and anyone who's into urban photography.
Hosier Lane street art to be on the lookout for includes installations, murals, stencilling, posters, and more.
If that's whetted your appetite, take a detour onto Rutledge lane, which leads off from Hosier Lane, as more outdoor art can also be discovered here.
The best way to see Melbourne street art is on a walking tour. This unique tour will take you to the best street art spots, secret galleries, hidden shops, and the coolest cafes.
➡️ Click here to book your Melbourne Laneways Tour now.
15) Silo Art Trail Victoria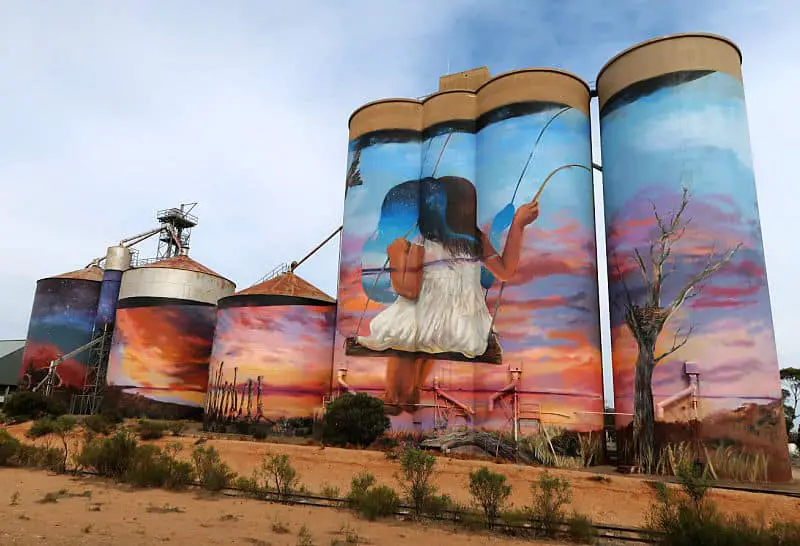 You can take the name of the Silo Art Trail quite literally. Rather than street art like that found in the Hosier Lane area, this trail comprises a series of painted silos in Victoria.
Seven artists have transformed eight large silos here, and they need to be seen to be believed.
This silo art in Victoria needs some time to be seen in its entirety, as it's spread over around 200 kilometres. Horsham in the northwest of the state is the ideal starting point.
The oversized subjects you can see decorating the silos include human faces, colourful landscapes, rural characters, native birds, and sportspersons.
16) Phillip Island Penguin Parade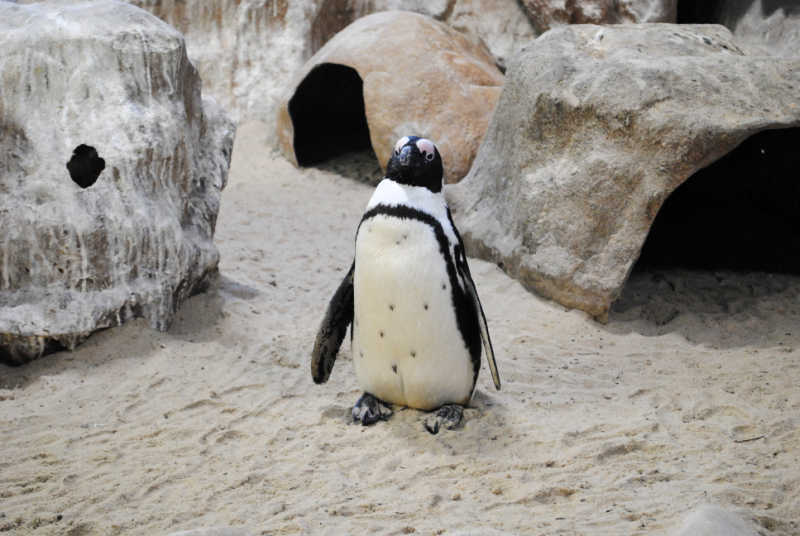 The famous and super cute Phillip Island penguins are seemingly as well-known by visitors from overseas as they are by Australians.
This is because the Victorian island in the south of the state is home to one of the biggest colonies of Little Penguins on the planet.
The Penguin Parade Visitor Centre opens each day at around tea-time, before the penguin parade begins, which takes place every day at around sunset.
The site is all about protecting this precious species, and you can see other wildlife here as well. So look out for the likes of Cape Barren Geese, Eastern Barred Bandicoots, Short-tailed Shearwaters, and even Swamp Wallabies during your visit.
➡️ Click here to book your Phillip Island Penguin Parade tickets now.
17) Yarra Valley Wineries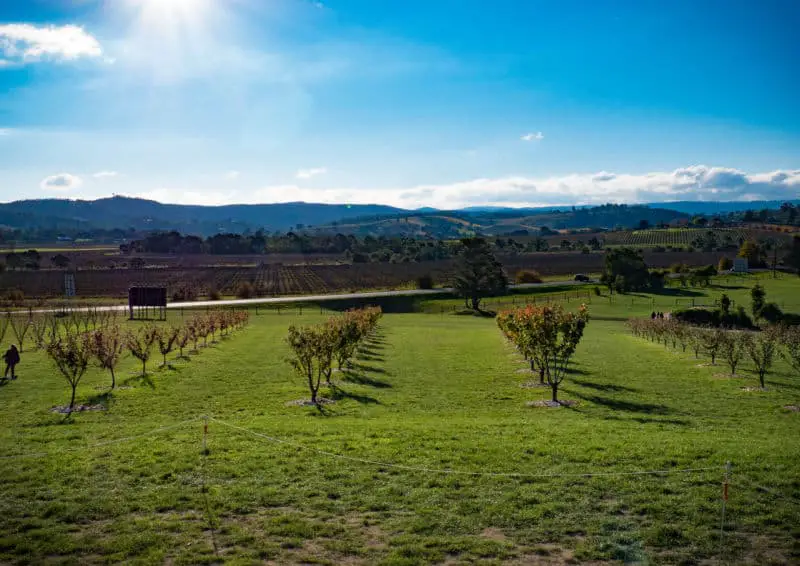 Touring the Yarra Valley wineries can be one of the great pleasures of a visit to the garden state.
Arguably the best wineries in Victoria can be found in this region, and there are plenty to choose from. You could easily spend days touring them all.
Yering Station lays claim to the title of the oldest winery in the Yarra Valley and was established in 1838. It's still family-run.
Many of the vineyards have a cellar door that's open to the public, and some offer organised tours for an insider's perspective.
Various wineries also have restaurants, where you can enjoy a sumptuous lunch with sweeping vineyard views.
18) Lakes Entrance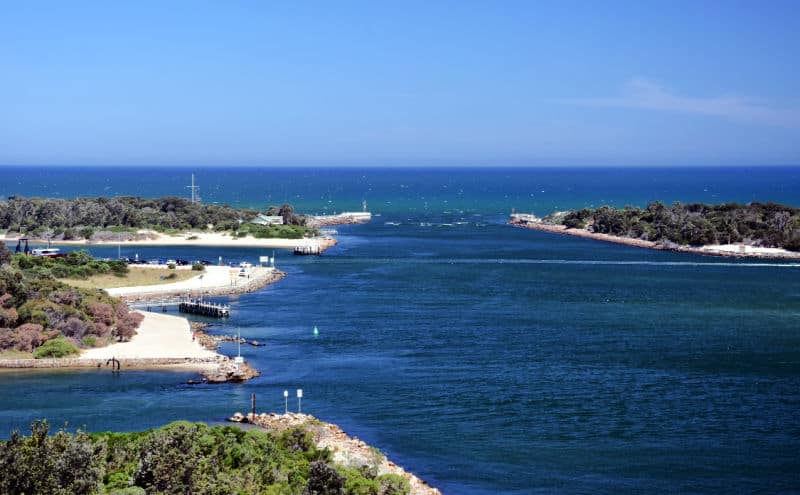 If your idea of Victoria sightseeing is spending time by the water while looking out for local wildlife, then you're going to love Lakes Entrance.
This town in the east of the state has a bridge leading to Ninety Mile Beach and is where the Gippsland Lakes region meets the mighty Southern Ocean.
Lakes Entrance in Victoria is a popular place for nature lovers, as there's a good chance you'll see kangaroos, pelicans, and dolphins here.
You can also visit the Griffiths Sea Shell Museum to learn all about life beneath the ocean's surface.
With clean beaches, great boat trips, and very good seafood restaurants, Lakes Entrance is deservedly popular as a coastal holiday spot.
19) Mount Oberon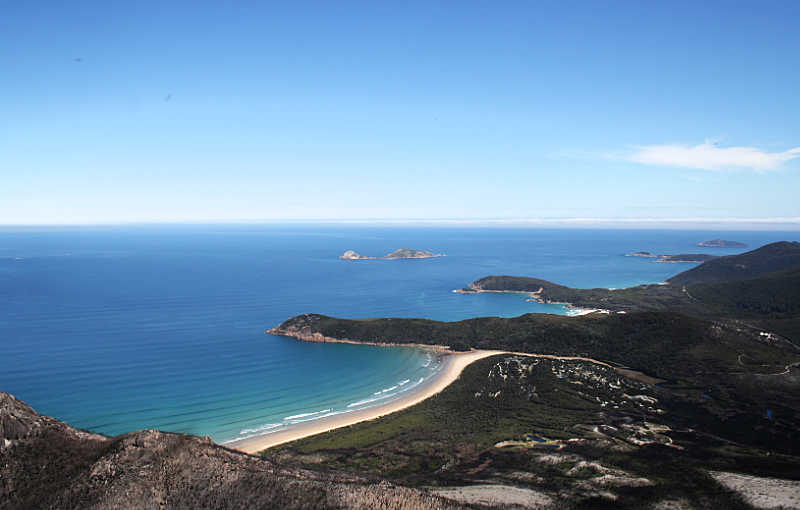 Mount Oberon is over 550 metres tall and is best known for the panoramic views from the summit.
The Mount Oberon summit walk leads up here from the Telegraph Saddle car park, and it typically takes a couple of hours to make the return trek of just under seven kilometres.
Once you arrive at the top of Mt Oberon, you're rewarded with unparalleled views over Wilson's Promontory, the ocean and islands, the tidal river and the large boulders of the area.
The contrasts between the emerald-green gullies, turquoise seas and rugged mountains make this something truly special to see.
20) Cape Otway Lighthouse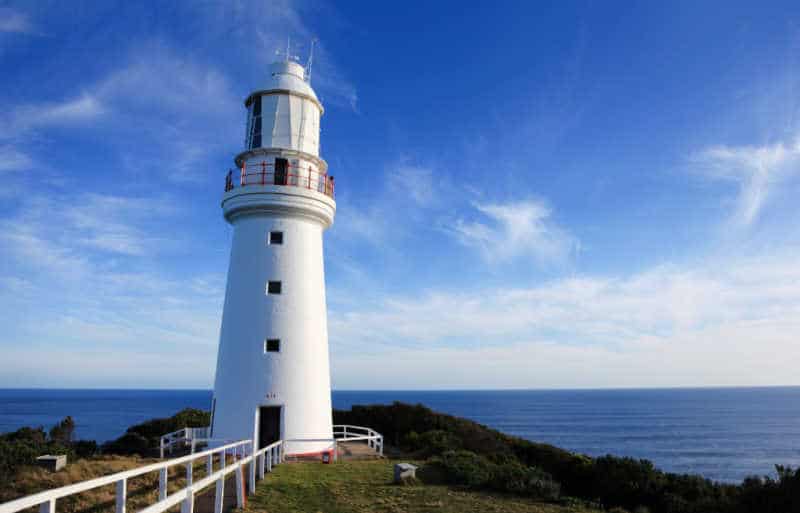 Cape Otway Lightstation is Australia's oldest lighthouse and can be found in southern Victoria.
It's still operating and is also a key site for whale watching. This is because the migrating mammals swim close to the shore here between winter and spring.
The lighthouse dates back to 1848 and stands around 90 metres tall. There are incredible views over the coastline as you climb the 78 steps up to the top.
The views are at their most spectacular during sunny weather, and if you want to see migrating whales be sure to visit between May and October to give yourself the best chance.
21) Bellarine Peninsula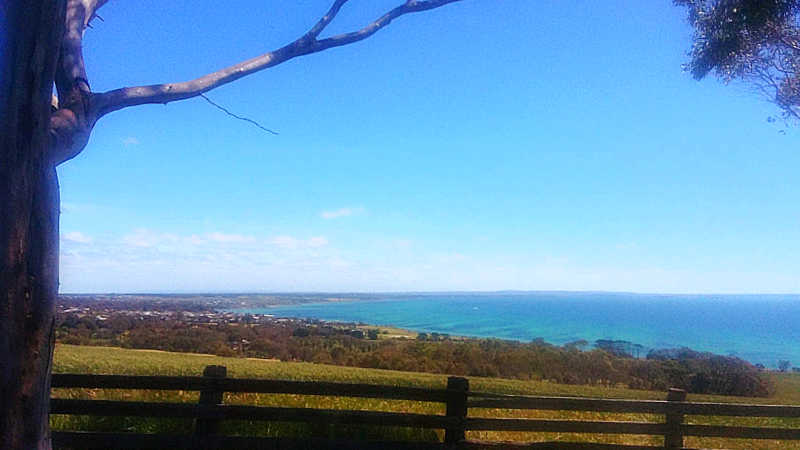 The Bellarine Peninsula in Victoria is a beautiful part of the state famous for good food and wine, stunning scenery, and glorious beaches.
Geelong is known as the gateway to the Bellarine Peninsula, and at only around an hour's drive from Melbourne it makes a popular escape from the city.
There are lovely seaside towns and villages to visit in the area, and The Bellarine is also known for its foodie scene.
Here you can visit craft breweries, tour wineries, dine out in style or pick up fresh local produce direct from the farm.
22) Geelong Waterfront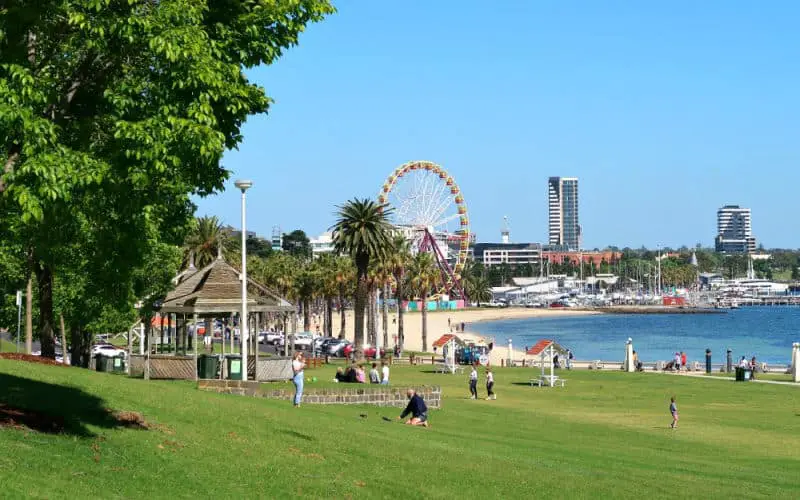 Geelong waterfront is one of the finest in Australia. This recreation area on Corio Bay underwent some serious redevelopment during the 1990s and originally dates back to the days when Geelong was first founded as a port during the early 19th century.
Eastern Beach in Geelong is one of the most popular parts of the waterfront. There are sea baths and a children's pool here, with a lifeguard service in summer.
At Geelong waterfront, you can also take the kids to Polly Kettle playground, ride the historic carousel, take the bollard trail, jump on a land train, or join a boat trip.
There's a multitude of things to do in Geelong, especially in the waterfront area.
23) Falls Creek, Victoria
Falls Creek is home to one of the more unusual natural landmarks in Victoria.
The Falls Creek skiing area defies the image of Australia as a country where the sun always shines and it never snows and is a major centre for Alpine sports and cross-country skiing.
The average low temperature in Falls Creek is between zero and minus three degrees Celsius between May and September, while winter highs tend to be a degree or two above zero.
The area is known for chilly winters with a lot of snowfall, and this is one of only a handful of Australian ski resorts.
For fabulous views over the Victorian Alps, don't miss taking a drive along the Great Alpine Road.
24) Daylesford Hepburn Springs
Daylesford Hepburn Springs is home to more natural mineral springs than anywhere else in Australia.
The small resort has grown up around the Hepburn Springs and the bathhouse here was first established back in 1895.
Swiss Italian migrants were responsible for establishing the resort during the Gold Rush days, and it's around 50 kilometres north of Ballarat.
The minerals of the springs are said to have health benefits, and you can enjoy beauty and wellness treatments at the spa.
In Daylesford, you can also take a Historic Village Walk to see art deco, Edwardian, Italian and Victorian architecture.
Today, it's a favourite place to live with creative types such as artists, writers, musicians and gardeners.
25) The Balconies, Grampians National Park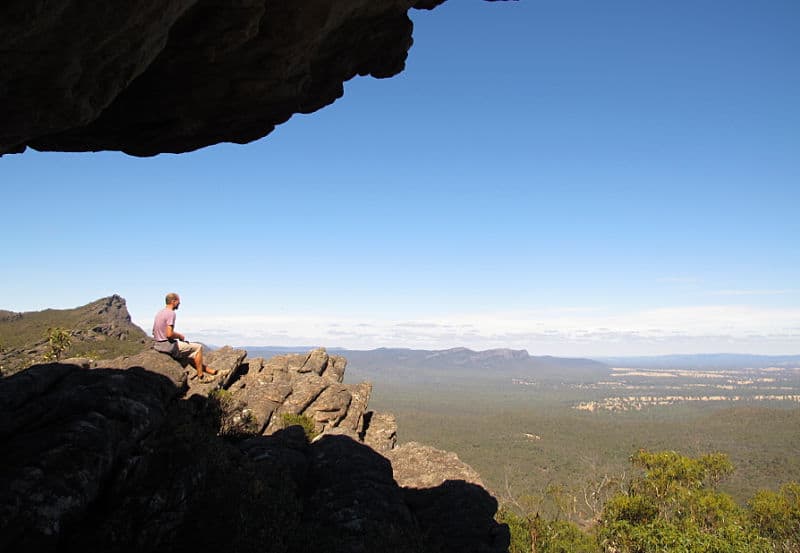 The Grampians in Victoria is where you'll find The Balconies. This is a scenic lookout area that can be accessed via a walk suitable for all abilities.
The Balconies are so-called because they are small viewing platforms perched on the edge of the cliffs.
If you can, visiting during a misty morning or at sunset is recommended for the best views – and of course the best photo opportunities.
From the Reed Lookout car park, the easy two kilometre walk is well worth the minimal effort, and the route is wheelchair accessible.
The gorgeous little town of Halls Gap is the best place to stay when visiting the Balconies.
26) Echuca Paddle Steamers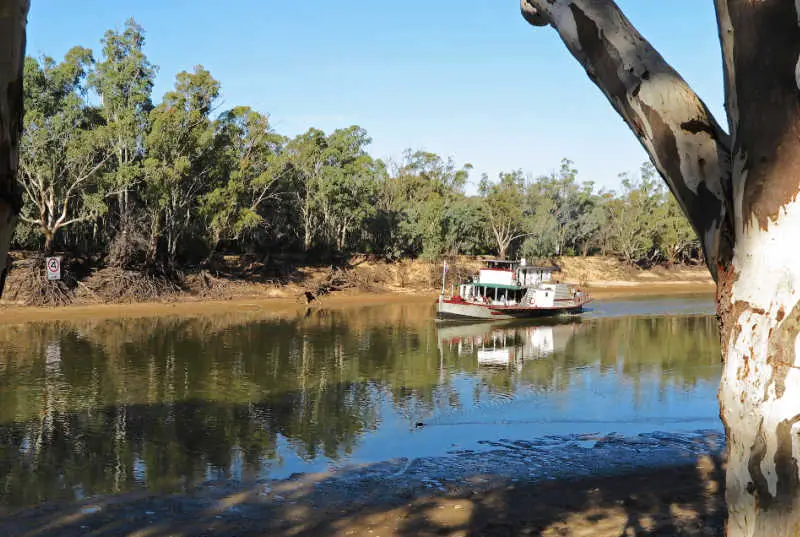 Take a ride on an Echuca paddle steamer to see the majestic Murray River from the water.
These historic boats ply the waters close to the Victorian border with New South Wales. This waterway is Australia's longest and crosses several of the country's vast states.
Murray River cruises in Echuca can include lunch or dinner, and some trips also allow you to visit a winery along the way.
Though many people take a day tour, the Echuca paddle boats can also be booked for cruises lasting between several nights and a week.
27) Bendigo
Bendigo in Victoria is also a famous Gold Rush town in the centre of the state.
The Central Deborah Gold Mine dates from the middle of the 20th century, and various historic attractions allow visitors an insight into life here during those heady days.
In addition to the well-known Bendigo gold mine, you can also hop aboard a Vintage Talking Tram, visit Bendigo Pottery that dates back to 1858 or explore the Chinese heritage of the area at the Golden Dragon Museum.
In fact, the town is as famous for pottery as it is for the Gold Rush.
28) Hanging Rock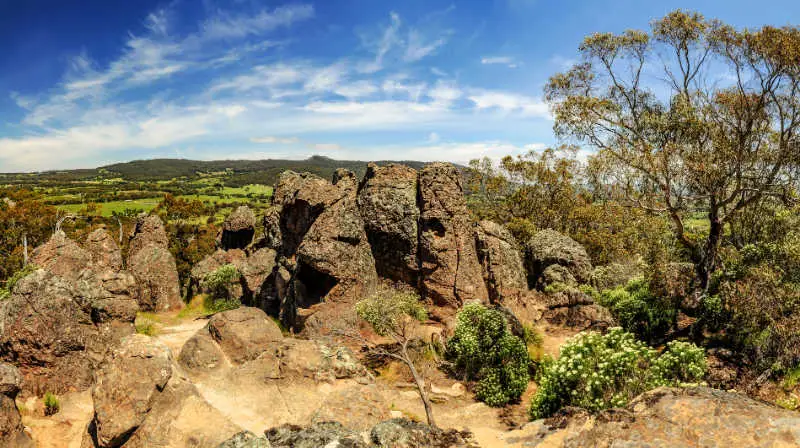 While everyone's heard of the Picnic at Hanging Rock movie, did you know you can visit the Hanging Rock Reserve and even take a Hanging Rock summit walk?
The book and film tell a sinister tale of a Valentine's day picnic in Victoria in 1900, that was attended by private school girls who then vanish most mysteriously.
Hanging Rock in Victoria is a striking rock formation more than 700 metres above sea level. It's part of the Macedon Ranges, and of course, makes a most suitable location for an al fresco meal.
Stunning views, spacious lawns and interesting geology make this a great place for a day out.
29) Mount Macedon Memorial Cross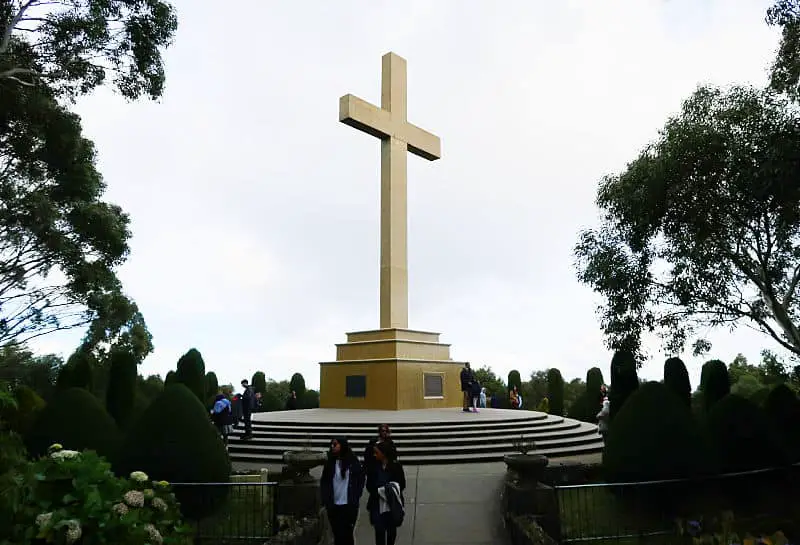 Also in the Macedon Ranges is the Mount Macedon Cross. This is a war memorial dedicated to anyone who's served in battles and conflicts.
It's a cross that's 21 metres tall, and along with the Shrine of Remembrance in Melbourne, is considered the most important war memorial in Victoria.
Every year, Anzac Day is marked here at the cross. Reaching it involves passing through Mount Macedon village as you make your ascent.
At the destination, there's a sealed pathway, tea rooms BBQ and picnic areas and the bushwalking trails of Memorial Cross Reserve.
30) Glenrowan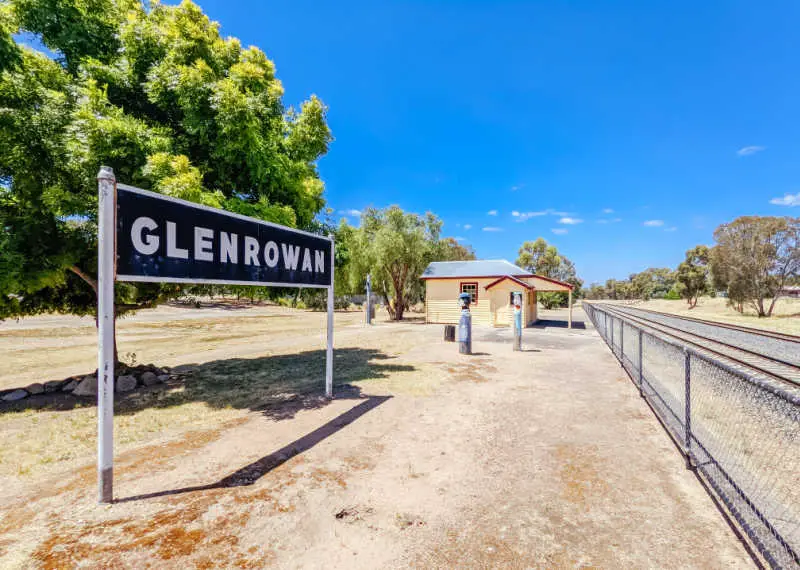 Glenrowan and Ned Kelly go hand in hand. The famous bushranger's legendary last stand took place at the Glenrowan Inn in Victoria.
Today, the town has built up an entire industry based around that final gunfight in 1880 against the police.
Clever special effects and animation are used at Kellyland to recreate the famous siege that took place in Glenrowan.
The shows last for 40 minutes, and you can also visit the gallery, museum and gift shop. If you want to make a day of it, there are several good wineries in the area too.
31) Beechworth Bakery
Beechworth Bakery is a household name in Victoria, and the original 1984 store began in the town of the same name.
Now there are eight branches across the state, with the others found in Albury, Ballarat, Echuca, Bendigo, Healesville, Bright and Yackandandah.
Whether you visit the original bakery in Beechworth or the newest in Bright, you can expect delicious pies, deli sandwiches, sweet treats and even gluten-free goods.
The bakeries are open daily except for Christmas Day and Boxing Day.
Best Victoria Landmarks Map
Final Word
With so many landmarks in Victoria to choose from, you really can take your pick.
From coastal locations like Bells Beach, Geelong waterfront and the Great Ocean Road to inland ski resorts, mountain ranges and wineries, the only problem is picking where to start.
Which of these places to visit in Victoria, Australia will you add to your list?
Recommended: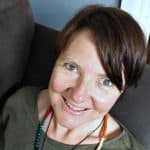 By Audrey Chalmers
Audrey grew up in Victoria and travelled the world but she always called Victoria home. She loves nothing more than exploring her home state and sharing it here.