This article may contain compensated links. For more information read our disclaimer here.
Looking For The Best Things To Do In The Grampians?
There are so many amazing things to do in Grampians National Park, if you're planning to visit the Grampians you are in for a real treat!
Go hiking, learn about art and culture, sample fresh local produce, and explore the many beautiful waterfalls in the Grampians.
The vast Grampians, Victoria, covers the area from Horsham to Stawell and Ararat.
There's an abundance of fun ways to spend the day in Halls Gap, Grampians central hub of activity, but there's also plenty to do in the parks and other towns.
If you're looking for what to do in the Grampians National Park, we've got you covered with this complete guide.
BONUS: For your convenience, all the Grampians things to do that we've listed have been pinned to the map below.
Top Grampians Things To Do Map
To make things easier for you, the 31 things to do in the Grampians region mentioned in this post have been pinned to the map below.
It's the perfect way to plan your Grampians sightseeing adventure in Victoria.
You might notice on this map of the Grampians that many things are spread far apart – and you'd be right!
The Grampians region is spread out over a large area and it makes a great Victoria weekend getaway.
In fact, you could easily spend a week or more exploring all the things to do here.
There are many gorgeous cabins and accommodations you can stay at to really soak in those laid back Grampians vibes.
I recommend staying in Halls Gap as it's centrally located, well set up for tourists, and it's beautiful!
For a list of the best places to stay check out these best Halls Gap accommodation reviews.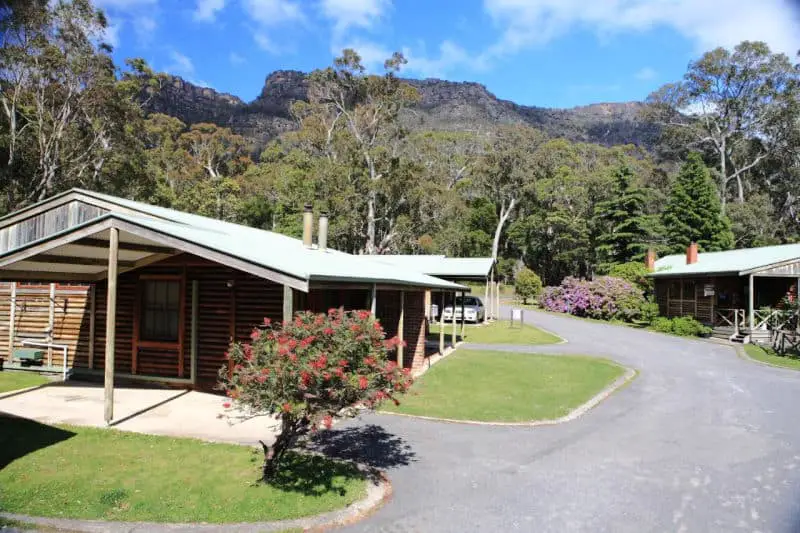 31 Best Things To Do In The Grampians
If you're ready, let's dive in and explore the 31 best things to do in the Grampians.
As one of our favourite regions to travel to in Victoria, I hope this article helps you get the most out of your stay, so you'll love it as much as we do.
1) Take To The Trails On A Grampians Hiking Route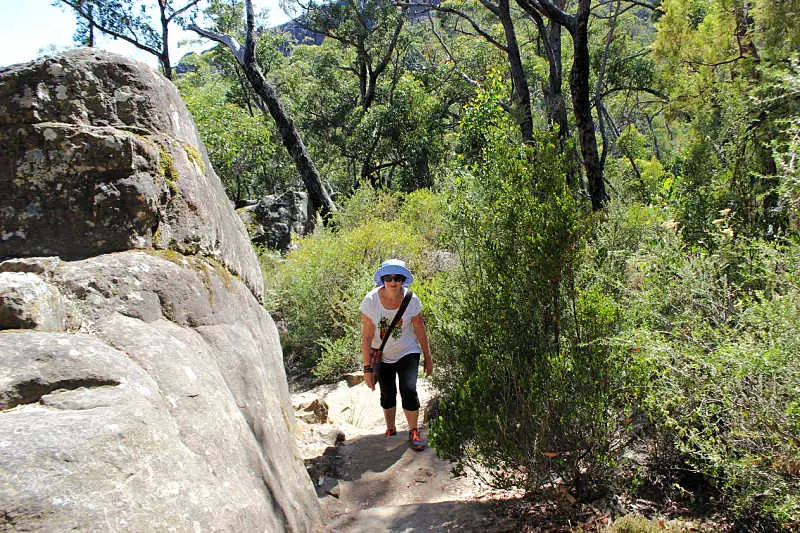 There is of course some amazing hiking in the Grampians, it's the main reason many people visit the park.
The trails here lead to some of the best places to visit in Grampians National Park.
From Halls Gap you can explore the popular Grand Canyon walking track, Chatauqua Peak, and Boronia Peak, taking in some of the most stunning scenery in the Grampians ranges.
For families and the less active, there are also some easy walks in the Grampians and we highly recommend The Venus Baths Halls Gap trail.
From the Halls Gap Botanic Gardens, it's only a short walk to Venus Baths and in summer the rocky pools are a great place to paddle and cool off.
Read on to find out about other great Grampians walks like the Pinnacle, the highest point in the Grampians – Mount William, and the epic Grampians Peaks Trail.
2) Marvel At Mackenzie Falls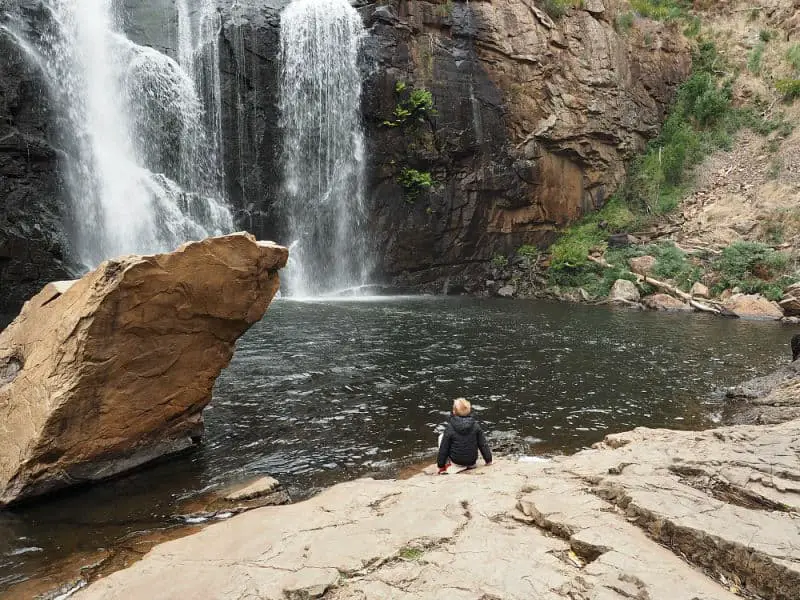 One of the best attractions in Grampians National Park is Mackenzie Falls. The Mackenzie waterfall is always jam-packed with visitors, and for good reason.
The falls are absolutely stunning at any time of year since it's one of the only waterfalls in the Grampians that doesn't dry up during the hotter months.
From the car park, the waterfall lookout is just a few hundred metres away so it's easily accessible for people with mobility issues and young children.
For the adventurous, the Mackenzie Falls walk takes you on a steep climb right up to the base of the falls.
Although you can't swim in Mackenzie Falls, Grampians, you do get a refreshing spray of cool mist from the base, making the strenuous hike worth it.
3) Encounter The Animals At Halls Gap Zoo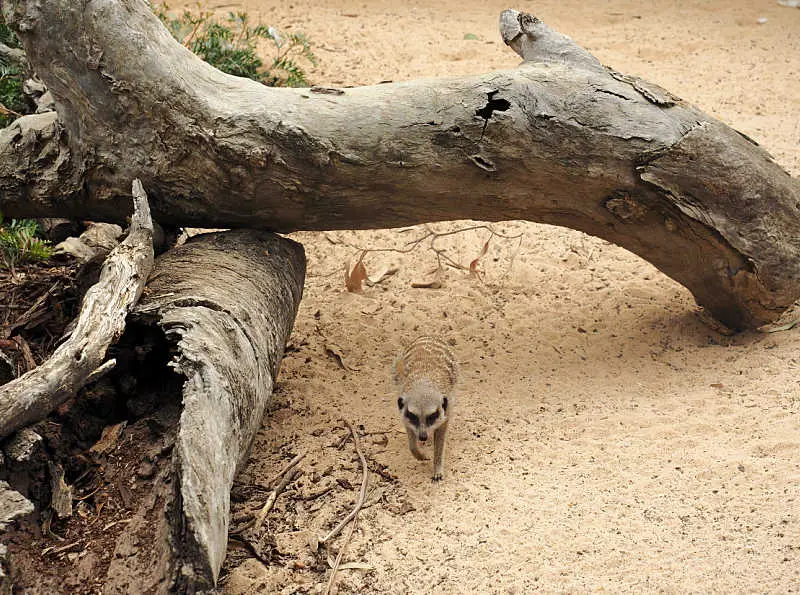 One of the best Grampians attractions for families is Halls Gap Zoo – the largest regional zoo in Victoria, featuring over 160 different animals including giraffes, monkeys, snakes, dingos, meerkats, crocodiles, and more.
There's loads to keep the kids busy at the zoo with plenty of amenities like the BBQ and picnic areas, and a great kids' playground.
You can also opt to book an animal experience where you can choose between feeding the giraffes, meeting the meerkats, and the rhino encounter.
Halls Gap Zoo

Where: 4061 Ararat – Halls Gap Road, Halls Gap 3381

When: 10 a.m – 5 p.m 7 days a week

Phone: (03) 5356 4668

Entry: Adult: $38.00, Child: $19.00, Family (up to 4 children): $95.00, Concessions available.
4) Get Your Bearings At Boroka Lookout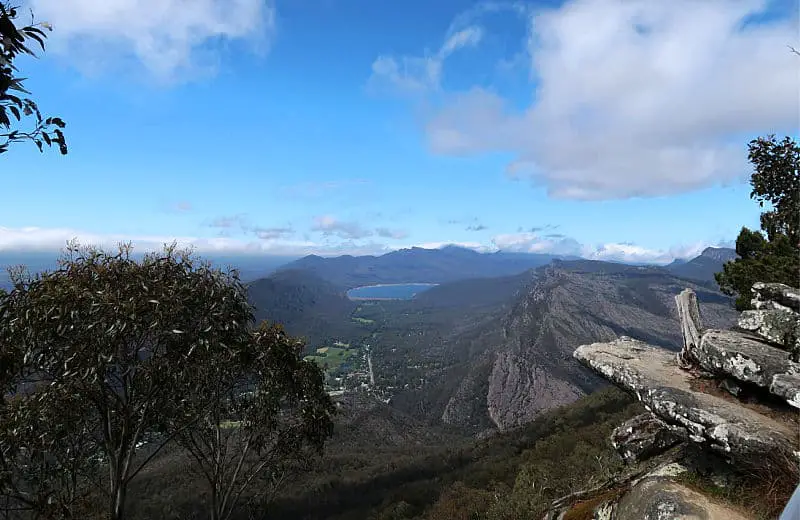 The Boroka Lookout, Grampians is about 20 minutes by car from Halls Gap town.
A 5-minute walk to the accessible viewpoint will uncover spectacular views over the Grampians and the northern end of the nearby town.
The best time to go is early in the morning – avoid the crowds and witness one of the best sunrises in the Grampians.
5) See The Best Sunset Views At The Balconies Or Reed Lookout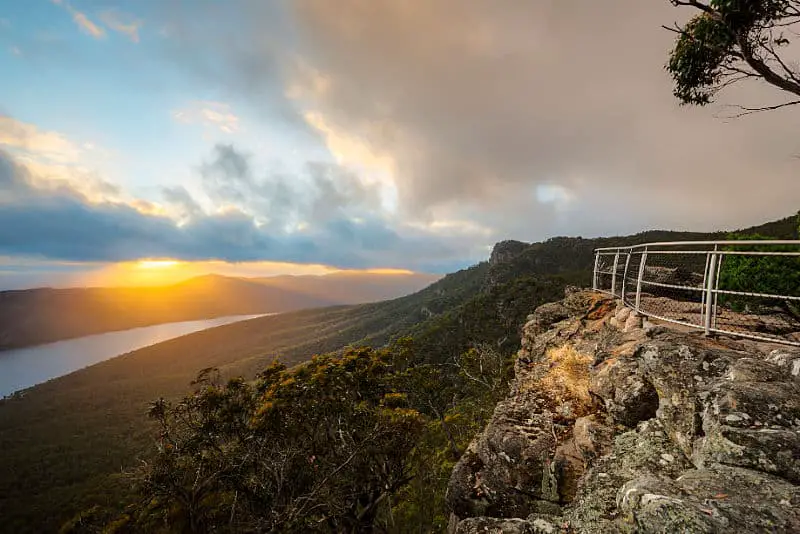 While we're on the subject of great Grampians lookouts, the outstanding Reed Lookout and the Balconies are another one of the most popular things to do in the Grampians.
From this picturesque spot, you can look out over the sprawling Victoria valley and on towards the mountains. 
It's just a 20 minute drive from Halls Gap town, and the viewpoint is right next to the car park. There are no facilities at the lookout.
Just a short 2 km return walk away is another great lookout to visit; the Balconies, Grampians.
This is a good option if you're visiting at a popular time of year as the Reed Lookout can get pretty busy.
6) Taste The Local Grapes At One Of The Grampians Wineries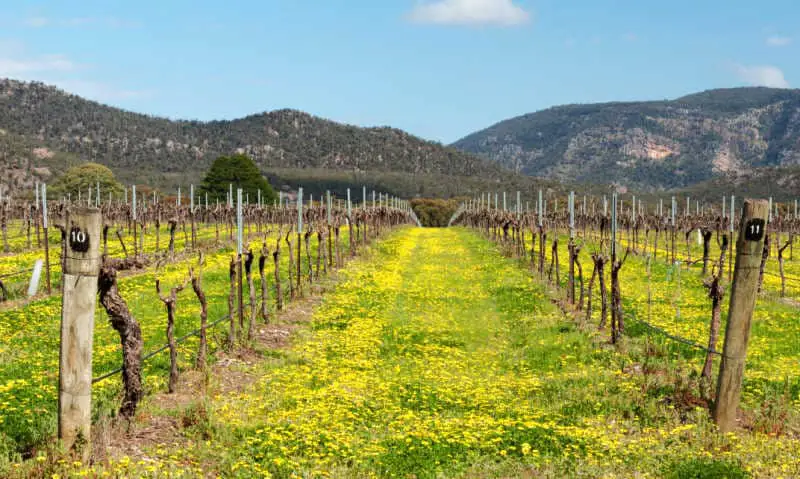 Seppelt Winery
For one of the best Grampians wineries, look no further than Seppelt Great Western.
It's home to some of the country's most iconic wines, choose between 20 of the best at a wine tasting – all picked from the Seppelt Award Winning Wine range.
Read on for tours of the vast underground cellars – they also host underground dining, and even weddings!
The Seppelt Cellar Door is around 15 minutes north of Ararat, and 30 minutes from Halls Gap.
Seppelt Great Western

Where: 36 Cemetery Road, Great Western 3374

When: Cellar Door 10 a.m – 5 p.m 7 days a week

Phone: (03) 5361 2239
Pomonal Winery
The Pomonal Winery is well known for its top-notch wine and mouthwatering local food.
The chef proudly creates dishes from fresh seasonal produce, and you never know what might be on the menu when you arrive for a wine tasting.
Although it's only recently been established, this Grampians winery is already attracting local and international attention – it also has a microbrewery and cider house.
Pomonal Estate is just a 10 minute drive from Halls Gap along the Ararat Road.
Pomonal Estate

Where: 2079 Pomonal Road, Pomonal 3381

When: 10 a.m – 5 p.m Wed – Sun, 7 days during Victorian school holidays.

Phone: 0448 983 248
Grampians Estate Winery
Grampians Estate is one of the Grampians region's top boutique wineries. Pick between sparkling or cool-climate shiraz and sweet summer rieslings.
Make a stop at the cellar door at Great Western on the Western Highway.
Wine connoisseurs, look for bottles from shiraz vines dating back to 1878 as well as 100-year-old riesling vines from the former Garden Gully 'St Ethels' vineyard.
Grampians Estate

Where: 1477 Western Highway, Great Western 3374

When: Open daily from 10 a.m

Phone: (03) 5356 2400
7) Take An Underground Cellar Tour At Seppelt Wines
Head underground on a tour of the National Trust classified 'Drives' – 3 kilometres of underground tunnels excavated in 1865 by Joseph Best to store wine.
The tunnels are said to be big enough to store 3 million bottles of Seppelt wines! And are in fact the largest underground cellaring system in the whole of Australia.
The 50 minute tour will include a Seppelt guide, who will give you a fascinating glimpse into Australia's pioneering wine history.
Seppelt Underground Cellar Tour

Where: 36 Cemetery Road, Great Western 3374

When: Daily Tours 11 a.m / 1 p.m / 3 p.m

Entry: Adults: $22.00, Children: $8.00 (free for under 5's), Concession: $18.00
8) Grab A Cold One At One Of The Grampians Breweries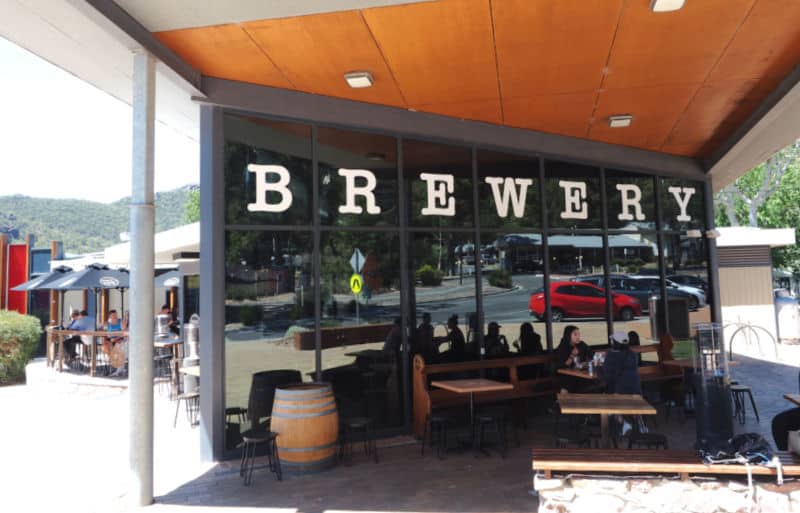 Paper Scissors Rock Brew Co
Enjoy a paddle of locally brewed craft beers at the Paper Scissors Rock Brew.
This Halls Gap brewery serves up a fantastic charcuterie board to keep you well-fed while you try all of their finest ales.
You could easily spend a whole afternoon or evening at the Paper Scissors Rock Brewery.
With a seasonal kitchen menu and live music events there is never a dull moment here.
But be warned, it can be quite hard to get a table (especially in the evenings), so arrive early!
You can also book a table online via the Paper Scissors Rock Brew Co. website.
Paper Scissors Rock Brew Co.

Where: 119 Grampians Road, Halls Gap 3381

When: Thu – Mon: 12 p.m – 8 p.m

Phone: (03) 5311 3709
Grampians Ale Works
If you are closer to Stawell, why not try Grampians Ale Works?
It's another fantastic local brewery that offers a friendly, welcoming atmosphere, live music, and bar games.
Order a local spirit, sip on a small batch wine made in Victoria, or try a craft beer produced onsite.
The brewery uses Chalambar Hops, which are grown locally in Ararat.
Grampians Ale Works

Where: 3 Victoria Place, Stawell 3380

When: Friday: 4 p.m – 10 p.m, Saturday: 12 p.m – 10 p.m, Sunday: 2 p.m – 8 p.m

Phone: (03) 7034 7790
9) Harness Up And Go Grampians Rock Climbing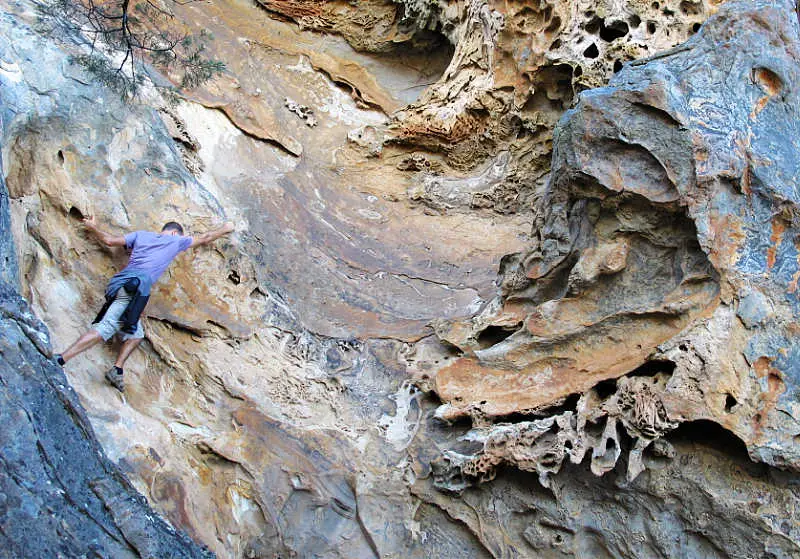 Grampians rock climbing is well known, and is particularly popular for some of the best sandstone climbs in the world.
From the Bundaleer to the stunning Halls Gap valley, and the imposing 'Watch Tower', there's a climb for just about every experience level.
Don't be put off if you are a beginner, rock climbing Grampians National Park is great for first-timers and can be fun for the whole family.
Two great operators to try near Halls Gap are Hangin Out and Absolute Outdoors.
Sessions start from around $100 for three hours.
10) Take The Fast Way Down With Grampians Abseiling Tours
For more adventure sports in the Grampians, abseiling is another popular activity in the national park.
It's a bit easier on the muscles than climbing, but you still get the thrill of being close up to the rock as well as finding stunning views that not many others get to see.
For abseiling, Grampians National Park has plenty of great spots to try. Contact either of the above rock climbing companies and they will plan the perfect day out for you.
11) Get Spooked On The Ararat Ghost Tour Of J Ward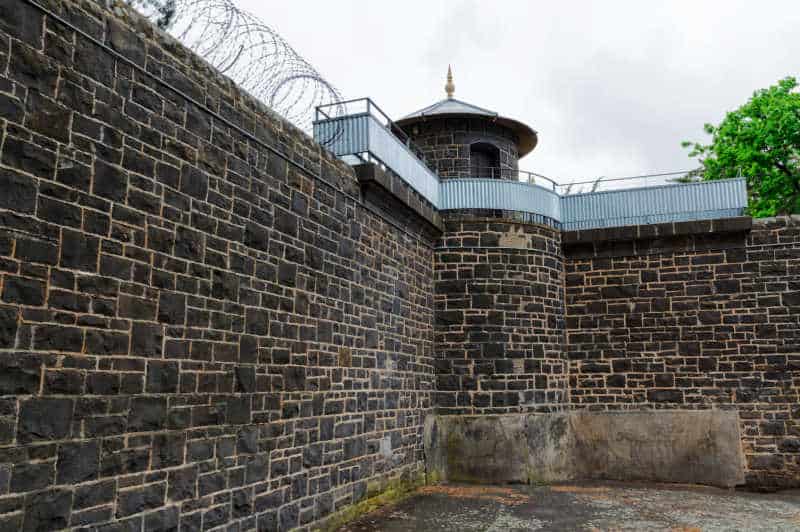 The Ararat Ghost Tour – J Ward is the town's biggest attraction.
Famous for its time as the town's goldfields gaol with murderers and thieves, J Ward later also became the home for Victoria's criminally insane.
The County Gaol took the most depraved and most dangerous men in Victoria from Ararat Lunatic Asylum and housed them in absolutely horrific, high-security conditions.
You can visit by taking a two-hour guided ghost tour or, for the brave, you can choose to stay overnight on a paranormal investigation!
Tours of the J Ward Lunatic Asylum are not suitable for children under 12.
➡️ Buy your J Ward Lunatic Asylum tickets here.
12) Make Another Stop At The Ararat Asylum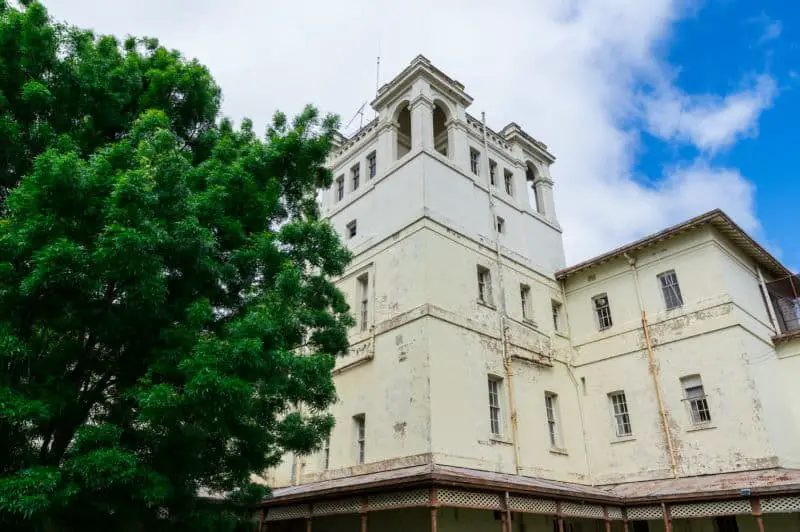 If the stories from J Ward leave you wanting to know more about Victoria's past, then stop by the Ararat Lunatic Asylum, also known as the Aradale Asylum.
Once an Australian psychiatric hospital, the Aradale mental hospital is now a ghost "town" after it officially closed as the Ararat Asylum in 1993.
The vast site housed over 1000 patients within 65 heritage listed buildings.
It was a fully self-supporting 'city' within a 'city' and is a fascinating look into the health system of the past.
Ararat Asylum tours are run by the 'Friends of J Ward' volunteers each Sunday and Wednesday at 10 am.
The Aradale tours last for two hours and cost $22 for adults, $18 for concessions, and $5 for children.
Aradale Lunatic Asylum

Where: Grano Street, Ararat 3377

When: 10 a.m. Sunday and Wednesday

Phone: 0400 977 575

Entry: Adult: $22.00, Concession: $ 18.00, Child: $5.00, Family: $50.00
13) Hike To The Pinnacles Lookout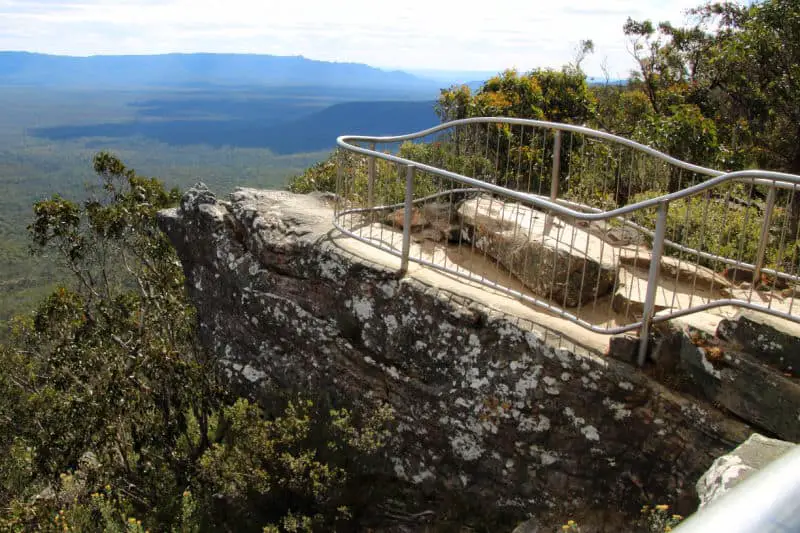 See the vast Grand Canyon, and many other stunning sandstone rock formations on the Pinnacles walk.
The Pinnacle, Grampians, is one of the best spots to look out over the stunning landscapes of the national park.
But it's the walk itself that makes this one of the best things to do in the Grampians.
Head out on the 4.2 km return walk to the Grampians Pinnacles from the Sundial car park to get to the Pinnacles Lookout (follow the yellow arrows painted on the rocks to avoid getting lost)!
The Pinnacles Walk, Grampians, is definitely something you can't miss while you're visiting.
The terrain is uneven so make sure to take care and wear appropriate clothing and footwear.
14) Beat The Crowds At Silverband Falls
Smaller than Mackenzie Falls, Silverband Falls is less busy but just as impressive.
You can get there by taking a short 700 metre flat trail from the Silverband Falls car park.
You will head through the dappled shade of the trees and cross a small river before coming to the opening where you will find the single drop waterfall.
It's a little further away from Halls Gap than some of the other waterfalls, but is undoubtedly worth the drive!
15) Go Fishing On The Grampians Lakes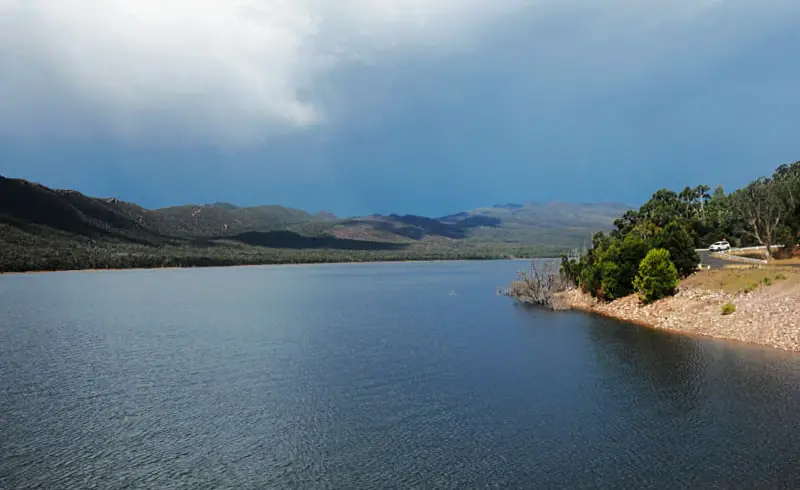 Although the Grampians mountains get most of the glory, there are also some beautiful Grampians lakes to visit.
Lake Fyans voted 'best Grampians lake for swimming', has a stunning stretch of sandy beach and quiet, safe water to paddle and frolic in.
If it's a little too chilly for a swim you can go boating, Lake Fyans fishing is also a popular sport with both locals and visitors.
Just 30 minutes from Halls Gap, Lake Wartook is a more secluded lake that is perfect for a relaxing day with the family.
It's also popular for fishing for brown trout, kayaking and swimming.
Lake Bellfield is a popular tourist spot located just five kilometres from the main shops in Halls Gap.
The mirror-like waters attract bathers, sightseers, and fishermen alike. It's easily accessible too, with a large car park, picnic area, and a public toilet.
16) Spot Local Talent On The Silo Art Trail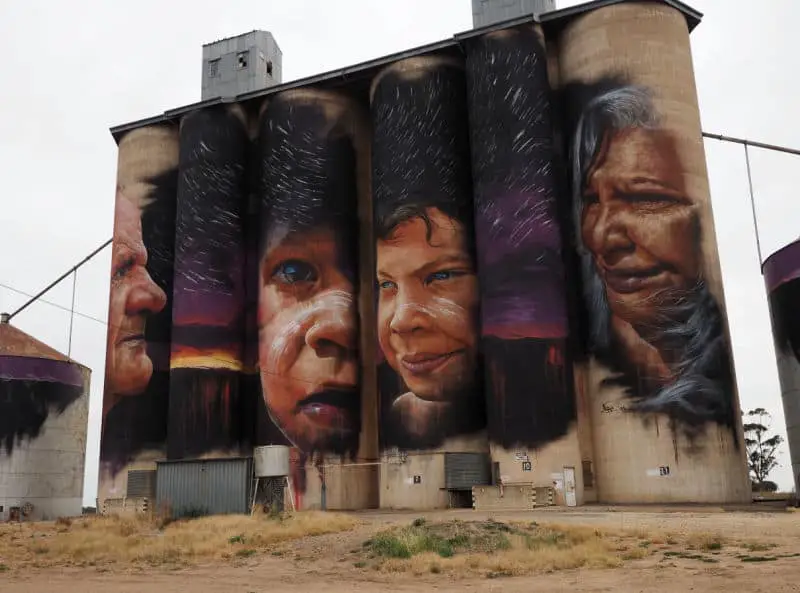 For culture vultures the 200-kilometre (124-mile) Silo Art Trail created by internationally recognised street artists is an absolute must.
Fitting in the whole trail could take you around six to seven hours by car, but you can easily visit some of the most impressive in just a couple of hours.
Two of the best Silo Art installations not to miss out on are Sheep Hills and Rupanyup.
Silo Art in Victoria is a relatively new attraction, winding its way through the Grampians northern countryside.
17) See The Stawell Gift Hall Of Fame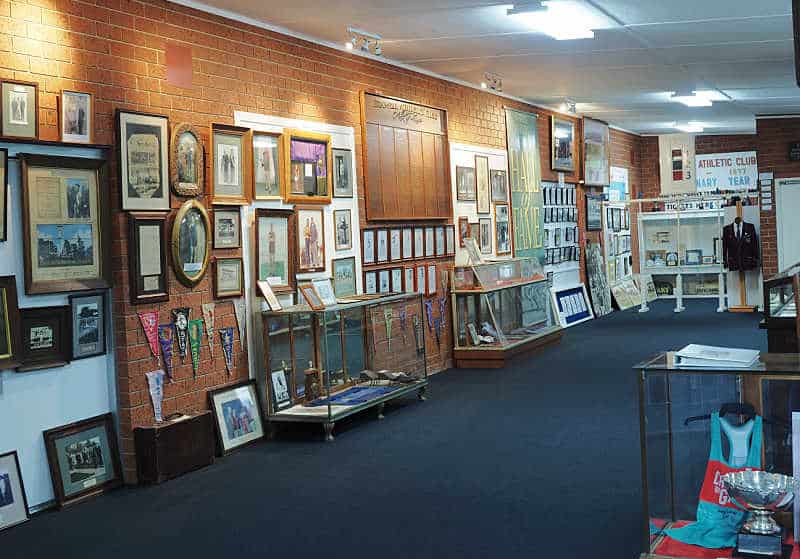 The Stawell Gift Hall Of Fame is mainly for running fans, but also great on a rainy day.
The museum contains 130 years of history with artefacts and memorabilia of the Gift since its start in 1878.
The museum is just $5 for adults and free for children under 16.
Stawell Gift Hall Of Fame

Where: Central Park in Stawell

When: 10 a.m – 4 p.m Tuesday – Saturday

Phone: (03) 5358 1326

Entry: Adults $5.00, Children 16 years and under free
18) Head Over to Moyston, The Birthplace Of AFL
Football fans can take a trip out to Moyston, a town in the Western District region of Victoria, near the Grampians mountain range.
Known as the "Birthplace of Australian Football", due to its connection to the sport's founder – Tom Wills grew up in Moyston in the 1840s.
19) Climb Up To Mount Rouse Viewpoint
If you're passing by Penshurst, a wonderful little stop is the lookout at Mount Rouse.
Penshurst's very own dormant volcano, Mount Rouse dominates the landscape in the 'Newer Volcanics Province' on the third largest volcanic plain on Earth.
20) Learn About Lava At The Penshurst Volcanoes Discovery Centre
Learn more about geothermal activity at the Penshurst Volcanoes Discovery Centre.
The interesting exhibit displays all types of volcanoes, and there's also more information on the volcanic activity in Western Victoria.
Penshurst Volcanoes Discovery Centre

Where: 23 Martin Street, Penshurst 3289

When: Friday: 11 a.m – 3 p.m, Saturday – Sunday: 10 a.m – 4 p.m

Phone: 0402 083 782

Entry: Adults: $7.00, Family: $15.00
21) Play A Round Or Two At Halls Gap Mini Golf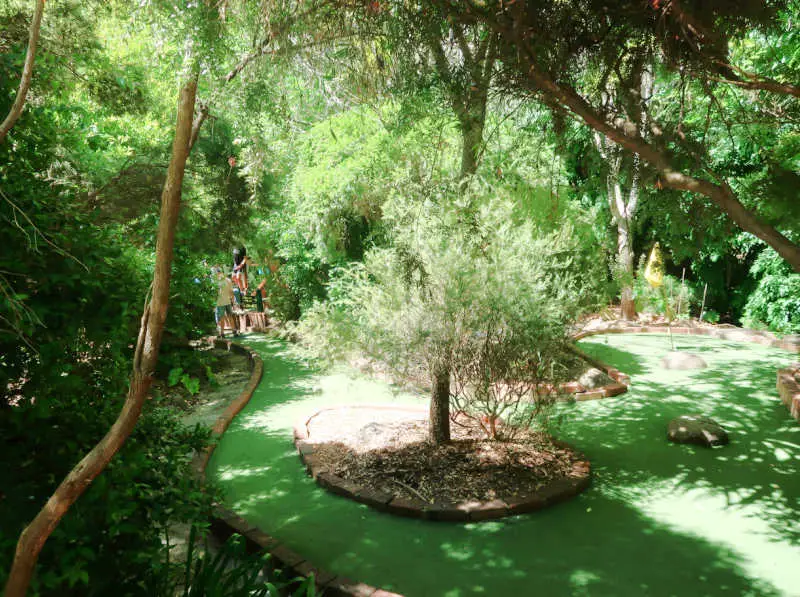 For a fun family day out head to the 18 hole course at Halls Gap Mini Golf.
Right in the heart of the Grampians, the course reflects its scenic surroundings with waterfalls, tunnels, and spectacular views in every direction.
You might even spot emus, kangaroos, and deer on the greens!
Grampians Adventure Golf prices start at $17 for adults, concessions are $16, juniors (4–16) cost $12, and under 4 years are free of charge.
Grampians Adventure Golf

Where: 475-481 Grampians Road, Halls Gap 3381

When: Mon – Thu – Wed: 10 a.m – 5 p.m, Sat – Sun: 10 a.m – 8 p.m, Closed Tuesday and Wednesday,

Open 7 days during school holidays

Phone: (03) 5356 4664

Entry: Adults: $17.00, Concession: $16.00, Children: $12.00
22) Gets A Birds-Eye-View On A Grampians Helicopter Tour
For something a bit different, take a tour with Grampians Helicopters to experience a birds-eye-view of the Grampians.
There are four scenic flights over the Grampians National Park to choose from the short 'Mini Mountain Tour' to the 'Full Grand Loop'.
Prices start from $225 and flights run 7 days a week.
23) Get Cultured At Brambuk, The National Park & Cultural Centre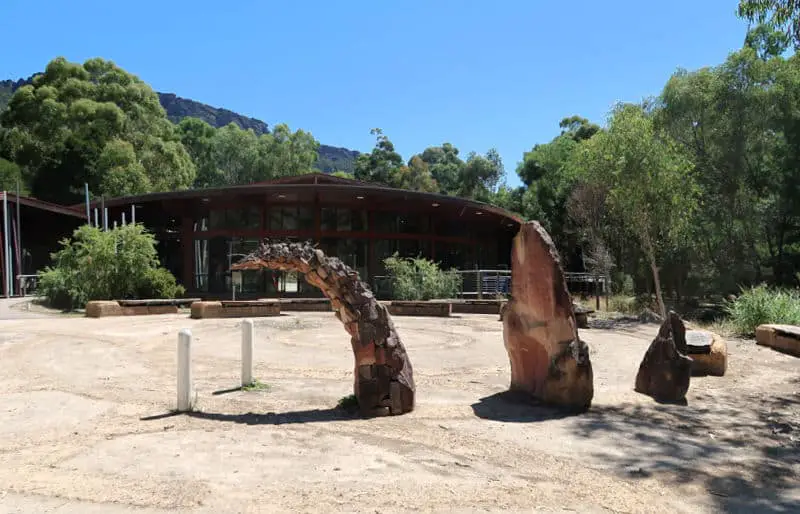 Visit the Brambuk Cultural Centre to learn about the Aboriginal heritage in the Grampians area.
Brambuk has exhibitions and artefacts on display at the cultural centre that tell the story of what Gariwerd (Grampians) means to the Jadawadjali and Djab Wurrung people.
Take a self-guided walk through Brambuk, the national park & cultural centre, or buy local Indigenous products and Australian made souvenirs in the gift shop.
Brambuk The National Park & Cultural Centre

Where: 277 Grampians Road, Halls Gap 3381

When: 9 a.m – 5 p.m 7 days a week

Phone: 8427 2058
24) See Aboriginal Rock Art At The Bunjil Shelter
For some amazing Ancient Aboriginal rock art visit Bunjil Cave.
As one of the most significant rock art sites in Victoria, here you can find the only known image of Bunjil in human form.
The Grampians are known by the Aboriginal people as Geriward – believed to have been created by the great Eagle ancestor spirit named Bunjil.
The Bunjil Shelter is situated between Pomonal and Stawell, you can visit at any time of day, all year round.
25) Treat Yourself At Five Ducks Farm
Five Ducks Farm Farmgate store is full of delicious treats to stock up on.
Owners Andy and Anita are passionate about organic farming and local produce, and they make everything from the bountiful nature that surrounds their farm.
It's just 10 minutes away from Halls Gap on the road to Pomonal.
Five Ducks Farm

Where: 3621 Ararat Halls Gap Road, Pomonal 3381

When: 10 a.m – 4 p.m Friday, Saturday, and Sunday

Phone: 0409 524 017
26) Grab A Bottle Of Olive Oil At Grampians Olive Co
Who can resist local olive oil? At Grampians Olive Co you can be sure you are getting the very best organic oil, just as nature intended.
From 28,000 olive trees, the farm cold presses the olives within hours of harvest, then the unfiltered, unrefined oil is hand bottled in small batches to ensure maximum freshness.
Grampians Olive Co.

Where: 376 Olive Plantation Road, Laharum 3401

When: 11 a.m – 4 p.m Monday – Friday, Closed weekends and public holidays

Phone: (03) 5383 8299
27) Stroll Through Alexandra Gardens, Ararat
If you are looking for what to do in Grampians National Park that isn't touristy, visit the beautiful botanical gardens in Ararat.
With a multi level walk-in fernery, terraced lawns, and an ornamental lake, it's easy to pass a few hours here.
A pram and wheelchair-friendly walking track circles the lake, and there's play equipment, toddler play space, and shade sails for sitting out under.
28) Drive Out To One Tree Hill Lookout, Ararat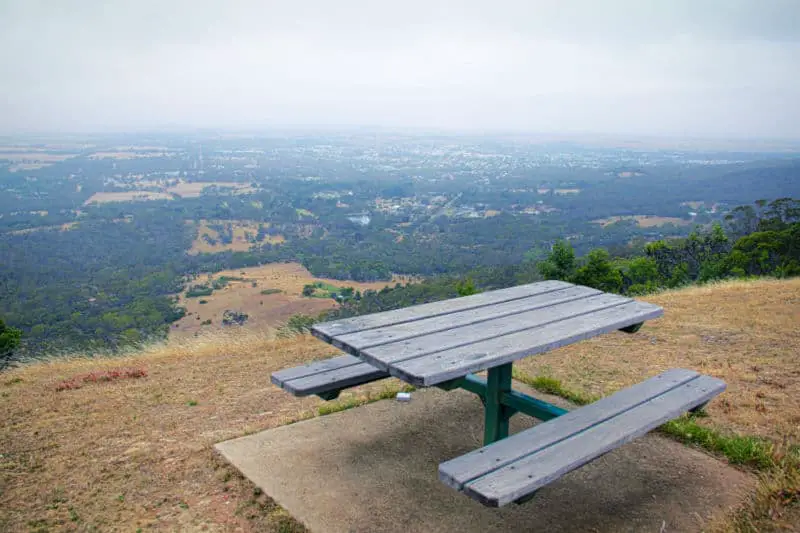 Not far from Ararat town is another great lookout with sublime views.
From here you can see the Grampians to the West and the Pyrenees to the East.
Plus there are picnic benches to stop and enjoy the views.
29) For Seasoned Hikers Take The Epic Grampians Peaks Trail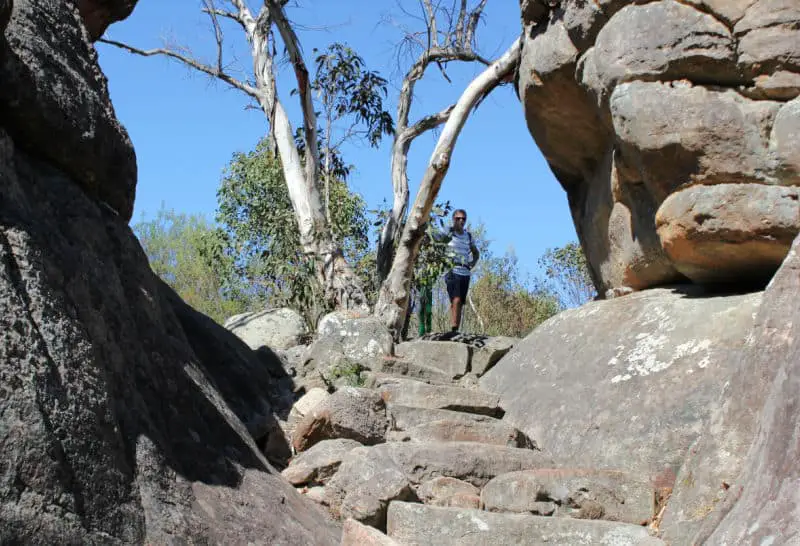 The Grampians Peak Trail is for serious adventurers.
The full 13-day/12-night trail covers the entire Grampians National Park taking in some of the best views of the unique landscapes.
But don't worry if your hiking boots are a bit dusty, the Grampians Peaks Trail can also be split up into smaller, more manageable, sections.
Choose whatever Grampians trail suits you from overnight and multi-day hikes, to easy day walks.
30) Summit Mount William (Duwil)
South of Halls Gap, Mount William is a 3,829 ft. high mountain that you can climb to get spectacular views of the national park.
Mount William, Grampians, is the highest point in the park, and will take a moderately fit person around 45 minutes to walk to the summit.
31) Pomonal Native Flower Show
One of the more unusual Grampians things to do, every year the APSGG hosts a show of Australian native flowers and floral species endemic to the Grampians.
If you're visiting in early October make sure to check their Facebook page for the dates – adults are charged a $5 entry, but children can enter for free.
Final Word
With its incredible natural attractions, stunning scenery, wineries, breweries, and quirky museums, the Grampians is a must-visit destination in Victoria.
Whether you're looking to hike to the summit of Mount William, discover a waterfall, visit a lunatic asylum, or relax on the shores of Lake Bellfield, you won't be disappointed with all the things to do in the Grampians.
So pack your bags, grab your hiking boots, and come explore all that this remarkable region has in store for you!
Recommended: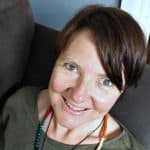 By Audrey Chalmers
Audrey grew up in Victoria and travelled the world but she always called Victoria home. She loves nothing more than exploring her home state and sharing it here.