This article may contain compensated links. For more information read our disclaimer here.
If you're looking for the best things to do in Castlemaine, Victoria for the whole family, then look no further!
I live in Victoria and have visited Castlemaine regularly since I was a child – and I'm here to help you discover all the best Castlemaine attractions.
This compact city in the state's central goldfields region lies northwest of Melbourne and is firmly embedded in the history of the area.
Much of the Australian Gold Rush centred on this area, so there are various attractions in Castlemaine that allow you to explore this precious metal mining heritage.
These include the Victorian Goldfields Railway steam train route, the Castlemaine Diggings National Heritage Park, the Castlemaine to Maldon Rail Trail, the Forest Creek Historic Gold Diggings, and the sobering Pennyweight Flat Children's Cemetery.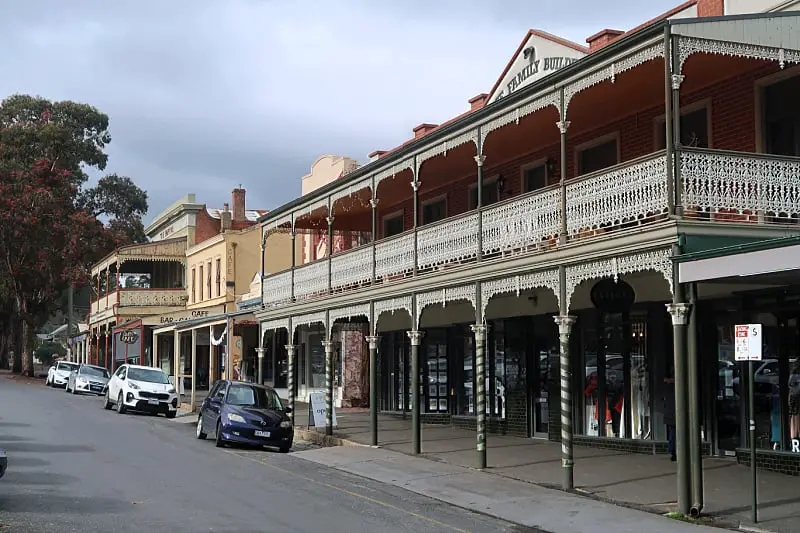 What to do in Castlemaine isn't only about the past, however.
Things have been brought bang up-to-date thanks to the mix of shops, breweries, art venues, and wineries at The Mill in Castlemaine, which was formerly an old woollen mill.
Old Castlemaine Gaol is another site that's been redeveloped to bring it into the modern age and is now a multifaceted arts venue.
From historic properties to a jazz festival, truck show, or a park abundant in Australian wildlife, a visit to Castlemaine can always turn up a surprise or two.
Find 21 of the best Castlemaine things to do in the following list. Which will you discover first?
21 Best Things To Do In Castlemaine
Whether it's flora and fauna that floats your boat, you enjoy exploring art collections or you'd rather sample local brews and wines at the hottest venues in town, there's something in the Castlemaine area for everyone.
1) Victorian Goldfields Railway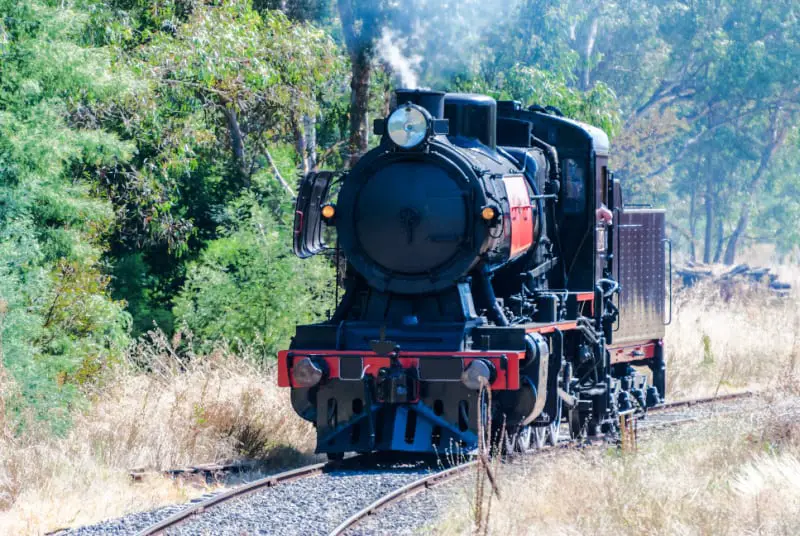 The Victorian Goldfields Railway is one of the top Castlemaine attractions.
It's a heritage steam train route that operates between Castlemaine and Maldon. Both are former mining towns dating from Victoria's Gold Rush days.
The Castlemaine Goldfields Railway is a tourist route making use of an old branch line that formerly fell into disuse.
In each direction, the trip between Castlemaine and Maldon takes around three-quarters-of-an-hour.
Elegant, original train carriages, a Refreshment Room in which to savour a hot chocolate as the train is turned and a dedicated team of volunteers help to make this service what it is.
You will need to plan ahead to ride the train, as it only operates on Wednesdays and Sundays, plus some Saturdays and public holidays.
Victorian Goldfields Railway

Where: Castlemaine to Maldon

When: Wednesday & Sunday, school holiday Saturdays, some public holidays

Fare: Adult $52.00, Concession $47.00, Child $21.00, Family $115.00
2) The Mill, Castlemaine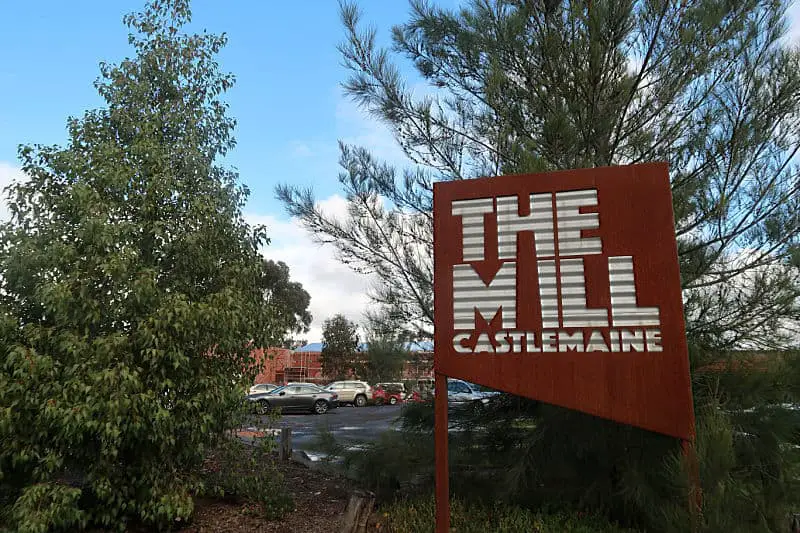 The Mill in Castlemaine was once the local wool mill and is now a multi-purpose, modern venue for foodies and fans of art and culture.
It can be found right over the road from the Botanical Gardens. Here you can sample foods from all over the globe, or try a range of locally made alcoholic drinks.
If you're into vintage and upcycled goods, this is also the place in Castlemaine, Australia to come to.
Pick up a one-off item of furniture for your home, or a fashion accessory that you wouldn't find anywhere else. 
One of The Mill's main draws is the Shedshaker Brewery.
The Shedshaker taproom serves up the brewery's selection of craft beers which are carefully made in small batches here on site.
The Mill Castlemaine

Where: Walker Street, Castlemaine

When: Varies by venue
3) Castlemaine Botanical Gardens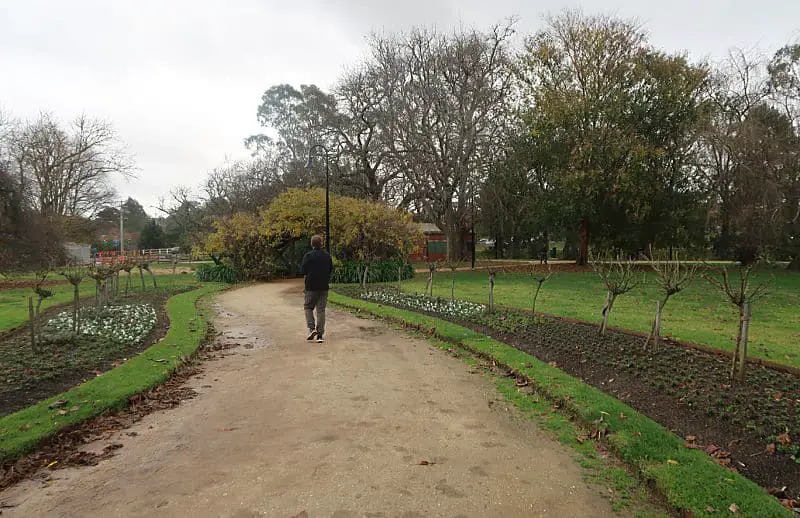 The Botanical Gardens in Castlemaine are opposite The Mill, and as they're always open you can pay them a visit at any time of the day.
Castlemaine Botanic Gardens are one of Australia's longest established garden sites.
The array of flora found here includes exotic species from other parts of the globe, plus of course a varied assortment of Australian plants.
You can wander around the gardens at your leisure, and there are also some pretty good amenities here for both kids and adults.
These include a picnic and BBQ area, a rotunda, parking, a children's playground, and tea rooms.
Electrical power points can even be found scattered throughout the site.
The Botanical Gardens in Castlemaine is home to some beautiful National Trust listed trees. Spot the oak that was planted to mark the occasion of a royal wedding.
Visitors to these botanical gardens love the cycling and walking track, the birdlife, and the shady trees in particular.
Castlemaine Botanical Gardens

Where: Walker Street, Castlemaine

When: Always open
4) Buda Castlemaine Historic Home & Garden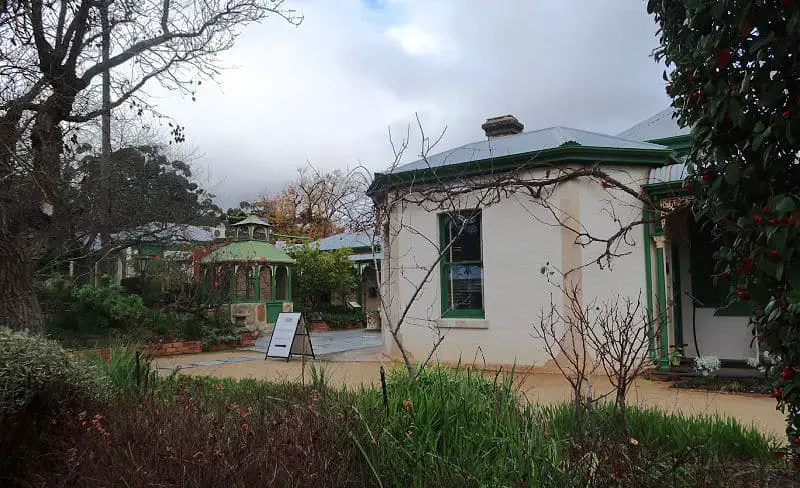 Buda Castlemaine is a heritage-listed site and one of the town's most historic buildings. The home is one of the most important relics from the Gold Rush era in the area.
Its prominent former resident was Ernest Leviny, a Hungarian silversmith whose family owned an impressive collection of artworks, furnishings, and crafts.
In fact, the home and garden were named after Budapest, the Hungarian capital.
In addition to the collections housed within, Buda also offers three acres of heritage gardens featuring garden ornaments handmade by the Leviny family, a vine-draped pergola, an aviary, and a tennis pavilion. 
You can also find a picnic area, a gift shop, and a plant nursery at Buda.
Buda Castlemaine Historic Home & Garden

Where: 42 Hunter Street, Castlemaine

When: 12pm to 4pm daily

Phone: (03) 5472 1032

Entrance: Adult $12.00, Concession $10.00, Child $5.00 Family $30.00
5) Castlemaine Markets
The markets in Castlemaine are a great place to pick up fresh, seasonal produce – or a one-off make from a local artisan.
If vintage is more your bag, then you could head to Castlemaine Vintage Bazaar to pick up something completely different. 
Paying a visit to a Castlemaine market should be on any top things to do in Castlemaine list.
Here are three of the best to choose from.
Castlemaine Artists Market
The Castlemaine Artist Market is ideal for picking up goods made by both established and emerging local talents.
Unique handmade goods and quality coffee can always be found here too.
This Castlemaine Sunday market for all things artisan is held between 10 am and 3 pm at the Western Reserve.
Castlemaine Artists Market

Where: Western Reserve, Cnr Wheeler & Forest Streets, Castlemaine

When: 10am to 3pm on Sundays
Castlemaine Farmers Market
Castlemaine Farmers Market is held every Wednesday, plus on the first Sunday of every month.
Here you can buy the freshest, seasonal produce from the local Mount Alexander Shire region.
Castlemaine Farmers Market

Where: Forest Street, Castlemaine

When: 2.30 pm to 5.30 pm on Wednesdays & 9 am to 1 pm on the 1st Sunday of the month
Wesley Hill Market
Wesley Hill Community Market takes place on Saturday mornings.
Here you can also pick up fresh, local produce, hear buskers play, and shop for unique and handmade goods.
Wesley Hill Market

Where: 149 Pyrenees Highway, Castlemaine

When: 9 am to 1 pm on Saturdays
6) Castlemaine Art Gallery & Historical Museum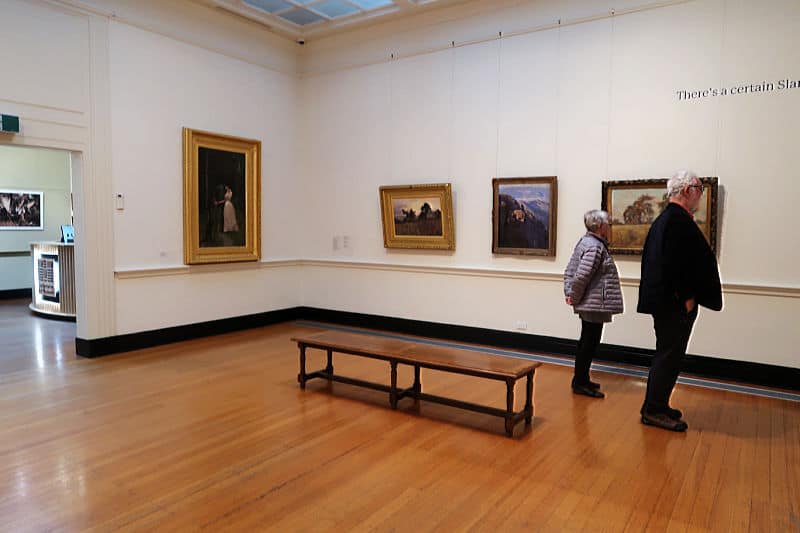 This Castlemaine gallery is both a historic museum and venue showcasing art rolled into one.
Specialising in works by Australian artists, the art deco listed building houses sculptures as well as paintings and other pieces.
Castlemaine art museum dates back to 1913, and offers permanent collections as well as an ever-changing range of exhibitions and events.
The gallery has a local feel, featuring First Nations cultural material, Australian art, and historic artefacts.
From the start this has been a community affair, and the gallery continues to connect locals and visitors via shared interests and ideas.
Castlemaine Art Gallery & Historical Museum

Where: 14 Lyttleton Street, Castlemaine

When: Midday to 4 pm on Thursdays, Saturdays & Sundays; Midday to 6.30 pm on Fridays

Phone: (03) 5472 2292

Entry: Free
7) Old Castlemaine Gaol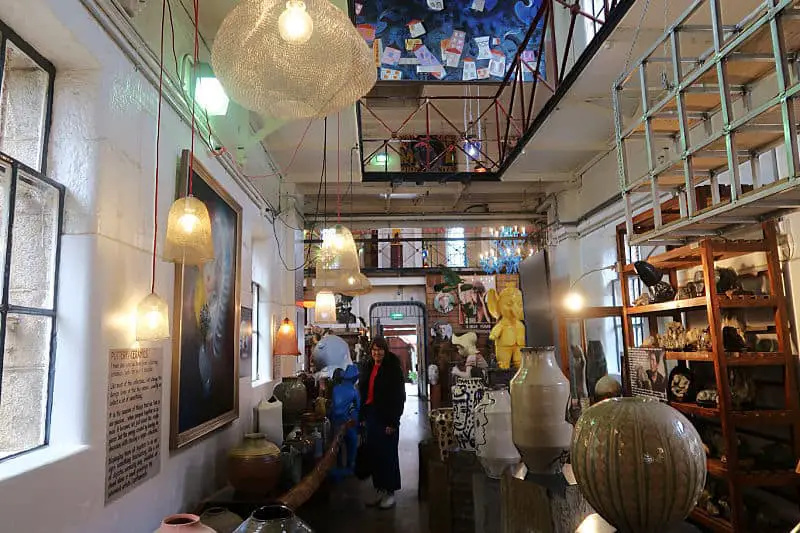 Old Castlemaine Gaol is a prison located in Victoria. It was modelled on Pentonville in London, and occupies a lofty site perched above the town.
Rather than being used as a tourist attraction like other former prisons in Australia, Old Castlemaine has now been repurposed as a space for events, live music, and a cafe.
The Bromley Collection at Old Castlemaine Gaol comprises art, design, and craft items of interest. It's an eclectic selection of goods, with all kinds of media and eras being represented.
Artists David Bromley is the brains behind the compilation of items.
Old Castlemaine Gaol

Where: Bowden Street, Castlemaine

When: 10 am to 5 pm Friday, Saturday & Sunday

Entry: $20.00
8) Mount Alexander Regional Park
For walks near Castlemaine and other outdoor pastimes, Mt Alexander Regional Park can be one of the state's best-kept secrets.
The area is around 350 metres above the ground and there are superlative views over the surrounding region from the elevated site.
The regional park comprises 14,000 hectares overseen by Parks Victoria.
As well as sweeping views, visitors to Mount Alexander can enjoy a picnic on a sunny day, experience walking in the unspoiled bushland, and get up close to local wildlife.
Take in breathtaking scenery and spot unique wildlife on the Mount Alexander region's top lookouts such as Dog Rocks, Lang's Lookout, and Shepherd's Flat.
Alternatively, stretch your legs by following the 4 kilometre West Ridge Walking Track or relax at the scenic Leanganook Picnic Area.
Keep an eye out for Black Wallabies, Eastern Grey Kangaroos, Koalas, Echidnas, and Sugar Gliders, as well as a variety of native bird species.
Mount Alexander Regional Park

Where: Harcourt North

When: Always open
9) Shedshaker Castlemaine Brewery
Looking for a cool spot to grab some brews in Castlemaine? Look no further than the Shedshaker Tap Room inside The Mill on Walker Street.
Established at the site in 2016, it was known as the Castlemaine Brewing Company until a face-off with the makers of Castlemaine XXXX resulted in the name change.
The brewery at The Mills specialises in small batch craft beers. You can taste these at the taproom, or buy some to take home from the shop.
Brews to sample include Celtic Red, Knucklehead Rye IPA, Holy Grail Cloudy Ale, Espresso Black Lager, and Robust Chocolate Porter.
As well as flavourful locally brewed beers, the taproom offers live music, delicious food, and a welcoming atmosphere.
Expect informal fare such as tapas nights, sharing platters, and pizzas.
Shedshaker Castlemaine Brewery

Where: 9 Walker Street, Castlemaine

When: 2 pm to 9 pm Tuesday to Thursday; 2 pm to 10 pm Friday; 12 pm to 10 pm Saturday; 12 pm to 8 pm Sunday

Phone: 0487 860 060

Tasting Paddles: $15.00
10) Boom Town Winery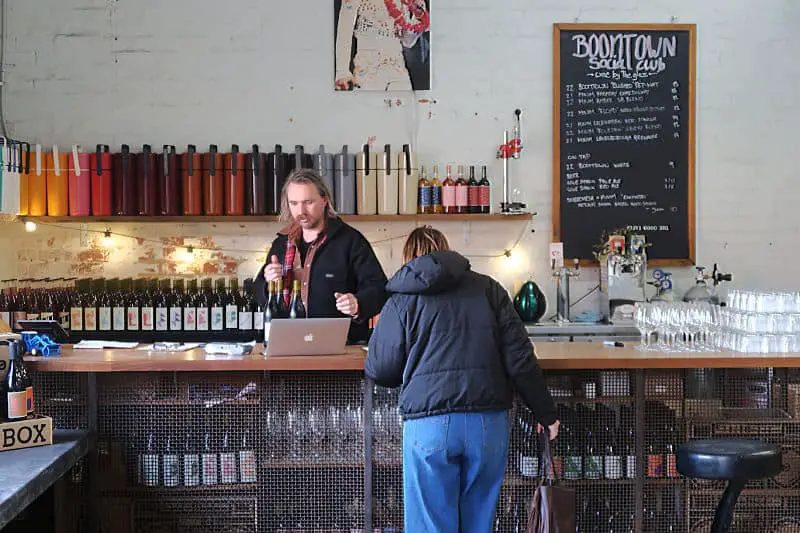 The name of this Castlemaine winery references the area's heyday as a Gold Rush town.
Boom Town wine can also be found at The Mill on Walker Street in central Castlemaine and has been making fine Victorian wine since 2015.
You can taste and buy wines from two different labels at Boom Town. Boomtown is the more informal house style, while Minim offers further depth.
At Boom Town, you can visit the cellar door to sample the goods while meeting both the makers and other visitors.
Boom Town Winery

Where: Shed 10, Walker Street, Castlemaine

When: 11 am to 5 pm Thursday, Saturday & Sunday; 11 am to 11 pm Friday

Phone: 0422 479 968
11) Castlemaine Vintage Bazaar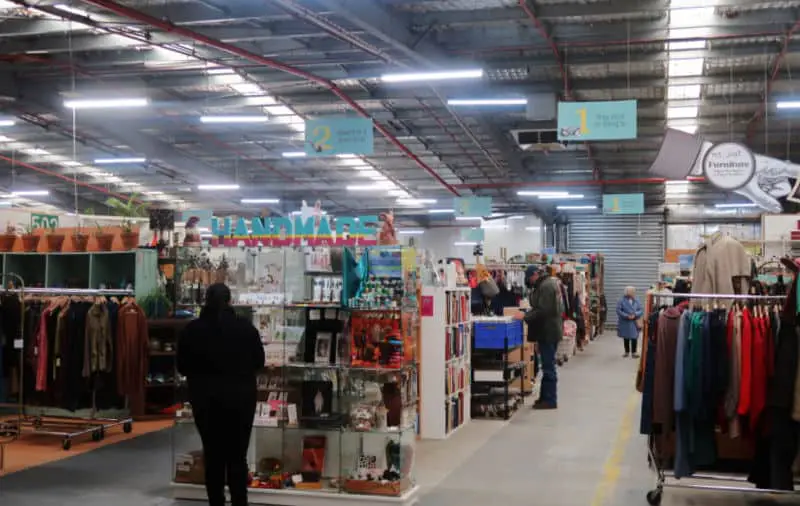 If you can't resist a treasure trove of preloved goods, then Castlemaine Vintage Bazaar is the place for you to visit!
It's housed at the Castlemaine Woollen Mill along with other retailers, winemakers, brewers, and more.
Eclectic and even outlandish is the theme here, and the bazaar is said to be overseen by the dubious Baron von Le'gPulling.
Goods range from genuine antiquities to modern, newly made items. For curios, collectibles, and vintage finds, this place is one to reserve when you have browsing time to spare.
Castlemaine Vintage Bazaar

Where: Walker Street, Castlemaine

When: 10 am to 5 pm daily

Phone: (03) 5470 6555
12) Shades Of Gray
Shades of Gray in Castlemaine offers beautiful gardens, one-off art pieces, and a motley collection of artworks.
It all started with a roll of corroding wire, that the owners found on their property some years back and turned into a birdcage.
Since then, Chelly and Peter Gray have had their works exhibited across the world, including at the Guggenheim in New York.
Their creations are functional as well as original and visitors to Shades of Gray Studio and Gallery particularly love the handmade flowers scattered throughout the gardens.
Shades Of Gray

Where: Corner of Farnsworth & Brown Streets, Castlemaine

When: 10 am to 5 pm daily
13) Castlemaine Jazz Festival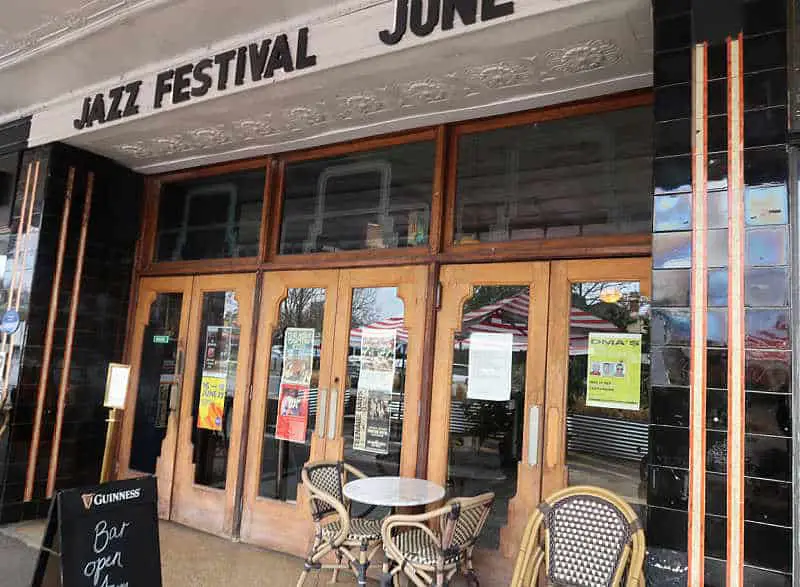 Castlemaine Jazz Festival is a local event sponsored by an array of local businesses. The festival runs for an entire weekend, from Friday evening to Sunday night.
Tickets can be purchased for one day, one night, or the full weekend.
In fact, if you're definitely going then it's worth getting your tickets in advance as they're cheaper when you buy them by mid-May.
The festival is held in early to mid-June. Saturday is the biggest day, with music from midday at six sites across town.
Castlemaine Jazz Festival

Where: Castlemaine-wide

When: Early to mid-June
14) Castlemaine Diggings National Heritage Park
The Castlemaine Diggings National Heritage Park is a site that preserves what remains of the Australian Gold Rush in Victoria.
Listed on the Victorian Heritage Register, it's the country's biggest and most culturally significant mining landscape.
Step back in time by visiting this historically and culturally significant site. Here, you can see old mines, houses, machines, and settlements.
Activities that are popular at the park include bushwalking, cycling, picnicking, scenic drives, and gold prospecting.
Castlemaine Diggings National Heritage Park

Where: Glenluce, VIC

When: Always open
15) Jirrahlinga Koala & Wildlife Sanctuary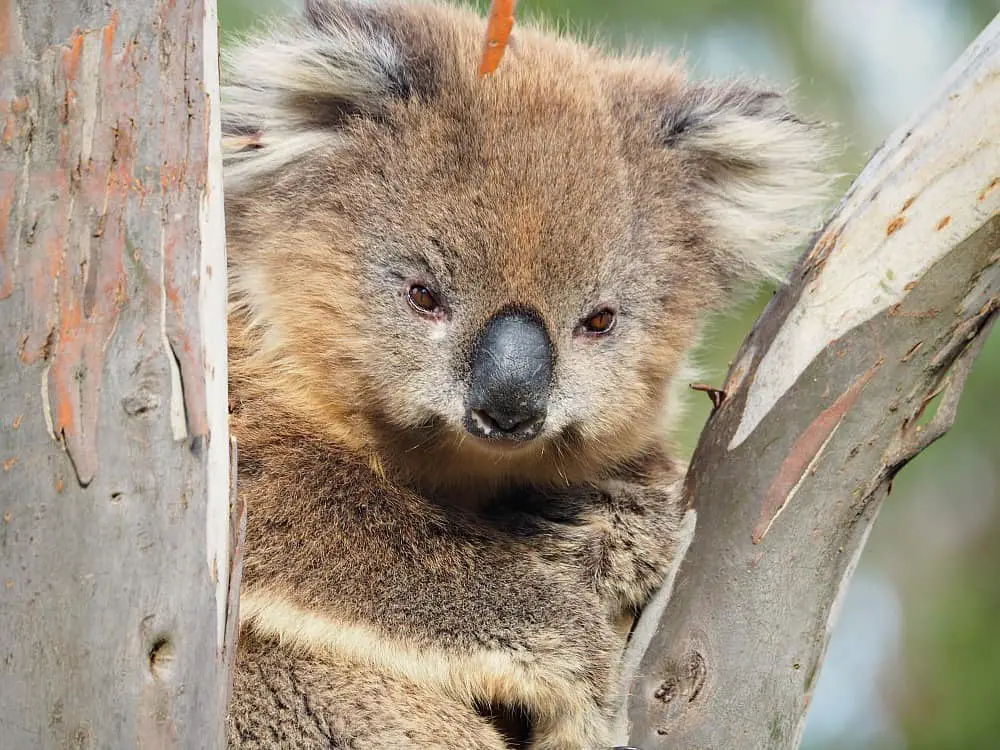 Jirrahlinga Koala and Wildlife Sanctuary in Castlemaine is a Not for Profit organisation. It's a refuge for a variety of native Australian creatures.
Species to see here include koalas, dingoes, kangaroos, reptiles, wombats, and other wildlife.
Ranger-led group tours are the best way to get up close to the resident wildlife, and these last for an hour and a half. They take place daily at 10 a.m and 1 pm except for on Wednesdays.
Jirrahlinga Koala & Wildlife Sanctuary

Where: Cnr. Dingo Park Road & Eureka Street, Chewton, VIC

When: Tours at 10 am and 1 pm, except for Wednesdays

Phone: 04 9338 7144

Entry: Adult $35, Concession $28.00, Child $22.00, Concession $106.00
16) Castlemaine To Maldon Rail Trail
The Castlemaine to Maldon Rail Trail runs alongside the steam train route between Castlemaine and Maldon.
It's one for those who like to explore on foot or by cycle and stretches for almost 18 kilometres. The terrain varies along the way.
A timber boardwalk, vehicle-free sections, a crossing over Muckleford Creek, bushland, historic sites, and farmland await.
In each direction, the trail takes around two hours to complete when cycling.
Some visitors walk or cycle one way, then catch the Victorian Goldfields Railway in the other direction.
Castlemaine to Maldon Rail Trail

Where: Castlemaine to Maldon

When: Always open
17) Boorp Boorp Boondyil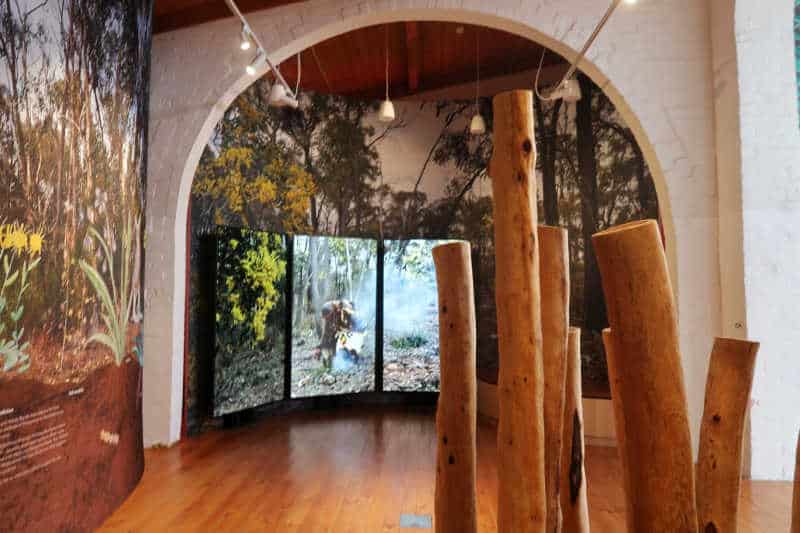 Boorp Boorp Boondyil is an interactive exhibition space that shares the historic and modern stories of the Jaara People, the Traditional Owners of the Mount Alexander Shire area.
The pronunciation – in case you're wondering – is 'Boorp' as in 'torpedo' and 'Boondyil' like 'book'.
The exhibition is a permanent one designed to share the tale of the the Dja Dja Wurrung people of this area.
As well as the original Creation Story, kids, and adults can learn about traditional bush foods and medicines, crafts like weaving, and the importance of the local waterways.
Boorp Boorp Boondyil

Where: Castlemaine Information Centre 44 Mostyn Street, Castlemaine

When: 9 am to 5 pm daily

Phone: 1800 171 888

Entry: Free
18) Storyteller's Guide To The Goldfields – audio tours
The Storyteller's Guide To The Goldfields comprises a series of audio tours that lead listeners around central Victoria. These introduce people to the Jaara Aboriginal sites and historic Gold Rush sites of the area.
The tours are designed to be followed while travelling on foot, by bike or in the car. All of the content is based on extensive research, and each tour lasts for around an hour plus extra time for travelling.
With music, artworks, photographs and a choice of starting points, there's plenty to entertain listeners as they follow the tour. There are 60 stops and stories in all, put together by award-winning storyteller Jan 'Yarn' Wositzky.
Storyteller's Guide To The Goldfields – audio tours

Where: Throughout the central goldfields

When: Always available
19) Forest Creek Historic Gold Diggings
To the northern side of the Pyrenees Highway close to Castlemaine and Chewton is the site of Forest Creek Historic Gold Diggings.
This is the place that inspired the second world Gold Rush, so it's pretty important historically speaking.
Gold mining commenced in this area around the mid-19th century. White Hill and Red Hill are easy sites to explore at leisure, and you can also find picnic tables, a covered area, a walking track, and a self-guided tour here.
You can also see historic machinery and pipes. Comprehensive information boards teach you about what everything means, so it's more interesting to interpret what you're looking at. 
Forest Creek Historic Gold Diggings

Where: B180, Castlemaine

When: 9 am to 5 pm daily
20) Pennyweight Flat Children's Cemetery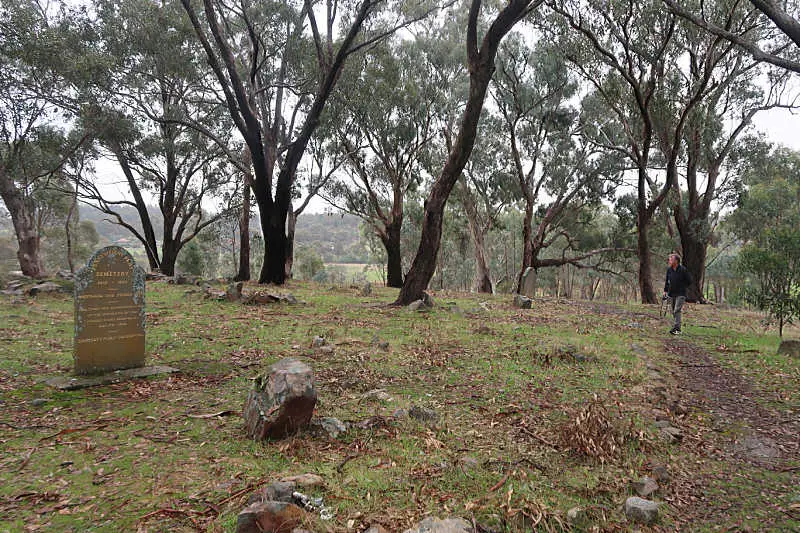 Pennyweight Flat Children's Cemetery was first established in 1852 as a burial ground for children lost during the Australian Gold Rush.
It's a sombre site to visit and is named for a tiny measure of gold – the pennyweight.
During the 1850s, families travelled to the central goldfields to seek their fortunes. Alas, young people were lost along the way, as contagious diseases and no clean water to drink led to sickness and death among babies and children.
If you're feeling ready for a moment of reflection, the names and ages of the kids who were buried here can give you a reality check regarding the nature of the Victorian Gold Rush.
Pennyweight Flat Children's Cemetery

Where: Colles Road, Moonlight Flat, VIC

When: Always open
21) Castlemaine Truck Show
The annual Castlemaine Truck Show is held each year and is visited by about 3,000 people from around the area and further afield.
About 300 trucks are normally in attendance. So if you know a child or grown-up who's into rugged vehicles, then this is an event not to be missed.
There are various category prizes handed out over the weekend. Including the likes of best working rigs in a range of ages, best tipper or tilt tray, or top restoration or custom truck.
Castlemaine Truck Show

Where: Campbells Creek, VIC

When: Late November
What To Do In Castlemaine Map
You can find all the best things to do in Castlemaine I've listed here on the map below.
Where To Stay In Castlemaine
There are plenty of great places to stay in Castlemaine and you'll find something for every budget.
I've listed my favourite Castlemaine accommodation below, including budget friendly, family friendly, and something a bit more luxurious with great views.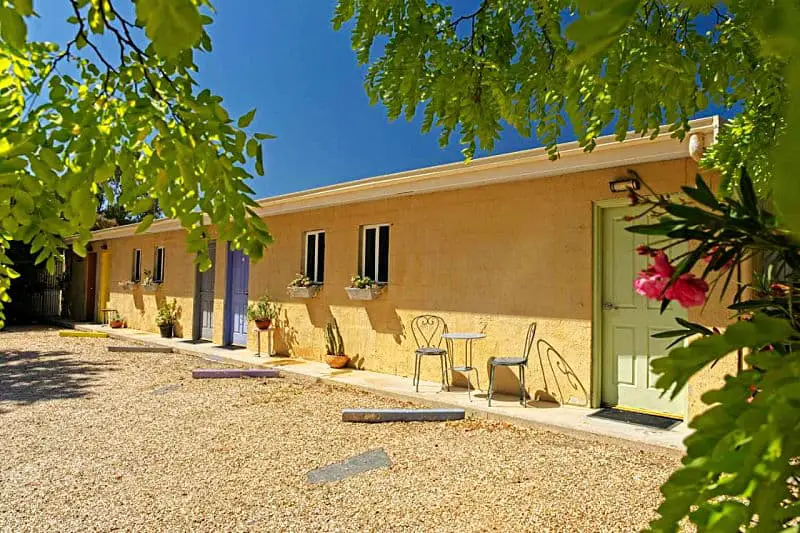 The Albion Motel Castlemaine is a great place to stay for those looking for comfortable and affordable accommodation in the area.
The rooms offer plenty of space, with queen rooms complete with queen-size beds, king rooms with a king-sized bed, and family rooms providing ample room for larger groups or families.
All the amenities you need are provided including smart TVs, air conditioning, and free Wi-Fi.
The motel is conveniently located close to the city centre as well as the local shops and restaurants.
Staff are friendly and accommodating, making sure you have a pleasant stay.
The Albion Motel Castlemaine is an ideal spot for those looking for comfortable lodging at a reasonable price. Plus you get freshly baked sourdough for breakfast!
➡️ Check prices for this motel here!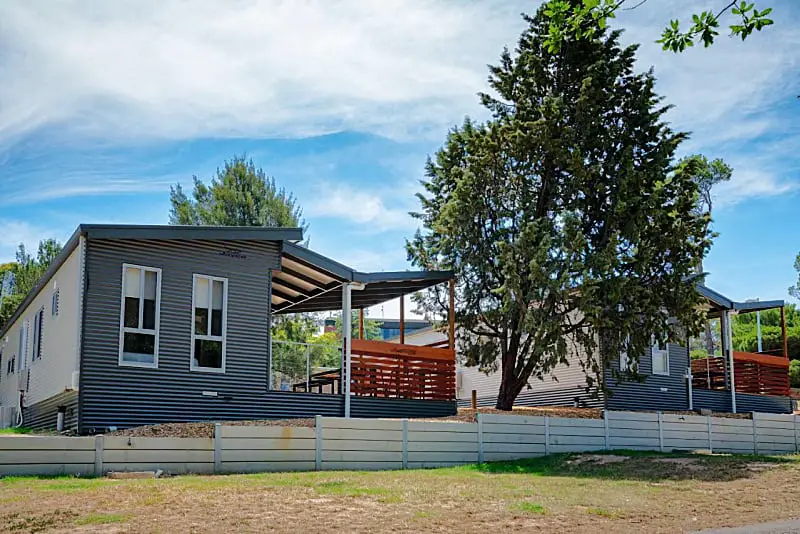 The Big4 Castlemaine Gardens Holiday Park is conveniently located next to the botanical gardens, the Bridge Hotel, and the 50 metre public swimming pool – great in summer. While The Mill is just a short walk away.
The park has everything you need for an amazing getaway. Whether you're a couple, a family, or a group, you can choose from luxury glamping, stylish villas, and cozy cabins to best suit your needs.
There are also pet-friendly caravan sites with power hookups.
Kids love the pedal cars that are available to hire, as well as the fun games room, movie nights, and the school holiday kids' club.
➡️ Check prices for Big4 Castlemaine here!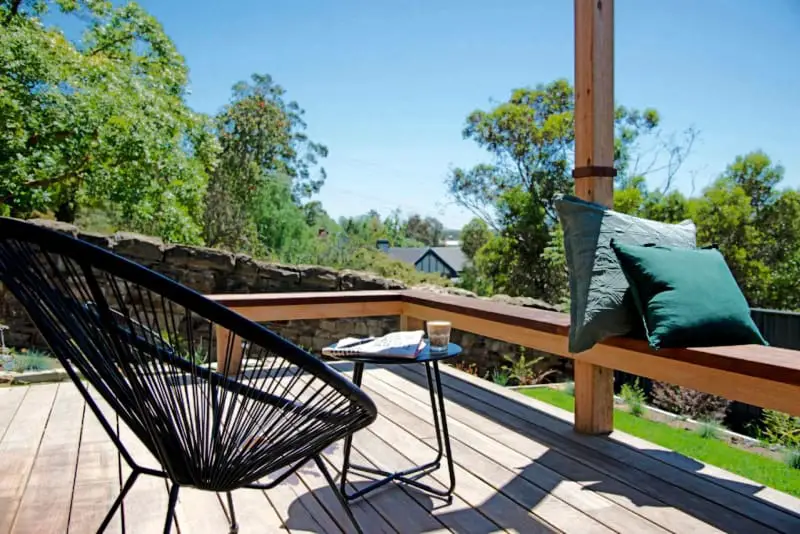 Nestled in a serene landscape 52Views Castlemaine is just moments away from the town centre.
Here, you can indulge in a relaxing bath while enjoying breathtaking views. Then, drift off into a peaceful night's sleep on a plush king-size bed.
And when it's time to unwind, grab a good book and enjoy a cup of tea on the deck surrounded by lush gardens.
This amazing one bedroom cottage is not only dog friendly, but it also boasts a fully equipped kitchenette, free wifi, and a smart TV with Netflix.
I particularly like the cute window seat and the views from every room. You'll have no worries about parking your car either as there's secure off-street parking.
52Views is perfect for couples looking for a romantic getaway in Castlemaine. You can bring your fur baby too!
➡️ Check prices for 52Views Castlemaine here!
FAQs About Castlemaine Things To Do
What Is Castlemaine Popular For?

Castlemaine is popular for its rich gold rush history, the many art galleries throughout the area, music festivals and markets, and its growing reputation as a fine food destination. Castlemaine is also a great outdoor destination with stunning views and many walking, hiking, and biking trails.
Are There Koalas In Castlemaine?
Yes, there are koalas in Castlemaine. Although sightings aren't as frequent as other parts of Victoria it's still possible to see them. The best way to spot a wild koala is to take an early morning bushwalk or climb up Mount Alexander and keep your eyes peeled!
Does Castlemaine Have A Train Station?
Yes, Castlemaine has a train station. Located near the town centre, the station is on V/Line's Bendigo line and offers regular services to Melbourne and many regional towns. While the platforms offer modern facilities like toilets and a kiosk, the station has maintained its historical façade.  
Is Castlemaine In Bendigo?
No, Castlemaine is not in Bendigo. Castlemaine is a town located in the Goldfields Region of Victoria, Australia, about 120 km north-west of Melbourne and 36 km from the city of Bendigo. It is best known for its unique 19th-century streetscape architecture, vibrant cafe culture and thriving arts scene.
Final Word
If you've been thinking about spending some time in Victoria's central goldfields region, then we hope this post has inspired you to pay Castlemaine a visit.
Perhaps you prefer natural attractions, such as the fauna of the Australian bush, or the flora of the botanical gardens.
Or maybe you would rather spend time at a cool, converted, and contemporary venue, sampling all the best that the region has to offer in terms of food, wine, art, and culture.
A star attraction of this region, of course, is the Gold Rush heritage. But even if that is of little or no interest to you, there are plenty of places to shop, dine, and simply enjoy life in the Castlemaine area!
Recommended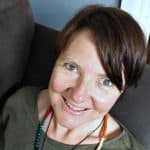 By Audrey Chalmers
Audrey grew up in Victoria and travelled the world but she always called Victoria home. She loves nothing more than exploring her home state and sharing it here.