This article may contain compensated links. For more information read our disclaimer here.
Looking for the best Grampians wineries? Awesome! That's exactly what you'll find here. Below you'll find our complete Grampians winery guide so you can relax at the best wineries in the heart of Victoria.
The Grampians National Park isn't just about stunning landscapes, hiking, and waterfalls.
Explore the Grampians wineries surrounding the towns of Great Western, Ararat, Buangor, Moyston, and Halls Gap and you'll soon discover that Grampians wine is another compelling reason to visit the area.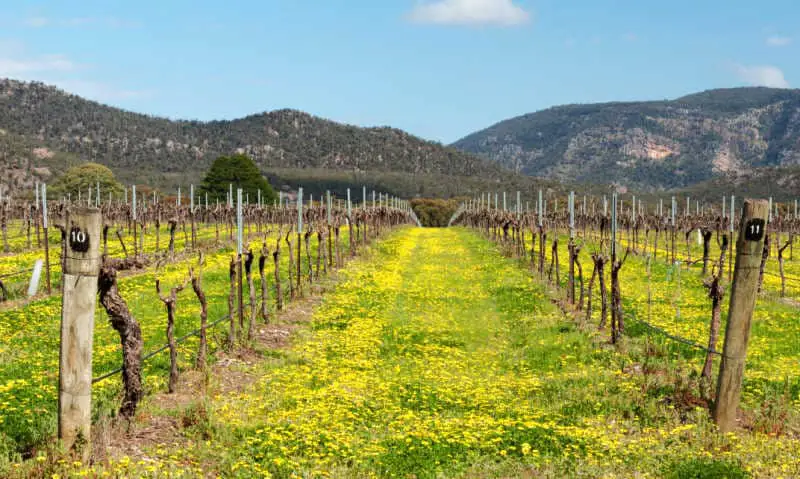 The Grampians wine region is one of Australia's most historical grape growing areas.
Local growers in the Victorian wine regions have been producing quality wine since the 1860s, and it has since become one of the top Grampians attractions.
It's a major part of the landscape and culture, and visitors come from all over the world to taste the wine that's made in the historical Henty Wine Region.
Many Grampians wineries are highly acclaimed with top varieties like Shiraz, Pinot Noir, and Dolcetto.
Why is it so special? The Great Dividing Range's old soil and good terroir combined with low rainfall, hot days, and cold nights produce some of the best wines in Australia.
It's so good in fact that every year producers, locals, and visitors come together to celebrate this beautiful region at the Grampians Grape Escape Food and Wine Festival.
Even if you're not lucky enough to visit when it's on, you will never struggle to find a good drop of wine here.
In this guide, we look at the very best Grampians wineries, as well as one bonus tip if you are short on time when you visit here.
1) Pomonal Estate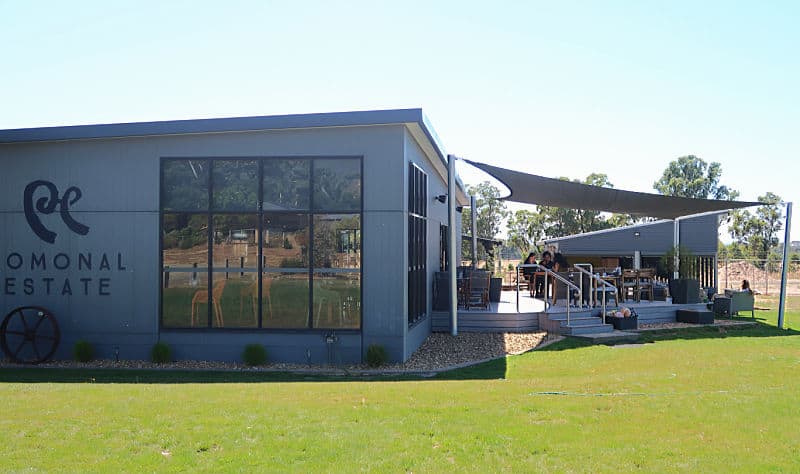 Only recently established, the Pomonal Winery comes highly recommended by both locals and visitors alike.
With a kitchen serving up fresh seasonal produce, visiting here is a full afternoon out rather than just a simple wine tasting.
You can bring the whole family and enjoy the surrounding grasslands, bring the kids, bring the dog, and have a high-quality meal with assorted small plates, homemade cakes, coffee, and teas, or try the daily specials that are available.
The attached microbrewery and cider house means it's one of the top Grampians things to do for groups – even those that don't enjoy wine.
The Pomonal Estate is just a 10 minute drive from the central town of Halls Gap along the Ararat Road.
Pomonal Estate

Where: 2079 Pomonal Road, Pomonal 3381

When: Wed – Sun: 10 a.m – 5 p.m,

7 days during Victorian school holidays

Phone: 0448 983 248
2) Seppelt Winery
For visitors who want the traditional Grampians winery experience, Seppelt Great Western is probably the best winery Grampians National Park has to offer.
The Seppelt wines are some of the best in the Grampians region, opt to go on a wine tasting to choose from over 20 wines hand-picked from the Seppelt Award Winning Wine range.
One of the great things to do here is to go on a 50 minute underground tour of the National Trust classified 'Drives'.
The tour explores 3 kilometres of underground tunnels that were excavated to store wine in 1865, and are still the largest underground cellaring system in the whole of Australia.
The Seppelt Winery also hosts underground dining, and even weddings! You can find the cellar door around a 15 minute drive north of Ararat, and 30 minutes away from Halls Gap.
Tours cost $22 for adults, $18 for concessions, and $8 for children (free for under 5's).
Seppelt Wines Great Western

Where: 36 Cemetery Road, Great Western 3377

When: Cellar door 7 days 10 a.m – 5 p.m

Tours depart on the hour between 11 a.m & 3 p.m

Phone: (03) 5361 2239

Tour Tickets: Adults: $22.00, Concession: $18.00, Children: $8.00 (Under 5 years free)
3) Best's Great Western Winery
Another one of the oldest wineries near Grampians National Park, Best's Great Western still retains an original nursery block and its original hand-dug cellars.
Founded in 1866, Best's Winery Great Western is family-owned and operated, it's an important part of the Australian wine scene with some of the oldest and rarest vines in the world.
Tour the underground cellars, take a wine tour, or grab a 'Pick a Platter' cheese board to nibble on while you sample the reds. You can also attend one of their many special events held throughout the year.
If you're concerned about value, it was also awarded 'Best Value Winery in Australia' in 2021, so you don't worry about spending a fortune either.
To get there it's a 2.5 hour drive from Melbourne, from the M8 Western Highway continue to Great Western and take the Bests Road exit.
Best's Great Western

Where: 111 Bests Road, Great Western 3377

When: Mon – Sat 10 a.m – 5 p.m

Sunday: 11 a.m – 5 p.m (Summer), 11 a.m – 4 p.m (Winter),

Phone: (03) 5356 2259
4) Mount Langi Ghiran Vineyard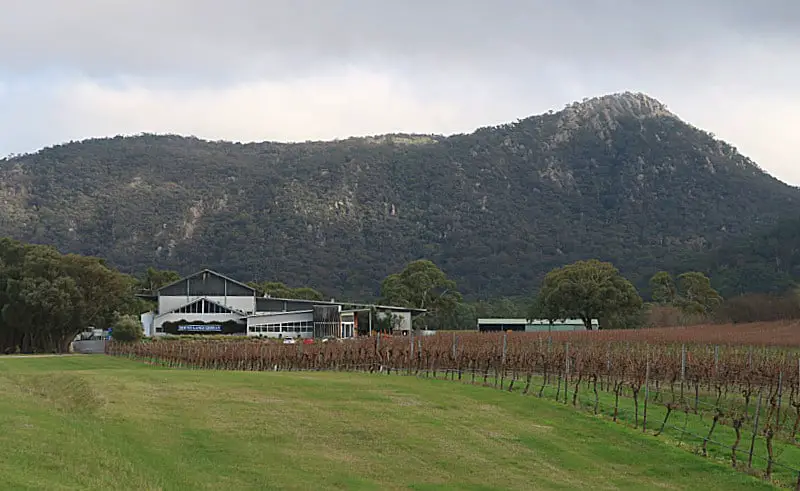 Mount Langi Ghiran often gets the title of one of the most beautiful vineyard sites in Australia. With granite cliffs, awe-inspiring views and deep red soils, it's not hard to see why.
Not only are the views pretty spectacular but their Langi Shiraz is pretty amazing too.
Visit the Mount Langi Ghiran Vineyard cellar door for tastings of exclusive small-batch wines. Standard tastings are $10, while premium Shiraz tastings will set you back $15 – free if you buy a bottle.
There's also a 'Wine & Cheese Flight' available, or pre-order a picnic box with locally produced charcuterie, cheeses,  and of course a large bottle of wine to take with you on a walk in the sprawling grounds.
Mount Langi Ghiran Vineyard

Where: 80 Vine Road, Bayindeen 3375

When: Friday – Monday 10 a.m – 5 p.m

Phone: (03) 5359 4400
5) Fallen Giants Vineyard
The Fallen Giants winery is one of the most affordable Halls Gap wineries. After it was established in 1969, the vineyard's ambition has been to produce outstanding cool climate wines.
Interestingly the winery's name comes from the dreamtime stories of the Indigenous Djab Wurrung and Jardwadjali people, and the organic farming methods respect the land and its history.
They have been regenerating native bush, promoting native grasses and have introduced more than 100 bee hives to assist in pollination. 
The majority of the site's 23 acres is planted with shiraz (14 acres), winning them many awards including the best Australian shiraz. But there's also Cabernet & Riesling vines.
Fallen Giants Vineyard wine tastings are $5, but free if you buy a bottle. They also offer food platters, and single glasses of wine costing around $8-10. Not an expensive day out, and there's also a great playground for children.
Fallen Giants Vineyard

Where: 4113 Ararat – Halls Gap Road, Halls Gap 3381

When: Wed – Fri: 12 p.m – 5 p.m, Sat – Sun: 11 a.m – 5 p.m

Phone: (03) 5356 4252
6) Grampians Estate Winery
If you are looking for more of a boutique Halls Gap winery, Grampians Estate fits the bill. They're best known for sparkling Shiraz and cool-climate Shiraz, but have also recently started harvesting sweet summer rieslings.
Grampians Estate Winery has earned a James Halliday (top 8% in Australia) '5 red star' rating and has won around 54 wine related trophies.
Some of the Shiraz vines date back as far as 1878 – the former Garden Gully 'St Ethels' vineyard produces sweet rieslings from 100 year old vines.
A must try is the '2010 Kelly's Welcome Blanc de Blanc' – a cheeky chardonnay with hints of apple and peach.
Don't miss the delicious food in the winery café – named 'Cellar Door with Best Food in the Grampians' in Gourmet Traveller WINE's annual Cellar Door Awards.
The Grampians Cellar Door can be found near Great Western on the Western Highway.
Grampians Estate

Where: 1477 Western Highway, Great Western 3377

When: Open daily from 10 a.m

Phone: (03) 5356 2400
7) Montara Wines, Ararat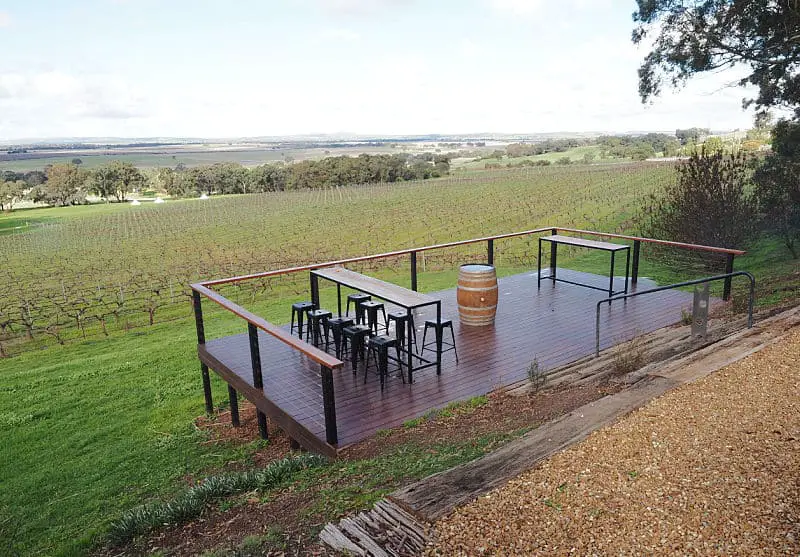 Montara Wines is situated 350 metres above sea level on the eastern slopes of Mt Chalambar with a backdrop of the rugged sandstone Grampians mountain ranges.
Established in 1970 by the McRae family, Montara focuses meticulously on vineyard practices resulting in "low yields, intense fruit concentration, and cool climate wines".
They have a diverse collection of wines including Chardonnay, Sauvignon Blanc, Riesling, Pinot Noir, Cabernet Sauvignon and Shiraz.
The first Friday of every month you can join 'Wine Down Friday', an event hosted by the current owners (the 6 Stapleton siblings that run the vineyard) that celebrates great wine, local food, and good music.
They have also co-created an incredible wine history tour with Grampians Helicopter Tours.
Montara Wines

Where: 76 Chalambar Road, Ararat 3377

When: Mon / Fri / Sat: 10 a.m – 5 p.m, Sunday 11 a.m – 5 p.m

Phone: (03) 5352 4798
8) Pierrepoint Winery
Pierrepoint wines are carefully grown without the use of chemicals or pesticides.
Instead, geese, ducks, and chickens roam around the vineyards, controlling pests in a more natural way – and providing endless entertainment for visitors.
Kids absolutely love meeting the animals, but dogs are best left at home!
Top picks include Nick's Pick Pinot Gris, Alexandra Chardonnay, Pinot Noir, Sparkling Pinot Gris, and the Lacey Dessert Pinot Gris.
If you can't get enough, you can stay at the Pinot Suite – a self-contained farm stay overlooking the extensive garden and 18 acre vineyard.
It's the perfect spot for exploring the southern region, with nearby attractions like Wannon and Nigretta Falls and the busy town of Hamilton.
Pierrepoint Winery is located in the foothills of Mount Pierrepoint between Hamilton and Tarrington in the beautiful Southern Grampians, Victoria.
Pierrepoint Winery

Where: 271 Pierrepoint Road, Tarrington 3300

When: Open daily 11 a.m – 6 p.m

Phone: 0439 476 198
9) Mountainside Winery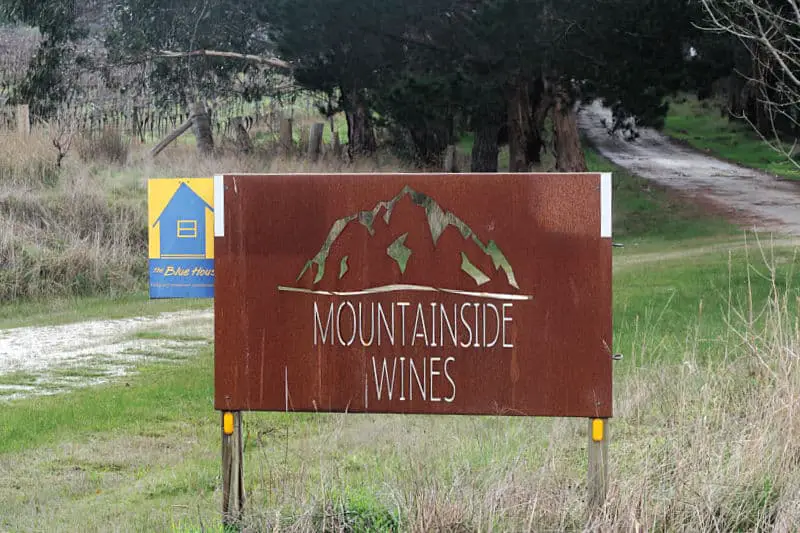 At the south-eastern end of the Grampians wine region, Mountainside Winery sits at the base of Mount Cole.
You can guess by the name that the views are pretty memorable, get closeups of Mt Cole, Mt Buangor, and Mt Langi Ghiran and epic panoramas of these stunning natural landscapes.
Mountainside wines are all hand-tended and hand-picked, the three varieties focused on here are Shiraz, Viognier, and Nebbiolo.
The fantastic Shed Café at Mountainside Wines offers grazing platters and light meals made with fresh and seasonal ingredients.
You can choose to stay here too at the old converted Post Office – The Blue House. It's a great way to see the local area and get to try all of the wines without worrying about who's driving!
If you're looking to make the most of your time here, they offer half day chauffeur driven wine tours to three wineries from $190, a four wheel drive bush experience from $110, and a 'Big Cruiser' motorbike ride from $50.
Mountainside Wines

Where: 197 Mount Cole Road, Warrak 3377

When: Friday – Monday: 11 a.m – 5 p.m, Daily in school holidays

Phone: (03) 5354 3279
10) Miners Ridge Winery
Miners Ridge Winery is an interesting option that has recently started producing hand-selected medium-bodied wines onsite after previously only supplying grapes to bigger wineries.
The thing that makes this small-scale operation one of the most interesting Grampian wineries to visit is that only a limited quantity is produced each year.
Each small-batch bottle of wine is special. Made from the cream-of-the-crop, Miners Ridge wine is created from the very best of the vineyard's crops.
Wine tasting at Miners Ridge isn't a complicated affair, but more of an informal, casual experience with owners Andrew and Katrina Toomey.
They also offer experiences like vineyard walks and talks, as well as on-site accommodation – you can find it about 10 minutes north of Ararat.
Miners Ridge Winery

Where: 135 Westgate Road, Armstrong 3377

When: By appointment only

Phone: 0438 039 727
11)  Norton Estate Winery
Norton Estate Winery has a mine-load of gold medals and are a bit of a big deal when it comes to Grampians wine.
They are known to produce some of Australia's finest boutique wines, ageing reds in the highest quality French and American oak barrels for 18 months before bottling.
But what makes it so unique? Owners attribute it to the frost-free elevation and loamy buckshot soils, as well as the wonderful Mediterranean climate that the whole region is blessed with.
Because they are a bit more remote and not close to other Grampians wineries, they are also disease and pest-free, giving them more time to focus on perfecting the perfect grape.
An absolute must-taste is their flagship wine the Arapiles Run Shiraz, while other good ones to try include Norton Estates Shiraz, Cabernet Sauvignon, and Sauvignon Blanc wines.
Located 15 minutes south west of Horsham, Norton Estate Wines is halfway between the Grampians and Mount Arapiles.
Norton Estate Winery

Where: 758 Plush Hannans Road, Lower Norton 3401

When: Saturday: 11 a.m – 5 p.m, Sunday: 11 a.m – 4 p.m

Phone: 0417 532 145
12) Barangaroo Boutique Wines
If you're looking for wineries in the Grampians that offer the best experience, look no further than Barangaroo Boutique Wines.
Grab a spot on the undercover deck and overlook the creek with a view of the stunning mountain scenery.
The setting is absolutely perfect for a warm summer's evening. If you're feeling a little peckish the cellar door offers shared tasting platters as well as seasonal specials.
They planted their first wines in 2005 and now have an extensive range of merlot, cabernet sauvignon, rose, and shiraz, but are best known for their sparkling Italian vermentino.
Barangaroo is perhaps best known for the world's first vermentino vertical wine flight.
Sip on 5 different Vermentino vintages, and complete the experience with a grazing board under the shade of mature gum trees. There aren't really many other ways I'd rather spend a day!
You can find them on the ridges of Lower Norton, 15 minutes south west of Horsham.
Barangaroo Wines

Where: 928 Plush Hannans Road, Lower Norton 3401

When: Saturday, Sunday, Public Holidays: 12 p.m – 4.30 p.m

Phone: 0400 570 673
13) Clayfield Wines
If you're a bit of a purist, Clayfield Wines might just be the best choice for you.
Established in 1999, Clayfields speciality is organically grown, traditionally produced Grampians shiraz.
The limited production and hand-basket pressing result in an award-winning premium Grampians shiraz. It's possibly the best around, although there is stiff competition in the Grampians!
Winemaker Simon Clayfield believes in simple, traditional methods; "… I believe that if ancient civilizations naturally made wine, drank it, and enjoyed it then; then it's good enough for us now".
You can't really argue with that logic, especially when the wine tastes this good.
Visit Simon and learn about his traditional methods and meticulous attention to detail at their cellar door. Note that it's a small operation so pre-booking is essential.
They are located quite centrally so you could easily fit a visit in with another vineyard. Clayfield Wines are just 15 minutes west of Ararat, near Moyston.
Clayfield Wines

Where: 25 Wilde Lane, Moyston 3377

When: Monday – Saturday: 10 a.m – 5 p.m, Sunday: 11 a.m – 4 p.m

Phone: (03) 5354 2689
Bonus Tip: Visit The Grampians Wine Cellar In Halls Gap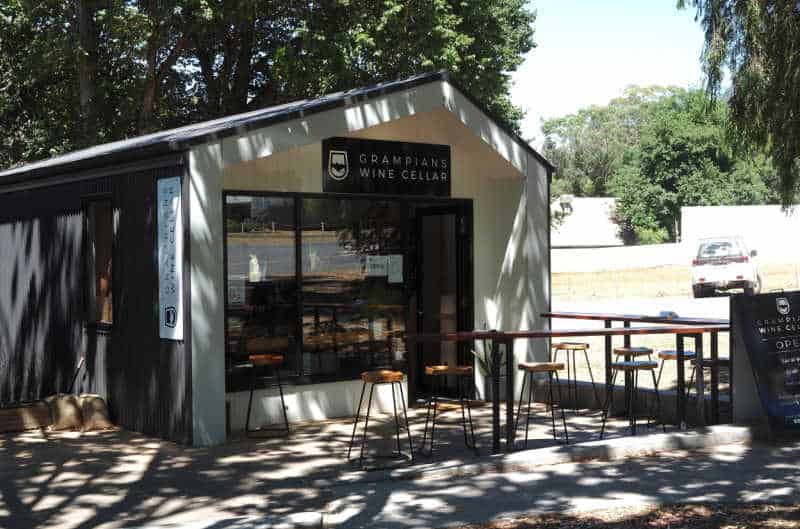 If you're visiting Halls Gap on your winery trip to the Gramipians, don't miss a stop at the Grampians Wine Cellar (located on Heath St, Halls Gap, Victoria).
Although not a vineyard, this one stop shop promotes all of the best local wines and beers in an unpretentious and relaxed setting. Take a seat on the cosy deck and chat to them about all of the best places to visit in the Grampians.
From iconic wines and historic vineyards, to small-batch producers, the Grampians Wine Cellar showcases the very best of the fertile region.
Nobody knows the Henty region like these guys, and you will leave with a deeper understanding of the area and why wine is such an important part of the landscape.
Any wine enthusiast will feel right at home here, and there are plenty of other things to do in Halls Gap too.
It's a good idea to start your trip here to get a taste of where to head on your wine tasting tour of the Grampians.
The Halls Gap wine cellar also has a great wine selection from around the world, as well as local craft beers, cider, and artisanal spirits.
Grampians Wine Cellar

Where: Shop 3, 2 Heath Street, Halls Gap 3381

When: Thursday: 1 p.m – 6 p.m, Friday: 1 p.m – 7 p.m

Saturday: 11 a.m – 7 p.m, Sunday: 11 a.m – 6 p.m
Final Thoughts
There are plenty more top wineries in the Grampians, but this selection offers a little bit of everything. From great local food, to historical institutions, to small batch producers, these wineries have something for everyone.
If you are lucky enough to have the time, or even over multiple visits, why not try to visit all of the Grampians wineries on this list to get a complete overview of this spectacular region.
But the most important thing is to sit back, enjoy the tastes and flavours of the landscape, and get to know the friendly locals that produce these amazing drops.
Recommended: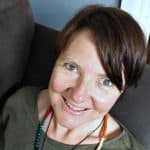 By Audrey Chalmers
Audrey grew up in Victoria and travelled the world but she always called Victoria home. She loves nothing more than exploring her home state and sharing it here.