This article may contain compensated links. For more information read our disclaimer here.
Heading to the Grampians in Victoria and want to know all the best things to do in Halls Gap? Then you're in the right place. Below you'll find our top Halls Gap things to do guide to help you plan your ultimate trip.
If you're visiting Halls Gap in Victoria you are in for a treat! With mountains, waterfalls, and stunning lookouts around every corner, it's a paradise for visitors.
The huge Grampian National Park stretches from Horsham to Stawell and Ararat, with the little town of Halls Gap right at the centre.
Are you planning your trip to Halls Gap right now?

If you're travelling to Halls Gap you'll want to make sure you have your accommodation booked well ahead of time.

Below are some of our top picks to help with your planning so you can be booked and all set for a fantastic trip!

Best Places To Stay In Halls Gap:
It's the perfect base for exploring the area and has been an important place throughout history.
Below you'll find our top guide to all the best Halls Gap attractions. Have a read through to find the best places to visit on your Halls Gap, Grampians trip.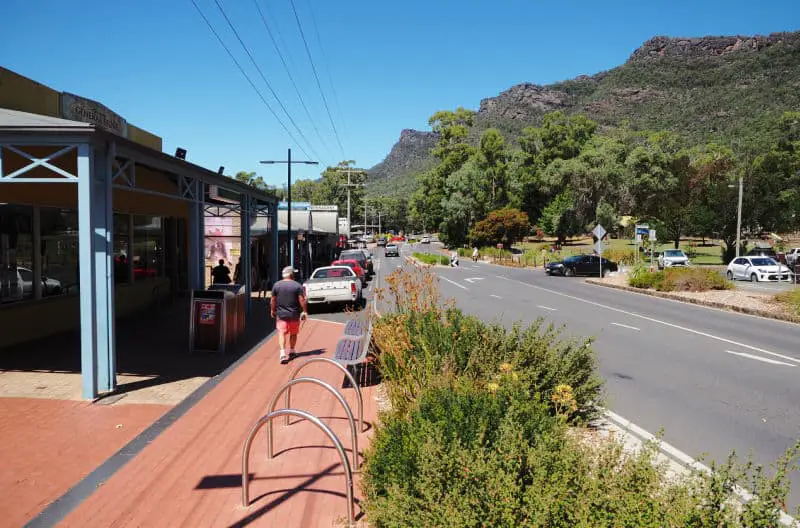 It's said that Geriward, the traditional name for the Grampians, was created by the great Eagle ancestor spirit Bunjil.
The great ranges were then further shaped by Tchingal, a giant Emu, who split the mountains with his fierce kick, creating what you see today.
However it came about, the Grampians, Halls Gap, and the surrounding area have to be seen to be believed.
With magnificent natural sights like Mackenzie Falls, Grampians National Park, Lake Bellfield, and the Grand Canyon, a visit to Halls Gap is sure to make anyone fall in love with the town and want to come back again, and again.
The Best Things To Do In Halls Gap
Here are 31 of the best things to do in Halls Gap to add to your itinerary when visiting this beautiful part of Victoria.
1) Get Your Bearings At Boroka Lookout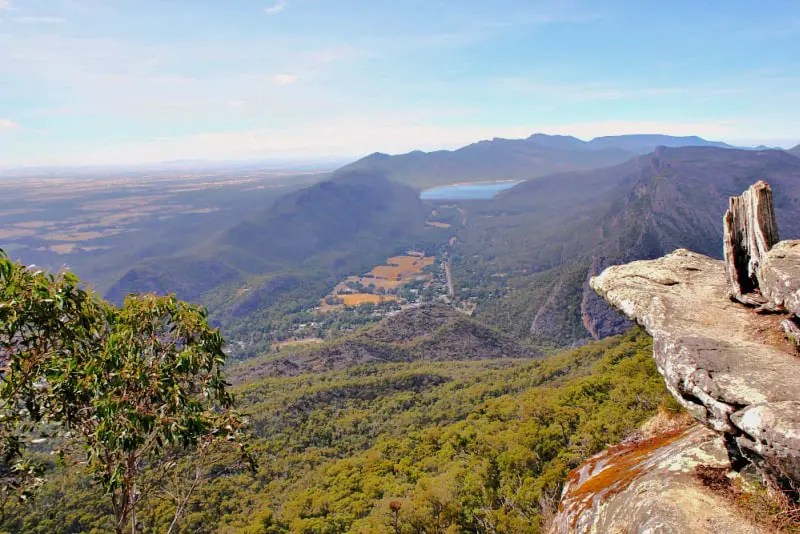 One of the best ways to start your visit to Halls Gap is to stop by the Boroka Lookout.
Offering stunning views towards the east, you'll get a great overview of Halls Gap and Lake Bellfield.
If you're an early riser head up in the morning to witness one of the best sunrises around.
It's about a 20-minute drive from Halls Gap to the lookout.
Once you reach the car park, it's an easy 5-minute walk along an access-friendly path to the Boroka Lookout Grampians viewing area.
Boroka Lookout

Where: Mt Difficult Road, Halls Gap 3389

When: Always open
2) Get Up Close To Mackenzie Falls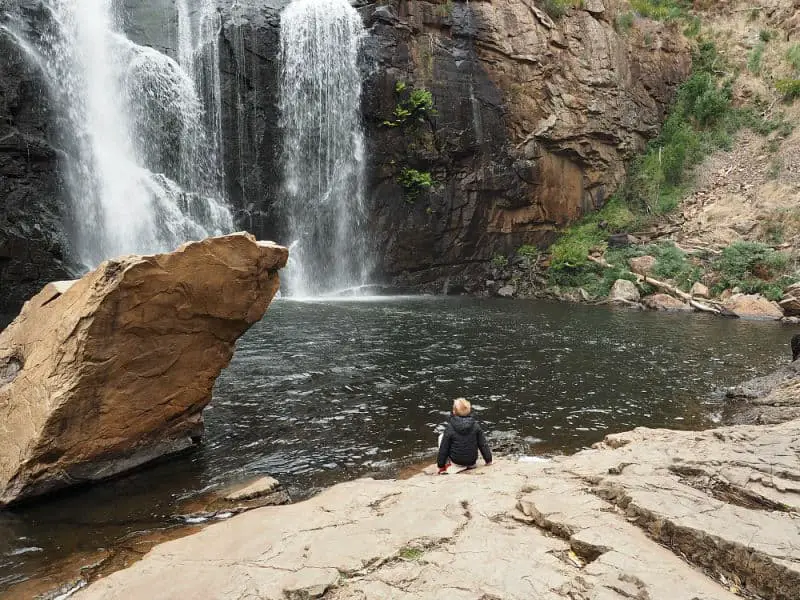 One of the most popular Halls Gap attractions is Mackenzie Falls.
As one of the only waterfalls Halls Gap has that flows all year round, the Mackenzie waterfall is always busy with visitors.
The lookout platform for Mackenzie Falls Halls Gap is just a few hundred metres from the car park and is easily accessible for young children or people with mobility issues.
You can also choose to take the Mackenzie Falls walk through the bush, giving you great views of the side of this magnificent natural attraction.
The best way to see them, however, is by climbing down the 260 steps that take you right up to the base of the falls.
The steep climb back up to the car park can be a struggle for some people, but if you can manage it it's well worth the effort.
There's a deep pool of water at the bottom of the waterfall and as tempting as it is to jump in (especially on a hot day), you'll have to resist as it isn't safe to swim here and it's not allowed.
Instead, feel the cool water mist against your face as you look up at the falls from below.
Mackenzie Falls, Grampians is just a 25 minute drive from Halls Gap along Mt Victory Road.
Mackenzie Falls

Where: Mount Victory Road, Zumsteins 3401

When: Always open
3) Lookout Over The Grampians At The Pinnacle Halls Gap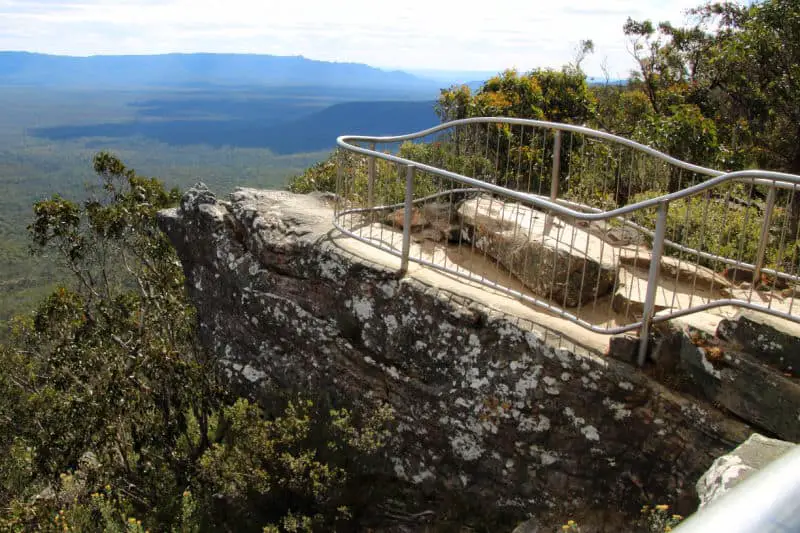 The Pinnacles Lookout has some of the most amazing views of the Grampians peaks and ranges.
From the Pinnacles walk you can see the vast Grand Canyon as well as many other stunning sandstone rock features.
To get to the Pinnacle Lookout, Grampians, head out on the 4.2 km return walk from the Sundial Carpark.
The trail is well signposted but it can be easy to get disoriented in the rocky terrain.
A top tip is to look out for the yellow arrows painted on the rocks to keep going in the right direction.
You can also get to the Pinnacles Halls Gap via a 4.5 km route from Wonderland Carpark, but take care as this route does include some steeper sections.
Younger children may struggle with the uneven terrain, and the path is not easily accessible to all.
Make sure to wear sturdy walking shoes and pack plenty of drinking water for all hikes.
Pinnacle Lookout – Sundial Car Park

Where: Sundial Road, Bellfield

When: Always open
4) Make The Most Of Technology With An E Bike Hire In Halls Gap
When you're visiting Halls Gap you'll see bikes zipping around everywhere.
And if you're feeling tired after all those hikes the easiest way to get around is battery-assisted!
It takes away the strain, meaning you can relax and take in all of the beautiful scenery along a shared bike path through the Fyans Valley.
E Bike hire costs $35 for 30 minutes, and an additional $10 for every 30 minutes after that.
Even if you only hire an e-Bike for one hour you can ride it out to Lake Bellfield, around 11 kilometres away, ensuring you have enough time to get there and back.
Halls Gap E-Bike Hire is located right next to the Visitors Information Centre, you can also hire regular push bikes (all helmets are included).
Before you set off you'll get a full briefing on how to operate the equipment safely.
Halls Gap E-Bike Hire

Where: 109 Grampians Road, Halls Gap 3381

When: 9 a.m – 5 p.m 7 days a week

Phone: (03) 5356 4925
5) Take The Kids To Halls Gap Zoo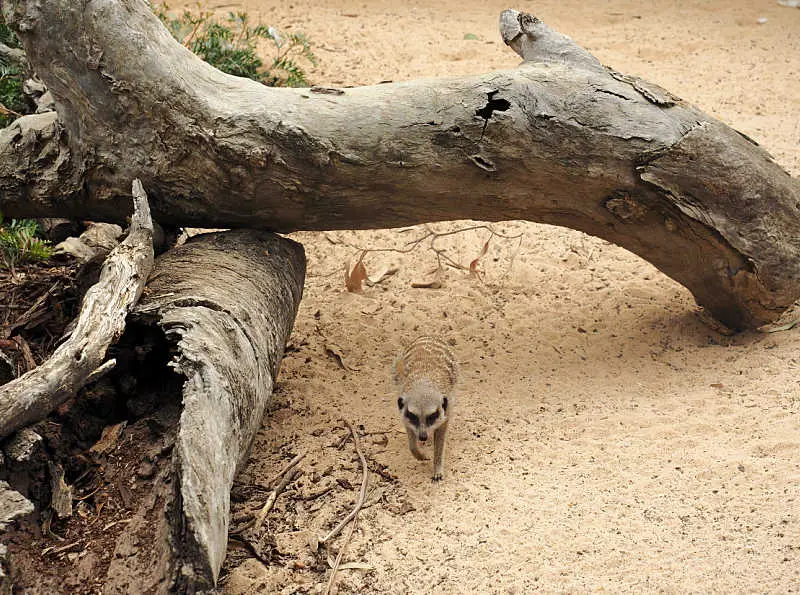 For a fun-filled family day out in the Grampians, you can't beat a trip to the Halls Gap Zoo.
It's the largest regional zoo in Victoria, featuring over 160 different animals including giraffes, monkeys, snakes, dingo, meerkat, crocodiles, and more.
Children and grown-ups alike can get up close and personal with some of the inhabitants with an animal experience.
Choose between feeding the giraffes, hanging out with meerkats, and meeting the rhinos.
You will also encounter many goats and sheep looking for their next meal – bags of food can be purchased at the entry.
There are plenty of amenities at the zoo making it a great place to spend the day.
With BBQ and picnic areas, toilets, and a kids' playground, it's one of the best budget-friendly things to do in Halls Gap for families.
Halls Gap Zoo

Where: 109 Grampians Road, Halls Gap 3381

When: 10 a.m – 5 p.m 7 days a week

Entry: Adult $38, Child $19, Family $95, Concession $33
6) Take On The Grand Canyon Walking Track
Though this magnificent gorge might not be as large as its American namesake, the spectacular scenery and waterfalls you'll find alongside the beautiful creek make the "Grand Canyon" well worth a visit.
The Grand Canyon walking track is a 900 metre circuit starting from the Wonderland Carpark.
Although it's short, it's easily one of the best walks in the Grampians.
The Grand Canyon track will take you past a series of small cascades before reaching a tall, narrow waterfall at the end.
You may want to stop for a picnic on one of the many rocky terraces under the curious gaze of nearby Wallabies.
From here you could choose to make a day of it by continuing on to the Pinnacle Lookout, passing Cool Chamber, Bridal Veil Falls, and Silent Street along the way.
These Grampians hiking trails are one of the many drawcards for visitors to the area.
7) Watch Sunset At Reed Lookout And The Balconies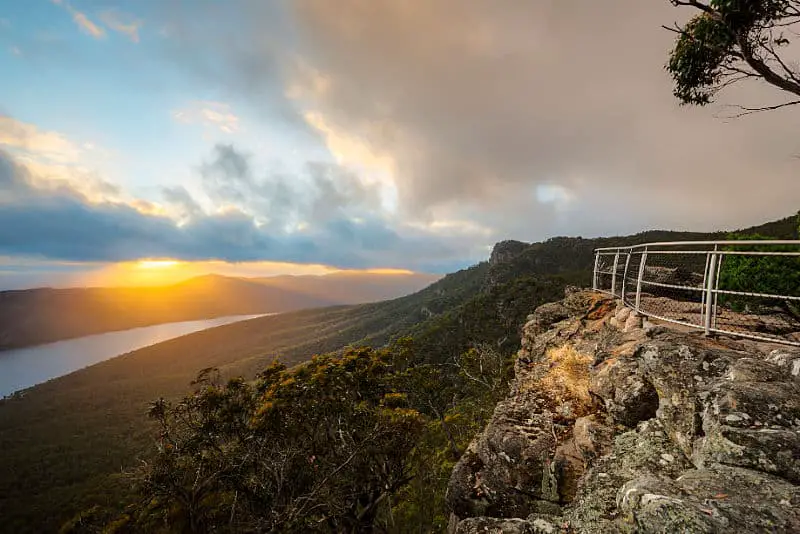 For spectacular sunset views, Reed Lookout and the Balconies are one of the most popular things to do in Halls Gap.
The views across the Victoria Valley towards the Victoria Range are breathtaking at any time of day, but they really come into their own during the golden hour of sunset at Reed Lookout.
Another spot to visit here is the Balconies, Grampians, just a short 2 km return walk along a dirt track.
It's a quieter spot for sunset as the Reed Lookout can get busy on clear sunny days.
The gentle path is suitable for young children, and takes you past beautiful scenery and interesting rock formations along the way.
At the Balconies viewing platform, you'll see two fingers of rock jutting out from the side of the hill. Known by locals as the 'jaws of death' they're an iconic image of the Grampians National Park.
Reeds Lookout is a 15-20 minute drive from Halls Gap, and just a 30 second stroll to the viewpoint from the car park so it's easily accessible and great for kids of all ages (there are no picnic facilities or toilets at the lookout).
Reeds Lookout

Where: Mt Victory Road, Zumsteins 3401

When: Always open
8) Learn About Aboriginal Heritage At The Brambuk Cultural Centre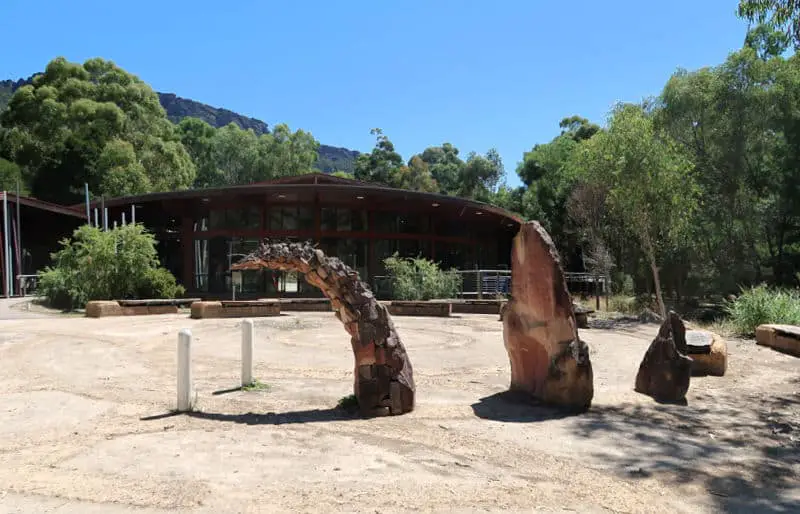 The Brambuk Cultural Centre is a great place to go and learn about Aboriginal heritage in the Grampians area.
On a visit here you'll get to experience didgeridoo music, cultural programs, and traditional Aboriginal dance.
Brambuk has exhibitions and artefacts on display at the cultural centre that tell the story of the Aboriginal people.
It provides an opportunity for visitors to connect and learn about what Gariwerd (Grampians) means to the Jadawadjali and Djab Wurrung people.
Take a self-guided walk through the Brambuk wetlands to the Park Information Centre to get an idea of the native plants and animals of Gariwerd.
You can also buy local Indigenous products and Australian made souvenirs at the gift shop, and fill hungry bellies from a selection of delicious food and drinks at the Brambuk Café and Eatery.
Brambuk The National Park & Cultural Centre

Where: 277 Grampians Road, Halls Gap 3381

When: 9 a.m – 5 p.m 7 days a week

Phone:(03) 8427 2058
9) Find Aboriginal Rock Art At The Gulgurn Manja Shelter
To see more of the ancestral history in person you can see Aboriginal rock paintings at Gulgurn Manja.
Gulgurn Manja means 'hands of young people' but the paintings include bars and emu tracks as well as handprints.
They are a unique local art style that was used to tell the stories and the beliefs of the Jardwadjali people.
The shelter is around 5 kilometres south of the Western Highway near Hollow Mountain. To access it there is an easy 15-minute walk from Flat Rock Road.
For more information about Aboriginal rock art visit the Brambuk Cultural Centre.
10) Play A Round At The Grampians Adventure Golf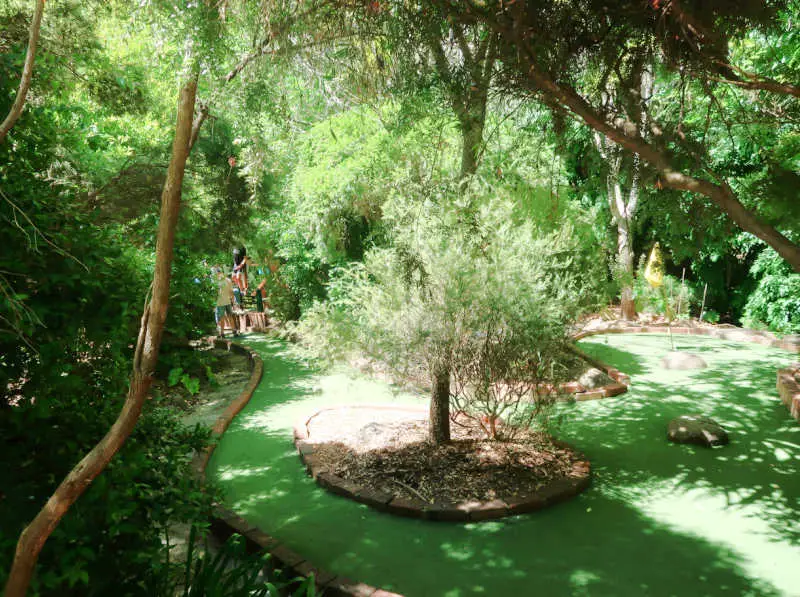 Adventure Golf Halls Gap
For a fun family day out in Halls Gap, mini golf tops the list. Head to this world class 18 hole course set in spectacular bushland in the heart of the Grampians.
You will spot a lot of familiar local names too as the course is actually based on the landscape that surrounds it.
There are waterfalls, tunnels, and spectacular views in every direction, plus it shares its greens with local emus, kangaroos, and deer.
Lunch is sorted too with the onsite Adventure Café Bar located right next to the Adventure Golf course.
Grab a cuppa and relax in the courtyard garden filled with native plants and chattering birds – the café can be enjoyed all year round and makes a visit all the more worthwhile.
The mini golf prices aren't bad either; for adults it's $17, concessions are $16, juniors (4–16) cost $12, and under 4 years are free of charge.
Grampians Adventure Golf

Where: 475 – 481 Grampians Road, Halls Gap 3381

When: Monday, Thursday, Sunday: 10 a.m – 5 p.m, Friday & Saturday: 10 a.m – 8 p.m, Closed Tuesday & Wednesday. 7 days a week during school holidays

Entry: Adults $17, Kids 4-16 years $12, Concession $16, Family $44/$53/$62

Phone: (03) 5356 4664
11) Visit MOCO Gallery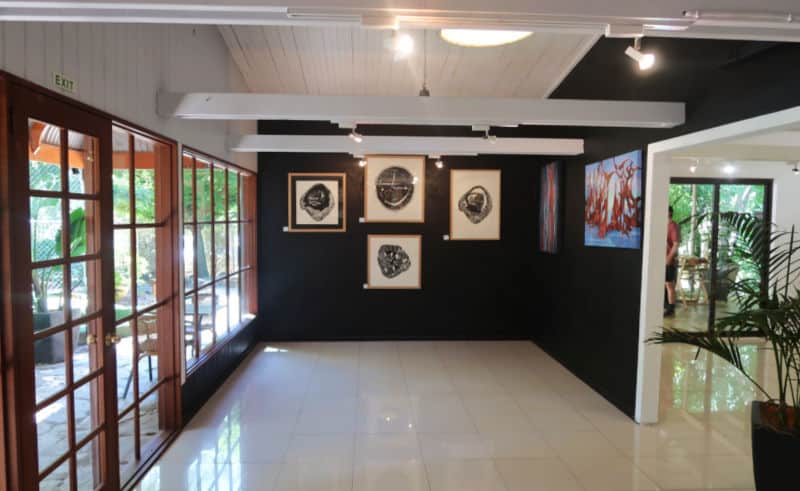 Also at the mini golf, Halls Gap, is the MOCO Gallery – an enterprise dedicated to social good, eco and sustainable production, and supporting individual artisans and artists.
The unique bushland setting gives this contemporary gallery a character of its own.
You can join an artist-led workshop, visit a regular exhibition or hear one of the local artist's talks. If you can't make a class, make sure to check out the boutique.
You can find everything from wooden watches to naturally dyed clothing; everything here is handmade locally and there are some fantastic ethically produced gifts, as well as original artworks.
MOCO Gallery

Where: 475 – 481 Grampians Road, Halls Gap 3381

When: 10 a.m – 5 p.m 7 days a week

Entry: Free

Phone: (03) 5356 4664
12) Go For A Spot Of Fishing On Lake Bellfield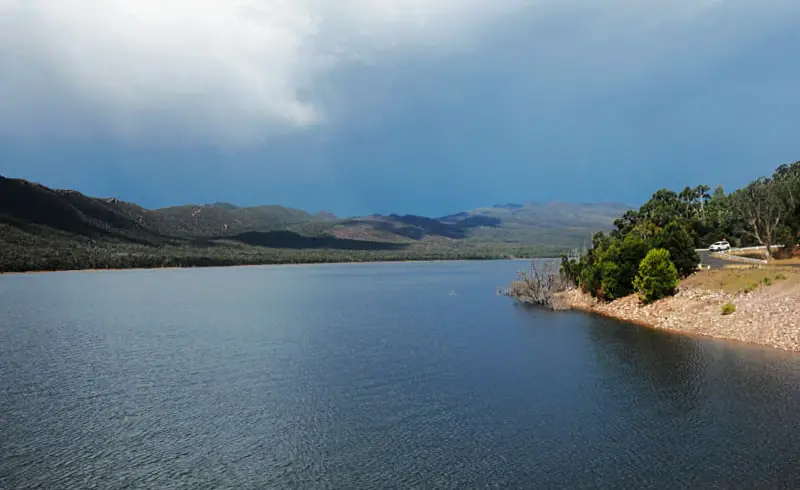 No trip here is complete without a visit to Lake Bellfield.
Even though you're bound to see it from many angles during your stay here, it's worth a visit on its own to enjoy the peaceful lakeshore and water activities.
Located five kilometres from the main shops in Halls Gap, Lake Bellfield is a popular tourist spot with stunning panoramic views of the surrounding mountains and mirror-like waters.
You can take part in many recreational activities on the lake such as swimming, boating, canoeing, and birdwatching.
Locals and visitors alike take advantage of the great Lake Bellfield fishing stocks but bear in mind that the lake serves as the local water supply so it's important to keep litter to a minimum and look after the environment.
There's good access to the lake with a large car park, picnic area, and a public toilet.
Lake Bellfield

Where: Tymna Drive, Bellfield 3381

When: Always open
13) Join A Halls Gap History Walking Tour
For those interested in history, a Halls Gap History Walking Tour is a great way to learn how the town was founded and what the local landmarks are named after.
The fun and interactive tour runs on selected days about three times a week. It's an easy 2 kilometre walk around town with plenty of time for stops and questions.
The tour is accessible for all, but there are some uneven surfaces, it costs $25 per person, and $8 each for children.
The walking tour lasts for an hour and a half, starting at the Visitor Centre on the main street and finishing at the town's historical society where there's some interesting photography and articles for you to look at once the walk is over.
Halls Gap History Walking Tour

Where: 117-119 Grampians Road, Halls Gap 3381

When: 9 a.m – 5 p.m 7 days a week

Entry: $25.00

Phone: 0414 336 774 or 0487 401 699
14) The Best Halls Gap Walks – The Venus Baths Loop, Boronia Peak, & Chatauqua Peak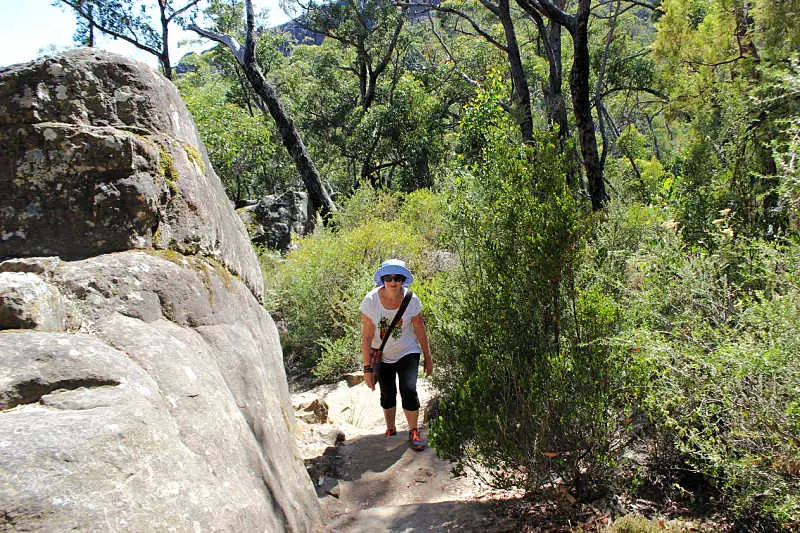 There are some amazing Halls Gap walks that you can't miss on a visit, but the Venus Baths Halls Gap trail is one of the best for families.
Take the Stony Creek bridge crossing at the Halls Gap Botanic Gardens, then it's about 800m to Venus Baths.
The rocky pools are a great place to paddle and cool off in summer.
Although it's an easy walk from Halls Gap you can also visit the Grand Canyon, Grampians, around 2 kilometres further along the track.
A little tougher is the Chatauqua Peak hike, another great Halls Gap lookout point. This hike involves a steady 40 minute climb followed by a rock scramble for the final 300m.
The 360 degree views are a worthwhile reward for the effort put in to get up here. Make sure you have good hiking footwear and check weather conditions before you head out.
For one of the harder hikes in Halls Gap, Boronia Peak is a mid grade walk starting from the end of Tandara Road.
The 7 kilometre round trip takes in some of the most stunning scenery in the region and will take between 2.5 to 4 hours for the round trip.
You will ascend up gentle switchbacks until you reach the last 100 metre rock scramble.
In summer months the path is quite exposed, so make sure to wear a hat and take plenty of drinking water.
Venus Baths Walk

Where: School Road, Halls Gap 3381

When: Always open
15) Visit The Quieter Silverband Falls
Another one of the most popular Halls Gap waterfalls is Silverband Falls.
Although Silverband Falls is much smaller than Mackenzie Falls, it's less busy and just as easily reached from a small car park 700 metres downstream.
The best part is that you will walk through some amazing Australian bush with dappled shade in summer.
The path is great for kids as it's well-maintained and easily navigated, crossing a small river along the way.
Silverband Falls Car Park

Where: Silverband Road, Bellfield 3381

When: Always open
16) Ride In Style On A Grampians Trike Tour
One of the most entertaining Grampians tours is on three wheels! Explore the beautiful forest roads on a BOOM Mustang 3 seater trike.
Relax in the comfy seats at the rear of the trike, with unrestricted views of the spectacular scenery that the Grampians are famous for.
Your experienced driver will take care of the navigation, so you can sit back and enjoy a drink or two.
There are several different tours available, ranging in length from one to three hours covering classy wineries, cool lunch spots, hidden waterfalls, and awe-inspiring lookouts.
Grampians Trike Tours is based in Halls Gap near the Visitor Information Centre in the heart of the main street – it's best to book in advance.
17) Tee Off At Halls Gap Golf Course
Play a round at the 9 hole Halls Gap golf course designed by well-known Australian golfer Peter Thomson.
The course is a great place to visit in the Grampians to see native plants and birds, as well as other Australian wildlife.
The Grange GC licensed clubhouse is open most days and barbeque facilities are available.
Green fee players are welcome and clubs are available for hire on the course.
The golf course is situated at the foot of the Mt Difficult mountain range, approximately four kilometres north of Halls Gap.
More information is available from the visitor centre.
Halls Gap Golf Club

Where: Red Gum Lease Track, Fyans Creek 3381

Phone: 04 5787 4354

Green Fees: $15.00
18) Discover Halls Gap Wineries Like Pomonal Estate And Fallen Giants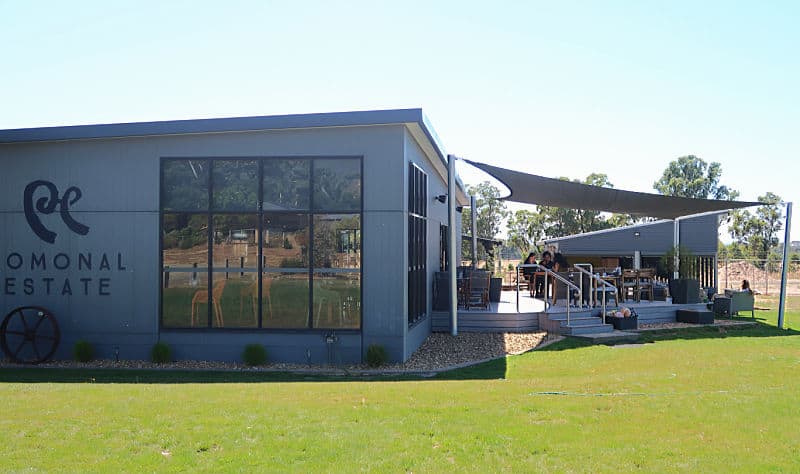 If you have your own wheels why not visit two of the best wineries near Halls Gap.
Fallen Giants Vineyard is 5 minutes drive from Halls Gap, while Pomonal Estate is just 10 minutes away along the Ararat Road.
The Fallen Giants winery was established in 1969, its name comes from the dreamtime stories of the original owners; the Djab Wurrung and Jardiwadjali people.
Tastings are $5 and free if you buy a bottle, with glasses ranging between $8-10. There's also a great playground for children.
Pomonal Winery, a great choice for foodies, is as popular with locals as it is with visitors.
The chef prides herself on serving only the best local produce with a range of platters, assorted small plates, home made cakes, coffee, teas, and daily specials.
It's a newly established Halls Gap winery, microbrewery, and cider house located in the picturesque town of Pomonal.
The delightful food platters and stunning grounds of both wineries make them fun summer afternoon things to do; Halls Gap has plenty of active options but this one is purely for relaxing.
Pomonal Estate

Where: 2079 Pomonal Road, Pomonal 3381

When: 10 a.m – 5 p.m Wednesday – Sunday

Phone: 04 4898 3248

Fallen Giants

Where: 4113 Ararat – Halls Gap Road, Halls Gap 3381

Phone: (03) 5356 4252
19) Try The Best Drops In The Region At Grampians Wine Cellar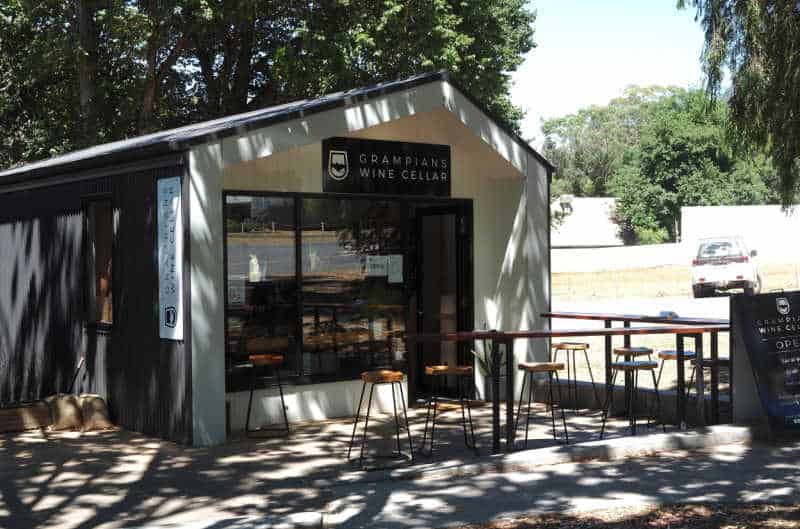 For something a little closer to town, head to the Grampians Wine Cellar located on Heath St, Halls Gap, Victoria.
It's a great place to discover all of the incredible wines of the Grampians without having to drive all over the area to visit them!
From Halls Gap wineries with historic vineyards to small producers, the Wine Cellar showcases the best of the best.
When you've had your fill of local wine, there's also a selection from around the country and the rest of the world including craft beers and artisanal spirits.
Grampians Wine Cellar

Where: Shop 3, 2 Heath Street, Halls Gap 3381

When: Thursday 1 p.m – 6 p.m, Friday 1 p.m – 7 p.m, Saturday 11 a.m – 7 p.m, Sunday 11 a.m – 6 p.m, Closed Monday – Wednesday
20) Experience The Grape Escape Halls Gap Festival
The Grampians Grape Escape is an event not to be missed if you're visiting Halls Gap around Easter.
The wine, food, and music festival runs either in late April or early May every year, celebrating all of the fabulous drops from around the region.
Explore the village of more than 100 stalls, with everything from wine and whiskey to calamari and candles.
Take part in exhibitor masterclasses and cooking demonstrations, with live music, guest chefs, plus plenty of activities for the kiddies.
Don't worry if you're visiting Halls Gap in September, there's Seriously Shiraz – another popular food and wine festival in the Grampians.
21) Taste The Famous Red Rock Olives
You may hear about one of the local institutions while visiting Halls Gap. Red Rock Olives is a family-owned producer of award-winning extra virgin olive oil, table olives, olive salt, artisan vinegars, and more.
Products are produced sustainably with a focus on low food miles, as well as mulching, pruning, and irrigating the trees naturally.
After 10 years the popular Pomonal farmgate has unfortunately closed, but if you are in the Grampians you can still enjoy an olive grove visit!
The farm shop and cafe at the Grampians Olive Co. in Laharum are open weekdays and selected Red Rock products are available at their farm shop.
22) Grab A Paddle At Paper Scissors Rock Brew Co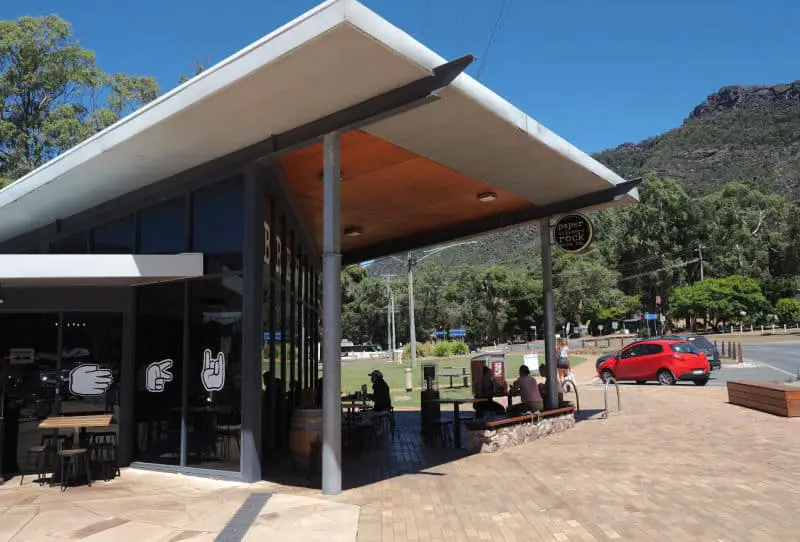 This Halls Gap brewery is the number one place to be in town for its cool vibe, tasty drinks, and buzzy atmosphere.
Grab a charcuterie board and a paddle of locally brewed craft beers, and spend a fun afternoon or evening at the Paper Scissors Rock Brewery.
For getting to know the locals, you can't beat visiting a brewery, Halls Gap is no exception! It can be hard to get a table here, so arrive early or book a table online.
Check out the Paper Scissors Rock Brew Co website for the current beer tap list, the seasonal kitchen menu, as well as upcoming live music events.
Paper Scissors Rock Brew Co

Where: 119 Grampians Road, Halls Gap 3381

When: 12 p.m – 8 p.m 6 days a week. Closed Tuesday

Phone: (03) 5311 3709
23) Buy Preserves At Five Ducks Farm
The farmgate store at Five Ducks Farm is a great stop to stock up on all things local and delicious.
Five Ducks farmers Andy and Anita are experts when it comes to making jam, conserve and relish.
Their lemon curd is out of this world, the tomato relish is a favourite, and the nougat is next-level!
A visit to the farm is a great way to learn about their local produce, as well as organic farming methods.
It's located just 10 minutes from town on the Ararat-Halls Gap road to Pomonal, and makes for an easy stop for picnic supplies!
Five Ducks Farm

Where: 3621 Ararat Halls Gap Road, Pomonal 3381

When: Friday, Saturday, Sunday 10 a.m – 4 p.m

Phone: 0409 524 017
24) Wander Through Halls Gap Botanical Gardens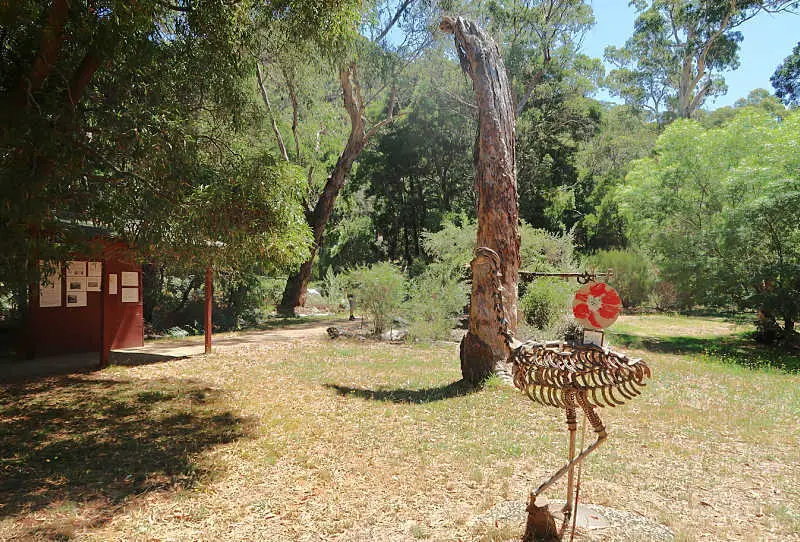 Instead of the standard Victorian rose gardens you usually find, Halls Gap Botanical Gardens features fun art installations as well as native and local plants.
The park is run and managed by volunteers and although it's small it has a lovely community vibe.
It's a great place to come with the kids and learn all about native plants and horticulture.
The garden is a great starting point for many more walks in the area – like the previously mentioned Venus Baths just a short walk away.
Halls Gap Botanic Gardens

Where: School Road, Halls Gap 3380

When: 24 hours, 7 days a week
25) Spot Some Grampians Bird Life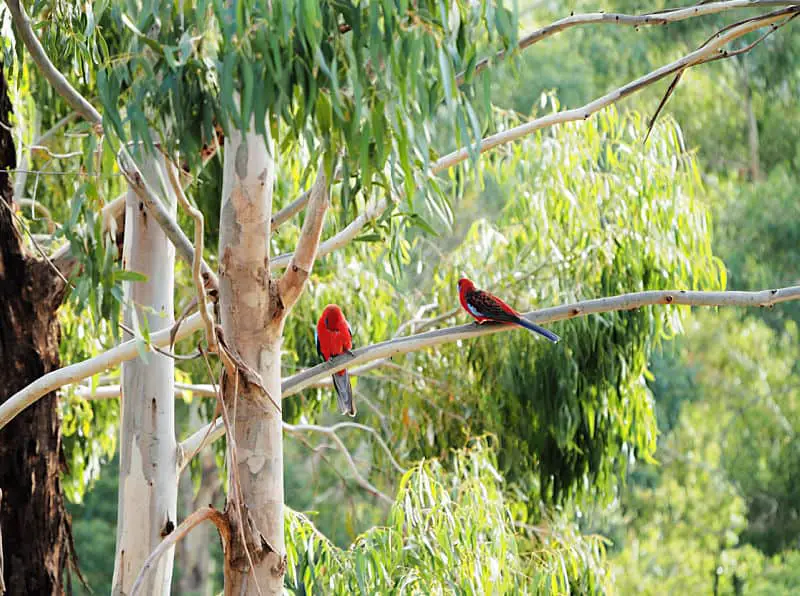 If you like feathered wildlife you'll have a great time visiting Halls Gap and the Grampians.
The whole area is teeming with bird life from wedge tailed eagles and kookaburras, to rosellas, cute honey eaters, fairy wrens, galahs, and sulphur crested cockatoos.
You don't have to go far to spot them either. You'll be surprised by what you might find in the trees surrounding your accommodation.
We woke one morning to find 3 kookaburras enjoying breakfast in the trees outside our cabin at D'Altons.
Other places to keep an eye out for birds include the botanic gardens, the wetlands behind Brambuk visitor centre, and the Stony Creek shops.
You will also see lots of birds on any of the trails throughout the national park.
26) Take To The Skies With Grampians Helicopters Scenic Flights
If you're wondering what to do at Halls Gap and budget isn't a problem, the Grampians Helicopters are the number one choice!
The very best Grampians lookout is from high above the ground where you can fully take in the vast and magnificent Grampians National Park.
Take a Grampians tour like no other with a pilot that has over 15 years of experience in the air.
Scenic flights of the Grampians start from $225 and run 7 days a week. Choose anything from a 20-minute to a one-hour flight with a full commentary explaining the history of the area.
There are four scenic flights over the Grampians National Park to choose from; Mini Mountain Tour, Northern Loop, Southern Loop & Full Grand Loop.
Grampians Helicopters

Where: 122 Aerodrome Road, Stawell Airport, Stawell 3380

When: 8 a.m – 5.30 p.m 7 days a week

Costs: From $225

Phone: 0438 981 438 or 0414 336 774
27) Go Rock Climbing And Abseiling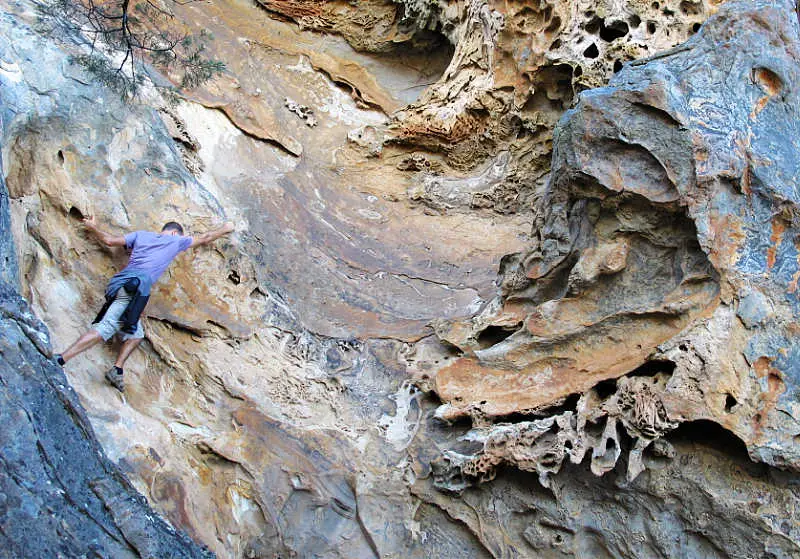 If you're a thrill seeker or enjoy challenging your body and being physically active, rock climbing may just be the activity for you.
This area is well known among climbers for its superb sandstone rock climbing, and its become something of a hub for the sport.
Three of the best known spots to try it out are Bundaleer, the Halls Gap Valley, and the Watch Tower.
Hangin Out offers certified guides and top-quality equipment, starting from $100 for four-hour sessions.
Absolute Outdoors is another option with an easy to find shop front in Halls Gap.
Sessions start from $100 for three hours, including rock climbing and abseiling.
Grampians rock climbing sessions are family friendly with experienced and qualified guides.
All relevant safety equipment is supplied and no experience is needed.
Absolute Outdoors

Where: 105 Grampians Road, Halls Gap 3381

Phone: 1300 526 258

Hangin Out

Phone: 0407 684 831

Email: [email protected]
28) Spend A Sunday At The Halls Gap Market
One of the more local things to do at Halls Gap is to visit the Sunday market.
The Halls Gap Market was established in 1997 and is run by the Halls Gap Primary School and parent volunteers.
The outdoor market offers a range of local stalls with arts and crafts, fresh produce, fine food, and light refreshments.
It epitomises Halls Gap town as it's family friendly, welcoming, and full of good food!
Food and coffee vans offer some easy meals, you can even bring a picnic rug and relax on the green with a cold drink.
The market is located at the Halls Gap Vic recreational grounds – just off the Grampians Road a short walk from town.
Check the website for the next market dates.
Halls Gap Market

Where: Halls Gap Recreational Grounds (cricket oval)

When: 12 March, 9 April, 12 June, 5 November, 2023

Entry: Gold coin donation
29) Let The Kids Run Wild At The Halls Gap Playground And Picnic Area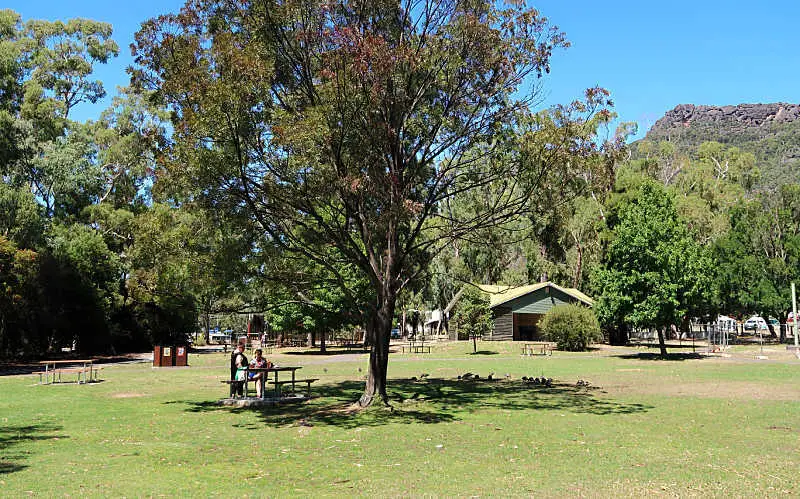 A no-brainer for entertaining the kids is the playground located between the caravan park and the shops.
Kangaroos can be seen hopping about, there's a good shelter for weary parents and public conveniences.
Bring your own food and make use of the picnic tables or the large grassy lawn at the nearby pool.
30) Stop By The Stoney Creek Stores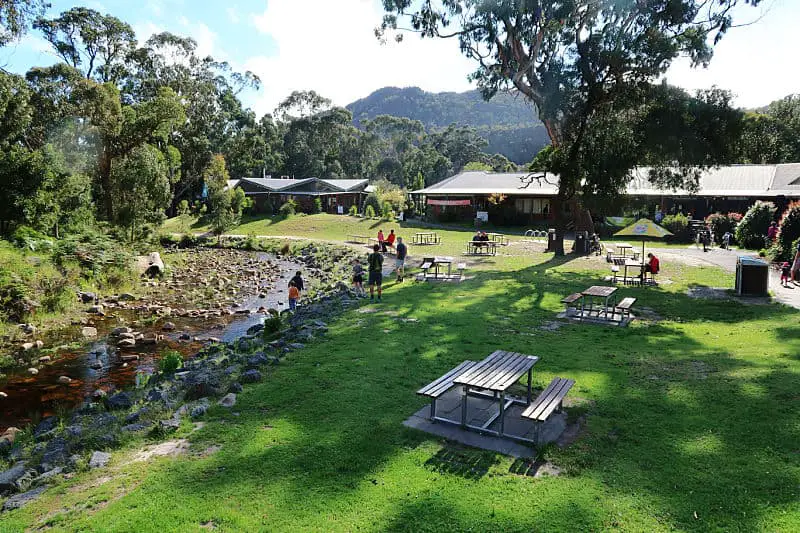 Whether you're visiting Halls Gap for a week or a day, chances are you'll end up at the Stony Creek Shops at some point during your stay.
This little collection of shops boasts some great cafes, a traditional bakery serving yummy treats, a restaurant and bar, and a delicious ice creamery (see more below).
We like starting our day here with a hearty breakfast and hot coffee before heading out on the trails.
There are picnic tables beside the creek where you can enjoy a takeaway lunch or you can save some cash and bring your own picnic.
Stony Creek Stores

Where: 97 Grampians Road, Halls Gap Victoria 3381

When: 7 days a week
31) Treat Yourself To A Halls Gap Ice Cream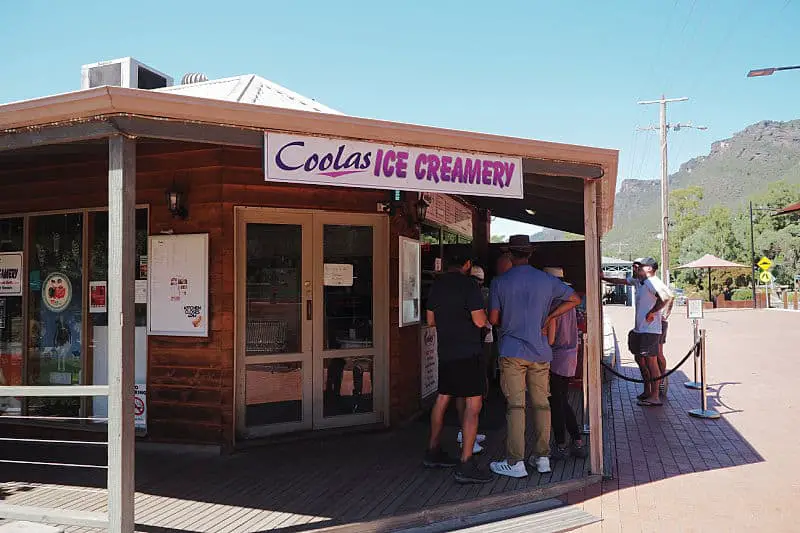 If all of those activities have worn you out, visit the iconic Halls Gap landmark of Coolas Ice Creamery.
They are the undisputed home of hand-made waffle cones in the Grampians.
You can't really go wrong with a Halls Gap ice cream, with 33 delicious flavours to choose from there is something to satisfy every taste!
There are Halal, vegan, gluten-free, and dairy-free options available, and for those without a sweet tooth, they have fresh coffee made to order.
Coolas Ice Creamery

Where: Shop 1, Stony Creek Stores, 97 Grampians Road, Halls Gap 3381

When: 9 a.m – 5 p.m 7 days a week

Phone: (03) 5356 4466
Halls Gap Things To Do Map
Final Word
With its fantastic location in the heart of the Grampians National Park, there are enough things to do in Halls Gap to keep you busy for at least a week.
But no matter how much time you have, Halls Gap and the Grampians should be on everyone's places to visit in Victoria list.
So be sure to put Halls Gap Vic on your Victoria itinerary and have a great time here!
Recommended: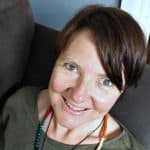 By Audrey Chalmers
Audrey grew up in Victoria and travelled the world but she always called Victoria home. She loves nothing more than exploring her home state and sharing it here.