This article may contain compensated links. For more information read our disclaimer here.
There are many landmarks in Melbourne, Australia. Some of these are seen as tourist attractions in Victoria, while others are a part of everyday life in and around the city.
The range of famous sites includes a train station, a Victorian market, a central square, a lookout tower, a sports ground and many more.
If you're looking for things to do in Victoria, Australia, then check out some of these iconic Melbourne landmarks.
Want to save some money?

Planning to visit some of Melbourne's top attractions?

With the iVenture Melbourne Unlimited Attractions Pass you can choose from more than 20 attractions. Visit as many as you'd like over 2, 3, or 5 consecutive days.

Melbourne Skydeck, Healesville Sanctuary, the Old Melbourne Gaol, and Melbourne Zoo are just some of the attractions included in the pass.

You can even take a Melbourne River Cruise.

Click here to get your iVenture Melbourne Unlimited Attractions Pass.
You can devote a whole day to some of them, while others – such as a tram ride, St Kilda beach and Luna Park – work very well together for a combined visit.
Read on to discover which Melbourne attractions appeal to you most.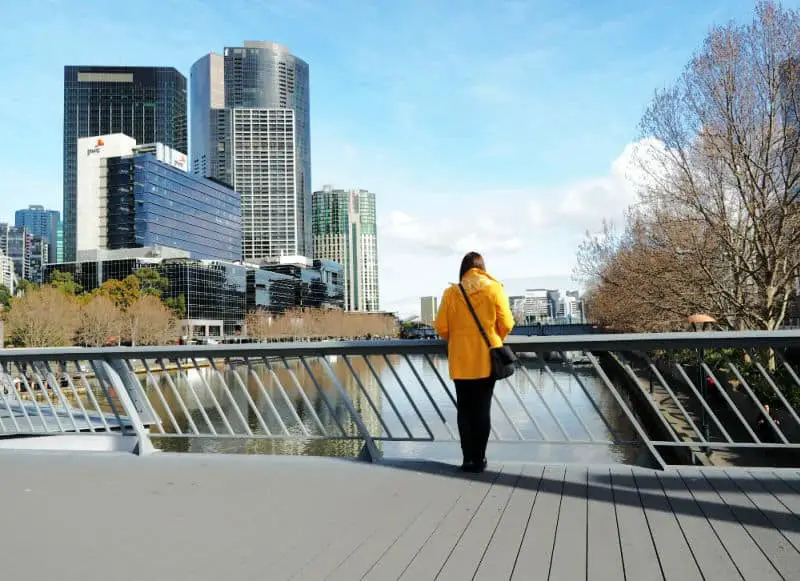 Whether you want to find a landmark in Victoria that's historic, natural, photogenic or simply enjoyable, this list of Melbourne attractions includes places of interest in Victoria for fans of art, wildlife, fine food, architecture, shopping and more.
21 Iconic Landmarks In Melbourne
From Melbourne's favourite meeting point or sweeping city views to the beautiful botanic gardens or a shrine devoted to remembering the fallen, here are 21 of the best landmarks in Melbourne to visit.
1) Flinders Street Station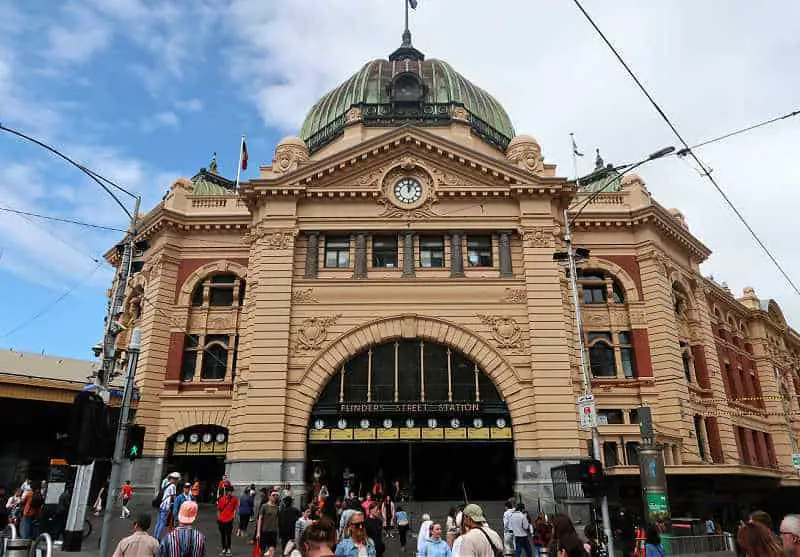 Of all the famous buildings in Melbourne, Flinders Street Station in the city centre is probably the most well-known.
It's also a popular meeting place, where local residents congregate on the corner of Swanston Street and Flinders Street before hitting the town.
The French Renaissance architecture, clock, green dome and arches make it a very distinctive landmark, so you can see why people choose to meet up beneath the famous clock.
Initially built for steam powered locomotives, Flinders St station was constructed at the start of the 20th century.
The yellow brickwork and corner position makes it stand out in Melbourne's CBD, and it's still used on a daily basis by commuters, long-distance travellers and visitors alike.
Flinders Street station is one of the southern hemisphere's busiest, and around 110,000 people per day pass through this local and national transport hub.
2) Melbourne Skydeck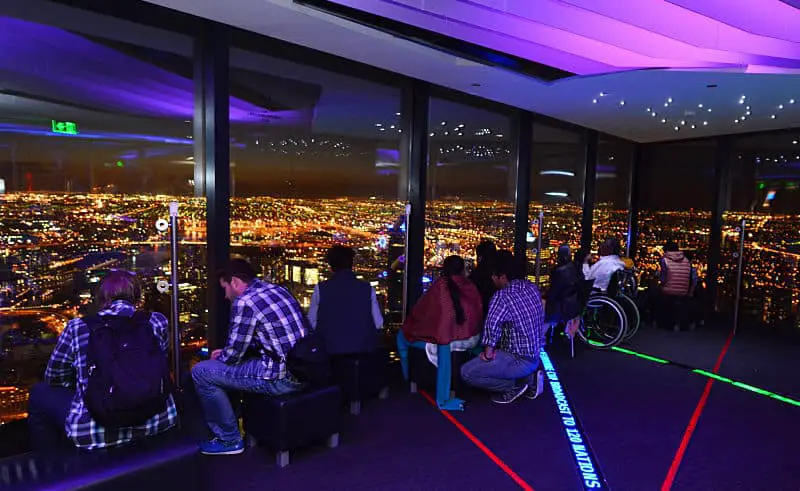 Melbourne Skydeck has been open since 2006 and is located on Riverside Quay in Melbourne's Southbank area and is almost 300 metres tall.
Also known as the Eureka Skydeck or Eureka Tower it's the highest observation deck in the whole of the southern hemisphere.
Going up to the top is a great way to get magnificent views over the city skyline, and the waters of the Yarra gliding by.
Incidentally, it's not quite the tallest building in Melbourne any more, as that title was snatched up by Australia 108 in 2019. Still, the observation deck occupies the entire 88th floor, so it's pretty impressive.
For the most thrilling experience, venture out onto the Edge. This glass cube juts out by three metres, and peering through the glass floor here isn't for the faint-hearted.
There is a separate charge for the Edge, so you might want to think about whether you're up to the challenge before parting with your cash!
➡️ Click here to book your Melbourne Skydeck tickets now.
➡️ Melbourne Skydeck is included in the iVenture Melbourne Unlimited Pass.
3) Melbourne Cricket Ground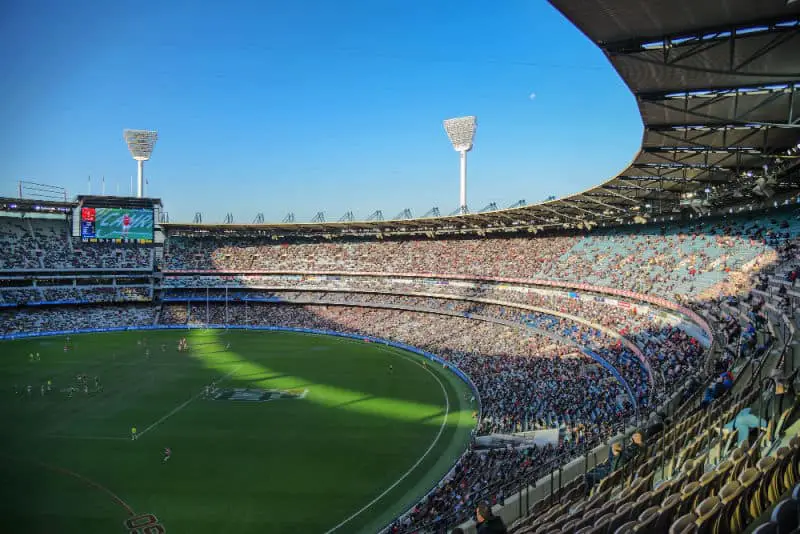 For any sporting fan, a visit to the MCG Melbourne is high on the list of Victoria things to do.
The MCG stadium is known locally as 'The G', and fans who'd like to see inside are able to take an MCG tour.  These are run on a daily basis.
Melbourne MCG is a major player on the national and international sporting scene. International cricket, Aussie Rules football and test cricket all have their roots right here at the Melbourne Cricket Ground.
The MCG was also used during the Olympic Games that were held in Melbourne in 1956.
The stadium was built less than 20 years after the Victorian capital was formed, cementing its place in the history of both the city and popular Australian sports.
So those who take MCG tours are also taking a trip into sporting history.
This Guided MCG Tour includes a visit to the famous MCC Long Room, the players changing rooms and the cricketers' viewing room, as well as the Cricket Victoria Bill Lawry Centre and takes you to the Melbourne City Terrace for stunning views.
A highlight of the tour is a trip to the all-new Australia Sports Museum where the latest technology is used for a truly memorable experience.
➡️ Click here to book a Melbourne Cricket Ground Tour now!
4) Melbourne Zoo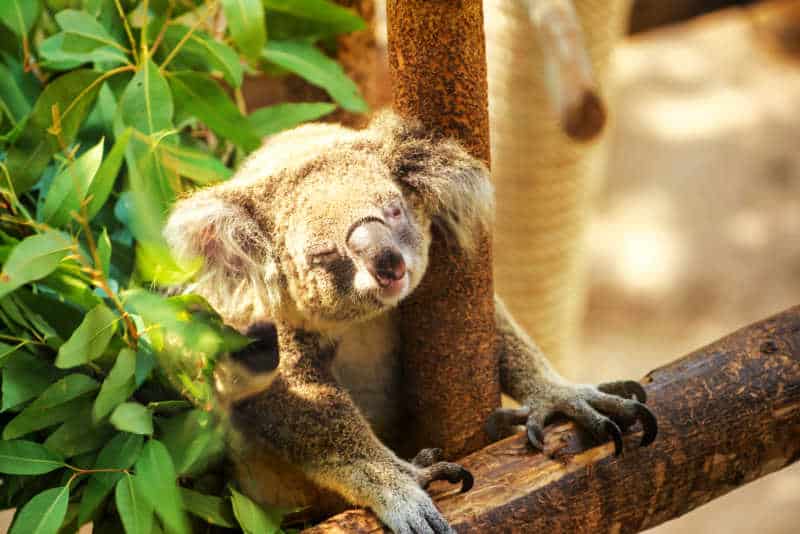 Melbourne Zoo is only about four kilometres from the city and is also served by the local tram network.
So it's simple to visit, without even having to drive. The zoo houses almost 250 species from Australia and around the world.
This is among the best Victorian attractions for families. The creatures to be seen include orangutans, gorillas, lions, tigers, giraffes, zebras, hippos, and elephants.
As well as native species such as the Tasmanian devil. In total, well over 3,700 animals live at the zoo.
The zoo belongs to Zoos Victoria. This group includes Healesville Sanctuary, Kyabram Fauna Park and Werribee Open Range Zoo.
All are committed to combating the extinction of wildlife, so by paying to enter you can also support an important cause.
➡️ Save time with these Melbourne Zoo Skip The Line Tickets!
➡️ Melbourne Zoo is included in the iVenture Unlimited Attractions Pass.
5) Federation Square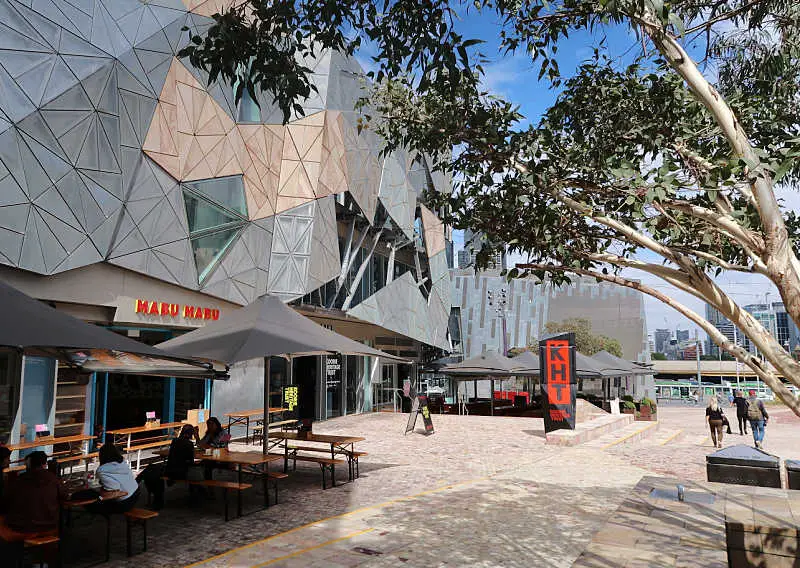 Federation Square in Melbourne is another of the tourist destinations in Victoria that's used and loved – a lot – by locals.
Fed Square – as it's affectionately known – is near Flinders Street station and is a key cultural hub in the city.
The eight acre site can be found close to the Flinders Street and Swanston Street intersection.
Add this to your list of places to visit in Victoria, Australia if you're into art, culture or food.
Lots of events and exhibitions take place in Federation Square, and you can also dine at the local restaurants or explore the art galleries, including the Ian Potter Centre, which is part of National Galleries Victoria (NGV).
If you visit, you'll see straightaway that Fed Square is very striking – some people say it's a little "out there".
Its distinctive appearance is due to the triangular patterns that are crafted from zinc, glass and sandstone.
6) St Paul's Cathedral Melbourne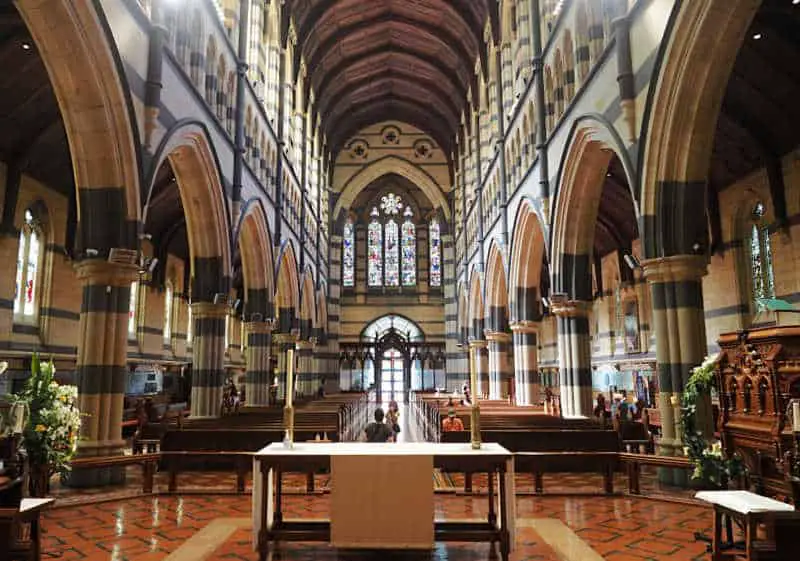 Like its namesake in London, England, St Paul's Cathedral is an unmissable landmark in Melbourne.
It's one of the key historic places in Victoria and the seat of the Archbishop of Melbourne. The cathedral dates from 1880 and was built in an imposing Gothic architectural style.
St Paul's is also centrally located, in the heart of the CBD and close to Flinders Street Station and Federation Square.
More than 40,000 visitors per year walk through its doors to discover the interior, or to attend the services and ceremonies that are held here.
The imposing cathedral was built on the site where the very first Christian services took place in Melbourne.
These were held here some decades before the construction of the church even began.
7) Melbourne Laneways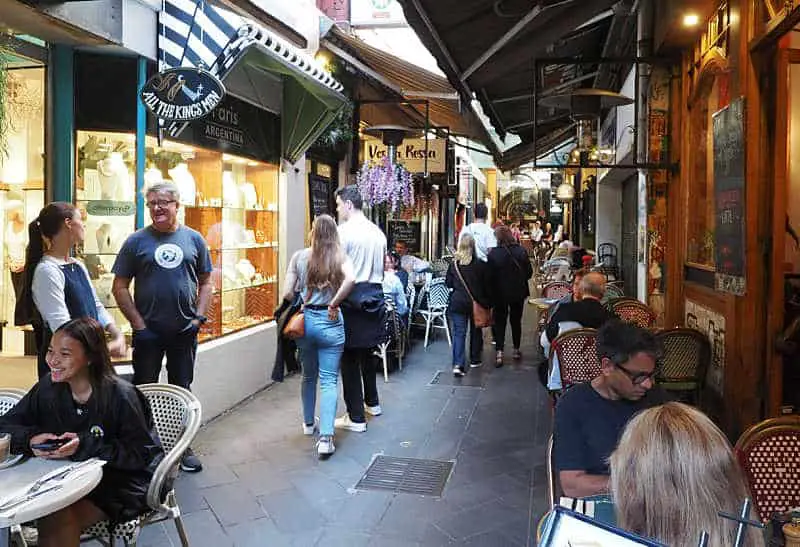 Though it may sound like some sort of sporting attraction, the Melbourne laneways are simply a central part of the CBD's fabric.
Many of the narrow streets and passageways here date from Victorian times and are a hive of activity when it comes to creativity and culture.
There are heaps of cafes, boutiques and bars to hang out in, and the Laneways are also known for their street art scene, which centres on Hosier Lane.
If you're wondering what to do in Victoria and would like to experience something different, why not join a Melbourne Laneway Tour?
This unique walking tour will take you to secret galleries, hidden shops, the coolest cafes and, of course, the best spots for street art.
🚶‍♀️🚶‍♂️Click here to book the Melbourne Laneways Tour.
8) Hosier Lane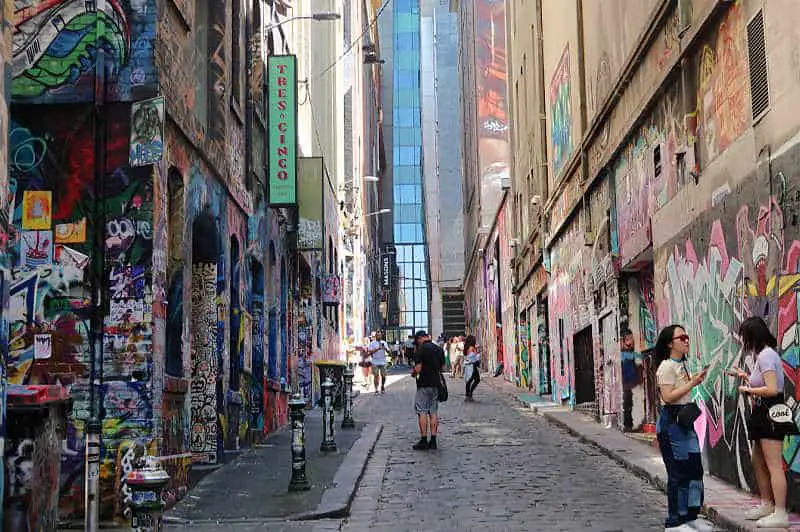 The Hosier Lane street art has put Melbourne on the map when it comes to urban creativity.
Hosier Lane in Melbourne is an Instagram fan's dream, especially for those who love to capture human artistic endeavour on camera.
In fact, the Hosier Lane graffiti stretches beyond the thoroughfare itself, into adjoining Rutledge Lane.
On both streets, look out for art installations in addition to stencilling, posters and murals.
Don't miss it, especially if you're exploring the laneways or planning a visit to nearby Federation Square.
To truly experience the Melbourne street art scene we recommend this guided street art tour. It takes you to all the famous street art laneways as well as some hidden treasures.
The tour ends at the famous Blender Studios where you get to meet the artists and enjoy the included gourmet treats and drinks.
➡️ Click here to book a Melbourne Street Art Tour.
9) Southbank Melbourne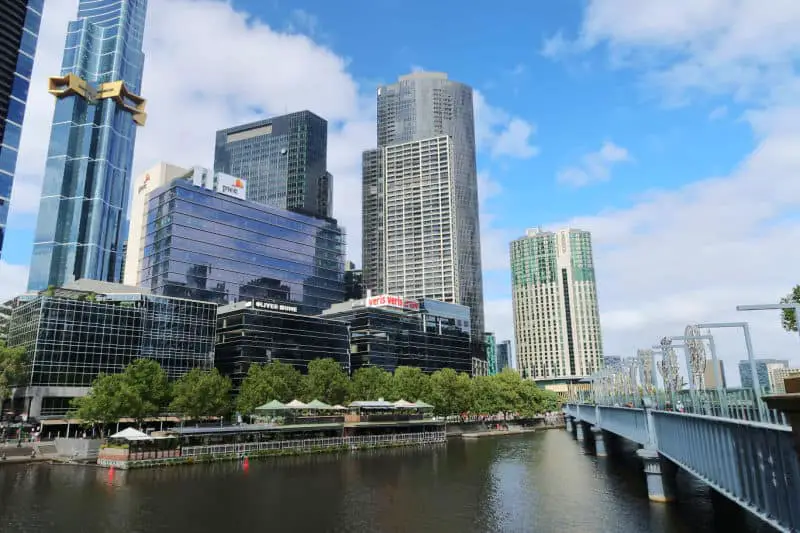 So, Melbourne's Southbank area is home to the Skydeck at Eureka Tower – what else?
This riverside area is south of the Yarra, and you can find all sorts of dining, drinking and entertainment options here. It's one of the best places in Victoria to visit for culture vultures too.
Due to there being lots of high rise buildings here, it's home to many Melburnian locals as well as venues.
Some of the more prominent places here are the Melbourne Recital Centre, the Crown Casino and the Malthouse Theatre. The latter is so called because the structure historically housed a brewery.
By the river, you can also find stylish bars serving craft beers and gourmet dining venues.
Within the Crown Casino complex, there are also bars, clubs, shops, cafes and more restaurants. Many of these offer river views over the Yarra, with the city reflected in the water by night.
10) Puffing Billy Railway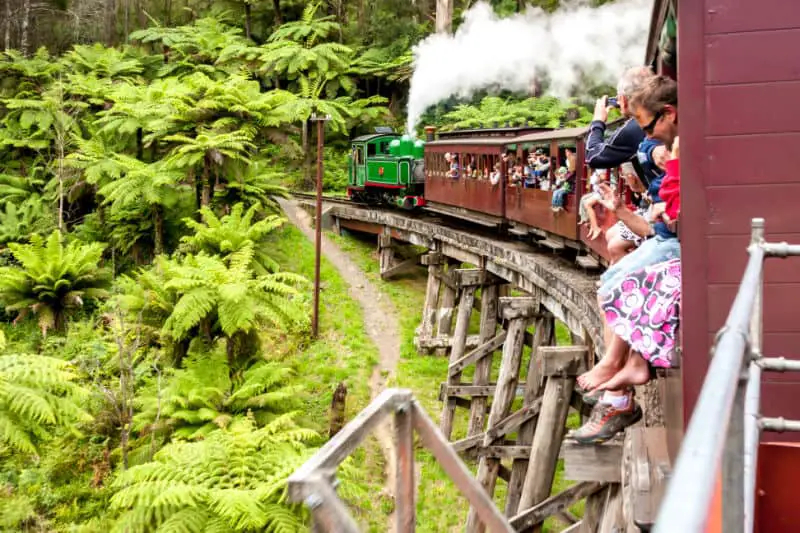 Nestled among the foothills of the Dandenong Ranges is the Puffing Billy Railway, a popular Melbourne attraction located outside the city centre in Belgrave East.
Take a ride on this steam train and it's like being transported back in time.
It's worth allowing a whole day for this, as you can stop and enjoy the attractions at Lakeside too.
These include cafes, walking trails and a boating lake. There are also breathtaking views of the Ranges from Puffing Billy's open-air carriages.
To really make a day of it this all-day Puffing Billy Tour includes a ride on Puffing Billy as well as a trip to the world-renowned Healesville Sanctuary where you can meet local Australian wildlife.
As an added treat the tour ends with a visit to the Yarra Valley Chocolaterie.
A steam train, cute Australian wildlife, and chocolate, what more could you ask for?!
🚂🐨Click here to book the Puffing Billy and Healesville Sanctuary Tour.
🚂 Prefer to just ride the amazing train? No worries! Click here for tickets to the Puffing Billy Steam Train now.
11) Melbourne Royal Exhibition Building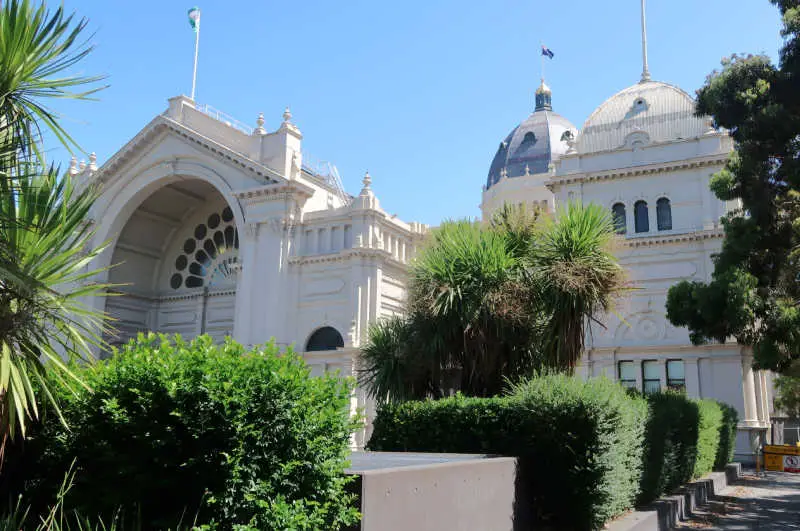 The Royal Exhibition Building in Melbourne is also among the historic Victorian landmarks found in the capital city.
Its construction was completed in 1880, and today it's a UNESCO listed heritage site.
The structure is set in Carlton Gardens and was originally intended for the Melbourne International Exhibitions that took place in 1880 and 1888.
It's a glorious building, with various domes and arches adding drama to the design. This earned it the title of Australia's very first World Heritage Site in 2004.
Now it's one of the last purpose-built exhibition pavilions left on the planet – and certainly one of the best examples.
The very first Commonwealth Parliament of the Australian Federation was held here in 1901.
Today, various events, exhibitions and expositions are held here throughout the year, and the venue also hosts community and cultural events.
12) Melbourne Trams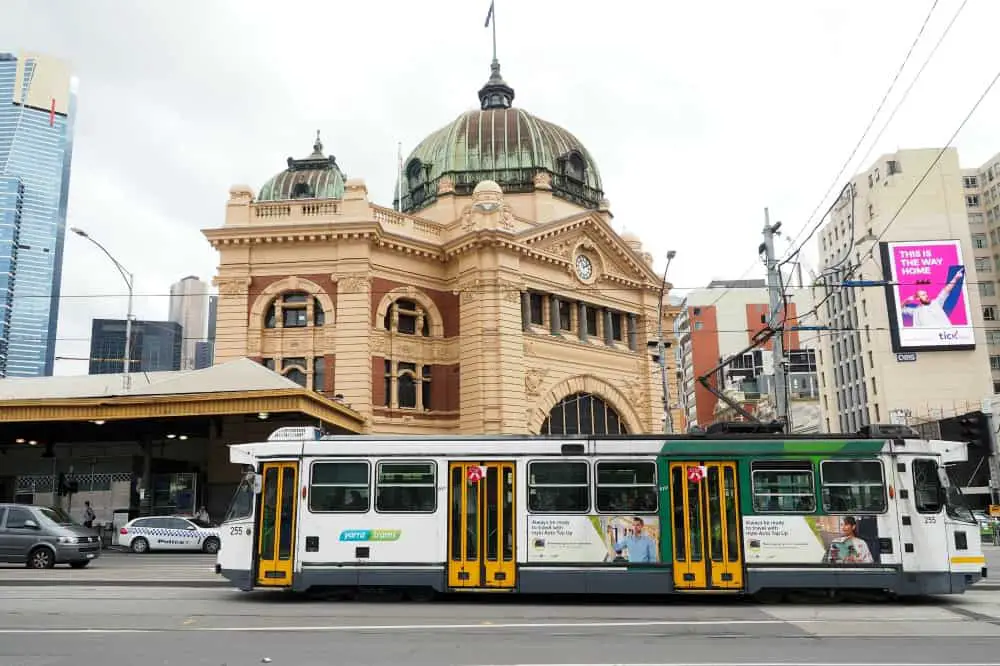 Melbourne's tram network is known worldwide. In fact, the biggest network of urban trams on the planet can be found here.
There are around 500 trams in total, plus about 250 kilometres of track.
As well as being prominent Victoria tourist attractions in their own right, the trams have the practical purpose of ferrying locals across and around the city on a daily basis.
Part of the network is free to use, within the central zone between Queen Victoria Market and the area around Flinders Street Station – which are two landmarks of Victoria in themselves.
One of the most popular routes is between the various city stops and the beach enclave of St Kilda. The trip from Bourke, Collins or Swanston Street takes about 25 minutes.
There are numerous other routes to choose from too, and a city tram can even get you to a place like Melbourne Zoo.
13) Old Melbourne Gaol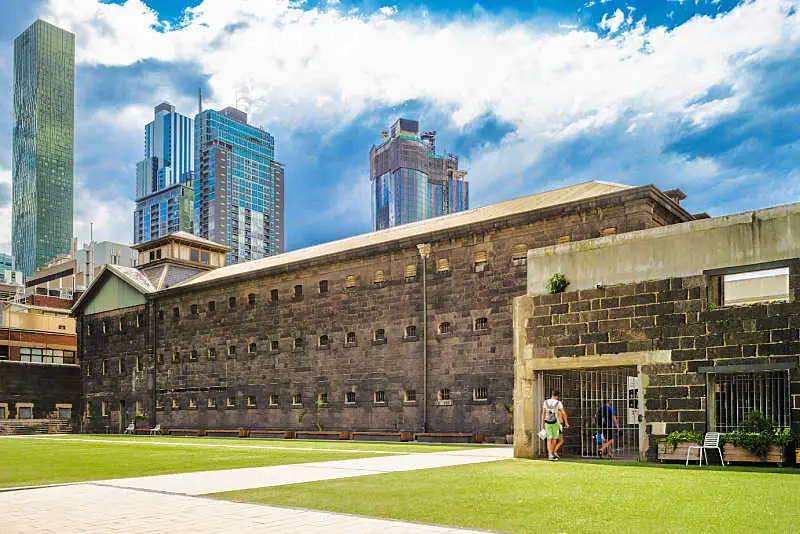 Old Melbourne Gaol on Russell Street is still located at the heart of law and order in the city, close to the City Courts, the Russell Street Police HQ and Police Watch House.
The imposing bluestone building now forms part of RMIT University's Melbourne City Campus.
The Gaol is the oldest in Victoria and was used as a prison for almost 50 years after its completion in 1845.
The hanging of 133 people has taken place at Old Melbourne Gaol. Including the notorious Ned Kelly who was executed here after his stand-off with the police in Glenrowan.
This makes it one of the most infamous Victoria landmarks of all.
The prison stopped operating as such in 1924. Now you can tour the three storeys to take a journey into its grisly past.
➡️ Old Melbourne Gaol is included in the iVenture Unlimited Attractions Pass.
14) Melbourne Museum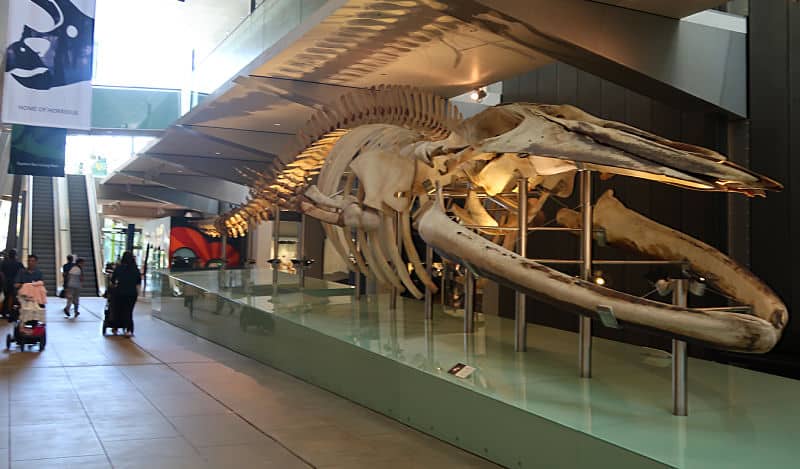 Like the Royal Exhibition Building, Melbourne Museum is situated within Carlton Gardens.
It's an all-encompassing kind of venue, with exhibits reflecting both natural history and the culture of mankind.
If it's related to life on earth, then you might well find it at Melbourne Museum.
Originally housed in the State Library building, the museum moved to its current location in October 2000 – the year Australia last hosted the Olympic Games in Sydney.
It's part of the biggest public museum organisation in Australia, Museums Victoria, and is open daily.
There's a car park, or you can access the museum via the free City Circle Tram.
Though there are entrance fees, all children under 16 and concessions can get in for free.
The museum offers several places to eat, and there's a gift shop on site. Regular events and exhibitions mean there's always something new to see, so it's worth checking out what's on in advance of your visit.
15) Melbourne Botanical Gardens
The Royal Botanic Gardens of Victoria are located in Melbourne and occupy a 38 hectare site to the south of the Yarra.
These gardens were established in 1846, and have a sister site at Cranbourne. Free to enter, the gardens are one of Australia's finest and attract around 1.9 million visitors per year.
Whether you're making a list of Victoria sightseeing spots to tick off or want somewhere to spend a day at the weekend, don't miss these glorious gardens.
They truly are a fine example of something Australia excels in – the great outdoors.
Beautiful views, peaceful lakes and an incredible variety of plants make it hard to believe you are anywhere near a big city.
16) St Kilda Beach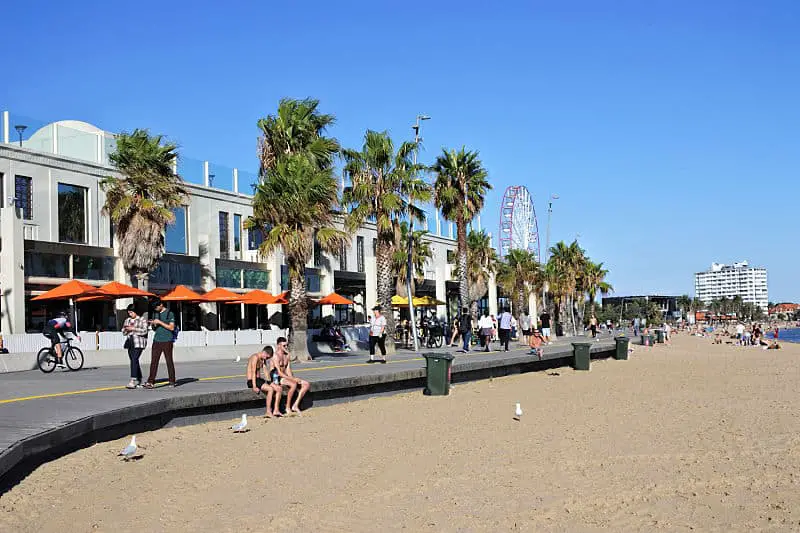 St Kilda is Melbourne's best known beach suburb and home to one of the most famous Victoria attractions of all.
It has an eclectic charm, with an old-fashioned pier, a sandy stretch of beach, and amazing sea baths, which are heated.
The area around the beach is a hive of activity, and you'll see people enjoying all kinds of sports including windsurfing, skating, walking, swimming and kite surfing.
Whether you come to people watch, shop, dine, sunbathe or get active, St Kilda is an integral part of Melbourne life and has something of an alternative vibe.
If you get peckish while in the area, don't miss the colourful cake shops lining Acland Street, which runs parallel to the coastline.
A weekly market is also held here on the Esplanade every Sunday.
17) Luna Park Melbourne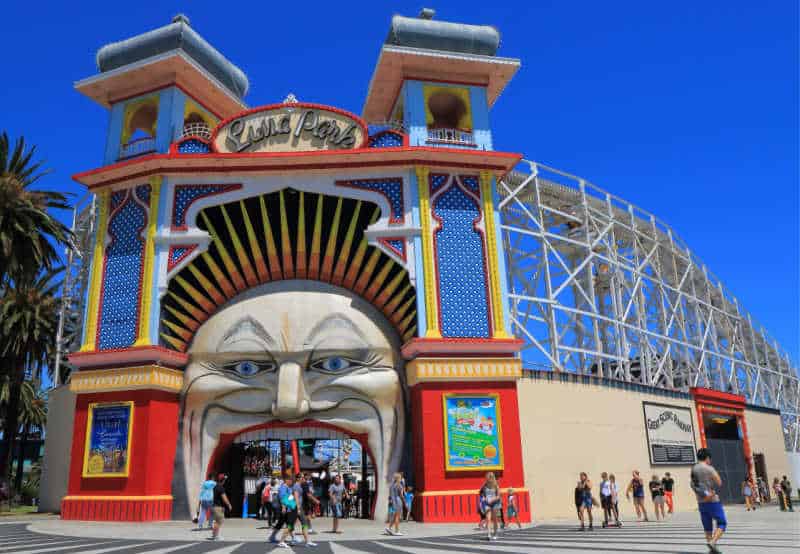 Luna Park in Melbourne dates from 1912, and you really cannot miss seeing this Melbourne landmark when you're in St Kilda.
While there's also a Luna Park at Milson's Point, Sydney, that one didn't open until 1935.
A gigantic, open-mouthed face guards the colourful entrance, and the park has operated since its opening on a more-or-less continuous basis.
The park offers rides and attractions suitable for all ages, although height restrictions apply to some rides.
There are great views over the coastline and city from some of those that are higher up – that is if you can bear to look!
You can buy tickets for single rides, or the mega-popular unlimited rides ticket. This makes a day at Luna Park more affordable as you pay upfront.
Annual passes are also available if you live locally and are likely to return.
18) Brighton Bathing Boxes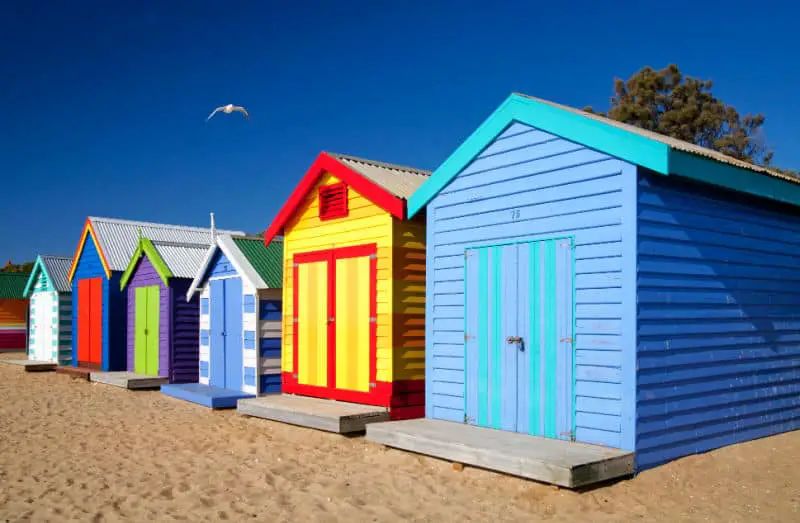 The Brighton Bathing boxes comprise a line of colourful wooden huts fronting Brighton Beach.
They were built during the Victorian era when modesty at the seaside was very important. Each is uniquely decorated, and there are over 80 bathing boxes here.
Like the street art at Hosier Lane, the bathing boxes at Brighton are an iconic sight and great fun to photograph.
Finding your own favourite is all part of the experience, though you might want to visit early for the best shots – before the huts are opened up for the day.
Brighton Beach itself is also one of the nicest natural landmarks in Victoria. It has a good stretch of golden sand ideal for picnicking.
The water here is also calm in general, so it's also perfect for taking a swim.
19) Queen Victoria Market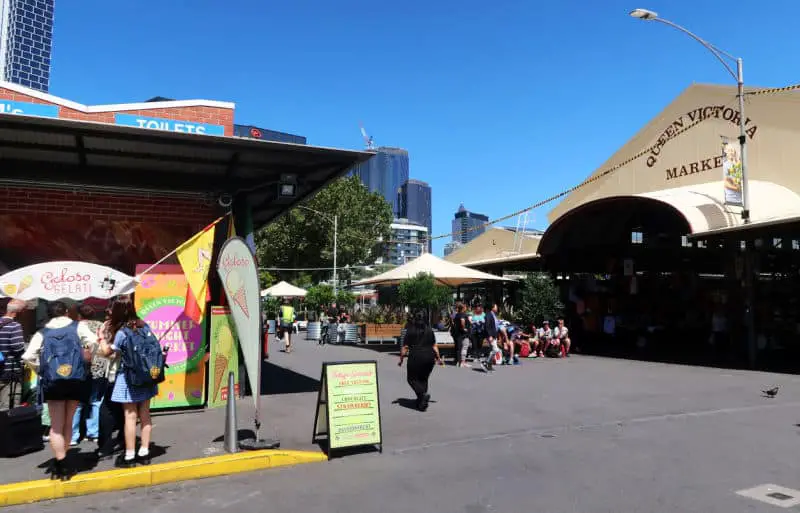 Queen Victoria Market – or Queen Vic Market – is a much-loved Melbourne spot.
The market occupies around seven hectares in the CBD, and has been selling all sorts of goods here since 1878. It's the largest market like this in the entire southern hemisphere.
The market operates every day except for Mondays, and Wednesdays in winter.
In summer, there is a night market held each Wednesday evening. It's the ideal place for a lunch stop and for buying all kinds of goods.
The stalls sell books, clothing, hardware, homeware, toys, fresh produce and more. There are also a number of restaurants and cafes at the market.
20) National Gallery Of Victoria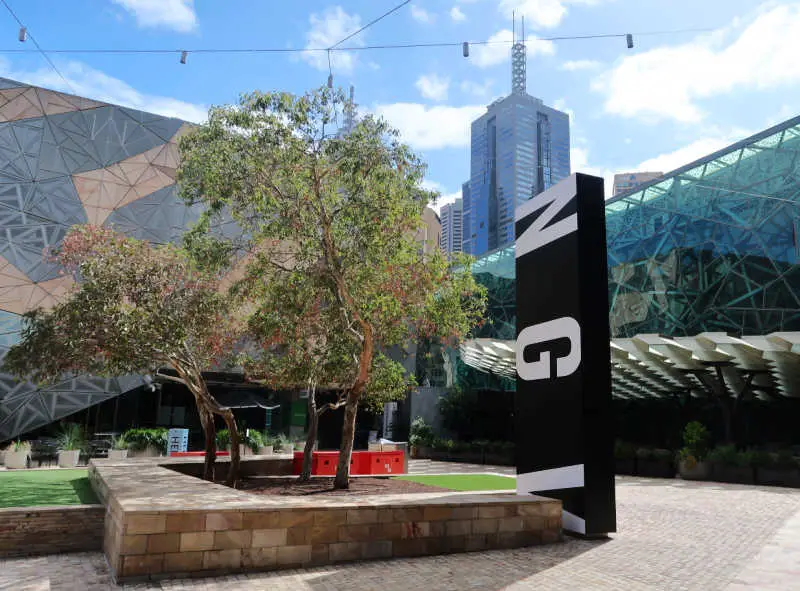 The National Gallery of Victoria, or NGV, is Australia's oldest art gallery. It also receives more visitors per year than any other in the country.
The gallery is open daily and houses a wide range of art, including both classic and contemporary styles. As well as Australian art, exhibits come from all over the world.
The artworks are split over two buildings in central Melbourne. These are the Ian Potter Centre and the NGV International.
The former showcases Australian art, including indigenous art, while the latter specialises in art from Oceania, Europe, Asia and America.
It's only a short walk between the two galleries.
NGV Friday Nights take place here throughout the year, and these include the likes of live DJs, bands, bars and themed dining.
The Ian Potter Centre takes pride of place on Federation Square, while NGV International can be found on St Kilda Road.
21) Shrine Of Remembrance
Also on St Kilda Road is the Shrine of Remembrance which was opened in 1934.
This landmark war memorial was originally built to honour state residents who served during the first World War.
Of 114,000 Victorians enlisted, 19,000 of these died during World War I. 89,000 served overseas.
Now, though, it's used to commemorate all Australians who've served in the armed forces since 1901.
Two former soldiers from Melbourne won the contest to find the design for the shrine. Their idea for the outline was inspired by the original Seven Wonders of the World.
To this day, the shrine is committed to informing people about the sacrifices made during wartime and how the service of others has shaped modern lives.
Educational exhibits and events are used here, and the shrine also undergoes regular redevelopment to keep it in peak condition.
➡️ Don't forget to grab your iVenture Melbourne Unlimited Pass here.
Melbourne Landmarks Map
You can find all the above Melbourne landmarks on the map below.
Final Word
There are many things to do in Melbourne – and seeking out the city's landmarks is one of the best ways to get under the skin of the Victorian capital.
Whether it's art, architecture, nature, history, dining, shopping or spending time by the sea, whatever floats your boat, this city is certainly abundant in both man-made and natural attractions.
Recommended: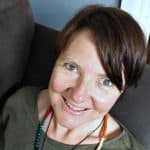 By Audrey Chalmers
Audrey grew up in Victoria and travelled the world but she always called Victoria home. She loves nothing more than exploring her home state and sharing it here.