Heading into the great outdoors and want to know all the best things to do in Wilsons Prom? Then you're in the right place.
Below, you'll find our guide to all the top Wilsons Promontory things to do, so you can easily choose the best places to visit on your Wilsons Prom trip.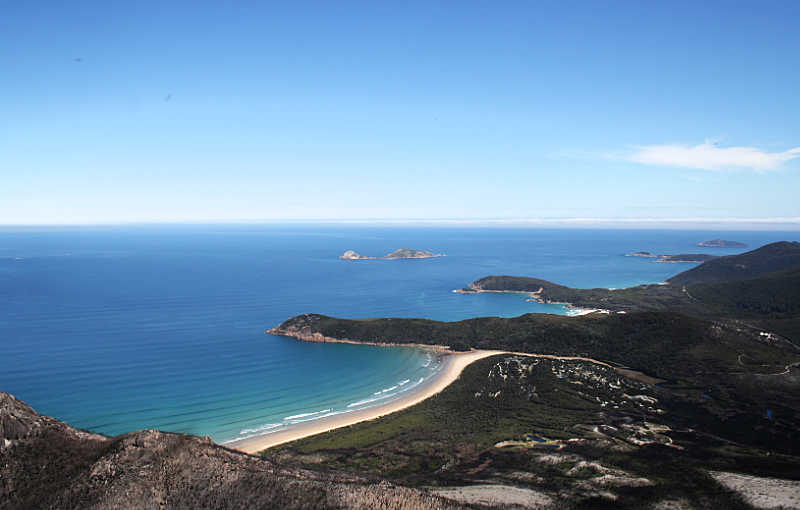 Wilsons Prom is truly something special, and with its granite peaks and wild natural beauty it's one of the most beautiful places in Victoria.
Visitors are treated to unspoiled beaches, marvellous coastal views, rainforests, and the beautiful Australian bush. Gorgeous wildflowers grow in the national park too, such as wattle, heathland, and even orchids.
Encompassing 50,000 hectares, Wilsons Prom National Park is Victoria's largest coastal wilderness area. So it's no surprise that bushwalking is one of the most popular Wilsons Prom things to do.
There are over 30 self-guided Wilsons Promontory walks ranging from gentle strolls to more difficult multi-day hikes. We stuck to simple short walks that didn't take more than a few hours.
Most of the things to do at Wilsons Prom Victoria involve physical activity of some kind, but there are plenty of beaches to laze on if you get tired.
But really Wilsons Promontory, or "The Prom" as it's known is all about awe-inspiring landscapes. It's not well known outside the state so you can enjoy all the gorgeousness without the crowds.
We're going to show you what to do in Wilsons Prom, but first here's some information about this fabulous area.
Evidence of Aboriginal occupation at Wilsons Promontory Victoria dates back at 6,500 years.
The first European to see the promontory was George Bass in January 1798.
The name Wilson's Promontory was recommended by George Bass and Matthew Flinders to honour Thomas Wilson, a friend from London.
It has been a national park since 1898 and is the largest coastal wilderness area in Victoria.
The site was closed to the public during World War II as it was used as a commando training ground.
After disappearing due to illegal hunting, Southern Right Whales have returned to the area. Killer whales make an appearance from time to time too.
Top 15 Things To Do In Wilsons Prom
1) Head To A Wilsons Prom Beach
Australia is known for sun, surf, and sand, and Victoria is no exception.
With 2,500 kilometres of rugged coastline, Victorian beaches are some of the most stunning in the country.
And while I can't say The Prom has the best beaches in Victoria – I'm looking at you Great Ocean Road – Gippsland beaches are naturally beautiful, and a must-do when you visit Wilsons Prom.
Here are some legendary Wilsons Prom beaches to visit.
Squeaky Beach
Stunning Squeaky Beach Victoria is named for the unusual quartz sand that squeaks when you walk on it. This iconic Wilson Promontory beach is pristine mind-blowing goodness with bright white sand.
It's a wonderful beach to walk along with huge boulders and rock pools at each end to explore. The water was toe-numbingly cold (it is the Southern Ocean after all) on the day we visited, but a few hardy souls were frolicking amongst the waves undeterred.
Norman Beach
Just a short walk from Tidal River Campground, Norman Beach is a popular spot for families.
It's a beautiful wide stretch of golden sand beach with views along the coast in both directions. The atmosphere is lovely at sunset and at low tide, it's great for riding bikes.
The tidal river empties into the sea here and there's a creek with calm water that's good for swimming. Alternatively, you can try your hand at surfing in the ocean.
Whisky Bay
Whisky Bay is a smaller secluded beach that's about a ten-minute drive from Tidal River Camp Grund. Which makes it a good option if you want to get away from the crowds at Squeaky Beach Wilsons Prom.
Whisky Bay is a glorious beach with soft sand and picturesque boulders. It's considered to be a good place to watch the sunset because there are islands silhouetted on the horizon.
2) Sail, Dive, and Snorkel
The water and islands surrounding The Prom are protected by Wilsons Promontory Marine National Park, extending along 17 kilometres of coastline it's Victoria's largest marine protected area.
The strict fishing regulations guarantee some of the best diving and snorkeling in the state. Divers can explore sponge gardens, reefs, and small islands that are home to penguins, sea birds, seals, octopuses, sharks, and stingrays.
It's also possible to do full-day cruises around Refuge Cove Wilsons Prom. This is a fabulous way to see this diverse region from a different perspective.
3) Wilsons Prom Hikes
Visiting Wilsons Promontory is all about the outdoors, and the best way to explore it is one of the many Wilsons Promontory hikes.
There are heaps of different walking tracks and it would take you weeks to do them all.
Don't worry if you don't have that much time (or fitness), there are walks to suit everybody some are just 1 -2 kilometres long.
Enthusiastic hardcore trekker types can tackle a Wilsons Prom overnight hike or multi-day trek that takes you into the heart of the park.
The South-Eastern Circuit is the most popular overnight hike, with most walkers choosing to camp and taking one or two days to complete the loop.
Hiking Wilsons Promontory is a rewarding and unique way to see the park. So make time to explore the trails and enjoy magical lookouts, stunning landscapes, and a genuine return to nature.
Here are two of the most popular Wilsons Promontory walks.
Mount Oberon Summit Walk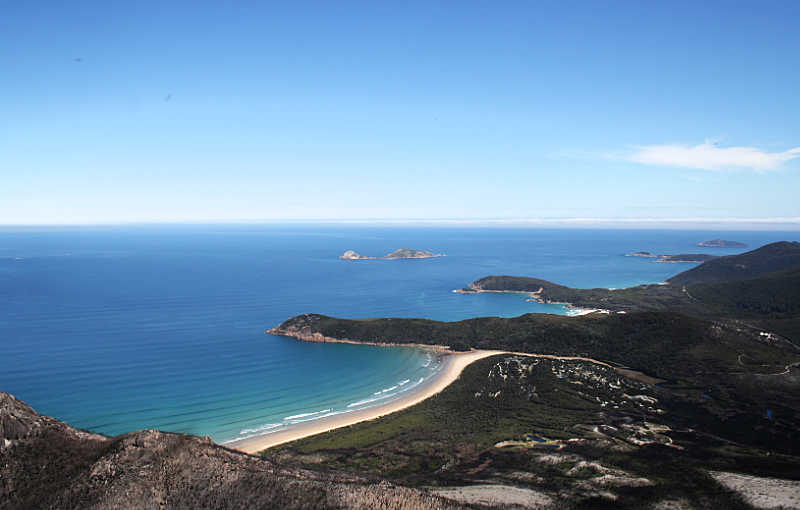 Walking to the Mount Oberon summit is one of the top Wilsons Promontory things to do. However, it's a 3.4 kilometre leg-burning, butt-busting, never-ending uphill trudge.
The uphill climb is relentless and just as you arrive red-faced and heart thumping at you think is the summit, you discover a set of steps.
Scamper up these for another 10-minutes, and you'll forget your pain when you set eyes on the magnificent views.
The pathway up is a gravel access road that's surrounded by ferns and beautiful eucalyptus trees.
There are a couple of bench seats along the way ( but not many) where you can sit and take a break. It's a good idea to bring plenty of water and some snacks to nibble on.
The Mt Oberon walk starts at Telegraph Saddle car park. The car park is closed during peak times and you have to take a shuttle from Tidal River Caravan Park.
Darby Saddle To Sparkes Lookout
The delightful walk to Sparkes Lookout is good for anyone looking for a shorter hike. It took us a couple of hours to walk including rest stops and it wasn't difficult at all.
The Darby Saddle track offers coastal views and forest scenery, as it winds its way through giant trees and lush vegetation. Along the way, we caught glimpses of aquamarine water – a teaser of the views to come.
At the 2.1 kilometre mark, there's a 300-metre side track that leads up to Sparkes Lookout.
If you'd like to go further the track continues past the turnoff up to Lookout Rocks and then on down to Tongue Point, and ends just before the semi-attached island.
4) Spot Australian Wildlife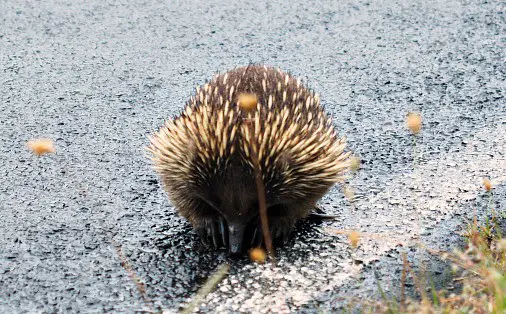 Spotting native animals out in the wild never gets tiring, and Wilsons Prom National Park is the perfect place to see Aussie wildlife.
The Wilsons Prom Wildlife Walk is great for seeing kangaroos, wallabies, and emus. It's an easy short walk that's close to the entrance of the park. I recommend making it your first stop on your way into the park.
Follow the Promontory Road towards Tidal River, about halfway along you'll see a sign on the left that marks the start of the walk.
If you'd like to see wombats, then the Loo-Ern Track is your best chance of spotting one. Designed for people with limited mobility the track follows Tidal River.
Most of this lovely 1 kilometre walk is along a boardwalk that protects the fragile wetlands. You can choose to start your walk at either the picnic area in the car park opposite the Visitor Centre, or at First Ramp on the west end of 6th Avenue.
Note: Drive carefully keeping your eyes peeled for wildlife. Just look at this cute echidna we found by the side of the road, it could have easily been run over by a car.
5) See The World's Southern Most Mangroves
Millers Landing is on the southern shore of Corner Inlet in the northern part of The Promontory. This section of the park doesn't see nearly as many visitors and it's a great place to escape the crowds.
The area is home to the world's southern-most mangroves. Weirdly they grow upside-down with their roots in the air, as the sticky mud they live in has little oxygen to offer.
From Five Mile car park, it's a 40-minute walk that wanders downhill through banksia and stringybark woodland. This delightful walk offers the chance to see wildlfowers, black swans, and yellow-tailed black cockatoos. People have come across emus along this track too.
6) Soak Up The Magic Of A Rainforest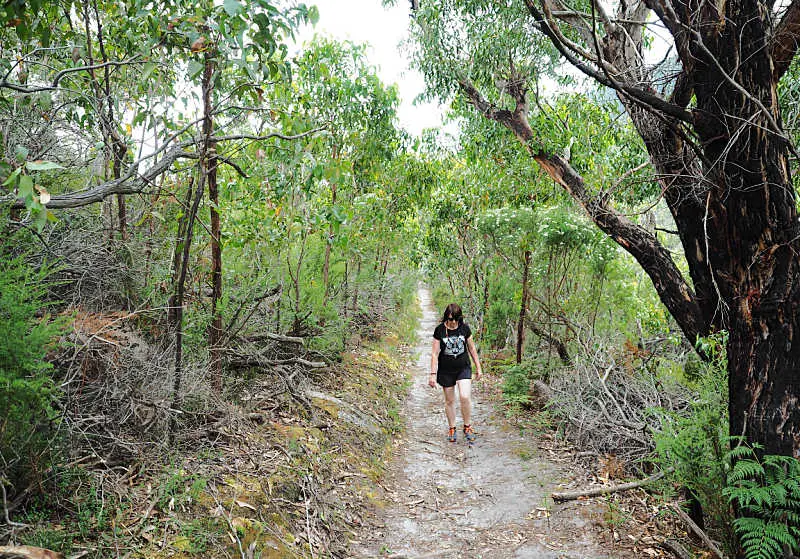 When you get tired of the beaches and coastline, the Lilly Pilly Gully Nature Walk is a superb alternative.
Famous for its beautiful wildflowers Lilly Pilly Gully has a gorgeous rainforest with lush trees and plants. It's perfect for a cloudy day when visibility is poor at Mt Oberon summit.
This is one of the easier walks in Wilsons Prom where you can really enjoy your natural surroundings. You'll be taken through stringybark forest, dark ethereal woodland, and cool rainforest. It's like another world.
There are several options to choose from for walking Lilly Pilly Gully. The 2.6 kilometre Lilly Pilly Gully Nature walk is an easy stroll that includes a 600 metre boardwalk.
Alternatively, the Lilly Pilly Gully Circuit takes you past the track up to Mount Bishop. At 5.8 kilometres it's still a relatively easy walk. If you do the full circuit and Mount Bishop together it's about 9.6 kilometres.
It's possible to climb Mt Bishop directly from the car park (7.4 km) and avoid Lilly Pilly Gully altogether.
7) Sink Into The Sand Dunes At Big Drift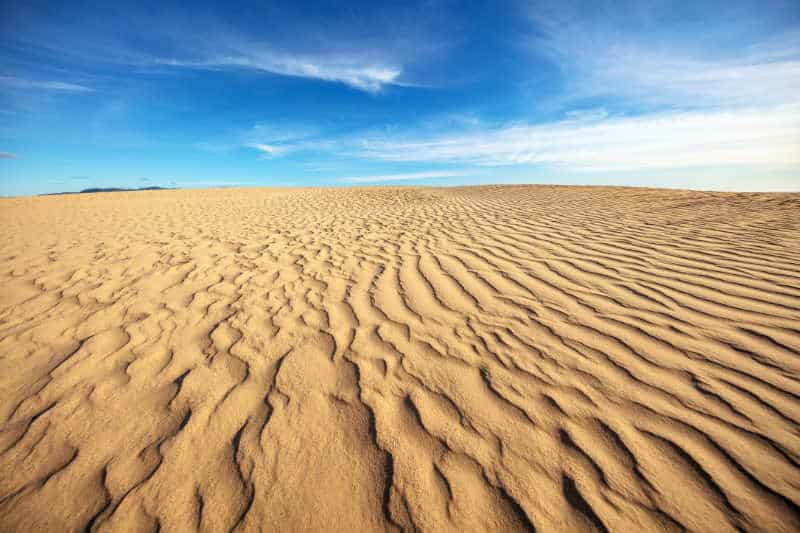 Just a short walk from the Stockyard Campsite is an extensive series of inland sand dunes known as Big Drift.
This area is often overlooked by tourists who focus on other Wilsons Prom walking tracks, and you'll most likely have the area to yourself. You'll be blown away by the size of the massive sand dunes – if not by the wind!
Spend some time walking around the dunes and exploring the desert-like landscape. Adrenaline junkies will enjoy dune surfing, boogie boarding, and sledding down the steep sandhills.
To avoid getting lost it's a good idea to mark the way back to the car park as your tracks may be wiped out by the wind.
8) Stay At A Wilsons Prom Lighthouse
Have you ever dreamt of staying in a lighthouse? Then this is your chance to walk in the footsteps of previous lighthouse keepers and experience this remote way of life.
Wilsons Promontory Lighthouse was built by convict labourers in 1859 on a rocky slither of land, and with its southerly position, it can be cold and blustery adding to its sense of isolation.
But, the Lightstation's remoteness is part of its appeal. That, and waking up to incredible ocean views. You'll have to work for it though as the lighthouse can only be reached on foot.
Visitors need to have a certain level of fitness to attempt the Wilsons Prom Lighthouse Walk. There are two routes to choose from; the inland route via Telegraph Saddle Car Park (19 km one way), or the coastal route from Tidal River via Oberon Bay (23.8 km one way).
There are 3 cottages, each has a bathroom and a fully equipped kitchen. All food and bed linen must be brought in and rubbish must be taken out.
9) Stop By A Victorian Town
The small towns of Victoria are characterful and unique and are well worth stopping by during your Wilsons Prom visit.
Gippsland has major dairy and farming industries and visitors can expect to enjoy farms, vineyards, dairies, local produce, and small goods.
Foster
Surrounded by rolling hills, Foster Victoria was once the site of an early gold rush. The town's old Post Office is now a museum that features displays of the region's gold, timber, and dairying history.
There's a Visitor Information Centre, craft shop, and a gallery with exhibits by local artists, and a good range of shops and cafes.
Fish Creek
Known as the "Art Capital of South Gippsland" Fish Creek has seriously cool art galleries, including the gallery/bookshop of famous children's author Alison Lester.
The area also boasts fantastic wineries that are well worth a visit, but the town is best known for its pub and the giant fish that sits on its roof!
Set in an imposing art deco building it's the closest hotel to Wilsons Promontory. We had dinner at the Fish Creek Pub during our stay at The Prom and we were blown away by the quality of our meal.
Yanakie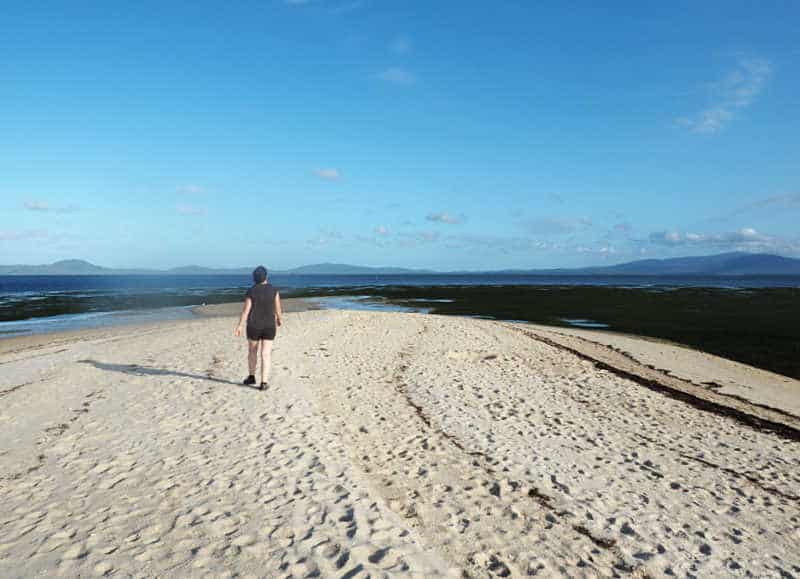 Yanakie sits on a narrow strip of land that connects Wilsons Prom with the rest of victoria. It's the last town before the entrance gates, and it's where you'll find the best accommodation near Wilsons Prom.
This town is tiny consisting of a general store, petrol station, and a public hall. Most of the residents are involved in either tourism or dairy farming.
Yanakie is popular with boating enthusiasts as it has calm waters, a waterfront caravan park, and a boat ramp.
Duck Point on the eastern side has spectacular views of the waters surrounding Yanakie and the mountain peaks of The Prom.
10) Go Whale Watching On Wilsons Prom Cruise
If you're looking for things to do in Wilsons Prom in winter then whale watching is a must.
Humpback and southern right whales migrate to the marine park at this time of year giving visitors the chance to spot them frolicking in the water or just passing by.
Wildlife cruises are still a great experience at other times of the year when you can see dolphins and seals at play.
These cruises fill up quickly so it's a good idea to book ahead, especially during the school holidays.
Wildlife Coast Cruises and Pennicott Wilderness Journeys are the main cruise operators in the area.
11) Visit A Secluded Beach – Refuge Cove
As its name suggests the remote Refuge Cove has long provided seafarers with a sheltered haven from the treacherous waters of Bass Strait.
The secluded beach is only accessed via a 34.4 kilometre grade 4 hike that takes around 2-3 days or by boat.
If you're a hiker this isolated beach is a great reward for all that spent energy, and you'll most likely have it to yourself.
Wildlife Cruises stop here for some water fun on their all-day cruise.
So Where Is Wilsons Promontory National Park?
Wilsons Promontory is located around 240 kilometres southeast of Melbourne in the Victorian region of Gippsland.
Along with many other things The Prom is famous for being the southernmost point of mainland Australia.
It sits on a tiny peninsula that juts out into Bass Strait and is one of the most stunning National Parks in Victoria.
How To Get To Get to Wilsons Prom
At a little more than a 3 hour drive from Melbourne Wilsons Prom Australia is a popular weekend getaway for Melbournians. Even so, the area is pretty remote and a car is essential for getting around.
We travelled from our home town Geelong and found it fairly easy to get to with a number of country towns where you can stop and rest along the way.
From Melbourne take the South Gippsland Highway and turn off at either Meeniyan or Foster to get to the National Park entrance. From there it's another 30 kilometres to Tidal River Campground or 33 kilometres to Telegraph Saddle Carpark.
Best Wilsons Prom Accommodation
Tidal River Camping
The Wilsons Prom caravan park at Tidal River is the only place to stay within the National Park. There are other caravan parks near Wilsons Prom – Stockyard Camp and Yanakie Caravan Park – but the Tidal River accommodation is the only Wilsons Promontory caravan park.
Tidal River Wilsons Prom can be a mad house and it's not somewhere we would choose to stay. The Prom is a favourite destination for Victorians and during the holiday periods, it's so popular you have to apply for a campsite using a ballot system.
Wilsons Prom camping ground has 484 sites but only 20 sites are powered. It also has a Visitor Centre, general store, and a cafe.
For more information click here.
Wilsons Prom Cabins
If pitching a tent at Wilsons Prom campground doesn't sound much fun to you, then you can rent one of the Tidal River cabins. This is a far more comfortable way to stay in the park and still be surrounded by nature.
The Wilsons Promontory cabins range from simple huts with shared amenities to more luxurious fully equipped accommodation. Linen is not supplied in the basic huts.
For more information click here.
Wilsons Promontory Accommodation
Our best advice on where to stay in Wilsons Prom is to stay just outside the park in Yanakie. It's only a few minutes from the Park's entrance with views of the Wilsons Promontory mountains and scenery, and the accommodation is far more comfortable.
Black Cockatoo Cottages
Set on 5 acres Black Cockatoo Cottages is just 3 kilometres from The Prom entrance. The warm and comfortable self-contained accommodation has panoramic views of Corner Inlet and the mountains of Wilsons Promontory.
For more information click here.
Buln Buln Cabins
The cabins at Buln Buln Cabins are surrounded by lush green paddocks with magnificent views. Each has a fully equipped kitchen and outdoor covered verandah where you can soak up your beautiful natural surroundings.
For more information click here.
Promhills Cabins
Promhills Cabins offers three different styles of self-contained accommodation and two safari-style glamping eco-tents. It's the perfect choice for a peaceful and private country holiday.
Located just 5 minutes from the entrance to Wilsons Promontory National Park, it's just a short walk to the Yanakie General Store. But best of all the rural property is surrounded by picturesque views, cows, and alpacas!
For more information click here.
Wilsons Prom Things To Do | Final Word
Wilsons Promontory National Park offers so much more than the 11 things to do in Wilsons Prom that we've listed here.
Whether you choose to camp, hike, stroll, swim, spot wildlife, or take a Wilsons Prom tour, you're sure to fall in love with this beautiful unspoiled part of Victoria.
Related Posts: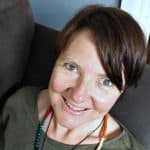 By Audrey Chalmers
Audrey grew up in Victoria and travelled the world but she always called Victoria home. She loves nothing more than exploring her home state and sharing it here.