This article may contain compensated links. For more information read our disclaimer here.
Heading to Portland and want to know all the best things to do in Portland Victoria? We've got you covered! Below you'll find our top Portland things to do guide to plan your ultimate trip.
One of the best Victoria things to do isn't the bustling Torquay or even the quaint Port Fairy. No, for something a bit different head to the almost-forgotten town of Portland.
At the western edge of Victoria's south coast, past the end of the Great Ocean Road in Allansford, Portland Vic is a 4-hour drive from the state capital Melbourne.
Although many won't make it this far, it's well worth the extra time and effort spent in getting to this unique town.
There are some fantastic things to do near Portland Victoria for visitors, from huge national parks, to beautiful beaches, and interesting history with niche museums and cool art galleries.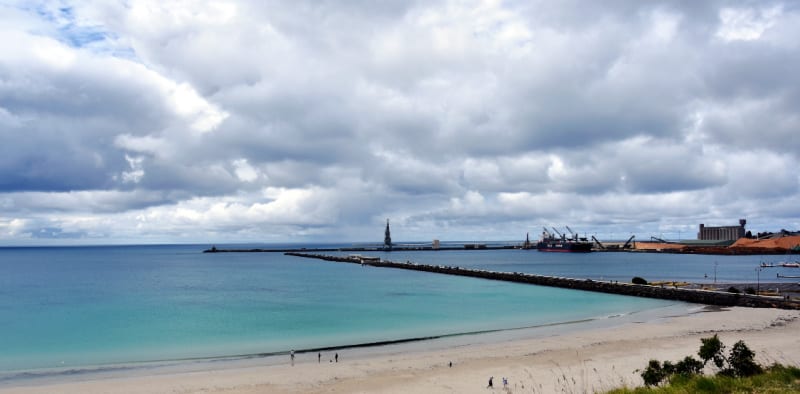 Not many people know that Portland is the oldest European settlement in Victoria, and there are over 200 heritage buildings in the town, making it a great place to just wander around on foot.
Portland started as a whaling station in 1829 but wasn't officially founded until 1834 when Edward Henty established the first European settlement in what is now known as Victoria.
But there is a darker side to the history of Portland. The traditional owners of the southwest, the Gunditjmara, were violently displaced in this early settlement. It was one of the first and largest massacres of Indigenous people in Victoria.
Nowadays, there's nothing but smiling faces and inclusivity in this interesting town.
Read on to find out the best Portland attractions Victoria has to offer.
Visiting the Great Ocean Road? Have any questions? Join our Great Ocean Road Travel Planning and Tips Facebook Group. It's the perfect place to ask questions and be inspired.
The Best Things To Do In Portland Victoria
Here are the best Portland things to see and do. Have a read through and select the ones that fit your interests and time frame.
1) Hop Aboard A Portland Tram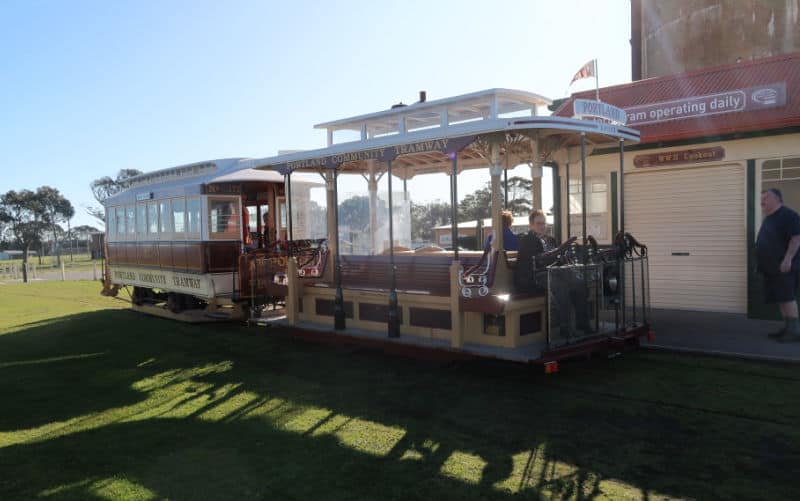 The Portland cable tram network is a great way of getting around all of the sights in the area and is an attraction in its own right.
The 3.7 kilometre Portland tram line, running from Henty Park to the World War II Memorial Lookout, provides great vistas along the foreshore and is an enjoyable way to spend a lazy afternoon by rail.
The Portland trams are run by volunteer rail heritage enthusiasts using restored (or replica) tram cars that are powered by diesel engines.
There's something very reassuring about the sound of their gently chugging engines, heard all over town.
Started in 1996, the tram lines were opened in 2002 and have been providing an interesting way of getting around town ever since. Hop on a tram and get to know the place a little better, through the eyes of one of the friendly volunteers.
2) Relax And Unwind On Portland's Beaches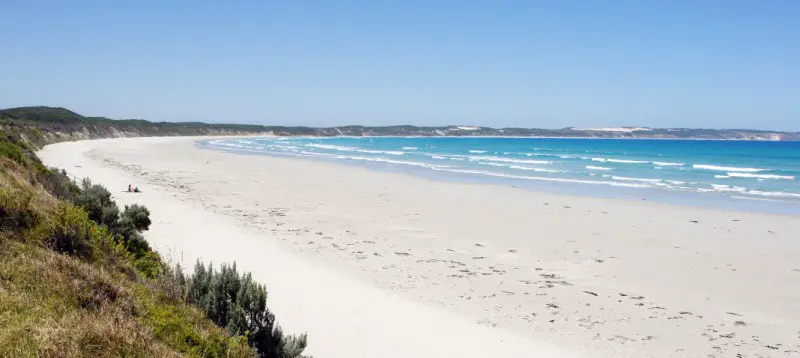 Some of the best Portland beaches aren't hard to get to from town, in fact, Nuns Beach is right next to the main hospital.
Nuns Beach Portland
This easily accessible, shallow beach is popular for swimming, with a nice boardwalk & pier, it's easy enough to spend a couple of hours here taking in the sun.
The large car park, public toilets, and benches mean it's a good place to take the whole family – it's one of the favourite cheap things to do in Portland for locals too.
Cape Bridgewater Beach
More commonly known as Shelly Beach, the beach at Cape Bridgewater is the complete opposite of Nuns Beach.
Wild, expansive, and lacking any real facilities, it's a good place to come to avoid the crowds in summer, or if you simply want to get away from it all!
The Foreshore
Portland's redeveloped foreshore area is also great for fishing; from the new Portland Town Jetty and the designated fishing pontoons. Expect catches such as snappers, flatheads, and whitings.
3) Go Birdwatching At The Point Danger Gannet Colony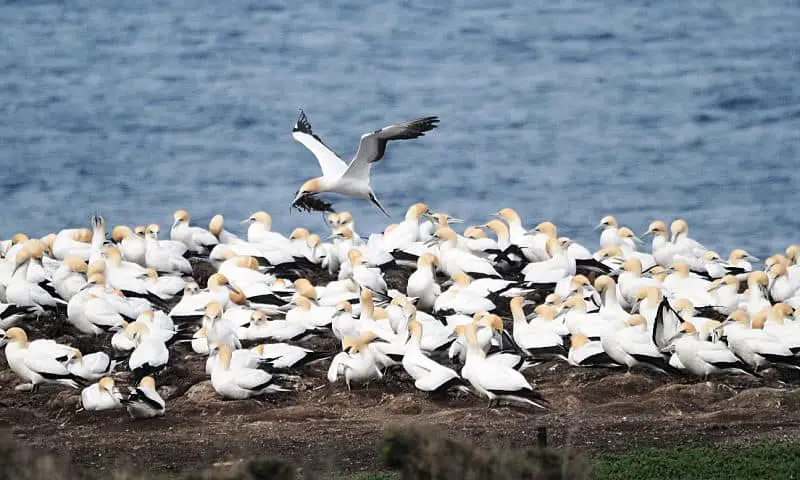 Point Danger is home to the only mainland gannet bird colony in Australia. Head here to spot approximately 300 pairs of gannets nesting, resting, and socialising.
These impressive birds have a massive wingspan of up to two metres. They are relatives to blue-footed boobies, famous residents in remote places like the Galapagos, and they form strong bonds as pairs that mate for life.
It's best to visit Point Danger gannet colony between July and April as they will be nesting and you can spot gannet chicks. But the colony can be seen year round too.
A local volunteer guide can fill you in on all of the facts, and help you to spot details that you might have missed on your own.
4) Get The Best Views At Yellow Rock Lookout Victoria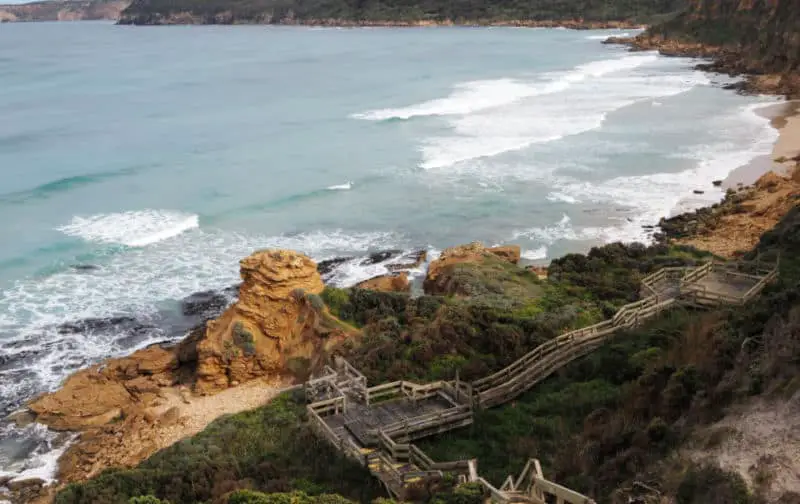 Get a close up look at the golden cliffs and look out over Nelson Bay at Yellow Rock lookout, one of the best free things to do in Portland.
Many just come for the view, but you can also climb down the wooden staircase (just 161 steps) to access the small secluded beach at Yellow Rock Coastal Park.
You can continue west along the coast to visit other sights in the area, like the Enchanted Forest, Cape Nelson State Park, and Discovery Bay.
Yellow Rock is an underrated tourist place, unlike many others along the Shipwreck Coast, and you won't have to fight for a good picnic spot.
Make sure that Yellow Rock Portland is on your list of things to do while you're here.
5) Be Wowed By Nature At Portland Botanical Gardens Victoria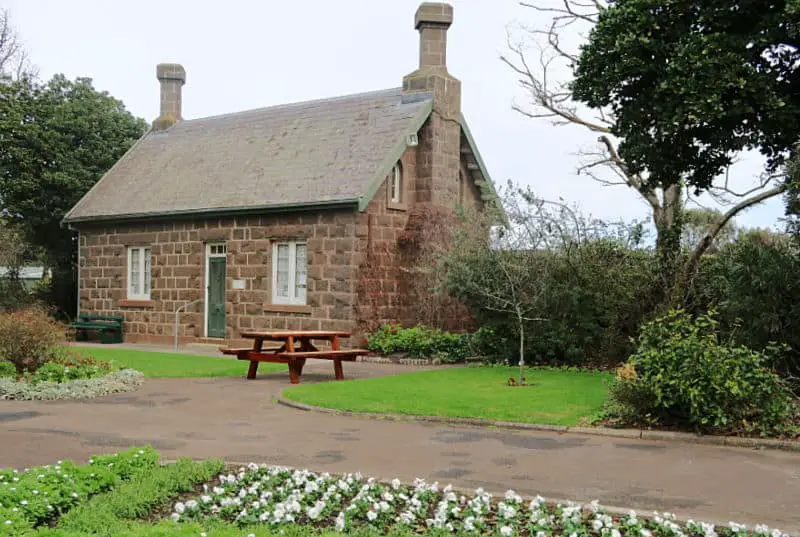 The second oldest garden of its kind in Victoria, Portland Botanic Garden is a place full of history and delight.
A visit to Portland Botanical Gardens is a green-fingered visitor's dream with 180 varieties of dahlias and over 300 rose varieties.
The Curators Cottage at Portland Botanical Garden housed the curator William Allitt and his family, and several custodians since.
In 1965 the cottage became home to the Portland Historical Society collection and is now open to the public as a house museum.
It's well worth a look around and is an interesting glimpse into the garden's design and past.
Dating back to the 1850s, the croquet lawn and ornate planting takes you back to a more refined era.
Whereas the convenient public toilets, BBQs and picnic tables means it's also a great place to take the whole family and spend a sunny afternoon in.
6) Get Revved Up At Portland Powerhouse Motor And Car Museum
A popular stop on the fabulous tram route is the Portland car museum, housed in Portland's 1930s powerhouse.
Here you can see vintage and classic car models like Dodge, Pontiac, Ford and Austin. You can also find a penny farthing, tractors, and a cable tram from the 1920s.
Kids will love the old vehicles, and even adults might learn a thing or two from the thoughtfully put together displays.
The Portland Powerhouse Motor And Car Museum is a great way to spend a rainy day in Portland, with the walls covered in old memorabilia and interesting facts about the vehicles.
7) Walk The Cliffs Of Cape Nelson State Park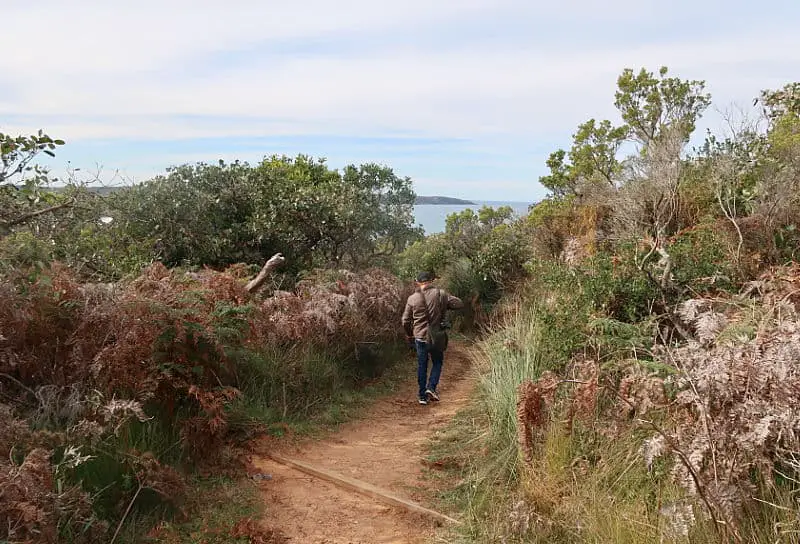 Home to the Cape Nelson Lighthouse (see below), Cape Nelson State Park is a 243-hectare heathland that hugs the craggy coastline a few kilometres southwest of Portland.
Take the 3 kilometre trail along the cliff tops for panoramic ocean views, as well as the chance to spot gigantic southern right whales and blue whales.
The 2,770 hectare coastal park, Discovery Bay Marine National Park, is close by and provides a safe habitat for these magnificent creatures.
Cape Nelson State Park is also good for spotting land-based wildlife like echidnas and red-necked wallabies.
Cape Nelson Portland is a great place to come for a walk or with a picnic, and of course to enjoy nature!
8) Take A Tour Of Cape Nelson Lighthouse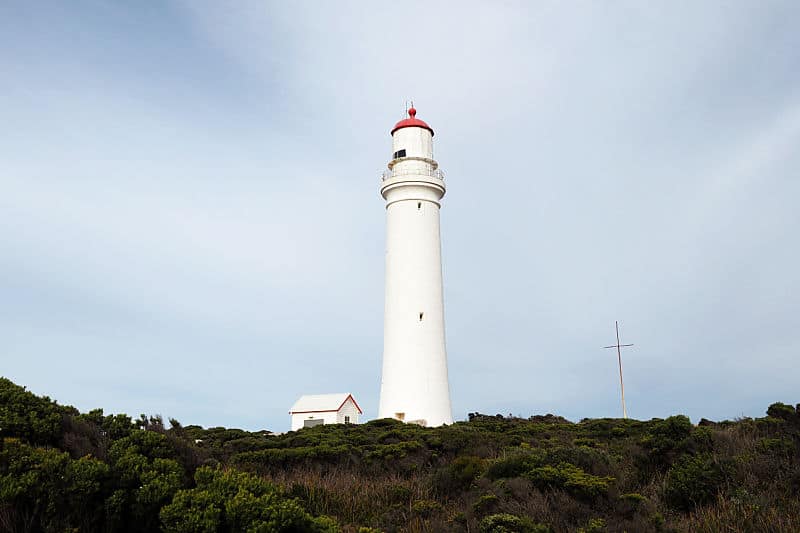 A visit to Cape Nelson is a must when travelling around Portland Australia. Take the Norman Wade scenic drive from town to have a look at the Cape Nelson Lighthouse.
The lighthouse was built to guide ships along the notoriously dangerous Shipwreck Coast, helping them to cross the Bass Strait to reach Portland and beyond.
The Cape Nelson Lighthouse, Victoria, offers guided tours daily at 11:00 am and 2:00 pm.
You will get to discover the inner workings of the lighthouse and uncover a bit of its history and importance in the local area.
9) See Skeletons Of The Past At The Portland Maritime Discovery Centre
Housed within the Portland Visitor Information Centre, the Portland Maritime Discovery Centre gives an insight into the early fishing, whaling, and sealing industry that once made the area so important.
Inside you can see a 14 metre-long sperm whale skeleton, an eerie reminder of Portland's dark whaling days.
You can also find one of Australia's oldest wooden vessels, dating back to 1858 the lifeboat has participated in many rescue missions on the dangerous and infamous Shipwreck Coast.
The centre also serves as the starting point of the 250 kilometre long Great South West Walk.
10) Try A Spot Of Portland Whale Watching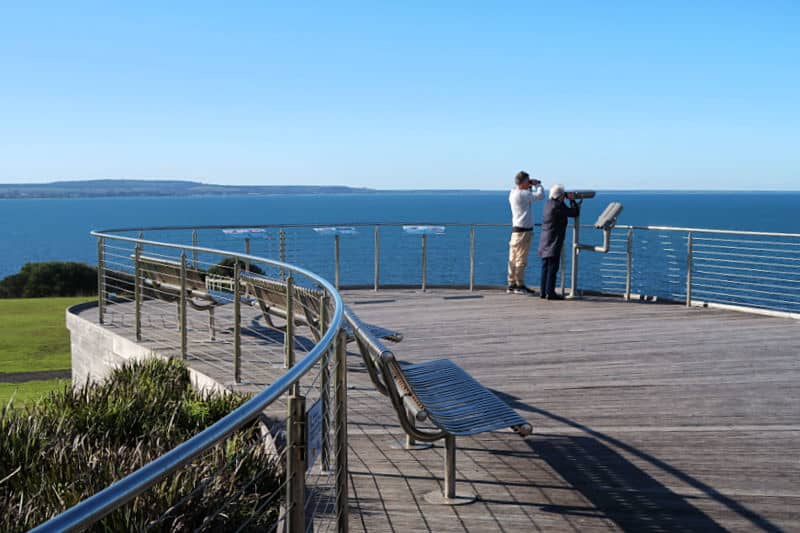 Spot mighty blue whales right through from May to October just off of the coastline as they migrate northwards.
Portland whale watching is one of the best things to do in Portland Vic if you're lucky enough to be here at the right time of year.
The best way to tell if you have a good chance of spotting Portland whales is the flag at the Portland Visitor's Center, it's only raised when they are in the surrounding bays.
Make a stop at the viewing platform under the World War 2 Memorial Lookout Tower by Portland Lighthouse (also known as Dutton Bluff Lookout), for some of the best whale watching Portland has to offer, as well as great views of the harbour.
11) Sample Succulent Portland Strawberries
Great care is taken at Portland Strawberry Farm, a family business that has been providing the area with fresh fruit for the last 20 years.
Everything is meticulously thought out; from the preparation of the soil to the use of natural fertiliser.
You can buy Portland strawberries year-round from the Farm Gate Shop, as well as homemade jams, artisan ice cream (dairy-free and vegan strawberry ice cream is also available), strawberry chocolate and delicious strawberry liqueur.
12) Camp out at Budj Bim and Cobboboonee National Park
If it's true wilderness you're looking for, the national parks north of Portland are the best places to go.
Around a 40 minute drive north of town, Cobboboonee National Park is great for hiking, horse riding, camping, and picnics.
Take the easy 40 minute Heathland Nature Walk through picturesque heathland and colourful wildflowers in springtime. Or for overnight stays the 8 kilometre Cobboboonee Camp to Cut-Out Camp walk is ideal.
The 4 hour flat walk through heathland and Messmate forest is a great overnight return trip. From the camp you can spot a variety of birdlife and many native plant species.
In the nearby Budj Bim National Park you can visit the second site in Victoria to be added to the UNESCO World Heritage List (also the only site in Australia to be on the list for purely Cultural Heritage values).
Take a Budj Bim cultural tour of the ancient Gunditjmara settlement that is more than 6,600 years old. Evidence of stone eel traps at the Tae Rak Aquaculture Centre prove it is one of the oldest in the world.
The ancient Gunditjmara people lived here permanently in stone huts, rather than roaming as nomads, and farmed the land trading eels and fish with passers-by.
13) Take The Kids On An Enchanted Forest Walk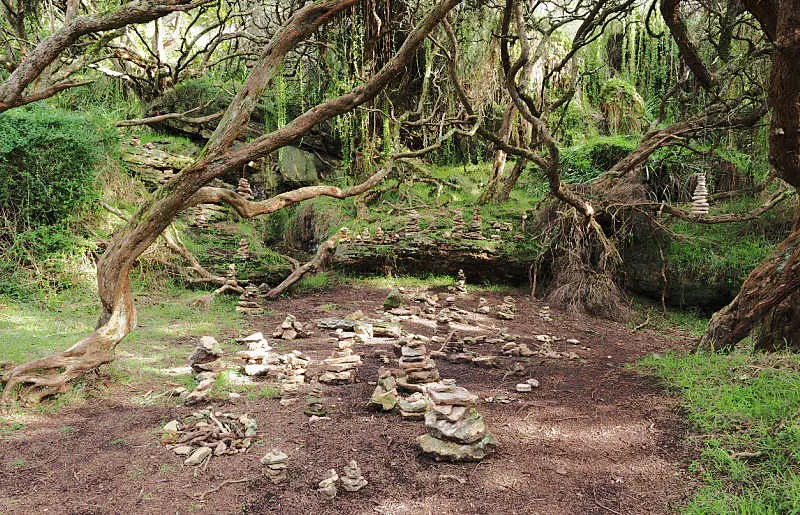 Just north of Cape Nelson State Park is the Enchanted Forest Portland. It's a great place to bring the kids and it's only a short drive from Portland.
Take the atmospheric winding path through a spring carved terrace lined with gnarled trees, that leads to dramatic coastal views.
Vines and creepers hang from the trees, making you feel like an intrepid explorer, without having to go all that far!
14) See Local Art At Portland Art Galleries
Portland also has an interesting cultural scene with wonderful art galleries that showcase the local people's talents.
Julia Street Creative Space
The Julia Street Creative Space is a community based not-for-profit. It's home to several visual arts groups managed by local volunteers.
Stop by and shop for locally crafted art and crafts. Julia Street Creative Space is located at 19-21 Julia Street, Portland, Victoria.
Portland Arts Centre
Portland Arts Centre is home to all things entertainment in town.
It's a great place to grab a live show, watch a musical performance, view an art exhibition, or watch a film in the small movie theatre.
There's always something going on at the arts centre, check the website or stop by to see what's on when you're in town.
15) Buy Artisan Wares At Portland Community Markets
Another place to find artisan crafts, as well as locally made treats, is Portland Community Market.
It's a small seaside market with friendly locals and independent stall-holders showing their individual wares.
Head to the Portland Foreshore (Henty Beach, Lee Breakwater Road, Portland) to visit the monthly market, or you may see some of the stalls pop up at a festival or local event during the summer months.
16) Head To Discovery Bay On The Great South West Walk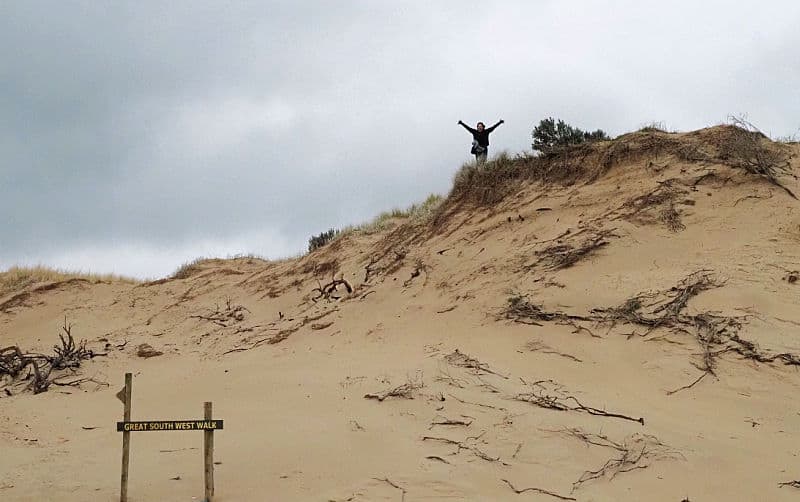 There are some fantastic walks in Victoria, but none are as wild as the Great South West Walk.
The 250 kilometre trail, beginning at Portland's Maritime Discovery and Information Centre, is a two week walk showcasing the best sights in the area.
If you're short on time don't worry, like the Surf Coast Walk on the Great Ocean Road, it can easily be split into smaller sections.
Travel along the banks of the Glenelg River and explore ancient eucalypt forest, then past the beautiful bays surrounding Portland, like the aptly named 'Discovery Bay'.
The Great Southwest Walk in its entirety takes in three national parks, as well as Aboriginal heritage sites, and of course stunning views over the Southern Ocean.
17) Hike The Cape Bridgewater Seal Walk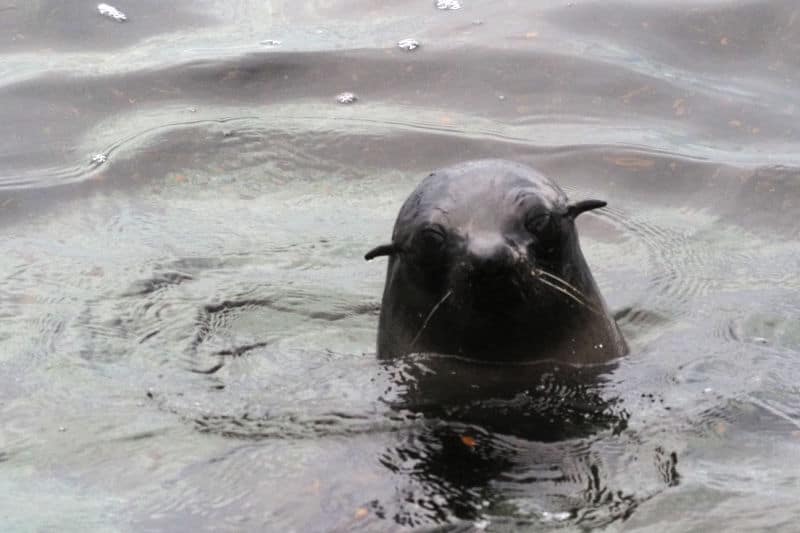 A short 20 minute drive from the Point Danger Gannet Colony is another must-see for animal lovers visiting Portland Victoria.
The Cape Bridgewater seals are one of the best Portland Victoria attractions due to the huge number of them.
Over 2,000 Australian and New Zealand fur seals gather in this area; they can easily be seen from a viewpoint above the colony on the 6 kilometre Cape Bridgewater Seal Walk.
You can also take a 45 minute seal tour from the Cape Bridgewater Cafe. It's a great idea if you want to know a bit more about the animals and the surrounding area.
If you're feeling really brave, you can also see them from under the waves at the only seal cage diving site in the world!
The cage is for the sharks really, but it makes for an interesting experience.
To visit, head to Cape Bridgewater, Victoria, and look for the Seal Colony car park.
From there the walk takes around 2 hours, with plenty of time to watch the seals basking in the sun and playing in the bay.
18) Go Green At The Cape Bridgewater Wind Farm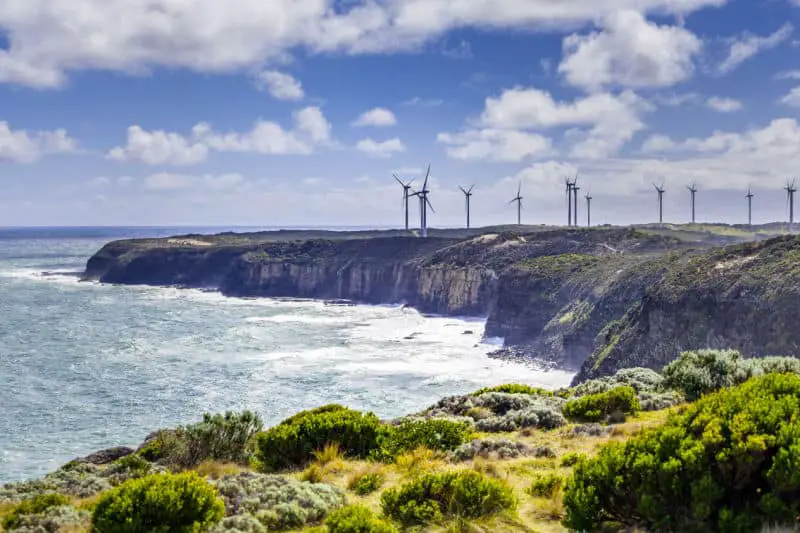 Love them or loathe them, wind farms are undeniably a sustainable way of creating green energy.
The Cape Bridgewater Wind Farm is a great place to get up close to them and decide for yourself if they are beautiful and ingenuitive, or simply a blot on the landscape.
Head along Blowholes Road and pull over to the side to have a look at these colossal electricity producers.
The noise alone is an amazing thing to experience, as the massive humming turbines slice through the air.
19) See The Cape Bridgewater Blow Holes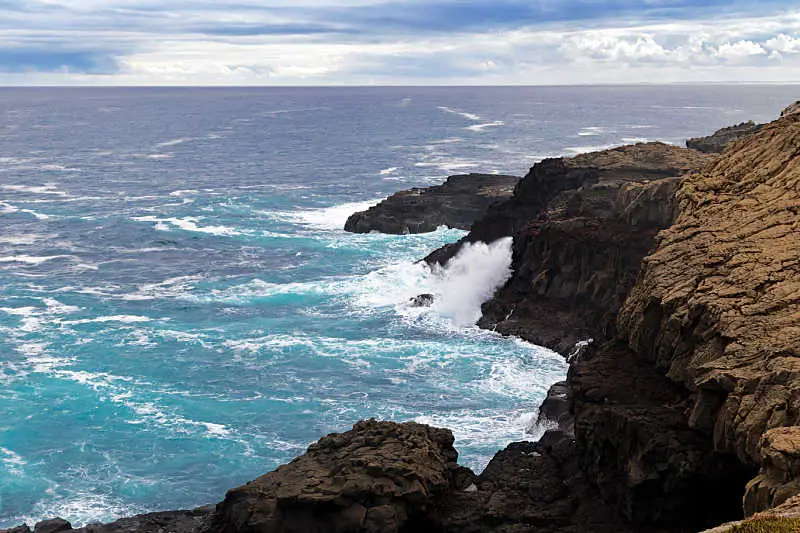 Just along the road from the wind farm in Cape Bridgewater Victoria are the Blow Holes.
Cape Bridgewater is a wild place, once part of the rim of a volcano, it's now a fantastic place to explore and is absolutely full of natural sights like this one.
You will get close to the cliff edge on the walk and be able to see lots of interesting rock features giving you a glimpse into the geological history of the area.
It's a great spot to visit as part of a longer day out around Cape Bridgewater.
20) Visit The Cape Bridgewater Petrified Forest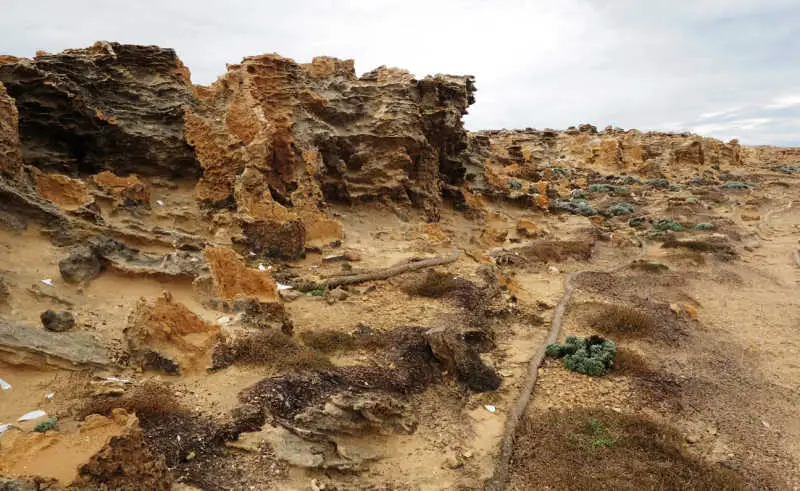 Next, head over to the Petrified Forest, Cape Bridgewater, to marvel at trunk-like formations in the sandy rock.
Not actually what the name suggests, these are limestone "solution pipes" that have actually been hollowed out by millions of years of rainfall.
It's a great way to finish your day, after seeing the blowholes and taking the Seal Rock walk, you can relax and watch the sun get lower over the odd-looking golden rocks.
21) Taste The Grapes Of The Underrated Henty Wine Region
Named after the founder of Portland, the Henty Wine region includes nine delightful wineries that can be visited either at their cellar door or by pre-booking.
The best known winery in Portland is Suffoir in nearby MacArthur, but Crawford River Wines in Condah is also a popular stop for visitors.
Suffoir Winery
Inspired by the South African heritage of the owners, Suffoir Winery is a family-owned and operated farm, winery, brewery, cidery, and distillery.
Everything here is sustainably produced onsite so you can be sure you're tasting the very best of the Henty Wine Region.
Suffoir is located on the outskirts of Macarthur, 50 minutes from Portland, and close to the Budj Bim National Park.
Crawford River Wines
A 45 minute drive north of Portland, Crawford River Wines was established in 1975 by founders John and Catherine Thomson.
Visit here for the gently undulating grazing  lands with stunning views over the sprawling forests in the distance.
This relatively unexplored wine growing region makes it a truly unique experience.
Riesling and Cab Sauv are the two main varieties in the vineyard, with a small selection of Cabernet Franc, Semillon, and Sauvignon Blanc.
Best Places To Stay In Portland
If you're visiting from out of town to experience the best things to do in Portland Victoria, then you'll need Portland accommodation for your stay.
There is a good range of accommodation in Portland to suit all preferences and needs.
Below, I've listed a few different places to stay in Portland for you to choose from based on your needs.
Each one is different but all offer a comfortable and affordable place to stay.
You can read our full guide to places to stay in Portland here.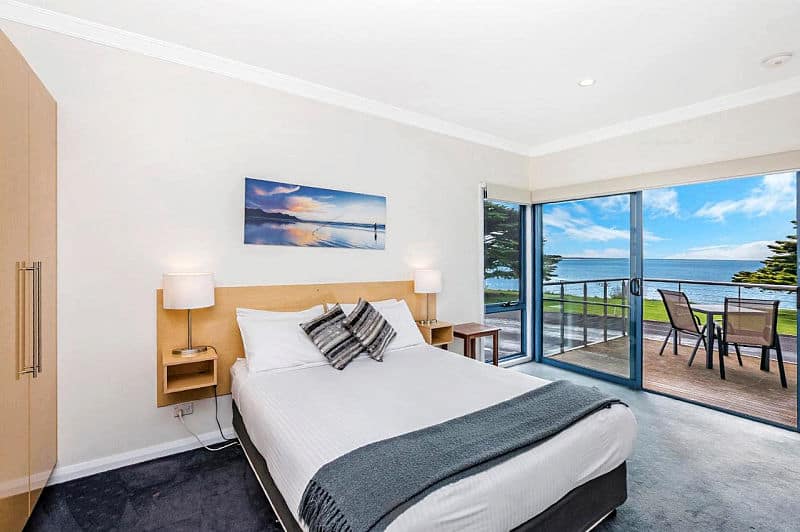 Seascape Accommodation is a great choice if you're looking for top-rated places to stay in Portland with water views.
These modern self-contained apartments feature enormous windows and private balconies to make the most of those gorgeous views.
Suitable for singles, couples, groups, and families you can choose from studios, suites, and a two-bedroom apartment.
All options come with a furnished balcony, a kitchenette, a flatscreen TV, air-conditioning, free Wi-Fi, and parking.
➡️ Check Rates and Availability Here!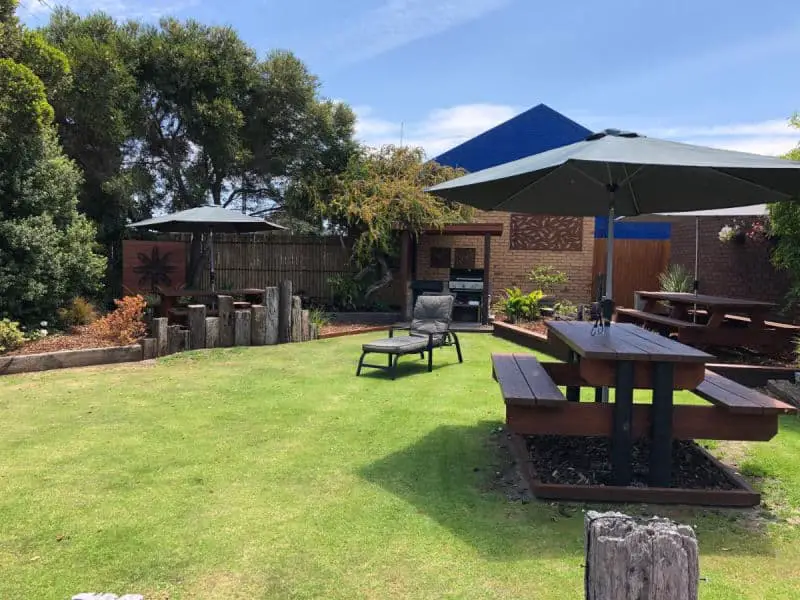 If you're travelling on a budget and looking for affordable accommodation in Portland the Mariner Motel is an excellent option.
A cut above your average motel every room here comes with its own furnished lounge area giving you some extra space.
Outside you'll find a beautifully maintained garden with picnic tables, umbrellas, lounge chairs, and a barbecue for guests to enjoy.
There are standard, deluxe, triple, and twin rooms available and each one features a large power shower, a flatscreen television with Netflix, a bar fridge, free Wi-Fi, and complimentary car parking.
➡️ Check Rates and Availability Here!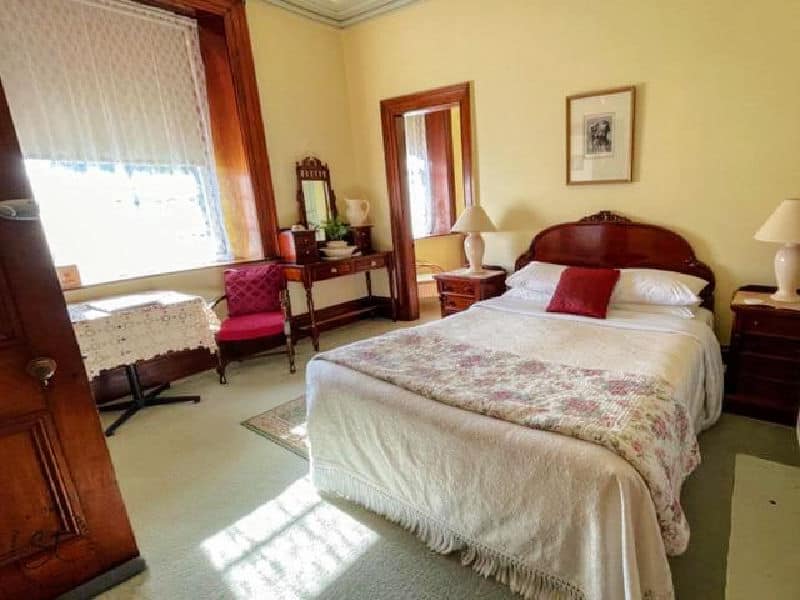 Located in a historic bluestone building Victoria House is a charming old world guesthouse filled with loads of character.
There's a variety of rooms to choose from including queen, triple, twin, and family rooms.
Classically styled, each room has an ensuite, flatscreen TVs, and character features. Some rooms also feature a bathtub and seating area, and the family room even has a spiral staircase.
Other amenities include a lush garden, relaxing verandah, a fire place and sunroom.
Sherry or port and cake are served daily in the sunroom or by the cosy fireplace.
➡️ Check Rates and Availability Here!
Final Words
Portland is a fantastic place to visit if you're visiting Victoria, lesser known than its Great Ocean Road cousins, it's an authentic slice of Victoria Australia.
It's also a great place to visit for wildlife spotting with some of the best national parks in Victoria, as well as plenty of beautiful beaches for relaxing on.
Recommended: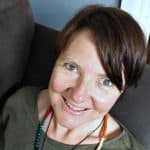 By Audrey Chalmers
Audrey grew up in Victoria and travelled the world but she always called Victoria home. She loves nothing more than exploring her home state and sharing it here.