Going on a trip and want to know all the best things to do in Warrnambool, Victoria? We have you covered.
Below you'll find our guide to all the top places to go in Warrnambool and its surrounds.
With museums and gardens, walking trails, adventure playgrounds, and spectacular beaches this is a great place to spend a few days at any time of year.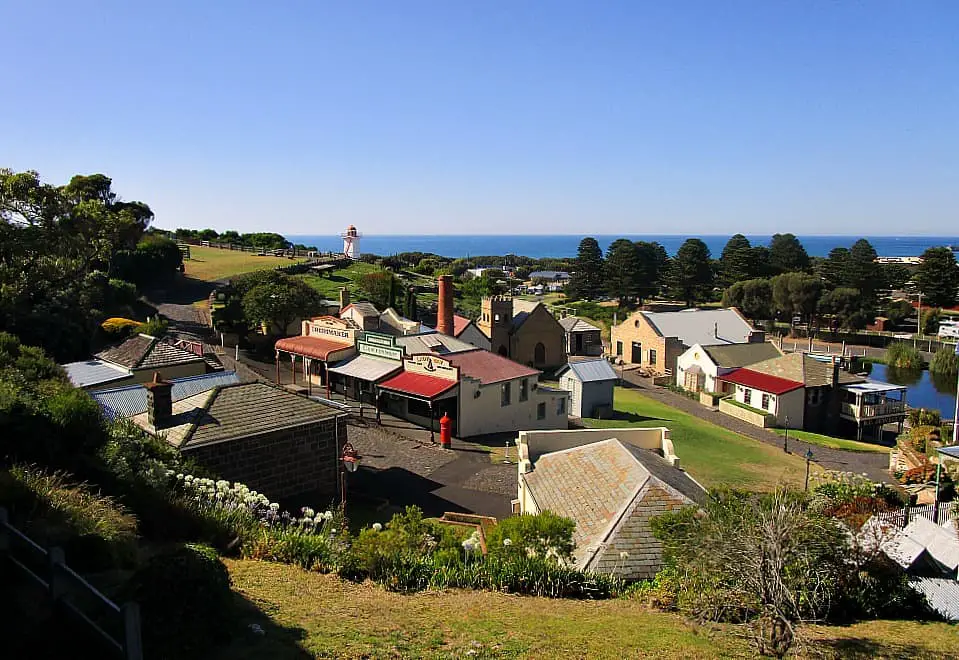 In this post we list all the best Warrnambool things to do to help you with your travel planning.
We start with some information about the town before listing the best Warrnambool attractions.
You'll also find a handy map with the location of each place listed and some recommendations for Warrnambool accommodation.
Warrnambool, Victoria
Warrnambool Vic is Victoria's fifth largest city and one of the closest towns to the Great Ocean Road, but with a population of around 30,000 people, it still retains a relaxed seaside vibe.
It has fantastic beaches, beautiful parks and gardens, breathtaking views, recreational activities, and notorious shipwrecks. Each winter Southern Right whales arrive for their annual calving.
The town is well set up for tourism and Warrnambool accommodation is first-rate with a variety of options from camping to luxury apartments.
Where is Warrnambool?
Warrnambool is located 260 kilometres south-west of Melbourne via the Princes Highway. It lies at the western end of the Great Ocean Road on a dangerous stretch of coastline that has seen over 80 shipwrecks.
It takes about three hours travelling inland to get from Melbourne to Warrnambool by car. However, many visitors include it as part of their Great Ocean Road itinerary.
Getting from Melbourne to Warrnambool via the Great Ocean Road takes around 5 1/2 hours without any stops.
Tip: Do not underestimate driving times on the GOR as traffic can be slow and you'll definitely want to stop to admire the view.
13 Top Things To Do In Warrnambool
1) Flagstaff Hill Maritime Village And Museum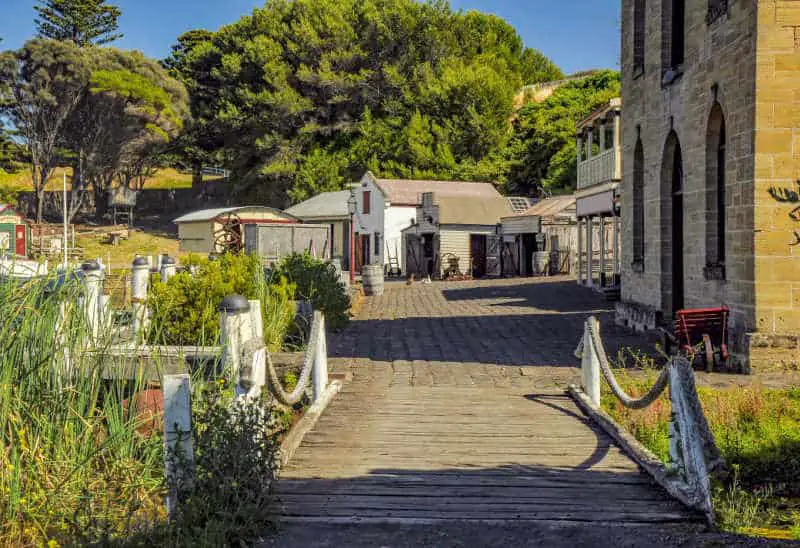 One of the most popular things to see in Warrnambool for visitors is the Flagstaff Hill Maritime Village and Museum.
The spectacular coastline around Warrnambool is the final resting place for dozens of shipwrecks. The unforgiving seas claimed many lives as ships desperately tried to find the narrow shipping route into Port Phillip Bay.
Flagstaff Hill Museum tells the stories of the crewmen and passengers whose lives were claimed by the Shipwreck Coast.
Here you'll learn about 19-year-old Tom Pearce – one of only two survivors of the sunk clipper Loch Ard – who upon hearing the cries of Eva Carmichael heroically rushed back into the icy waters to save her.
The only other survivor was the stunning Loch Ard Peacock. A highlight of the museum, at $4 million the stature is Australia's most valuable shipwreck artefact.
As interesting as the museum is, the highlight of Flagstaff Hill Warrnambool is the reconstructed outdoor village that overlooks the beautiful Lady Bay.
The village is a taste of what life was like for Australia's early settlers. There are more than 40 buildings to explore including a school, a dressmaker's, a blacksmith's workshop, a fire station, and even a lighthouse.
Several dressed-up characters wander around the village engaging with visitors and bringing some of the region's history to life.
When planning your itinerary be sure to add Flagstaff Hill to your Warrnambool things to do list.
Flagstaff Hill
Where: 89 Merri Street, Warrnambool
When: 7 Days, 10 a.m – 5 p.m
Phone: (03) 5559 4600
Click here to book tickets
2) Flagstaff Hill Sound And Light Show
When the sun goes down Flagstaff Hill transforms into a dramatic sound and light show that highlights the region's fascinating maritime history.
It's one of the more unique Warrnambool attractions and is a wonderful addition to your daytime visit.
Images that tell the stories of local Aboriginal people, the whaling industry, shipwrecks, and survivors are projected onto a 9-metre high wall of water.
The show begins at dusk, which varies depending on the time of year, and runs in all weather conditions. Seating is undercover but it's open to the elements so it's best to rug up.
It's best to book ahead as there is limited availability. Day and night packages are available.
Flagstaff Hill Sound & Light Show
Where: 89 Merri Street, Warrnambool
When: Daily at dusk
Phone: (03) 5559 4600
Click here to pre-book tickets
3) Warrnambool Whale Watching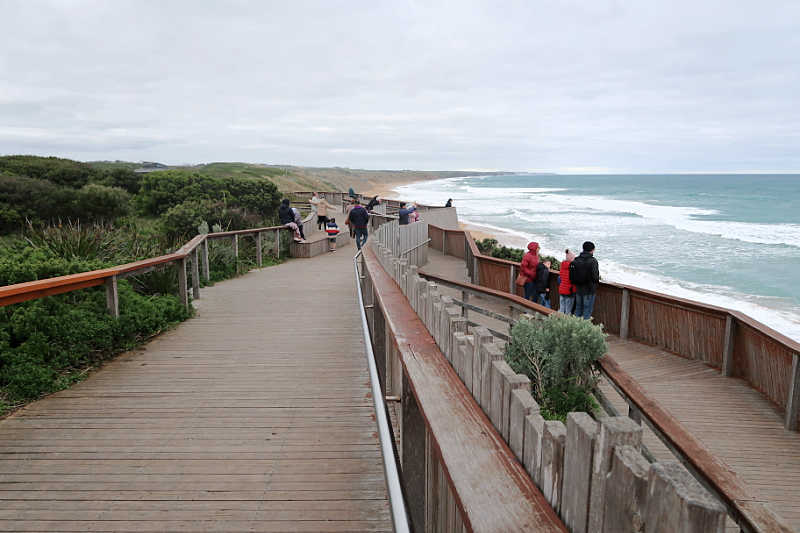 Without a doubt, the best thing to do in Warrnambool in winter is whale watching.
Southern Right whales have been visiting Logans Beach Warrnambool for hundreds of years.
Named Southern Right as they were considered the 'right' type of whale to hunt, the whales were hunted to the edge of extinction.
Fortunately, whaling was outlawed in 1935 and Southern Right numbers are slowly increasing.
The Warrnambool whales spend summer in the sub-antarctic and move to the warmer waters of southern Australia in winter – between June and September.
It's here the female whales in Warrnambool birth their calves at the Logans Beach whale nursery.
The best place to spot whales in Warrnambool is from the specially built Logans Beach whale watching platform.
Tip: For the best chance to see whales check out this whale watching Warrnambool Facebook Group for up-to-date information. Don't forget your binoculars!
4) Warrnambool Foreshore Promenade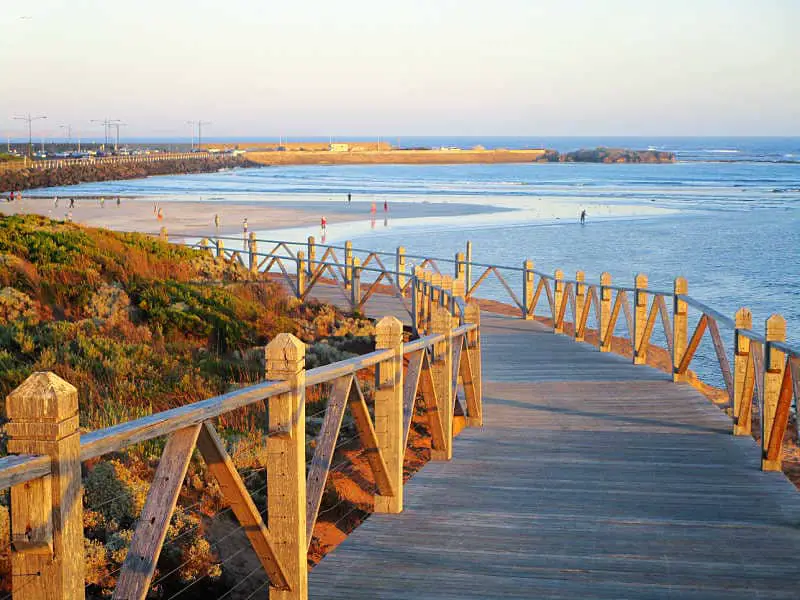 If you're looking for Warrnambool activities and enjoy getting out and walking then head to the Foreshore Promenade.
The Promenade stretches from the Warrnambool Breakwater and Thunder Point all the way to Logans Beach Whale Nursery.
At 5.7 kilometres long it's a decent length but there are plenty of places to stop and rest, and you can even grab a coffee and something to eat along the way.
The walk takes you past Middle Island a breeding ground for Little Penguins, and the setting of an incredible true story about the town's efforts to save the Warrnambool penguins.
A local chicken farmer, Swampy Marsh, had been using Maremma dogs to help protect his free-range chickens. He believed the dogs could also be used to protect the penguins from foxes and other predators.
The Warrnambool locals decided to test his theory and Maremma dogs were trained and placed on the island.
The program was so successful, and people loved the story so much, that it was made into a movie called 'Oddball'. Try watching it without shedding a tear!
The promenade is particularly stunning at sunset. It's suitable for all forms of wheeled transport including bikes, rollerblades, wheelchairs, and prams.
5) Fletcher Jones Warrnambool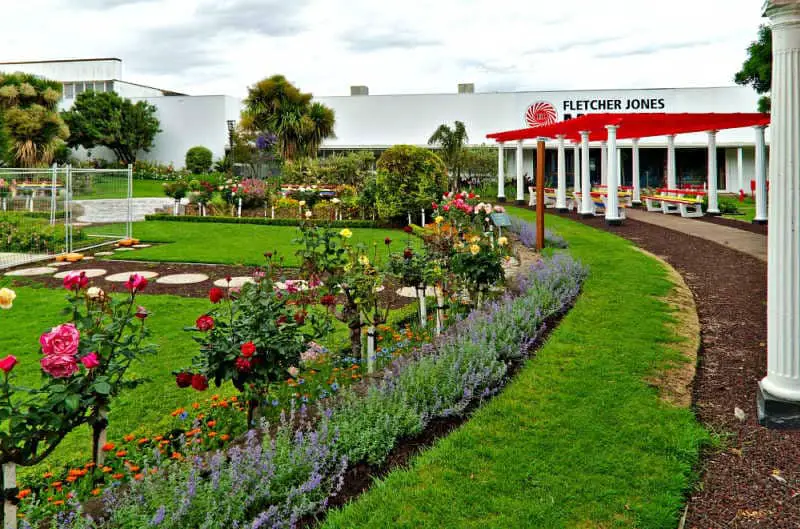 Fletcher Jones was an iconic Australian clothing brand with a reputation for quality products.
Its factory was a major employer in Warrnambool and the company was known for its progressive approach to employer/employee relations.
Nowhere is this more evident than in the beautiful Fletcher Jones Gardens. They were built by David Fletcher Jones as part of a program to look after the welfare of his workers.
The factory is closed now but the gardens remain open and it's well worth popping by for a look. They're kept in excellent condition with colourful flower beds, manicured lawns, sculptures, and plenty of bench seats.
Inside the factory is a vintage market where you can find unique one-off items that you can't find anywhere else.
The Fletcher Jones Market is spread over two levels with over 40 stallholders selling antiques and collectibles, old books, records, vintage clothing, and anything else you can think of!
Enter through the garden and learn about the history of this iconic clothing company.
Fletcher Jones Market Warrnambool
Where: 61 – 77 Flaxman Street, Warrnambool
When: 7 Days, 10 a.m – 5 p.m
Entry: Free
6) Cannon Hill Lookout
Cannon Hill Lookout is one of the interesting places to visit in Warrnambool for history buffs.
It also offers panoramic views across Lake Pertobe, Warrnambool Beach, and the Southern Ocean.
Cannon Hill Warrnambool was named for the military hardware that was installed there in the mid-1800s in preparation for a Russian invasion.
The hill is now home to display cannons from the First and Second World Wars. It also features the city's war memorials and a collection of monuments commemorating the early Portuguese exploration of the southwest.
This is also where you'll find Warrnambool's infamous 'Dirty Angel' statue. The statue was erected in 1925 as a memorial to the services of Australian war veterans.
It was given the cheeky 'Dirty Angel' nickname in typical Australian style, due to its unfortunate silhouette when viewed from the side.
7) Allansford Cheese World
If you're looking for things to do in Warrnambool when it's raining (and even when it's not) then head to Allansford Cheese World.
Run by the Warrnambool Cheese and Butter Factory, visitors can enjoy free tastings of award-winning cheeses and browse a wide selection of locally produced cheese and wine.
The Cheese World museum has an extensive collection of farm machinery, household items, and mementos from the early 1900s. It's a trip back in time that provides a glimpse of what life was like for the hard-working farming families.
In addition to the museum, there's a lovely cafe serving breakfast, light lunches, and snacks. Unsurprisingly, cheese platters and plowman's lunches are the house specialty. But it's their famous creamy milkshakes that keep people coming back.
Allansford Cheese World Warrnambool
Where: 5330 Great Ocean Road, Allansford
When: Weekdays 9 a.m – 5 p.m, Weekends 10 a.m – 4 p.m
Entry: Free
8) Lake Pertobe Adventure Playground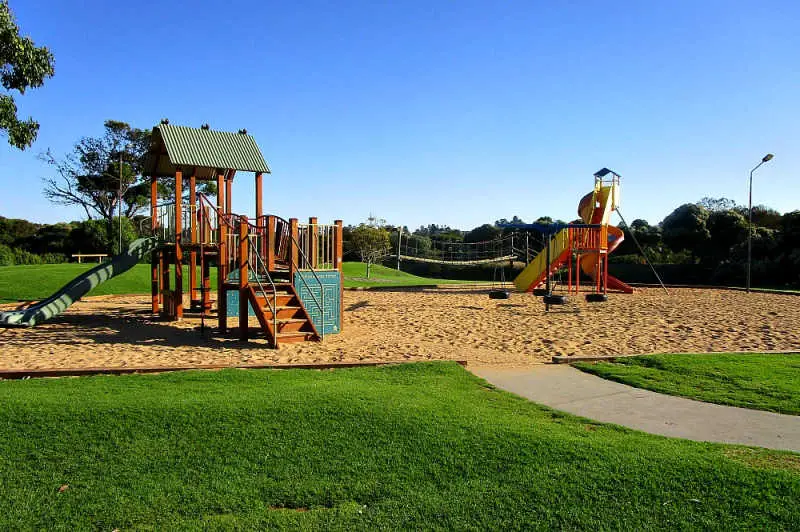 For anyone looking for things to do in Warrnambool for kids with energy to burn, then the Lake Pertobe Adventure Playground should be their first stop.
Spread over a huge 8-hectare area, the park offers so much to explore the kids will never want to leave!
The playground is suitable for all ages with enough equipment to keep them entertained for hours.
As well as plenty of climbing options, there's a flying fox, sandpits, a giant slide, and even a maze. There are also sheltered barbecue facilities and shaded seats for a relaxing family picnic.
The lake itself is dotted with small islands and there are walking tracks, swing bridges, and birdwatching hides. We're told it's possible to hire boats to paddle on the lake but we didn't see any when we were there.
The Lake Pertobe Warrnambool precinct is also home to tennis courts, an athletics track, and a skateboard park.
Lake Pertobe Warrnambool Playground
Where: 47 – 107 Pertobe Road, Warrnambool
9) Warrnambool Mini Golf By The Sea
One of the super fun family things to do at Warrnambool is to play a round of mini-golf.
Sitting adjacent to Lake Pertobe Adventure Playground, Mini Golf by the Sea offers 18-holes of golfing fun.
The course is well set out and maintained and there's a giant jumping pillow for the kids.
There's no need to book ahead and onsite parking is available.
Mini Golf By The Sea
Where: 47 Pertobe Road, Warrnamool
When: Monday – Friday 10 a.m – 4 p.m, Saturday – Sunday 10 a.m – 5 p.m
Phone: (03) 5562 0644
10) Warrnambool Beach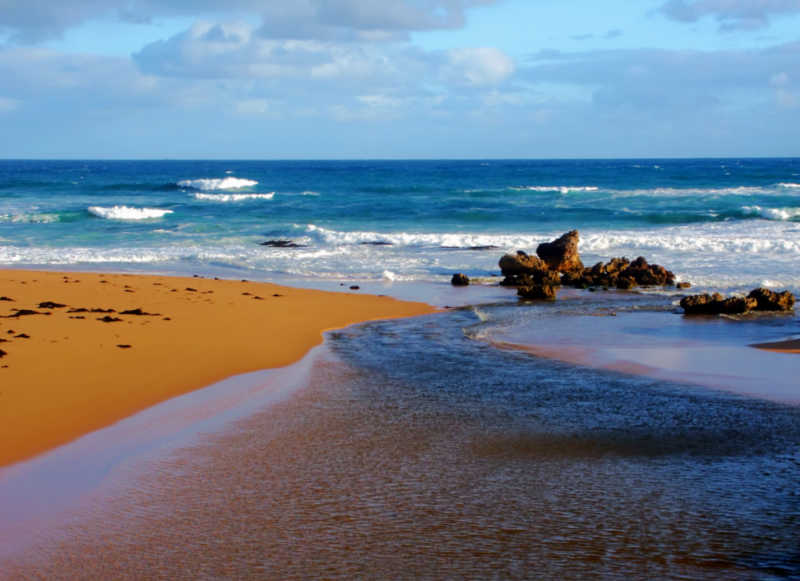 When the weather heats up one of the best things to do is head to a Warrnambool beach.
Despite its rugged coastline, there are still some beautiful beaches in Warrnambool that are safe for swimming.
The picturesque Lady Bay has the main beach in Warrnambool and offers protected swimming and surfing, as well as yachting and windsurfing.
Its coastline is broken up into McGennans Beach, Surfside Beach, The Flume, and the oddly named Granny's Grave Beach.
The Warrnambool Surf Lifesaving Club patrols Lady Bay during the summer months and on popular weekends.
11) Warrnambool Art Gallery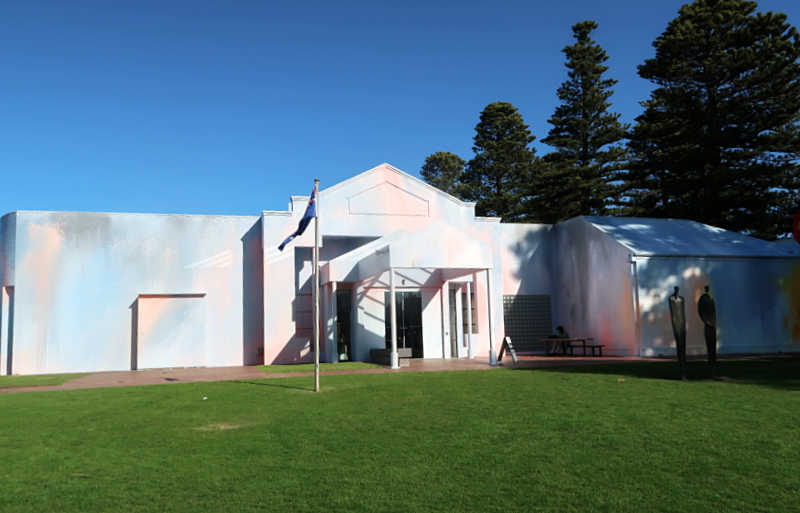 For art lovers, the Warrnambool Art Gallery (WAG) is one of the must visit Warrnambool tourist attractions.
Established in 1886 it is owned and operated by the local council as a memorial to Sir Fletcher Jones and is said to be one of the oldest in the country.
There are two permanent collection galleries, a prints and drawings gallery, as well as a temporary exhibition space, and a community gallery.
The gallery has a diverse collection of artworks including European salon painting, Australian colonial painting, Melbourne modernism, and works of local significance.
Warrnambool Art Gallery
Where: 26 Liebig Street, Warrnamool
When: Monday – Friday 10 a.m – 5 p.m, Saturday – Sunday 10 a.m – 3 p.m
Phone: (03) 5559 4959
Entry: Free
12) Tower Hill Wildlife Reserve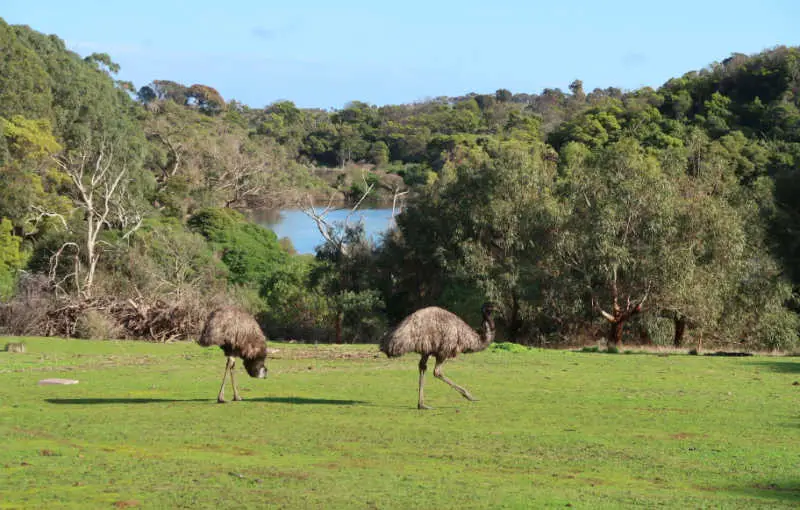 One of the best things to do around Warrnambool is to take a trip out of town to Tower Hill Wildlife Reserve.
Located 14 kilometres west of Warrnambool, Tower Hill sits inside a spectacular dormant volcano.
It is home to an array of Australian wildlife including emus, kangaroos, koalas, wallabies, echidnas, reptiles, and birds.
Visitors are pretty much guaranteed to see some form of wildlife, emus hangout around the car park and picnic areas, there is an abundance of koalas, and kangaroos like to come out to graze in the late afternoon.
The park is well laid out with walking tracks to suit all abilities, and there are nesting boxes and a bird hide to help bird lovers spot the many native birds.
If you want to make a day of it there are electric barbecues, picnic tables, and toilets, as well as the Worn Gundidj Visitor Centre that sells food and coffee.
Tours are available from the centre, run by experienced local guides you will learn about the transformation of Tower Hill from a desolate wasteland to the abundant wildlife reserve it is today.
Tower Hill Reserve
Where: Entrance Road, Tower Hill
When: Always Open, Visitor Centre – 10 a.m – 4 p.m
Entry: Free
13) Warrnambool Botanic Gardens
The English park-like Warrnambool Gardens are a lovely place to spend a morning or an afternoon.
Designed in the classic style these immaculate gardens feature expansive lawns, ancient trees, and wide meandering paths perfect for a casual stroll.
A key feature is the large lily pond that provides a sense of calm as well as a home for the resident ducks.
There's also a nature based play space that's designed to engage children with plants and the heritage botanic gardens with the use of clambering logs and rock shards.
Guided walks are by appointment only.
Warrnambool Botanic Gardens
Where: Cnr Queens Road & Botanic Road
Entry: Free
Phone: 0409 624 059 for guided walks
Things To Do Warrnambool List | Final Word
We hope this things to do at Warrnambool list has inspired your trip to Warrnambool, Victoria.
From whale watching Warrnambool to lookouts, family activities, and markets in Warrnambool, we've listed all the best Warrnambool tourist attractions.
I'm sure you'll love exploring Warrnambool as much as we did.
Related Posts: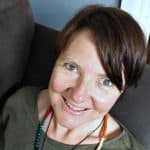 By Audrey Chalmers
Audrey grew up in Victoria and travelled the world but she always called Victoria home. She loves nothing more than exploring her home state and sharing it here.