This article may contain compensated links. For more information read our disclaimer here.
Looking For The Perfect Great Ocean Road 2 Day Itinerary?
You've landed in the right place! We live just 20 minutes from the Great Ocean Road and visit it often. It's one of our favourite Victorian getaways.
In this article, I'm going to show you the best way to spend 2 days and 1 night on the Great Ocean Road in Victoria. So you'll be able to enjoy every second of your trip.
This 2 day Great Ocean Road itinerary allows you to drive the Great Ocean Road in a couple of days, seeing all the highlights of the rugged coastline, the beautiful natural landscape and the attractive towns along the way. 
This Great Ocean Road route also includes opportunities to encounter local wildlife, such as Australian koalas and rainforest-dwelling glow worms.
We always manage to spot a wallaby or a kangaroo when we visit too.
Also covered are the Great Ocean Road towns that make the best stops for lunch and an overnight stay.
If you don't feel safe driving on the left or would prefer to relax and let someone else do the driving, there are some fantastic 2 Day Great Ocean Road Tours available.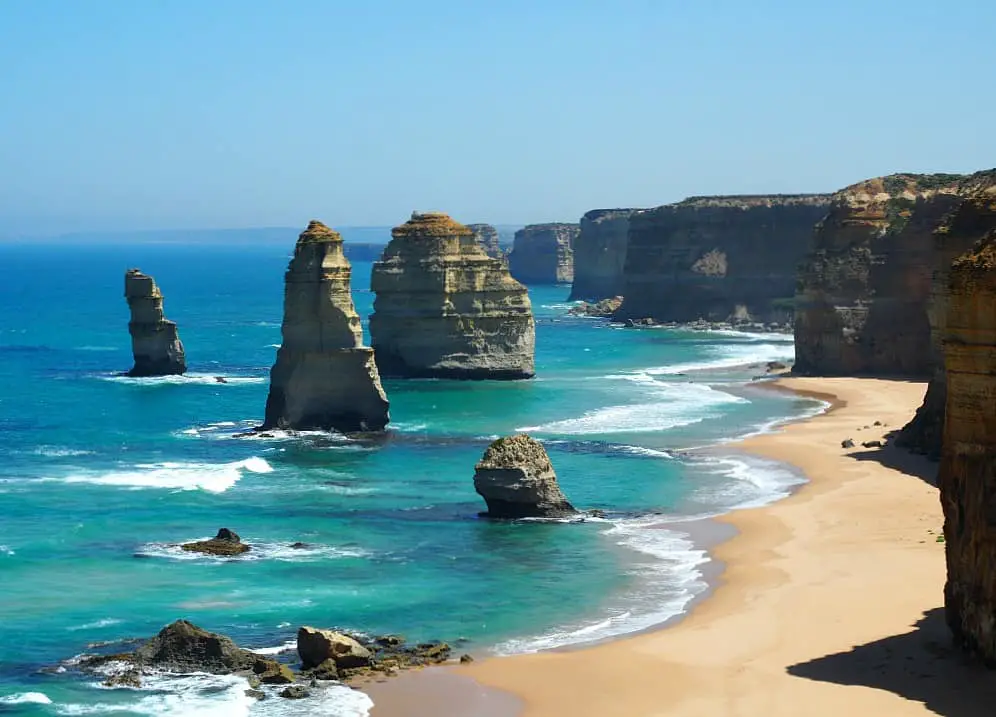 To make the most of your trip I recommend starting early each day to maximise your time.
The road is long and winding and travel distances take longer to drive than you'd expect. You'll also be making lots of stops along the way.
Let's get to it!
Great Ocean Road 2 Day Itinerary
This is the Great Ocean Road itinerary you need when you have just two days and one night at your disposal.
Day 1: Melbourne To Apollo Bay
During day one of our suggested Great Ocean Road itinerary for 2 days, you'll set off from the coastal town of Torquay, home of world-famous Bells Beach.
Next, you'll call at several points of interest, including Anglesea, Loveridge Lookout, Split Point Lighthouse and the iconic Great Ocean Road Sign before breaking for lunch in Lorne.
In the afternoon, Erskine Falls, Teddy's Lookout, the Kennett River Koala Walk and the glow worms at Maits Rest await.
Your final stop of the day – and for the night – is Apollo Bay, one of the nicest towns along the Great Ocean Road.
Torquay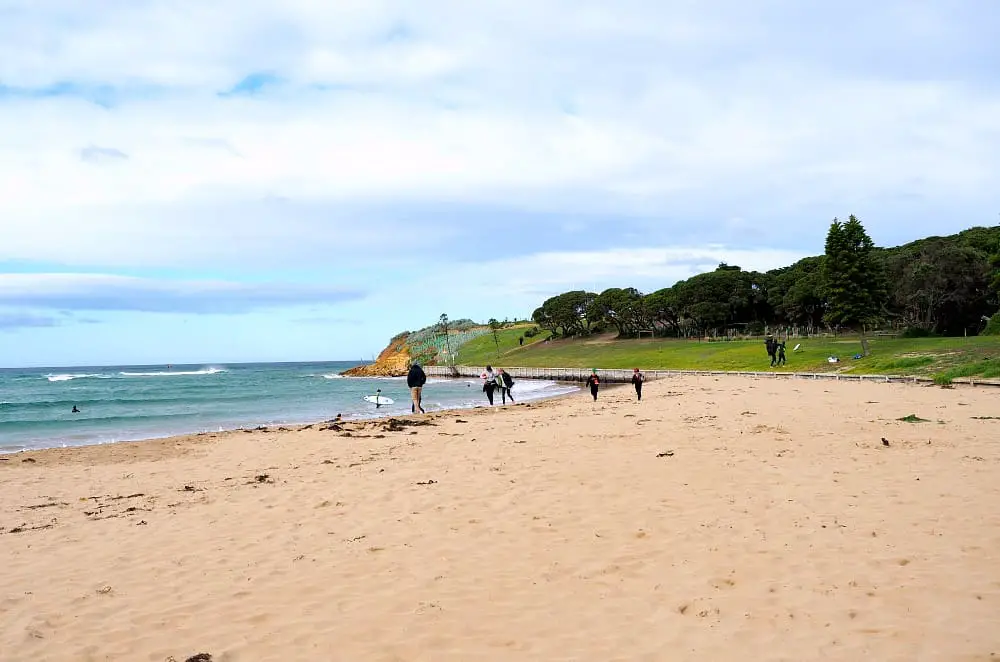 Torquay marks the official start of the Great Ocean Road.
This windswept coastal settlement is also viewed by many as the Australian surfing capital. So of course you can expect to see some of the Great Ocean Road best beaches in this area.
Other Torquay local attractions include the great range of popular surf shops for anyone who's into surfing equipment or fashion.
There's also not only one Torquay beach to see but several, including the home of the Bells Beach Rip Curl Pro, competitive surfing's longest running event.
The Australian National Surfing Museum can also be found in town.
As well as Bells Beach and the one in town, others to visit include Jan Juc Beach and Point Impossible Beach.
The former is popular with experienced surfers, while the latter is where the Surf Coast walking trail begins.  
Bells Beach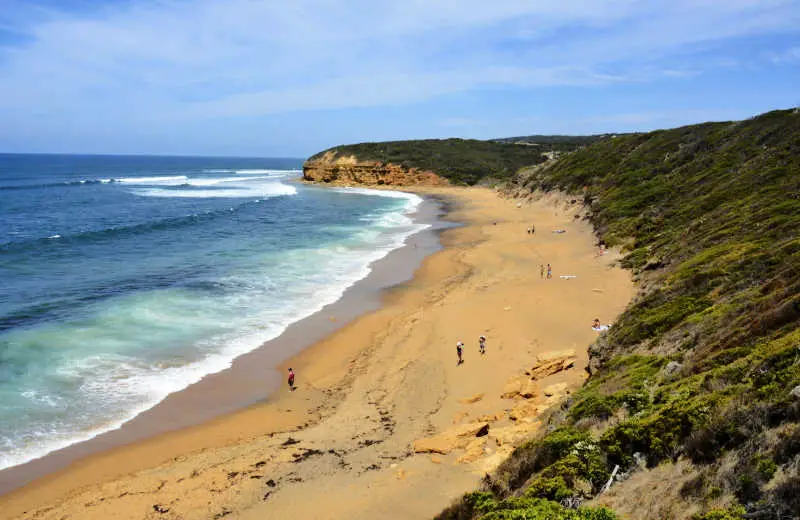 Bells Beach is home to the Rip Curl Pro, which forms part of the World Surf League Championship Tour.
It's a location that belongs on any keen surfer's – or spectator's – map of the world. This takes place annually during Easter weekend.
Bells Beach is named after a local Master Mariner, William Bell, who was something of a property tycoon in the area during the mid 19th century.
The swells that roll into the curving bay here are legendary, especially during winter.
It's quite something watching the local surfers ride the waves here at any time of the year, though.
Anglesea Loveridge Lookout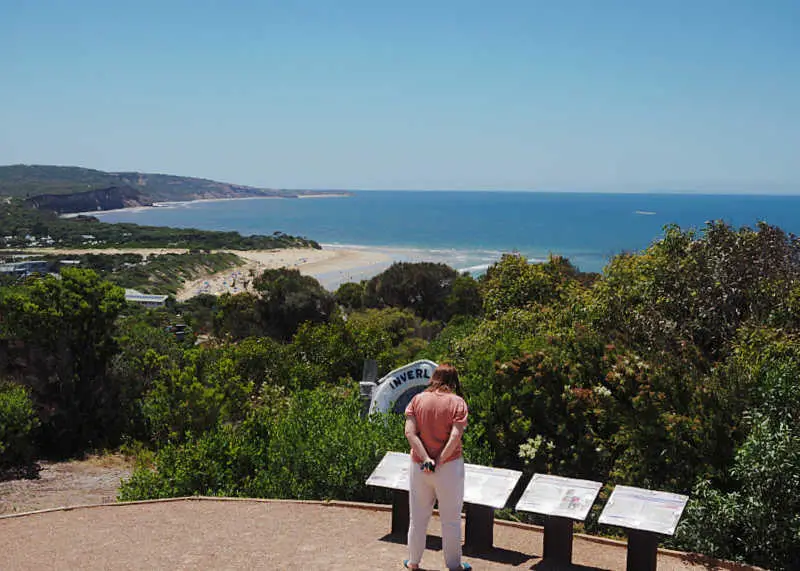 Other than Torquay and its beaches, the first stop on your 2 day Great Ocean Road trip should be Loveridge Lookout.
This Anglesea lookout was built by Bertha Loveridge in 1938 as a memorial to her husband James.
It's an unspoiled and natural sight offering sweeping views over the Bass Strait and local beaches.
Signage tells the tale of the Loveridges, and there's usually plenty of parking. A pergola here provides some shelter during wet or windy weather.
Split Point Lighthouse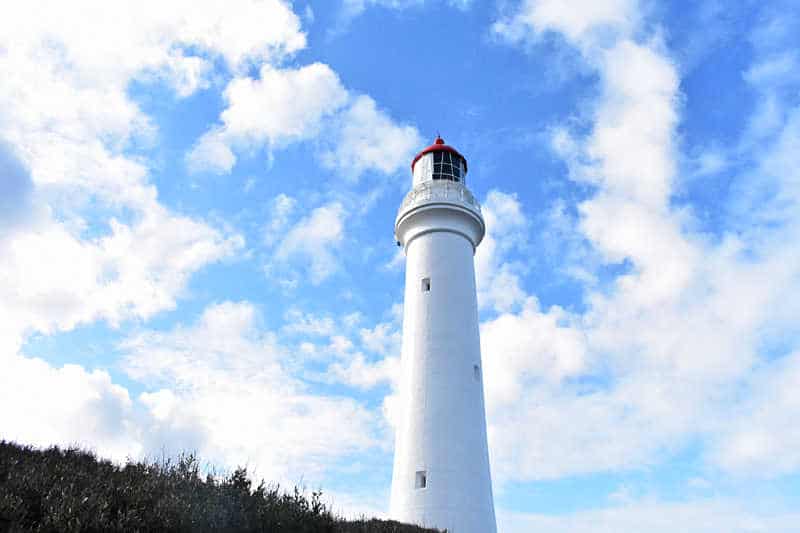 Split Point Lighthouse is situated in Aireys Inlet, another of the Great Ocean Road's attractive towns. It's an important site on the Shipwreck Coast and within local maritime history.
You can climb Split Point Lighthouse for unparalleled, 360 degree views of the rugged Victorian coastline.
It's open daily unless the weather poses a threat, and is still a working lighthouse to this day.
If you're lucky, you could even spot whales or dolphins while looking out to sea from here.
👉 Join our Great Ocean Road Travel Planning and Tips Facebook Group here. It's the perfect place to ask your questions and be inspired!
Great Ocean Road Sign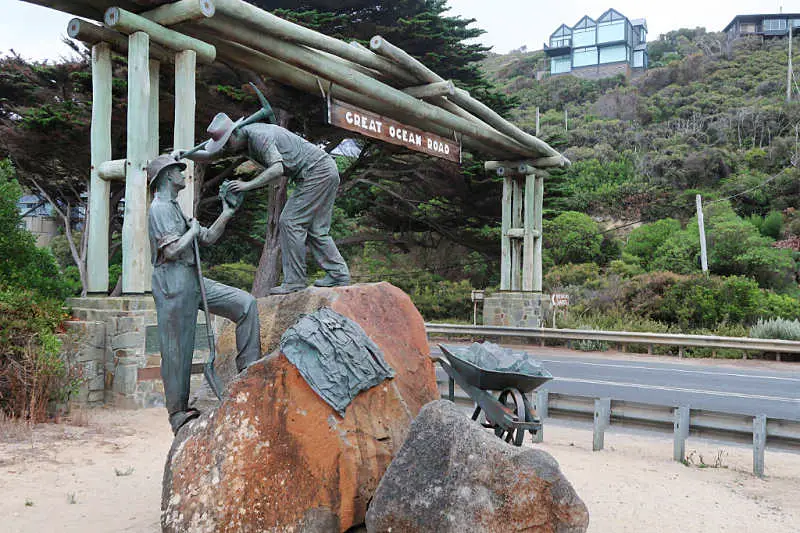 The Great Ocean Road sign – or memorial arch – can be reached shortly after leaving Airey's Inlet.
It's an absolute must on any 2 day trip along the Great Ocean Road, as no one passes by without taking a picture or two here.
The memorial was built to commemorate the returned soldiers who built the Great Ocean Road after World War II.
There are informational signs and a statue in addition to the famous wooden arch.
Lunch in Lorne
After visiting the town and beaches of Torquay, a lighthouse, a lookout and the iconic Great Ocean Road Memorial Arch, lunch in Lorne allows you to rest and recuperate for a while before hitting the road once more.
Here are a couple of suggestions for the best places to eat in town.
The Bottle Of Milk
The Bottle Of Milk in Lorne is a lovely and highly-rated retro-style cafe with indoor and outdoor tables.
It serves top-notch coffee, super smoothies and shakes, banging burgers and all-day breakfasts.
The Bottle Of Milk

Where: 52 Mountjoy Parade, Lorne

When: Friday to Tuesday 8 am to 4 pm.

Phone: (03) 5289 2005
The Salty Dog Fish and Chips
The Salty Dog Fish and Chips – or Fish and Chippery – is another option for your lunch break in Lorne.
Portions of the freshest fish and seafood are generous, and there's a good range of fish to choose from.
There is outdoor seating, or you can eat on the beach or the grassy Lorne foreshore.
The Salty Dog Fish And Chippery

Where: 148 – 174 Mountjoy Parade, Lorne

When: Mon – Thur: 11 am – 7.30 pm, Fri – Sat: 11 am – 8 p.m, Sun: 11 am – 7 p.m

Phone: (03) 5290 1300
Erskine Falls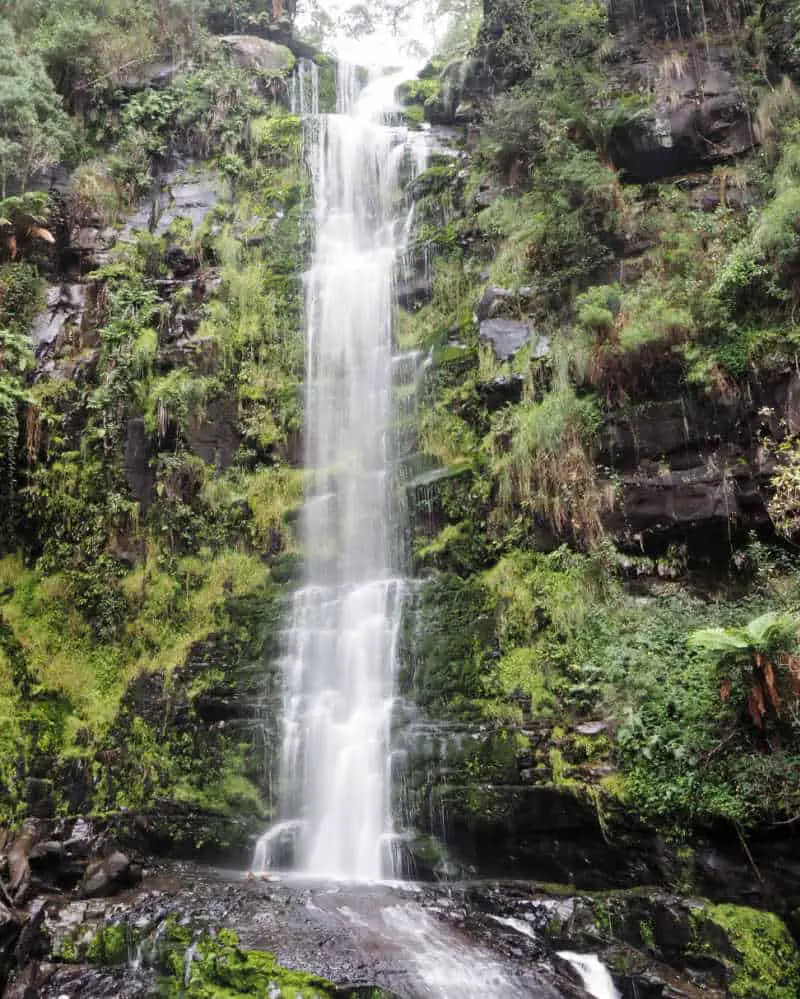 Erskine Falls is a must when you're doing the Great Ocean Road in 2 days.
One of the beautiful Otways waterfalls, the falls tumble 30 metres into a lush gully lined with tree ferns.
Here you can find a couple of walking trails to the two lookouts. The second gives you the best views, but requires a more demanding ascent.
You can take the Erskine River Walk to Lorne from here too, which is a 7.5 kilometre (about 4.5 mile) walk.
This is a good option for before lunch – rather than after – if you wanted to switch things up slightly.
Teddy's Lookout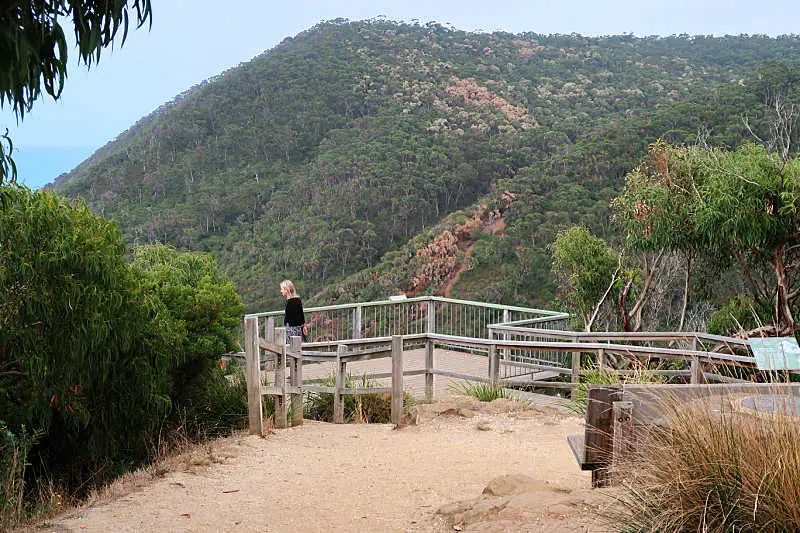 Also close to Lorne is Teddy's Lookout. This allows you to see where the Southern Ocean and Saint George's River meet.
As well as the craggy coastline of the area, this lookout affords visitors sweeping vistas over the gorges and valleys cloaked in lush greenery.
Teddy's Lookout has a newly built walkway leading to a wooden balcony.
The magnificent ocean and inland views from here are incredible, so make sure your camera is fully charged before setting off!
Kennett River Koala Walk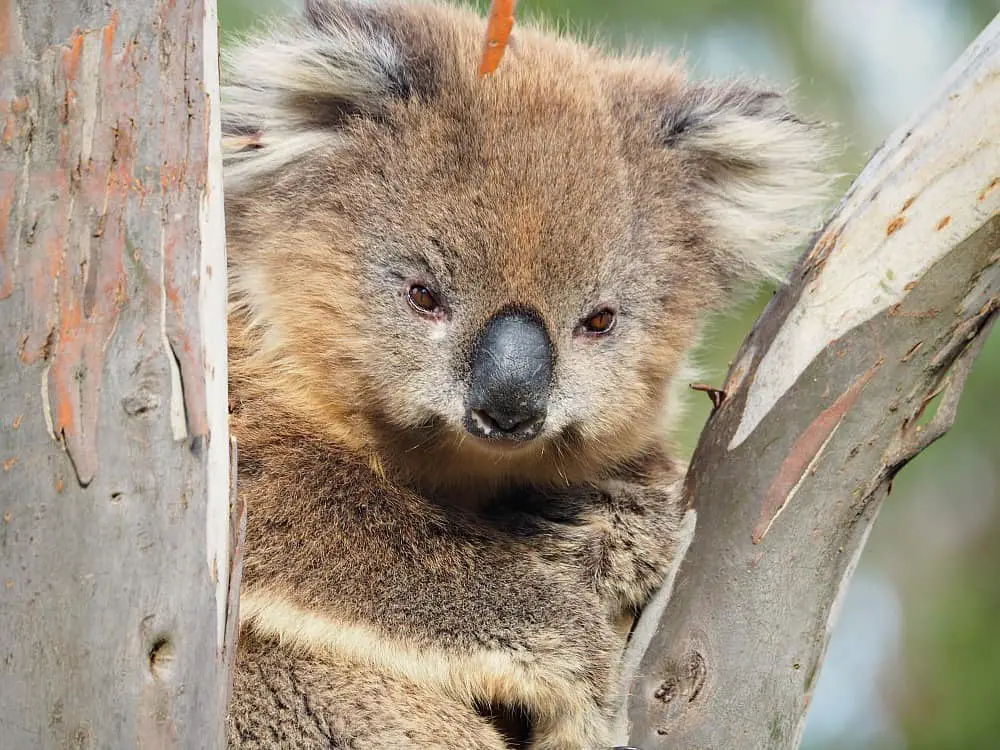 Are you in search of some Great Ocean Road koalas? Then you definitely need to include the Kennett River Koala Walk on your Great Ocean Road 2 day self drive itinerary.
The entire route is 15 kilometres (or around 9.5 miles), but you can follow only a very short section should you want to.
Take the uphill path leading from the Kafe Koala General Store in peaceful Kennett River to spot koalas.
The creatures are often seen simply sleeping in the eucalyptus trees.
They can be quite high up, so if you have a set of binoculars it's worth taking them along with you.
Maits Rest – Glow Worms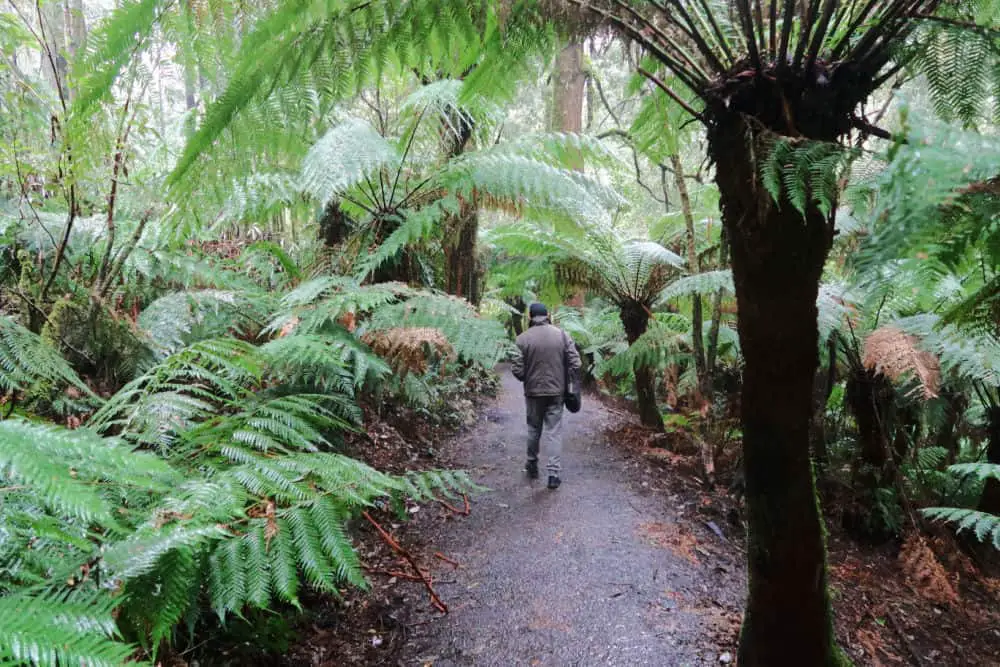 This rainforest walk makes a refreshing change – and is known for the Maits Rest glow worms that can be seen here.
The loop takes around half an hour to complete and is a self-guided trail through the rainforest.
Some of the trees you'll see here are several hundred years old, and you can also expect lush fern gullies and moss underfoot.
If you want to spot the resident glow worms, come in the evening and bring a torch. They can usually be spied at ground level, next to the boardwalk.
Dinner in Apollo Bay
The first day of your Great Ocean Road two day itinerary ends in Apollo Bay.
A delicious dinner is definitely a well-deserved treat to look forward to at this point, and we're sharing a couple of ideas for the best places to eat.
Chris's Beacon Point Restaurant and Villas
Chris's Beacon Point Restaurant and Villas has become something of a foodie destination in its own right.
Meaning you'll need to secure a table in advance!
The elevated position offers jaw-dropping views over the coastline and the Otways.
The food is fresh, modern Australian with Middle Eastern and Mediterranean influences.
Chris's Beacon Point Restaurant

Where: 280 Skenes Creek Road, Apollo Bay, 3233

When: Mon, Thur – Sun: 6.00 pm – Close, Closed Tuesday & Wednesday

Phone: (03) 5237 6411
The Apollo Bay Hotel
The Apollo Bay Hotel is another good option, right over the road from the beach.
You can choose to dine in the bar or restaurant here, and the menus focus on seasonal, local produce.
Seafood, chicken schnitzel or parma, pasta, sharing platters and steaks are typical highlights of the menu.
Apollo Bay Hotel

Where: 95 Great Ocean Road, Apollo Bay 3233

When: Sund – Thu: 11.00 am – 11.00 pm, Fri – Sat: 11.00 pm – Late

Phone: (03) 5237 6250
Overnight in Apollo Bay
Here are our top two recommended places to stay in Apollo Bay.
Beacon Point Ocean View Villas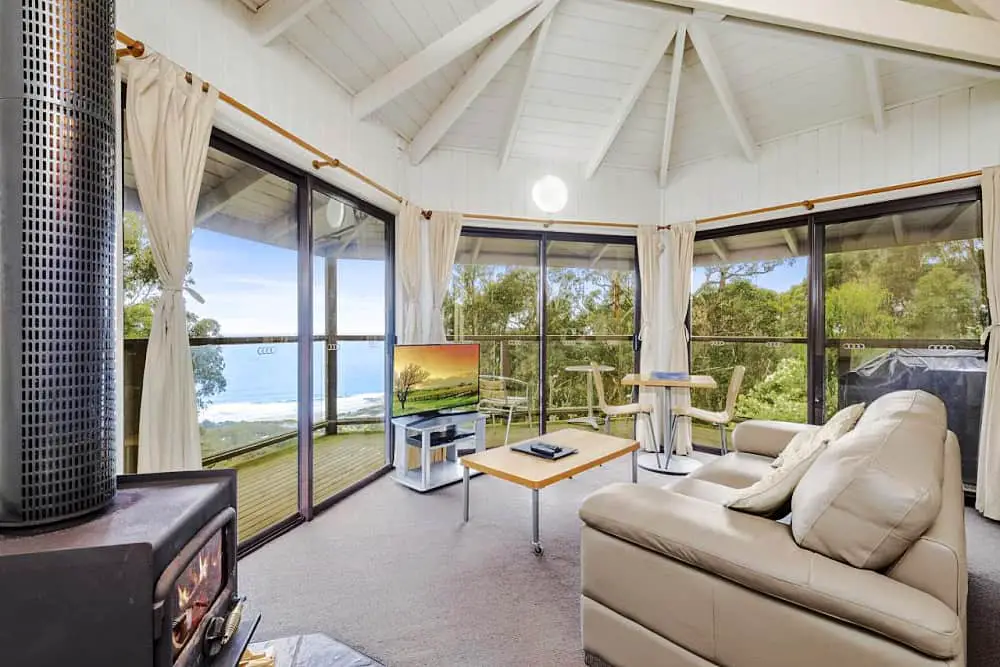 Overnighting at Beacon Point Ocean View Villas by Skenes Creek is ideal for those dining at Chris's Beacon Point Restaurant: the two are just 50 metres apart.
We stayed here on one of our trips to Apollo Bay and it was so convenient to walk to the restaurant and not have to get in the car again. Or worry about being over .05!
The selection of one and two bedroom villas offers sea view balconies, full kitchens and laundry facilities, a tennis court and a shared BBQ area.
Some also have a spa bath or a cosy fireplace.
➡️ Check Prices And Availability Here!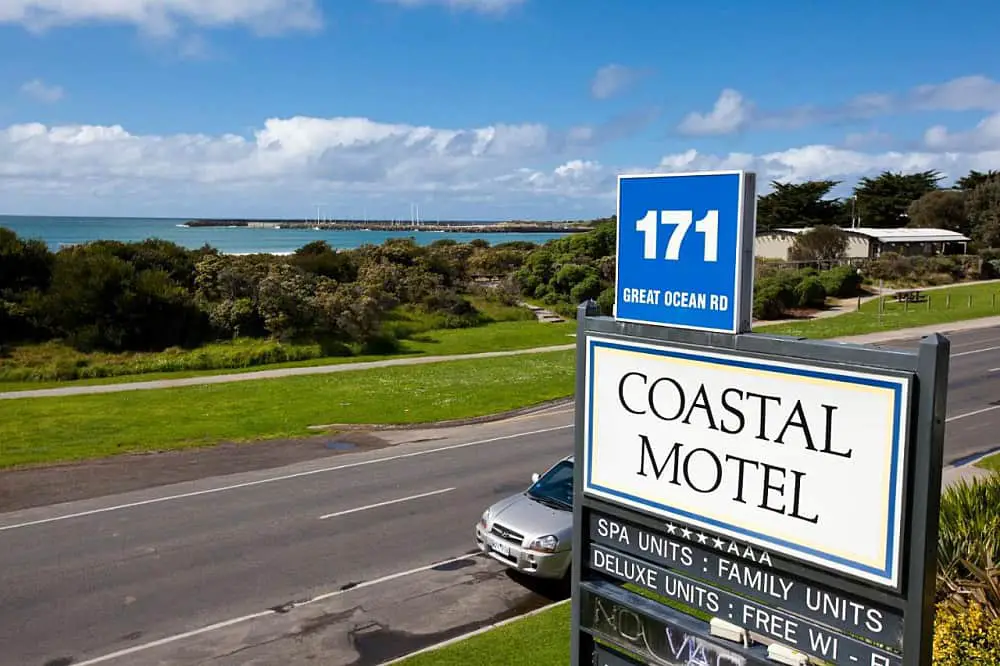 The Coastal Motel in Apollo Bay actually has a Great Ocean Road address, so it couldn't be more conveniently positioned.
It offers bright, contemporary accommodation and rooms with kitchenettes giving you the option to eat in.
The motel is right across the road from the beach.
➡️ Check Prices And Availability Here!
Day 2: Apollo Bay To Port Campbell
On the second day of this Great Ocean Road 2 days' itinerary you'll see the area's main landmark – the Twelve Apostles.
During the morning you'll also visit Marriners Lookout, Cape Otway Lightstation, the Gibson Steps and Loch Ard Gorge.
After lunch and The Arch in Port Campbell, the renowned rock formations that belong on any Great Ocean Road trip itinerary are on the agenda.
These include London Bridge, The Grotto, the Bay Of Martyrs and the Bay Of Islands.
Finally, foodie Timboon makes a great pitstop en route when you're returning to Melbourne.
Marriners Lookout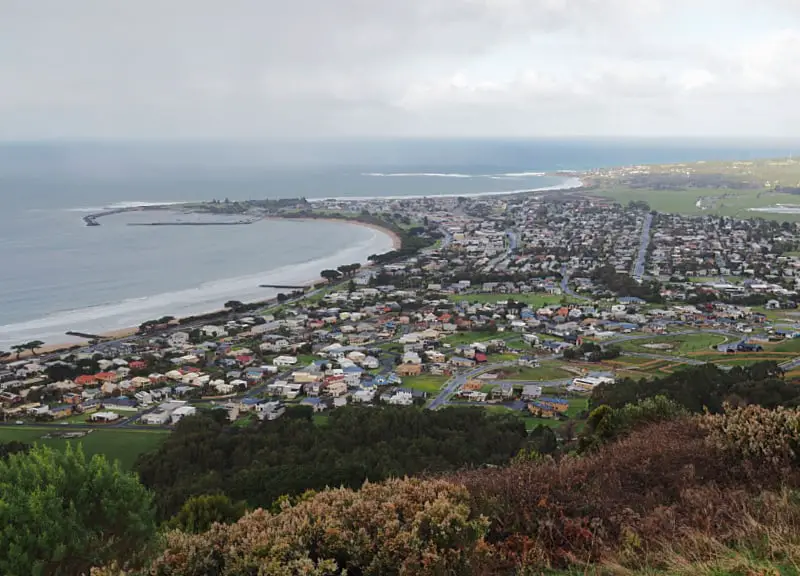 Marriners Lookout is one of the must-see attractions in Apollo Bay when you want to enjoy incredible views over the Great Ocean Road area.
It's positioned on top of a hill, just a short drive from Apollo Bay. And it takes around 10 minutes to walk to the lookout from the car park.
You'll then be rewarded with spectacular coastal, town and hinterland views.
If you're up for more of a challenge, you can walk around three kilometres (about two miles) to the lookout from Apollo Bay instead of driving.
This Apollo Bay lookout is also a popular starting-off point for hang gliders.
Cape Otway Lightstation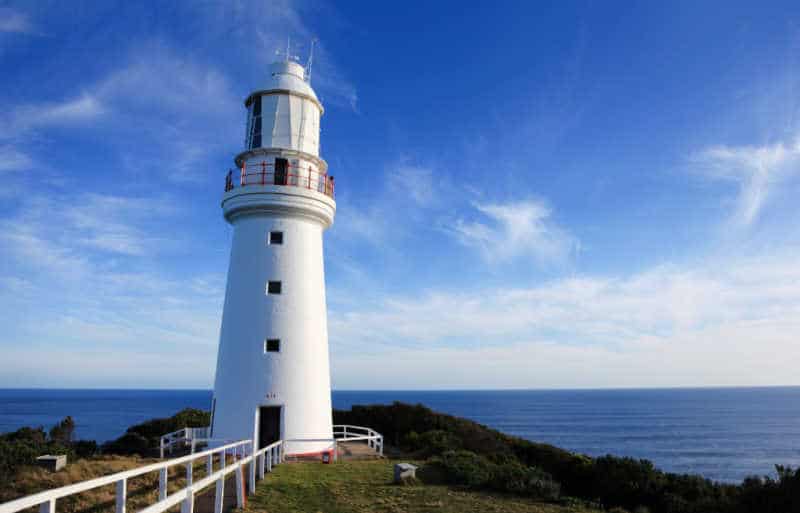 Cape Otway Lighthouse – or Lightstation – is the oldest working lighthouse in Victoria.
It's also a big draw for wildlife lovers, as migrating whales swim very close to Cape Otway during winter and spring.
As well as being the oldest in the state, Cape Otway Lightstation is seen as the most significant in Australia. It dates back to 1848 and is perched 90 metres above Bass Strait.
Though many lives were historically lost on this stretch of coastline, the light station is known as the Beacon of Hope.
Another important factor in the history of the lighthouse is the fact that the site often marked the first sighting of land after many months at sea.
During the 19th century, Cape Otway was where European, American and Asian migrants first spotted Australian land.
Gibson Steps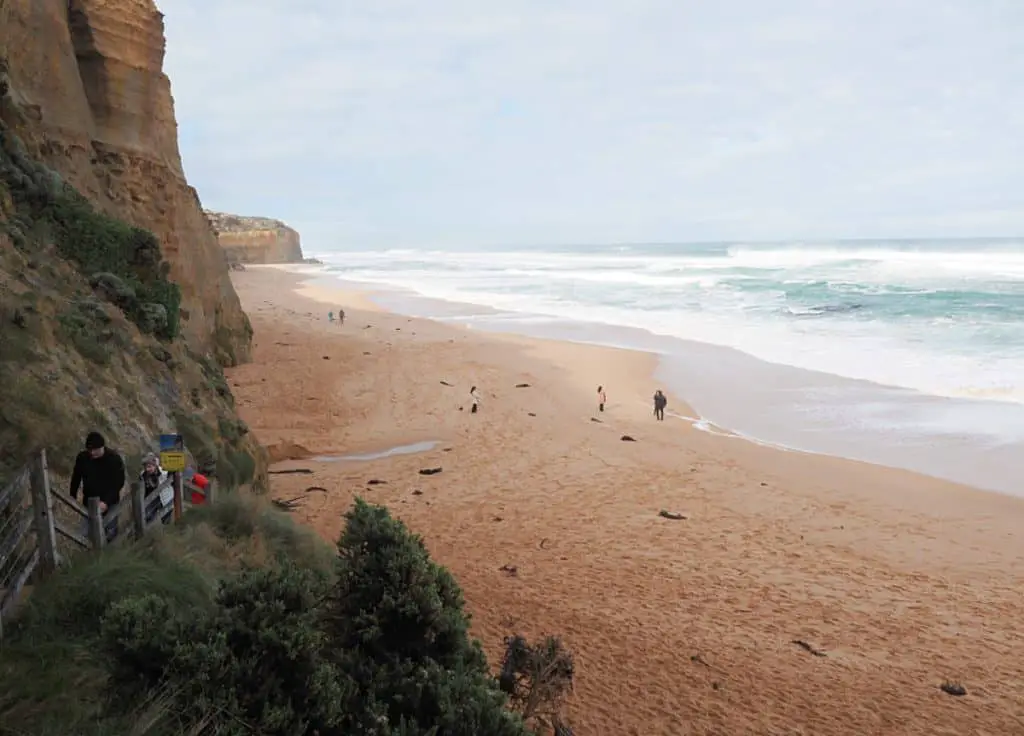 From this point, this Great Ocean Road itinerary for a 2 days self-drive trip focuses on the remarkable rock formations of the area.
The first port of call here, in Port Campbell National Park, is Gibson Steps.
The cliffs are the first natural wonder for travellers who are heading west to see the star attractions of the region.
Gibson Steps comprises a pair of limestone stacks rising up from the Southern Ocean and a golden stretch of sand.
After parking, you can climb down the 86 steps to Gibson Steps Beach, where you can see the rock formations in all their natural glory.
It's only around a kilometre between Gibson Steps and the Twelve Apostles, so if you fancy a walk you could head there and back before driving to your next destination. 
12 Apostles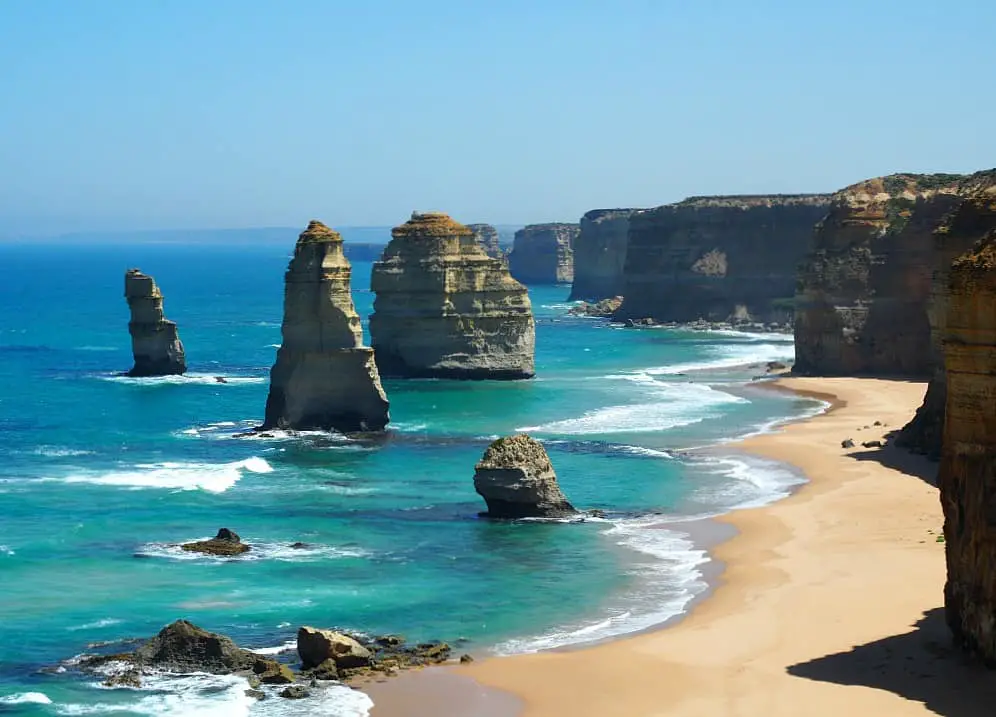 The Twelve Apostles are the most famous sight along the entire Great Ocean Road.
They're located off the shore of Port Campbell National Park, and in fact, only seven of the limestone stacks are now visible.
Six of these are grouped together, with the seventh set some metres apart.
Like other limestone formations in the area, the stacks were once part of the mainland cliffs.
Before becoming stacks, coastal erosion meant they formed arches, which then collapsed into the stacks that are seen today.
If the 12 Apostles are a highlight for you, then you could think about changing your itinerary to 3 days so you can see them at sunrise or sunset.
This is when the colours change with the rising or fading light, and the shadows make the view all the more atmospheric. 
Loch Ard Gorge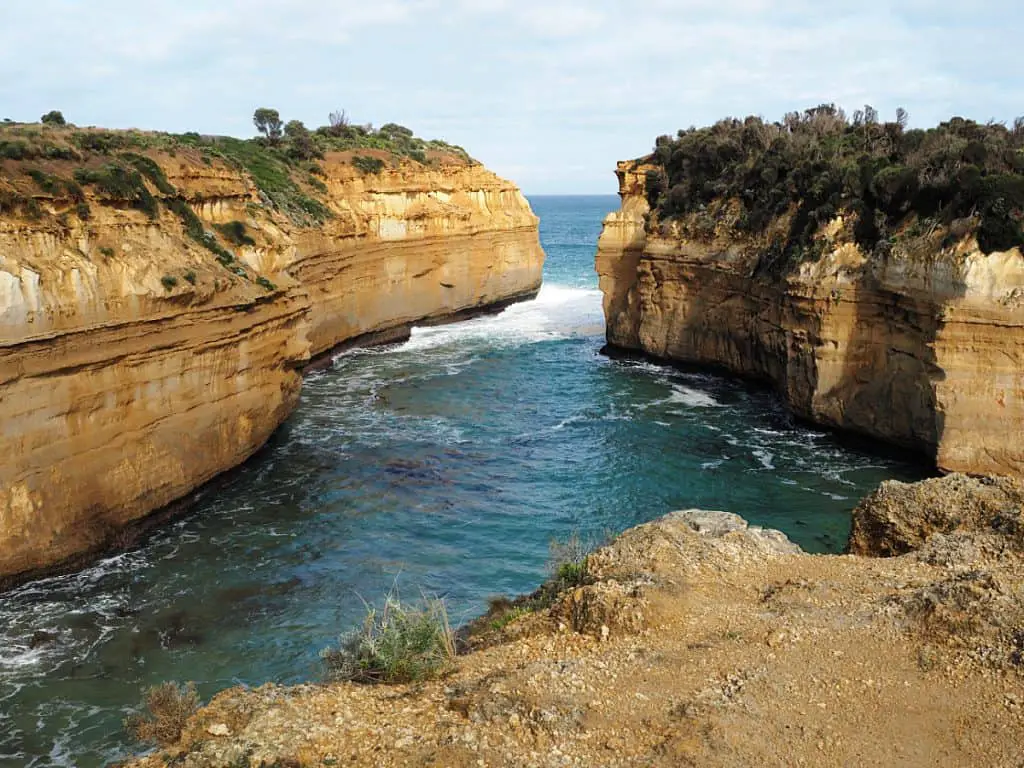 Also part of the Port Campbell National Park, Loch Ard Gorge is just a few minutes' drive from the 12 Apostles.
It's a compact and pretty bay, with golden sands lapped by clear azure water. The bay is flanked by a pair of yellow cliffs topped with emerald greenery.
A fascinating fact about Loch Ard Gorge lies in where the name came from. During the late 19th century, a clipper from England named Loch Ard ran aground here.
There are now two rock pillars at the gorge named after the only two survivors, Tom (Pearce) and Eva (Carmichael).
At Loch Ard Gorge you can see Thunder Cave, the Mutton Bird Island Lookout, explore the shipwreck, take a walk or even laze on the beach.
Lunch at Port Campbell
As you're exploring Port Campbell National Park, it makes complete sense to take a lunch break in Port Campbell town.
Here are the two best eateries to bag a table at.
12 Rocks Café and Beach Bar
12 Rocks Café and Beach Bar in Port Campbell is a casual cafe-style spot with outdoor seating, coastal views and a menu featuring modern Australian pub grub.
The seafood, fish and chips, steaks, burgers and pasta at 12 Rocks Port Campbell are all favourites, and service is both speedy and friendly.
12 Rocks Cafe And Beach Bar

Where: 19 Lord Street, Port Campbell 3269

When: 7 Days: 9.30 am – 8.00 pm

Phone: (03) 5598 6123
Grassroots Deli Cafe
Grassroots Deli Cafe in Port Campbell is open daily and specialises in selling and serving yummy local produce.
The lunch menu features homemade soup with sourdough, wraps, toasties and burgers.
Grassroots Deli Cafe

Where: 28 Lord Street, Port Campbell 3269

When: Mon – Sat: 8.00 am – 3.00 pm, Sunday: 8.00 am – 2.30 pm

Phone: 0448 331 662
The Arch Port Campbell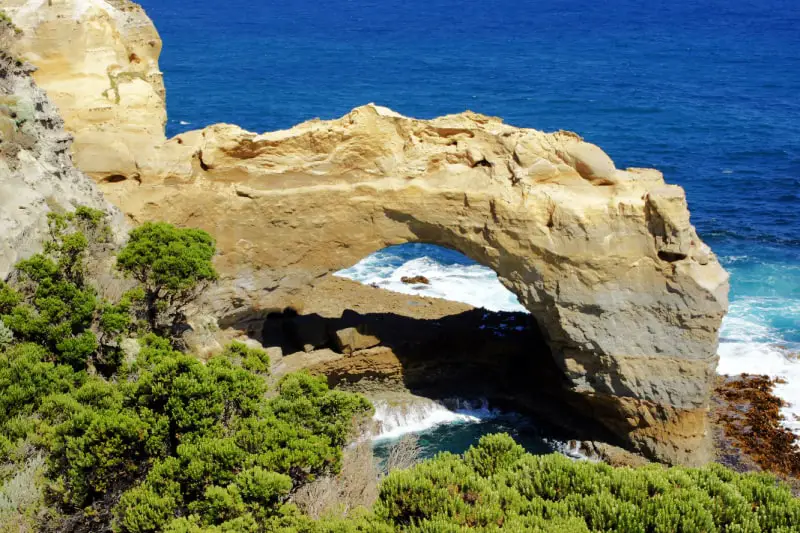 If you want to witness what the 12 Apostles and other limestone stacks of the area were like before the bridges they once were collapsed, then include The Arch on your itinerary.
It's only a drive of around 10 minutes from Port Campbell, and due to the lovely golden light the afternoon can be the ideal time to visit.
The walkway here also gives visitors a unique perspective on the 12 Apostles, which can be seen backed by the cliffs in the distance.
Great Ocean Road London Bridge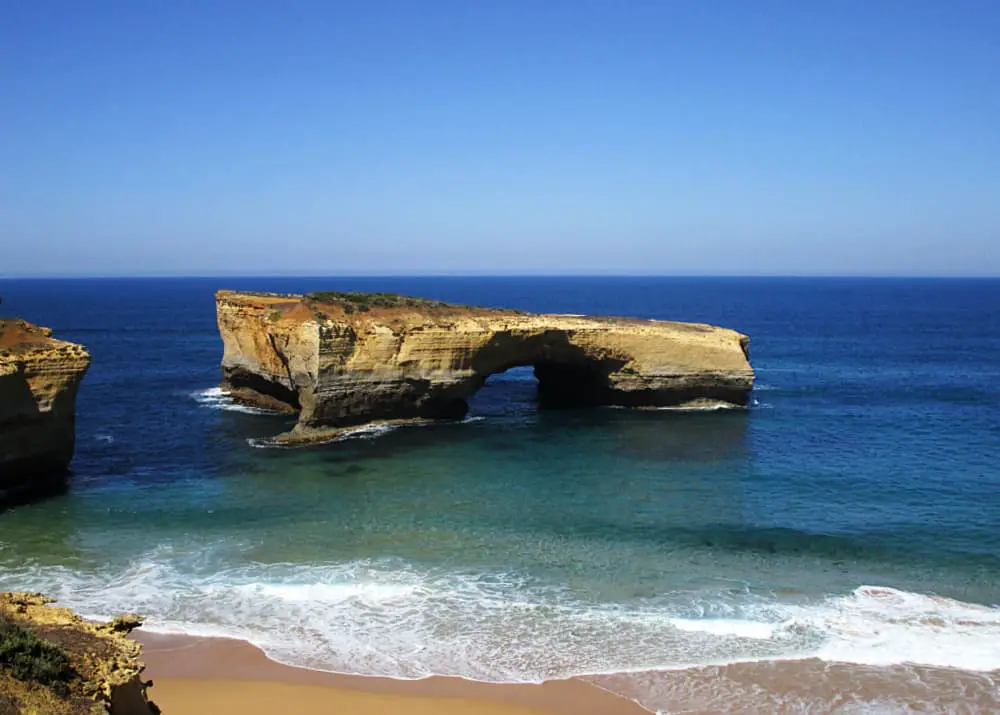 London Bridge on the Great Ocean Road is among the area's best-known sights. It's another natural bridge within Port Campbell National Park.
Here you'll find two viewing platforms – the upper western and lower eastern ones.
Before 1990, London Bridge was actually connected to the mainland.
Now, visitors love to look out for the 100 or so resident little penguins coming back to shore. There are good views of the birds when the timing is right.
The Grotto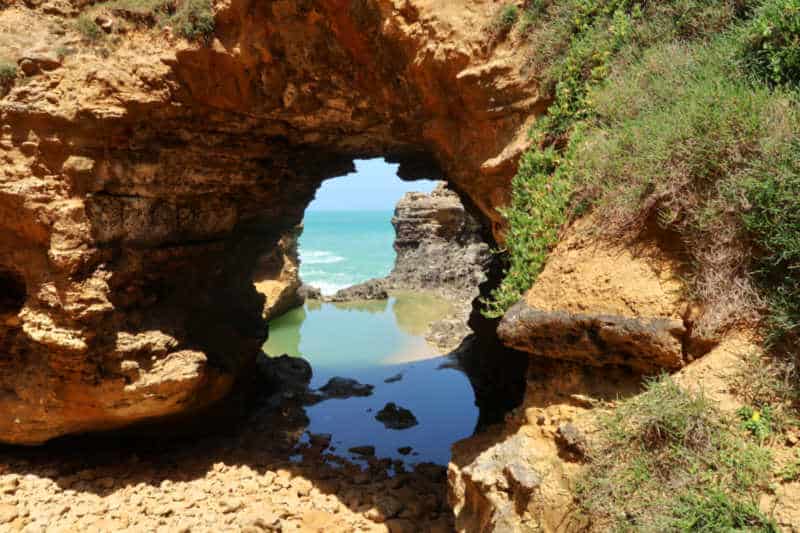 Though lesser known than some other Great Ocean Road sights, The Grotto is one of the most fascinating.
Is it a cave, a blowhole, or an archway?
The still pool within the cave provides a stark contrast to the storm ocean beyond, and a viewing wall is in place to protect visitors from unpredictable wave action.
Bay Of Martyrs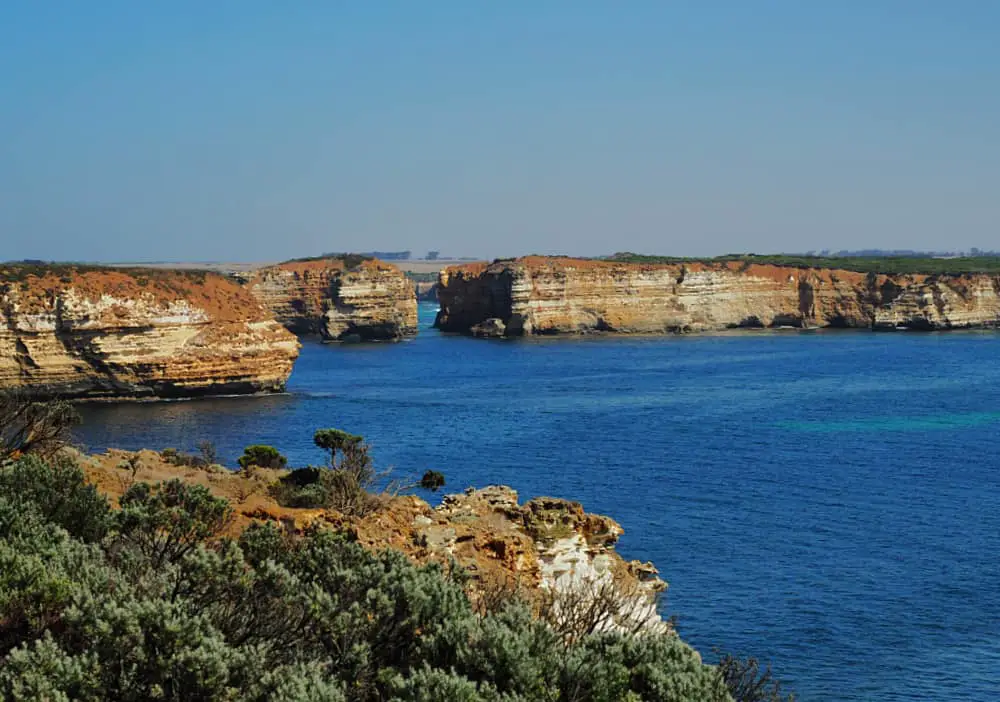 The 23 kilometre (14 mile) Bay of Islands Coastal Park is where you'll find the Bay of Martyrs.
Sweeping Southern Ocean views can be yours, and the site is much more off the beaten track than other Great Ocean Road favourites.
If you love taking photographs, then the Bay of Martyrs provides opportunities in abundance.
You're far less likely to be photobombed or deal with crowds here too!
Bay Of Islands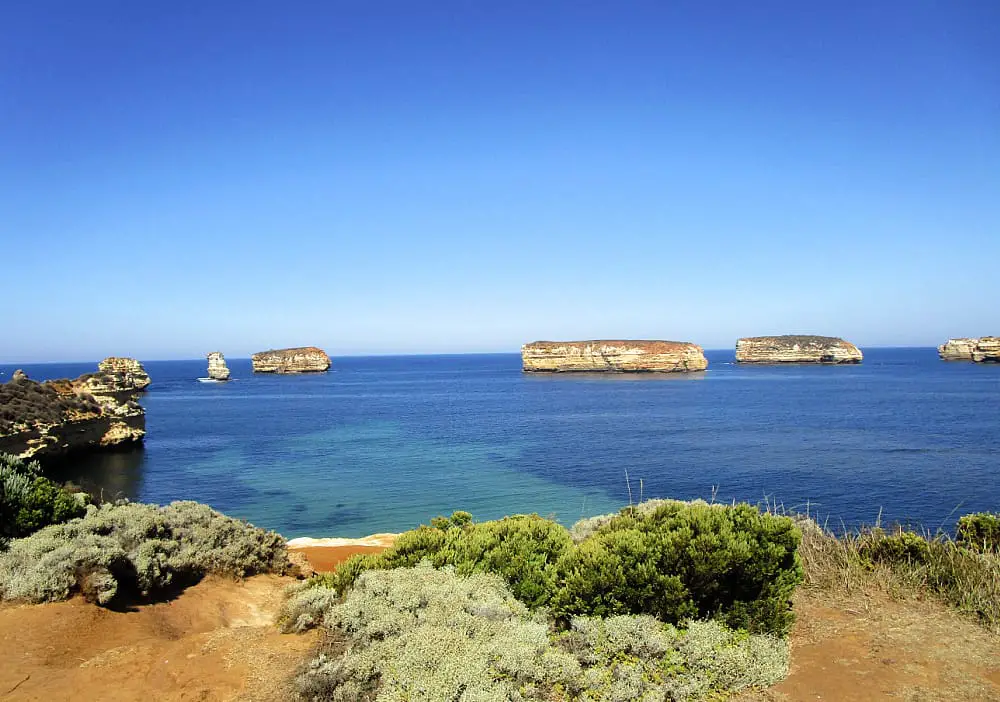 The Bay of Islands Coastal Park lies close to Peterborough.
The rock formations found here have been naturally crafted from a lighter-coloured limestone than the other stacks scattered across the area.
This gives a more startling contrast and offers better photo opportunities –  even when there are cloudier skies.
In addition to the rock formations, the seasonal wildflower displays and local wildlife here make the Bay of Islands Coastal Park well worth a visit.
Drive back to Melbourne via Timboon
Once you've seen all the natural wonders of the Great Ocean Road area, it's time to work your way back to Melbourne and reality!
We recommend driving back to Melbourne inland via Colac. The trip typically takes just under three hours, so keep that in mind.
For many visitors to the Great Ocean Road area, the 12 Apostles Gourmet Trail is a must. Particularly for anyone who's seriously into their food or wine.
Sites featuring fine gourmet fare are scattered throughout the region, so you might well come across some edible and drinkable delights during your two day itinerary.
If you crave more, however, then a stop at Timboon en route to Melbourne is a must. North of Port Campbell, Timboon is one of the major spots on the foodie trail map.
Timboon
Make sure you're hungry before you stop in Timboon! This part of the Great Ocean Road's foodie trail is simply irresistible.
Whether you prefer the savoury hit of cheese to sweet treats such as ice cream or fudge, there's plenty to tickle your tastebuds in Timboon.
The town has a rich foodie heritage. It's a rural area known for dairy farming, hence the availability of products made with milk, cream or butter.
Timboon's main attractions are often centred on food, and these include Berry World, Dairylicious Farm Fudge and Little Bit of Sweet, a small shop specialising in lollies of all kinds.
There are some good places to eat and drink in Timboon too. These include The Fat Cow Food Co, Berry Good Thai restaurant and the Timboon Railway Shed Distillery.
One last food stop before heading home is in order before leaving the Great Ocean Road area until next time.
Great Ocean Road Itinerary 2 Days Map
Frequently Asked Questions
Is 2 Days Enough On Great Ocean Road?
Yes, 2 days is enough on Great Ocean Road to see the main highlights. The 2 day itinerary we've laid out includes highlights like the 12 Apostles, Loch Ard Gorge, Bells Beach, and Erskine Falls. There's plenty more to see and do if you have more time though!
How Many Days Should I Spend On The Great Ocean Road?
Visitors should spend 3 days on the Great Ocean Road. This will give you enough time to visit major attractions like the Twelve Apostles, climb to the top of a lighthouse, hike to pristine waterfalls, and explore the Otways Rainforest. You'll even have time to relax on the beach.  
Does It Matter Which Way You Drive The Great Ocean Road?
No, it doesn't matter which way you drive the Great Ocean Road. Either way, you'll have a great time! However, Australians drive on the left so for the best experience I recommend driving from east to west as it's easier to pull into lookouts and gives you the best ocean views.
Is Driving The Great Ocean Road Difficult?
Yes, driving on Great Ocean Road can be difficult. If you're not used to driving on the left, you may find the winding road and sharp bends a challenge. The road can be particularly dangerous in wet weather and at night when there's a risk of hitting kangaroos.
Can I Sleep In My Car On Great Ocean Road
No, you can not sleep in your car on Great Ocean Road. It is illegal to sleep overnight in a car in a non-camping area, such as a car park, the beach, or on the side of the road. Doing so may incur a fine.
2 Day Great Ocean Road Itinerary: Final Word
We hope you've found this Great Ocean Road 2 day itinerary helpful.
No matter where you stop or what you choose to do you're guaranteed a great time during your 2 days on the Great Ocean Road.
If you don't like the idea of driving yourself then I recommend this private 2 day 1 night Great Ocean Road tour for a stress-free trip.
From snapping a selfie at the Great Ocean Road Memorial Arch or taking in the views from Loveridge Lookout to the Maits Rest rainforest walk and the Twelve Apostles, this is a part of Australia that no one should miss!
👉 Don't forget to join our Great Ocean Road Travel Planning and Tips Facebook Group where you'll have all your Great Ocean Road trip plan questions answered.
Recommended: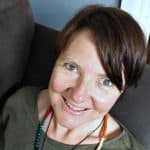 By Audrey Chalmers
Audrey grew up in Victoria and travelled the world but she always called Victoria home. She loves nothing more than exploring her home state and sharing it here.