This article may contain compensated links. For more information read our disclaimer here.
Wondering What The Best Things To Do In Anglesea Are?
We can help you with that! Living just 40 minutes away we're regular visitors to Anglesea, often bringing our grandkids with us.
We've created this list of 21 best things to do in Anglesea to help you plan your itinerary and have the best trip ever!
Anglesea is a quaint little place with great nature trails, beaches, and plenty of fun ways to spend your time.
You won't have to break the bank to see the top Anglesea attractions either, as many of the best Anglesea things to do are completely free.
Great for families, couples, and solo travellers, Anglesea welcomes everyone with open arms, and it can get busy in the summer months.
Even so, it's still a lot quieter than neighbouring Torquay, and a great place to spend a week or two in the holidays.
Below you'll find our guide to all the best Anglesea things to do including the best places to visit near Anglesea and the surrounding area.
Let's start!
👉 Make the most of your trip by joining our FREE Great Ocean Road Travel Planning Facebook Group here!
Best Things To Do In Anglesea
We've put together this complete list of what to do in Anglesea, as well as suggestions for the best Anglesea accommodation.
You'll also find a handy map of the things to do around Anglesea that we mention here.
1) Go Swimming At An Anglesea Beach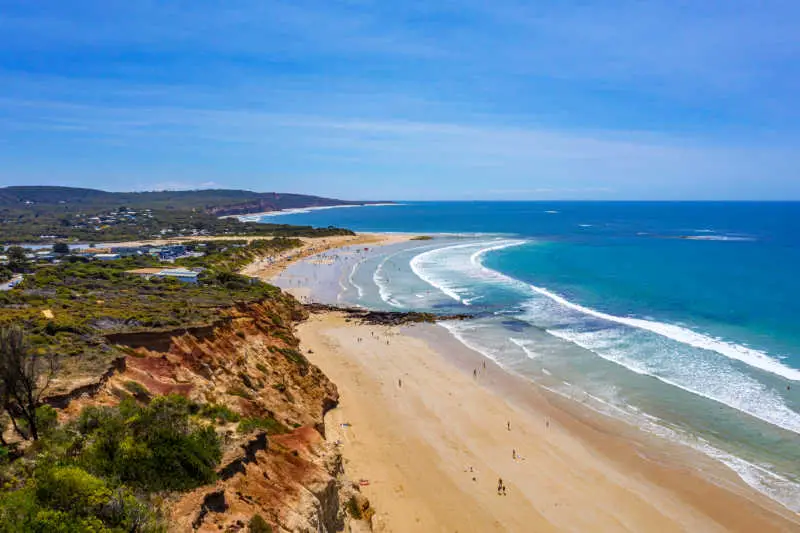 Naturally, the Great Ocean Road has some of the best beaches around, so if you're here in summer, don't miss going for a swim and a spot of sunbathing.
Anglesea Beach
There are plenty of beaches to choose from. The main Anglesea Beach is just next to the mouth of the river and conveniently close to town.
Popular with locals, it's patrolled during the summer months and the shallow waters and gentle waves make it perfect for swimming.
Build sandcastles, watch the waves, and enjoy the views of the cliffs at this stunning 400-metre stretch of coastline.
It's just as beautiful in winter, go for a walk along the beach and enjoy the tranquility without the crowds of summer.
Guvvos Beach
Guvvos (O'Donohues) Beach, also known as Anglesea Dog Beach, is a great place to bring your four-legged friend. It's an on-leash beach that's dog-friendly year round (with no restrictions)
Although it's a bit further out of town, this 5 kilometre long beach is huge and there's plenty of room for everyone.
Note that this beach isn't patrolled at all, and swimming isn't recommended. There are a few rips and big swells that only advanced surfers tackle.
Beginner surfers should head to the Anglesea Surf Beach (see below) where you can rent a board and take some lessons.
But Guvvos is great for fishing, here you can catch Salmon, Snapper, Flathead, and Whiting.
Point Roadknight Beach
If you're travelling with the family, you can safely paddle in the protected waters at the nearby Point Roadknight Beach. It's one of the safest beaches around and is patrolled during the holidays.
Well known for its limestone formations and rock pools full of sea life, Point Roadknight has toilets, ample parking, and lots of room for everyone.
Urquhart Bluff
Further along the Great Ocean Road is another, even quieter beach. It's also dog-friendly year round and allows off-leash play.
Urquhart Bluff South Beach is 200 metres long and has a wide, shallow, surf zone with a permanent rip against the southern headland and reef (not patrolled).
Bells Beach
Between Torquay and Anglesea is one of the most famous beaches on the Surf Coast.
The Bells Beach area is jam-packed every year at Easter when the Bells Beach Rip Curl Pro takes place. Started in 1962, it is the world's longest-running professional surfing event.
This area is all about the surf, and only for pros as the currents are too strong for swimming. But it's a great place to come and watch the fearless wave riders at any time of year.
Fun Fact: You may also recognise the name from the climactic finale of the Keanu Reeves and Patrick Swayze film, Point Break.
2) Explore The Rock Pools And Soapy Rocks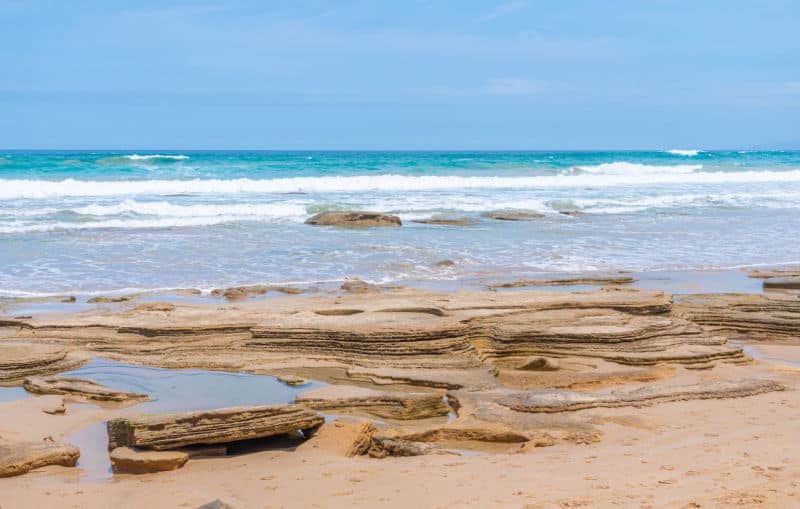 Point Roadknight Beach also has some great rock formations. When the tide is low, it's a great spot to go rock pooling with the kids.
There are great views of the beautiful red sandstone cliffs that form Soapy Rock.
Expect to find all sorts of sea life and mini marine worlds in the peaceful rock pools in Anglesea Victoria. No matter your age, there's always something new to discover.
There's a path up to the Soapy Rocks Lookout Point with great views over the sandy 700-metre beach below, the track is actually part of the Surf Coast Walk.
Be sure to stick to the paths as the rocks on the shore and at the top of the bluff behind the beach can be very slippery.
The name 'Soapy Rock' gives you an idea of this, locals also know it as 'Slippery Rocks'.
You can easily lose a whole day here with children. Bring a picnic, plenty of water, and sunscreen on a hot day.
There's not too much to do other than the beach but there are toilets, a large car park, and a barbecue area. You can also find the Anglesea Motor Yacht Club here.
3) Learn To Surf In Anglesea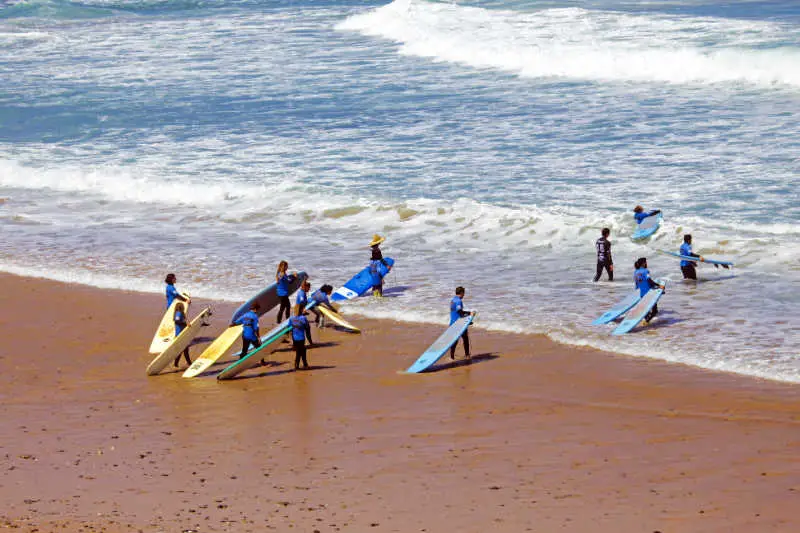 Anglesea surfing is available year-round, so no matter when you visit, Anglesea surf lessons are a good way to experience the local culture.
There are loads of options on the Great Ocean Road for surfing. Anglesea is a great place to learn as the waters aren't too rough, and the waves are predictable.
Go Ride A Wave is one of Australia's best surf schools with a chain of surf shops across the surf coast. Go Ride A Wave Anglesea is the place where Go Ride A Wave first started in 1987, so you know you're getting the best instructors around.
Surf lessons Anglesea provides you with soft learner G Boards, on daily sessions, held in waist deep water for everyone's safety. Group and private sessions are also available on request.
If you just want to test the waters the 2-hour "Surf Experience" costs $65 to $75 (depending on the season). It's a great introduction to surfing, and fun for the whole family.
For a more in-depth introduction to surfing, the "Surf Course" offers three 2-hour lessons. For just $175 to $205 again depending on the season.
All surf lessons include surf safety information, all the necessary learn to surf equipment, including a soft beginner board, leg-rope, wetsuit, or rash shirt, as well as experienced surf instruction to suit your skill level.
They also offer NSP hardboards for more experienced surfers and hire out wetsuits, stand-up paddle boards, sit-on-top kayaks, and body boards.
Go Ride A Wave is open from 9.00 am to 5.00 pm daily, and 7.30 am to 5.00 pm every day during the Christmas holidays.
Anglesea Surf Centre always has some great offers on boards and wetsuits if you get into the sport.
4) Paddle Down Anglesea River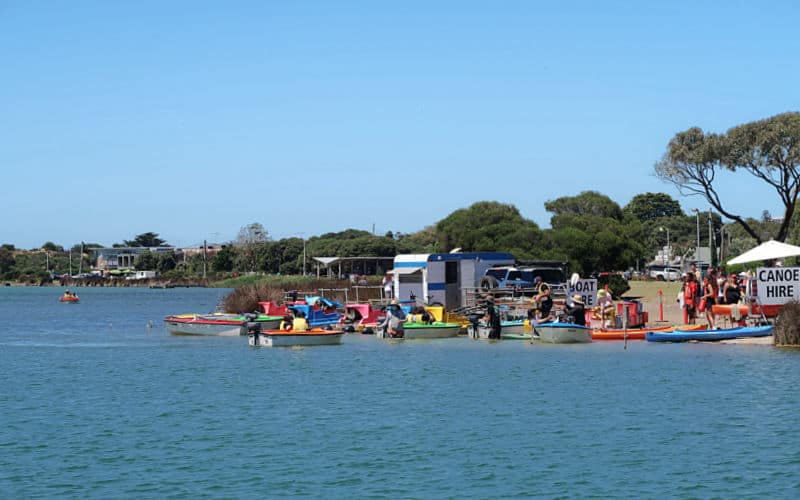 A walk along Anglesea River is a must for any visit to the town. It's a hub of activity with a local Sunday market held between November and April.
There are plenty of other activities on the river in summer too. Hire a boat and spend time relaxing on the river.
Anglesea Paddle Boats, located just next to the bridge, offers traditional and modern Paddle Boats, Fun Boats, Aqua Bikes, and canoes on the safe waters of the Anglesea River.
Anglesea boat hire prices:
Canoe hire costs $40 per hour for a round trip down the river – Canoes can carry up to 2 adults and a small child.
Motor boat hire costs $35 for a 1/4 hour ride – Motor boats can carry up to 3 adults or 1 adult and 2 children.
Paddle boat hire costs $30 for a 1/4 hour ride – paddle boats can carry up to 2 Adults and a small child or 1 adult and 2 children.
Open daily in summer from 10 am. They are only open on weekends in winter.
Anglesea River is also a great place to see some local nature, with lovely accessible paths lined with orchids and local flora.
It sits on 16 hectares of parkland with all sorts of wildlife including owls, possums, echidnas, kangaroos, and wallabies.
5) Watch The Sunset At Loveridge Lookout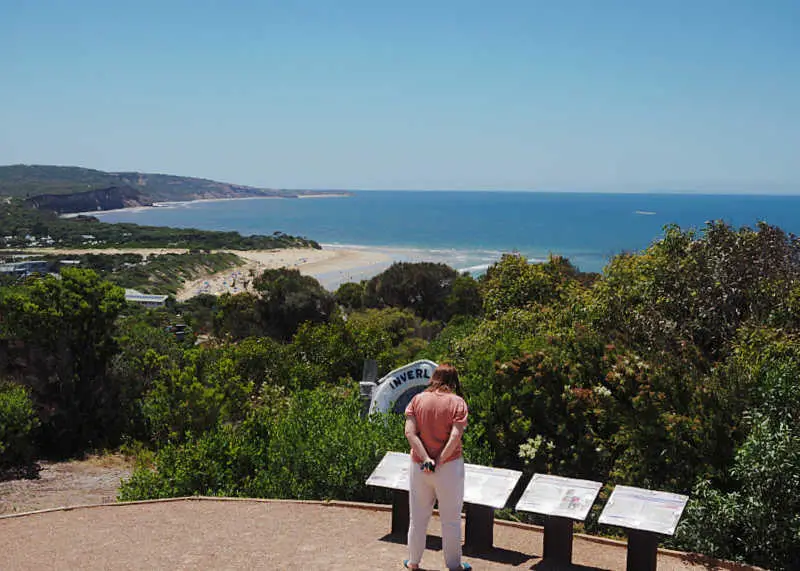 Head to Loveridge Lookout, west of Anglesea Beach, for epic views over the ocean. Tuck into some fish and chips as you watch the sun go down, life doesn't get much better!
There are plenty of seats, and it's wheelchair accessible, with views of the whole bay area. Locals bring picnics, flasks, and drinks and spend their time soaking in the views.
There's a bit of history here too as Loveridge Lookout was one of many observation posts during World War II.
Many of these lookouts were set up along the Victorian coastline. They were manned by local volunteers, day and night, to give an early warning against enemy attack.
It has recently been restored and added to the Victorian Heritage Register. There are lots of signs about the lookout's past, so make sure to find out more when you visit.
Open 24 hours a day.
6) Escape The Summer Crowds At Coogoorah Park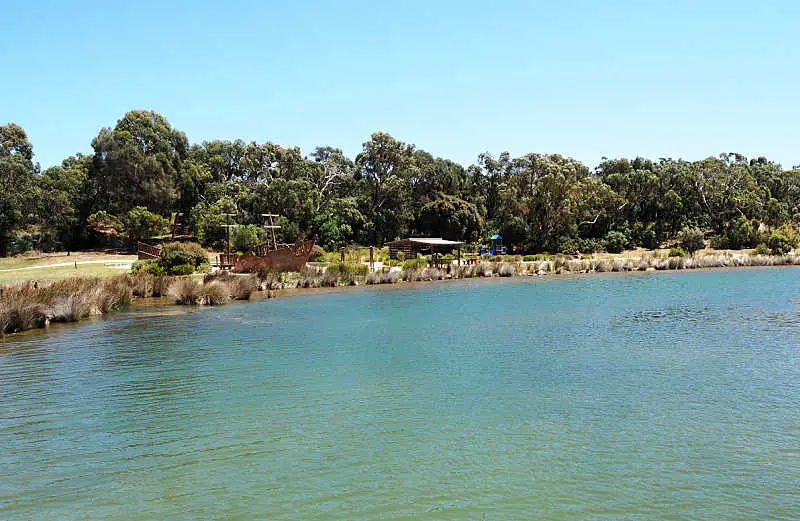 Another one of the great free things to do in Anglesea, Coogoorah Nature Reserve is the perfect place to find some peace and quiet.
Mainly frequented by locals, Coogoorah doesn't see the summer tourist crowds of Anglesea town and beach. It's the perfect spot to just relax and unwind.
There are plenty of bushwalking trails and cycling paths to get around and explore the 17 hectare reserve.
It has a mixture of woodland, wetlands, and communal spaces with picnic tables, barbecue areas, and toilets.
The reserve is a great spot to fish or to go birdwatching in Anglesea, brimming with wildlife, there are over 150 species of birds to see here.
For the little ones, there are a couple of great playgrounds. One with a huge wooden pirate ship that was inspired by the 'Inverlochy'. A ship that was wrecked off the Anglesea coast in 1902.
7) Anglesea Bike Park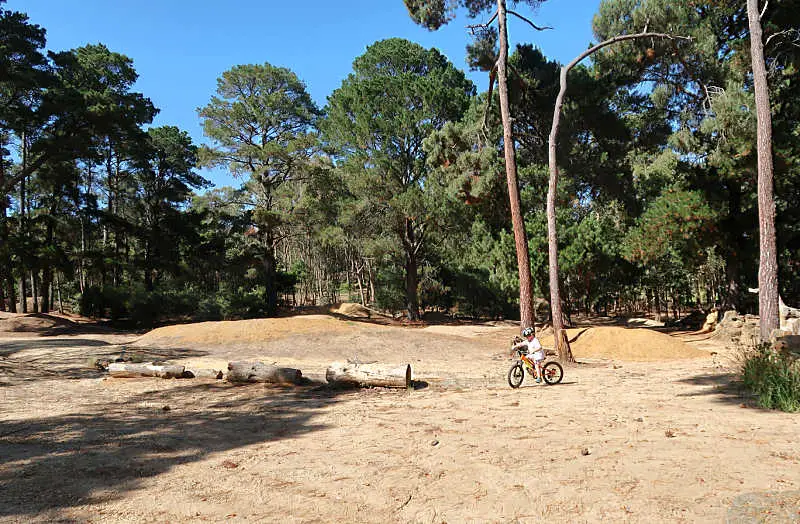 In the northeast of town, there's a perfect spot for bikers of all ages. Have some fun going over dirt jumps, navigating a skills course, and trying log rides.
Cycling culture is strong in the region, and mountain biking is gaining popularity on the Surf Coast.
The Anglesea Bike Park was built in September 2006 and at the time was Victoria's first professionally designed Mountain Cross track. It was designed and built by Glen Jacobs of World Trail.
For mountain bike pros there are mounds, rollers, jumps, and table tops, that vary in height from 200mm to 1800mm high.
Beginners are encouraged to try the Anglesea mountain bike trails too. And there's a friendly, welcoming atmosphere for anyone who wants to join in.
This is also a great place to just sit in the shade under the pine trees and spectate. It's open 24 hours a day and there are toilets, a shelter, and a picnic area.
8) Go Trampolining At Jumpz Anglesea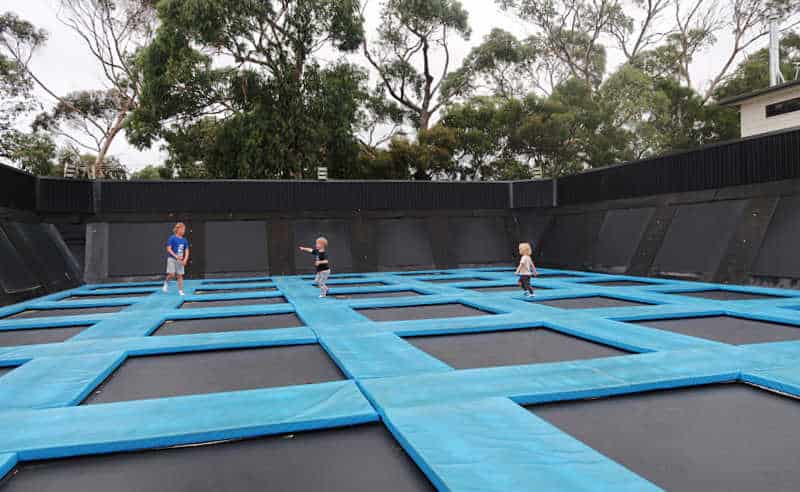 Located at the back of the Great Ocean Road Resort, Jumpz Anglesea trampoline park is a great spot to wear out the youngsters of the family. With wall-to-wall trampolines, kids are literally bouncing off the walls!
There's plenty for parents to do too with a kiosk, sunken lounge, and a communal fire pit area. Grab a pizza and a cocktail, and relax in the shade while letting the kids run wild.
The outdoor bar and kiosk are open on weekends and daily during the school holidays.
There's also live music on "The Deck" on Saturdays from 3 pm to 6 pm, and on Sundays from 1 pm to 4 pm.
The trampolines are open all year round, 7 days a week from 10 am to 8 pm. Pay $15 for an hour or $25 for the whole day.
There's no age limit for kids but sadly adults aren't allowed to bounce and join in the fun.
9) Hike The Surf Coast Walk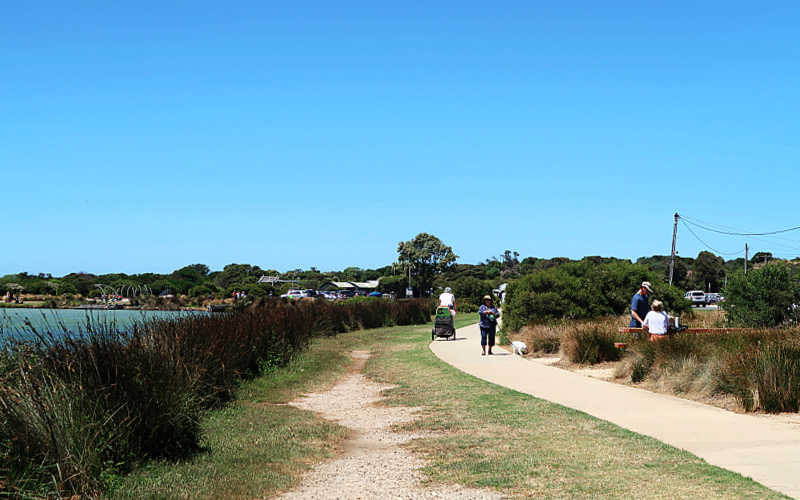 The Surf Coast Walk is an absolute must for nature lovers. It's a 44-kilometre multi-use trail that covers the region from Torquay to Aireys Inlet.
You don't have to hike the whole thing all at once as it's split up into 12 sections, including some beautiful Anglesea walks.
Whether you want just a walk, a long bike ride, or a multi-day experience, the Surfcoast walk has some of the best scenery on the Great Ocean Road.
A really easy and accessible section that runs along the Anglesea River bank is great for all ages and abilities (Section 7).
While the Anglesea to Point Roadknight section heads up to the bluff and back down to the idyllic Point Roadknight Beach.
Offering great views of the town and ocean, including Soapy Rocks as mentioned earlier (Section 8).
For a more challenging 7.3-kilometre trail, the Anglesea Heath Walk between Point Addis and Anglesea offers the best nature hike.
Walk along sandy beaches, up rocky paths, and get views across the heath (Section 6).
Interactive maps guide the way all along the Surf Coast Walk and make planning decisions, like where to park and what cafes to visit, a breeze.
Of all the great walks in Victoria, this is one of the best.
Another great stroll is the Anglesea Art Walk, an easy 2.5-kilometre trail through Anglesea taking in six mosaic art pieces.
On the other end of the spectrum is the 100-kilometre Surf Coast Century course. An epic running trail taking in wild beaches, colossal cliffs, and remote wilderness.
Whichever Anglesea walk you choose, it's a great way to see the local area from a different perspective and stretch those leg muscles!
10) Explore The Outdoors At Anglesea Heath
One of Anglesea's best attractions is the nature and wildlife that you can find here, Anglesea Heath is an area of heathlands and woodlands that is home to a quarter of all of Victoria's plant species.
It's a great spot for bushwalking but you can also explore by 4-wheel drive, or by mountain bike along kilometres of well-marked trails.
There's also canoeing, kayaking, and rock climbing for the more adventurous visitor.
Visit the Bundjil Mirr lookout for views right over the heathland and coastline.
The 6-kilometre Alcoa Boundary Track has been designed to be accessible for visitors of all abilities.
Several other walks make for a great day out in the park.
Anglesea Heath is a great place to come and hike, photograph, and birdwatch, it also attracts many artists.
Expect to see local kangaroos, wallabies, wildflowers, and beautiful rare orchids.
Be advised that dogs are not allowed due to conservation efforts. Assistance dogs are welcome in Parks Victoria parks and reserves.
11) Go 'Round The Twist' At Split Point Lighthouse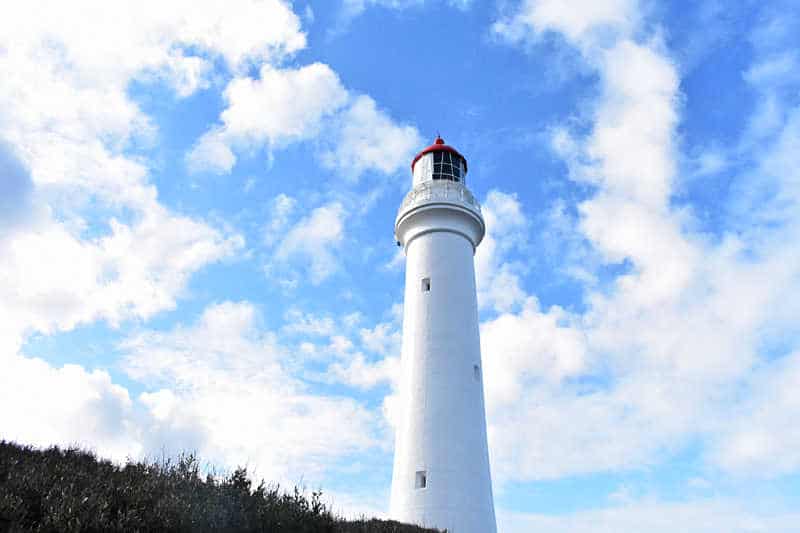 If you're in Anglesea Vic, a trip to Aireys Inlet is a great chance to see a little more of the area.
There are lots of sheltered beaches, cute coffee shops, and the Great Ocean Road Lighthouse.
Famous for its role in the television series 'Round The Twist', Split Point Lighthouse is a prominent landmark on the Surf Coast.
Lighthouse tours run daily and take you through the fascinating maritime history of the area.
It's also a great spot for snorkelling, as Eagle Rock Marine Sanctuary covers about 300 metres just offshore from here.
You can see octopus, cat sharks, Port Jackson sharks, skates, stingrays, and sometimes whales further out to sea.
12) Go Ziplining At Live Wire Park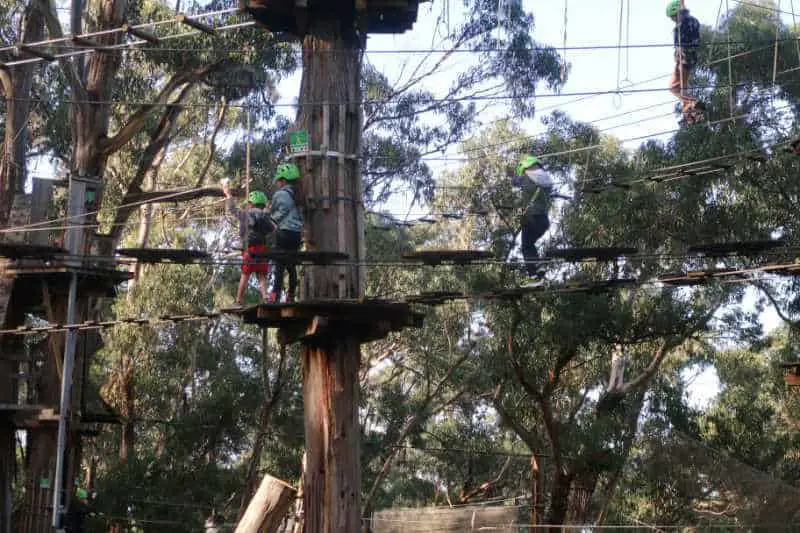 For the adrenaline junkies, there's no better way of spending your time in Anglesea than a day of zip lining through the trees.
Live Wire Park is located in Lorne, just a 30-minute drive along the Great Ocean Road from Anglesea. It's Australia's first off-the-grid, elevated adventure park.
Climb, jump, swing, and fly through the trees, with 120 metres of easy treetop suspended pathway, and a 5-zone elevated trampolining park included in the general admission price.
The Live Wire Park is also home to "Australia's most extreme zipline" the Shockwave Zip Coaster; an ultimate zip lining joy ride 525 metres long.
As well as the Super Circuit featuring 53 mid-air trails, suspended bridges, tree scaling activities, and a terrifying Tarzan swing!
Entry to the park is $20.00 for adults and $16.00 for children and concessions.
The Shockwave Zip Coaster is $55.00 for adults and $50.00 for children.
The Super Circuit is $82.00 for adults and $76.00 for children.
13) Go On A Kangaroo Tour At Anglesea Golf Club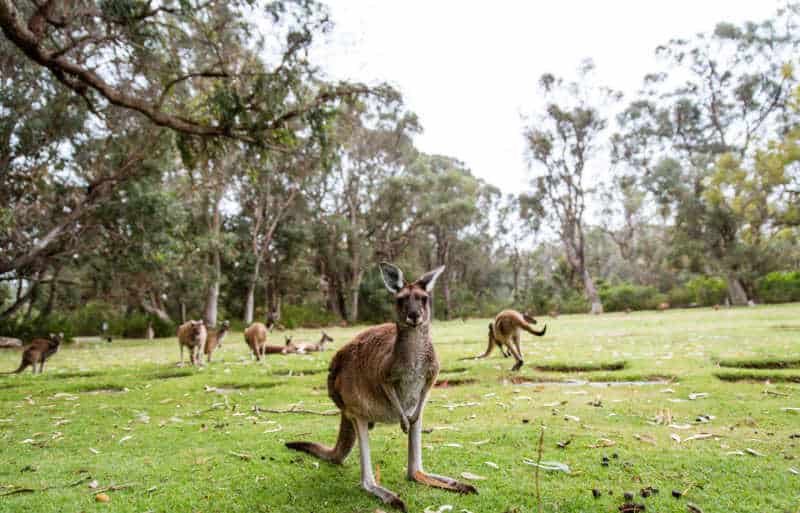 Anglesea Golf Club is a great place to spot wildlife. The course is home to around 300 Eastern Grey Kangaroos, that were here long before the golfers and live peacefully among the fairways.
Tours to see kangaroos in Anglesea are run by Anglesea Golf Course. They take you on thirty minute kangaroo tours in electric vehicles to see the family 'mob' of kangaroos hanging out around the course.
Tour manager Les Cooper has been running kangaroo sightseeing trips since they began in 2015;
"Our visitors love to see the joeys jumping in and out of their mum's pouches. … and love to photograph the joeys and see the kangaroos interacting with each other. That seems to be the favourite part of the tour for most people."

Les Cooper
Tours are run daily in peak season. Kangaroo tour prices are Adults $12.50, Children $5.00, Family $30.00.
14) Play Golf At Anglesea Golf Club
As we mentioned earlier Anglesea Golf Course is a pretty well-known Anglesea tourist attraction, getting around 5,000 visitors a year to see the kangaroo population.
But the golf's not bad either.
Constructed in 1950 and known internationally for its kangaroos, the golf club has 18-holes, 3 practice fairways, a driving range, a practice net, and 2 putting greens.
Work on your handicap and enjoy a round of golf with an unusual audience, just be careful where you aim as the kangaroos aren't too fussy where they roam!
Play 9 holes for $40.00, or go a full round of 18 holes from $60.00. Open 8 am- 6 pm 7 days a week. The bistro and bar are open 11 am – 8.30 pm 7 days a week.
15) Play A Round Of Great Ocean Road Mini Golf
If the full game is not your thing, Anglesea Golf Club also offers an 18-hole mini golf course. Suitable for all levels, it opens from 8 am.
Prices are as follows: Junior $10.00, Adult $15.00, Family of 5 $35.00.
But for a true Great Ocean Road Mini Golf experience visit Aireys Inlet Mini Golf.
Putt around replicas from the Surf Coast including the Split Point Lighthouse, and tee off from a shipwreck.
The Shipwreck Coast Course offers 18 holes that take around 45 minutes to complete, while the 12 Apostles Course fittingly has 12 holes and is focused around the famous landmark (it takes around 30 minutes to complete).
The course is full of contraptions and fun things to see, and it's a great day out for the kids.
If you're looking for something to do on a rainy day in Anglesea, they also offer virtual golf indoors, prices are $20.00 per half hour and $30.00 per hour.
Do both courses for $21.00 for adults, $16.00 for children ($9 for under 4s), or $64.00 for the whole family.
Open Saturday and Sunday 10 am – 5 pm off-season. Open every day during the school holidays and all public holidays from 10 am – 5 pm.
16) Explore The Otway National Park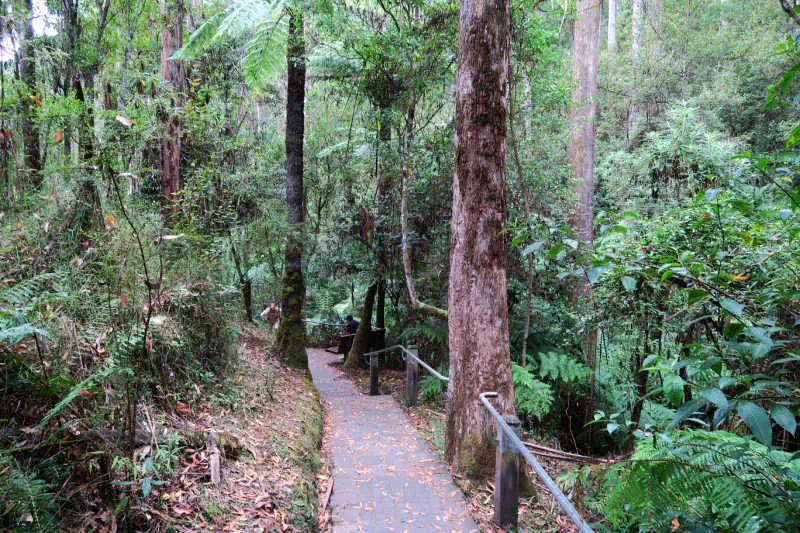 The Great Otway National Park stretches from Torquay right over to Princetown, it's a vast area of beautiful parkland with lots of great things to do.
The Otways is the perfect place to come and experience nature at its best, most of the main attractions are a full day trip from Anglesea.
Visit the Otway Fly Tree Top Walk, the glow worms at Melba Gully, or the Maits Rest Rainforest Walk.
There are loads of Otways walks to choose from, head to Eumeralla for some of the best in the region. Visit some of the Otways waterfalls while you're here too.
A popular waterfall near Lorne is Erskine Falls, a 30-metre waterfall cascading into a gully.
There are 10 waterfalls around Lorne alone, so there's no shortage of choices.
If you're looking to go horse riding, Anglesea has some fantastic options. Spring Creek Horse Riding offers everything from just a couple of hour's ride to a full day's adventure on horseback.
You can cover a lot of ground and see a lot of local wildlife and stunning landscapes.
It's great for the whole family as riders as young as 7 can join in. Everyone is given a horse that suits their abilities.
For camping you will find plenty of options too, just make sure to follow local fire safety laws.
Some of the best picnic spots to visit include Blanket Leaf, Blanket Bay, Shelly Beach, Moggs Creek, Paradise, and Triplet Falls.
Pack a sanga, and plenty of snacks, and you can spend all day exploring the great outdoors in the Otways.
17) Visit The Great Ocean Road Chocolaterie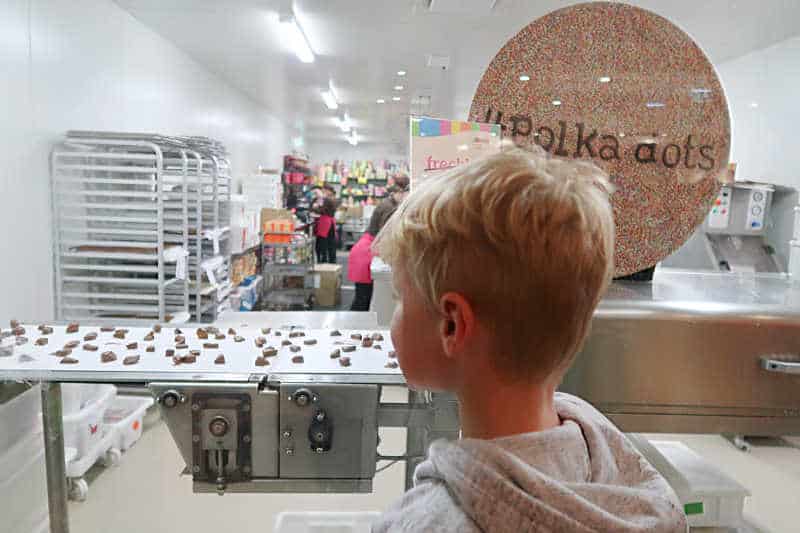 Yes, you read that right! Anglesea chocolate factory is a stop not to be missed! The Great Ocean Road Chocolaterie & Ice Creamery is a top Anglesea tourist attraction.
The chocolate factory, Anglesea, contains literally thousands of chocolates, freshly made pastries, desserts, and artisan ice creams. Get involved with a tasting session or a hands-on chocolate making class.
Tastings are free. And you can watch the masters at work through big glass windows, just like in Switzerland, making the perfect delicious treats to take home as souvenirs.
You can also visit the all-day cafe that uses ingredients straight from the kitchen garden.
The Great Ocean Road chocolate factory is just a 5-minute drive from Anglesea's town centre, and is open daily from 9 am to 5 pm.
18) Go Treasure Hunting At The Anglesea Markets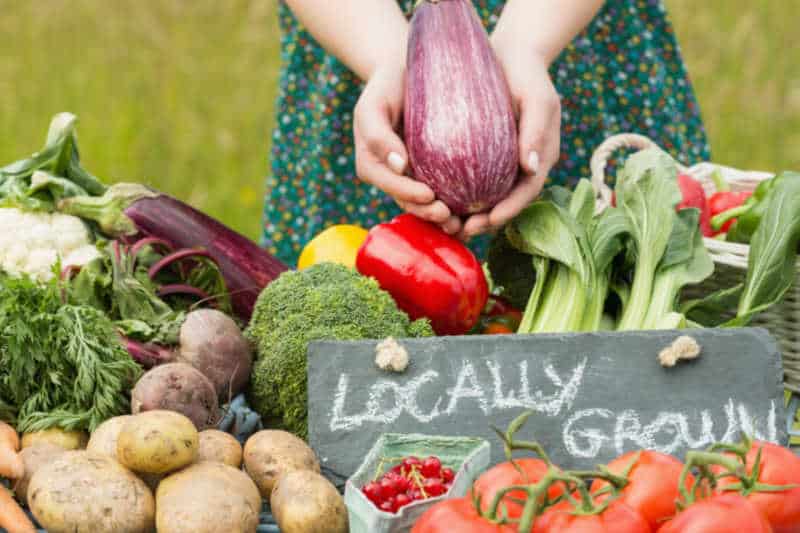 Visit the Sunday market held between November and April along the riverbank. Eclectic stalls offering everything from artisan crafts to delicious local treats attract most visitors.
Anglesea Riverbank Market is located in the Family Caravan Park on the banks of Anglesea River.
Anglesea River Bank Market isn't the only place to find local treasures though. Another great Anglesea market happens in the evenings, on McMillan Street.
Visit Anglesea Twilight Farmers Market to meet the makers and growers, pick up some local, seasonal, and sustainably produced food, and connect with locals.
It's held on the first and third Friday, November to March, from 4.30 pm to 8.30 pm in the ACH car park. Check locally for updates.
19) Try Local Wines At The Bellbrae Estate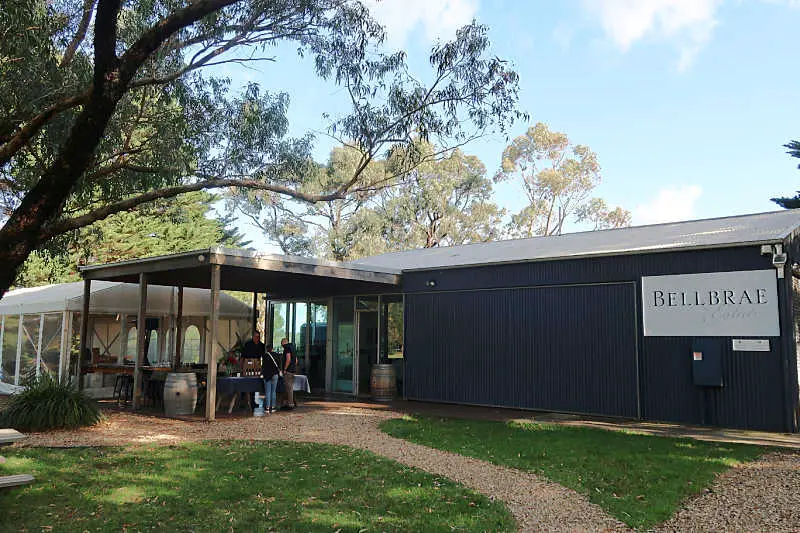 Why not visit a Great Ocean Road Winery while visiting Anglesea and sample some of the region's best reds and whites?
Bellbrae Estate is one of the most popular wineries around. Located just 5-minutes from the famous Bells Beach, and 10-minutes from Anglesea town.
Settle down on the terrace and try the wines, you can also check out the vineyards surrounding the shop.
Select your own tasting menu or opt for the "Winkipop Wine Pairing Experience" with 5 specially selected wines and tapas that compliment each other perfectly.
You can also add a cheese and biscuit platter to a tasting for just $7.00 or try a homemade wood-fired pizza.
Open Wednesday and Thursday 12 pm – 4 pm, Friday, Saturday, Sunday 12 pm – 5 pm
20) Drive The Great Ocean Road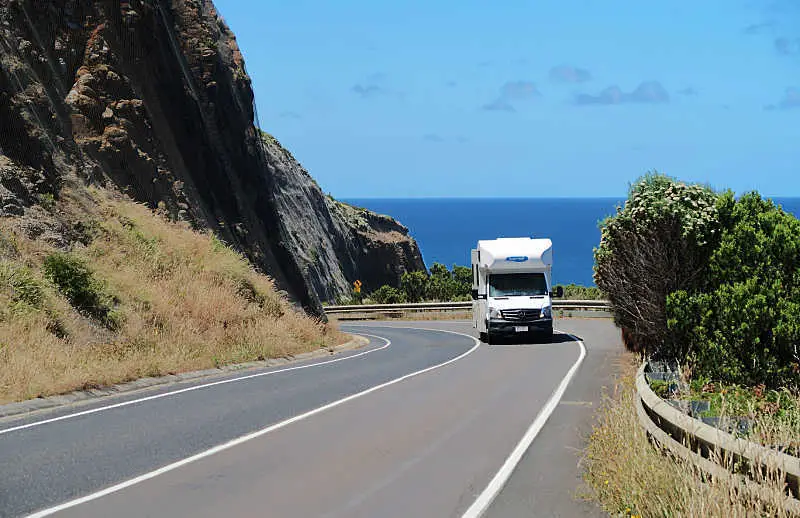 The Great Ocean Road drive is without doubt one of the best things to do on the Surf Coast.
Of course, if you are in Anglesea, you will probably have already done at least part of it. The stunning drive starts in Torquay and runs 243 kilometres west to Allansford.
It goes past some of the best beaches in Australia including Torquay Beach, Bells Beach, Aireys Inlet, Fairhaven Beach, Marengo Beach, Johanna Beach, Gibson Steps, Loch Ard Gorge, and famous landmarks like the Twelve Apostles.
The drive from Anglesea to Allansford along the Great Ocean Road can be done in around four hours, but there are so many great stops we recommend doing a few days.
Some Great Ocean Road towns that are worth visiting include Kennett River to see koalas and wildlife, Apollo Bay for fresh seafood as well as the Great Ocean Road Brewhouse, and Port Campbell for an overnight stop.
If you want to head a little further west past the Great Ocean Road you can see Southern Right Whales in Warrnambool.
Between June and September, it's possible to spot Female Southern Right Whales that visit the shallow waters of Warrnambool Beach to calve.
The Great Ocean Road was dedicated to soldiers killed during World War I, It was actually built by returned soldiers between 1919 and 1932, and is now the world's biggest war memorial.
Whether it's just a day trip from Anglesea or an extended holiday, don't miss driving a part of the Great Ocean Road.
Go surfing, swim, or explore the sights. Driving the Great Ocean Road is one of the best things to do near Anglesea. Don't miss it!
Remember when you are planning places to swim on the Great Ocean Road to always check whether they are patrolled or not, visit Beach Safe or Life Saving Victoria to find out more.
21) Get Lost In The Local Art Galleries
Anglesea is a hub of local art and the heathlands attract painters from all over. A great way to spend an afternoon is by visiting a local art gallery and finding the perfect souvenir to take home.
Anglesea Art House
Anglesea Art House has a friendly community environment. They hold classes and workshops run by skilled tutors and facilitate informal art groups.
The Art House offers painting, drawing, pottery, glassmaking, printing, and textiles workshops.
Members display and sell their artworks year-round in the spacious Gallery at the Anglesea Art House and at the Annual Art Show exhibition.
It's located at 23 Cameron Road, check the website directly for the current opening times and events.
Anglesea Art Space
Anglesea Art Space is a community based gallery run by Surf Coast Shire Council on Wadawurrung Country. They offer an affordable space for local artists to display their works in a pleasant open gallery.
It's located on 2/103 Great Ocean Road, Anglesea. Check their Facebook page for current events and opening times.
Eagles Nest Gallery
Over in Aireys Inlet, Eagles Nest Fine Art Gallery is another fantastic place that's worth the drive out to. It's a stunning custom-built venue that houses a wide variety of mediums.
Featuring local and regional painters, sculptors, jewellery makers, and glass artisans. They have a permanent display hosting 50 gallery artists as well as bi-monthly exhibitions.
Eagles Nest Gallery is located at 48 Great Ocean Road, Aireys Inlet. Open 10 am to 5 pm Friday, Saturday, Sunday, and Monday.
Things To Do In Anglesea Victoria Map
Find the things to do we've listed here, on the map below.
Best Anglesea Accommodation
Here are our 3 top Anglesea accommodation picks. We've included the absolute best place to stay, a more affordable option, and a family favourite.
Choose the one that best suits your circumstances, click the link, and be booked and all set for your Anglesea vacation.
It's best to book early if you're visiting in summer or the school holidays as accommodation fills up fast.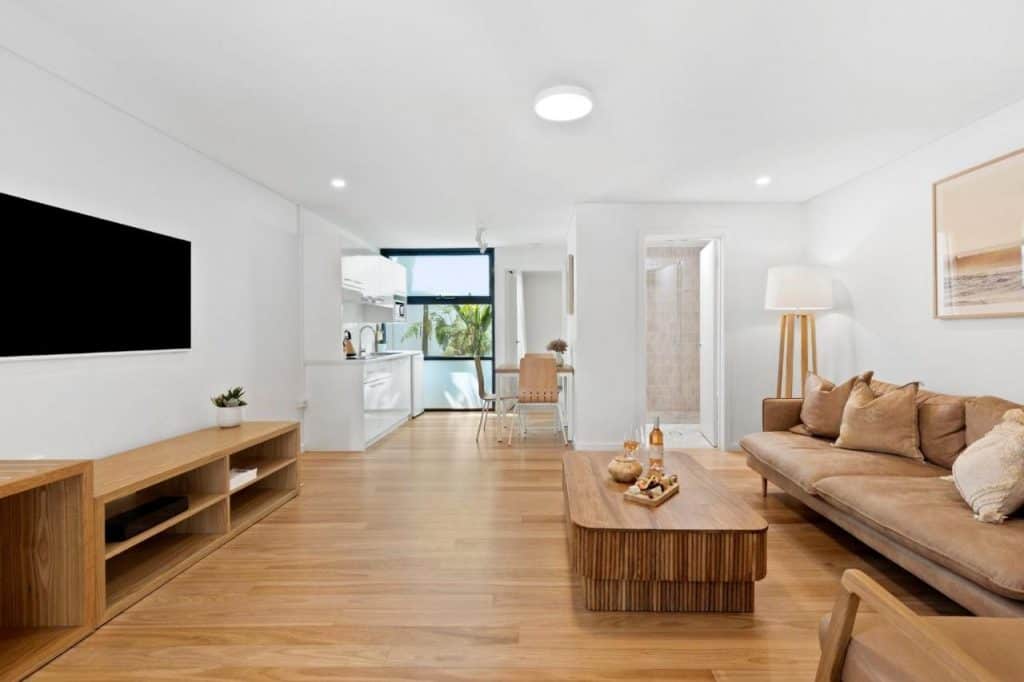 Our top choice, the Great Ocean Road Resort is in a fantastic location overlooking the river and close to shops, restaurants, and cafes.
It has everything you need for a relaxing hassle free getaway including an indoor pool and full-service day spa (Yes, please!).
The good-sized rooms give you plenty of room to spread out and you can choose from modern studio rooms, one and two-bedroom apartments, and spa suites.
All accommodation options feature air-conditioning, digital HD TVs, Wifi internet access, and lovely outdoor areas.
Onsite facilities at this Anglesea Spa Resort include a heated indoor pool (perfect in winter), a fitness centre with a steam room, and a tennis court.
The resort is perfect for families with children who are kept entertained by the kiddies pool, Jumpz Trampoline Park, and playground.
Guests can also make use of the barbecue facilities, business centre, and complimentary parking.
➡️ Check Rates and Availability Here!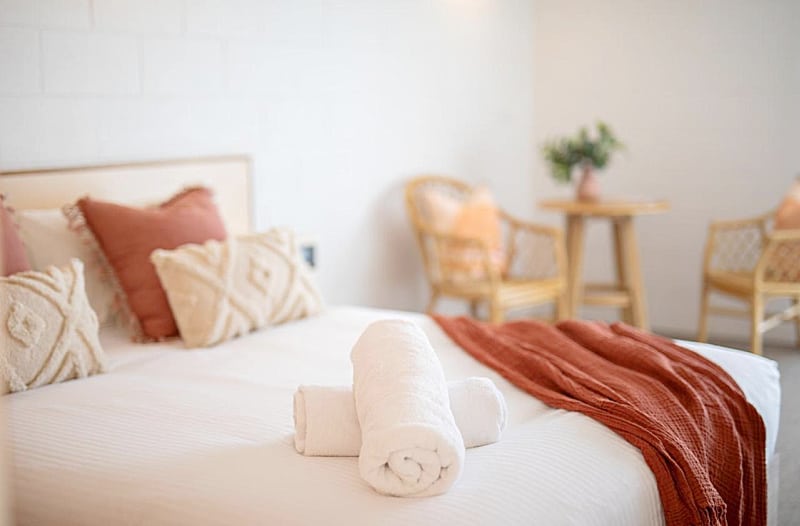 As its name suggests, the newly refurbished Anglesea Riverside Motel is situated opposite the river, and is close to shops restaurants, cafes, and the beach.
It offers 16 spacious rooms with comfy queen beds, split system heating and cooling, digital HD televisions, tea and coffee making facilities, microwaves, toasters, and a bar fridge.
A 3-bedroom fully self-contained apartment that's ideal for families and groups is also available.
This value-for-money motel features an outdoor swimming pool, free Wifi, and complimentary parking.
Guests of Riverside Motel have the added bonus of complimentary use of the Great Ocean Road Resort's indoor pool, tennis court, and fitness centre.
Anglesea Riverside Motel is a great option for those looking for affordable accommodation with a pool and a few added extras.
➡️ Check Rates and Availability Here!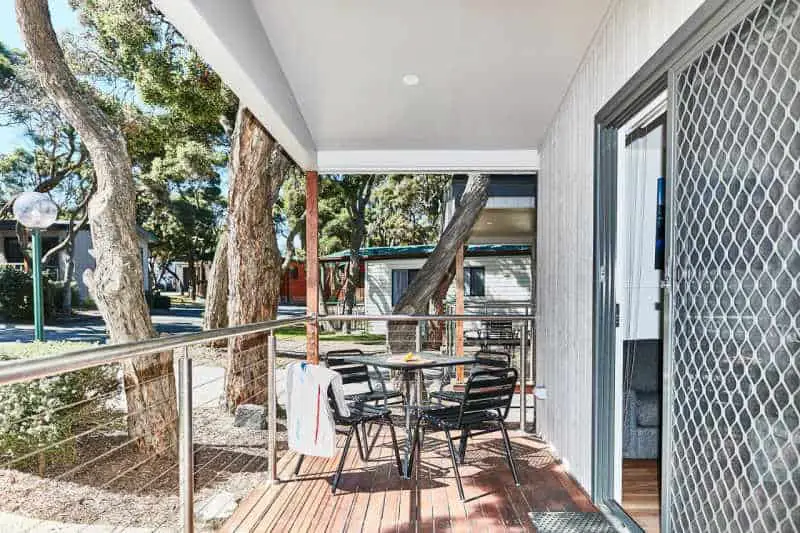 Sitting just off the Great Ocean Road, Anglesea Family Caravan Park has fantastic facilities to keep the whole family entertained.
Keep the kids busy with a heated swimming pool, free mini-golf, a beach volleyball court, basketball rings, playgrounds, and a toddler playroom.
Other amenities include barbecues, a large recreational area, and laundry facilities.
The caravan park offers a range of cabin accommodations to suit all budget and lifestyle needs.
You can choose from spa cottages, 3-bedroom cottages, deluxe holiday cabins, as well as superior and cedar cottages.
All accommodation options feature full cooking facilities, bathrooms, lounge areas, televisions, and heating and cooling.
Most options have Foxtel and private balconies while some cottages also have spa baths and gas log fireplaces.
➡️ Check Rates and Availability Here!
Final Word
Anglesea in Victoria is a fabulous place to visit with plenty of awesome things to do in and around Anglesea town.
We hope you found this list of things to do in Anglesea Victoria useful and that you have as great a time when you visit Anglesea as we do.
You can find more guides to the Great Ocean Road by clicking here. Don't forget to join our FREE Great Ocean Road Travel Planning Facebook Group here!
Recommended: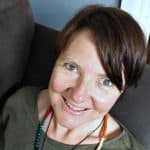 By Audrey Chalmers
Audrey grew up in Victoria and travelled the world but she always called Victoria home. She loves nothing more than exploring her home state and sharing it here.