This article may contain compensated links. For more information read our disclaimer here.
Wondering What The Best Things To Do In The Otways Are?
You're in the right place! We live just an hour away and love nothing more than exploring all the best Otways attractions
We've put together this guide to the best things to do in the Otways, so you can have an amazing time.
The Otways, also known as the Great Otway National Park or Otway Ranges, are home to rugged coastlines, forested mountains, and spectacular waterfalls.
It's the perfect place to get away from the busy streets of Melbourne and escape into nature for a while.
The Otways National Park is one of the best national parks Victoria has to offer with so many things to do for outdoor adventurers and nature lovers.
Explore one of the many Otways falls and walks, find glow worms after dark, spot platypi and koalas in the wild, and zip through the trees on high ropes courses.
👉 Join our Great Ocean Road Travel Planning and Tips Facebook Group here. It's the perfect place to ask your questions and be inspired!
Another reason to visit the Otways, that most people don't know about is its amazing local culinary scene.
With the Otway Harvest Trail, it's easy to find fresh, seasonal produce from local businesses, markets, and farm gates throughout the region.
From cellar doors to farm-to-table restaurants, the Otways never disappoint when it comes to satisfying your taste buds.
Things To Do In The Otways
When you're travelling in Victoria, The Otways are an absolute must-visit.
Many of the Otways attractions are easily accessible from the Great Ocean Road. So be sure to add these top things to do in the Otways to your next trip.
1) Explore The Treetops On Otway Fly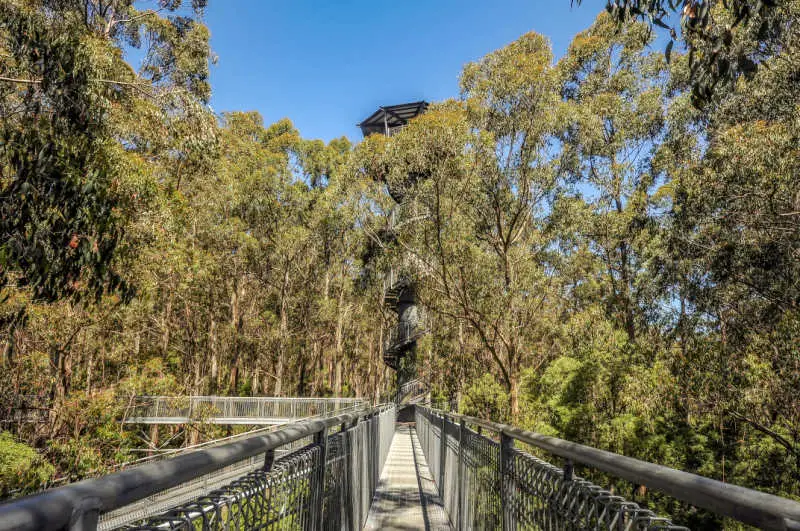 One of the best things to do in the Otways for families is Otway Fly Treetop Adventures.
There's something for every age group, from infants right through to big kids at heart.
With the 30 metre high Otways Treetop Walk, you can experience life in the canopy and get a bird's-eye perspective of the nature and wildlife that calls this area home.
The one hour experience takes you along 1.9 kilometres of elevated platform through the forest, ending with a 47 metre tall Spiral Tower that offers outstanding views over Young's Creek.
Kids will love the Otway Fly, a zip lining course that takes you through the dense treetops of the beautiful Otway Ranges.
Zip from one 'Cloud Station' to another as you take in the outstanding views and scenery.
For smaller children, there's also an Enchanted Forest. Tiny fairy-tale homes hidden in the forest make for a magical experience with the little ones.
The Treetop Walk costs $27.50 per adult, and $21.50 for children (3-15 years) – children under 3 are free and prams are welcome.
Zip line tours cost $120, or $99 when booked in advance online.
Otway Fly Treetop Adventures

Where: 360 Phillips Track, Weeaprioniah 3237

When: Thu – Mon: 10.00 a.m – 5.00 p.m, Every day in shcool holidays, Last entry 3.30 pm

Entry: Adult: $27.50, Children: $21.50, Family: $80.00

Phone: (03) 5235 9200
2) Go For A Dip At Beauchamp Falls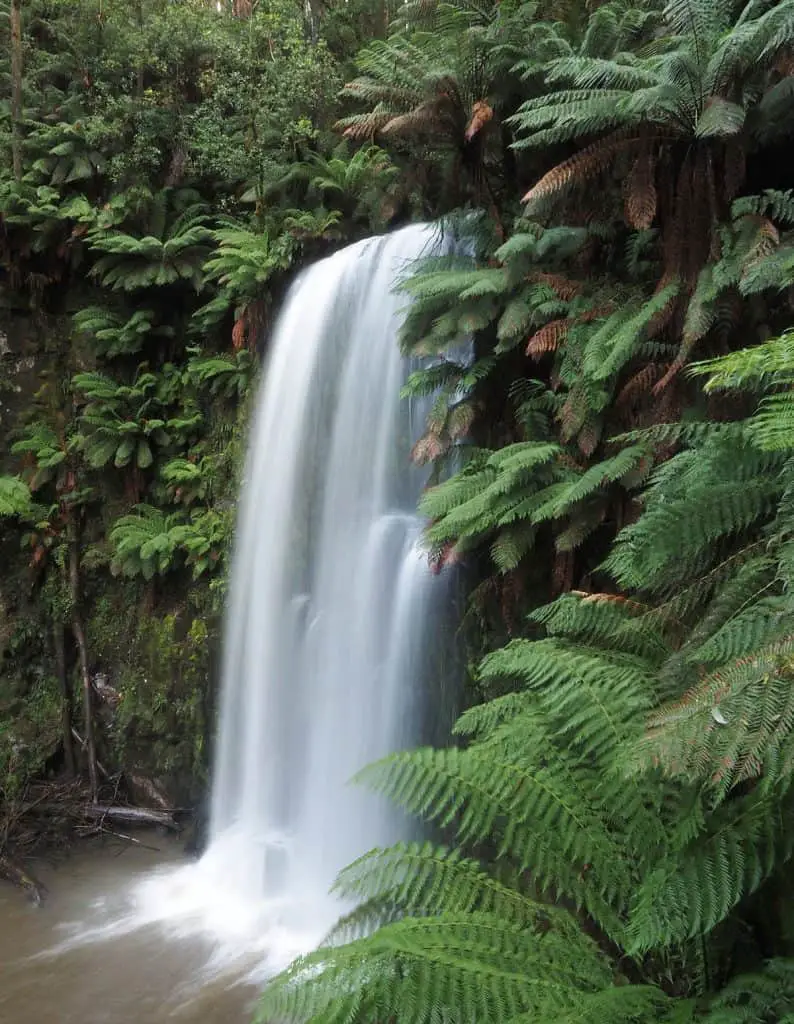 On a hot and sunny day in the Otways make the trip out to Beauchamp Falls, a stunning 20-metre waterfall.
The misty waters collect in a large pool that's surrounded by ferns, making it an atmospheric place to spend the morning.
Take a 3 kilometre trail downhill to reach Beauchamp Falls. Make your way through a forest filled with mountain ash, Blackwood, and large myrtle beech trees.
The journey takes around an hour and a half there and back, but make sure you allow plenty of time for a dip in the cool refreshing waters.
The trail isn't wheelchair or pram friendly as there are some steep steps – these can be slippery when wet so it's best to take shoes with good grip.
This is a grade 2 trail requiring reasonable fitness levels and some walking on uneven ground.
Beauchamp Falls

Where: Beauchamp Falls Road, Beech Forest 3237

When: Always Open

Entry: Free
3) Soak Up The Nature At Hopetoun Falls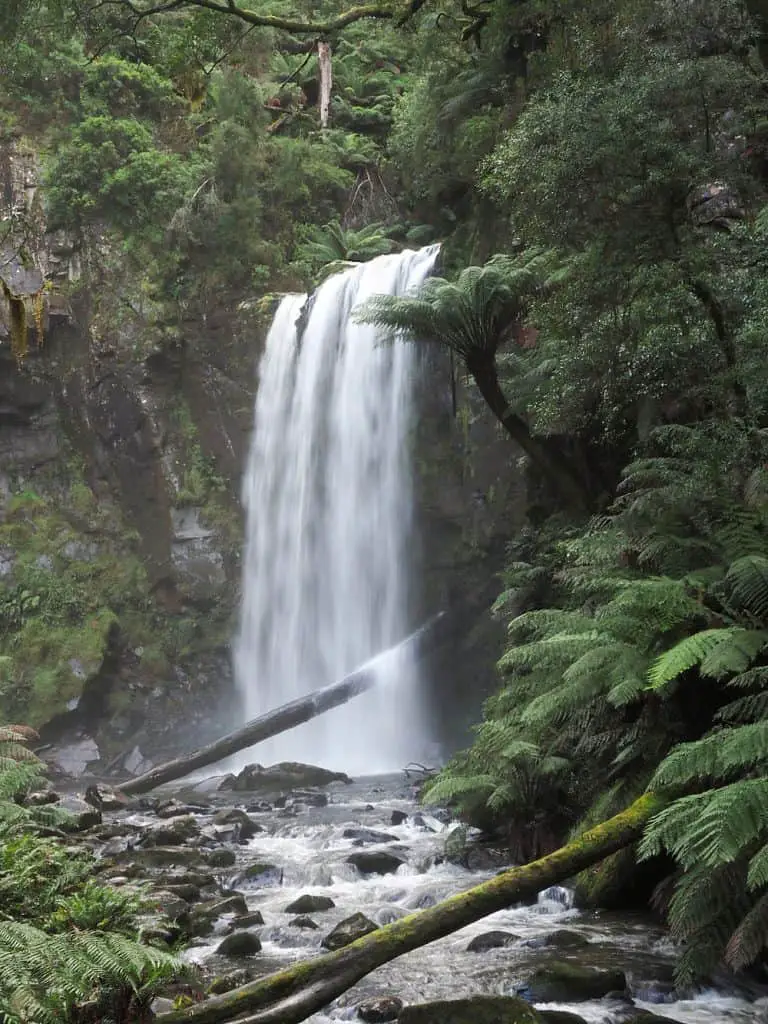 If you had to pick just one waterfall to visit, Hopetoun Falls is the most popular of the Otways waterfalls.
The top viewing platform is simple to get to making it easily accessible for everyone.
The 30 metre cascade powers into the Aire River in a fern-covered opening within the forest. The power of the water is truly mesmerising as it flows over the bare rock.
Take the 200 steps down to the lower viewing area to get a closer look at the falls, and feel the spray from the cool water (the lower viewing area is not accessible for prams or wheelchairs).
Hopetoun Falls

Where: Hopetound Falls Road, Beech Forest 3237

When: Always Open

Entry: Free
4) Walk Among Giants At The Redwoods Otways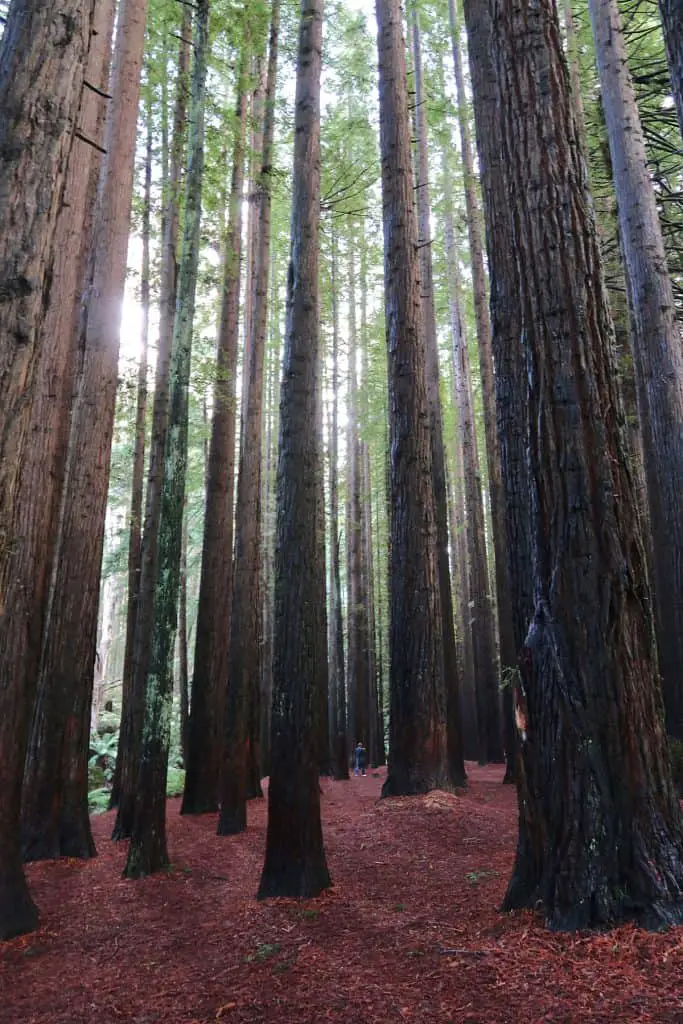 Nearby, the Otways Redwood Forest is a section of the park that's full of Californian Redwoods – the world's tallest tree species.
They might seem a little out of place here as the Otways Redwoods were planted in 1936 by Victorian foresters – but they were never harvested.
These giant trees have since thrived in the warm climate, and will continue to get bigger as time passes. Maybe one day they will outgrow their American counterparts!
The Otway rainforest walk takes you on a 500 metre return pathway through the impressive Otway Forest Park.
Here you can really get up close to the Californian Redwoods the Otways have inherited, and appreciate the sheer scale of these giants of nature.
The Redwoods Otways

Where: Binns Lane, Aire Valley 3237

When: Always Open

Entry: Free
5) Avoid The Crowds At Triplet Falls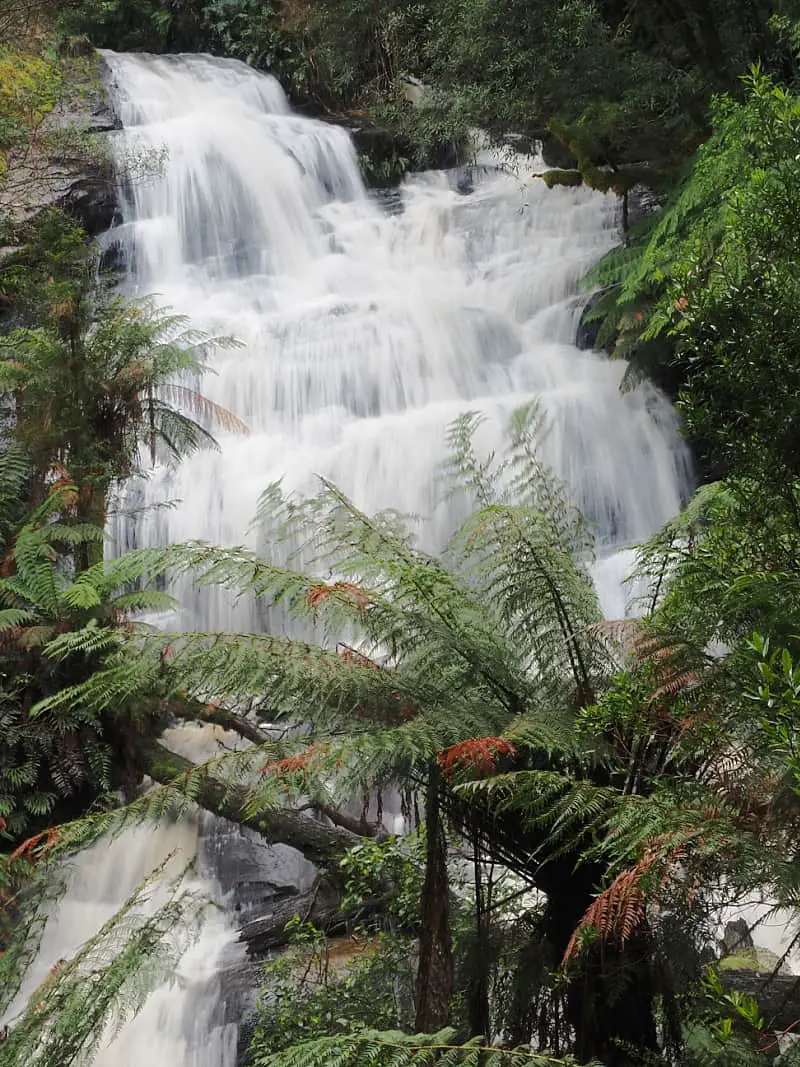 Triplet Falls is a stunning cascade that is less popular than some other Otways waterfalls, but is still well worth a visit.
It's made up of three distinct waterfalls (hence the name), but you can only really see the main falls due to the thick foliage surrounding the water.
Access the falls via the 2 kilometre circuit walking trail, making your way through dense forest covered with tree ferns.
Even during a dry spell, there is always plenty of water flowing at Triplet Falls, but it's at its most impressive after there's been rainfall.
6) Catch A Talk At The Cape Otway Lightstation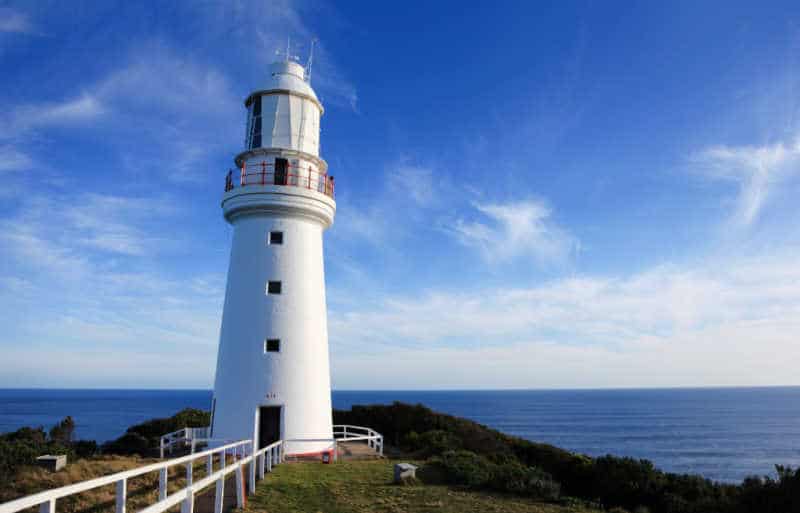 The Cape Otway lighthouse is known as the 'Beacon of Hope,' and is a prominent landmark when travelling the Great Ocean Road.
For history buffs or lighthouse fans, visiting Cape Otway Lightstation is one of the best things to do in the Otways.
Built in 1848, it's the oldest surviving lighthouse on mainland Australia. Head to the viewing area to get spectacular views out over the Bass Strait.
If you are visiting from May to October it's also a great spot for whale watching with around 25 species passing through the water below each year.
Along with dolphins and seals you may spot Southern Right Whales, Humpback Whales, Blue Whales and Killer Whales (Orcas).
Time your visit to learn more about the area with native plant and history talks that are included with the entrance fee ($19.50).
Pre-booking isn't necessary. Just turn up.
Cape Otway Lightstation

Where: Lighthouse Road, Cape Otway 3233

When: Daily 9.30 a.m – 5.00 p.m

Entry: Adult: $19.50, Child: $7.50, Family: $49.50, Concession: $17.50

Phone: (03) 5237 9240
7) Search For Wildlife On The Maits Rest Rainforest Walk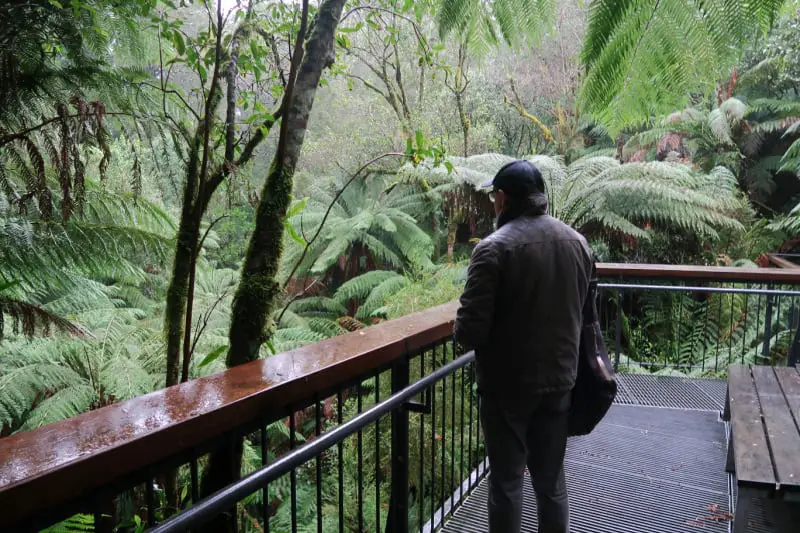 Right in the heart of the Otways and one of the many Apollo Bay attractions, Maits Rest is one of the best places to visit in the national park.
Head out on the Maits Rest Rainforest Walk, an easy 30-minute self-guided loop through dense rainforest habitat.
The area is rich with native wildlife, plant life, ancient beech trees, and around 43 species of birds that are unique to the area.
Take a mixture of gravel paths and elevated wooden boardwalks (introduced to protect the fragile rainforest floor ecosystem) to explore the biodiverse area.
Spot swamp wallabies, ring-tailed possums, koalas, and grey kangaroos in the day, and at night head out on the Maits Rest Glow Worms Trail.
The Otways are all about getting out into nature, and at Maits Rest there are so many opportunities to see the unique wildlife in the area.
Maits Rest

Where: Great Ocean Road 15 minutes west of Apollo Bay

When: Always Open

Entry: Free
8) Spot A Platypus at Lake Elizabeth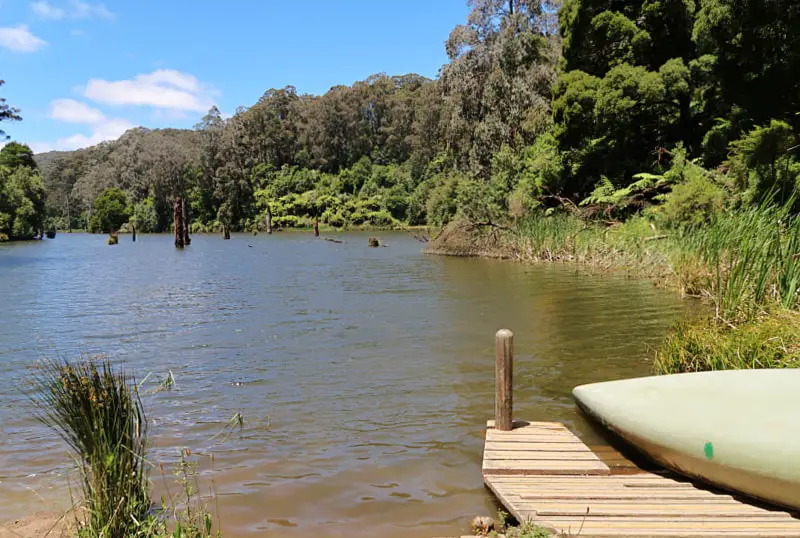 Lake Elizabeth Otways is one of the best places to see wild platypus in Victoria.
While these creatures are usually quite shy and elusive, guided canoe trips of Lake Elizabeth give you a 95% chance of spotting a platypus in the wild.
Otway Eco Tours run trips throughout the year, but times may vary. Canoe tours cost $95 for adults, and $60 for children under 18 (minimum age of 5).
It's also a beautiful place to walk around, and you might be lucky enough to spot one of these unusual creatures without a guided tour.
The lake is just a one kilometre walk from the parking area, but there are some steep sections that might make it difficult for those with reduced mobility.
You can walk around the whole lake for the very best views, at around 5 km it's the perfect place to take a relaxed stroll in nature.
Lake Elizabeth is a great place to visit for a couple of hours or to spend the whole day relaxing by the waters.
Lake Elizabeth

Where: Forrest – Apollo Bay Road, Barramunga 3249

When: Always Open

Entry: Free

Tours: Adult: $95.00, Child: $60.00
9) Go Koala Spotting In The Otways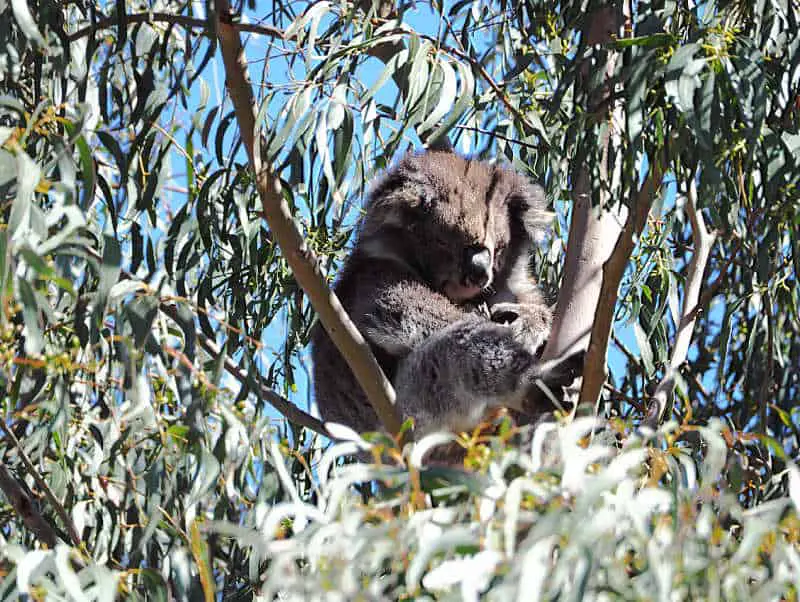 Kennett River
One of the best places to spot koalas in the Otways is Kennett River.
Take the Kennett River Nature Walk and head up the dirt road named Grey River Road, and you are certain to see some wild koalas in the trees.
Come either early or late as the koalas relax and nap during the hottest parts of the day.
If you want to get out into nature, stay at Bimbi Park, famous for 'sleeping under the koalas'.
The campground is sheltered among tall manna gums making it the ideal haven for these marsupials.
The site is full of native wildlife including Possums, Echidnas, and around 70 varieties of birds.
👉 Check Rates For Bimbi Park Here.
If you're on your way to the Cape Otway Lightstation, be sure to keep your eyes peeled and scan the foliage as you drive along Lighthouse Road.
There are sure to be some resident koalas hanging around in the trees that line either side of the road.
10) Have A Drop At The Otway Estate Cellar Door
Hidden away in the lush Otway Rainforest of Southwestern Victoria is the Otway Estate Prickly Moses brewing facility and distillery.
Along with some of the region's best wines, you can sample local craft beers, Forbidden Fruit ciders, and five exotic gins all produced on site.
The Otway Estate Winery is open to visit 7 days per week so there's never a bad time to visit.
On weekends the cellar door offers tasting paddles, pizzas from an Italian wood fired oven and local cheese platters.
Relax on the couch by the fire, make use of the café area or sit outside and enjoy the views from the undercover deck.
Otway Estate

Where: 10 Hoveys Road Barongarook West

When: Mon – Fri: 11.00 a.m – 4.00 p.m, Sat – Sun: 11.00 a.m – 5.00 p.m

Phone: (03) 5233 8400
11) Hunt For Glow Worms At Melba Gully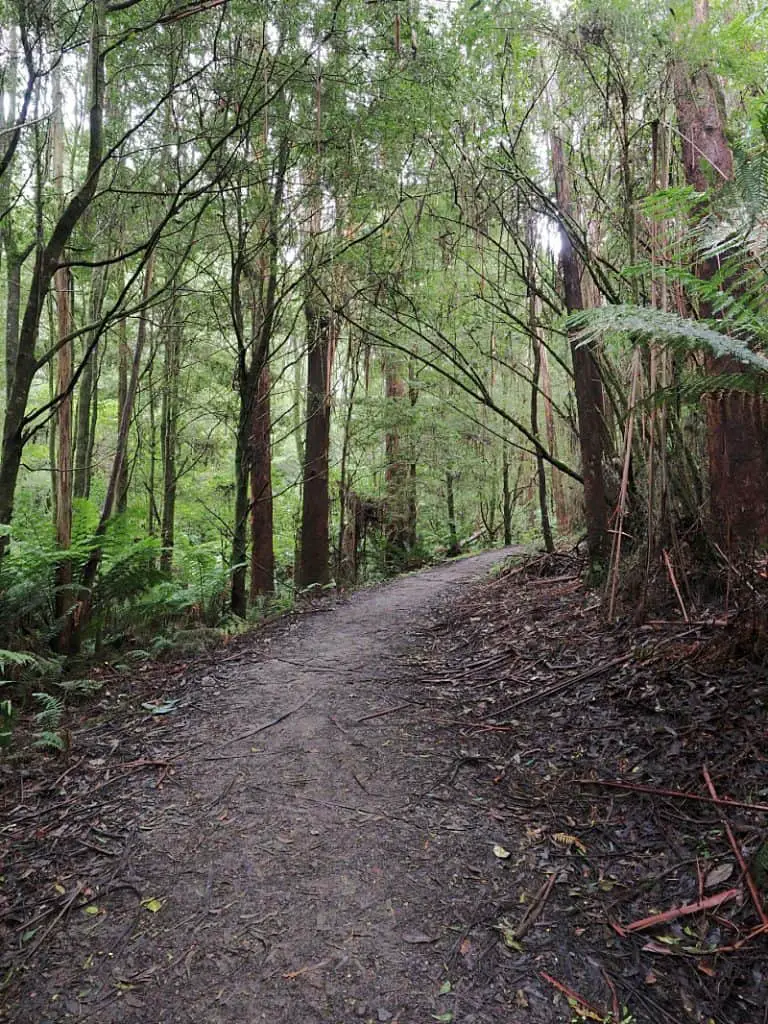 Just off of the Great Ocean Road, Melba Gully is a popular spot to visit after the sun goes down.
Visit the Madsen's Track Nature Walk to see if you can spot the Melba Gully glow worms lighting up in their thousands.
A short 1.5 kilometre walking track through the rainforest leads you through banks of bioluminescent light.
This natural spectacle is truly magical and is a fantastic experience for adults and children.
See the Otways come to life at night and learn more about these fascinating little creatures.
Melba Gully

Where: 5 Melba Gully Road, Lavers Hill 3238

When: Always Open

Entry: Free
12) Let The Otway E Bikes Take The Strain
One of the top rated things to do in the Otways is to take an e-bike tour of the area.
Head to Beech Forest to join a group tour with Otway E Bikes and learn more about the ecology and history of the area.
The popular 'Ol' Beechy Introduction Tour' is the best way to be introduced to both the Otways and to e-bikes.
Starting from Beech Forest you will head along the Ol' Beechy Rail Trail to get 360° views from the Otway ridgeline, looking south across the Great Southern Ocean and north over the Western Volcanic plains.
The 7.5 km return trip takes around 1.5 hours to complete and is suitable for all levels of riders (ages 8 and over are recommended).
The riding is easy going with the help of electricity and the tour promises 'no huffing and puffing'!
Otway E Bikes

Where: CNR Main Road and Cliff Young Drive, Beech Forest 3237

When: Daily from 10.00 a.m

Tours: Adult $65.00, Child $45.00

Phone: 0413 971 736
13) Take The Whole Family To Treetops Adventures, Yeodene
Take the whole family to Treetops Adventures Yeodene in the north of Otway Forest Park.
Whizz through the messmate trees of the Otway Forest on zip lines and adventure courses for 360 degree views of the Otways.
With two junior courses, six high ropes courses, over 80 aerial challenges, and a whopping 24 zip lines, there's no shortage of challenges for everyone.
Courses are ranked for every level, from beginners to pros, so it's easy to choose the right course for you.
A 2.5-hour session through the aerial challenges includes gearing up as well as all safety briefings.
The prices are $59 for adults, $49 for children aged 8-15, or $32 for 3-7 year olds (onsite adult supervision is required for anyone under 18).
Treetops Adventure

Where: 70 Possum Ridge Road, Yeodene 3249

When: Session times 10.00 a.m – 2.00 p.m daily

Entry: Adult $59.00, Child 8-15 $49.00, Child 3-7 $32.00

Phone: 04216 2002
14) Get Lost On The Forrest Mountain Bike Trails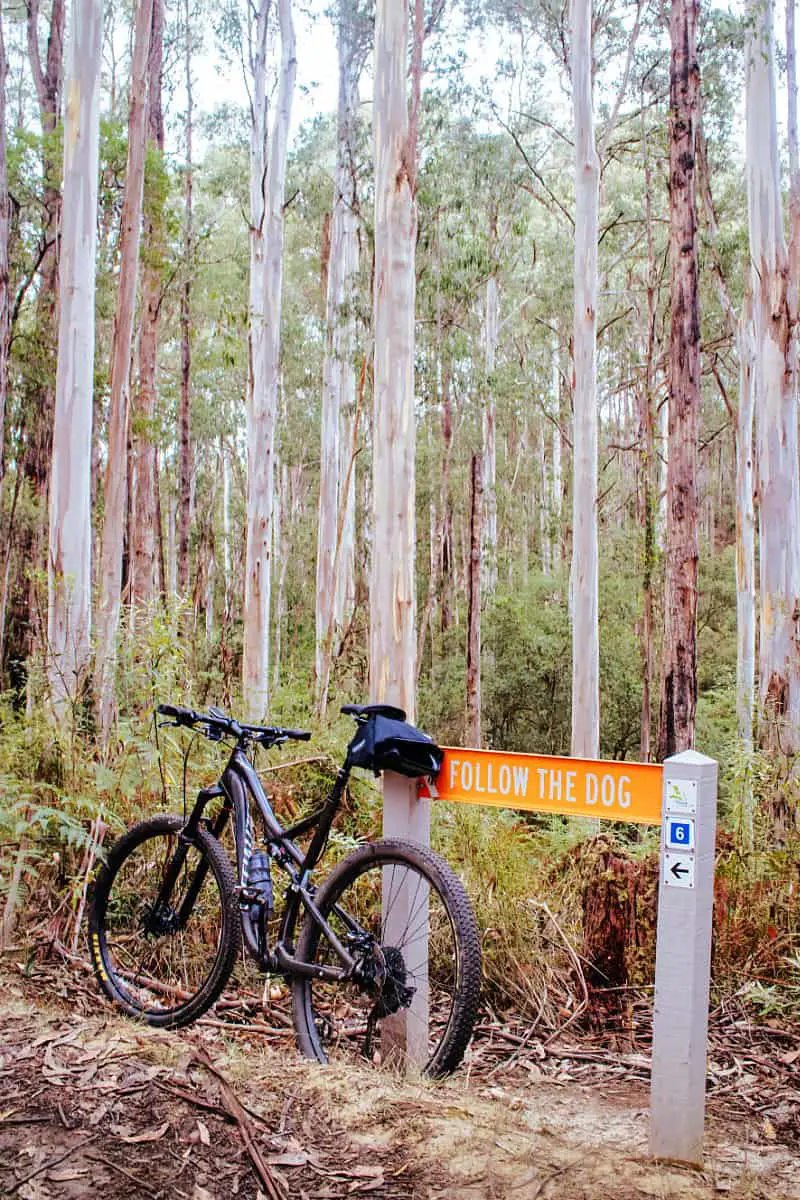 For adventure seekers, the Forrest Mountain Bike Trails have over 16 MTB trails in the region surrounding the village of Forrest, just north of the Barwon River.
The Forrest bike trails are a great way of experiencing the beauty of the Otways, passing through eucalypt forests, dry shrub land and wildlife-rich fern gullies.
When you add the thrill of whizzing downhill on a bumpy track, you have the recipe for a perfect day out in the Otways.
With over 75 kilometres of single track and new flow trails, there is a variety to choose from.
Some are great for beginners while other tracks like "Follow The Dog" are more suited to hard-core dirt riders.
15) Grab A Bite To Eat At The Forrest Brewery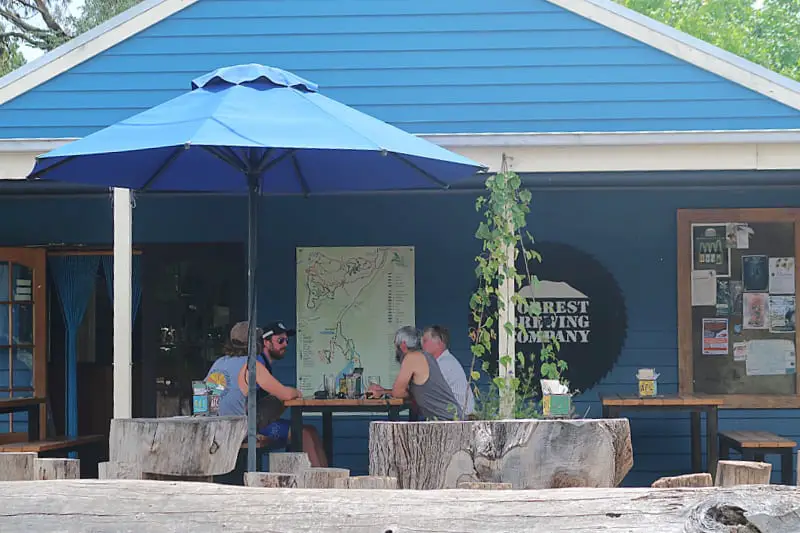 While you're in the area head to the Forrest Brewery for a refreshing local craft beer.
Right in the heart of Forrest, it's conveniently close to Lake Elizabeth and Yeodene too.
A kind of biker's refuge, the Forrest Brewery welcomes everyone with a friendly local charm.
Forrest Brewing Company is a small-scale family business where everything is brewed on site, hand bottled, and hand labelled.
You can taste the love that goes into the product with pure Otways water, select grains, local and international hops, and quality yeasts.
All beers are also preservative free and vegan friendly.
It's also a handy place to grab breakfast, lunch or dinner, with an international pub-style menu that caters to every taste.
For something local grab the Brewers Sharing Board which offers a selection of the region's best produce including house-made 'beer-fed' beef jerky and house-smoked cheddar cheese.
Forrest Brewing Company

Where: 26 Grant Street, Forrest 3236

When: Fri – Sat: 9.00 a.m – 9.00 p.m, Sun – Mon: 9.00 a.m – 5.00 p.m

Phone: (03) 5236 6170
16) Find Simple Delights At The Forrest General Store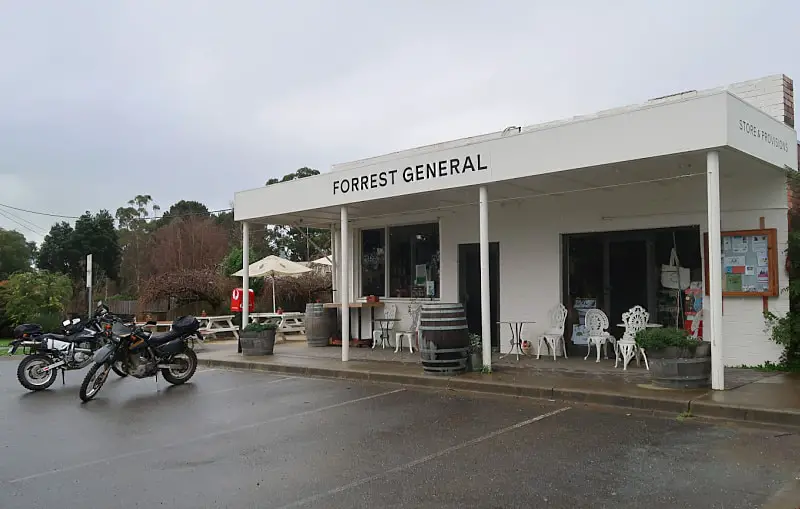 Just across the road from the brewery is the Forrest General Store, a great alternative if you're looking for a lighter lunch.
As well as local products in the store, they offer delicious homemade pies, sausage rolls, toasties, and soups.
If you don't fancy any of those there's also freshly made coffee and homemade cakes on offer.
If you are lucky enough to be staying nearby you may just end up visiting here every day as there's always something new to try!
The staff are so friendly and welcoming, it's a true hidden gem of the Otways.
17) Take A Walk Along The Old Beechy Rail Trail
If you have some time to spend exploring the Otways a little deeper, the 50 km Old Beechy Rail Trail is a fantastic option for hikers and cyclists.
The trail follows the narrow gauge railway line, once known as "The Beechy", between Colac and Ferguson.
The railway line is the reason that much of the Western Otways are now settled, it's a big piece of local history and was in operation from 1902 until 1962.
Break the trail up into smaller sections to find pockets of lush rainforest, wind through scenic pine forests and bushland, and cycle through rolling fields of farmland.
18) Take A Look Around The Gellibrand River Gallery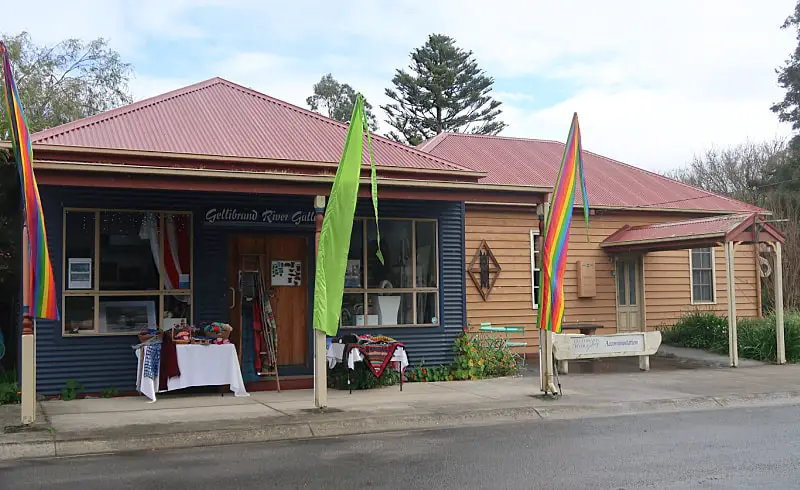 If you want to delve deeper into the culture of the Otways, why not visit an art gallery for inspiration?
Located 20 minutes from Colac in South West Victoria, the Gellibrand River Gallery showcases hand-made works from 15 local artists within the Colac Otway Shire.
The pieces range from art glass, jewellery and paintings to photography, textiles and woodwork.
Artist in residence Deb Gartland won the Overall and APS Member Best Entry winner of the inaugural Australian Conceptual Photography Award in 2019.
They also offer a fully self-contained two-bedroom cottage which can accommodate up to four people.
Located near Gellibrand in the north of the Otways, it makes the perfect base for exploring.
Gellibrand River Gallery

Where: 14 Main Street, Gellibrand 3239

When: Fri – Sun 10.00 a.m – 4.00 p.m

Phone: 0459 359 631
👉 Check Rates For Gellibrand River Gallery Accommodation Here
19) Make A Stop At Stevenson's Falls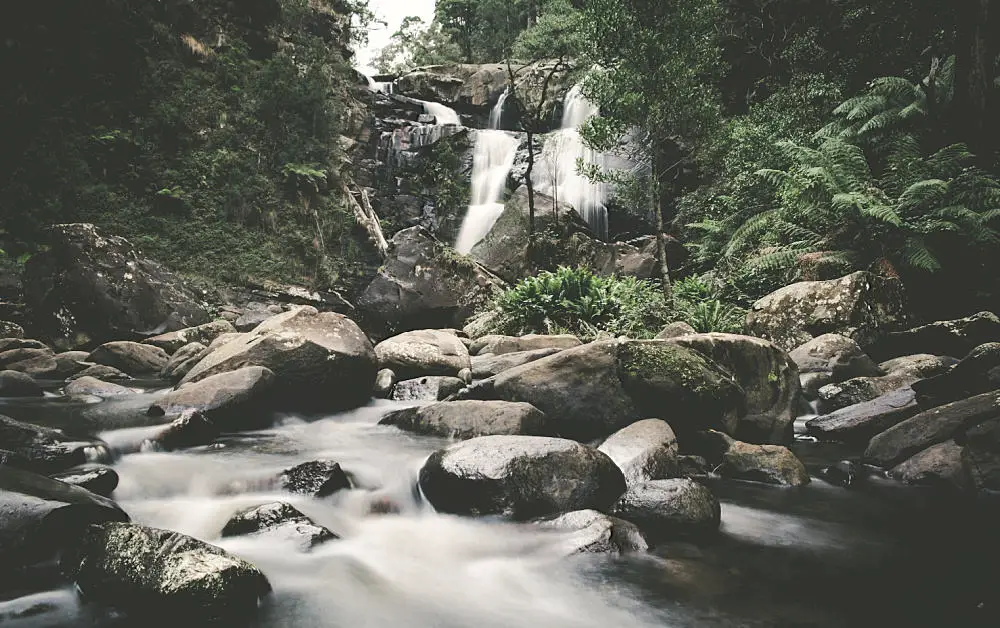 Stevenson's Falls is an accessible and beautiful waterfall to visit in the Otways.
Located close to Barramunga, It sometimes gets missed out as visitors tend to head for the waterfalls around Lorne and the Aire Valley.
The 4.6 km return Stevensons Falls Walk starts from the car park, passing through Californian redwood trees and crossing over the Gellibrand River.
The final part of the walk follows alongside the river until you reach a viewing platform located right at the base of the falls.
The walk is fairly easy with occasional steps and gentle hills. There's an open grassy area by the Gellibrand River with a picnic shelter, public toilets and a campground.
Please note Stevenson's Falls Otways is currently closed for maintenance works, the estimated reopening date is December 2023.
20) Sample The Best Produce In The Region On The Otway Harvest Trail
In celebration of everything that the Otway hinterlands has to offer, the Otway Harvest Trail maps out premier eating and drinking destinations that showcase the very best of the produce in the area.
The easy-to-follow driving route takes you through the beautiful Otway Ranges, known for its fertile volcanic soil and pure water supply.
Explore grassroots local businesses and food producers including breweries, wineries, markets, and farm gates.
Whether you're looking for wine, gourmet or artisan products, or places to stay and eat, the Otway Harvest Trail has collected the finest provedores and culinary connoisseurs in the region to bring you the very best of the best.
21) Experience Farm-To-Table Dining At Brae Restaurant
Speaking of the Harvest Trail, you can't not mention a world-renowned restaurant right here in the Otways.
Named after the hillside it sits on, Brae Restaurant is one of the best places to eat in the Otways.
The working organic farm creates seasonal and fresh menus from their own produce as well as local, ethical, and sustainable producers.
Their ambition is to showcase the unique Australian cuisine of the Otways based around nature and seasonality.
Get a better idea of where your food is coming from with a stroll around the grounds.
Brae Farm uses regenerative farming methods to grow seasonal vegetables, stone fruits, citrus, nuts, berries, olives, honey, and wheat grain.
Brae

Where: 4285 Cape Otway Road, Birregurra 3242

When: Wednesday: Dinner, Thu – Sat: Lunch

Phone: (03) 5236 2226
Things To Do In The Otways Map
On the map below we've marked all the Otways things to do that are listed above so you can see exactly where they are.
Final Word
I hope you've enjoyed this guide to the best things to do in the Otways.
It's a truly magical place to visit and I'm sure you're going to love it as much as we do.
If you're looking to explore further afield along the Great Ocean Road, find out what to do in Lorne here and the best Port Fairy attractions here.
👉 Join our Great Ocean Road Travel Planning and Tips Facebook Group here. It's the perfect place to ask your questions and be inspired.
Recommended: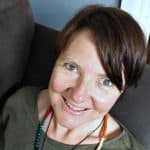 By Audrey Chalmers
Audrey grew up in Victoria and travelled the world but she always called Victoria home. She loves nothing more than exploring her home state and sharing it here.