Heading Down The Coast And Want To Visit The Best Waterfalls In Lorne?
If you want to discover the best Lorne waterfalls you're in the right place as we live close by and you might say we're a little obsessed with finding all the waterfalls near Lorne.
In this article, we've listed the best falls in Lorne, so you can experience some of Victoria's most enchanting cascades.
Lorne is famous for having 10 waterfalls that are located within 10 kilometres of the town centre.
Each one is unique and some are easier to access than others but they are all stunning and well worth a visit.
So keep reading to discover the best waterfalls Lorne has for you to discover. 
As beautiful as it is, there's more to Lorne than just the beach, with the nearby Great Otway National Park offering loads of walking trails and several spectacular waterfalls.
These natural Lorne attractions are accessed by a range of enjoyable walking tracks that will have you falling in love with the great outdoors.
There's nothing quite like the feeling of stumbling across a waterfall in the middle of a rainforest!
Ready to discover the 10 best waterfalls in Lorne? Let's get to it!
Top 10 Best Lorne Waterfalls 
Whether you're a leisurely rambler, seasoned hiker, or just someone looking to stretch their legs, these Lorne walks and waterfalls will reward you with breathtaking natural wonders and the chance to unwind from city life.
Be sure to add them to your Lorne, Great Ocean Road trip plan.
1) Sheoak Falls Lorne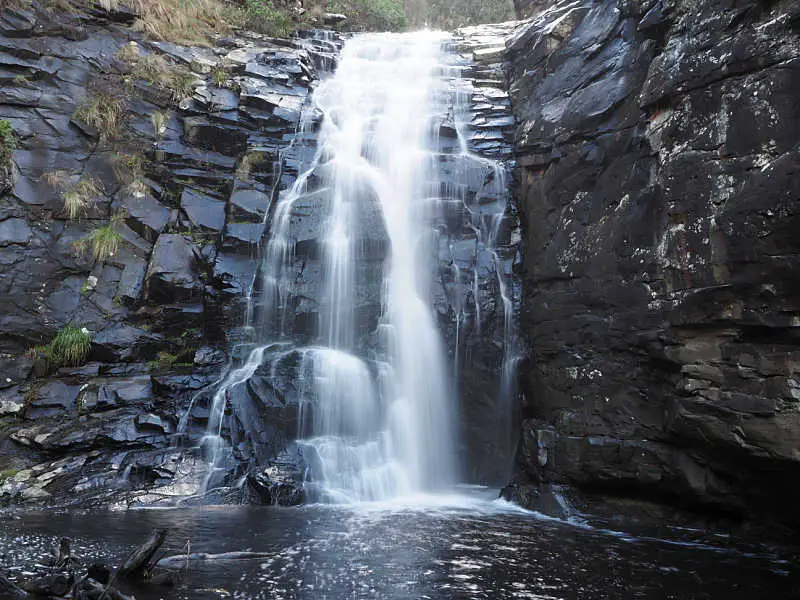 Distance from Lorne: 5.7 kilometres/10-minute drive
Trail Distance: 1.3 kilometres/1-hour walk
Difficulty: Easy
Sheoak Falls is one of the few waterfalls near Lorne Victoria that's accessed directly off the Great Ocean Road.
Situated just 5 kilometres south of the town, if you're looking for Lorne falls that are quick and easy to access then these cascades are for you.
The Sheoak Falls walk is an easy amble that offers brilliant views of the Southern Ocean as you walk along, and within about 10-minutes you'll be able to catch glimpses of the cascading falls.
These 15 metre high falls tumble over a dark horse-shoe shaped ridge that forms a kind of amphitheatre.
The setting has a lovely secluded air and if you're lucky you might have this little pocket of nature all to yourself.
If you have the time you can also visit Swallow Cave and watch the birds dart in and out of its honeycomb walls.
The walk to the cave adds another 1.2 kilometres (return) to your journey, and there are a few more stairs to climb but it's not difficult at all.
How to get there: From Lorne drive south along Great Ocean Road until you reach the Sheoak Falls car park, then follow the signs.
2) Cora Lynn Cascades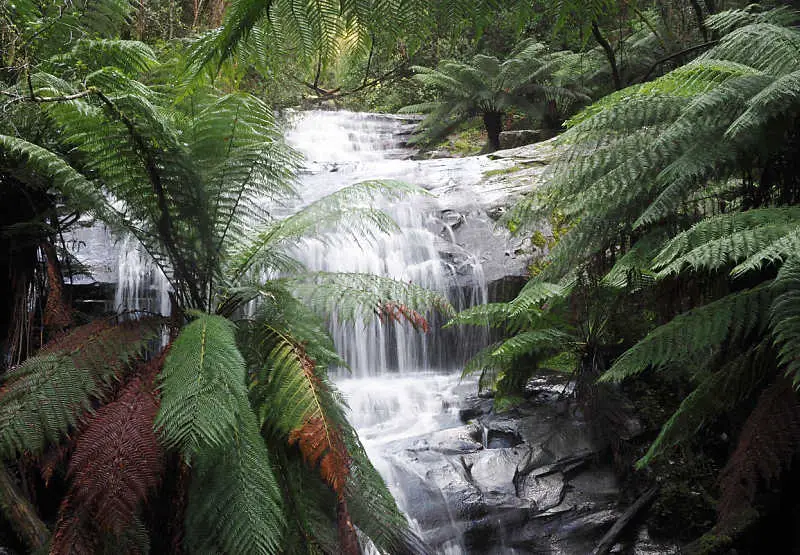 Distance From Lorne: 5.4 kilometres / 8 minute drive
Trail Distance: 4.2 kilometres / 1.5 – 2 hours
Difficulty: Moderate
The small but serenely pretty Cora Lynn Cascades is formed by a collection of rocky steps in the riverbed.
It's located within easy distance of Lorne but when it comes to Lorne waterfall walks this one takes a little more effort.
Starting at the Blanket Leaf Picnic Area, the 2-kilometre track has a steep incline that can be slippery and muddy at times, two creek crossings, and it's occasionaly covered in debris.
However, this is a stunning rainforest walk that takes you past huge old trees covered in moss, shady tree ferns, and lots of weird fungi!
It will suit anyone who enjoys nature walks that aren't too long but offer something of a challenge and fit people looking for active things to do near Lorne.
The cascades are actually part of a series of waterfalls that can be tricky to get a good look at.
To see them you'll need to clamber down some steep tracks and cross the bubbling stream.
This isn't a good idea unless you're an experienced bushwalker or scrambler and remember going off track can damage vegetation.
How To Get There: Follow Erskine Falls Road to Blanket Leaf Car Park where you'll find drop toilets and picnic tables. The walk is well signposted.
3) Erskine Falls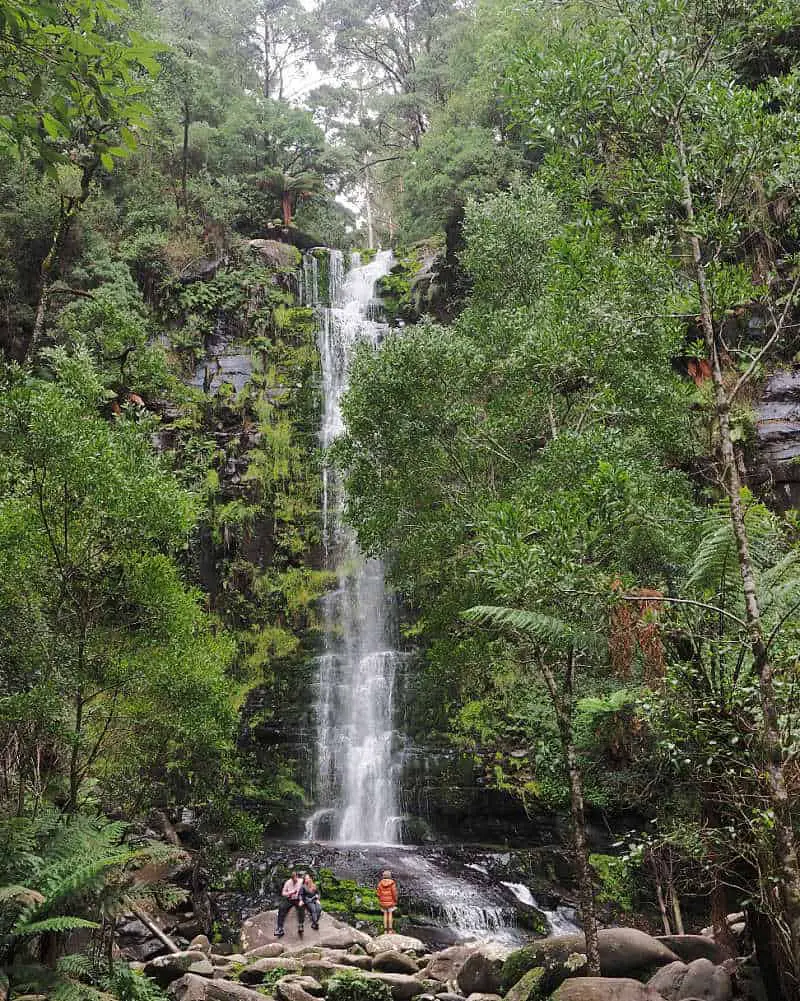 Distance From Lorne: 10.2 kilometres/14 minute drive
Trail Distance: Lower lookout 700 metres return/30 minutes
Difficulty: Easy
If you only have time to see one waterfall in Lorne then make sure it's Erskine Falls.
Sitting in a lush fern covered gully, this famous Otways cascade is one of the most beautiful waterfalls around Lorne.
Its flow is quite narrow but it's powerful, tumbling 30 metres into the pool below. Even when there's little water flowing they're still a delight to see.
Just a short distance from Lorne in the Angahook-Lorne State Park, Erskine Falls is fairly easy to access when compared to some other waterfalls in Lorne.
There are two lookouts from which you can see the falls. The 300-metre return walk to the first platform doesn't take much effort but the view is somewhat limited.
While the lower platform allows you to experience the full force of the falls from up close.
However, they're accessed by over 200 stairs which will have your heart pounding and lungs screaming on the way back up.
Of course, it's well worth making the effort which is why these falls are on everyone's list of Lorne things to do.
If you have a reasonable level of fitness it's possible to hike to Erskine Falls from Lorne.
It takes about 3 hours to complete this excellent Lorne waterfalls walk and it passes both Straw Falls and Splitter Falls along its 7.5 kilometre track.
How To Get There:  To get to Erskine Falls in Lorne, simply drive 10 kilometres along Erskine Falls Road behind the town until you reach the car park. Signs will direct you to the falls.
4) Straw Falls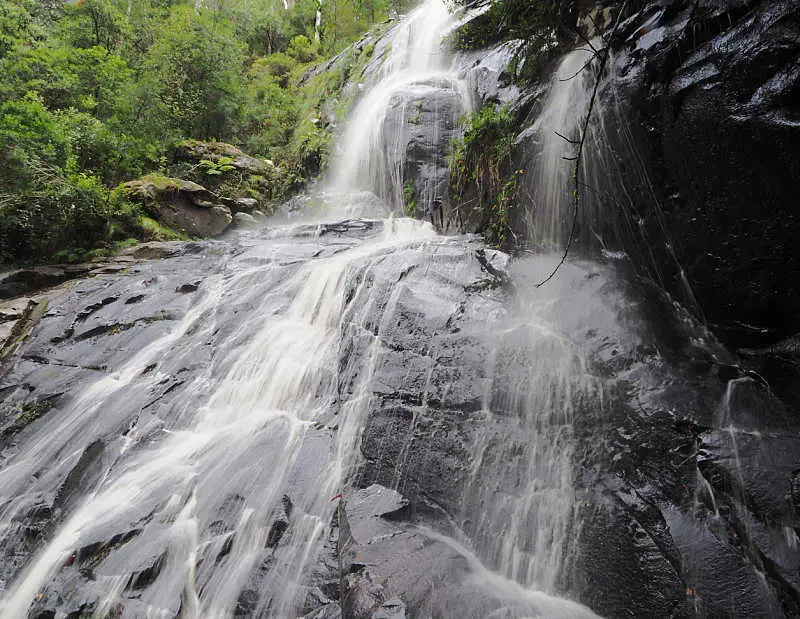 Distance From Lorne: 10.2 kilometres/ 14 minute drive
Trail Distance: 400 metres from Erskine Falls/2.2 kilometres return/ 1 hour
Difficulty: Moderate
Most visitors to Erskine Falls are unaware of the magical Straw Falls just 400 metres further along the river.
This is because the falls are far more difficult to get to, and depending on rainfall, they're not as impressive as Erskines.
At the bottom of the stairs down to Erskine Falls there's a smaller staircase to the right that leads down onto the riverbank. 
From here you need to cross the river to the left hand side where you will see a marker and a well worn path that will take you to Straw Falls.
This Lorne waterfall walk is a bit more challenging as the track isn't exactly well kept and you'll need to step over gnarly tree roots, duck under overgrown forest, and clamber over rocks and fallen logs along the way.
If you're experienced at crossing rivers then Straw Falls makes a good side trip to Erskine Falls.
At around 10 minutes each way, it's only a short walk amongst lush rainforest that is often likened to Jurassic Park.
Visiting these falls is something of a trade off, to see them at their peak you'll need to visit after heavy rain which can make the river crossing difficult, whereas during a dry spell the falls are less impressive but the walk and crossing are much easier.
How To Get There: Follow the directions to Erskine Falls.
5) Splitter Falls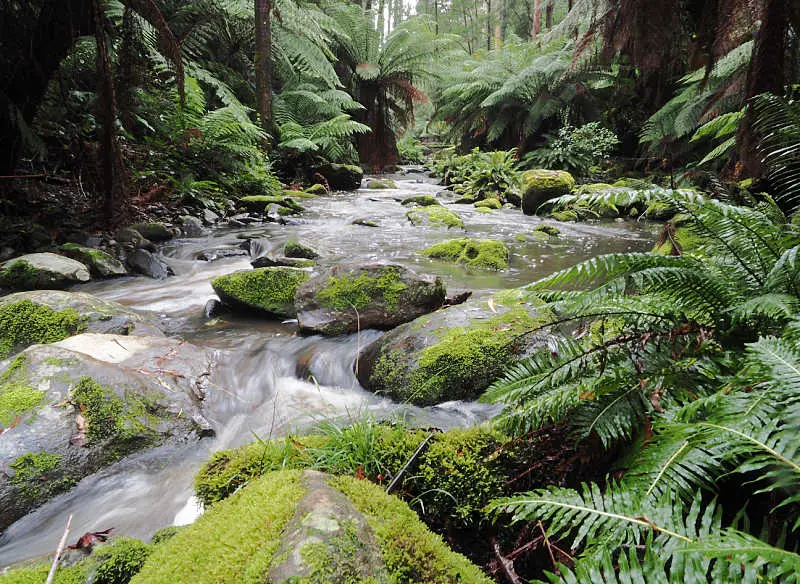 Distance From Lorne: 5.4 kilometres/ 16 minute drive
Trail Distance: 1.5 kilometres from Straw Falls/ 2-3 hours return
Difficulty: Strenuous with many river crossings.
Nestled deep in the forest, about 1.5 kilometres further along the Erskine River from Straw Falls is the hard-to-get-to Splitter Falls.
Visiting these falls is quite an adventure and should only be attempted when water levels are low as it involves multiple river crossings. Do not attempt this in high water.
There are many obstacles to navigate along the way and at times it's hard to see the track at all, but if you follow the riverbank eventually you'll get there.
The night before we visited these falls it rained heavily and we do not recommend attempting it in these conditions – one of us took a tumble.
We couldn't get a good view of the falls to take a photo as it was obscured by trees and it was too dangerous to climb down to the base, so we've shared one we took of the river instead.
It's a beautiful photo anyway, right?
Splitter Falls may not be the most spectacular waterfall in Lorne but the journey to get there is unforgettable.
How To Get There: Follow the directions to Erskine Falls or as part of the 7.5 kilometre Lorne Erskine Falls Walk.
6) Phantom Falls Lorne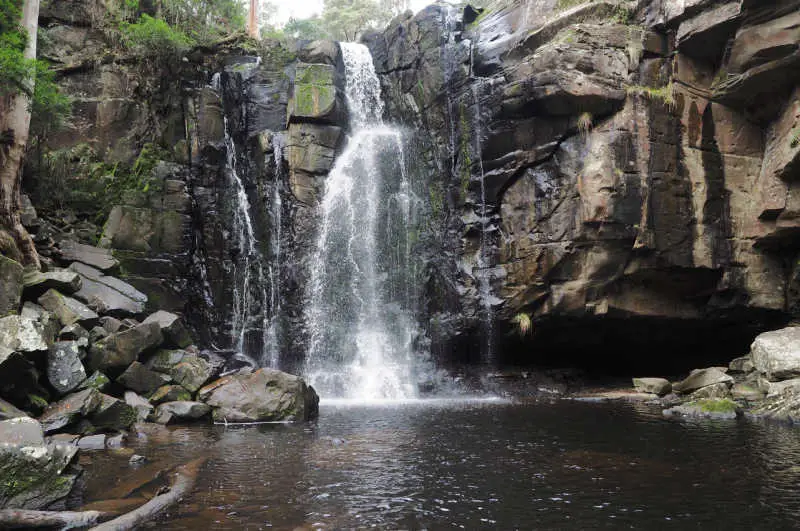 Distance From Lorne: 4.5 kilometres/15-minute drive
Trail Distance: 3.5 kilometres return/90-minute walk
Difficulty: Moderate
Sitting along the St George River the 15 metre tall Phantom Falls gushes over jagged rocks into a tranquil pool below.
The 3.5 kilometre (return) Phantom Falls Walk is an enjoyable walk that offers diverse scenery with plenty of nature and wildlife.
It does require a certain level of fitness though as there are some steep sections with loose gravel.
Starting at the Allenvale Mill Car Park the track takes you across the river and through a private orchard. 
The path continues along the river's edge until it turns onto an uphill vehicle track finishing at the top of Phantom Falls.
From here you can walk down the stairs to reach the pool at the base of the falls.
Energetic walkers wanting to do some longer Lorne hikes can take the more strenuous walk to Cora Lynn Cascades or continue on to The Canyon (a rock structure with 10 metre sheer cliffs) and Sheoak Picnic Area.
The start of this track is at the top of Phantom Falls.
How To Get There: From Lorne, drive 10 minutes along Allenvale Road until you reach Allenvale Mill Picnic Grounds.
The track begins opposite the car park, be careful not to mix the signs up with the ones for the Allenvale Mill Camping Area.
7) Henderson Falls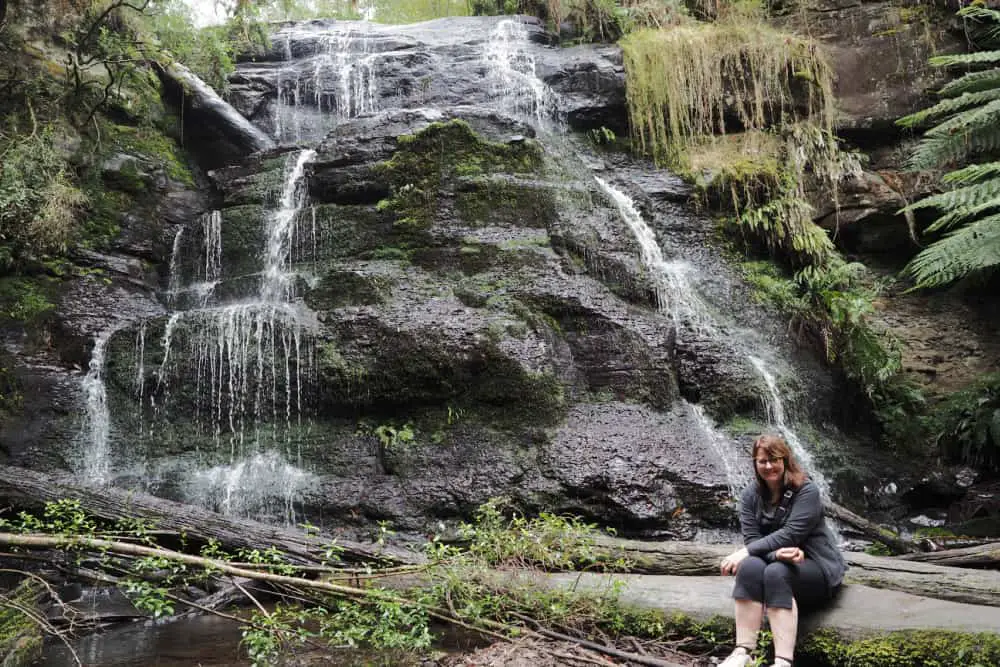 Distance From Lorne: 5.1 kilometres/12 minute drive
Trail Distance: 1.8 kilometres each way/1 – 1.5 hours
Difficulty: Easy
The gorgeous Henderson Falls sits hidden away in a secluded gully in the Great Otway National Park.
The sheltered location gives these falls a really special feeling and it's a great place to relax and breathe in the crisp forest air.
It's smaller than the more famous Erskine Falls but at around 10 metres high it still has a decent cascade with water tumbling over what looks like one large bumpy rock.
There's a small pool at the base where you can dangle your feet and you can walk right up to the waterfall and feel the spray on your face.
The path to Henderson Falls Lorne is well signposted and takes you through a range of ecosystems from drier forests to lush rainforests.
It's a fairly easy walk that includes a pleasant stop at Won Wondah Falls along the way.
Most of the trail is flat so you can relax and enjoy your beautiful surroundings as you walk along.
How To Get There:  Henderson Falls Walk starts at the Sheoak Picnic Area car park south-west of Lorne along the Allenvale Road.
9) Won Wondah Falls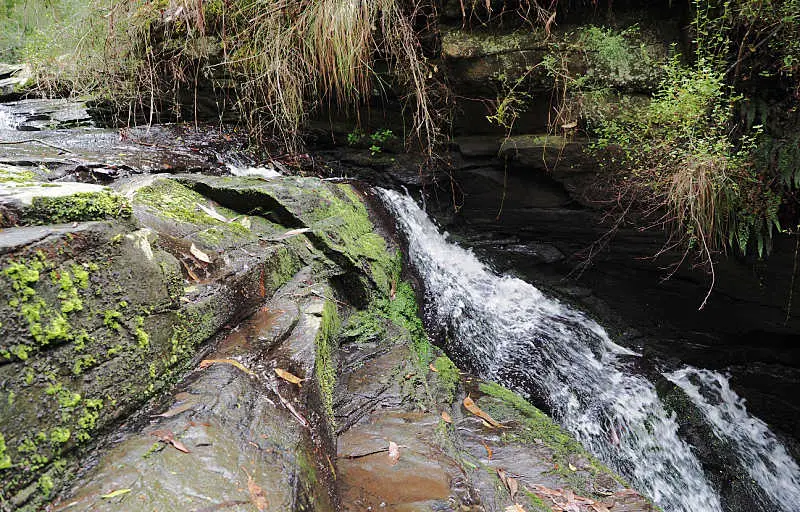 Distance From Lorne: 5.1 kilometres/ 12 minute drive
Trail Distance: 1 kilometre/ 30 minutes one way
Difficulty: Easy
As you wander along the Henderson Falls track you'll reach the turn off to Won Wondah Falls.
This 8 metre tall waterfall tumbles into a valley that's overgrown with thick vegetation.
A well-built viewing platform looks down over the falls but much of it is obscured by vegetation and fallen trees, and there's no access to the base of these cascades.
The scenery is still pretty though, and since it's such a brief detour on the way to Henderson Falls it's definitely worth stopping by.
However, we don't recommend Won Wondah Falls as a stand-alone destination.
How To Get There: Accessed via Sheoak Picnic Area car park along Allenvale Road
From the Sheoak Picnic Area there is a trail that takes in Henderson Falls, Won Wondah Falls, and Phantom Falls, as well as "The Canyon".  This 9 kilometre loop walk takes around 3 hours to complete.
8 & 9) Kalimna Falls – Upper & Lower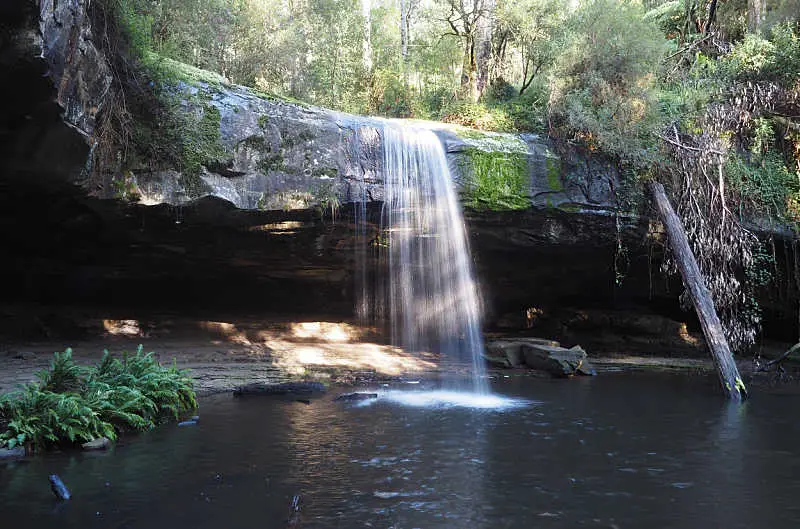 Distance From Lorne: 7.1 kilometres/17 minute drive
Trail Distance: Lower – 2.9 kilometres, Upper – 4.1 kilometres/ 3 hours to do both
Difficulty: Easy
The Kalimna Falls Walk can take up to 3 hours to complete and includes two separate waterfalls each with its own individual characteristics.
Known as Upper and Lower Kalimna Falls they are both worthy of a visit but if you're short on time Lower Kalimna Falls offers the best waterfall experience.
Although it's the smallest of the two, this delicate cascade is picture-postcard perfect.
Water trickles over an overhanging rock ledge into a pretty pool surrounded by huge leafy trees and giant ferns.
The highlight of Lower Kalimna Falls is the large cavern that gives you access to the back of the falls where you can peek out through the tumbling water to the pool and surrounding bush.
The 15 metre tall Upper Kalimna Falls tumble down a steep rock face onto moss covered boulders below.
More powerful than Lower Kalimna it's not possible to get close to this waterfall and it's viewed at a distance from a lookout platform.
The Kalimna Falls Lorne Walk is a flat and easy trail although, like the Grampians waterfalls, it can be muddy after rain.
The trail follows the route of an old timber tramway that was used by early pioneers for transporting timber into Lorne.
History buffs should keep an eye out for information boards and the original sleepers that were used during its construction.
How To Get There: Follow Allenvale Road to the Sheoak Picnic Area. The hiking trail starts from across the road.
10) Cumberland Falls, Lorne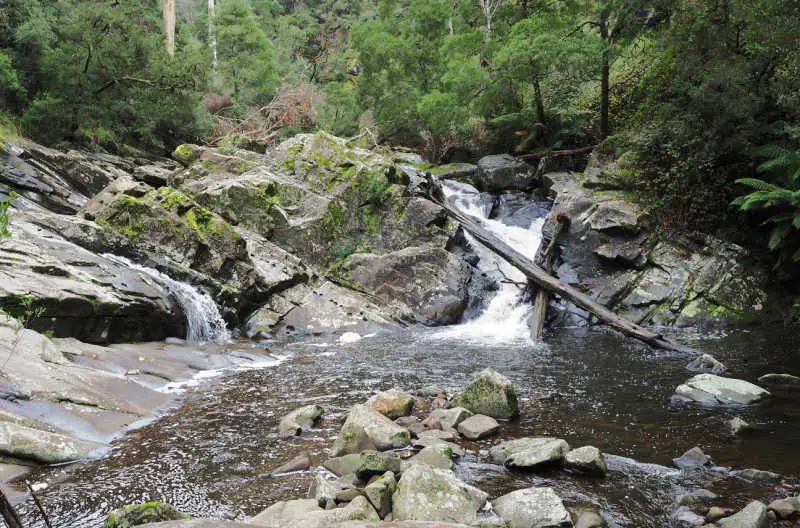 Distance From Lorne: 7 kilometres/ 12 minute drive
Trail Distance: 6 kilometres/ 3 hours return
Difficulty: Strenuous
Cumberland Falls is a small forest cascade that flows into a pool surrounded by lush greenery.
While the waterfall itself isn't outstanding the journey to reach it is one of the most memorable things to do around Lorne.
The Cumberland Falls Walk starts at the Cumberland River Holiday Park and in the beginning, you actually have to walk through the campsite for the first 400 metres or so.
It then traverses Otway river valleys with dramatic cliffs and pristine swimming holes including Jeb's Pool – a destination in its own right.
Most of the walk is pretty easy however it does require some hiking experience as there are four river crossings and at times you have to clamber over rocks so it can get technical.
It's more challenging than the other walks that are listed here. But for those who are up to the challenge, this beautiful nature walk is one of the most rewarding Lorne waterfall walks you can do.
How To Get There: From Lorne follow the Great Ocean Road west for 7 kilometres to the Cumberland River Holiday Park. Turn right and park in the car park near reception and follow the signs for the tourist trail.
Tips For Visiting The Waterfalls In Lorne
Do your research before heading out on your journey. Check the Parks Victoria website for up-to-date information on the current conditions.
Make sure a responsible adult knows what your plans are and let them know when you've safely returned.
Always stay on the marked tracks and viewing platforms. Do not climb over fences and barriers, they are there for your own safety.
Only swim where you're permitted and follow warning signs and take caution. Swimming near waterfalls can be dangerous due to strong currents and submerged hidden dangers.
Bring a hat, sunscreen, or rain jacket depending on the season to protect against the elements.
Wear suitable closed-toe footwear to protect your feet. Thongs/flip flops simply won't do.
Plan ahead and bring enough food and water for your journey
Please take your rubbish with you. We want to preserve our beautiful national parks for future generations to enjoy.
Remember you are responsible for your own safety and the safety of those in your care.
Waterfalls, Lorne Map
Final Word
With so many incredible waterfalls in Lorne, you are spoiled for choice when trying to decide which one to visit.
The towering Erskine Falls is a must-visit for any traveller to Lorne, while Sheoak Falls is great for a quick stop right on the Great Ocean Road.
We also recommend making time to visit one of the less well known Lorne waterfalls so you can enjoy the experience without the crowds.
Choose a waterfall best suited to your fitness level and hiking expertise, and be prepared for some serious thigh burn!
You can find more things to do in Lorne and Victoria here.
Recommended: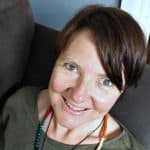 By Audrey Chalmers
Audrey grew up in Victoria and travelled the world but she always called Victoria home. She loves nothing more than exploring her home state and sharing it here.