This article may contain compensated links. For more information read our disclaimer here.
If you want to see some beautiful cascading water, then the Otways waterfalls are some of the best you'll find anywhere.
The Otways National Park and Great Ocean Road areas are home to some stunning natural waterfalls – as well as a few really pretty areas with water cascading over a series of rocks.
This guide to the best Otways waterfalls to visit will show you 20 of the best waterfalls to be found in the national park.
Plus a final bonus pick that is just outside it – but is well worth taking time to see. Especially after wet weather, and if you pack a picnic.
If you're looking for somewhere to stay in the Otways, we recommend Glenaire Cottages for their spas and gorgeous views.
Waterfalls in coastal and inland Victoria range from the Rainbow Falls by the sea at Station Beach to ultra-tall towers of thundering water.
All are at their best after the rain, and accessing many means walking along muddy trails. So come prepared for whatever the past or current weather may bring.
Read on to discover the wonderful world of the Otways waterfalls. Here are 20 of Victoria's best falls.
Some of which you can see by taking a quick pitstop while travelling along the Great Ocean Road!
20 Of The Best Otways Waterfalls To Visit
Get back to nature with these unforgettable Otways waterfalls. There's nothing quite like a sparkling waterfall in the middle of a rainforest.
We're sure with this guide you'll find at least one that suits your fitness levels and time frame. Enjoy!
1) Erskine Falls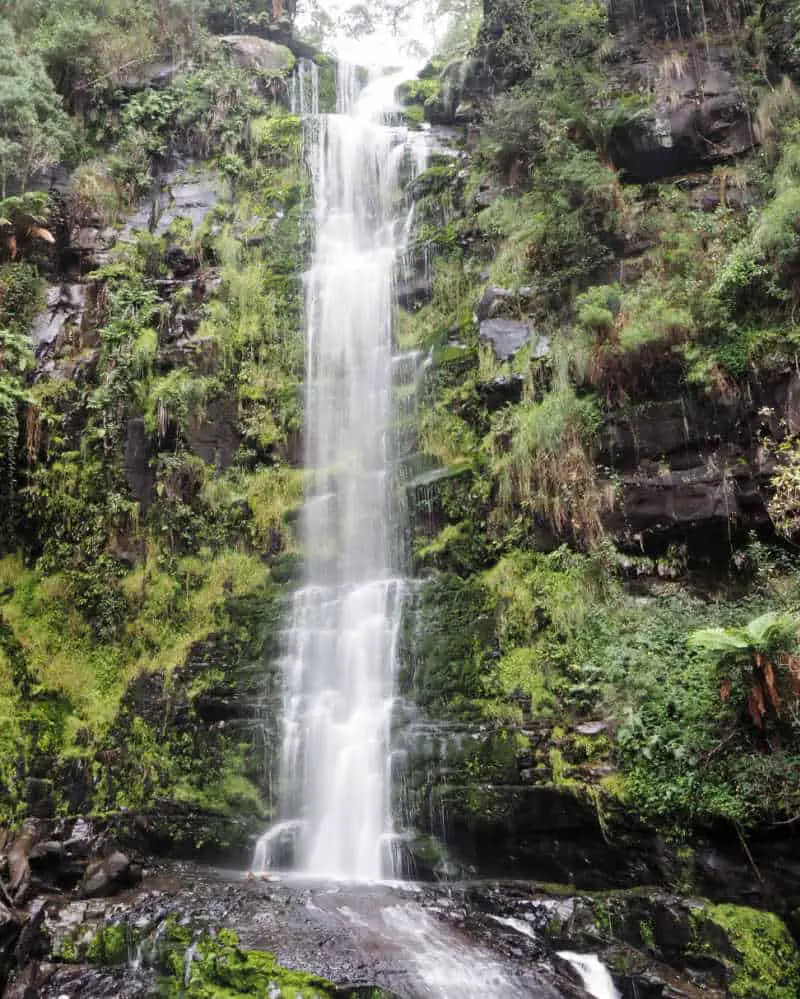 Erskine Falls is among the best known Lorne waterfalls. It has a couple of lookout points so you can get great pictures during your visit.
This natural Victoria attraction is 30 metres high and lies within the Otways National Park. They're also among the most popular waterfalls in the Great Ocean Road area.
The Erskine waterfall comprises around 30 metres of water cascading down into a pool below.
When taking the Erskine Falls walk, you can appreciate that this part of Victoria experiences higher than average rainfall for Australia.
You'll find Erskine Falls near Lorne by taking the Erskine Falls Access Road leading off the main Erskine Falls Road.
The drive takes around quarter-of-an-hour from Lorne, and you can access the Erskine Falls walking track from the car pack.
Pick the easier walk to the first lookout, or descend 230 steps for the best view at the second stop. Just be prepared for the thigh burning walk back up to the top!
2) Straw Falls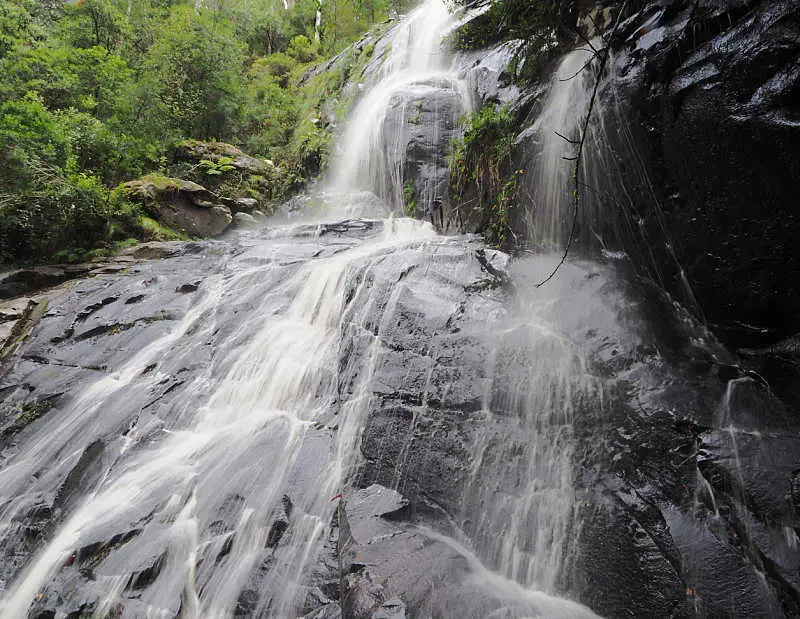 Some people decide to hike from Lorne to Erskine Falls, and may include Straw Falls as part of their trek itinerary.
The route is classed as moderately challenging and is around 15 kilometres long.
On average, it takes around four-and-a-quarter hours to complete the loop. This hike takes you by the river, so there's plenty of wildlife to see along the way.
Access this trail after leaving the car at the Erskine Falls car park. Expect a number of water crossings, plus some scrambling as you progress along the route.
The trail ends at the Lorne Foreshore caravan park, one of the more popular holiday parks on the Great Ocean Road. You can turn around or end the hike there.
It also includes Splitter and Erskine Falls, making it possible to see several of the Otways waterfalls in one hit.
Like other waterfalls near the Great Ocean Road, Straw Falls are more magnificent after significant rainfall in the area.
While it is a permanent waterfall, it may be more of a trickle during a dry summer.
3) Beauchamp Falls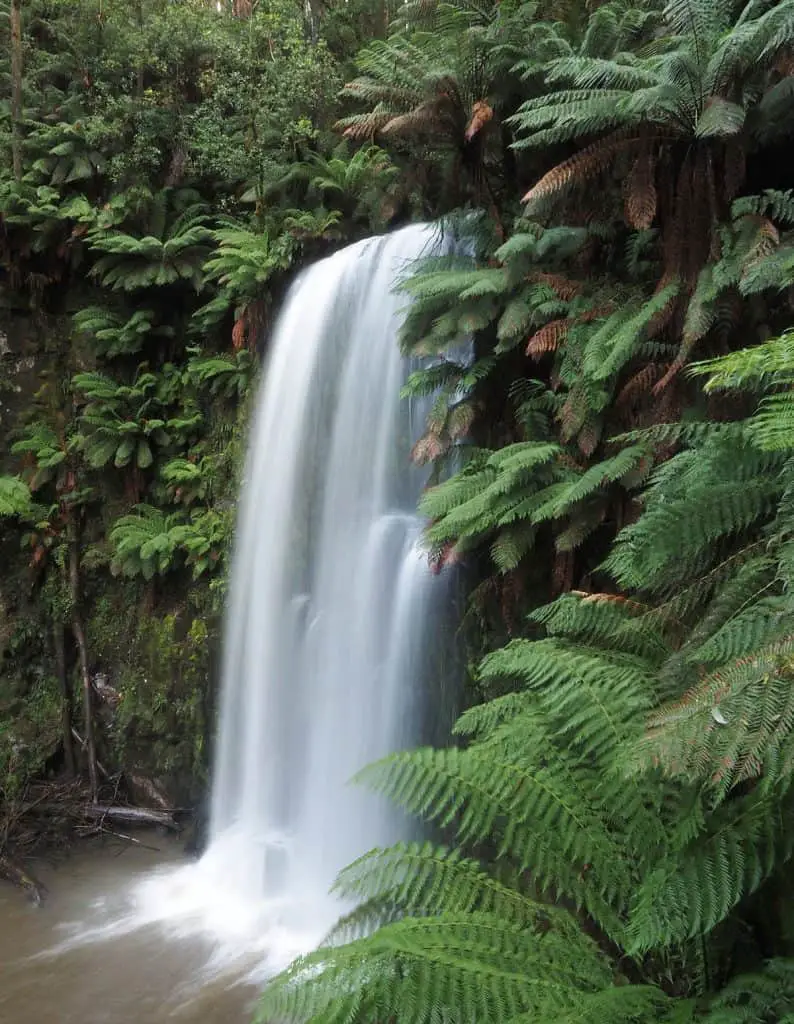 Beauchamp Falls (pronounced Beechum) in the Otways is another of those Great Otway National Park waterfalls that rewards a somewhat strenuous walk to reach the site.
The falls are 20 metres high, so they're a pretty impressive sight once you've made your way there.
En route, you'll pass forests filled with mountain ash, Blackwood, and myrtle beech trees. Large ferns also overhang the boardwalk near the falls.
This Beauchamp Falls walk leads from the picnicking area you can find off Aire Valley Road.
It takes around an hour to complete the loop, and a reasonable level of fitness is required.
The descent will take you to a viewing platform from which you can see and photograph these Otway Falls, but there's no direct access to the water.
Use footwear that's suitable for slippery terrain, and note that the ascent after seeing the falls is rather steep.
It's a great way to see some of the forest as well as the falls, though, making it well worth the effort.
4) Hopetoun Falls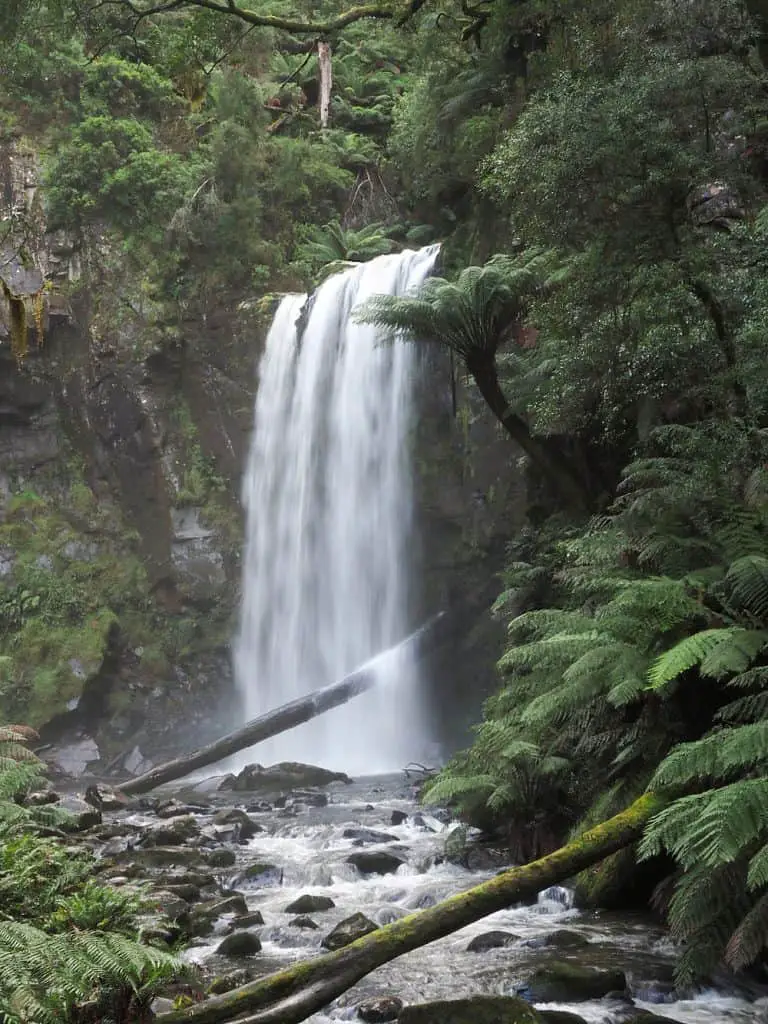 Another of the taller Otway National Park waterfalls is Hopetoun Falls. This one can be found along the route of the Aire River, and the site is also fringed by pretty ferns.
Visit after the rain and this really is one of the most jaw-dropping waterfalls in the Otways. There are viewing platforms accessible via the path leading from the car park.
Hopetoun Falls are 30 metres high, and the viewing platform at the base is the best for fully appreciating the height of the cascading water.
You'll have to climb down 200 steps to reach this, but as there's a seat to rest on you can take a break before heading back up the stairs.
If you don't fancy tackling all those stairs, you can take a much easier 20-metre route to the upper viewing platform rather than the half-hour trek to the lower platform and back.
Anyone who's been will tell you that the longer and more arduous route is more than worth the effort though, and it's only around a kilometre each way.
5) Stevensons Falls
Stevensons Falls in the Otways is home to one of the main picnic areas in the park.
So if you want to see just one waterfall in the Otways and combine that with a lunch stop, then this is one of the recommended options.
There's also a campground if you want to stay over in this area.
Sometimes referred to as Stevenson Falls in the Otways (without the 's'), Stevensons Falls is one of the most reliable waterfalls in this area.
So you can visit during any weather and expect to see tumbling waters, as these falls are found on the Gellibrand River.
If accessing Stevensons Falls from the car park, it's only half a kilometre to the falls.
This takes you past a row of towering Californian redwoods that were established here during the 1980s.
Your walk will also involve crossing the Gellibrand River before reaching the viewing platform.
6) Triplet Falls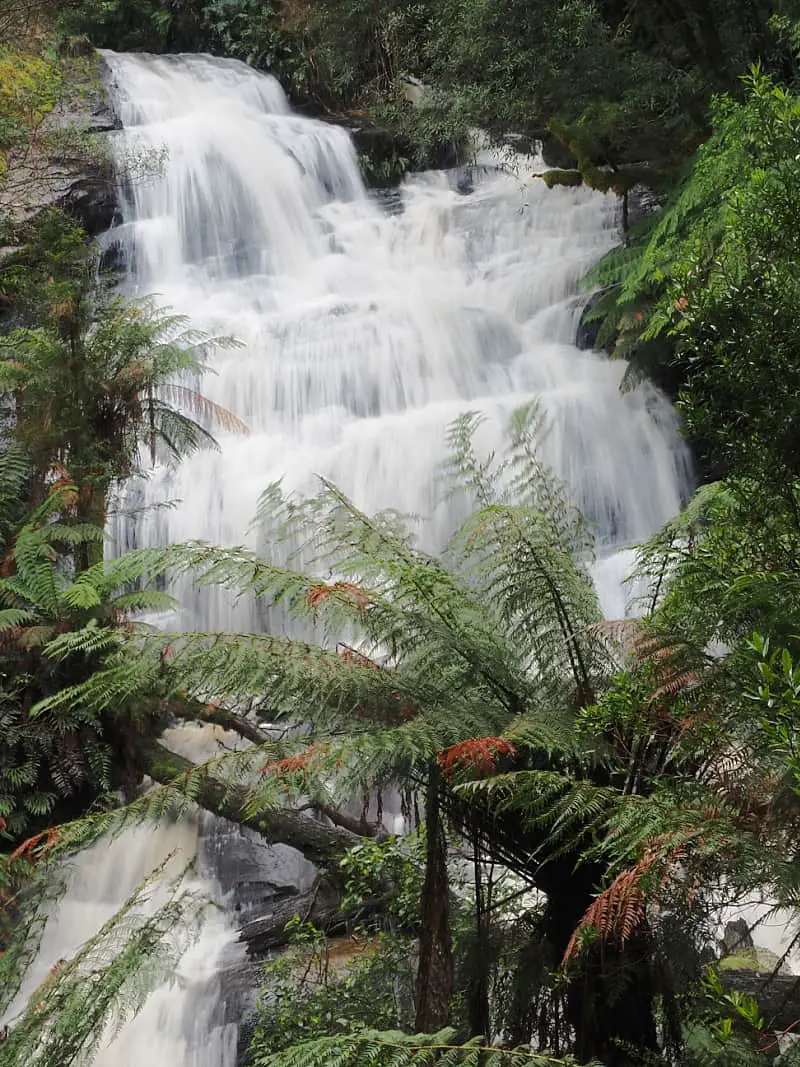 Taking a Triplet Falls walk is one of the best things to do in the Otways. You'll hike through lush ancient rainforest to see the falls from the elevated viewing platforms.
These falls are so-called because there are three of them, making it an even more breathtaking sight. Allow about an hour for the loop from the car park and back.
Triplet Falls in the Otways is hard to beat. Myrtle beech and mountain ash trees line the route, then there are spectacular views of the triple falls.
The trail also passes an old timber mill, and there are some relics to see from the days when this was a working wood mill.
This track is in good condition, and though there are some steep sections it's only moderate in terms of difficulty. The route begins and ends at the Triplet Falls car park.
7) Little Aire Falls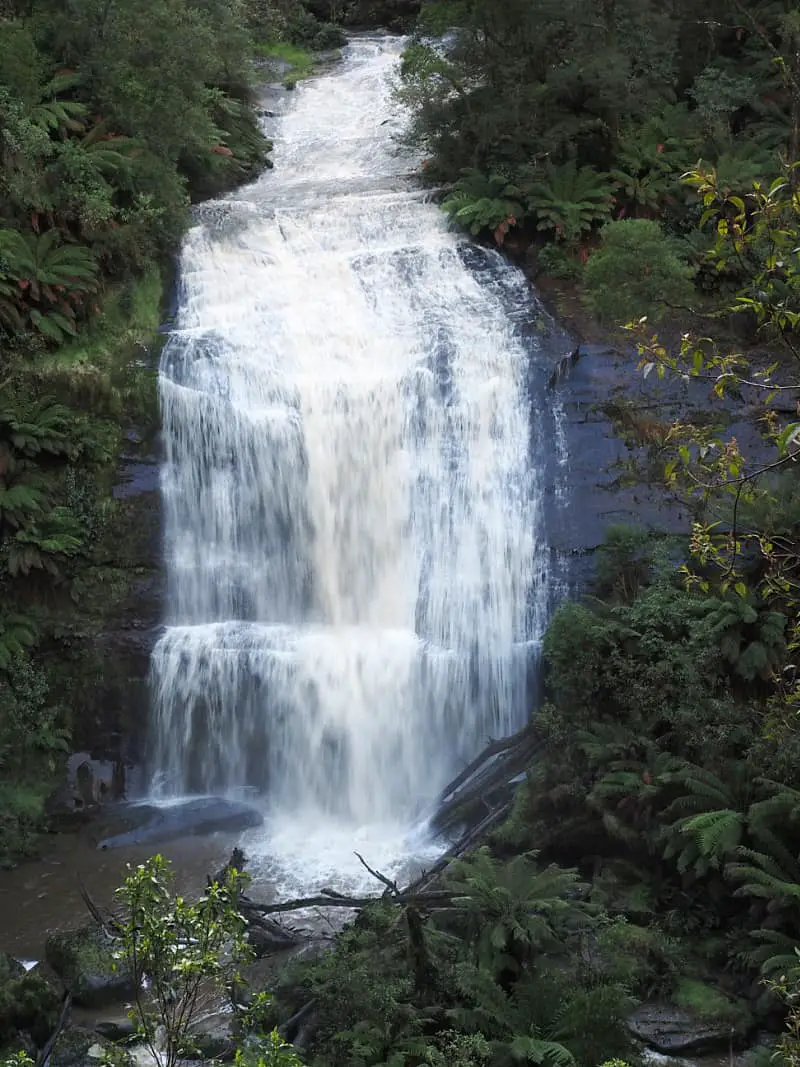 Little Aire Falls is one of the Cape Otway waterfalls that you can see when you're visiting another – if you're fit enough.
The route can be accessed via the Triplet Falls car park, and the track branches off from the main Triplet Falls trail.
It's not one for those in a real hurry, however, as the walk is around two kilometres each way. It's an interesting hike, though.
Here you can see old railway sleepers and the remains of a steam engine at the former logging area.
Once you've completed your outbound section, you arrive at an elevated platform overlooking Little Aire Falls.
If you're up for it, and you have the time Little Aire Falls is worth combining with Triplet Falls.
Especially, if you're interested in seeing the remains of the timber logging area and mill that are located right by the route.
8) Sheoak Falls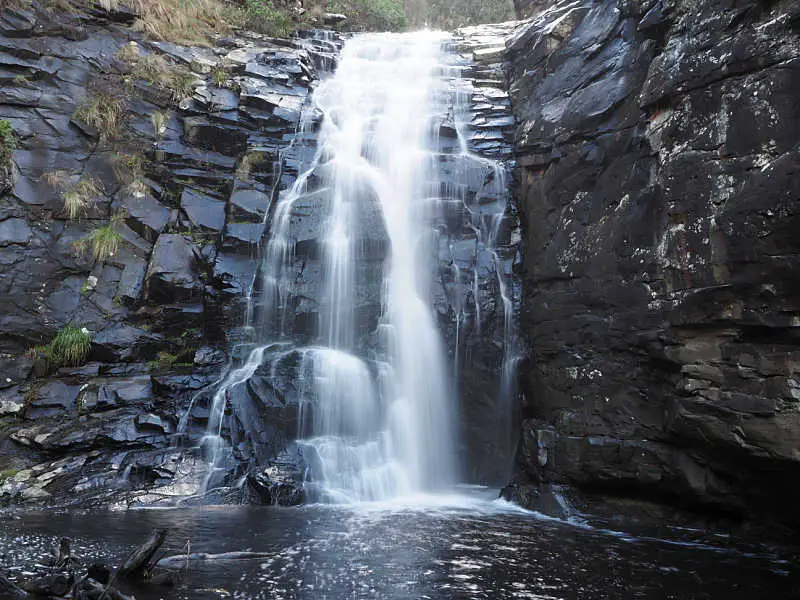 If it's a waterfall by the Great Ocean Road you want, then head to Sheoak Falls. There are spectacular sea views from here as well as views of the falls.
It's a peaceful area, yet the car park is positioned not far south of Lorne and just off the famous coastal route.
Sheoak Creek is where the falls begin, and this winds its way through the coastal forest until it culminates in the cascading Sheoaks Falls.
For a Lorne waterfalls walk, this is a popular option that's rewarded with falls that are 15 metres high.
A sheer rock face forms an impressive backdrop, while the pool at the base is fringed by trees. A gorgeous foresty setting for sure.
A series of steps leads from the car park up to the falls. If you like you can also continue your climb towards Swallow Cave, but bear in mind that a steep ascent and a river crossing are required.
If you do follow this route, look out for Tree Martin birds and their mud nests, and you can also catch some alternative views of the falls.
Another option is to walk from Sheoak Picnic Area, but this route is a little over 3.5 kilometres each way.
9) Phantom Falls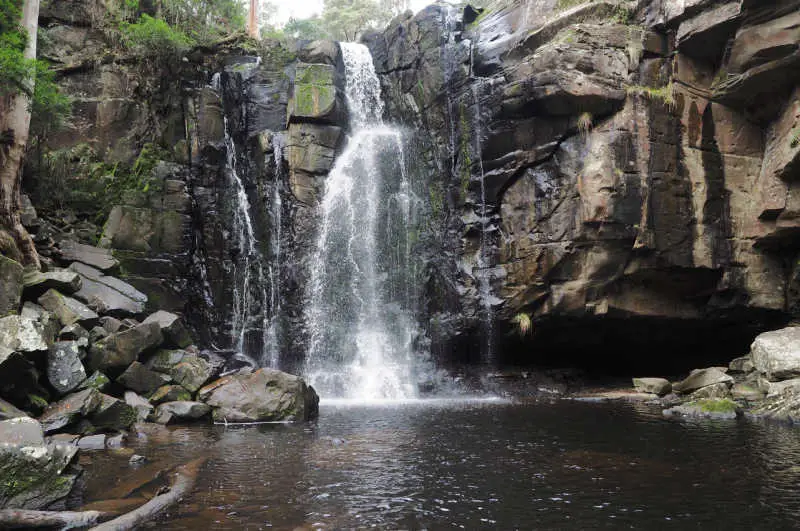 The fact that Phantom Falls is one of the lesser-known sites in the Otway forest park is actually part of its charm.
It's something of a hidden secret, so you may be able to take this Otway rainforest walk without bumping into too many people along the way.
Phantom Falls has a 15-metre drop backed by a rugged cliff face and fringed by lush greenery. To reach the site, you can park at Allenvale Mill Picnic Ground before crossing the St George River.
Next, you need to pass through a private orchard before a rocky, steep and uneven section leads to the falls.
This 3.5 kilometre hike takes about an hour-and-a-half to complete.
If you're up for it, you can also continue from the top of Phantom Falls to reach Cora Lynn Cascades or the Sheoak Picnic Area.
10) Henderson Falls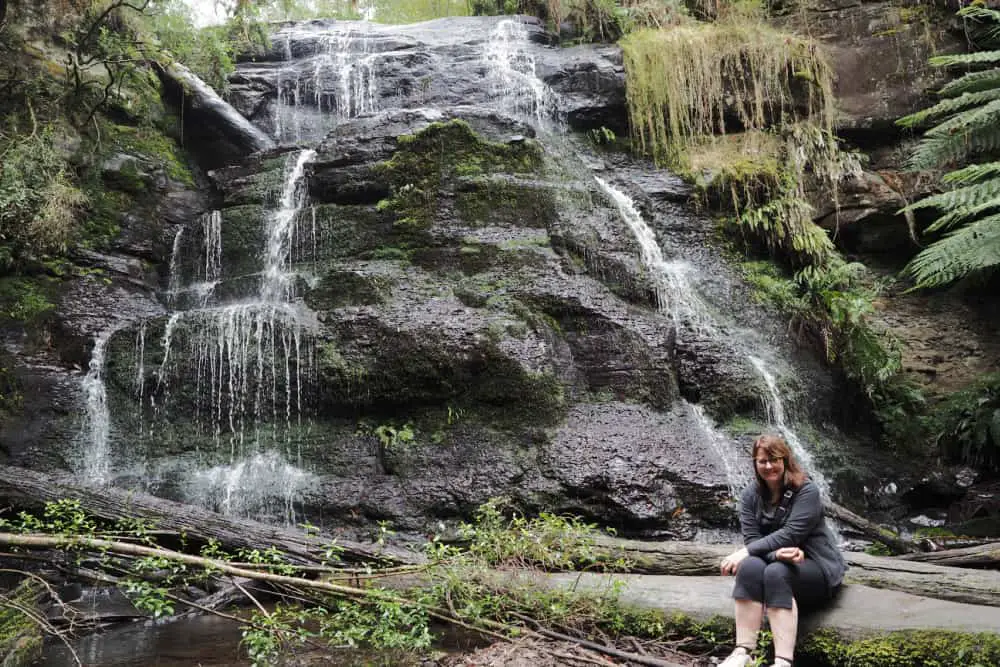 Henderson Falls is also set among a fern-lined gully – and close to some of the other falls of the Lorne area.
You can see the falls by ascending from Sheoak Picnic Area, and hearing the thunderous roar is especially worthwhile after significant rainfall.
The track can be very muddy, so do make sure you wear shoes that are up to the job.
Many people prefer Henderson Falls to Won Wondah Falls (which are covered below). This is partly because you can get up close to the former than the latter.
If you want to include a number of falls near the Sheoak Picnic Area and enjoy walking, then it's worth including Henderson Falls on your itinerary for the Otways National Park.
11) Cumberland Falls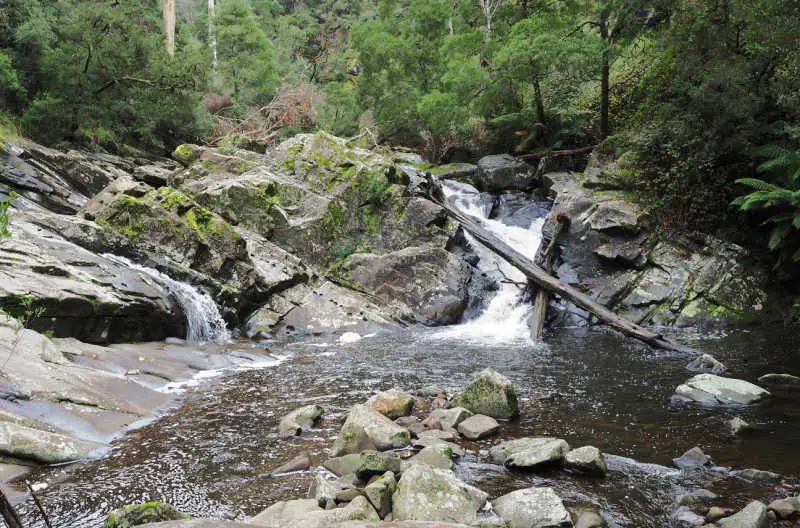 Located along the Cumberland River, the site of Cumberland Falls also lies close to Lorne.
The Cumberland Falls walk is favoured by hikers exploring the area, who enjoy seeing the tranquil pools, babbling streams and dramatic cliff faces.
It has a secluded feel, and once you've passed Jebbs Pool you'll need to cross rivers and climb over rocks to get to the falls.
A highlight of taking this trail is the fact that you can take a refreshing dip in the swimming hole here.
It's perfect on a summer's day when hiking can easily make you feel overheated.
Take care in the water, though, as there are lots of rocks beneath the surface: you don't want to bump into one of those!
While Cumberland Falls isn't the most majestic of all the Otway Falls, its charm lies in the journey to get there plus it feels like an undiscovered secret.
12) Lower Kalimna Falls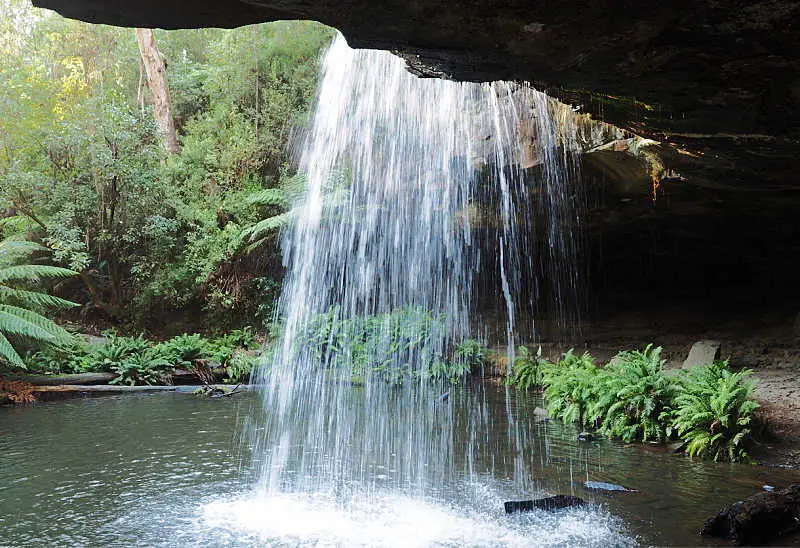 As you might expect, Lower Kalimna Falls and Upper Kalimna Falls (which is covered below) are located close to one another.
They are connected via the Kalimna Falls walk, which like some other routes commences from the Sheoak Picnic Area.
This is of historic as well as natural interest. It passes through a creekside valley, and through a former logging area.
If you take this route you'll reach Lower Kalimna Falls first. It's an easy walk but is often muddy or even waterlogged.
So it's a good idea to wear shoes that can cope with getting wet – either waterproof ones or those that dry out quickly.
Pretty as a picture, Lower Kalimna Falls is characterised by a big chamber that sits behind the tumbling water. This means access to the falls is possible.
13) Upper Kalimna Falls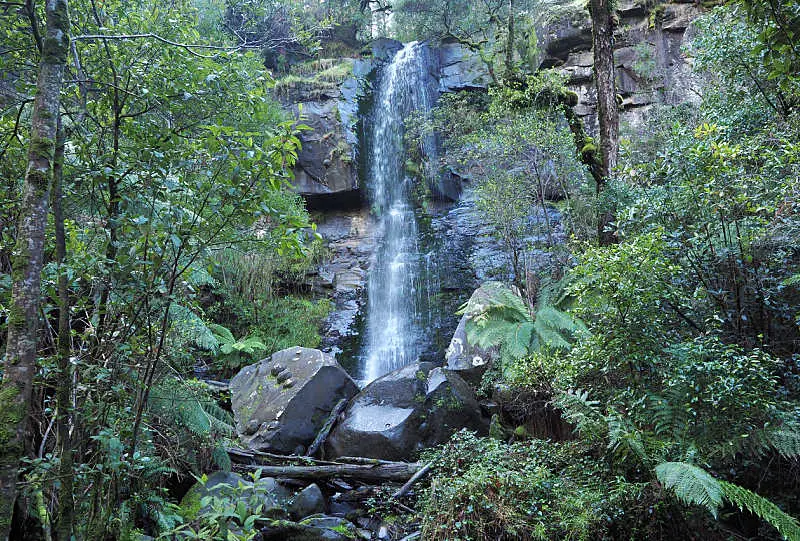 If you continue from Lower Kalimna Falls, you can push on towards Upper Kalimna Falls. The whole route from the Sheoak Picnic Area car park takes about three hours to complete.
If you follow the whole route, you'll see remnants from bygone days when this area was used for transporting timber.
At the car park, the signage shows that it's just under three kilometres to Lower Kalimna Falls and a little over four to Upper Kalimna Falls.
So it's worth seeing both waterfalls in one walk. They are more wonderful after recent rain, but of course, this makes the fairly level route more muddy than usual!
14) Carisbrook Falls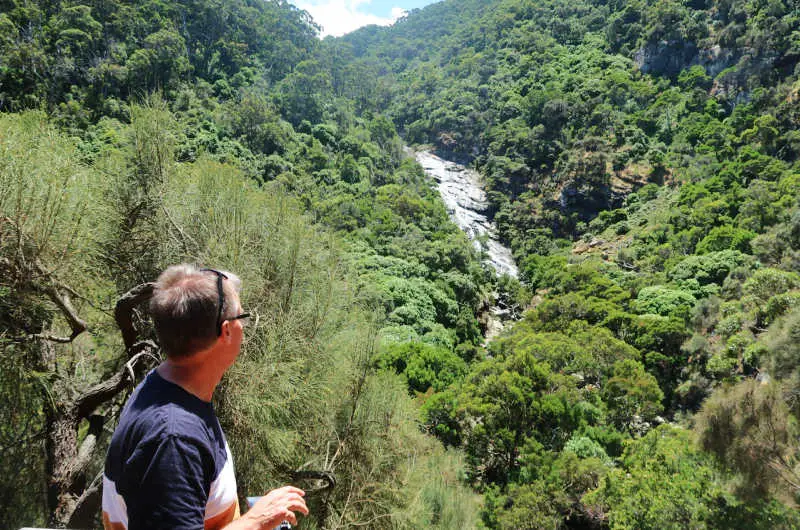 Carisbrook Falls is one of the Great Ocean Road waterfalls that are easy to access if you make a stop en route.
The route is only around 600 metres long, and the viewpoint is a nice place to take a break from driving so it's worth including in your Great Ocean Road itinerary.
One of the more beautiful Apollo Bay attractions, they're located right by the Great Ocean Road on the Lorne side of town.
They're ideal if you only have half an hour to spare or are looking for waterfalls near Apollo Bay to visit.
When you're on a Great Ocean Road, road trip, a short hike up to The Carisbrook waterfall is perfect for stretching your legs while seeing one of the waterfalls in the Otway area.
15) Currawong Falls
Currawong Falls can be found in the Airey's Inlet area. They can be accessed via a shared trail in the Great Otway National Park.
This is a good one for lovers of flora and fauna, as you can see the trees and ferns of the forest, and may also encounter a swamp wallaby or koala.
Split Point lighthouse is also visible from this route. It's a popular place, and you're likely to pass other hikers, runners and mountain bikers along the way.
This is a nice way to combine the coast and the forest via a moderate route. In spring, you can also see wildflowers in bloom here.
16) Sabine Falls
Sabine Falls bears the same name as Mount Sabine, and they're some of the tallest of the Apollo Bay waterfalls.
They can be a majestic sight and are positioned at the start of Smythe Creek. There are three falls here to see.
You can set out from the car park at the Sabine Falls Picnic Area to discover the falls. It's under four kilometres there and back and takes on average about 90 minutes to complete.
Due to plentiful parking and the fact that it's a moderate route, expect to see other runners, walkers, and wildlife lovers in the area.
17) Won Wondah Falls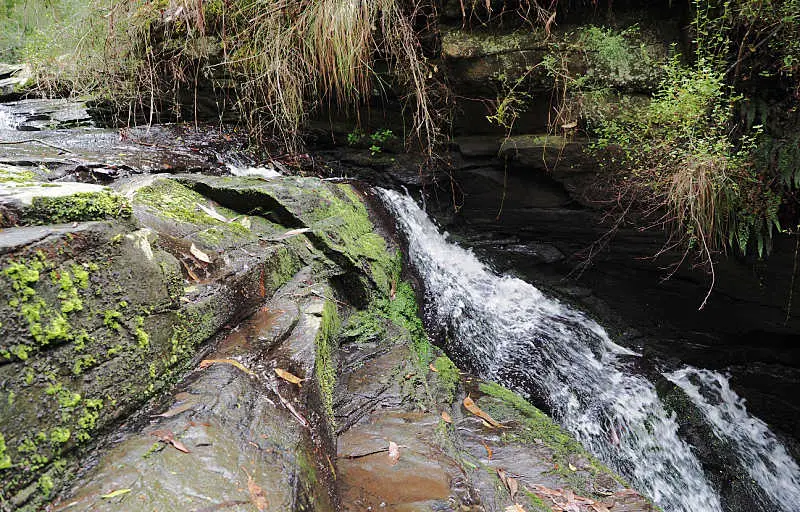 Won Wondah Falls is situated near Henderson Falls and Sheoak Picnic Area in the Otways National Park.
After setting off from the Sheoak Picnic Area car park, you'll come to Won Wonder Falls first.
Most visitors agree that Won Wondah Falls aren't as impressive as Henderson Falls.
So maybe think of them as a pleasant pitstop along the way, rather than the main event.
It's only a small waterfall but could be seen as the build-up to the bigger event at Henderson Falls
18) Cora Lynn Cascades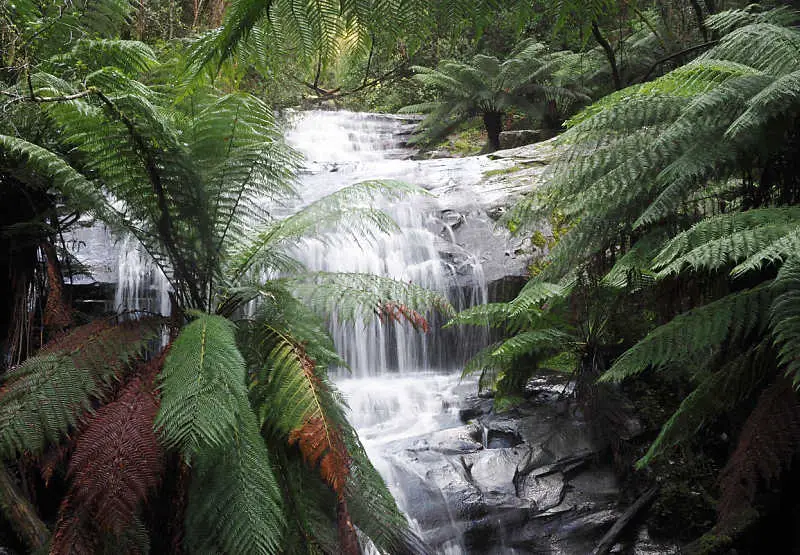 The Cora Lynn Falls can be found off Erskine Falls Road in the Otways region. They're pretty rather than dramatic, with water flowing freely over a series of rocky ledges.
The fact that they're called cascades rather than waterfalls differentiates them from the area's taller columns of tumbling water.
You can start from Blanket Leaf car park to reach Cora Lynn Cascades, which is inland from the coastal town of Lorne.
It's a lovely walk of around an hour and a half's duration, and the falls are framed by frothy ferns and luxuriant expanses of moss.
19) Anne's Cascades
Anne's Cascades is also a small but attractive site to visit.
This relatively unknown site is positioned near Lavers Hill, at Melba Gully. There's a car park from which you can walk to Anne's Cascades.
The walk is a fairly easy one, and it takes only about 45 minutes to get there and back.
It's a nice route close to the river and with a canopy of ferns and tall trees overhead.
After dark, you may be lucky enough to see glow worms in this area.
20) Rainbow Falls
If you're a lover of all things coastal, then you'll adore Rainbow Falls.
Here you can see water trickling down the surface of the rock towards the sea. The rainbow refers to the multi-coloured algae growing on the cliff face behind the falls.
Most explorers set out from Cape Otway Lighthouse to head for Station Beach.
There are stunning coastal views along the way, and there are fabulous views of the Bass Strait once you reach the spot.
There are sand dunes dotted along the route too, and a boardwalk at Station Beach.
Low tide is the best time to walk, and you'll need to cross the sand and dunes for certain sections.
Seeing the colours lit up during the day is worth the effort. In this case, it can be as much about the spectacle of the journey as the destination itself.
Bonus Pick – Hopkins Falls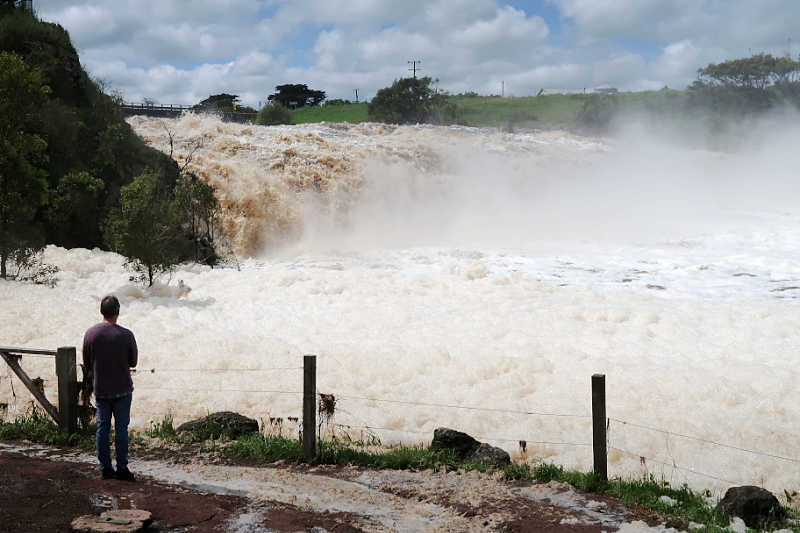 Hopkins Falls is not actually in the Otways National Park, but it is both close by and worthy of inclusion.
These falls are close to Cudgee, among the dairy country of the Hopkins River region. If you're spending time in the Warrnambool area, it's well worth visiting these falls.
The falls are at their best during or after rainy weather, when a trickle can become more of a torrent. This photo was taken after several days of heavy rain.
The fact that these falls cover a wider area than many also makes them dramatic. There is parking here, and three viewpoints from which to see the falls from different heights.
You can then access the falls on foot via a combination of grass, gravel and steps. Pack a picnic,  and then you can spend some time at this pleasant and very pretty spot.
Otways National Park Waterfalls Map
The Otways Waterfalls – Final Word
Whether you want to see waterfalls on the Great Ocean Road while stopping for a break or would like to do some long hikes in the Otways, there sure are some impressive waterfalls to see in this part of Victoria.
Take along water, sunscreen and a hat, plus a packable jacket if you want some protection from the spray.
For hiking after the rain, keep in mind that the tracks may well be muddy. Use appropriate footwear, too, if you want to tackle some of the more challenging routes!
Recommended: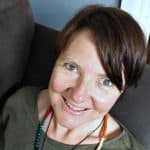 By Audrey Chalmers
Audrey grew up in Victoria and travelled the world but she always called Victoria home. She loves nothing more than exploring her home state and sharing it here.