This article may contain compensated links. For more information read our disclaimer here.
Are you thinking of visiting Torquay? There are so many fantastic things to do in Torquay Victoria it's hard to choose how best to spend your time here.
Located 95 kilometres southwest of Melbourne, Torquay has a reputation as the surfing capital of Australia.
Laid back beaches, bohemian outlets, and artisan coffee shops dominate this town.
Torquay is a popular holiday spot for Australians and overseas visitors alike. It's an easy-going and welcoming kind of place.
There's no need for formal attire here, board shorts were literally invented in this town and are embraced as the norm.
Heading down the Great Ocean Road? Click here to join our FREE Great Ocean Road Travel Planning Group for tips and information to plan your perfect trip.
The best known tourist attraction in Torquay is the Great Ocean Road as it's the official starting point of the drive.
But there are a few other Torquay attractions that make it worth including in any one, two, or three day Great Ocean Road itinerary.
Whether it's hiking the beautiful Surf Coast, grabbing a paddle at a local brewery, or sampling some of the best culinary delights of the region, Torquay has something to offer everyone.
So kick back and relax while we look at some of the best things to do in Torquay Vic.
Best Things To Do In Torquay Victoria
1) Torquay Beaches
There are some great Torquay beaches to visit, and they aren't just for surfing either.
Similar to the Bellarine Peninsula, they're also great for swimming, snorkelling, people watching, relaxing, and rock pooling.
In fact, there are lots of reasons to visit a Torquay Victoria beach. Here we round up some of the best beaches to visit.
Front Beach Torquay
Front Beach Torquay is one of the most popular spots to visit. The beach is great for families with easy access to some of the best cafes and restaurants the town has to offer.
There's also a large grassy area for barbecues, picnics, and games. The patrolled waters in the main area are calm and great for swimming.
However, the water gets a little choppy on either side. Surfers flock here to ride the "Escalator", the southern current and rips formed by the rocks at each end of the beach.
At low tide, a pastime especially popular with the kids is exploring the many rock pools in the area.
Here they can discover lots of sea creatures including stingrays, starfish, crabs, and cuttlefish.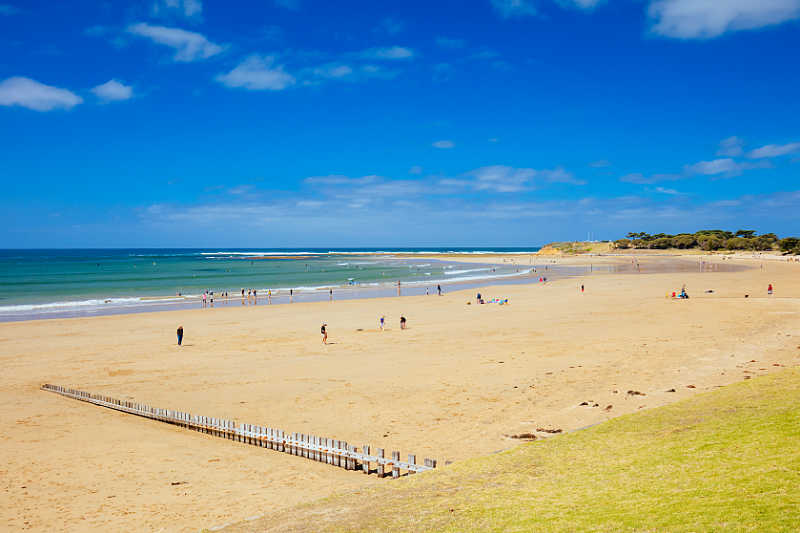 Cosy Corner Beach
Between the Front Beach and the rocks at Point Danger is the aptly named Cosy Corner Beach.
A calm patrolled beach with a great playground for children just above and a grassed area for games.
There's lots of tiered lawn seating and there is a walkway right along the beach. It's a great spot to visit if the main beaches are looking a little busy in the peak of summer.
Torquay Beach Victoria
Another of the main beaches in town, Torquay Beach is just next to Taylor Park, where there is a huge community space for barbecues and meetups.
You'll also find Torquay Play Park, a playground, and a barbecue area, including a liberty swing.
There's plenty of stuff to do here and it's easy to spend the whole day just on this one beach.
Right on the esplanade are Bomboras Beach Bar and the Salty Dog Cafe. Open from 6 a.m – 3 p.m 7 days a week it serves up an amazing specialty coffee and a great Avo and Eggs.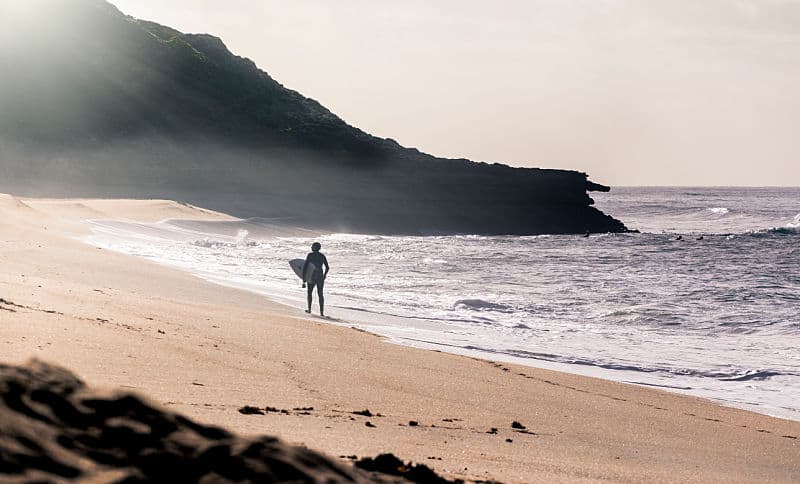 Torquay Back Beach
This beach is also patrolled during summer and is an ideal place to learn to surf.
It's a great place to visit any time of year as there are plenty of car parking spaces, showers, and facilities.
It's also known as Torquay dog beach and dogs are allowed off leash during certain times of the year.
Make sure to stop by the Third Wave Kiosk to grab a coffee and soak in the atmosphere.
Jan Juc
Jan Juc is a small coastal neighbourhood in the southwest of Torquay.
A great reason to visit the beach here is that it's much quieter, even in the peak of summer.
There are great views of the coastline and dogs are allowed at certain times of the year.
Point Impossible Beach
For something a bit different there's the 'clothing optional' beach at Point Impossible.
A beautiful white sand surf beach with a (well signposted) nude section around 1 kilometre in length.
The beach has a wide section between the dunes and the sea. And there are plenty of fully dressed visitors too.
But a good one to know about if you want to avoid having to explain it to the kids!
Remember when you are planning places to swim on the Great Ocean Road to always check whether they are patrolled or not.
Visit BeachSafe or Life Saving Victoria to find out more.
2) Torquay Surf Lessons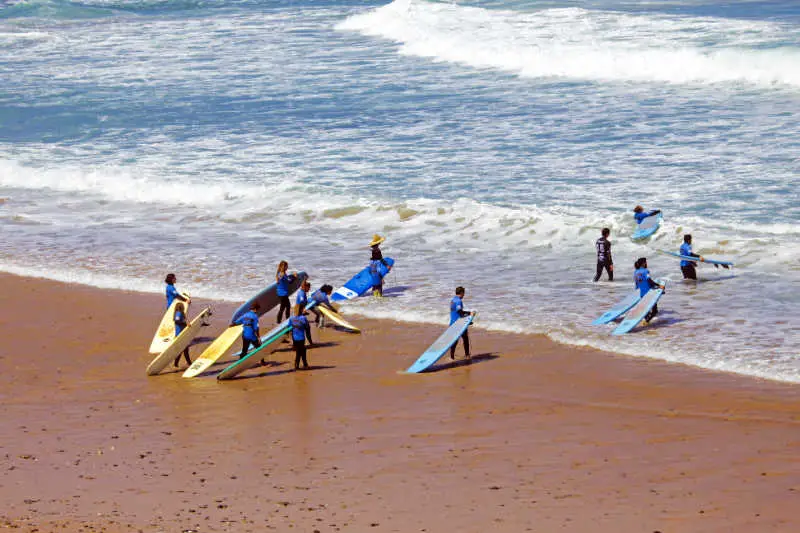 Torquay is the surf capital of Australia so where better to learn how to surf? It's something everyone should try at least once.
Grab a board, wetsuit, and booties, and hang ten in one of Australia's best surfing spots.
The best place to learn how to surf for beginners is Torquay Surf Beach. As there are hot showers and changing rooms available.
All Torquay surf lessons will provide full-length wetsuits and large, soft beginner surfboards. This makes it a lot easier to stand up!
When choosing surf lessons Torquay has a few options. Two of the best are listed below:
Torquay Surfing Academy
Torquay Surfing Academy offers 2-hour sessions that will get you standing up on a board in no time.
They also hire equipment and rent surfboards. Prices are based on small groups or private one-on-one lessons.
Open daily 8 a.m – 5 p.m
Go Ride A Wave
Another great Torquay surf school is Go Ride A Wave.
The friendly, organised instructors have a safety first attitude and run small group sessions.
Prices start at $79 for adults and $69 for kids.
Open daily 9 a.m – 5 p.m
3) Torquay Surf Museum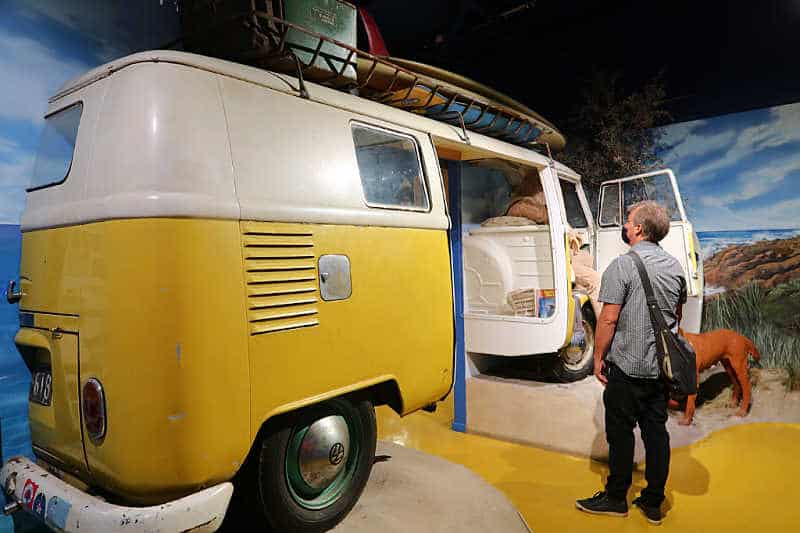 As the epicentre of surfing in Australia, it makes sense that there is a Torquay surf museum.
The Australian National Surfing Museum houses a collection of over 150 surfboards from the very early "slabs of wood" to the latest cutting edge designs.
Visit the "Board Room" for a presentation that you won't fall asleep through, and the Australian Surfing Hall of Fame.
The hall showcases the nation's greatest heroes of the sport. It's one of the best things to do in Torquay Victoria in winter.
The Surf Museum Torquay is open seven days a week, year round (apart from Christmas), from 9 a.m to 5 p.m.
Admission prices are: Adult $12, Concession $8, Child (aged 16 and under) $8, Family $25.
4) Torquay Surf Shops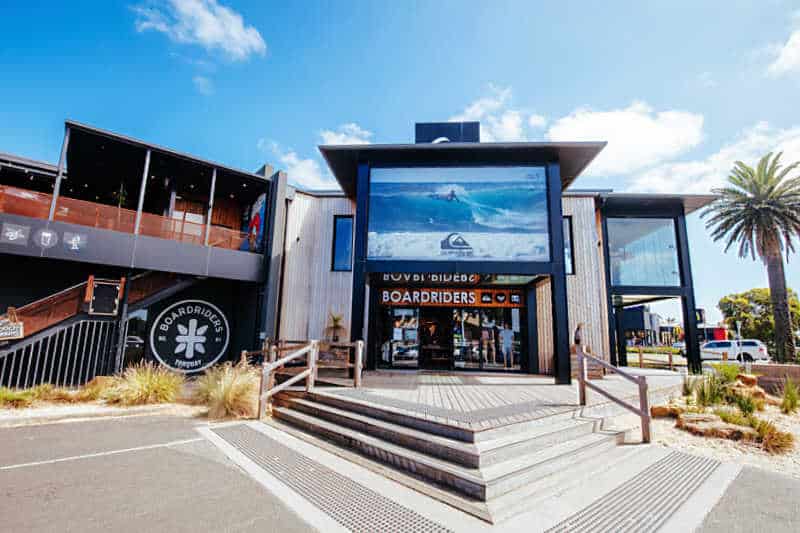 Torquay shopping offers some of the best deals on surf equipment and is well known as the surf retail hub of Victoria.
Visit the many Torquay surf outlets to get great deals on gear.
The factory outlets Torquay has around Baines Crescent are often seconds, and you can get some amazing deals on wetsuits.
Surf City Plaza is one of the main attractions in Torquay. It houses an array of Torquay surf shops with brands like Rip Curl, Quicksilver, Billabong, Oakley, and Ghanda.
The surf brands Rip Curl and Quicksilver were founded here in 1969 and still base themselves in the town.
Ghanda Clothing was also born in Torquay, in a little store on the Surfcoast highway.
5) Point Danger Marine Sanctuary
The area between Torquay's Back and Front beaches is teeming with life.
Crumbling limestone shelves and rocky outcrops form the base of an entire reef system.
The Point Danger Marine Sanctuary is only exposed at the lowest of summer tides so the best way to see it is to snorkel or go SCUBA diving.
At an average depth of less than 7 metres, it's easy to spot all the creatures that have made this place their home.
The limestone reef is home to large seaweed beds that contain a vast array of life.
There are currently 26 species of marine plants and 96 species of sea slug found in this sanctuary, many of which are endemic to the area.
Other creatures you can also spot include Eagle Rays, Weedy Sea Dragons, and dolphins.
The park covers 21.7 hectares and extends offshore for about 600 metres to the east and 400 meters to the south.
You can also visit the Joseph H. Scammell shipwreck found within the park's boundaries.
6) Rocky Point Lookout
Just the other side of Spring Creek to Torquay Surf Beach you will find Rocky Point Lookout.
With incredible views of Zeally Bay and Torquay it's a great place to get your bearings or to simply just come and relax.
It's well known as a quiet meditation spot but is also the perfect vantage point to watch the pro surfers below.
Stay a while looking out towards the vast Bass Strait.
With plenty of room and seating options, it's also a great spot to bring a picnic for sunset.
Just a short walk from the public car park through the boardwalk, the wooden platform juts out to sea, providing panoramic views of the Southern Ocean.
7) Torquay Breweries
Torquay breweries are a very popular tourist attraction here. And for good reason. They offer some of the best frothy bevvies on the Great Ocean Road.
Locals love their ales so much it would be rude to come here and not try a local beer or two!
Every brewery Torquay has to offer is worth a visit for different reasons.
Blackmans Brewery
Blackmans Brewery Torquay has been awarded one of Victoria's best microbreweries on multiple occasions.
They are proud to be a 100% independently owned brewery, and the large range includes specialty and seasonal beers.
Their philosophy of "loving good beer" is infectious, plus they are just 500 metres from the beach.
Grab a tasting paddle with some traditional pub grub to get the full experience.
Open Wednesday to Sunday Noon – 11 p.m
Bells Beach Brewing
Bells Beach Brewing's taproom occupies a corner of its active Torquay brewery.
It's a more local experience with a food truck serving up burgers parked outside as well as live events.
It's conveniently located in an industrial area right in the centre of town which means you don't have to stop at just one visit!
Open Thursday & Friday 4 p.m – 11 p.m, Saturday Noon – 11 p.m, Sunday Noon – 8 p.m
Sou'West Brewery
A food and beverage hub was created here to bring new life into the local community.
A true craft brewery, beers here are all made on site by Luke Scott, a bit of a local legend in brewing.
Southwest Brewery Torquay is located on Bains Crescent and offers a modern, clean restaurant with a huge selection of beers.
Get the Sou'West Brewery Beer Paddle to try a bit of everything.
Open Wednesday and Thursday 4 p.m – 10 p.m, Friday – Sunday Noon – 10 p.m
8) Torquay Wineries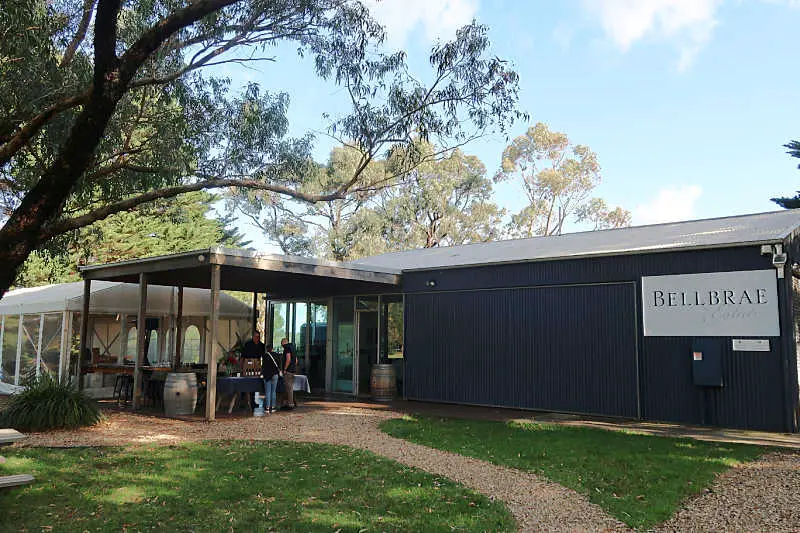 The local wineries are a great addition to your list of things to do while visiting Torquay.
With a perfect climate and fresh sea air, the area produces a great drop. It has some of the best Great Ocean Road wineries including:
Bellbrae Estate
Bellbrae Estate is one of the most popular wineries Torquay has to offer.
Just 5 minutes from the famous Bells Beach, you will find a tranquil outdoor space to try the wines while also checking out the vineyards.
Select your own tasting menu or opt for the "Winkipop Wine Pairing Experience" with 5 specially selected wine and tapas that compliment each other perfectly.
You can also add a cheese and biscuit platter to a tasting for just $7.00 or try a wood fired pizza.
Open Wednesday & Thursday Noon – 4 p.m, Friday – Sunday Noon – 5 p.m
Wolseley Wines
One of Torquay's best kept secrets, Wolseley Winery is a 100% organic vineyard and runs on 100% off grid solar power.
It is situated on the sloping hills of Paraparap just a 10-minute drive from the town.
They offer Pinot, Cabernet, Shiraz, Caf franc, Chardonnay, Riesling and Botrytis Semillon from their rustic cellar door.
Don't expect any fancy seating or anything to eat, these guys focus all their energy on the vines. Just rock up and ask "what's good today?"
Open 11 a.m – 5 p.m every day.
9) Bells Beach Surfing Competition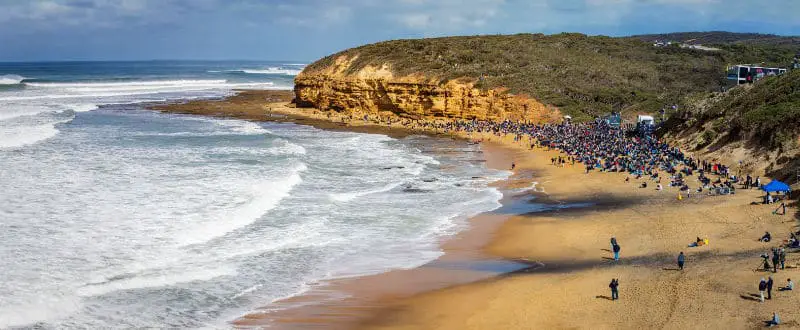 Just 5 kilometres southwest of Torquay is Bells Beach. You may be familiar with it from the climatic finale of Keanu Reeves and Patrick Swayze film, Point Break.
But that's not the only reason to visit. If you're lucky enough to be here at Easter, the Bell's Beach Rip Curl Pro takes place here every year.
Started in 1962, it's the world's longest running professional surfing event.
People come from around the world to watch the Bells Beach surfing legends as well as to participate in this renowned event.
A fixture on the Australian surfing scene, Bells Beach Rip Curl Pro has now been running for over 60 years.
The surf competition is all about winning the Bells Trophy.
No one but the winners of the Rip Curl Pro is allowed to ring the bell as the trophy designer stipulated that you must "win it to ring it".
A tradition that "rings true" to this day.
A word of warning the Bells Beach surf area is for experienced surfers only. It's best to visit other areas like Torquay Surf Beach if you're new to the sport.
Some famous breaks you may have heard of include Winkipop, The Bowl, Outside Bells, Rincon, Southside, and Centreside.
10) Torquay Sky Diving
Because why wouldn't you want to throw yourself out of a plane at 15,000 feet?
If you're going to do an Australian skydive, Torquay Sky Diving is the place to do it. A Great Ocean Road skydive is one of those once-in-a-lifetime experiences.
Freefall at over 200km/hr for 60 seconds of your life that you are unlikely to forget.
Once the parachute goes up you can catch your breath as you float safely back to solid ground.
Enjoy a few leisurely minutes soaking up the spectacular views of Barwon Heads, Torquay, Bells Beach, and Geelong.
Or if you're a real thrillseeker, ask for a quicker descent, with sharp turns and moves that are likely to bring up the contents of your stomach!
Allow around 3 hours for a tandem skydiving Torquay experience with a qualified instructor from Barwon Heads.
11) Tiger Moth World
Hop in a vintage World War 2 aircraft and see the surf coast Victoria from the skies.
Feel the wind through your hair from the open cockpit and experience a different world of turquoise seas, and long sandy stretches from above.
Tiger Moth Flights have been running here for over 30 years, choose between scenic coastal flights, aerobatic flights, or flights for two people.
They also offer more modern flights to see the Twelve Apostles from above and tandem skydiving.
Prices start from $270pp. Tiger Moth World is open from Friday to Monday, from 9.30 am to 5 p.m.
12) Surf Coast Walk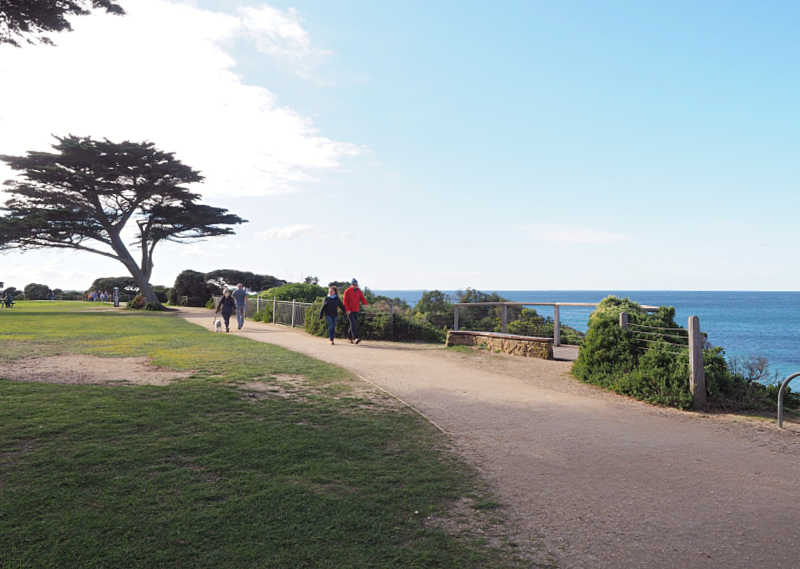 An absolute must for nature lovers, the Surf Coast Walk covers the region from Torquay to Aireys Inlet.
It's a 44-kilometre multi-use trail, but you don't have to hike the whole thing all at once.
The Surf Coast trek is split up into 12 sections, making it accessible for either short walks, long bike rides or multi day experiences.
Of all the great walks in Victoria, this one surely tops the list.
Interactive maps guide the way and make planning decisions, like where to park and what cafes to visit, a breeze.
The best accessible Torquay walks include Torquay promenade and Anglesea River, which are flat, kid-friendly, and easy to navigate shared paths.
Another great walk in Torquay is the clifftop path around Jan Juc.
Its strategically placed lookouts help you to discover just how the Surf Coast got its name.
13) Torquay Markets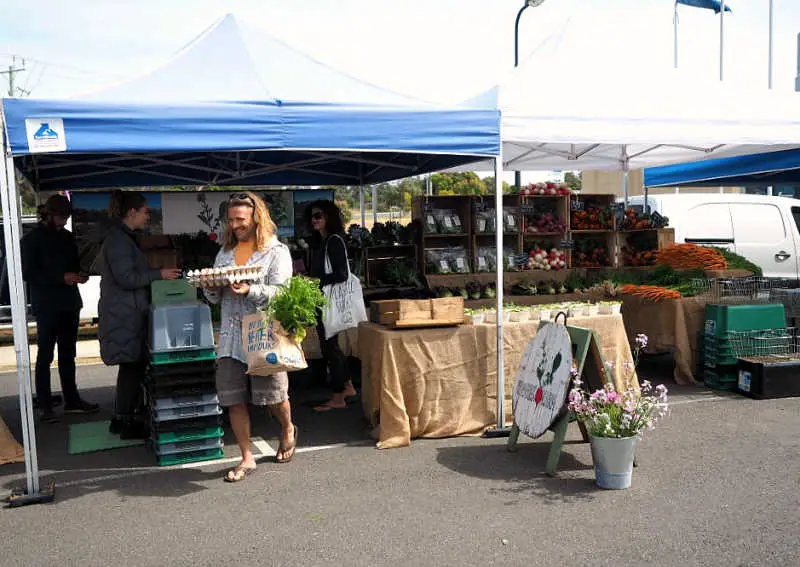 A great way to meet locals, sample delicious food, and find the perfect artisanal souvenir is to visit a Torquay market.
There are lots of Torquay markets to choose from, so we've rounded up some of the best.
Torquay Farmers Market
One of the smallest markets in Torquay usually with just 20 stalls, the Farmers Market showcases some of the best produce around.
Everything from freshly baked loaves, to olive oil, and giant spring rolls is here.
Located 40 minutes' walk northeast of the town centre. It's only open on Saturdays 8.30 – 1 p.m.
Torquay Cowrie Market
The Cowrie Market specialises in local art, craft, jewellery, fashion, vintage goods, plants, gifts, and produce.
Even better, all of the items for sale are either environmentally friendly, handmade, home-grown, or artisanal.
Held on the third Sunday of the month, from September through to April 10 a.m – 3 p.m. The location may change so check their website.
Torquay Night Markets
The Nightjar Market is a summer event that takes place every year, with food trucks, stalls, and musicians.
There's a focus on ethical and sustainable brands, with stalls from some of the top up-and-coming designers and artists in the area.
Every Thursday night in January, 4 p.m – 10 p.m. The entry gates are located on Great Ocean Road and Surf Beach Drive.
14) Torquay Festivals
Nightjar isn't the only Torquay festival worth visiting. Torquay Common hosts many live events and festivals throughout the year.
Two of the best festivals to be in town for are:
The Drop Festival
Taking place every spring, the Drop Festival hosts a variety of acts including Indie & Alt, Folk & Blues, Electronic, Rock, Hip-Hop, and Pop.
Coastal Jam
A laid back festival taking place across four towns along the southern coastline including Geelong, Warrnambool, Torquay, and Barwon Heads.
15) Horse Riding Great Ocean Road
If you love horse riding Torquay is a great place to go for a canter.
Explore the stunning scenery of the hinterland of Great Otway National Park, and maybe even see some of Australia's wildlife along the way.
Spring Creek Horse Riding offers everything from just a couple of hours ride to a full day's adventure on horseback.
Riders as young as 7 can join in on the fun, as everyone is given a horse that's best suited to their abilities.
You can cover a lot of ground and get some amazing views and insights into the local area.
This is a great way to explore the region, and to try "horse riding Great Ocean Road style".
16) Strawberry Picking
Visiting a strawberry picking farm is a great experience, and fun for the whole family.
For strawberry picking Victoria has a few options, but a great one to try is the Surf Coast Strawberry Fields.
Kids get to learn where their food comes from and meet lots of farmyard animals.
They also sell jam (strawberry obviously), preserves, and honey, and you can even grab a fresh coffee for when you need to take a break from all of that manual labour!
Strawberry picking Torquay is open daily when the fruit is ripe. But it can sometimes close due to bad weather or low harvests.
The strawberry picking season runs from October or November to April.
17) Great Ocean Road Chocolaterie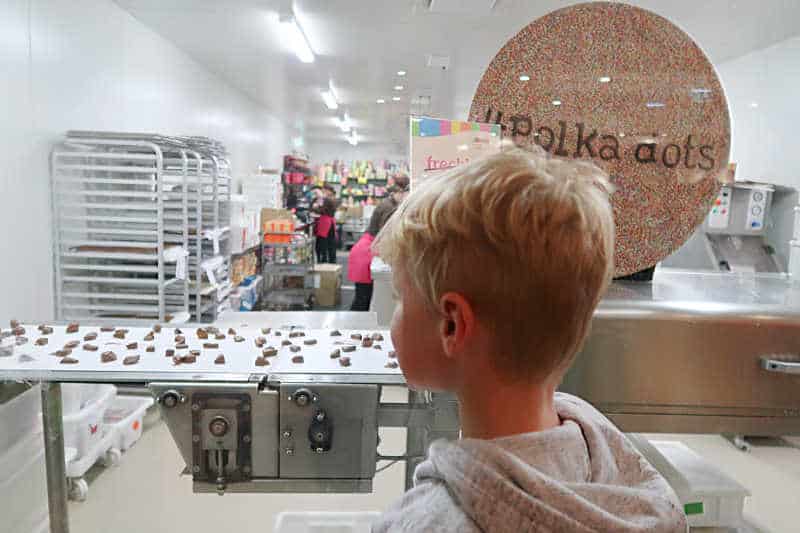 With chocolateries in the Yarra Valley, Mornington Peninsula, and on the Great Ocean Road, the Great Ocean Road Chocolaterie & Ice Creamery is a top Torquay tourist attraction.
The Great Ocean Road Chocolaterie contains literally thousands of chocolates, freshly made pastries, desserts, and artisan ice creams.
You can also visit the all-day cafe that uses ingredients straight from the kitchen garden.
Get involved with a tasting session, hands on chocolate making class or just watch the Chocolatiers do their magic through the giant viewing windows inside.
The Great Ocean Road chocolate factory is just 11 minutes' drive from Torquay's town centre, and is open every day from 9 a.m to 5 p.m.
18) Drive The Great Ocean Road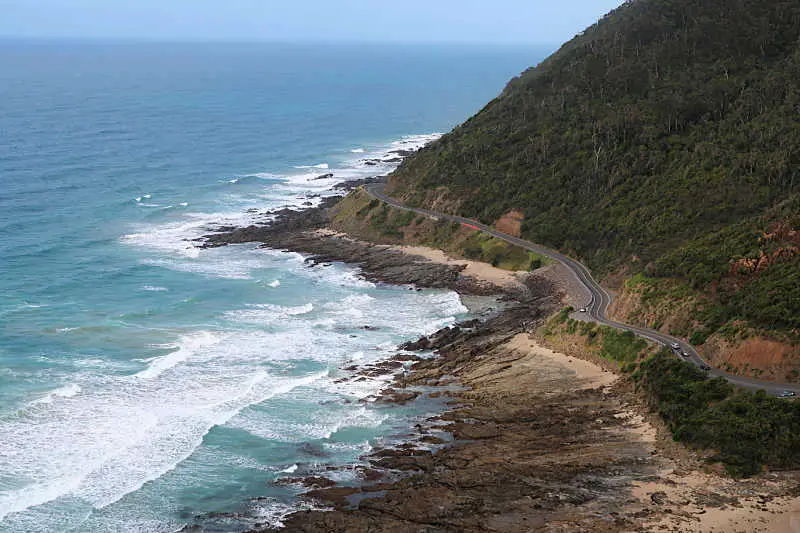 One of the best things to do in Torquay Victoria is undoubtedly to drive the Great Ocean Road.
Torquay is the starting point of the world's biggest war memorial
Built by returned soldiers between 1919 and 1932, the GOR was dedicated to soldiers killed during World War 1.
Its 243 kilometres of smooth tarmac with spectacular views between the Victorian towns of Torquay and Allansford.
Make sure to visit some of the best Great Ocean Road towns along the way.
For great food, friendly locals, and beautiful beaches visit Anglesea, Lorne, Apollo Bay, and Port Campbell.
For the chance to spot koalas in the wild, and maybe even a platypus, visit Kennett River or Wye River.
Don't miss photo stops at Gibsons Steps, Loch Ard Gorge, and the Twelve Apostles. As well as the many show stopping viewpoints along the way.
Find the perfect Great Ocean Road sites to go surfing, swimming, or to simply relax.
Whether it's just a day trip or an extended holiday, driving the Great Ocean Road is one of the best things to do near Torquay.
Don't miss this epic road trip while you're here.
19) Torquay Golf Club
Fancy a spot of golf in Torquay? It's the perfect place to play a round or two as the Torquay golf clubs are some of the best in the region.
The score really doesn't matter when you have the amazing scenery of a Torquay golf course.
If you're looking for a great Toquay golf club try:
RACV Torquay Golf Club
Visit RACV Torquay Golf for its wide fairways, perfectly manicured greens, and fescue roughts. It's a great spot to play golf Torquay.
Open daily 7 a.m – 5 p.m daily.
The Sands Torquay Golf Course
Torquay Sands Golf has an 18-hole links-style golf course perfect for seasoned golfers.
Interestingly the Sands Golf Club was designed by Australian pro golfer Stuart Appleby.
Open 7 a.m – 5 p.m daily.
20) Torquay Day Spa
Why not unwind from all of that sightseeing with a Torquay day spa?
Restore, recharge, and reconnect with yourself with a massage, deep cleanse, or spa treatment.
Two great revitalising day spa Torquay options are as follows:
Endota Spa Torquay
Endota Spa offers a wide selection of massages and facials, extended spa packages and more.
It's conveniently located in Torquay Central on Bristol Road, just off Torquay Highway.
Saltair Spa Torquay
Saltair Spa provides day spa packages, massages, and spa facials incorporating world class skincare "BABOR".
Saltair has several locations in the area offering luxury spa experiences, this one is just outside of Torquay centre.
21) Galleries in Torquay
Torquay has an up and coming art scene with its lively galleries being a great place to discover local talent.
Whether you want to while away a rainy day or find some unique art for your interiors, visiting a gallery is often one of the most overlooked activities in Torquay.
The Surfcoast Gallery
The Surfcoast Gallery provides a curated collection of some of the best work from local artists.
Resident artist Jacki Burke, created the space to showcase her own art as well as to support local talent.
Open Saturdays 10 a.m – 3 p.m or call to book a visit.
Hoop Gallery
Another local gallery, Hoop, is a not-for-profit community led project that provides a platform for artists to exhibit and sell work to locals and visitors alike.
Open Thursday to Sunday 10 a.m – 4 p.m.
Torquay Things To Do Map
Final Word
These are just a few of the many reasons to visit Torquay Australia.
There's something for everyone in this uber-cool surf town, not just beach worshipping and riding the waves.
Grab a coffee in town, a wine on the hills, and a beer at the beach and enjoy the slower pace of life.
Make the most of a visit to Torquay by exploring the local markets and art galleries, and going to the festivals that make the whole town come alive.
Whether you have just a few days, or a month or two to explore Torquay, make sure not to miss some of these top attractions.
Torquay is well known for its surfing and beach lifestyle, but there's so much more to discover!
Dive in and make the most of a visit by joining our FREE Great Ocean Road Travel Planning Facebook Group here!
Related Posts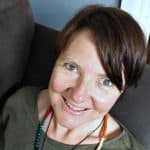 By Audrey Chalmers
Audrey grew up in Victoria and travelled the world but she always called Victoria home. She loves nothing more than exploring her home state and sharing it here.