This article may contain compensated links. For more information read our disclaimer here.
Take a trip to the Bellarine Peninsula one of the best places to visit in Victoria.
Discover gourmet food, wineries, seaside villages, fantastic beaches, and vintage markets.
Living on its doorstep we've long known of the delights it has to offer, and we've spent countless hours exploring all the fun Bellarine Peninsula things to do.
It's a truly breathtaking destination with stunning sea views, beautiful farmlands, and gorgeous Victorian countryside.
It has a lazy laid back vibe but The Bellarine is not just a beautiful sleepy place. You'll find there are heaps of things to do around Bellarine Peninsula.
From sporting events to farmers' markets, festivals, and wineries, this is one of the great places to visit in Victoria.
Below you'll find our guide to the Bellarine Peninsula.
We've included some of the more popular towns to visit, Bellarine Peninsula things to do, the best places to stay, as well as where to eat and how to get there.
Let's get to it!
Bellarine Peninsula Towns
Within easy reach of each other, the towns of the Bellarine have their own individual character.
Each has its own attractions and heritage, and most importantly, there isn't a high-rise building in sight.
Here are some of the more popular places to see in the Bellarine Peninsula.
Queenscliff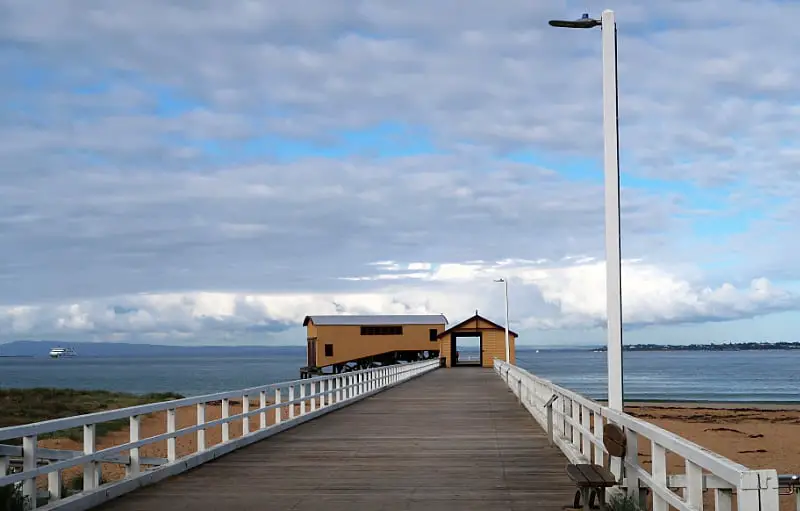 The historic town of Queenscliff is a lot like a British seaside resort, and with its grand Victorian heritage, it's considered one of the most beautiful towns to visit in Victoria.
Once an old fishing village, it has an abundance of 19th-century cottages, grand hotels, adorable guesthouses, and beautiful wide boulevards.
You're never left wondering what to do in Queenscliff. Visitors to the town are treated to galleries, museums, chic cafes, wineries, and the popular Queenscliff market.
One of the most popular Queenscliff attractions is the Queenscliff Marina. Here you'll find shops, top Queenscliff places to eat, and fancy yachts to drool over.
It's also where you'll find the Queenscliff car ferry to Sorrento.
One of our favourite things to do in Queenscliff is to check out the views from the 40-metre Observation Tower.
Located at the marina it has stunning views across the bay all the way to the Mornington Peninsula.
Where To Stay In Queenscliff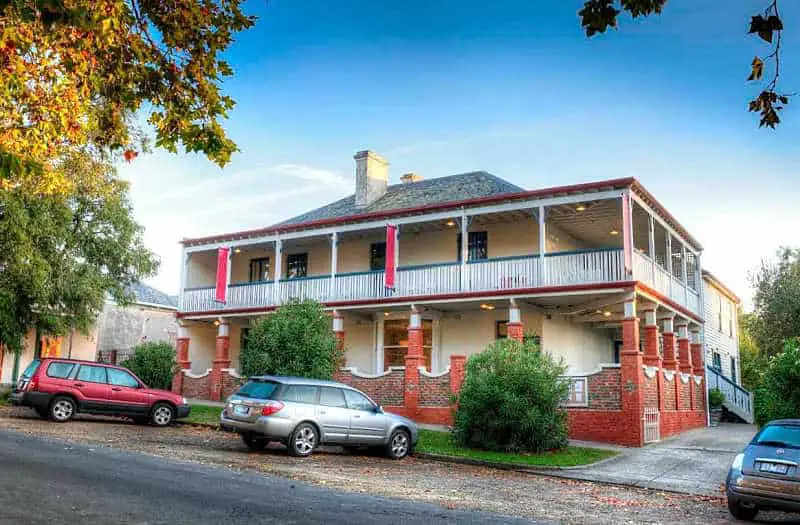 Conveniently located in the heart of Queenscliff, Athelstane House is just a short walk to local attractions, the main shopping strip, and Queenscliff beaches.
This character filled Queenscliff bed and breakfast has 9 rooms with their own ensuite bathrooms 8 with large soaking tubs.
You can choose from a King Room, Balcony Room, a Large Standard Room, Courtyard Room, and a Small Standard Room.
I recommend booking a King Room as it's a large spacious room with a balcony and open fireplace – so cosy in winter!
All rooms have tea and coffee making facilities, a bar fridge, heating and cooling, and free WiFi.
The guesthouse has a beautiful lounge with books, magazines, and a comfy couch that's ideal for relaxing and meeting other guests.
Other areas you're welcome to use include a manicured garden, a terrace, and an upstairs verandah.
When you book a stay here, you can choose the bed and breakfast option which includes a fully cooked A La Carte Breakfast.
Alternatively, if you prefer to check out the local coffee shops you can simply book a room.
➡️ Check Rates and Availability Here!
Point Lonsdale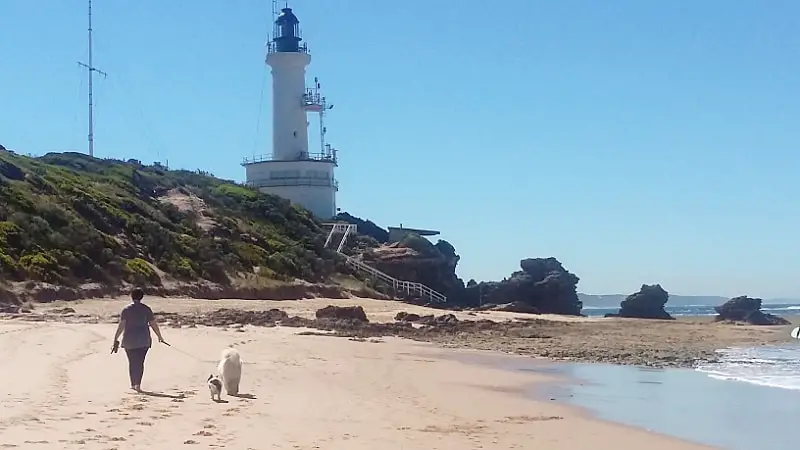 Point Lonsdale, the sister town of Queenscliff, is a coastal hideaway popular with day-trippers and families.
The town overlooks the 'Rip', one of the most dangerous strips of water in the country.
Things to see here include a beautiful old pier and the famous Point Lonsdale lighthouse – a popular spot for wedding photographers.
Perched high on the cliff, the lighthouse has spectacular views and panoramic photo opportunities.
There's a lovely cliff path above Point Lonsdale beach that leads to the lighthouse and back beach.
A favourite with surfers, at low tide the Point Lonsdale back beach is a fun spot for hunting crabs in the rock pools.
A visit to Point Lonsdale Queenscliff wouldn't be the same without a stroll along the pier.
Here you can chat with local fishermen and enjoy sublime views of the lighthouse and surrounding coastline.
Where To Stay In Point Lonsdale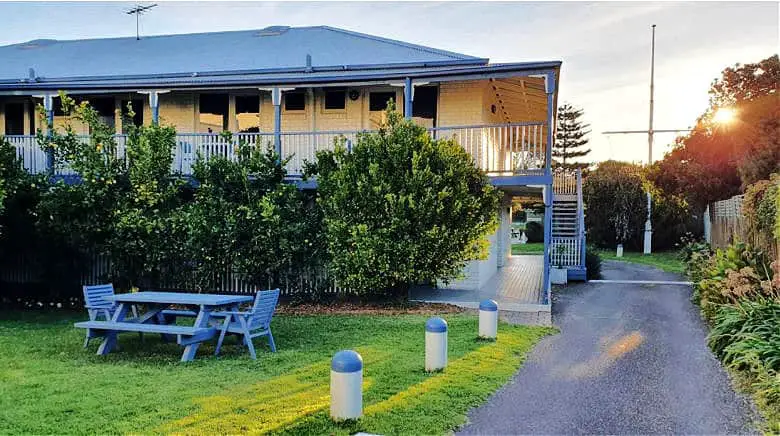 The old-world charm of the Point Lonsdale Guesthouse perfectly suits a stay on the Bellarine Peninsula.
The guest house is ideally situated within walking distance of shops, beaches, fishing spots, and the iconic lighthouse.
One of the bigger accommodation options on The Bellarine, there are 22 rooms with their own bathrooms, television, bar fridge, and free WiFi.
There are 9 older-style rooms in the original guest house and 13 contemporary motel-style rooms at the rear.
The large property features a solar-heated salt-water swimming pool and spa, a tennis court, guest kitchen, barbecues, and outdoor picnic tables.
Inside, guests can relax by the gas log fireplace in the cosy Lady Nelson Lounge.
➡️ Check Rates and Availability Here!
Ocean Grove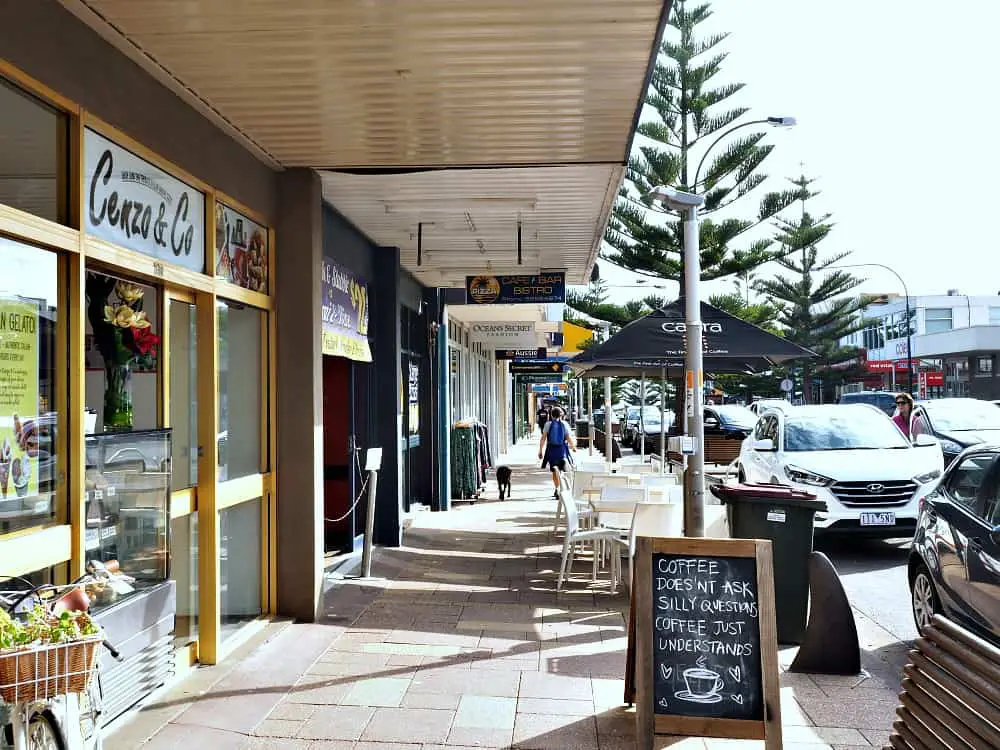 With the roar of the surf, coastal town vibe, and ocean breezes, Ocean Grove Victoria has been a favourite with families for generations.
It's not hard to understand why as there are plenty of things to do in Ocean Grove.
Situated on the southern coast of the Bellarine Peninsula, the town is surrounded by wineries, pristine beaches, golf courses, and nature.
There's a wide selection of shopping facilities to choose from including major supermarkets and specialty shops.
The town also has a vibrant shopping strip where you can buy surf gear, gifts, local art, and gourmet produce.
Visitors won't go hungry either as there are plenty of fab places to eat in Ocean Grove.
We recommend checking out the Beach Terrace Cafe Ocean Grove while you're here – it's one of the best cafes in Ocean Grove.
Water lovers grab your surfboard and hit the Ocean Grove beach.
Alternatively, sign up for lessons at one of the many surf schools – they'll have you catching waves in no time!
There are several walking tracks offering good views of the beach, and a flourishing nature reserve where visitors can explore the plants and animals of the wetland area.
Where To Stay In Ocean Grove
For a full list of places to stay in Ocean Grove read our guide to the best Ocean Grove accommodation.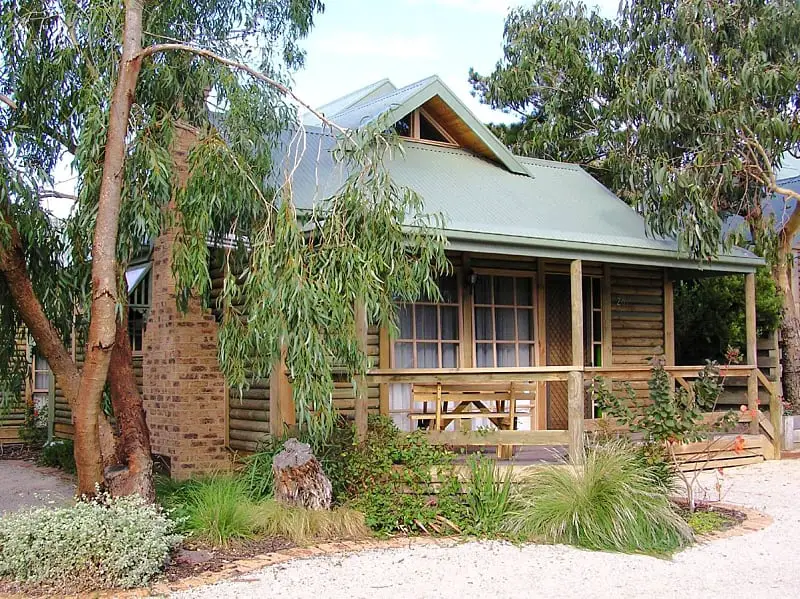 Nestled in coastal bushland, Ti-Tree Village is only a 2-minute walk to Ocean Grove's stunning beach and river.
The accommodation here is in fully self-contained log cabins most of which feature a 2-person spa bath.
There are one and two bedroom cottages and villas available as well as a superior villa and loft cottage.
All cabins have fully equipped kitchens, free WiFi, cosy open fire places, and verandahs with outdoor furniture.
The cabins are quite secluded and are ideal for a romantic couple's getaway.
However, the village has a great playground for kids and lots of board games and puzzles so it's perfect for families too.
Onsite amenities include a communal barbecue area, laundry facilities, and private parking.
➡️ Check Rates and Availability Here!
Barwon Heads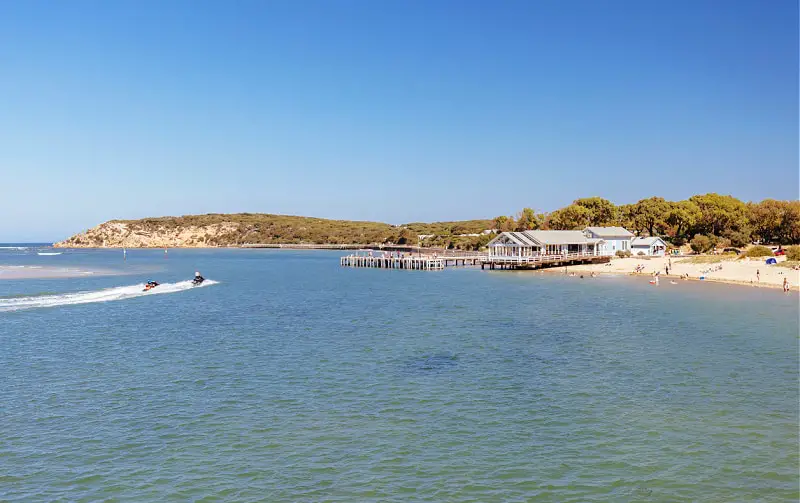 Divided by the mouth of the Barwon River, Barwon Heads is Ocean Grove's smaller and quieter twin town.
The slower pace doesn't mean you miss out on any of the benefits of a Bellarine Peninsula trip, however.
Here you'll find world class surf breaks, river beaches, coastal walking tracks, and friendly cafes.
The safe swimming waters of the inlet are popular with families, while serious surfers hang out at 13th Beach.
Excellent brunches and coffee can be found in Hitchcock Avenue along with surf shops and upmarket boutiques.
Thrill seekers should head to the Barwon Heads Airport for sky-high adventures like aerobatic combat flights, sky diving, or more sedate scenic flights.
Barwon Heads is a popular golfing destination with 3 highly rated public access courses nestled in the dunes on the edge of town – Barwon Heads Golf Club and 2 at 13th Beach Golf Links.
With its coastal breezes, beach town vibes, foody haunts, and eclectic shopping Barwon Heads is pretty hard to beat.
Where To Stay In Barwon Heads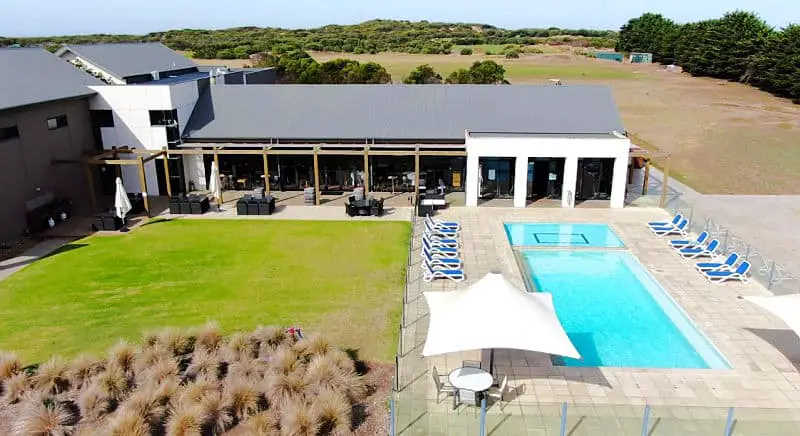 Located at 13th Beach Golf Links, Barwon Heads Resort offers one and two bedroom apartment-style accommodation.
The apartments are fully self-contained and have large balconies with outdoor furniture and views of the golf fairways.
The resort has a day spa where you can treat yourself to a luxurious massage for some holiday pampering.
Other facilities include an outdoor pool, a toddler's pool, 2 tennis courts, and a fitness centre.
A seasonal restaurant opens at weekends during peak season, and the beach is just a short walk away.
Barwon Heads Resort is ideal for all types of travellers including couples, families, and singles.
➡️ Check Rates and Availability Here!
Portarlington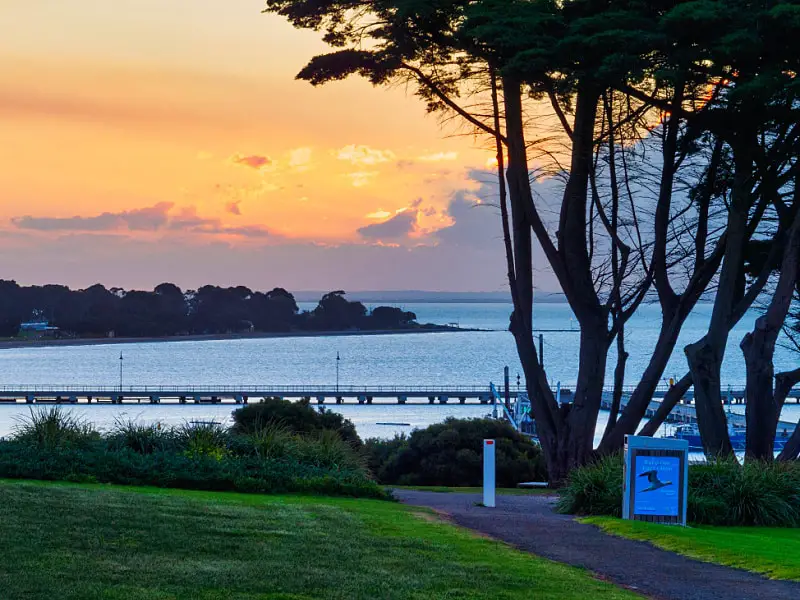 Located on the north-eastern corner of the Bellarine Peninsula, Portarlington is somewhat of a hidden gem.
Although it has plenty of attractions, this beautiful seaside village is quiet throughout most of the year. But in summer and during weekend festivals it becomes a hive of activity.
The beach here is long and wide with calm swimming waters that are ideal for families with children or anyone who doesn't like surf beaches.
One of the things that make Portarlington special is the stunning views across the bay to Melbourne and the You Yangs that can be seen from just about anywhere in town.
The main shopping strip is situated on a hill with parks and recreation reserves occupying the foreshore between the shops and the beach, allowing unobstructed views across the bay.
Portarlington hosts some vibrant festivals throughout the year including the Portarlington Mussel Festival in January and Celtic Festival in June.
It can be difficult to find a place to stay during these times so it's best to book ahead.
It's also where the Port Phillip Ferry docks, bringing people from Melbourne to the Bellarine Peninsula.
Where To Stay In Portarlington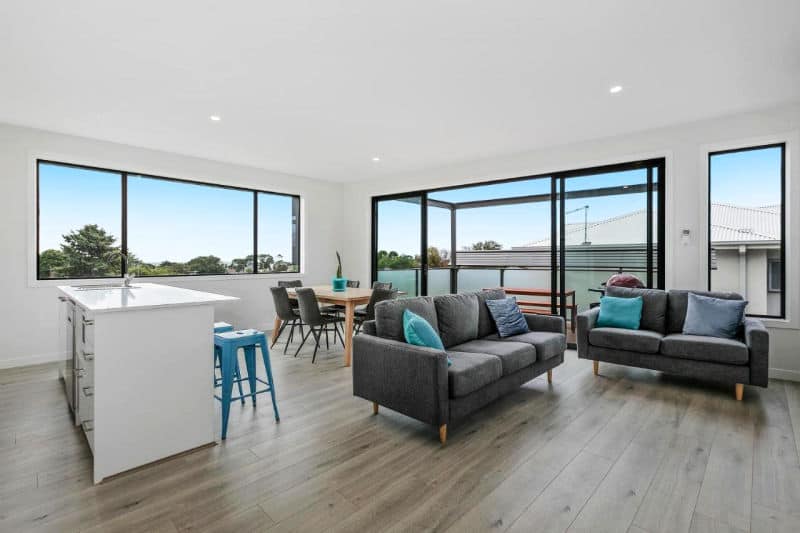 Offering bright and airy self-contained apartments, Waterline Property has everything you need for a comfortable stay.
You can choose from 2 and 3 bedroom units, most of which have water views.
For the best views book the 3 bedroom penthouse.
All apartments feature an open plan living, dining, and kitchen area, coffee pod machine, and relaxing balconies with a barbecue and outdoor setting.
Other amenities include laundry facilities, secure undercover parking, and free WiFi.
Waterline Property is within easy walking distance of cafes, restaurants, shops, and the Portarlington foreshore.
➡️ Check Rates and Availability Here!
Things To Do Bellarine Peninsula
From sporting events to festivals and Bellarine markets, there are enough things to do on the Bellarine Peninsula to keep you busy for weeks.
Visit Bellarine Peninsula Wineries, Breweries, Distilleries and Cider Houses
You won't go thirsty on the Bellarine where you'll be spoiled for choice with locally made beers, ciders, and specialty wines.
Trying out the local wines and ciders is one of the top Bellarine Peninsula things to do, and the best way to experience the region is on a Bellarine Peninsula wine tour.
Bellarine Wineries
The Bellarine Peninsula has become one of the largest grape-growing regions in Victoria.
Scattered throughout the area are boutique wineries producing award-winning cool-climate wines.
Each vineyard has its own distinct growing environment that's often compared to France's Burgandy or Bordeaux.
Here are a couple of our favourite places to try some fabulous Bellarine Peninsula wines.
Oakdene Vineyards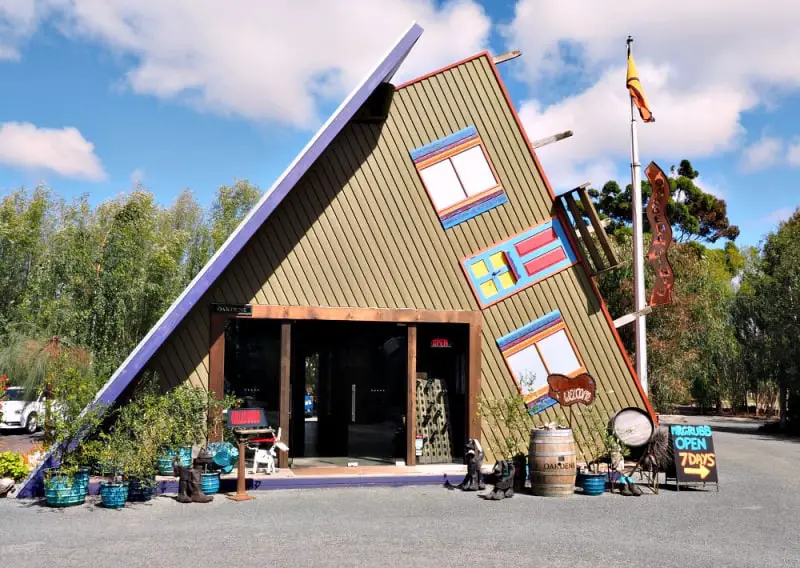 Enjoy informative wine tasting at the unique and colourful Oakdene Geelong, where the cellar door looks like a house blown over in the wind.
Hello Dorothy, welcome to Oz!
The quirky décor is a huge drawcard, but the vineyard offers good value wines, specialising in varieties best suited to the region – Chardonnay, Pinot Noir, Shiraz, Sauvignon, Blanc, and Pinot Gris.
The cellar door is manned by a team of friendly locals who'll help you make your selection and show you around the unique property.
Visitors can also enjoy gourmet food at the Manor Suite Wine Bar restaurant, or casual fare at Mr. Grubb Cafe.
Oakdene Winery

Where: 255 Grubb Road, Wallington 3222

When: 7 days 10 a.m – 4 p.m

Phone: (03) 5256 3886
Jack Rabbit Vineyard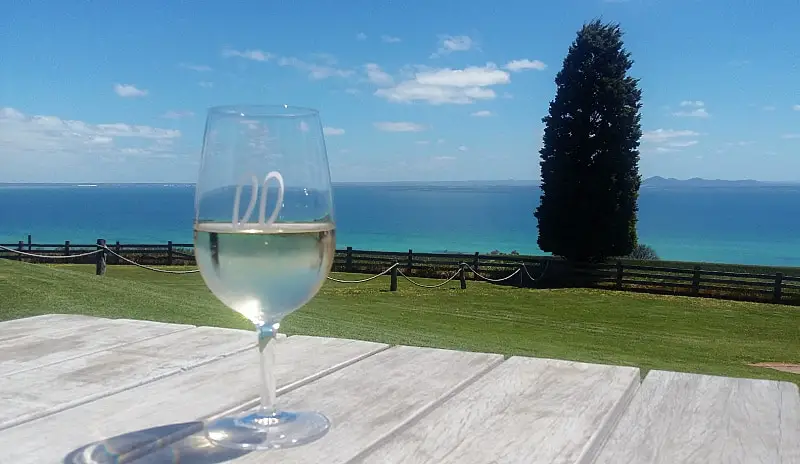 Perched high on coastal cliffs Jack Rabbit Winery is easily one of the best wineries Bellarine Peninsula has to offer. If you can only visit one winery, then make it this one.
The vineyard produces a wide range of sophisticated cool climate wines that please the fussiest of wine buffs.
The property has two stellar dining options to choose from.
Boasting floor-to-ceiling windows and a stunning menu, Jack Rabbit Restaurant is considered one of the best Bellarine Peninsula restaurants.
For a more casual option, the House Of Jack Rabbit cafe has a lush lawn where you can kick off your shoes and enjoy the best Jack Rabbit wines
With its fine wine, tasty dishes, and spectacular views, Jack Rabbit Bellarine remains firmly etched in visitors' memories.
Jack Rabbit Winery

Where: 85 Mc Adams Lane, Bellarine 3221

When: 7 days 10 a.m -5 p.m

Phone: (03) 5251 2223
Flying Brick Cider House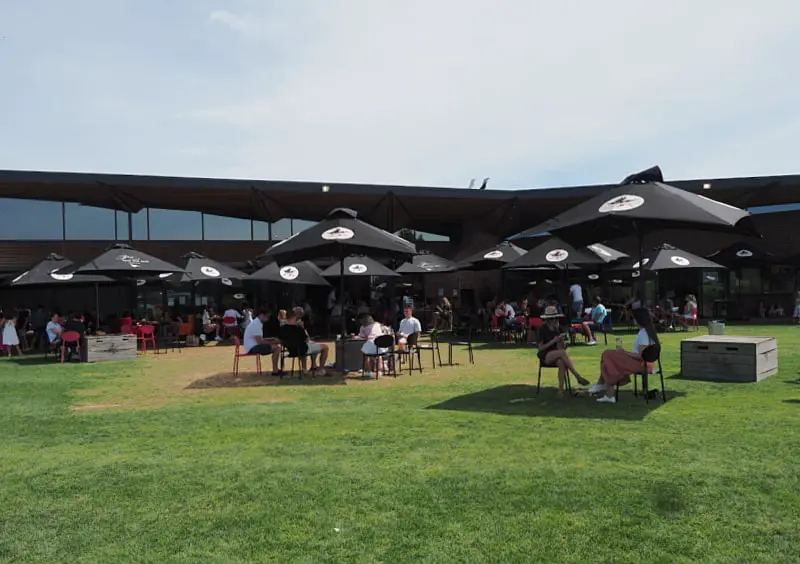 Named for the yellow-tailed black cockatoo – a local bird with the nickname "Flying Brick" – the Flying Brick Cider House's retro-inspired venue is popular with locals.
All Flying Brick ciders are produced naturally using traditional methods, pressing and fermenting local Victorian apples and Packham pears.
The range comprises three core ciders – Original, Draught, and Pear.
Sit outside on the lawn and share a tasting plate with friends while enjoying live music and a refreshing cider.
Flying Brick Cider House

When: Sunday-Thursday 11 a.m – 5 p.m, Friday-Saturday 11 a.m – 10 p.m

Phone: (03) 5250 6577
Queenscliff Brewhouse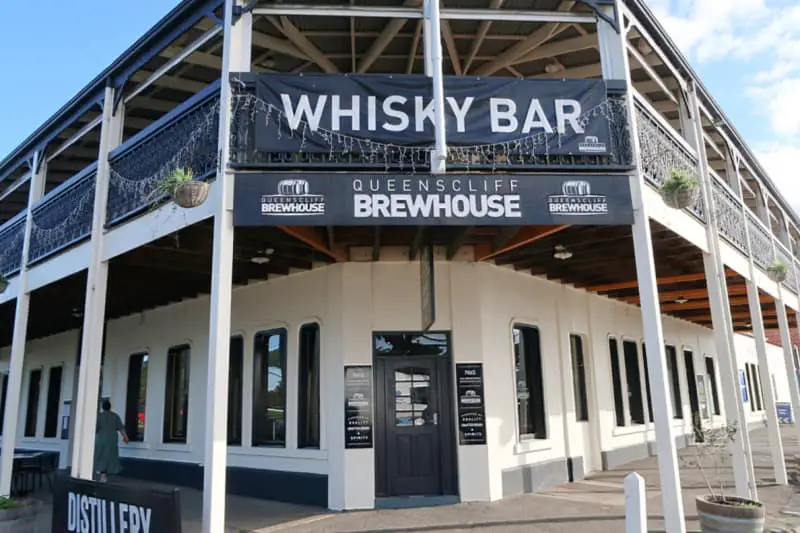 Within walking distance of Searoads Ferry, Queenscliff Brewhouse is best known for its onsite brewery and distillery.
Prickly Moses craft beer is brewed in the microbrewery here while the main brewery is located in the Otways.
Beer events are held throughout the year, and customers can learn about the art of beer-making on a tour of the brewery.
Queenscliff Distillery Cellar Door is located next to The Brewhouse and is open as a bar offering gin, wine, and beer tastings.
Queenscliff Brewhouse also has a family-friendly bistro, a beer garden, and terraces with bay views.
Queenscliff Brewhouse

Where: 2 Gellibrand Street, Queenscliff 3225

When: 7 days 11 a.m – Late

Phone: (03)5258 1717
The Bellarine Distillery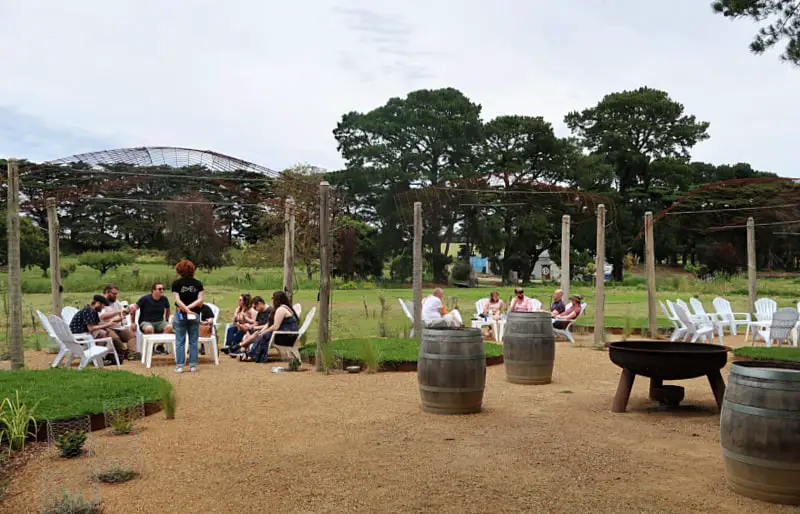 Bellarine Distillery's cellar door "The Whiskery" is housed in an old farm shed that's been renovated into an inviting rustic space.
Here you can try their own gin varieties such as Teddy And The Dog and limited amounts of whisky.
Cocktails, wine, and beer are also available, as well as pizzas and cheese platters if you're feeling peckish.
When the sun shines you can sit outside in the garden, and in the cooler months cosy up by the fire.
The Whiskery

Where: 2102 – 2120 Portarlington Road, Drysdale 3222

When: Sunday, Monday, Thursday: 11 a.m – 5 p.m

Friday – Saturday: 11 a.m – 8 p.m

Phone: 0468 926 282
Get Out Onto The Water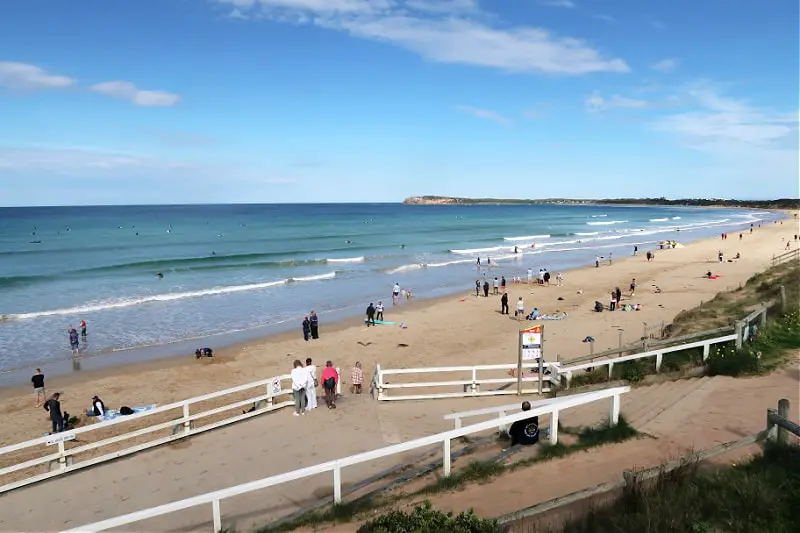 With its ocean beaches, bays, and rivers the Bellarine is a slice of heaven for lovers of water sports.
Grab your board and hit the beach. Check out Ocean Grove, 13th Beach, and Point Lonsdale for the best surf.
Since the area is fairly unpopulated you can surf world-class waves without much competition.
In winter you might even have the waves all to yourself.
You'll be surprised to learn there's more going on under the waters of the Bellarine Peninsula beaches than you might expect.
Join an organised tour with a dive operator in Queenscliff, and discover old shipwrecks and reefs teeming with marine life – including delightful seahorses.
For a truly amazing experience, you can also swim with dolphins and seals in unique marine national parks.
Of course with so much water about, there are ample piers, jetties, rocks, and shorelines where you can cast a line to catch your dinner.
Museums, Markets, and Festivals
Discover another side of the area and learn about its history while visiting historical buildings and museums.
A good place to start is Fort Queenscliff.  
Built to defend the entrance to Port Phillip Bay, it's reminiscent of a medieval fortress with muzzle-loading cannons, walls, a dry moat, and a keep.
A part of Australian history, this is one of the more interesting Queenscliff attractions.
Also popular with visitors, and wedding photographers is Point Lonsdale Lighthouse.
Keeping vigil over the Rip the lighthouse is staffed 24 hours a day making it unique in Australia as most lighthouses are now unmanned.
During heavy fog, the foghorn still gives a warning blast to ships passing through.
Enjoy some of the best festivals in Australia. Held throughout the year they usually involve either food or music – and of course lots of fun.
Take your pick from the National Celtic Festival, Queenscliff Music Festival, Portarlington Mussel Festival, or the Wallington Strawberry Fair, just to name a few.
There are some great Bellarine Peninsula markets to explore too.
The area is flush with vintage markets, farmer's markets, and local community fundraisers, where you can find hidden local treasures or tuck into a piping hot jam doughnut!
The Bellarine Taste Trail highlights the best wine, beer, cider, and fresh local produce you'll find in this amazing part of Victoria.
Boasting nearly fifty food and wine destinations, exploring the 'taste trail' is one of the top things to do on the peninsula.
Things To Do On The Bellarine Peninsula For Kids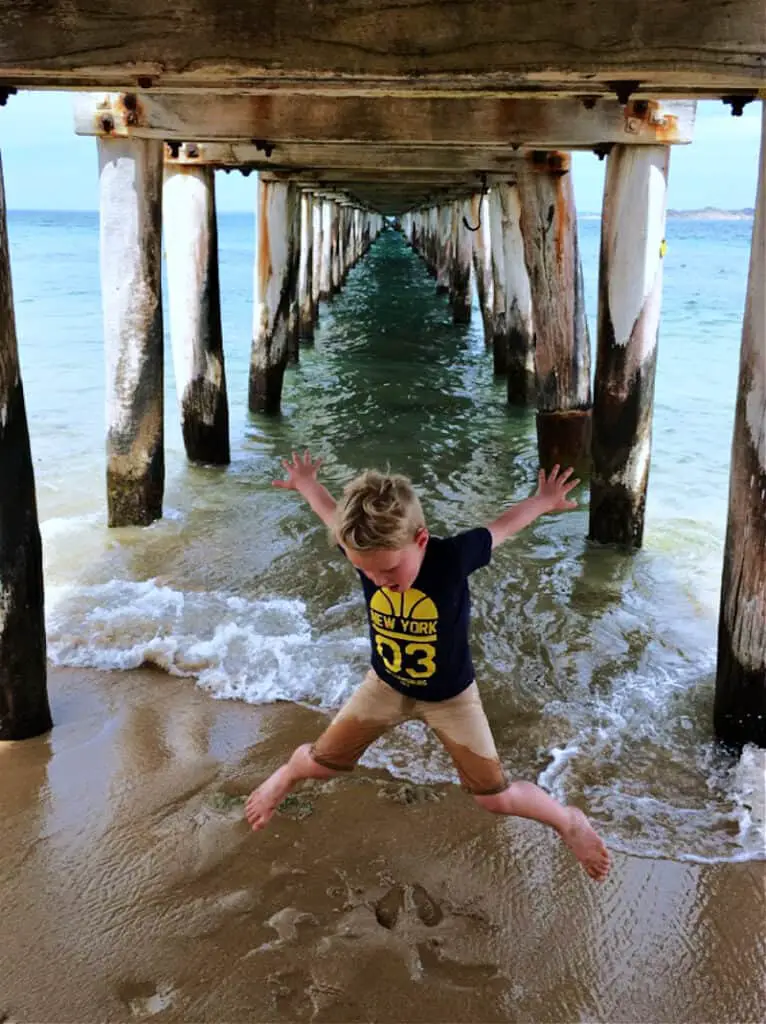 Gather the kids together for days of endless fun and adventure, swim, paddle, and boogie board at bay and ocean beaches.
Or try a round at Bellarine Adventure Golf.
Fun for the whole family there are two 18-hole courses to choose from – The Mountain and The Mill.
Both courses are designed to test your skills with tricky water hazards and sticky sand traps.
Bellarine Adventure Golf

Where: 1532 – 1540 Bellarine Hwy, Wallington 3222

When: Thursday – Monday 10 a.m – 5 p.m, Every day in school holidays.

Entry: Adult: $16.00, Child: $12.00, Family: $48.00

Phone: (03) 5250 3777
If you really want to wear the kids out then head to Adventure Park Victoria's biggest theme park, and home to epic water slides.
Ride Victoria's first triple funnel waterslide, The Tsunami, the Crazy Coaster, or the Grand Carousel.
Adventure Park

Where: 1249 Bellarine Hwy, Wallington 3222

When: 25 November 2023 – 31 March 2024 from 10 a.m

Phone: (03) 5250 7200
For the little ones, Portarlington Bayside Miniature Railway is a whole lot of fun.
Situated beside the beach, the train departs from Point Richards Station and journeys through picturesque parklands.
Onsite there's also a vintage railway station and signal box with an undercover platform, as well as an adventure playground and barbecue facilities.
Portarlington Bayside Miniature Railway

Where: Cnr Point Richards and Boat Roads, Portarlington 3223

When: Weekends 11 a.m -3 p.m

Tickets: Family Day Pass: $35.00, Single Ride: $4.00

Phone: 0476 124 598
Bellarine Peninsula Golf Courses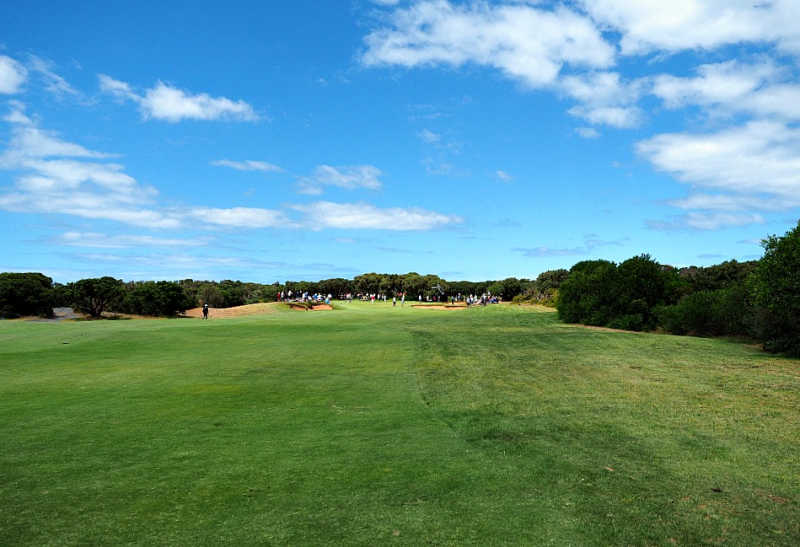 Bring your clubs and play a round of golf on some of the best golf courses in Victoria.
13th Beach Golf Links hosts the Victorian Open Golf Championship and is rated one of the best public access courses in Australia.
The challenging natural links-style 36-hole course is positioned on true links land and offers a rare genuine links golf experience.
There are Bellarine golf courses all along the peninsula including Curlewis, Clifton Springs, Portarlington, and St Leonards.
Bellarine Peninsula Cafes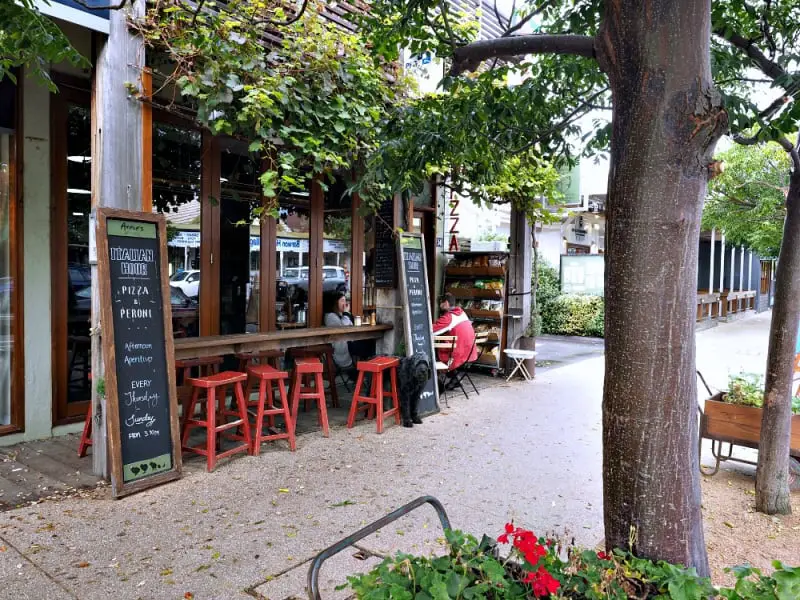 Melbourne's café culture has trickled down to the peninsula, and no matter where you are, you're never far from sublime coffee and mouth-watering treats.
Cafe Zoo
Calling a cute converted cottage home you'll find Cafe Zoo tucked in on Drysdale's main street.
This much-loved cafe has multiple dining spaces inside and out with lots of little nooks and crannies to relax in.
The quirky decor features funky art and photography in a cosy and relaxed setting.
Cafe Zoo has a fresh modern menu and is open for breakfast and lunch every day from 7.30 am.
Cafe Zoo

Where: 23 High Street, Drysdale 3222

When: 7 days 7.30 a.m – 3 p.m,

Closed Public Holidays

Phone: (03) 5251 5333
Annie's Provedore
Make your way to Barwon Heads and start your day with a hearty breakfast at Annie's Provedore.
The shelves of this popular café positively groan under the weight of local produce, gourmet treats, and specialty wines.
Soak up the rustic atmosphere of Annie's Barwon Heads while enjoying a touch of Europe with a barista-made coffee.
Annie's Provedore

Where: 2/50 Hitchcock Avenue, Barwon Heads 3227

When: 7 days 6.30 a.m – 5 p.m

Phone: (03) 5254 3233
Mr Grubb
Part of the Oakdene Estate, Mr. Grubb is possibly our favourite café on the Bellarine.
We love sitting outside in the fresh country air relaxing amongst the silver birch trees with a coffee or hot chocolate.
The food and service are always superb, and for lunch on Sundays, there's live music to add to the ambiance.
Don't forget to take a stroll in the garden and check out the quirky artefacts and sculptures scattered around the grounds.
The more you look, the more you'll find!
Mr Grubb

Where: 255 Grubb Road, Wallington 3222

When: 7 days Lunch 11.45 a.m – 3 p.m, Dinner 5.30 p.m – 9 p.m

Phone: (03) 5255 1255
Bellarine Peninsula Accommodation
There are great places to stay throughout the Bellarine Peninsula to suit all tastes and budgets.
Visitors who are looking for something a bit different can stay in unique themed rooms or traditional bed and breakfasts.
Just about every town has a holiday park where you can camp or stay in a cabin.
Queenscliff accommodation is jam-packed with historic hotels and quaint guesthouses, click here for a list of the best Queenscliff accommodation.
We also review the best Portarlington accommodation in this post.
How To Get To The Bellarine Peninsula
By Car
It's an easy 15-minute drive from Geelong to the Bellarine Peninsula.
The Bellarine Highway will take you to Queenscliff via Leopold – the gateway to the Bellarine.
Along the way, you'll pass the Flying Brick Cider House, Bellarine Adventure Golf, and Adventure Park.
Alternatively, you can take a scenic drive along Portarlington Road. This will take you through beautiful farmlands and wineries all the way to Portarlington.
If you're coming from Melbourne it's a one hour drive along the Princes Hwy to Geelong, there are plenty of signs to guide you from there.
If you are travelling from Melbourne Airport or Avalon then you will find this post about how to get from Melbourne Airport to Geelong useful.
By Ferry
Port Phillip Ferries offer daily services between the Melbourne Docklands and Portarlington.
The Port Phillip Bay Ferry has two floors with plenty of seating and outside areas, as well as a licensed cafe.
You can even organise tours across the Bellarine through Port Phillip Ferries.
For an up-to-date time table or to book tickets click here.
Searoad Ferries operates two car and passenger ferries between Sorrento on the Mornington Peninsula and Queenscliff.
The forty-minute crossing is one of the more popular things to do in Bellarine Peninsula (you can see dolphins!), and it's a great way to arrive.
Ferries depart both Queenscliff and Sorrento every hour on the hour from 7 a.m to 6 p.m daily.
For more information about the Queenscliff Ferry click here.
Bellarine Peninsula Map
Below you'll find a map with the location of the towns, things to do, accommodation, and cafes we've mentioned in this guide.
Final Word
The Bellarine Peninsula is one of the special places to visit in Victoria.
Whether you prefer heading to the beach, tasting wine, or partying it up at a festival or two, The Bellarine has it all.
This guide to the Bellarine Peninsula will help you plan your trip and have a wonderful time.
No matter which town you choose to stay in or what places you visit, you'll love your time on the Bellarine Peninsula in Victoria!
Recommended: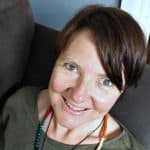 By Audrey Chalmers
Audrey grew up in Victoria and travelled the world but she always called Victoria home. She loves nothing more than exploring her home state and sharing it here.