This article may contain compensated links. For more information read our disclaimer here.
Looking for the best Queenscliff restaurants? I'm happy to say you're in the right place.
As Geelong locals we've spent a fair amount of time visiting Queenscliff, enjoying the local restaurants in between exploring the sights and relaxing at the beach.
Some of the more tempting restaurants in Queenscliff include a restaurant train, a local Asian fusion eatery, and a couple of historic town centre hotels.
This little peninsula is surrounded on three sides by water, so you're never far from a seafood restaurant.
There's even a pub in town with an on-site brewery and distillery, or you can buy from the cellar door at a nearby cafe and winery.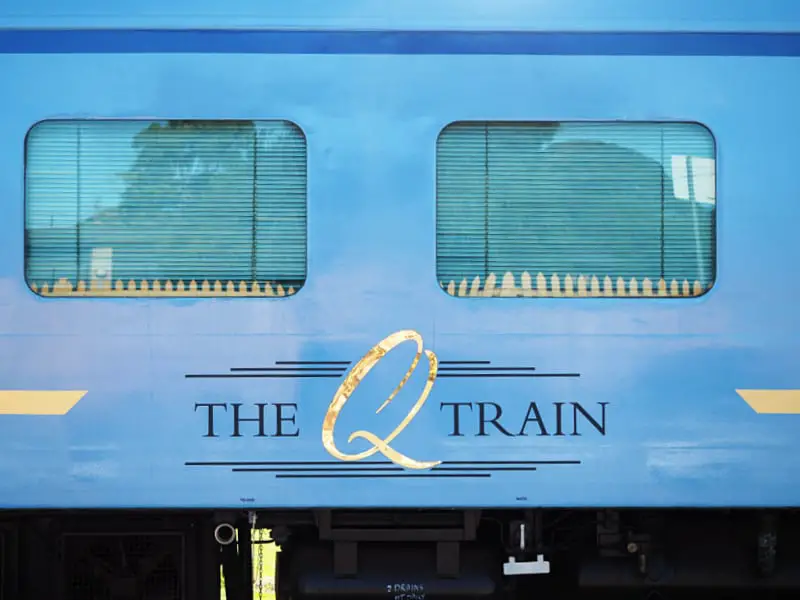 The fruits of the ocean can also be sampled at places like 360Q or Scully's Oyster Bar and Grill, while the bistro at Queenscliff Bowling Club offers pub grub with a view.
Whether you want to find the ideal Queenscliff restaurants for lunch with the family or a special dinner date, read on to find your new go-to place.
At the end, we've added a handy map so you can see exactly where each Queenscliff restaurant is.
Let's start!
Best Restaurants In Queenscliff
Whether you prefer fine dining, a peaceful rural location, coastal vibes, or the relaxed atmosphere of a town pub, there are places to eat in Queenscliff to suit everyone's tastes and budget.
1) 360Q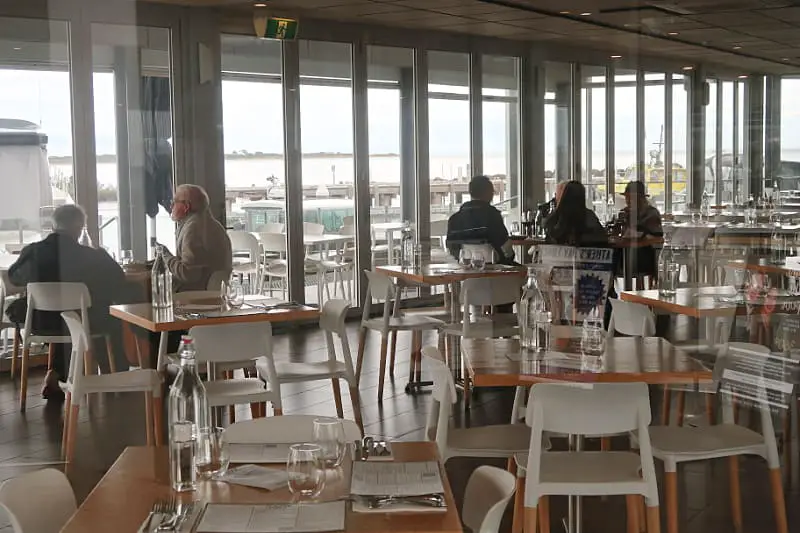 Situated right on the harbour, 360Q Queenscliff offers excellent views over the water from the two-storey building.
It's the ideal place to take a break when you're visiting the tourist attractions around Queenscliff.
The service, seafood, and panoramas you'll experience at 360 restaurant in Queenscliff are all incredible.
Breakfast and brunch are served from 8.30 a.m on Fridays, Saturdays, and Sundays, while on weekdays it's all about lunch and dinner. Or as they call it at 360 Queenscliff, 'linner' during those in-between times.
Inside, the dining room is a contemporary, light-filled space with clean lines and comfortable seating.
There's also a sunny terrace with a harbour view where you can enjoy outdoor meals. Well, we say view – but it feels like you're sitting right over the water, surrounded by glimmering boats.
It's easy to see why 360Q is often seen as the leader of all the best restaurants in Queenscliff.
There's a great selection of gluten-free, vegan, and vegetarian dishes available, and the cuisine covers traditional breakfasts, seafood specialities, and more exotic, exciting dishes.
The cocktails list covers classics like the Bloody Mary or Pina Colada as well as the Apple Pie, Triple J, or French 75.
For breakfast, pick between dishes such as ricotta hot cakes, warm coconut rice pudding, and the hearty 360Q big breakfast.
At lunch, dinner, or 'linner' time you can choose between the wagyu beef shin, Peking duck taco, roasted celeriac, flash-fried baby snapper, fish and chips, and more.
If you enjoy a sweet treat, leave room for sticky date pudding, tapioca with coconut jam, chocolate torte, or the blueberry shortcake.
Where: 2 Wharf Street East, Queenscliff Vic 3225

When: Mon – Thu: From 11.30 a.m, Fri – Sun: From 8.30 a.m

Phone: (03) 5257 4200
2) Vue Grand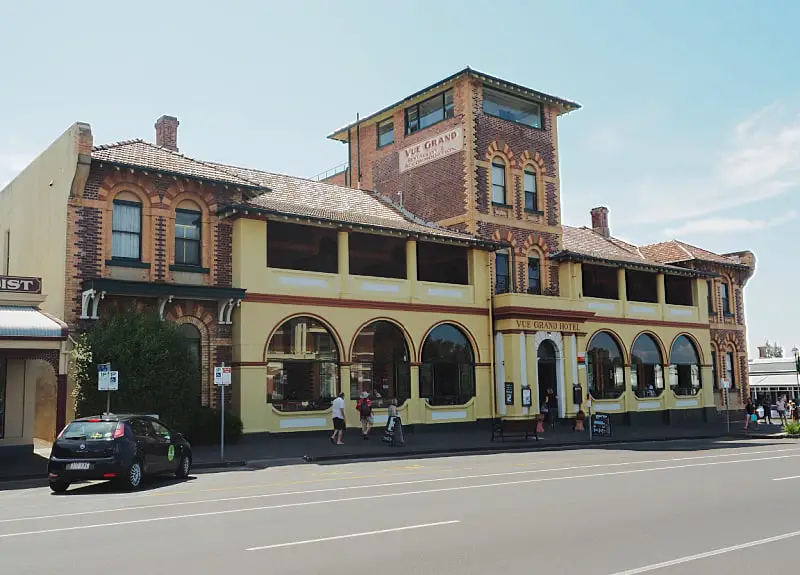 Slap-bang in the centre of town is the Vue Grand Queenscliff, a grand dame of a hotel set within a century-old building.
The restaurant here is the perfect place to enjoy a sumptuous Queenscliff dinner.
The Vue Grand Hotel in Queenscliff dates back to 1881 and offers delicious dining options as well as boutique accommodation.
For a special occasion, the elegant setting of the Grand Dining Room is ideal, while for a casual affair, you may prefer the more laid-back ambience of the Vue Street Bar.
The Grand Dining Room is all about tradition and sophistication, while the Vue Street Bar offers pub classics and sharing platters washed down with local wines, beers, and ciders.
You can take a table in the courtyard or atrium as well as inside the pub.
There are some imaginative inclusions on both menus. At the bar, try an entree of pumpkin flowers or lemon pepper calamari followed by a local fish dish, a steak, or a meat and gluten-free stew.
Get your glad rags on for the Grand Dining Room and you can take a step back in time.
A tinkling piano, panelled walls, and period colours create a stylish, traditional space in which to enjoy a long lunch break or a delectable evening dinner.
A kids' menu offers the usual family favourites.
Vue Grand 

Where: 46 Hesse Street, Queenscliff 3225

When: Thu – Sat & Mon: From 12.30 p.m, Sun: 12.00 p.m – 3.00 p.m

Phone: (03) 5258 1544
3) The Q Train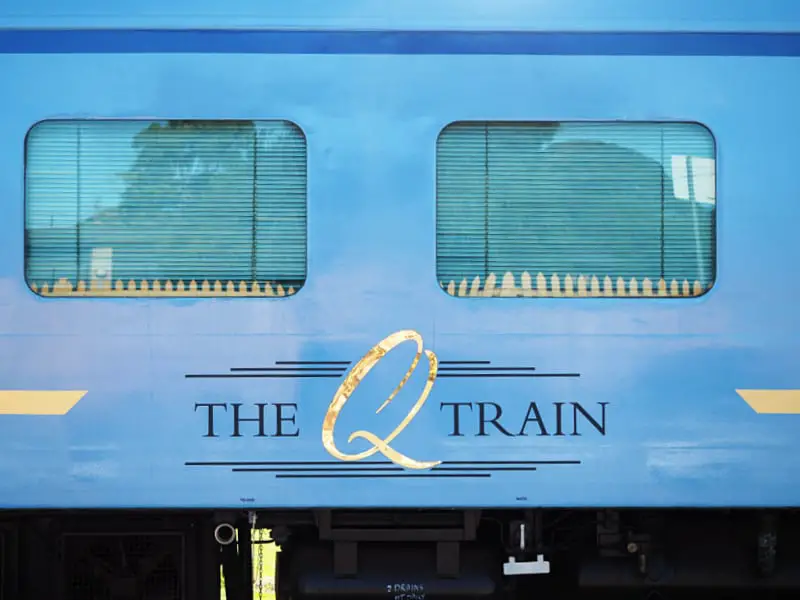 Experience the unique pleasure of fine dining on board a moving train as you step aboard The Q Train, a culinary journey reminiscent of the legendary Orient Express.
Housed within a transformed "Sunlander" railcar, this award-winning restaurant travels along the historic railway line that stretches from Drysdale to Queenscliff.
Along the way, it pauses at the picturesque Suma Park Historic Homestead and glides through the breathtaking landscapes of Swan Bay.
While on board, you'll be treated to mesmerizing views of vineyards, olive groves, rolling hills, and farmlands.
The Q Train serves a six-course degustation feast that highlights the finest local ingredients from Geelong, the Otways, and The Bellarine.
All dishes are expertly cooked and prepared on board, and you'll find ample time between courses to unwind and savour a drink or two.
This unique gastronomic experience is an absolute must for anyone visiting the Bellarine Peninsula.
As a fun tidbit, The Q Train gained recognition when it was featured on Masterchef Australia in 2019.
🍽️Book Your Lunch On Board The Q Train Here
🍽️Book Your Dinner On Board The Q Train Here!
3) Circa 1902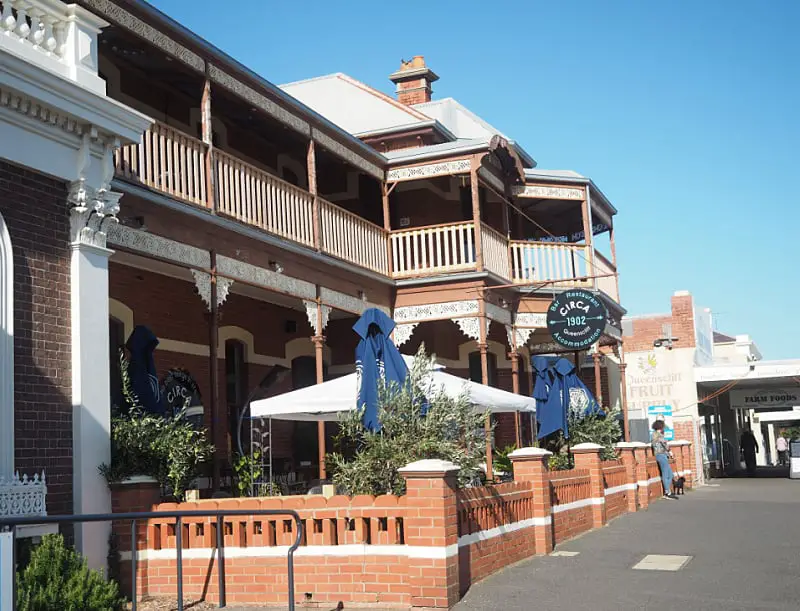 Circa 1902 can be found in central Queenscliff as well and is also housed in a heritage building – this one dates back to 1902. Hence the name.
The Circa restaurant is open daily between Thursday and Sunday and offers a range of food with global and local influences.
On the menu at Circa Queenscliff, there may be a beetroot and feta salad sprinkled with walnuts, tomato bruschetta with lemon olive oil, or fish tacos to start.
You might then move on to a curry, seafood, or pasta dish such as green Thai curry, Portarlington mussels, or spaghetti Napoli. For carnivores, there's also the likes of pork belly or beef ribs.
The desserts offered at this Hesse Street Queenscliff eatery are anything but stuck at the turn of the century.
How does a gluten-free coffee and Frangelico affogato or the Bakewell trifle with raspberries and ginger grab you?
Though there are remnants of the hotel's past in evidence, the dining space here is slick and modern with tall potted plants, feature lighting and contemporary furnishings.
With room for 65 diners, the venue feels spacious yet sociable. On sunny days you can dine outside on the classic verandah at Circa 1902.
Pub-style specials, tapas dishes, a kids' menu, and regular live music complete the picture.
Circa 1902 Queenscliff

Where: 59 Hesse Street, Queenscliff

When:  Thu – Sun: From 11.30 a.m, Wed: 5.30 p.m – 9.00 p.m

Phone: 0466 580 368
4) Nivana Queenscliff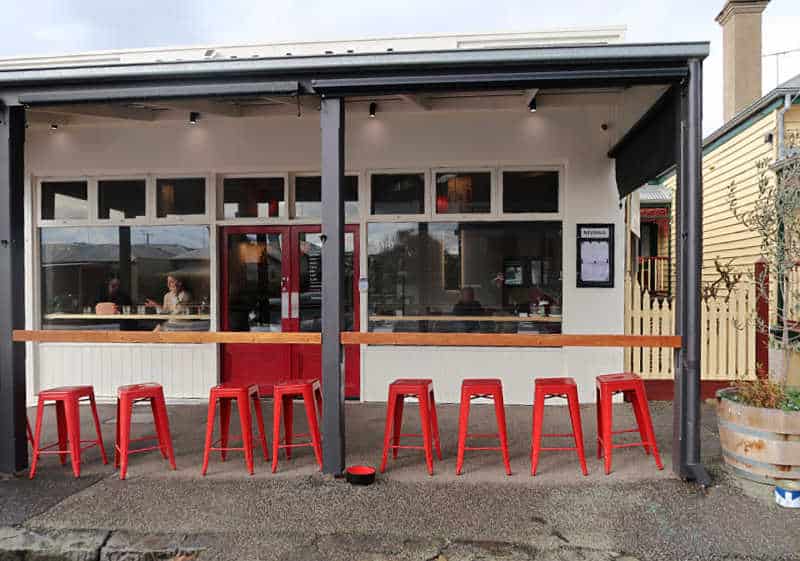 No, that's not a typo – it is Nivana (without the 'r), not Nirvana.
Though you may well think it's the latter when dining on the outstanding Asian fusion cuisine served here. For anyone with a penchant for fragrant or spicy dishes, this place is a must.
Nivana Queenscliff is also situated on Hesse Street, the town's main drag. It's all about the full-on authentic experience here, and the shuttered front looks a lot like a traditional Asian shophouse.
The history behind Nivana is reflected in the Japanese-style decor and the Pan-Asian menu.
However, local produce is used wherever possible, making great use of the Bellarine Peninsula's finest fare.
Nivana restaurant in Queenscliff is led by a well-travelled chef with a fondness for modern Asian cooking. The menu is heavily influenced by his travels throughout Asia and the Pacific.
Hand-painted wall murals reflect the East meets West philosophy and the intersections between traditional and contemporary perfectly. As the venue is small, there's a pleasingly intimate atmosphere.
The menu, meanwhile, offers around 14 dim sum options plus Indian, Thai, and Indonesian curries, Malaysian soup, Vietnamese salads, and roast or barbecue meats.
You can also sample rice and noodles inspired by China, Thailand, Singapore, and Indonesia.
There are also simple panko breadcrumbed fish or chicken dishes on the children's menu, plus fried rice, or noodles for more adventurous young visitors.
Add colourful or elegant cocktails plus Asian beers for older diners and you have the recipe for a most memorable Queenscliff dining experience.
Nivana Queenscliff

Where: 13 Hesse Street, Queenscliff 3225

When: Tue – Wed: 5 .00 p.m – 8.30 p.m, Thu – Sun: 11.30 a.m – 8.30 p.m

Phone: (03) 4225 2020
5) Scullys Bar and Grill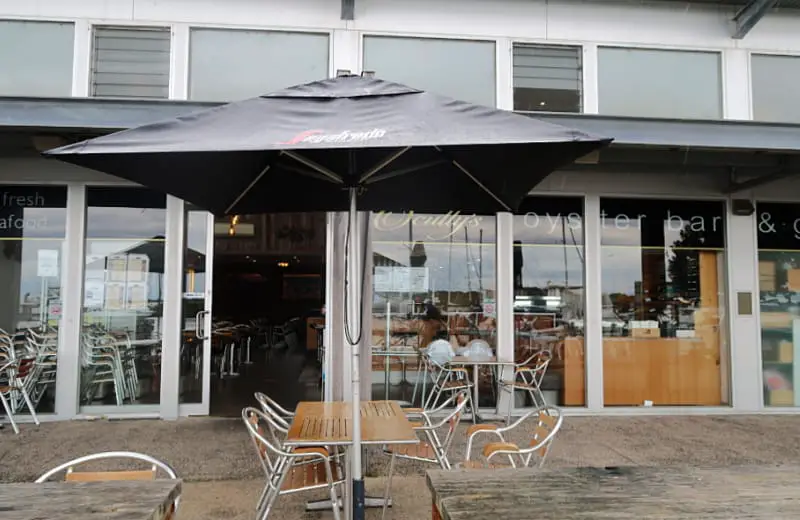 Scully's Oyster Bar and Grill is also among the top restaurants in Queenscliff, Victoria.
It's positioned by the harbour, close to where ferries bound for Sorrento depart from. Meaning there's never a dull moment when you're dining here.
This is the pick of the Queenscliff restaurants on the marina when you love to sample local seafood.
The dining space is flooded with light due to plenty of huge picture windows, and you'll have a bird's eye view of life on the ocean while tucking into a delicious lunch or dinner.
While other dishes are available, this really is an eatery for fans of seafood, who flock here to feast on the likes of mussels, salmon, seafood chowder, calamari, and of course oysters.
Scullys Bar and Grill

Where: Unit4/4 Wharf Street East, Queenscliff 3225

When: Sunday, Monday, Tuesda, Thursday: 11 a.m – 5.30 p.m, Friday and Saturday: 11 a.m – 8.30 p.m

Phone: (03) 5258 4377
6) Shelter Shed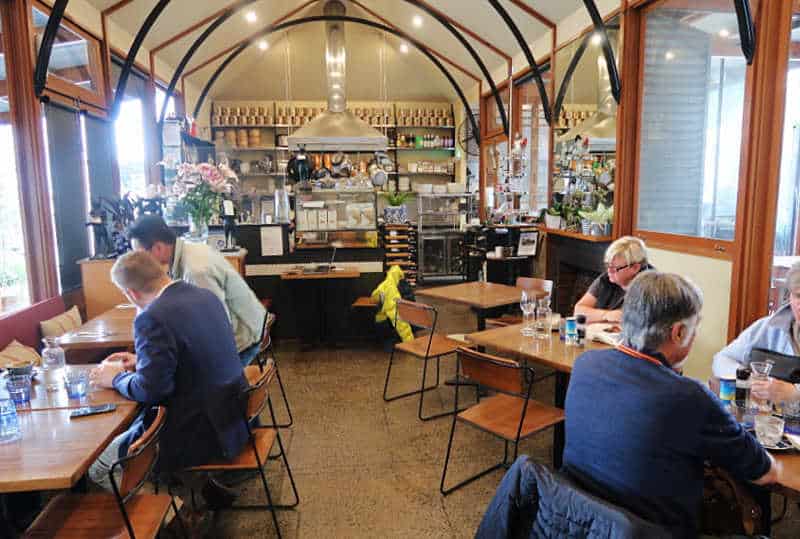 Shelter Shed Queenscliff is also located in the heart of town on Hesse Street.
A highlight of visiting here on a warm day is the large backyard, which can accommodate a number of diners choosing to enjoy the sunshine.
During winter, there's a fire blazing indoors to ensure a cosy atmosphere when it's cold outside.
Friday is dumpling night here and a regular fixture on the local calendar. A range of tempting steamed morsels becomes available then, ranging from barbecue pork buns or duck spring rolls to panko prawns or ginger prawn dumplings.
Appealing meat-free options include vegetable and shiitake mushrooms or wok-fried greens.
In terms of the general menu, Asian meets Australian where the scallop pies are concerned, and there are regular steak nights for the more committed carnivores.
After dark on Thursday, Friday, and Saturday evenings, the Shelter Shed becomes more than a mere Queenscliff restaurant – it's also a meeting place where locals and visitors can come to congregate over drinks.
Inside, the look is modern, slick, and slightly industrial. The arched ceiling is highlighted by dark black and brown beams, while details like the oversized extractor fan, hood and open wine racks add interest.
Shelter Shed Queenscliff

Where: 25 Hesse Street, Queenscliff 3225

When: Thursday – Monday: 8 a.m – 10 p.m

Phone: (03) 5258 3604
7) Queenscliff Brewhouse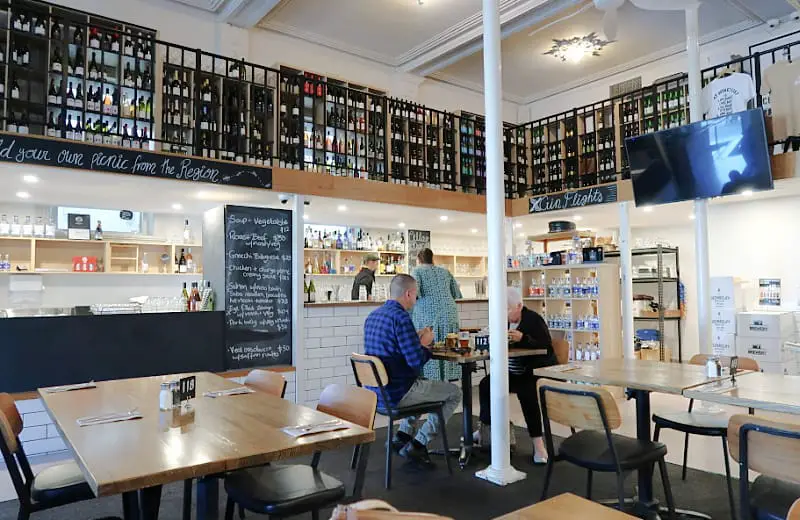 If it's a typical Aussie pub you're after then the Queenscliff Brewhouse might well be the right venue for your lunch break or dinner date.
Like the eateries in Torquay, the Brewhouse is situated close to the beach making it perfect for a pre or post-dinner stroll along the foreshore.
A key selling point of the Brewhouse in Queenscliff is the fact that there's a brewery right here on site.
This also functions as a distillery, and you can buy beers and spirits to take home at the bottle shop. After sampling the wares while dining at the bistro of course!
Those who are particularly interested in how gins or beers are made may also like to book a tour or other experience to take part in before or after lunch.
Oysters, prawns, and squid feature heavily on the entrees menu at the Brewhouse, or you can opt for a simple pick like soup, nachos, or garlic bread.
Those craving a healthy feed may choose a Thai or Moroccan salad, while more substantial mains include fish and chips, Mexican parma, chicken schnitzel, and a meat or veggie burger.
Steaks and Asian-style noodles or rice dishes are also offered.
A genuine child-friendly kids' menu means you can feed the whole family without a fuss – or spending a fortune.
For those with a sweet tooth, typical desserts include affogato with gin, cinnamon and chocolate churros, or lemongrass and lime crème brûlée.
Queenscliff Brewhouse

Where: 2 Gellibrand Street, Queenscliff 3225

When: 7 days from 11.00 a.m – late

Phone: (03) 5258 1717
8) Rip View Bistro (Queenscliff Bowling Club)
The Rip View Bistro at Queenscliff Bowling Club offers fantastic views towards Drapers Reef and Shortland Bluff.
It's also positioned on the edge of the Point Lonsdale foreshore reserve, and near to the lighthouse and lookout point.
Dining at Queenscliff Bowls Club isn't only for those who play tennis, bowls, or croquet and the menu has all your local pub favourites at reasonable prices.
On the menu, you'll find chicken parmigiana, garlic prawns, slow cooked lamb shanks, grilled salmon, and a steak sandwich.
Pasta sauces include bolognaise, gamberi, marina, and ortomisto and are served with penne style pasta or gluten free arborio rice.
For starters, try the cheese and bacon arancini balls served with truffle mayo, seafood chowder, or simply order a serving of garlic bread.
Kids are taken care of too, with a choice of chicken nuggets, schnitzel, and parmigiana, as well as fish and chips and penne bolognaise.
The dessert menu is somewhat limited, with a choice of cheesecake, affogato, or kid's ice cream with two scoops, chocolate sauce, and sprinkles.
The lunchtime menu is similar to the above but the meals are cheaper at less than $20.00, while the soup of the day served with Turkish bread is just $12.00.
Queenscliff Bowls Club

Where: 118 Hesse Street, Queenscliff

When: 7 days from 11.30 a.m

Phone: (03) 5258 1773
9) Basil's Farm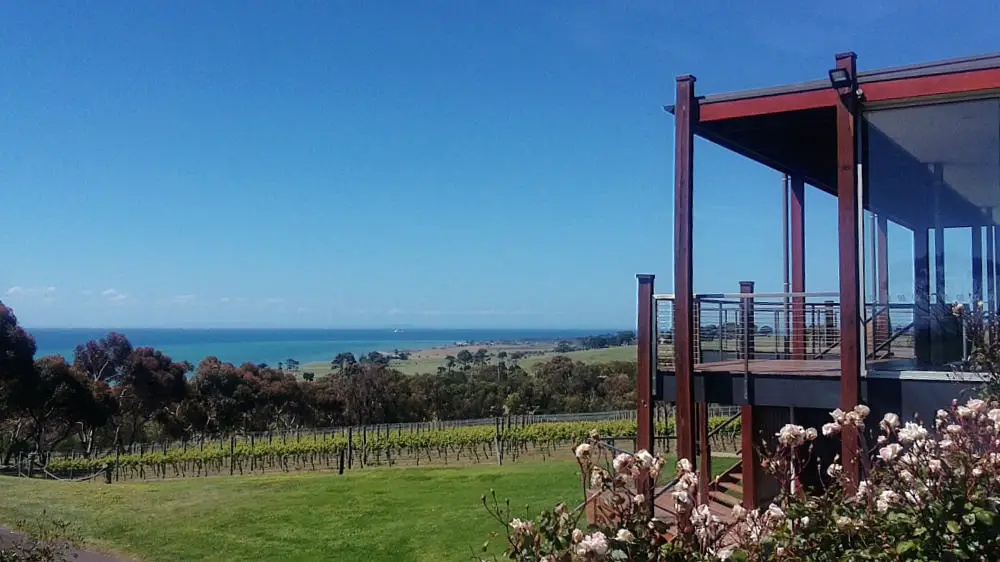 If you're the sort that likes to escape the hustle and bustle, why not head to Basil's Farm winery in nearby Swan Bay?
Located to the north of Queenscliff and with Swan Island to the east, this eatery offers both fine food and breathtaking natural beauty.
A few hours out here can be just the tonic you need when life has been hectic of late. Imagine sitting at a shady table on the lawn while gazing out over the bay … and that's before the food even starts to arrive!
If you need more of an excuse, you can also stock up at the cellar door during your visit.
This is also a great place to bring the family, as you may barely hear a peep from the kids while they're absorbed in running around the spacious gardens or burying treasure in the sandpit.
The menu here is seasonal, and you might even spot a staff member returning to the kitchen during your visit, laden with the freshest and most local produce imaginable.
You can also sample this Bellarine winery's vintages while dining, or visit during one of the Sunday Sessions to dine while live music plays.
Dishes served at Basil's cafe include influences from several continents. Try French style chicken galantine, sweet potato and jalapeno empanadas, or good old-fashioned cottage pie.
The kids' menu includes pasta as well as dishes with chips, and there are some sublime sweets to sample if you have space, including the intriguingly named coconut and banana "banoffee".
Basil's Farm Queenscliff

Where: 43 – 45 Nye Road, Swan Bay Vic 3225

When: Mon, Thu, & Fri: 11.30 a.m – 4.00 p.m, Sat – Sun: 11.00 a.m – 4.00 p.m

Phone: (03) 5258 4280
10) The Blues Train
The Blues Train in Queenscliff offers the chance to try a once-in-a-lifetime experience – while dining aboard a steam train!
If you hadn't guessed, the soundtrack is blues-based, and to experience this is like the microcosm of a blues music festival.
Even the food served on board the Blues Train is musically themed. Bookings are absolutely essential, and you'll need to arrive promptly for the scheduled 6.30 p.m start.
Delights that await along the way include the chance to spend time in each of the four themed carriages.
It all starts at the T-Bar, where you can buy pre-dinner drinks in addition to beverages to go with your meal.
Food is served from 7 p.m., and guests are seated according to carriage. Different dishes are offered in each, and may include pulled barbecue beef, oven-baked chicken, twice-cooked potatoes, and seasonal salads.
At around 8 pm the Blues train will set off bound for a trip around the Bellarine Rail Trail and Swan Bay.
Two hours of music is played, with four different acts playing a half-hour set each to keep things fresh.
After an evening of dinner, drinks, and dancing, the train is due to pull back into historic Queenscliff station by 11.30 p.m.
You can take any unopened drinks with you, and don't forget to book a taxi home!
Queenscliff Blues Train

Where: 20 Symonds Street, Queenscliff

Phone: 1300 885 993

Book: Click Here
Best Queenscliff Restaurants Map
Below, for your convenience, we've included a map that shows the exact location of each Queenscliff restaurant that we've listed and reviewed here.
Final Word
As you can see, there are plenty of choices when it comes to dining out in Queenscliff.
Whether you prefer a historic hotel, a steam train, a farm cafe with a winery or a spot by the harbour, there are lots of places to tickle your tastebuds in this small Bellarine Peninsula town.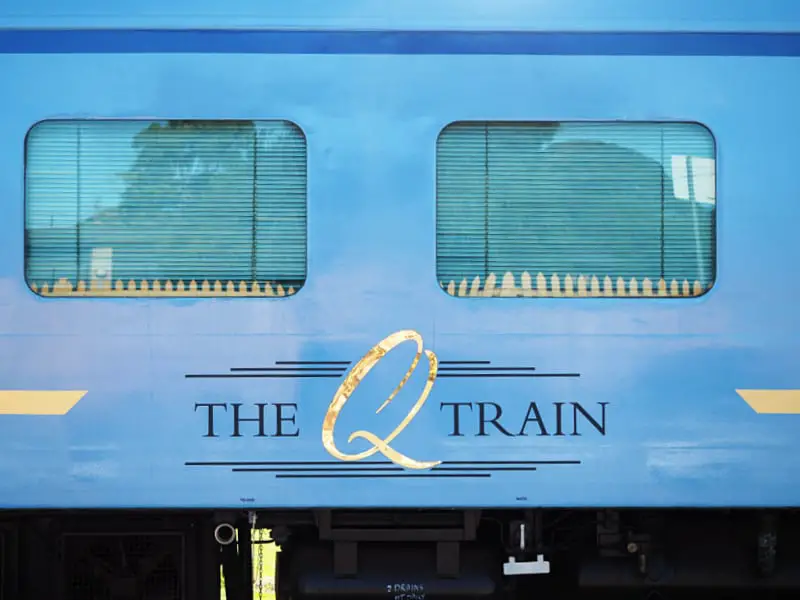 Find out more about the best restaurants in Torquay, Ocean Grove, Geelong and more on this page, celebrating all that's good about the state of Victoria in Australia!
Recommended: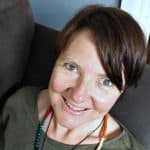 By Audrey Chalmers
Audrey grew up in Victoria and travelled the world but she always called Victoria home. She loves nothing more than exploring her home state and sharing it here.