This article may contain compensated links. For more information read our disclaimer here.
Want to know the best things to do in Queenscliff?
There are more things to do in Queenscliff, Victoria than you might expect from a tiny seaside village on the Bellarine Peninsula.
The town is known as the 'Grand Dame' of The Bellarine, and it's a lot like a British seaside resort with a relaxed atmosphere that feels dignified rather than chilled.
We've been visiting Queenscliff from our home in Geelong for years. When our kids were young, many Sunday afternoons were spent eating fish and chips (the best ever!) on Queenscliff's grassy foreshore.
We've put together this guide to the best things to do in Queenscliff to help with your trip planning.
🦭🐬For the ultimate fun in Queenscliff book this Swimming With Dolphins and Seals Tour!
At the end of the article, you'll find a map with the location of all the Queenscliff things to do we've listed here.
You'll also find suggestions for the best places to stay as well as the answers to some frequently asked questions.
Ready to learn what the best things to do in Queenscliff are? Let's start!
Here are all the top Queenscliff attractions!
Best Things To Do In Queenscliff Victoria
Queenscliff is far less crowded than other places to visit in the area, but don't be fooled, there are just as many things to do in Queenscliff as in other coastal tourist towns.
It's a haven for history lovers with maritime and historical museums, a fort, lighthouses, galleries, and antique stores. Visitors can also enjoy festivals, markets, and both land and water sports.
Our absolute top recommendation for what to do in Queenscliff is to go swimming with dolphins and seals!
1) Swim With Dolphins & Seals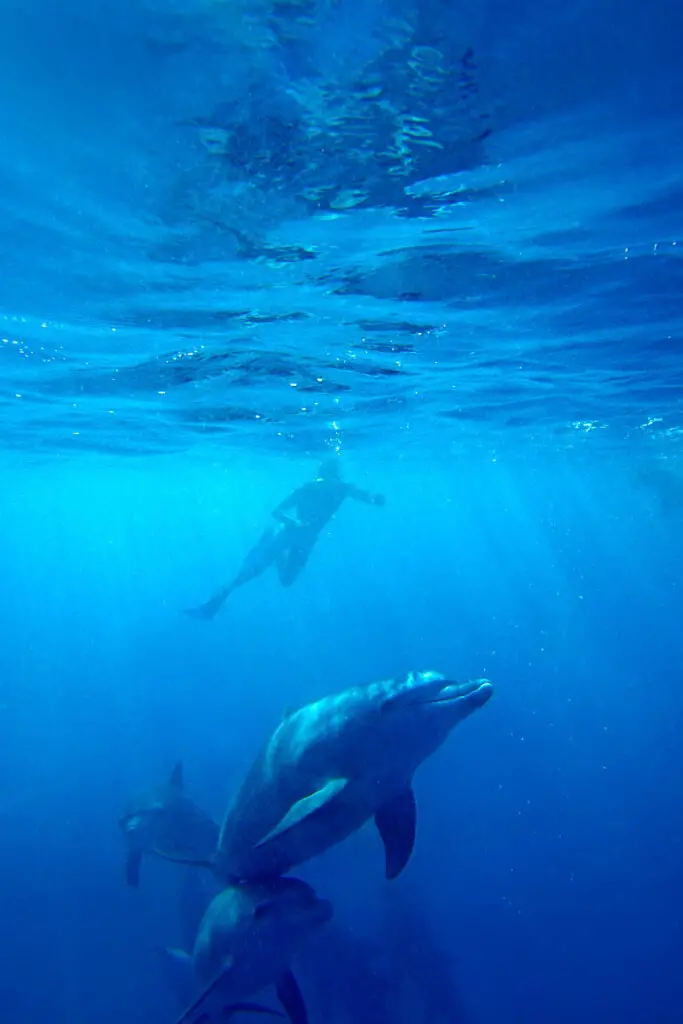 One of the best, most fun things to do in Queenscliff is to go swimming with dolphins and seals.
This fantastic Seal and Dolphin Swim Tour takes you to Pope's Eye, part of the Port Phillip Heads Marine Park whose shallow waters brim with brightly coloured fish and marine life.
Here you can snorkel to your heart's content until it's time to head to a local site where Australian fur seals spend much of their time.
These playful creatures are only too happy to share the water with you diving and swimming all around. After this, you'll set off in search of dolphins who are usually found not too far away.
The boat has a rooftop viewing platform (spot dolphins!), mermaid lines around the vessel, and an extended hammock where you can sit out over the water.
This tour gets consistently good reviews, and you can choose to snorkel or simply join in the fun sightseeing.
🦭🐬Book Your Seal & Dolphin Swim Tour Here!
2) Cycle The Bellarine Peninsula Wineries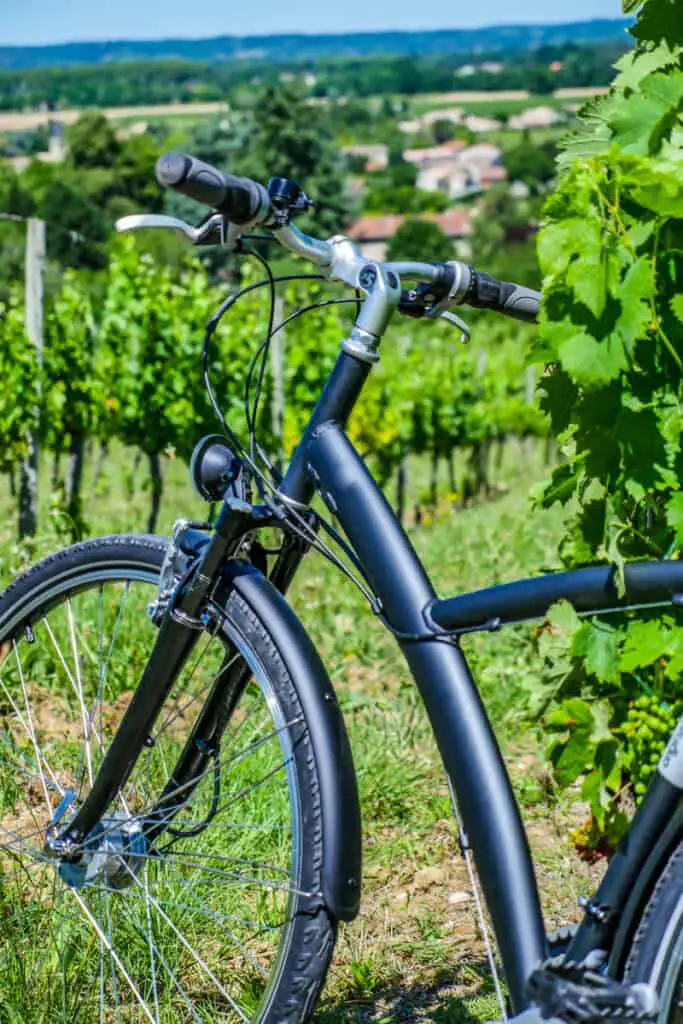 You can't visit Queenscliff without visiting at least one Bellarine winery. Even if you don't drink wine, they're worth a visit for the food and views alone.
This fun self-guided cycling winery tour allows you to explore the region while indulging in local food and wine at your leisure.
Starting in Queenscliff you'll travel along the Bellarine Rail Trail through farms and vineyards to Banks Road Winery.
Here you can try a tasting paddle, have a glass of wine, or nibble on a shared plate.
If you choose not to eat at the winery you can stop for lunch at a cafe in town or gather local produce from nearby farm gates for a picnic.
The afternoon provides ample time to explore Queenscliff itself with the freedom to wander at your own pace.
You'll be provided with maps and recommended routes, so no worries about getting lost – unless you want to of course!
Read our full guide to the best winery tours on the Bellarine.
🍇🚲Book Your Self-Guided Cycling Winery Tour Here!
3) Chow Down On Board The Q Train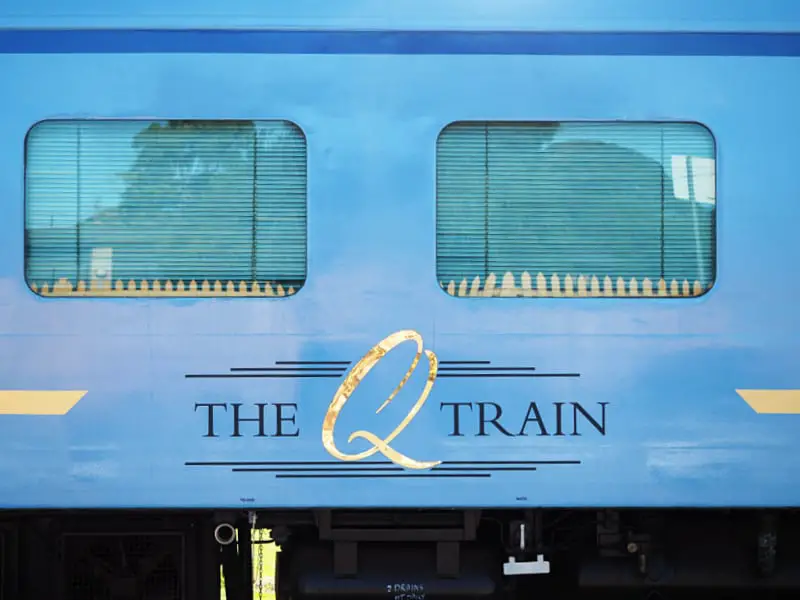 Put on your fancy pants and step onboard The Q Train for a gastronomic train journey reminiscent of the Orient Express.
An old "Sunlander" has been transformed into an award-winning rail restaurant that travels along the heritage railway line between Drysdale and Queenscliff.
The train pauses at Suma Park Historic Homestead before passing through beautiful Swan Bay.
Onboard, you can enjoy passing views of vineyards, olive groves, rolling hills, and captivating farmlands.
The Q Train serves a six-course degustation feast that showcases local produce from Geelong, the Otways, and The Bellarine.
Cooked and prepared onboard there's plenty of time between courses to relax and enjoy a tipple or two.
This is a unique culinary experience and an unmissable stop on the Bellarine Peninsula.
Fun Fact: The Q Train was featured in Masterchef Australia in 2019.
🍽️Book Your Lunch Onboard the Q Train Here!
🍽️Book Your Dinner Onboard the Q Train Here!
4) Dance The Night Away On The Blues Train
If the Q Train isn't your style then the Blues Train could be just the ticket.
This one-of-a-kind journey combines the joys of a mini music festival with the charm of a heritage train ride.
As the train chugs along the tracks, passengers are treated to sunset views while listening to Australia's award-winning blues performers.
The train makes regular stops at railway platforms scattered along the Bellarine Peninsula.
These breaks offer passengers the chance to rest, refresh, and swap carriages for a different musical experience, ensuring that everyone on board enjoys a variety of talented artists.
The T Bar on the train stocks an array of beverages, including local wine, craft beer, cider, and spirits, alongside soft drinks and bottles of water.
And let's not forget the culinary delights on offer – passengers can savour a delicious meal featuring smoky BBQ Angus beef or creamy baked mustard chicken, with loads of sides. Seconds are welcome!
The Blues Train

Where: Departs Queenscliff Railway Station

When: Saturday nights October – May, Some Friday nights November & December

Phone: 1300 885 993
5) Stroll The Queenscliff Pier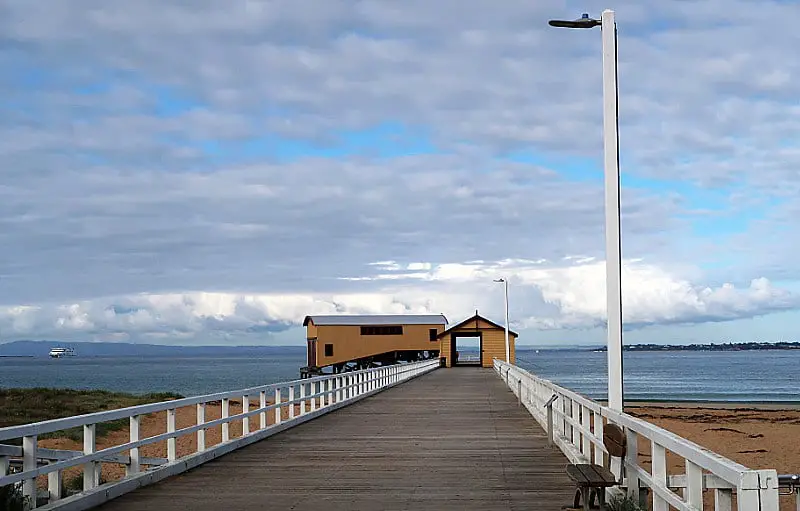 The Queenscliff Pier was built between 1884 and 1889. It's historically important to the town as a reminder of the early bay steamers that travelled from Melbourne to Queenscliff and Point Lonsdale.
The pier consists of a Lifeboat Shed that helped provide safety to the ships entering and leaving Port Phillip, and a Shelter Shed.
There are few if any of these sheds left in Victoria, and the Shelter Shed is particularly impressive with its arched wrought iron truss work and panelled timber interior.
Today, Queenscliff Pier is popular with fishermen and holidaymakers who enjoy a relaxing stroll out to the end of the jetty.
The pier has fabulous views of the Black Lighthouse, Queenscliff Beach, and Sorrento Ferry.
6) Queenscliff Beach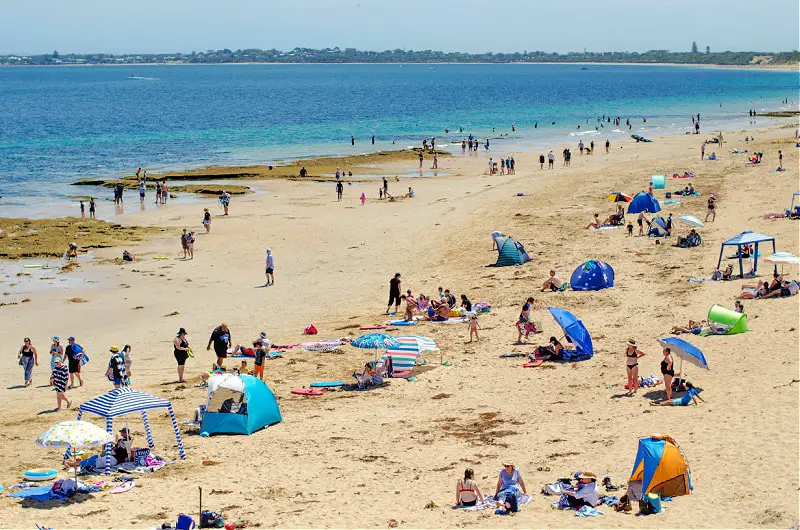 The beach here is low and flat and much safer for swimming than other beaches in the area.
It's particularly good for families with a lovely foreshore reserve with picnic and barbecue facilities as well as toilets.
The Queenscliff Searoad Ferry docks at the end of the beach. Our kids used to love watching it come and go while they were playing in the sand.
7) Tour Fort Queenscliff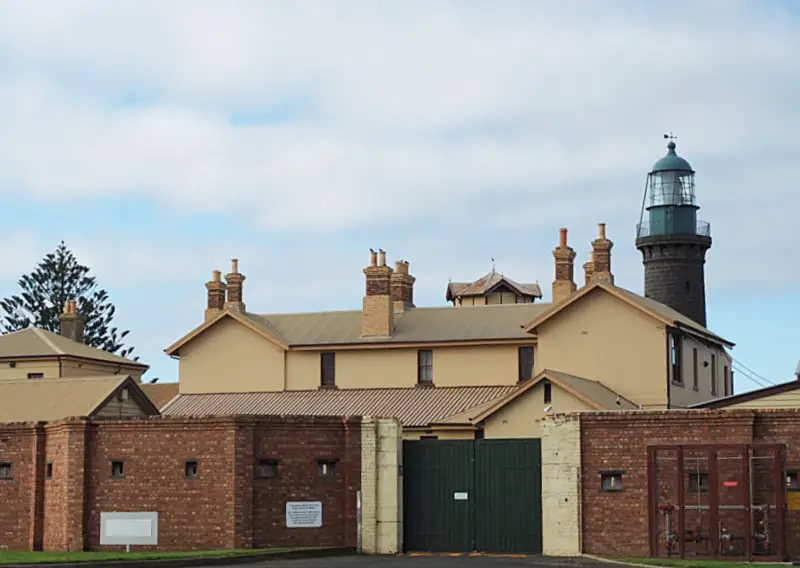 Queenscliff isn't just a quaint little seaside town. It actually played an important role in Australia's military history.
In 1860 Queenscliff Fort was built to defend the entrance to Port Phillip Bay, and it became the headquarters for a chain of forts around the heads. It was manned as a coastal defence installation from 1883 until 1946.
It's now one of Victoria's most important heritage sites. A lot of work has been done to restore the old guns, magazines, and buildings that made up the Fort's original defences.
Behind the high walls, visitors are also treated to amazing views and beautiful gardens.
The only way to enter Fort Queenscliff is on a guided tour, the guides are entertaining and informative and tell interesting stories.
A fun part of the tour is when visitors are taken into a bunker and given the chance to dress up in military gear.
The tour finishes at the Fort Queenscliff Museum where you can read more stories, view artefacts, and buy souvenirs.
Tours: Weekends and school holidays: 11 a.m and 1.45 p.m,

Closed Public Holidays

Tickets: Adults $20.00, Concession $15.00, Children $8.00, Family $45.00

Note: Photo I.D is requred for adults.

Contact: Phone 52581488 or email [email protected]
8) Visit A Queenscliff Lighthouse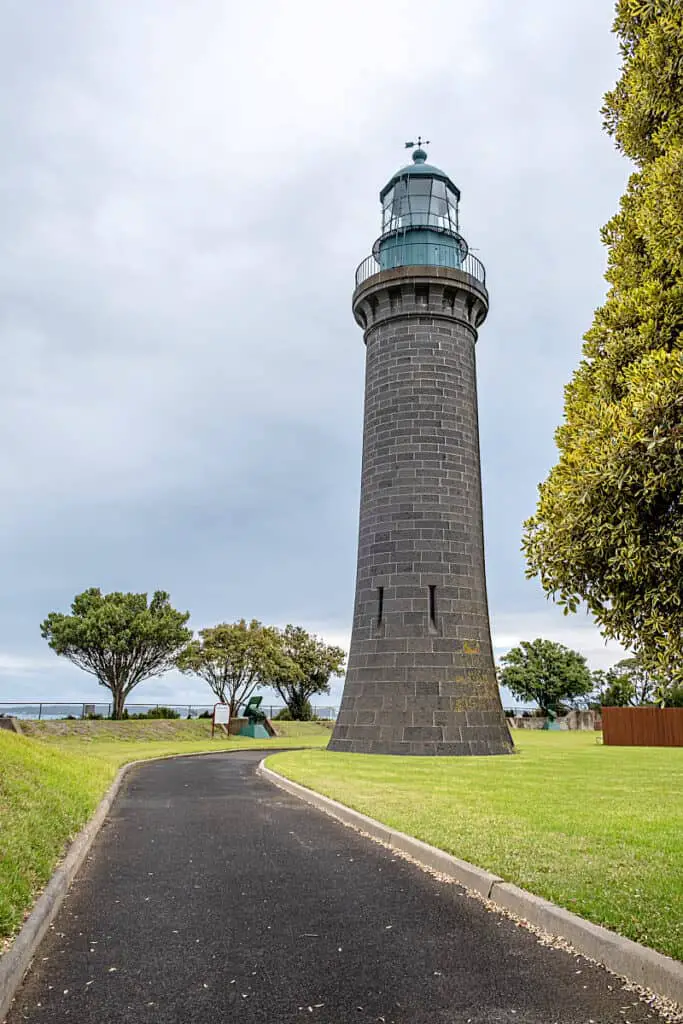 Originally a fishing village, Queenscliff became an important cargo port for steamships trading at nearby Port Phillip.
Two lighthouses were constructed to help guide ships attempting the notoriously dangerous journey through the "heads" of Port Phillip Bay.
Both lighthouses were built from the same black stone. Only one was painted white, however, so they could be distinguished from each other during the day.
Known as the Queenscliff Low Light, the White Lighthouse sits on the lower bluff beside two other towers that are also used for navigation.
Queenscliff's Black Lighthouse, known as the Queenscliff High Light, is one of only three black lighthouses in the world. And it's the only one in the southern hemisphere.
Together, the two lighthouses played a crucial part in turning Queenscliff into an important trading town.
Fun Fact: It's believed the first public telephone service in Victoria was installed in the Queenscliff Black Lighthouse.
9) Glimpse Days Of Old On The Queenscliff Heritage Walk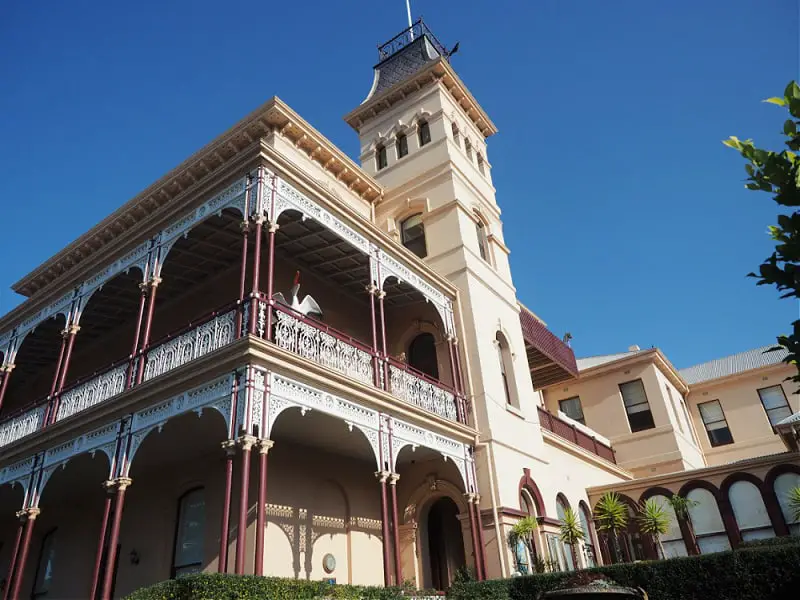 The Queenscliff Heritage Walk showcases the town's elegant streets and stellar history. Take a stroll along wide boulevards and delight in elegant Victorian homes, grand hotels, olde-worlde shops, and impressive churches.
Queenscliff's pioneering families took pride in quality craftsmanship to build beautiful buildings rarely seen in modern times. 
Many of the buildings have been turned into guesthouses and other kinds of accommodation.
The walk is a great introduction to the town with fabulous guides that entertain visitors with stories of old. Get the goss on who did what and when!
These fun and informative walks are an easy stroll and take about an hour and fifteen minutes. Afterward, sit down to a sumptuous afternoon tea at a glorious old Queenscliff hotel.
If a guided tour isn't your thing, then you can do a self-guided walk using the booklet 'Queenscliff – A Living Heritage' available at the Information Centre. This short walk will take about 45 minutes.
Where: Queenscliffe Visitor Information Centre

When: Guided walks are provided at 2 p.m every Saturday. Groups of 4 or more people can be accommodated at any time.

Entry: $18.00 with afternoon tea, $10.00 walk only

For bookings and more information phone (03) 5258 4843.
10) Have A Drink At the Queenscliff Brewhouse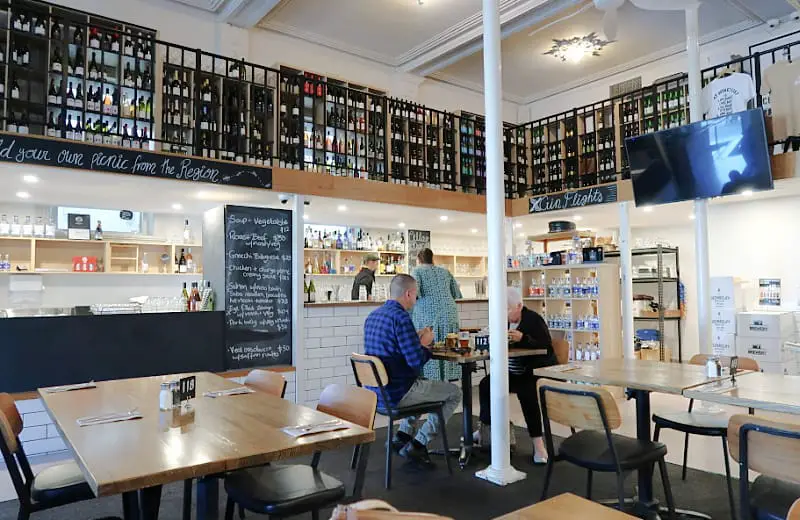 The Queenscliff Brewhouse is a brewery, distillery, hotel, bistro restaurant, and sports bar all rolled into one.
Located in an old mari-time pub the Brewhouse is the go-to place for local craft beer, regional wines, and delicious artisan gin.
It has its own onsite brewery and distillery and a cellar door showcasing local produce. This means if you're visiting Queenscliff you don't have far to go for a drink or to do some taste testing.
If you're looking for something to eat, you can't go wrong with a meal at Queenscliff Brewhouse.
The bistro here offers everything from share plates to chicken parmigiana, Portarlington mussels, and swordfish.
Queenscliff Brewhouse

Where: 2 Gellibrand Street, Queenscliff 3225

When: 7 days 10 a.m until late

Phone: (03) 5258 1717
11) Get Your Boogy On At The Queenscliff Music Festival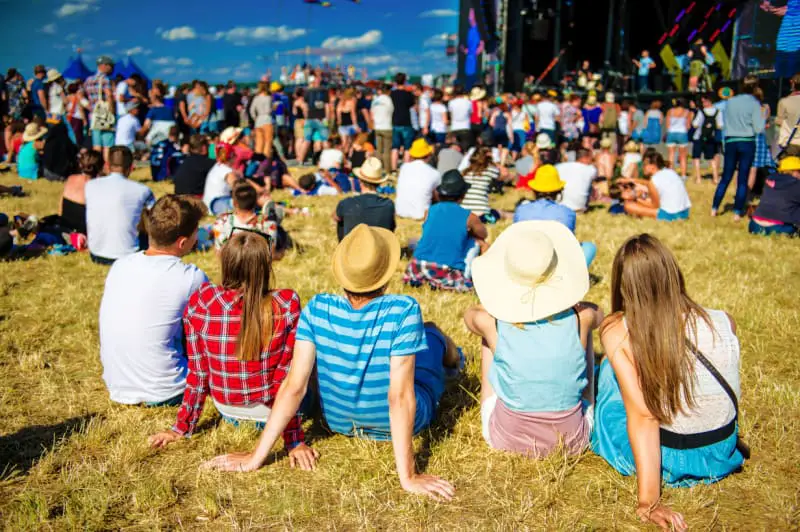 Way back in 1996, the Queenscliff community shared a dream of hosting a great music festival. They decided to hold it on "The Last Weekend in November" to fill a void in the tourist season.
Since then the festival has gone on to become a premier event for music lovers the world over.
Artists and audience members travel from across the globe to enjoy three days of good vibes, great tunes, and fabulous food.
Unlike other music festivals, the QMF doesn't focus on any one style of music. Instead, it prefers to showcase a lineup full of local and international acts from different genres.
The vibe of the event is chilled and relaxed, and although there's plenty of rock 'n' roll, the Queenscliff Music Festival is a family-friendly event.
There are tonnes of activities for the kids from face painting to carnival rides and of course lots of singing and dancing.
If you're planning to visit Queenscliff, then why not plan your trip to coincide with the QMF? The festival is held over three days on the last weekend in November.
It usually sells out so buy your tickets early. For bookings and more information click here.
12) Tour The Queenscliff Maritime Museum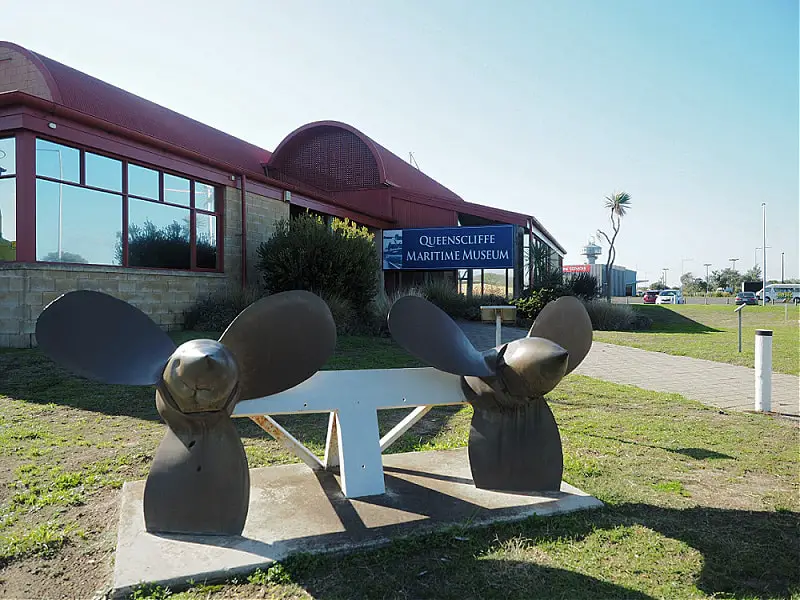 Learn about Queenscliff's fascinating maritime past at the Queenscliff Maritime Museum.
There were many shipwrecks in the area due to the 'Rip' (the entrance to Port Phillip Bay from Bass Strait), which is said to be one of the world's most dangerous and challenging stretches of water.
At the museum, you'll hear stories of sailors and travellers who experienced life on the seas and learn of the hardships these people faced.
A highlight is the lifeboat 'Queenscliffe' which was used for 50 years to save lives and rescue vessels from in and outside the heads.
There's a large variety of exhibits, including model ships, lighthouse displays, and old diving equipment. Visitors can even try on an old diving bell helmet for themselves.
Where: 2 Wharf Street Queenscliff 3225

When: 11 a.m – 4 p.m daily

Entry: Adults: $10.00, Child (4-14): $5.00, Concession: $8.00

Phone: (03) 5258 3440
13) Climb The Tower At Queenscliff Harbour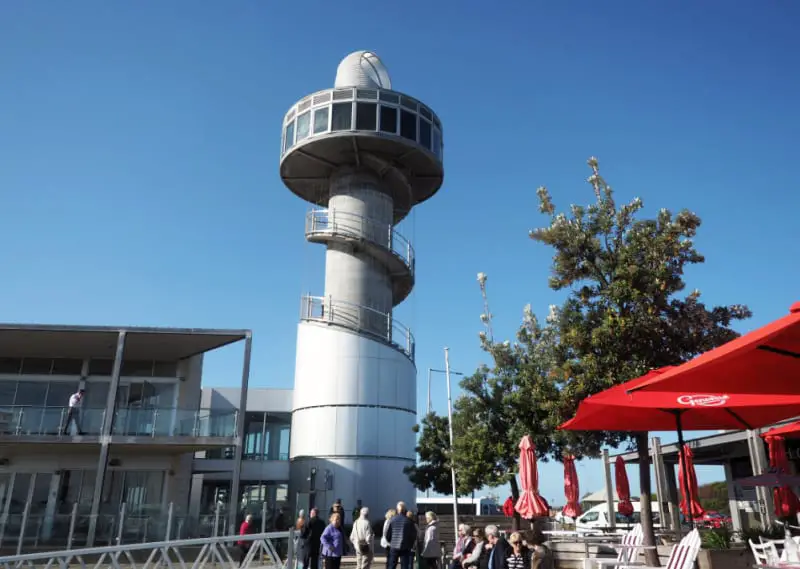 Queenscliff Harbour is a hub for all things maritime and is a destination in itself. It features shops, cafes, restaurants, eco and adventure tours, and even a day spa.
The Queenscliff Marina is home to the historic couta boats, a type of fishing vessel found only in Victoria, Australia. As well as yachts, powerboats, and drool-worthy luxury watercraft.
Take a walk along the boardwalk and check out all the boats while keeping an eye out for the giant stingrays that call the harbour home.
The stand-out feature of the area is the Queenscliff Observation Tower which soars 40 metres into the air.
It has spectacular 360 degrees views of the surrounding area and it's a great spot to watch the Queenscliff ferry coming and going.
You'll also find one of the top restaurants in Queenscliff here, the 360Q. Their menu offers a wide variety of dishes (try the seafood) that are creative, fresh, and delicious.
While you're in the area why not organise a day out on the water? Queenscliff has heaps of water-based activities such as fishing, diving, snorkeling, and swimming with dolphins.
14) Check Out The Queenscliff Art Galleries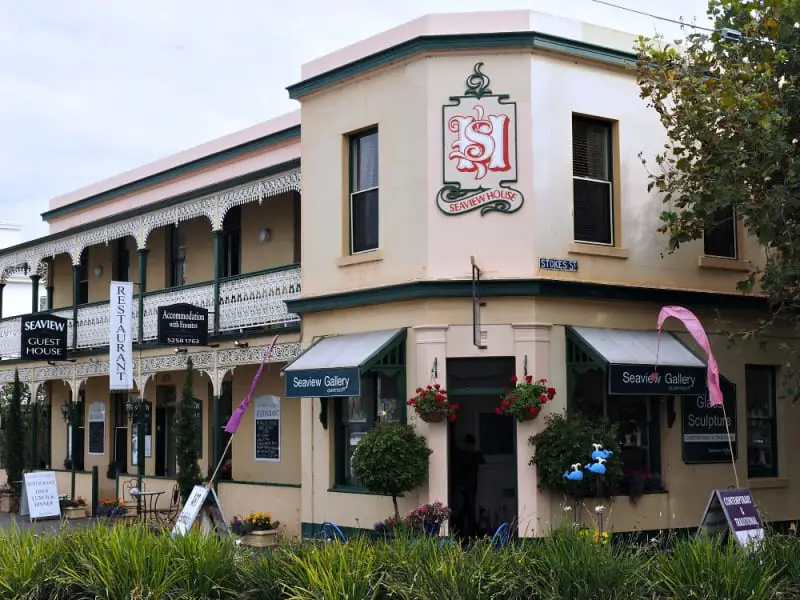 Visiting the art galleries in Queenscliff offers a journey into the world of contemporary Australian art with a particular focus on local and emerging talents.
The Queenscliff Gallery, Seaview Gallery, and Salt Contemporary Art are prominent galleries in the area, each featuring a diverse range of artworks in various mediums.
These galleries stage Australian artists through their ever-changing exhibitions, ensuring that there is always something new and exciting to discover.
The types of artworks on display include paintings, etchings, photography, sculptures, illustrations, mixed media, installation art, ceramics, and printmaking.
Whether you are a seasoned art enthusiast or simply appreciate the beauty of visual expression, Queenscliff's art galleries provide an enriching experience where you can explore, appreciate, and even purchase these remarkable pieces of Australian art.
Queenscliff Gallery: 81 Hesse Street, Queenscliff, Wednesday – Monday 10 a.m – 4 p.m

Seaview Gallery: 86 Hesse Street, Queenscliff, Daily 10.30 a.m – 4.30 p.m

Salt Comtemporary Art: 33 – 35 Hesse Street, Queenscliff, Thursday – Monday 10.30 a.m – 4 p.m
15) Find A Bargain At Queenscliff Community Market
The Queenscliff Community Market is a local event, run by a dedicated volunteer committee who directs 100% of its profits back into the local community.
This market attracts stallholders from around the district as well as parts of country Victoria, creating a diverse and lively marketplace.
You can explore an array of quality Australian-made artisan products and produce, with a selection of food stalls, plant growers, designer jewelry, and delicious sauces, jams, olive oil, and other condiments.
With nearly 200 stalls to browse, the Queenscliff Community Market is the ideal place for bargain hunters, to pick up unique souvenirs, and find tasty treats.
Queenscliff Community Market:

Where: Lower Princess Park

When: Last Sunday of the month, 9 a.m – 2 p.m, from September to May
16) Discover History At The Queenscliffe Historical Museum
History buffs will enjoy visiting the Queenscliffe Historical Museum, which collects, preserves, and shares the rich heritage of this coastal community.
The museum's collection includes a range of historical artifacts, textiles, documents, books, films, and photographs, which provide insight into the area's past.
In addition to its permanent exhibits, the museum often hosts temporary exhibitions that coincide with events happening in the region.
Queenscliff Historical Museum

Where: 49 -55 Hesse Street, Queenscliff 3225

When: 11 a,m – 3 p.m daily

Phone: (03) 5258 2511

Entry: Free. Small donations welcome.
17) Explore The Bellarine Peninsula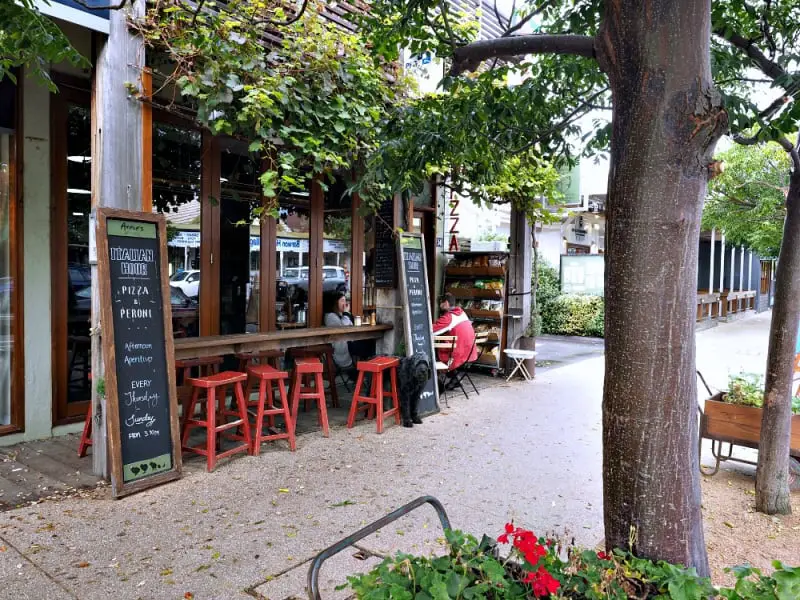 If you're spending a few days in Queenscliff then why not set aside some time to explore the Bellarine Peninsula?
Beyond its wineries, the Peninsula also features distilleries and cider houses, as well as olive groves, fresh mussels, markets, and farm gates.
The seaside villages of Ocean Grove, Barwon Heads, and Portarlington welcome visitors with their picturesque charm but are also vibrant communities with cosy cafes, restaurants, and boutique shopping.
Shoppers will also find themselves drawn to the region's markets, where they can peruse local crafts, fresh produce, and unique treasures.
Additionally, the peninsula's thriving arts scene is on full display in the numerous galleries showcasing a diverse range of artistic expressions.
For those seeking natural beauty, the Bellarine Peninsula has stunning ocean beaches providing ample opportunities for sun, surf, and relaxation.
18) Ride The Bellarine Railway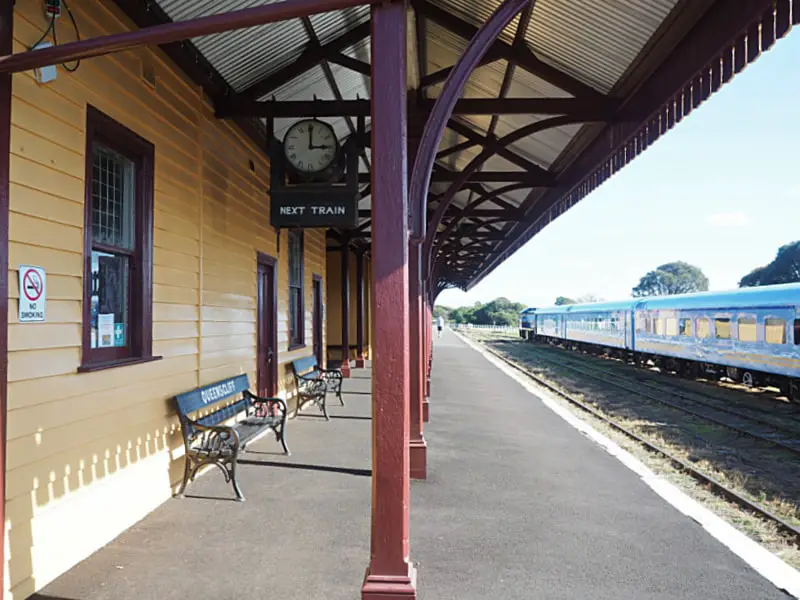 The Bellarine Railway offers volunteer-operated train rides between Queenscliff and Drysdale, taking you on a picturesque journey along the scenic Bellarine Peninsula.
The railway boasts a diverse collection of steam and diesel trains originating from various regions across Australia, offering a glimpse into the country's rich locomotive history.
The Bellarine Railway hosts a variety of family-oriented specials and events throughout the year, that keep kids (and adults) entertained.
These include popular attractions such as the "Day Out With Thomas," "Easter Bunny," and "Teddy Bear Trains," as well as themed rides for Halloween and Christmas.
The Bellarine Railway is a favorite destination for families and railway enthusiasts, providing a delightful blend of history and entertainment.
Bellarine Railway

Where: Departs from Queenscliff Station

When: Most Sundays, Public Holidays, and extra days during Victorian school holidays
19) Walk The Queenscliff Trails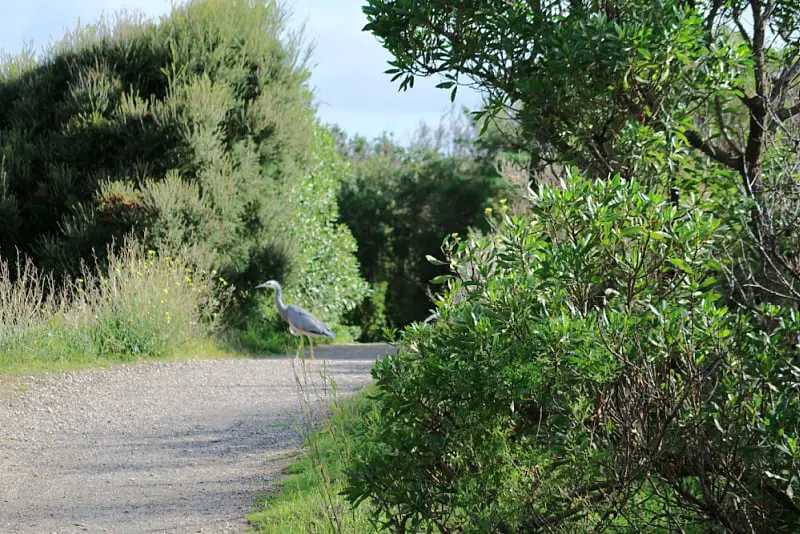 Queenscliff has several walking tracks, and among them are two appealing trails of different lengths.
The Queenscliff Foreshore Reserve Loop is a delightful 2.4-km trail, ideal for those seeking a short and leisurely stroll.
This route is generally considered easy, and with an average completion time of just 30 minutes, it's perfect for hiking, running, or a peaceful walk.
You're likely to find some solitude as you explore this year-round trail, which offers gorgeous coastal scenery and inviting spots to enjoy a picnic or a moment of relaxation.
For those looking to extend their journey, the Queenscliff Lighthouse to Point Lonsdale Lighthouse trail provides an 11.3-km out-and-back experience.
Although this trail is much further it's still technically easy, and takes about 2 hours and 15 minutes on average to finish.
Starting and ending at the corner of King Street and Hesse Street, you can enjoy scenic views as you follow the coast towards the iconic Point Lonsdale Lighthouse and back again.
20) Catch The Queenscliff Ferry To Sorrento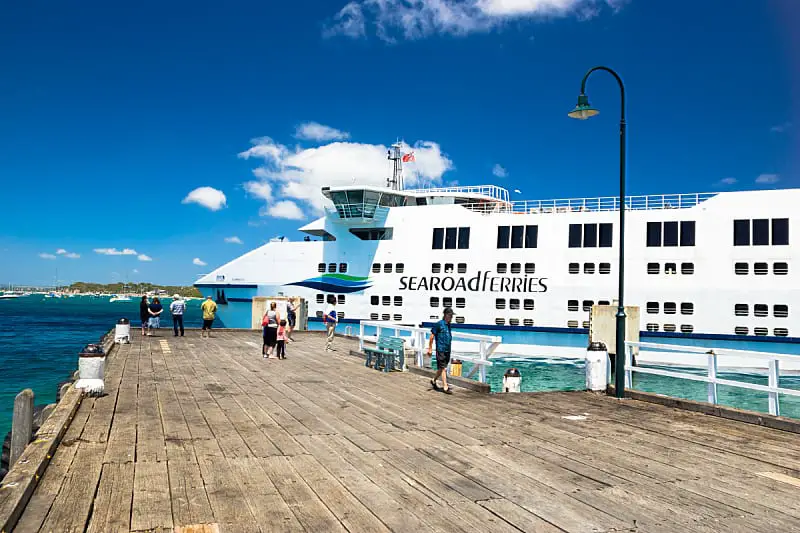 One of the best things to do in Queenscliff is to take a day trip on the ferry to Sorrento.
Sorrento is a historic seaside village on the Mornington Peninsula. Spend a laid back afternoon browsing galleries and boutiques amongst beautiful limestone buildings.
For a look at the region's remarkable history pop into the Sorrento Museum. Exhibits include Aboriginal artefacts, memorabilia from pioneering families, and a maritime display.
Sorrento is a foodie's heaven whether it's pub grub you're after or fine dining there's something for everyone. Just be sure to leave room for an ice cream on the beach.
Searoad Ferries has two specially designed ferries with drive-on/drive-off facilities, that connect the Bellarine and Mornington peninsulas.
There is plenty of open deck space to enjoy the views and spot dolphins that come to say hello!
Searoad Ferries

Where: 1 Wharf Street, Queenscliff 3225

When: Ferries depart from Queenscliff every hour on the hour 7 a.m – 6 p.m daily. Extra sailings operate during peak times.

Phone: (03) 5257 4500
21) Let The Kids Run Wild At Princess Park Playground
If you're travelling with kids then Princess Park Playground is a good place to spend some time. It features a marine-themed play area, complete with a giant wooden squid structure.
There's also a wave slide, curved slide, climbing wall, and a model lighthouse, giving little adventure seekers plenty of thrills.
The park also has four swings, including a harness swing, stand-on spinners, and an educational astronomical display.
Located close to the beach and pier, the park has picnic tables making it an ideal place for a fish and chip feast by the sea.
There's ample parking nearby in Tobin Drive as well as toilets.
Queenscliff Accommodation
Visitors can choose from a huge range of accommodation in Queenscliff. From luxury apartments to hotels and heritage houses to simple camping grounds there's something for everyone.
Our Top 3 Picks: Best Queenscliff Accommodation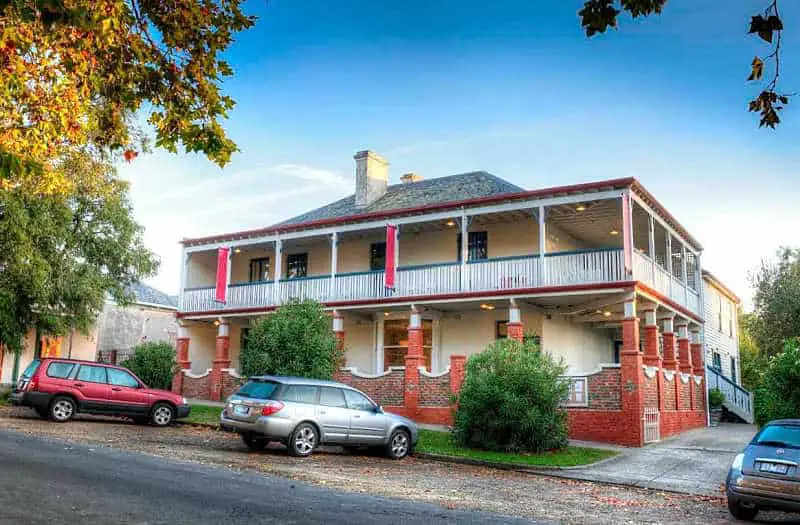 Athelstane House was built in 1860 and is Queenscliff's oldest operating guesthouse.
The nine rooms have their own ensuites (8 with soaking tubs), tea and coffee making facilities, a bar fridge, and free WiFi.
There's a lovely lounge area with a cosy fireplace, as well as verandahs, a courtyard, and a garden.
One of the things I like about this place is the hearty breakfast option. It's just such a good way to start the day.
➡️Check Rates and Availability Here!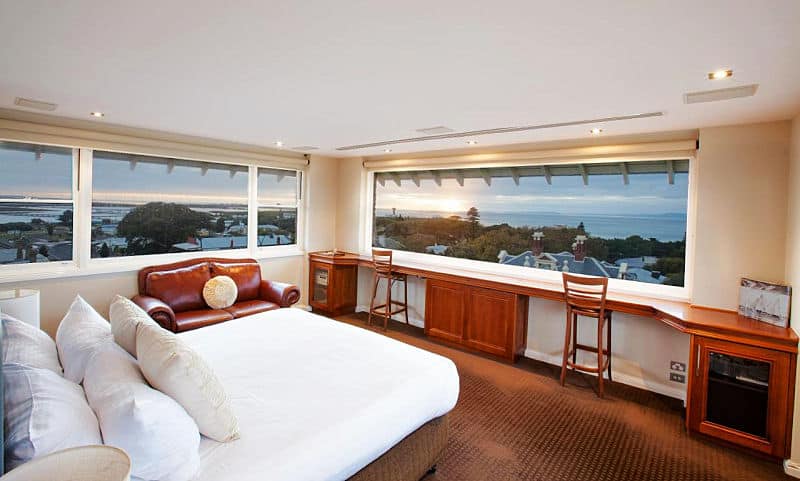 If you like heritage buildings then the Vue Grand is right up your alley.
This Victorian-era hotel has an imposing foyer and staircase, as well as an impressive Grand Dining Room.
There are a variety of rooms to choose from including classic colonial-style rooms, rooms with balconies and spa baths, and luxury suites with free-standing tubs and bay views.
If you'd like the very best room then book the Turret Suite for panoramic ocean views from both the living and bathroom, a spa bath, and luxury fixtures.
➡️Check Rates and Availability Here!
Just a few minutes walk to the town centre Salt Loft is the perfect place for couples to escape the stresses of day-to-day life.
This private retreat in the heart of Queenscliff features a sun-drenched balcony that's perfect for relaxing with afternoon drinks.
With expansive water views across the rooftops, a fully equipped kitchen, pod coffee machine, and a luxury bath Salt Loft has everything you need for a perfect getaway.
➡️Check Rates and Availability Here!
Queenscliff Things To Do Map
FAQs
Is Queenscliff worth it?
Yes Queenscliff is worth a visit. This seaside village has a rich maritime history, is close to Bellarine's boutique wineries, and offers the chance to swim with dolphins and seals or dine and dance onboard a steam train. There's also boutique shopping, markets, galleries, museums, and even a fort!
Why is Queenscliff called Queenscliff
Queenscliff is called Queenscliff because it was given this name in honour of Queen Victoria by Lieutenant Charles La Trobe in 1853 the same year that land sales began in the area. Permanent settlement had begun 17 years earlier with the arrival of squatters in 1836 at Whale Head, now called Shortland's Bluff.  
What is the difference between Queenscliff and Queenscliffe?
The difference between Queenscliff and Queenscliffe is that one refers to the town and the other refers to the borough. Queenscliff spelt without an 'e' at the end refers to the town of Queenscliff. Queenscliffe with an 'e' on the end refers to the Borough of Queenscliffe which includes the town of Queenscliff as well as Point Lonsdale.
What is the main street of Queenscliff?
The main street of Queenscliff is Hesse Street. This beautiful wide boulevard retains a historical charm, with classic facades and wide verandahs. The street is home to cosy cafes, boutique shops, galleries, grand hotels, and guesthouses. You'll also find an IGA supermarket, a fish and chip shop, a post office and an ice creamery.
Final Word
If you're planning a visit to Queenscliff, you're in for a treat. There are far more things to do in Queenscliff than you might expect.
Whether you want to explore historic sites, chow down onboard a steam train, visit the Bellarine wineries, or swim with dolphins and seals, there is something in Queenscliff to suit everyone!
When you get hungry after all that sightseeing, be sure to check out our guide to the best places to eat in Queenscliff, for our top restaurant recommendations!
Recommended: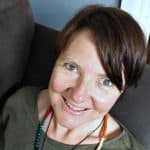 By Audrey Chalmers
Audrey grew up in Victoria and travelled the world but she always called Victoria home. She loves nothing more than exploring her home state and sharing it here.