Werribee lies just over 30 kilometres from Melbourne's CBD. Though the area's only half an hour from the city centre, there are plenty of fun and fascinating things to do in Werribee for people of all ages.
Local attractions include a great range of natural and cultural places centred on wildlife, humanity, history, landscapes, and recreation.
There are parks for kids to play in, plus a historic home to tour and even a winery for adults to stock up at.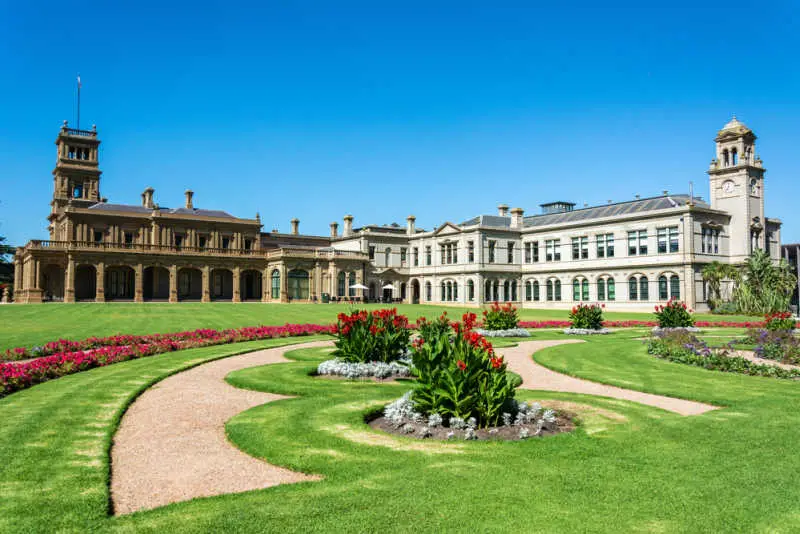 You can dine among the vineyards or by the marina, wander through a rose garden, experience an African safari, explore modern art or look out for local wildlife.
All in the Werribee area.
Alternatively, enjoy the beaches, take a walk or discover the wetlands and the birdlife within them.
What will you do in Werribee? Read on to plan your perfect day out in this appealing part of Victoria.
Here are 15 of the best things to do in the Werribee area.
15 Best Things To Do In Werribee
1) Werribee Open Range Zoo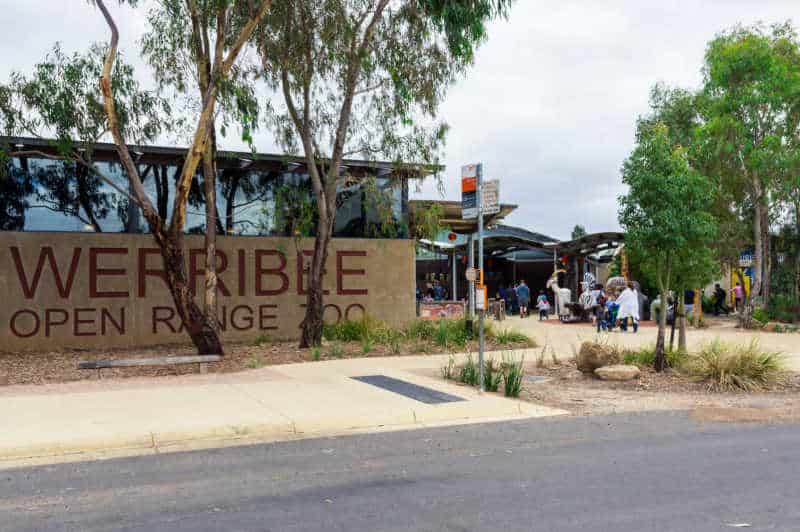 Who knew you could go on safari in Victoria?
A Werribee Zoo safari replicates the conditions of the African plains and is one of the most popular things to do in Werribee.
The open range zoo in Werribee is set up just like the African savannah.
You can take a safari across the expanse here to spot animals living in this habitat. Or follow the Werribee River, African River, or Australian Trails on foot.
Animals you might spy include hippos, lions, gorillas, cheetahs, and monkeys, and you can also encounter endangered Australian species like the orange-bellied parrot.
Zoo facilities include four places to eat and drink, three of which open only during peak holiday periods. There's also a barbeque and picnic area.
Safari tours at Werribee Zoo last for around 40 minutes and depart daily until 3.30 pm.
You can also attend educational talks about animals ranging from koalas and wallabies to meerkats and big cats.
Children can also take a special 35-minute safari, or play at being 'ranger kids' undercover.
Werribee Open Range Zoo

Where: K Road, Werribee 3030

When: 9 am – 5 pm Every Day

Phone: 1300 966 784

Entry: Tickets must be pre-booked
2) Werribee Mansion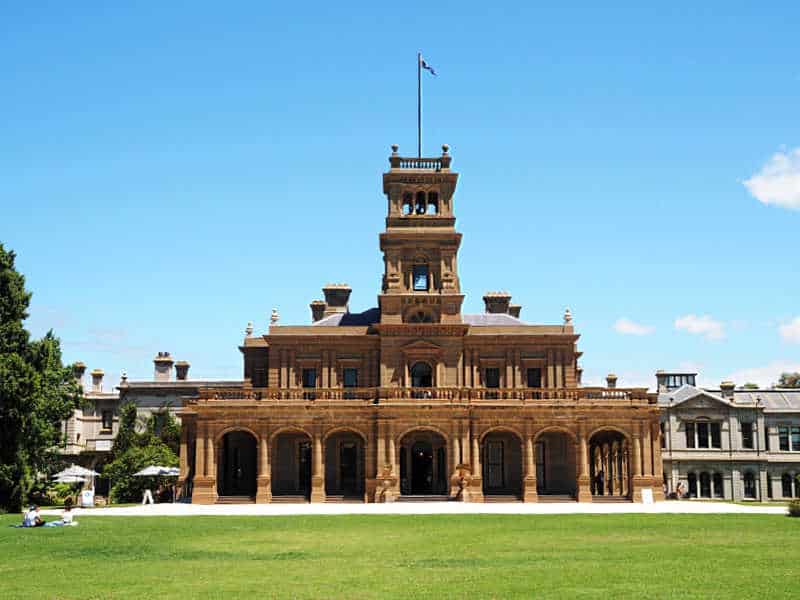 Werribee Park Mansion is one of the area's biggest attractions.
Completed in 1877, it belonged to a Scottish family who was very successful within the Victorian wool trade.
During the history of Werribee Mansion, it also served as a seminary. Now, it's one of the largest and most historic homes in the state and was acquired by the state government in 1977.
The 60-room structure was built in a Renaissance Revival style and showcases all kinds of classical features such as Corinthian pillars, Milton tiled flooring, and 19th-century furniture.
Various TV productions have used the mansion in Werribee as a set, including the long-running and now defunct Australian soap Neighbours.
As well as discovering the architecture and history by day, guests can now stay overnight at the Lancemore Werribee Mansion Hotel or explore the Werribee Mansion rose garden in the grounds.
Read our complete guide to Werribee Mansion here.
Werribee Park Mansion

Where: Gate 2, K Road, Werribee, 3030

When: Mon – Fri: 10 am – 4 pm. Sat, Sun & Public Holidays 10 am – 5 pm

Entry: Adult: $11.10, Child: $8.00, Concession: $8.00, Family: $34.80

Phone: (03) 8427 2134
3) Werribee Rose Garden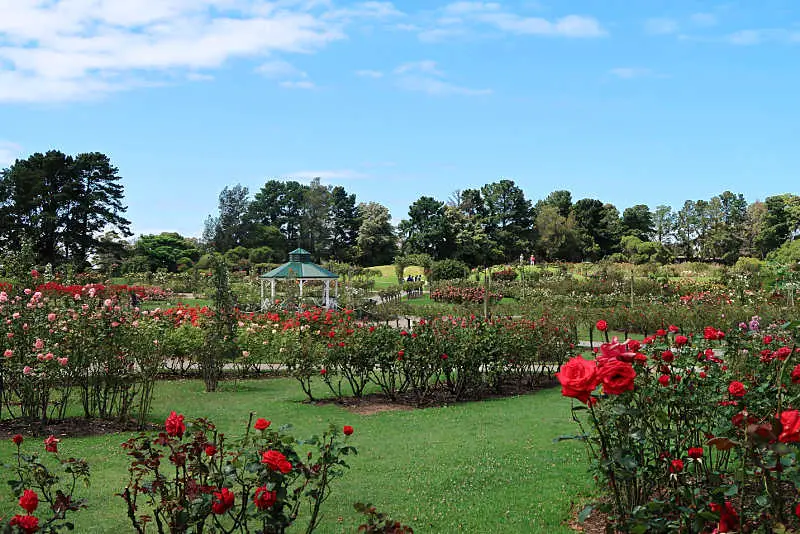 The Victorian State Rose Garden is also one of the top attractions in Werribee.
As there's no admission charge, exploring here is one of the best things to do in Werribee for free!
This rose garden in Werribee is open daily and over 5,000 types of roses are grown here.
The 5-hectare site is looked after entirely by volunteers, who enjoy the glorious colours and scents as they tend to the plants.
Pruning and mulching are key parts of ensuring the public see these beautiful blooms at their best.
Once you arrive at Werribee Park it's easy to spot the curved arch marking the entrance to the rose garden.
Some of the plants you'll see have incredible names, such as the German Veilchenblau, Louisa Stone which was bred in the UK, and the American Fourth of July.
The latter for example is a climbing rose with unusual colour patterns in red, pink, yellow, and white.
Victoria State Rose Garden

Where: Gate 2, K Road, Werribee, 3030 (Look for the big metal arch.)

When: 9.30 am – 5 pm Every Day, Closes 6 pm Daylight Saving Time

Entry: Free
4) Shadowfax Winery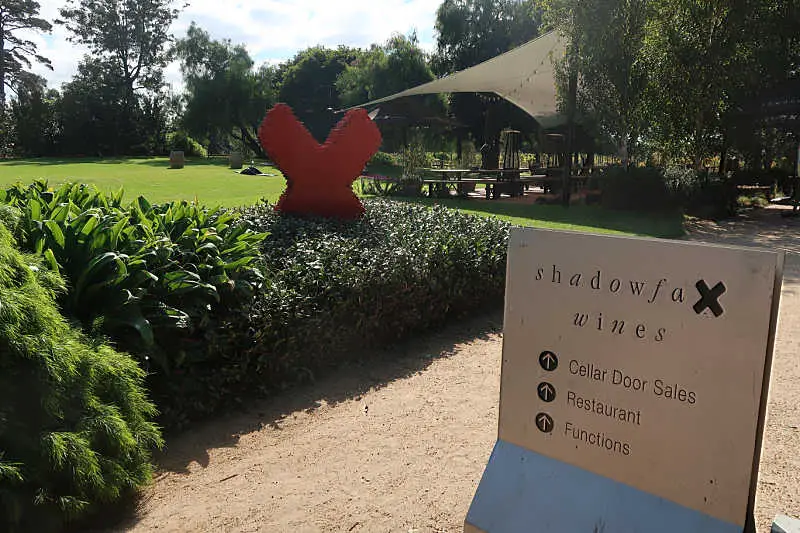 If you want to find a Werribee winery, then head to Shadowfax. This small, boutique winery sells fine Victorian wines, has a restaurant on site, and also runs a wine club.
The Werribee vineyard is one of five owned by Shadowfax, and grapes including Shiraz or Syrah, Carignan, Grenache, Mataro, and Roussanne are grown here.
Shadowfax Winery in Werribee is one of the closest to central Melbourne and dates from 1998.
The range of wines for sale includes sparkling, and fortified Shiraz, plus Pinot Noir, Gewurztraminer, Cuvee X, and their Minnow range.
The restaurant serves up small and main plates, pizzas, and a range of five local cheeses.
The menu features global influences and modern Australian cuisine, so you can order the likes of a charcuterie platter, Moreton Bay Bug, ricotta gnocchi, Angus rump or manchego croquettes.
Followed, if you have room, by their 'famous' tiramisu or another delicious dessert. All washed down with Shadowfax wines, of course!
Shadowfax Winery

Where: K Road, Werribee, 3030

When: Cellar Door Wed – Mon: 11 am – 5 pm

Phone: (03) 9731 4420
5) Werribee South Beach
This Werribee beach offers plenty of scope when it comes to outdoor and coastal pastimes. Kids can play in the park here or collect shells from the sand.
Fishing, boating, swimming, dog walking, picnicking, and barbequing are also popular here.
There are great views from South Beach towards Port Phillip Bay, and there's a milk bar for picking up ice creams.
If you love wildlife, look out for the pelicans close to the boat ramp, as they're attracted by the scent of the latest catch.
You can launch kayaks, canoes, and even jet skis from the ramp at Werribee South Foreshore, or enjoy fish and chips at Angler's Anchorage.
A caravan park and skate park also provide accommodation and a place for teens to hone their board skills.
South Beach in Werribee also has a lovely beachfront path to walk along while gazing at the stunning ocean views.
Werribee South Beach

Where: Beach Road, Werribee South, 3030
6) Werribee Public Art Walking Trail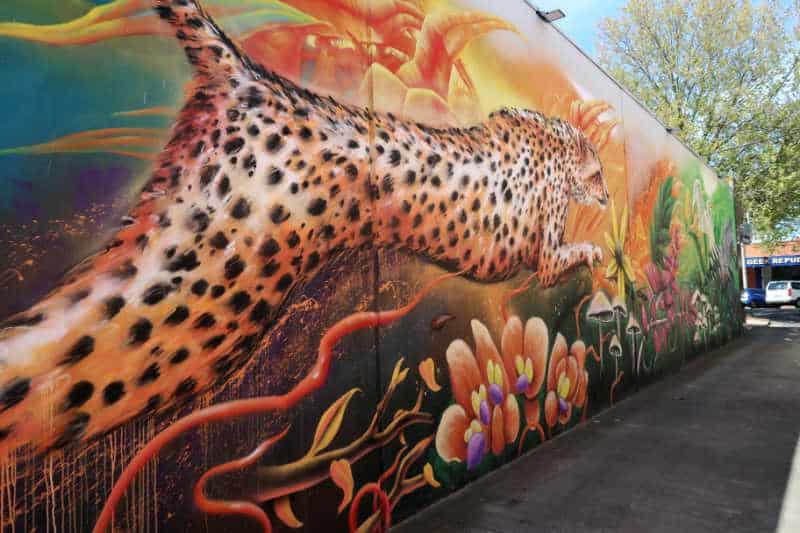 One of the newest Werribee things to do is to take the Public Art Walking Trail.
This is a self-guided tour, starting out from Wyndham Cultural Centre. The trail includes an audio guide and ends at Kelly Park.
Allow about an hour to take the trail in one direction, as this includes time for a refreshment stop.
Along the way you can appreciate the best street art, there is to see in Werribee, which is the main point of the route.
By using the audio guide, you can hear Tom Gerrard, Ash Keating, Minna Leunig, Ghost Patrol, and Makatron talking about their artwork.
There are plenty of cafes en route for a pitstop and you could also take a detour to Wyndham Park if you want to.
Don't forget your phone or camera – some of the street art here is definitely made to star in a Facebook reel or Tik Tok video, or to be featured on your Insta feed!
Werribee Public Art Walking Trail

Where: Start at 177 Watton Street, Werribee

When: Any time.

Entry: Free
7) Harpley Discovery Trail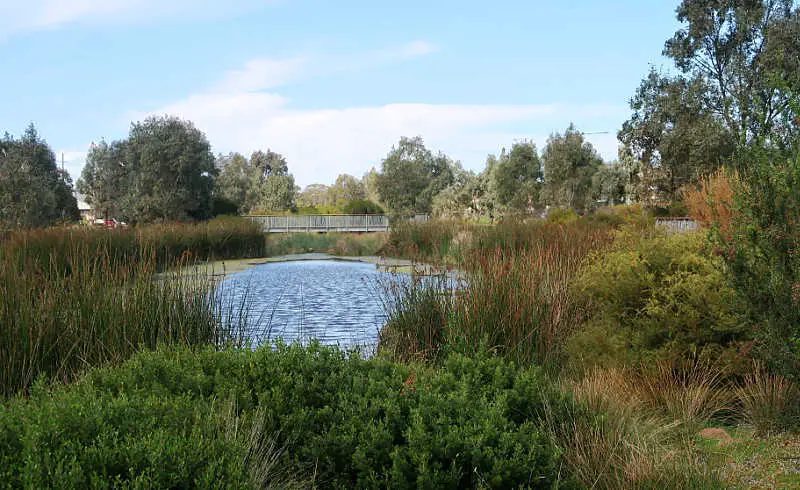 The Harpley trail offers visitors another way to see Werribee.
This time the focus is on wildlife and people rather than on art, so it's ideal for fans of nature and history.
Here you can learn all about both the Wadawrrung, who are the land's traditional custodians and the settlers from Europe who also made this area their home.
The Chirnside family from Scotland who once owned Werribee Park Mansion, are one example.
There's a sizeable wetlands system to discover at Harpley, which is rich in local flora and fauna.
Wetlands like the Black Swamp were created by Mother Nature, while humans had a hand in forming some of the others.
Allow at least half an hour to follow the trail – more if you want to visit the kids' adventure playground or pause for some bird spotting. There are introduced, native, and migratory species to look out for.
Harpley Discovery Trail

Where: Black Forest Road, Werribee, 3030

When: Any time

Entry: Free
8) Werribee River Park
Werribee River Park offers a range of reasons to visit.
It has a large expanse of grassy lawn to sit, play, or run around on, plus plenty of picnic tables for everyone.
On a hot day, the River Red Gums here also supply some welcome respite from the sun.
You can park at Werribee River Park if you like, or stop by the mansion at Werribee Park so you can take a walk beside the river.
Doing this means you can admire Werribee Park Golf Course, the mansion, and the aged farm buildings behind it before reaching the river park.
Signage will direct you to Werribee River Park from between the community garden and the huts.
Follow the boardwalk beneath the gum trees, pass the golf course, and cross the footbridge and you'll soon reach the lawn and picnic area.
From here you can continue a short way if you want to and see the 1835 Old Bluestone Ford, which was part of the first road between Melbourne and Geelong.
Keep an eye out for native birds and reptiles too, including snakes.
Werribee River Park

Where: Main Drive, Cocoroc, 3030

When: Any time.

Entry: Free
9) K Road Cliffs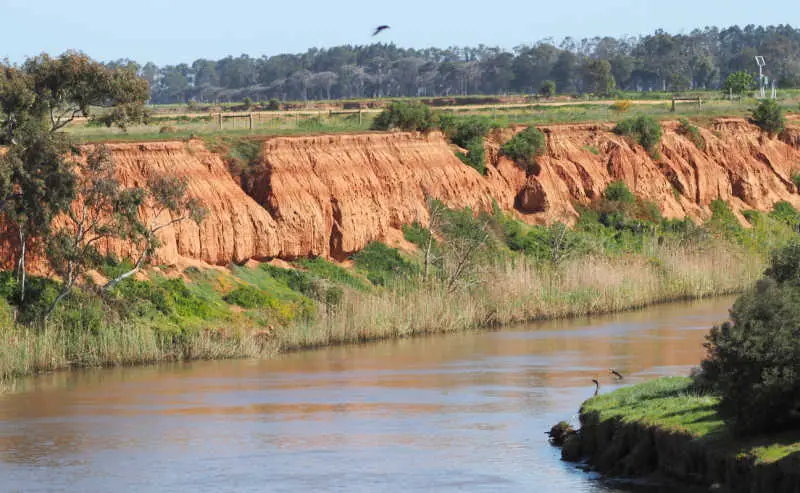 You might catch a glimpse of K Road Cliffs when spending time by the Werribee River.
Their distinctive red colouring makes them appear more like something from hotter parts of the Australian outback than the milder climate of Victoria.
Sunset or dusk are the best times to visit if you can manage it, as the colour changes dramatically at the start and end of the day.
There's a K Road Cliffs car park, and you can take a walk from here to the cliff-top. It's well worth doing this for the stunning views, you can see Werribee Golf Course, the wetlands, the You Yangs and the river.
Native wildlife is also worth heading here for, particularly water birds and platypus.
K Road Cliffs (Red Cliffs)

Where: 362 K Road, Werribee, 3030

When: Any time. Beautiful at sunset.

Entry: Free
10) Campbell's Cove Boathouses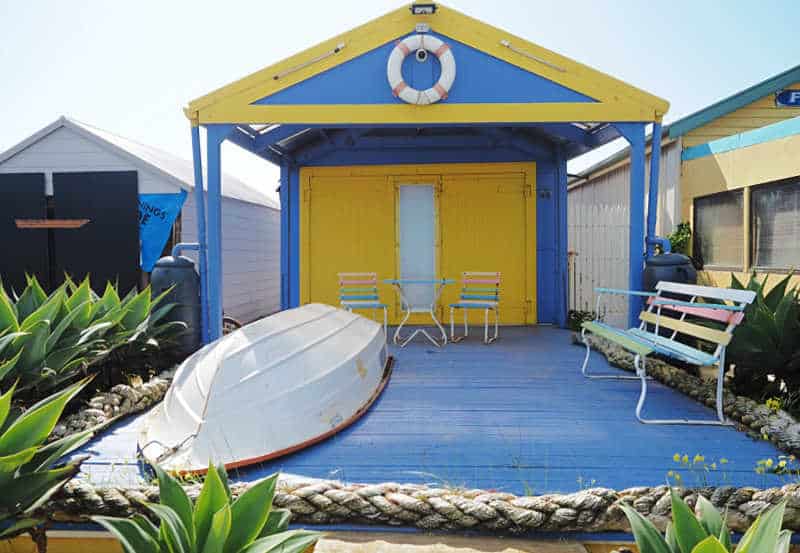 Built during the 1920s, Campbell's Cove Boathouses are a brightly coloured spectacle and an icon of Campbell's Cove beach.
Once known as a nudist's haunt, these days it's open to all who choose to wear bathers or other clothing.
Each boathouse is unique, so it can be great fun wandering along to take a closer look at them all. You might even see inside one if you're lucky and the door happens to be open.
Take a look from the back too where they're less photogenic but you can see how they've been added to over the years.
There are few amenities here – just a car park. The beach is pet-friendly and unspoiled in comparison to some other beaches in Victoria.
Don't forget to take some pictures while you're here – these pretty beach huts are very photogenic indeed.
Campbells Cove Boat Sheds

Where: Campbell Cove Road, Werribee South, 3030

When: Any time

Entry: No entry. View from outside.
11) Wyndham Park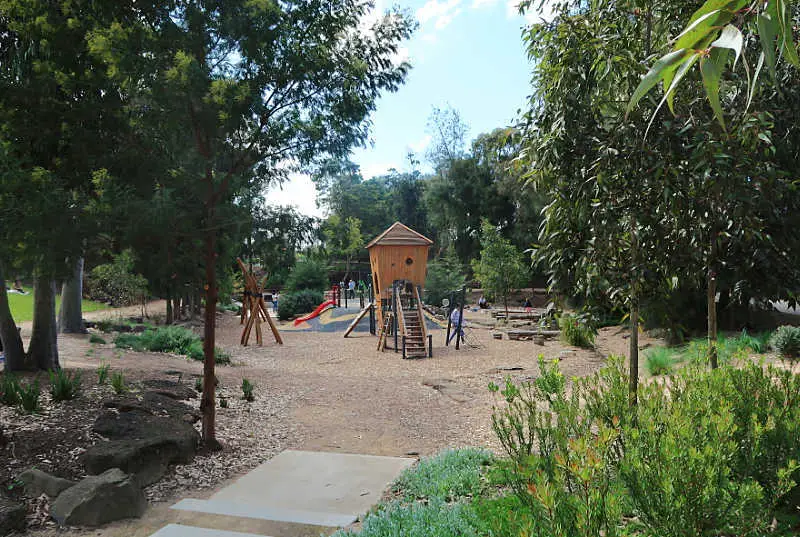 Wyndham Park is the result of considerable recent investment and construction work.
Perched on the banks of the Werribee River, it's a local hub for sports, recreation, and socialising that visitors can also enjoy.
Facilities found at Wyndham Park include two kids' playgrounds, walking and cycling tracks, picnic tables, barbeques, and exercise equipment.
The park has also been designed to let the natural environment shine, so you can fully appreciate the river and the plants and wildlife inhabiting the area.
It's easiest to use the big, free car park on the corner of Werribee and Watton Streets before accessing the park via the Wedge St Piazza and the pedestrian bridge.
Wyndham Park

Where: Watton Street, Werribee, 3030

When: Any time

Entry: Free
12) Wyndham Art Gallery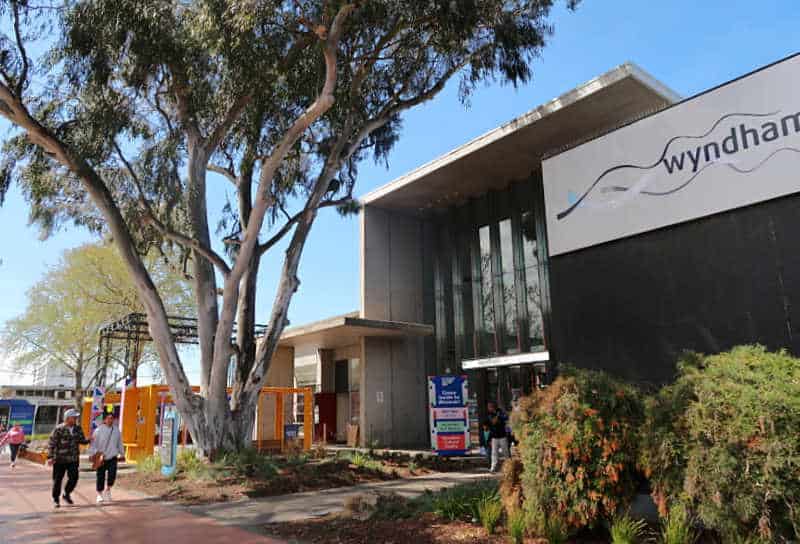 Wyndham Art Gallery is owned and operated by Wyndham City Council.
If you're interested in the rich culture of the First Nations people then this is the place to come to see a diverse and intriguing collection.
An exhibition programme runs throughout the year and the aim of this is to expose visitors to innovative ideas and alternative cultures.
There is an 'Artist In Conversation' event for each, featuring either an expert curator or an artist. Workshops and tours also allow for deeper involvement.
The gallery serves as a hub for modern art and can be found within the West End precinct in Werribee.
In addition to paintings, you can see ceramics, sculpture, video, and photography here, from both the local area and across the country.
The works of both established and emerging artists are included.
The gallery belongs to the Wyndham Cultural Centre, where you can also see a theatre show or enjoy a drink at the bar.
Where: 177 Watton Street, Werribee

When: Mon – Fri: 9 am – 5 pm, Sat – Sun: 11 am – 4 pm

Entry: Free

Phone: (03) 8734 6021
13) Point Cook Coastal Park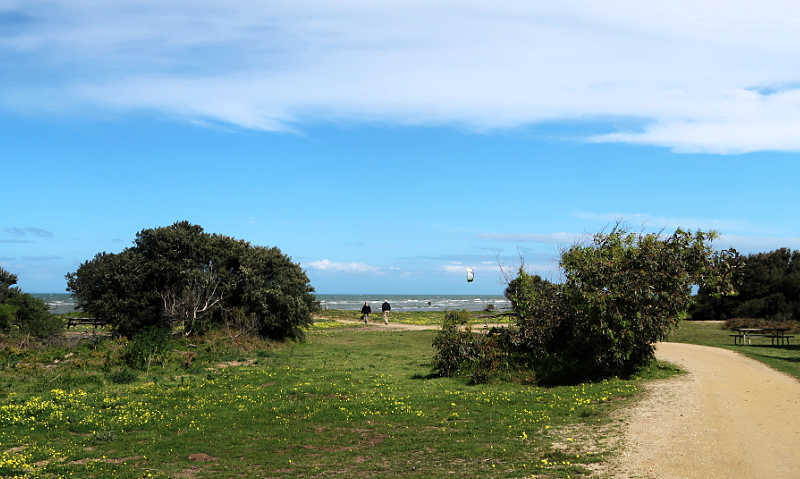 Another of Werribee's great outdoor spaces can be found at Point Cook Coastal Park.
The site occupies over 850 hectares and runs between the RAAF Williams Point Cook Base and Laverton Creek.
It's a lovely place to while away the afternoon after tucking into a picnic, and there are play parks here to keep active kids happy.
You can enjoy some time on the beach here, watch the planes flying in and out of Point Cook Base, or follow one of the numerous trails.
Amenities at Point Cook Coastal Park include free barbeques, toilets, and plenty of shady areas in which to take cover in summer. Cheetham Wetlands also forms part of the park.
Point Cook Coastal Park

Where: Main Drive, Point Cook, 3030

When: April – Sept: 8 am – 5 pm, Oct – March: 8 am – 7 pm

Entry: Free
14) Cheetham Wetlands Tower Walk
Seeing rare, colourful or even endangered birds can be a highlight of any visit to Point Cook Coastal Park.
Taking the Cheetham Wetlands Tower Walk here is the best way to get up close to the local fauna. You might also spot some flora you haven't seen before.
Head through the grassy expanse, looking out for unusual native grasses, as you head towards the tower. Birds of prey and quails are often seen in these parts too.
Be sure to pack a pair of binoculars if you're serious about birding as many more species may be viewed in the distance.
You can also explore the wetlands, mudflats, and trees during your bird spotting quest.
Between September and April, you can see native shorebirds, or look for migratory waders in winter.
The endangered Orange-Bellied Parrot and Lesser Golden, or Double-Banded Plovers may be seen here if you look carefully.
Cheetham Wetlands Tower Walk

Where: Start/Finish Point Cook Homestead Car Park

When: Car park closes 2 hours before the Point Cook Coastal Park

Distance: 1.5 kilometres one-way
15) Wyndham Harbour
Wyndham Harbour is located in Werribee South, between Geelong and Williamstown, and is a stylish new waterside suburb on the edge of Port Phillip Bay.
Quay Boulevard is the main drag, and there's a smart marina here for the mooring of vessels belonging to locals.
As well as boats, there are deluxe apartments here, giving it more of a neighbourhood feel than you might expect.
To serve those who live, moor boats, or visit here, Wyndham Harbour offers a range of licensed, top-quality restaurants including Sam's Catch Fish N' Chippery, Ramae's Cafe & Lounge, and 3030 Boulevard.
Within easy reach of places like Werribee Mansion, Shadowfax Winery, Werribee Open Range Zoo and the local golf course, Wyndham Harbour is a great place to stop for a stroll by the water or a bite to eat.
Wyndham Harbour

Where: 50 Quay Blvd, Werribee South, 3030

When: Mon – Sun: 8.30 am – 5 pm
Things To Do In Werribee Map
Final Word
What will you do in Werribee? Whether you prefer street art to an indoor gallery or would pick a beach instead of a river any day, there are lots to keep both kids and adults busy in this part of the state.
Now that you've read about all things you can do in Werribee you can find out the best places to stay and book your Werribee accommodation now.
While you're here, why not check out our complete guide to Werribee Mansion and Rose Garden, discover the best towns on the Great Ocean Road, or find out all about deluxe accommodation in Wilson's Prom?
Related Posts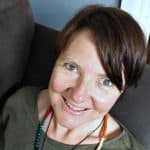 By Audrey Chalmers
Audrey grew up in Victoria and travelled the world but she always called Victoria home. She loves nothing more than exploring her home state and sharing it here.