This article may contain compensated links. For more information read our disclaimer here.
Werribee Mansion is a stunning heritage building that offers a unique insight into Australia's rich history.
Visitors are treated to exquisite formal gardens, historical farm outbuildings, a tranquil lake, and beautifully restored mansion rooms.
The property sits adjacent to the Victoria State Rose Garden in the Werribee Park precinct. It makes a fabulous day trip from Melbourne with its lush lawns that are perfect for a picnic.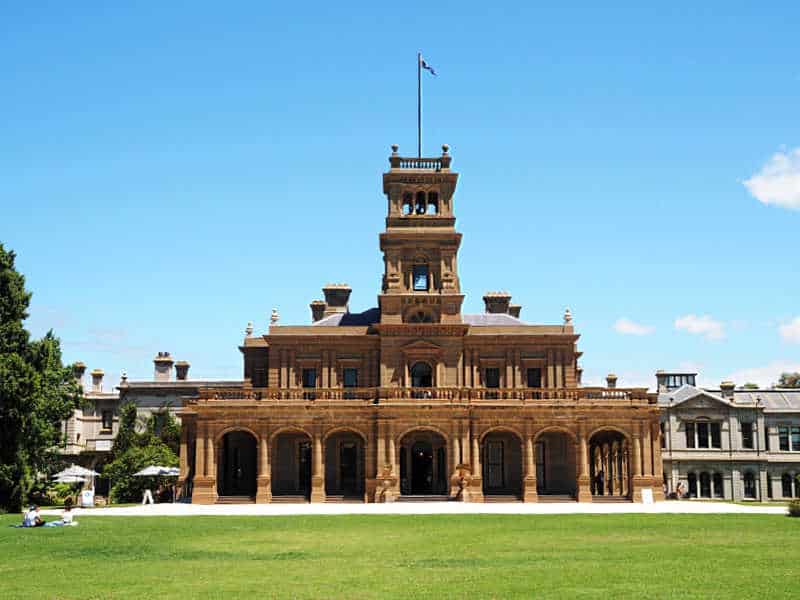 There's nothing better than visiting historical sites and letting your imagination run wild as you try to envisage what life must have been like at that time – probably never coming close to reality.
Werribee Mansion is fantastic for doing just that. The rooms are set up to look like someone is actually living there, and despite its grandeur, it's easy to imagine the mansion as a family home.
You can spend several hours exploring the manor, its grounds, and the fragrant Werribee Rose Garden. But you can just as easily spend the whole day relaxing on the lawns in the shadow of the stunning building without ever actually entering it.
Below you will find all the information you need for your Melbourne day trip to Werribee Park Mansion and the Victoria Rose Garden.
Read our complete guide to the best things to do in Werribee here.
We begin with a little bit of the history of Werribee Mansion before sharing everything you need to know for a great visit, including what you'll see, the Werribee Mansion entrance fee, opening hours, where to eat, and there's even an accommodation Werribee Mansion option
So let's start! Here's your guide to Werribee Park and the Werribee Mansion Rose Garden!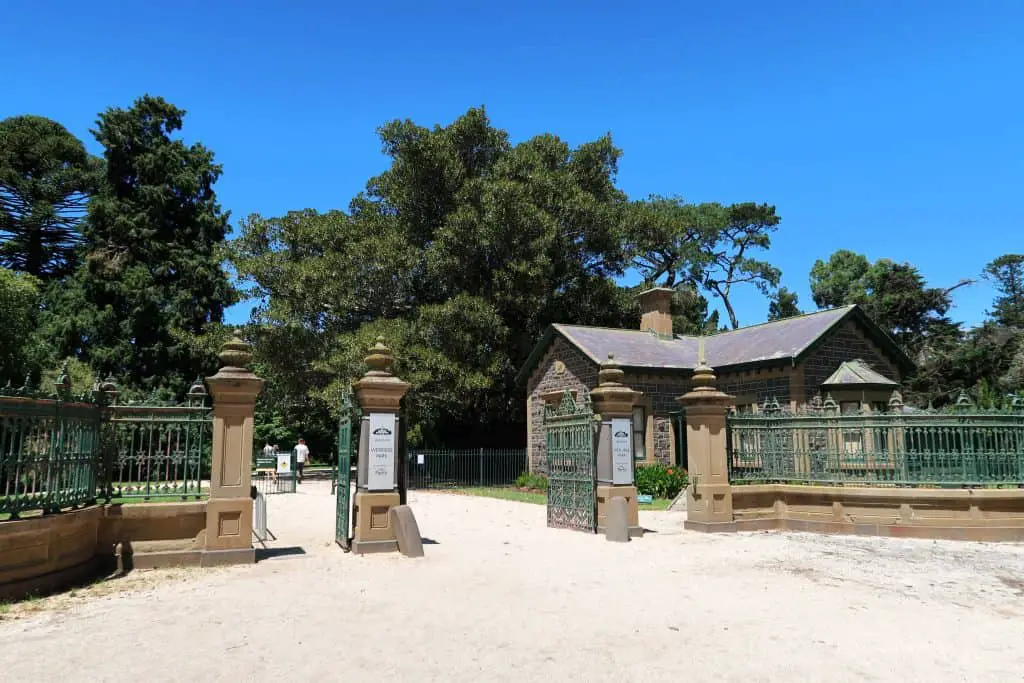 Werribee Mansion Rose Garden Essential Information
Werribee Mansion Opening Hours
Opening Times: 7 Days A Week
High Season: 3 October 2022 – 3 April 2023
Low Season: 4 April 2022 – 2 October 2022
Mansion
High Season:
Daily 10 am – 5 pm
Low Season:
Weekdays 10 am – 4 pm,
Weekends & Public Holidays 10 am – 5 pm
Grounds
High Season: 9 am – 6.30 pm
Low Season: 9 am – 5.30 pm
Werribee Mansion Entrance Fees
Adult: $11.10
Child: $8.00
Family: 2 Adults & 2 Children $34.80
Extra Family Child: $5.10
Concession: $8.00
*Entry to the Werribee Park Gardens is free.
Victoria State Rose Garden
Opening Hours
7 Days 09.30 – 5.00 pm
Entry Fee: Free
History Of Werribee Mansion
Werribee Mansion, also known as Chirnside Mansion Werribee, was built during the 1870s by Scottish brothers Thomas and Andrew Chirnside.
Thomas Chirnside arrived in Australia from Scotland in 1838 with a bible and a few hundred pounds in his pocket. He dreamt of a new life, and with plenty of opportunities available in the developing agricultural industry, the savvy businessman invested in stock and land.
Thomas was joined by his younger brother Andrew in 1841 and together they built a lucrative agricultural corporation, the Chirnside Pastoral Empire.
Werribee was a common overnight stop for those travelling between the cities of Geelong and Melbourne, and the pioneering brothers were a driving force behind early settlement in the region.
In 1845 Thomas returned to Scotland for a visit and remained there for a couple of years. While he was there he fell in love with Mary Begbie his first cousin. He asked for her hand in marriage but her parents did not approve and he returned to Australia alone.
With Thomas safely back in the country Andrew made plans for his own trip home. But before he left his older brother asked for a favour. To bring Mary back with him in any way he could.
Andrew granted his wish and in 1852 he returned accompanied by Mary – as his wife! One can only speculate as to how poor Thomas felt, but he remained a bachelor for the rest of his life.
Wanting a home of stature for Mary and to showcase their achievements, the brothers built an Italianate-style mansion unrivalled by any in the state.
Created out of the finest of materials the homestead took 3 years to build. It was completed in 1877 and supported an extensive farming workforce.
In the 1880s Thomas was plagued by illness and transferred most of his estate to his brother and nephews.
Sadly, he took his own life in 1887 and three years later Andrew died from natural causes.
In 1908 Mary's hair caught alight from a bedside candle. She never recovered from the terrible accident.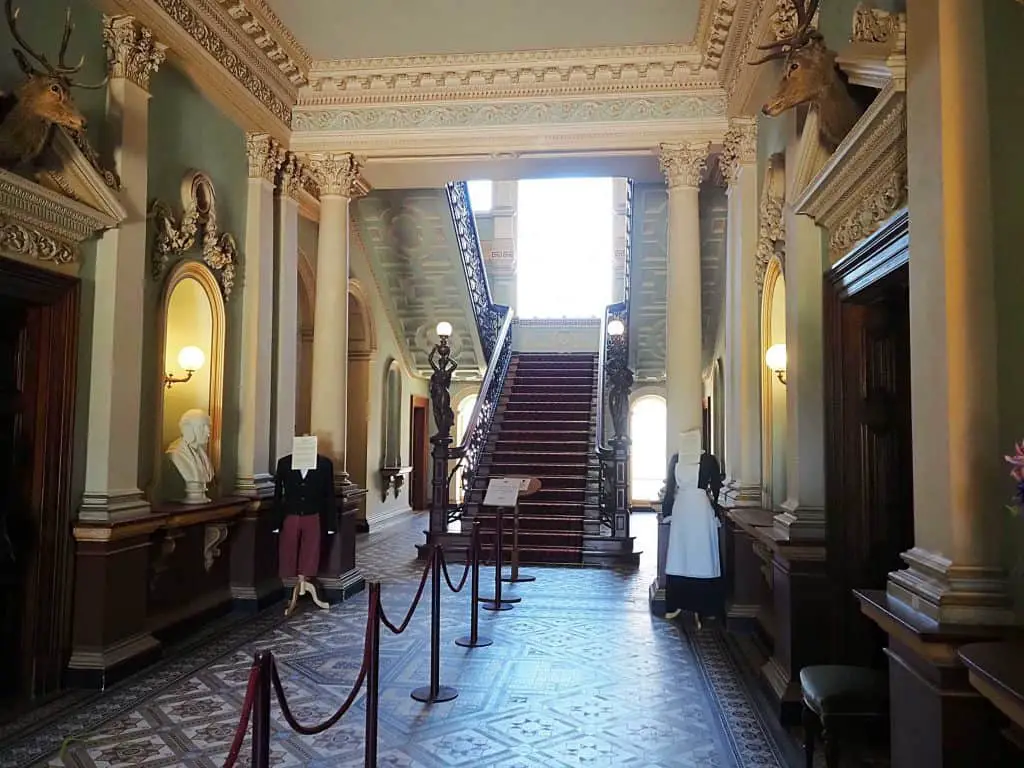 Werribee Park Mansion
The Mansion at Werribee Park Estate was home to Andrew, his wife Mary, and their three youngest children.
Thomas lived at his nearby property in Point Cook until his final years when he joined Andrew and Mary at their stately home.
The elaborate 60 room mansion was a focal point in the community, with the Chirnsides playing host to many events.
Balls, picnics, polo matches, hunts, and horse racing were held at the manor house one of the grandest homes in the colony.
Leaders and influential families, as well as the local people, were all in attendance at these social gatherings.
Andrew Chirnside's two youngest sons George and John Percy inherited the estate after his death.
They then divided the property, with George taking over the running of the manor house and surrounding land.
Unfortunately, he was unable to mirror the success of his forbears, and Chirnside family ownership of Werribee Park ended in 1922.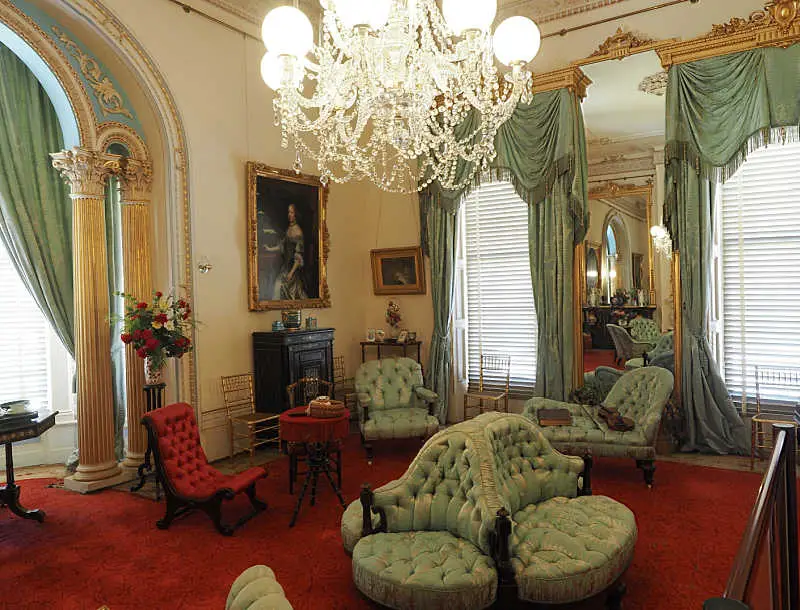 The mansion was initially bought by Phillip Lock a wealthy grazier from Warrnambool who sold it a year later to the Roman Catholic Bishops of Australia to use as a seminary.
For the next 50 years Werribee Park was owned by the Catholic Church. They added several wings to the property which have now been converted into the 5-star Lancemore Mansion Hotel Werribee Park.
The Victorian State Government acquired the estate from the Catholic Church in 1973 and set about restoring the mansion and 400 hectares of land to its former glory.
It's now one of the most stunning attractions in Werribee drawing thousands of visitors every year.
There are several rooms open to the public including a drawing room, billiard room, library, kitchen, and bedrooms.
Chirnside family heirlooms, clothing, artworks, and furniture are on display, and visitors can listen to the family chatter with an audio Werribee Mansion tour.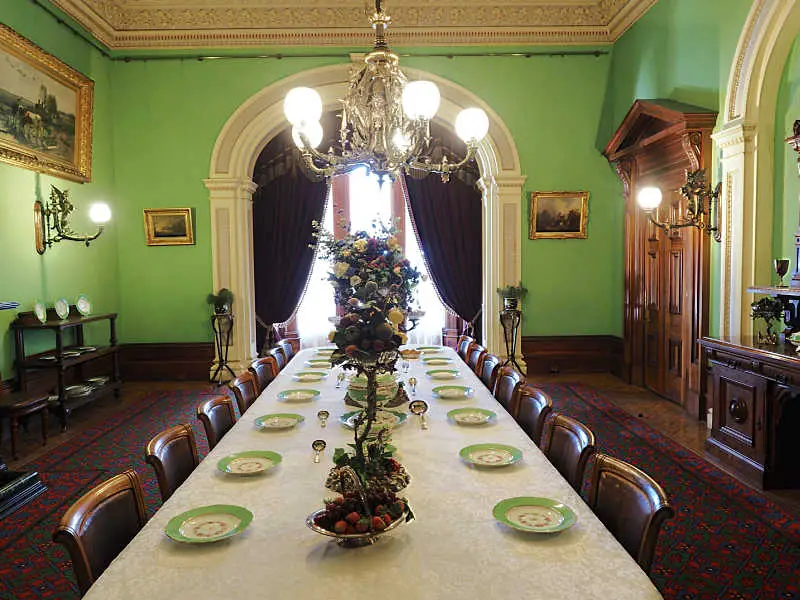 You are welcome to stroll the beautiful formal gardens and wander down to the ornamental lake and grotto.
The grotto is one of only a few in existence in Australia. This cave-like room was a cool retreat that was ideal for afternoon tea on a hot summer's day.
The estate also features a heritage orchard that was originally built by the Chirnside brothers. Parks Victoria and a community group have been working to preserve and identify the orchard's trees.
Other points of interest include bluestone outbuildings, courtyards, a sculpture walk, and a tower that was used to observe hunting parties and as a bushfire lookout. It was closed the day we visited.
The first floor has an interesting Conservation Exhibition that details the enormous restoration project undertaken by the State Government over many years.
Fun Fact: The mansion has been used in the film The Devil's Playground and the musical comedy The Pirate Movie. It was also depicted as an English manor house in the children's TV series The Genie From Down Under.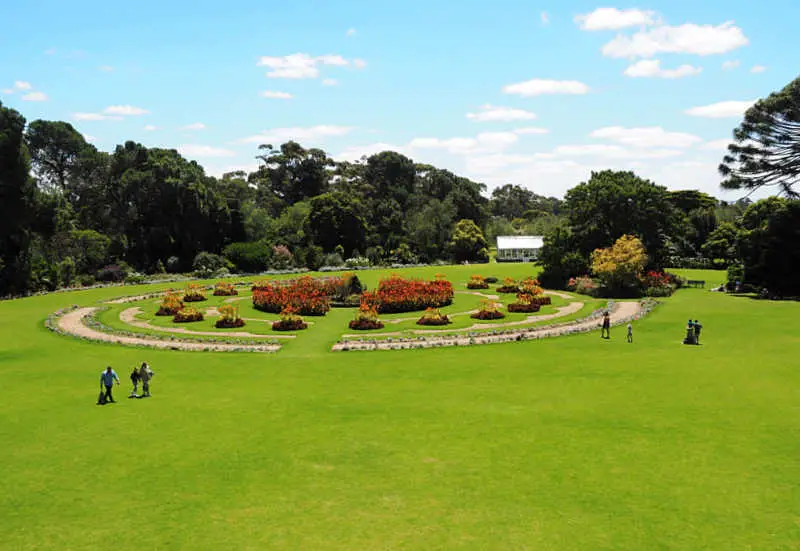 Rose Garden Werribee
The magnificent State Rose Garden, also known as Werribee Mansion Rose Garden, and Werribee Rose Garden, sits adjacent to the mansion grounds.
This is where we started our wanderings before exploring the mansion and its estate and having a bite to eat in the cafe.
If you come for a picnic you might enjoy relaxing on the lawns before starting your explorations.
Werribee Rose Garden
The idea for a State Rose Garden was formulated in 1976 when Victoria was declared "The Garden State". After much hard work and lobbying by members of the National Rose Society, a plan was accepted by the government.
Stage One of the project was officially opened on 9 November 1986 but unfortunately, an official opening does not always guarantee that work will continue.
Changes in government and economic rationalism saw plans for the Rose Garden about to come to an end. A petition against the decision saw hundreds of signatures supporting the completion of the project.
For the Rose Garden to continue it had to be shown that there were enough volunteers to carry out work in the current garden as well as any future extensions.
Thus the Victoria State Rose Garden Supporters Werribee Park Inc. was formed and registered to maintain the garden.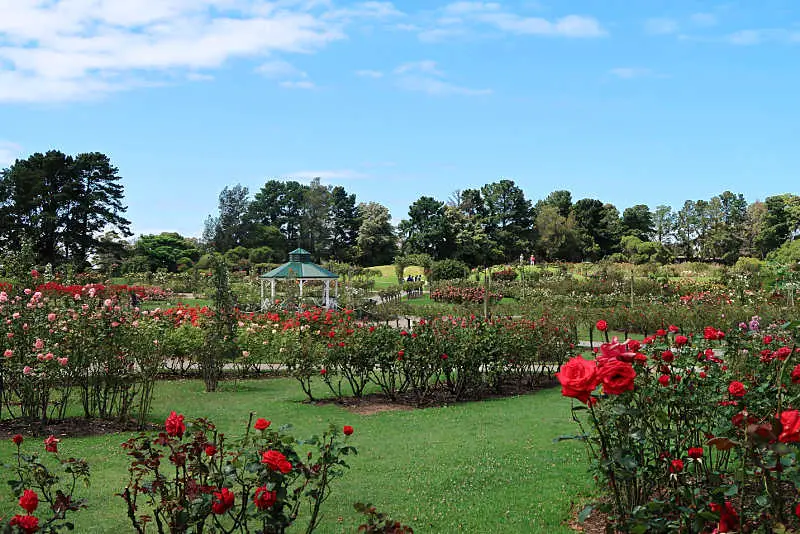 There are 120 volunteers who work closely with Parks Victoria and the staff of the mansion at Werribee Park.
These dedicated gardeners work on average 7,000 hours per year to keep the roses blooming.
Their tasks include pruning, dead-heading, mulching, monitoring, replacing underperforming roses, and a multitude of tasks to keep the garden in tip-top shape.
The result is a stunning rose garden that is internationally recognised, winning the World Federation Of Rose Society's Award For Garden Excellence. The first (and only) garden outside of Europe to receive the award.
The garden is separated from the main mansion's garden by a 400-metre heritage border that features historical roses from around the world.
Spread over 4.75 hectares there are over 5,000 rose bushes on display within 4 Symbolic Design Groups.
The Tudor Rose: A 5 petal display filled with a selection of rose varieties.
The Australian Federation Leaf: Celebrates the horticultural achievements of Australian rose breeders since 1900.
The Bush: Highlights over 60 rose cultivars by English breeder David Austin.
The Heritage Rose Border: Separates the State Rose Garden from the Werribee Park formal gardens. It features 280 types of old and endangered rose species.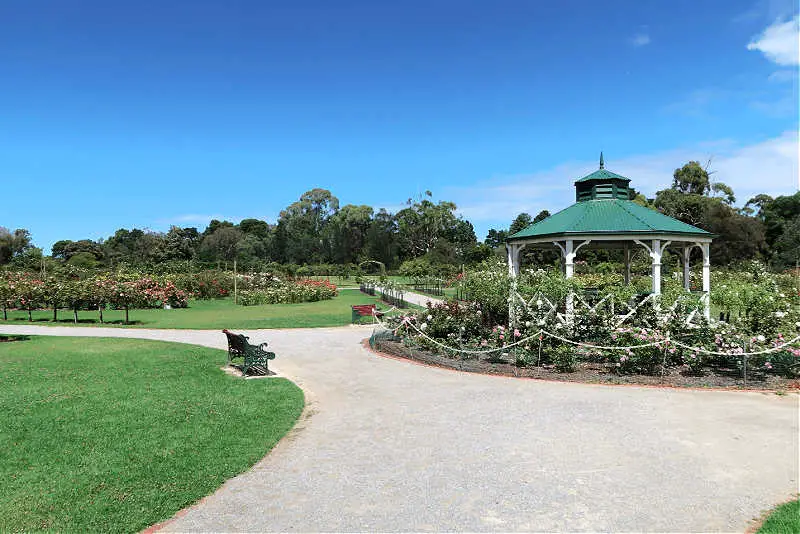 Where To Eat At Werribee Mansion Rose Garden
Dust off your picnic rug and fill your basket with delicious treats. There's no better place for a picnic than the verdant green lawns of Werribee Mansion and the dreamy State Rose Garden in full bloom.
But, if you're like us and don't fancy lugging all that gear around then you can pre-order a luxe picnic hamper from the mansion restaurant The Refectory Parlour.
Your basket will be filled with delicious local produce and top-notch wine of your choosing. The team take care of everything including set-up and pack-down, so you don't have to worry about a thing.
If you don't fancy a picnic The Refectory offers terrace dining on the west wing of the building. Run by the team behind Bursaria the menu features tasty local delicacies, decadent desserts, and fabulous cocktails.
Alternatively, there's a more casual onsite cafe offering cakes, coffee, toasted sandwiches, and snacks. The cafe itself is pretty dreary and I recommend ordering takeaway to enjoy outside.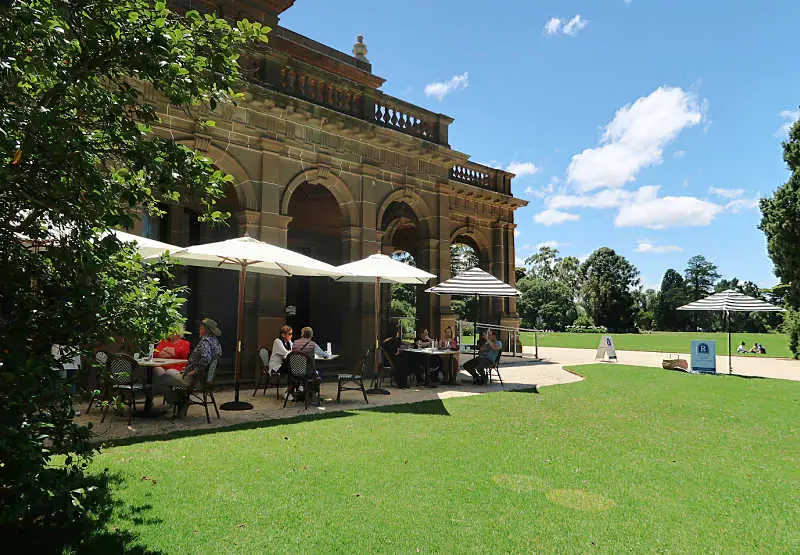 Stay At Werribee Mansion Hotel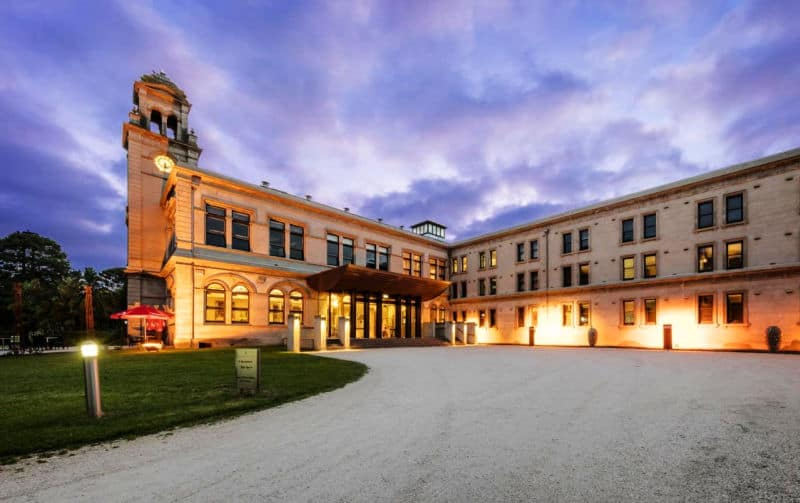 If a day trip just isn't long enough for you, you can always opt to stay at the Mansion Hotel And Spa Werribee Park.
Considered one of the grandest hotels in the state, this boutique accommodation is a haven of tranquility and charm.
Guests can enjoy fine dining at Joseph's Restaurant and bar, unwind at the hands of an expert spa therapist, retire to the grand billiard room, or cosy up in front of a crackling fire in the library.
Click here for more information.
There are 91 luxuriously appointed guest rooms with three accommodation options to choose from, Heritage Rooms, Superior Rooms, and Junior Suites.
All rooms feature elegant decor, beautiful linens, comfy beds, a pillow menu, temperature control, ensuites with luxury amenities, and personal bathrobes.
Junior Suites have fantastic private balconies overlooking the gorgeous gardens.
Other amenities include a heated indoor pool and gym, free Wifi, and private parking.
Guests of the Mansion Hotel are welcome to wander the grounds and have complimentary entry into the restored mansion.
Click here for the latest prices.
Final Words
If you're interested in day trips from Melbourne then Werribee Mansion is a fun and relaxing day out.
It's easy to spend hours wandering around the historic building, the grounds, formal gardens, the lake and grotto, and the beautiful State Rose Garden.
I was blown away by the mansion and the gardens and enjoyed visiting the outside as much as I enjoyed visiting inside the building.
I hope you have found this guide useful and that you enjoy your time at Werribee Park Mansion as much as we did.
Now that you've read about Werribee Mansion Rose Garden you can find our guide to the best Werribee accommodation here and be booked and ready to go.
Related Posts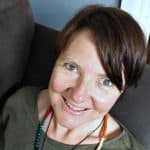 By Audrey Chalmers
Audrey grew up in Victoria and travelled the world but she always called Victoria home. She loves nothing more than exploring her home state and sharing it here.