This article may contain compensated links. For more information read our disclaimer here.
If you're looking for the best things to do at the Docklands in Melbourne, then this post is for you!
There are many awesome attractions at the Melbourne Docklands. This guide outlines the top 21, so you can plan your next weekend, day, or evening out to the Docklands harbour area.
Living just an hour away we've visited the Docklands many times and in this post we're going to show you all the best things to do while you're here.
The Docklands is a wonderful place to explore for people of all ages, no matter what you're into.
Whether you want to dine at the restaurants and drink in Docklands bars or would rather admire art and classic cars – or even take a ferry ride – there's always lots going on at the Docklands waterfront.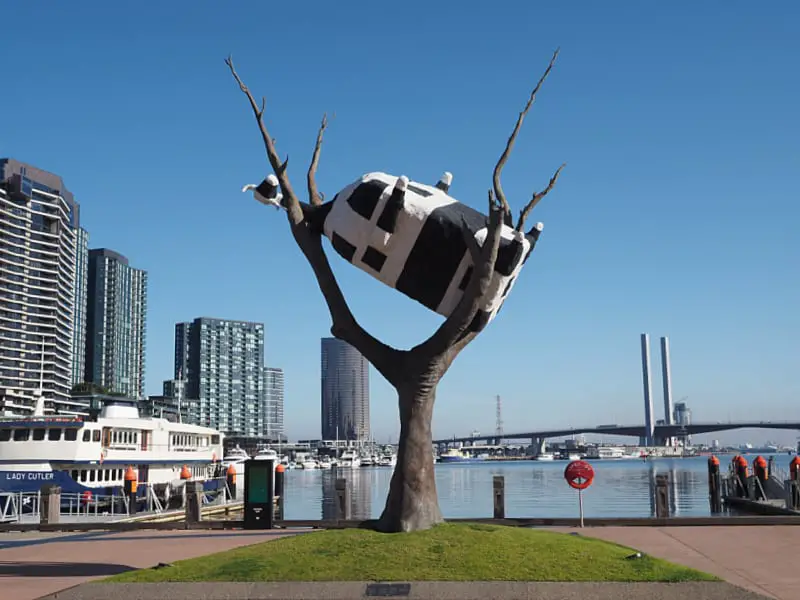 This truly is a part of Melbourne you don't want to miss.
Its great location by the water that's close to the city centre makes the Docklands an ideal place to stay when visiting Victoria's capital.
Here is our guide to the top 21 things to do at the Docklands, as well as the very best places to stay when you're here.
21 of the Best Things to Do At The Docklands
Here are our top 21 things to do in Docklands Melbourne. Which of these Docklands attractions and activities will you discover first?
1) Sail Back In Time Onboard The Polly Woodside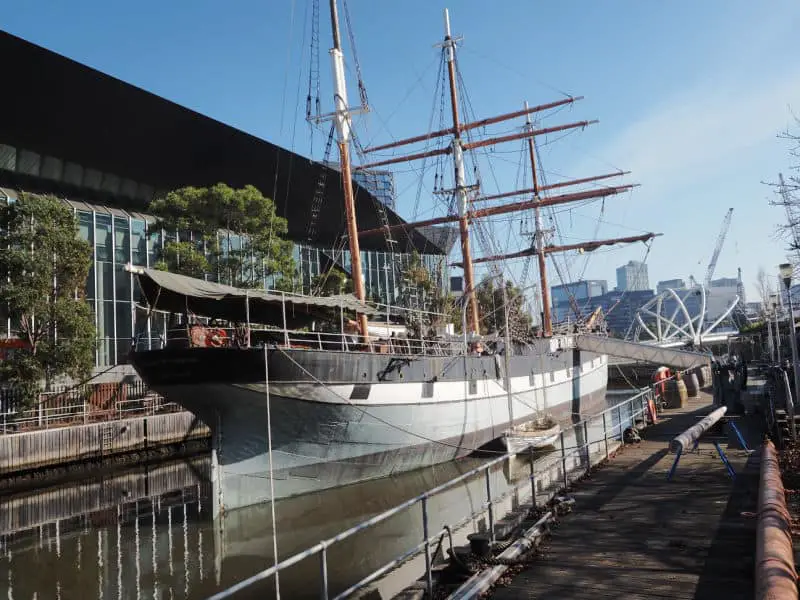 Built in Belfast, Northern Ireland, the Polly Woodside was first launched way back in 1885 and was used as a cargo vessel to carry coal and wheat.
This beautiful tall ship has been restored to its former glory and can now be found at Melbourne's South Wharf.
At over 30 metres in height and around 70 in length, you literally cannot miss the Polly when visiting this part of Melbourne.
Exploring the history of this ship is one of the top things to do in the Dockland area, and it suits visitors of all ages – our grandson loved it.
Visitors can go onboard to imagine what sailing the seven seas was really like, and also learn about maritime life at the museum here.
You can choose between two different experiences when visiting the Polly Woodside. The Open Day held on the first Sunday of the month allows you to explore at your own pace or you can choose to take a guided tour (45 -60 minutes).
The third Sunday of the month is Pirate Day! Two sessions are held throughout the day and visitors are encouraged to dress up as a pirate for Fashions on the Plank.
Each session has the following activities:
Pirate's Tattoo (washable!) and Pirate Name
Scrub the Deck and Rope Swing
Fashions On The Plank
Treasure Hunt
Craft activities and Reading Corner
Polly Woodside

Where: 21 South Wharf Promenade, South Wharf 3006

When: Open Day: 1st Sunday of the month 10 a.m – 4 p.m, Pirate Day: 3rd Sunday of the month Session One 10 a.m – 12.30 pm, Session Two 1.30 p.m – 4 p.m
2) Experience Melbourne On A Yarra River Cruise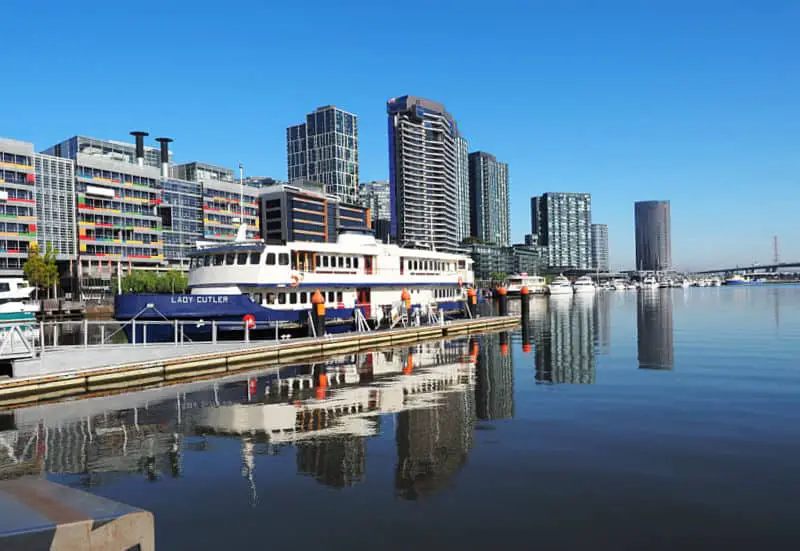 Seeing any city from the water always gives you a unique perspective. One of the highlights of any visit to the Docklands in Victoria is a boat cruise on the Yarra River. It's a fun and relaxing way to spend your time too.
Cruises typically last for an hour or two and take in many of the Melbourne landmarks you'll want to see, such as Flinders Street Station.
If you like you can celebrate a special occasion with a party cruise, or enjoy a dinner or sunset trip. You can even choose to Captain your own self-drive boat – no boat licence is required.
Click here for more information.
3) Paddle The Yarra On A Sunset & Dinner Kayak Tour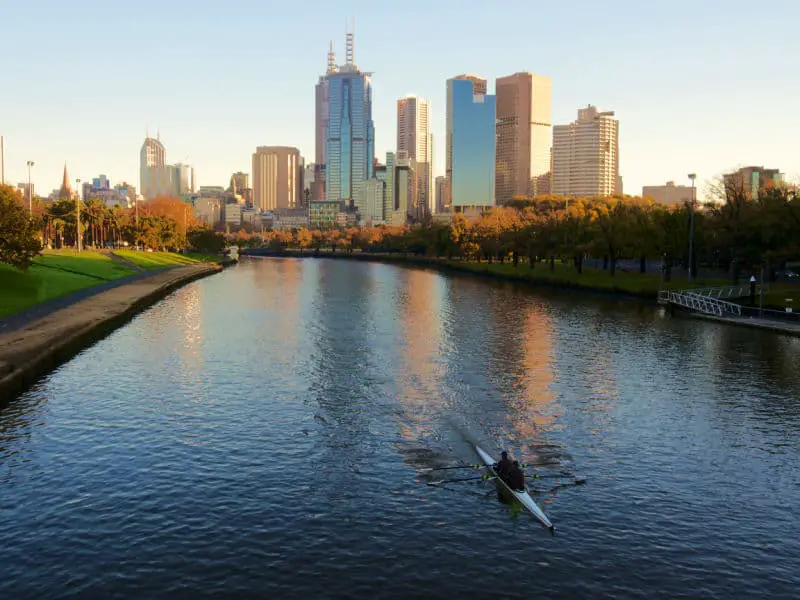 Another way to take to the water at the Docklands is to go kayaking on the Yarra River at sunset. From your kayak, Melbourne viewed as the sun goes down is a magical sight you won't want to miss.
These tours are highly recommended as well as being the most popular kayaking tour of the city. The tour lasts for around three hours and includes a fish and chip dinner, views of the Bolte Bridge and the Crown Casino's stunning nighttime displays.
No kayaking experience is necessary and in fact, the Yarra River is a great spot for first-time kayakers. Children aged 12 plus can take part as long as they're accompanied by an adult.
The tour starts with a safety briefing and a lesson in paddling technique. And guides are with you offering support out on the water every "step" of the way.
➡️ Check Prices And Availability Here
4) Get Your Skates On At O'Brien Ice House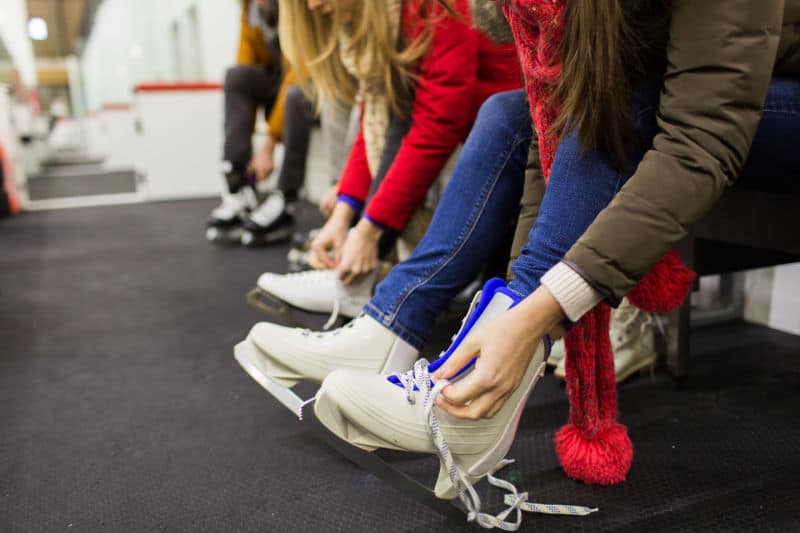 Wondering what to do in the Docklands area? Why don't you get your skates on and hit this Melbourne ice rink for some ice skating?
It's the biggest ice arena in Australia, so if you want to give skating a try there's no better place to go.
The Melbourne Ice House at the Docklands offers ice skating classes so members of the public can benefit from expert tuition too.
If you have an adventurous streak, it may also be worth thinking about ice hockey.
Anyone aged 18 plus can join a game during the drop-in sessions, or kids, as well as adults, can enjoy messing about or training with Stick and Puck.
Tip: This is a cashless venue so bring your debit card. Discounts apply when you book online.
O'Brien Ice House

Where: 105 Pearl River Road, Docklands

When: Open daily with various session times.

Phone: 1300 756 699

Entry including skate hire: Adult: $29.90, Child Under 8: $15.90, Family: $84.00, Concession: $25.90
5) Take In A Game At Marvel Stadium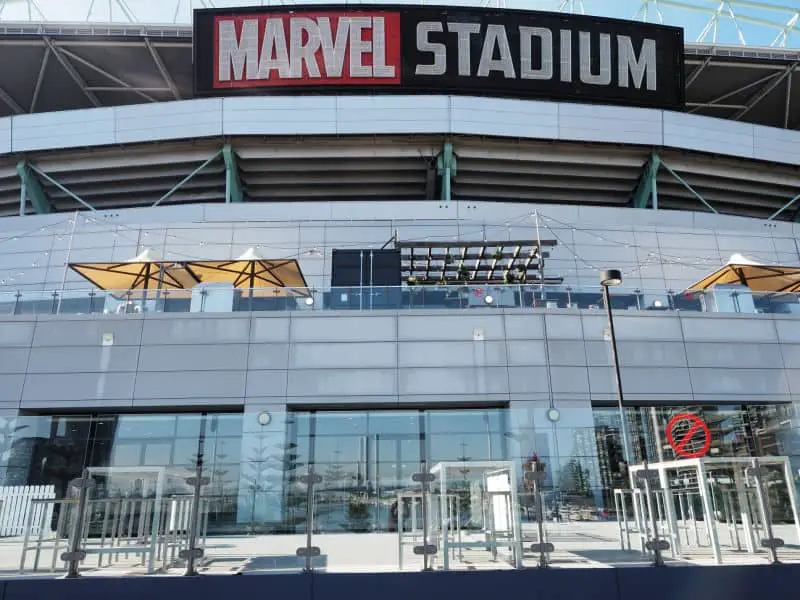 The Marvel Stadium – or Docklands Stadium – is a purpose-built centre for sporting fixtures and entertainment events.
This world-class stadium was completed in 2000 and cost over $450 million Australian dollars to build.
As well as being a major Melbourne AFL venue, the stadium is used for other sports, plus corporate and leisure events.
Docklands events such as concerts are also held at the Marvel Stadium, so why not see what's on when you're in the area?
If you truly want to experience life as a Melbourne local then attending an AFL game is as authentic as it gets. So, why not see what's on when you're in the area?
Teams using this as a home stadium include Carlton, Essendon, the Kangaroos, St Kilda, and the Western Bulldogs.
➡️ Get your tickets here and skip the lines.
6) Join In The Fun At Archie Brothers Cirque Electriq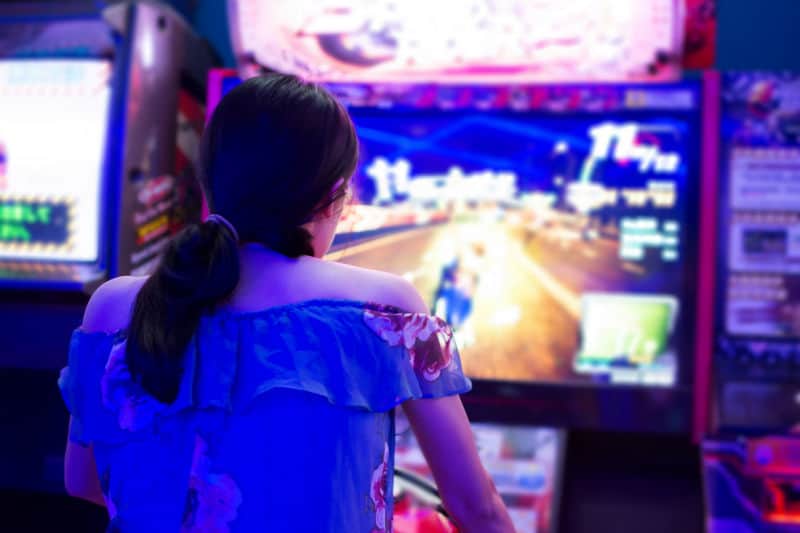 Archie Brothers at the Docklands is a multi-purpose entertainment venue. Here you'll find all kinds of things to do at the Docklands.
The Archie Brothers Cirque Electriq combines ticket and arcade games plus cocktails. You can visit to take part in the activities, or even book a party here.
In addition to the Archie Brothers arcade, the venue offers virtual reality experiences, half-a-dozen bowling lanes and even dodgem bumper cars.
It's the ideal place for all the family to have some fun – and of course, provides a number of things to do when it's raining out or boiling hot!
Archie Brothers Cirque Electriq

Where: The District, 440 Docklands Drive, Docklands 3008

When: Monday – Thursday: 10 a.m – 10 p.m, Friday – Saturday: 10 a.m – Midnight, Sunday: 10 a.m – 10 p.m

Phone: (03) 7003 9203

Costs: Arcade games cost between $2.00 and $5.00. Prices for other activities vary.
7) Wander The Docklands Waterfront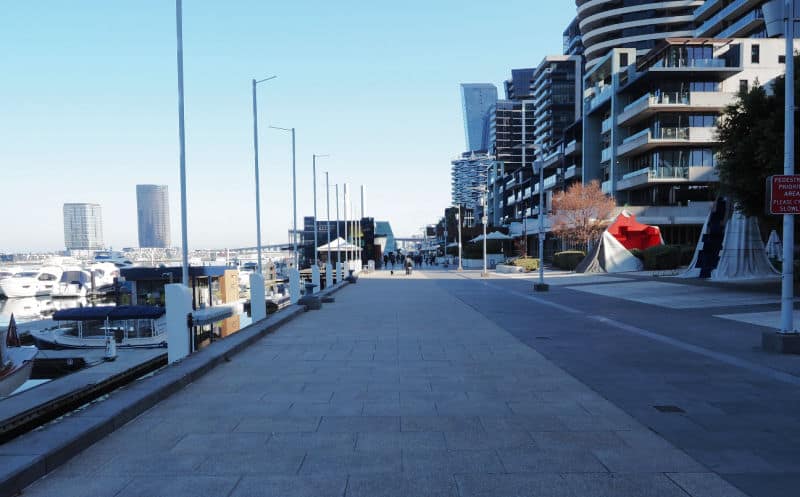 Take a Waterfront Wander to discover all that the Docklands area has to offer. You'll also get great views of the Melbourne Yarra River en route.
It's the ideal way to start your Docklands adventure, as you get an overview of the 200 hectare site while you walk.
Something to remember is that the Docklands development isn't even scheduled for completion until around 2025. So, there's lots more still to come.
Places of interest along the way include Adrian Mauriks' Silence sculpture, seeing the options for Melbourne boat hire at NewQuay,  Point Park, John Kelly's Cow up a Tree art installation, the Webb Bridge, and Docklands Park. 
You can find the Waterfront Wander map here.
8) Play Glow In The Dark Mini Golf
Mini golf is of course a classic game for grown-ups and children alike – but have any of you ever played glow-in-the-dark golf before? If not, GlowGolf Docklands offers a twist on this family favourite.
This Docklands mini golf venue is the only 18-hole mini golf venue in Australia offering glow-in-the-dark golf.
For players, things are made interesting due to the course featuring Australian icons, such as the outback dunny and special UV lighting.
You can also find one of the smallest bars on the Docklands waterfront here. And when I say small I mean small!
Called Le Bar European, it's only licensed for 4 people, making it possibly the smallest bar in Australia if not the world.
Despite its size, I found the Tuscan decor inviting and it's a nice cosy spot to enjoy a European beer or glass of wine.
Glowgolf Docklands

Where: The District Shopping Centre

When: Monday – Thursday: 12 p.m – 6 p.m, Friday: 12 p.m – 11 p.m, Saturday: 11 a.m – 11 p.m, Sunday: 11 a.m – 6 p.m

Phone: 0423 205 003

Entry: Adults and children $12.00, One child under 5 years free with one paying adult
9) Escape The Hustle At Library At The Dock
The Dock Library is one of six public libraries in the Victorian capital city. Located on Victoria Harbour Promenade, it offers free WiFi, digital and traditional catalogues, and even rooms for hire.
In fact, the library is one of the city's best-kept secrets.
At the Library at the Dock, you can grab some of the best coffee in the city when you need a caffeine boost, or simply unwind while reading a book, newspaper, or magazine.
Locals know that some of the best views in the city can be yours when visiting here, and the equipment is all bang up-to-date and super speedy to boot.
Library At The Dock

Where: 107 Victoria Harbour Promenade, Docklands 3008

When: Monday – Thursday: 10 a.m – 6 p.m, Friday: 1 p.m – 6 p.m, Saturday 10 a.m – 1 p.m, Sunday: 12 p.m – 4 p.m

Phone: (03) 9658 9998
10) See The City For Free On The City Circle Tram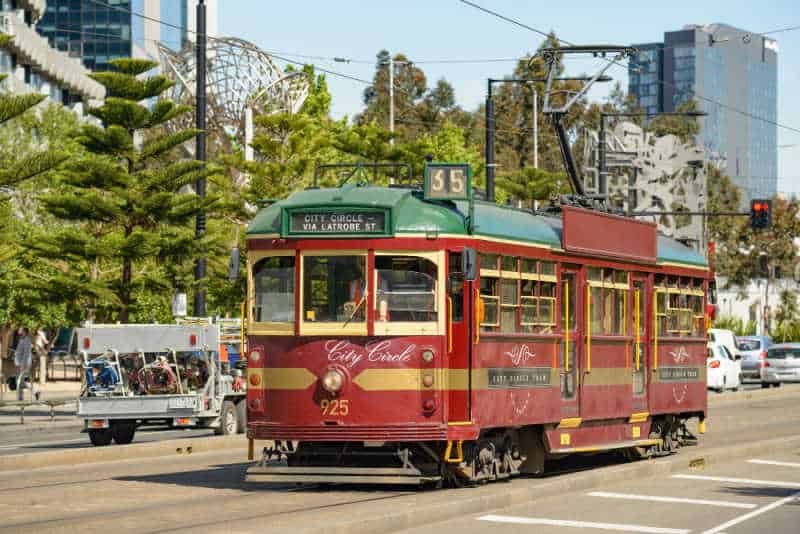 The City Circle Tram in Melbourne is primarily a tram designed for tourists. Look out for tram stops displaying the City Circle sign, and you can hop on board to see more of the city.
The tram stops at several Docklands locations, including South Wharf, the Stadium Precinct, Docklands Park, and Central Pier.
This free-to-use tourist tram also visits other parts of the city. These include various stops in the Flinders Street and La Trobe Street areas, plus East Melbourne.
Why not jump on and see where one of Melbourne's iconic trams will take you?
11) Step Into A World Of Illusion At ArtVo Melbourne
ArtVo Docklands in Melbourne offers a contemporary take on the classic art gallery experience.
Here it's all about optical illusion murals on a grand scale. And it's actually more of a modern 'trick art' venue or immersive art museum than your average gallery.
This place is great fun for visitors of all ages – make sure everyone comes with a fully charged phone or camera!
The photo opportunities are endless, and allow visitors to merge seamlessly with what's on display.
Across the 11 themed zones you can also find interactive sculptures.
ArtVo Melbourne

Where: 26 Star Crescent, Level 1 The District, Docklands 3008

When: Monday – Friday 10 a.m – 4 p.m, Saturday – Sunday 10 a.m – 6p.m

Entry: Adult: $30.00, Child: $20.00, Family: $88.00

Phone: (03) 9600 1118
12) Stroll The Docklands Public Art Walk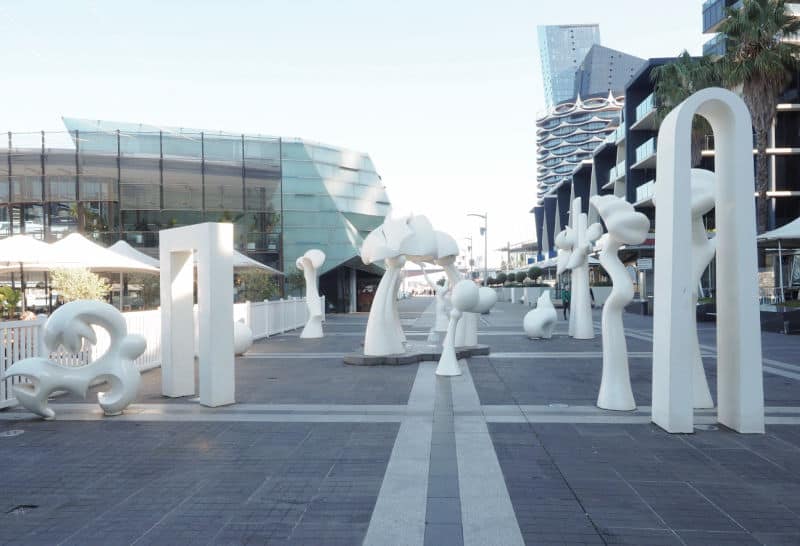 The Docklands Public Art Walk takes place outdoors, so you might want to save this one for a sunny day.
Your self-guided art tour will take you to 36 outdoor works of art that are scattered across the city's promenades, parks and buildings.
It usually takes a couple of hours to complete the walk fully, and again don't forget your smartphone or camera.
The map is free to download and will lead the way – as well as explain what you're seeing as you go along.
13) Drink Craft Beer At Urban Alley Brewery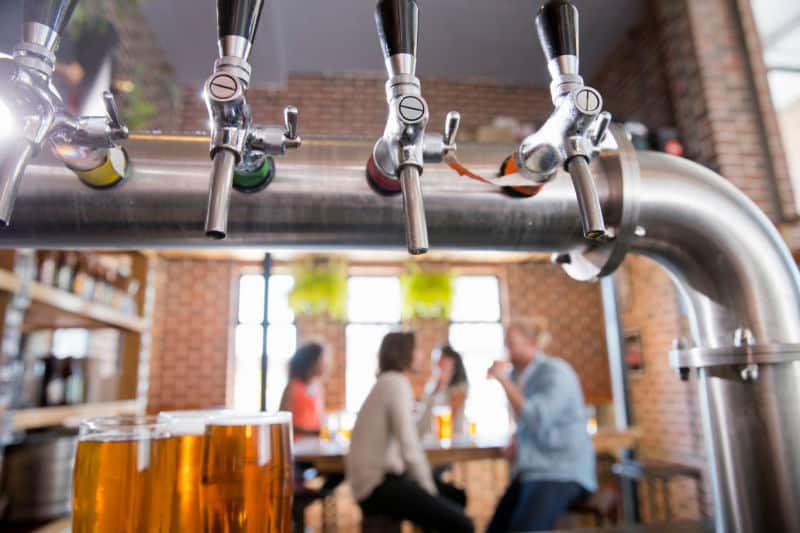 At Urban Alley in the Docklands you can experience a working urban brewery – as well as sampling the fruits of the employees' labour.
The pub here has an outdoor deck and dining room, and serves a menu featuring Australian favourites, burgers and pizza.
The Urban Alley Brewery at the Docklands offers dining, draft beers at the brewpub and of course the on-site craft brewery. You can also stock up on gifts – or supplies – at the brew shop.
Beers to buy include All Nighter, El Dorado, Lightning Bolt and more. Bottled, fruity barrel-aged sour ales named Glitter and Glimmer are also available.
Urban Alley Brewery

Where: 12 Star Circus, Docklands 3008

When: 7 days 12 p.m – 10 p.m

Phone: (03) 8080 9800
14) Unwind In Style At Sunset House Docklands
Food, drinks and a cool soundtrack await at this rooftop bar in the Docklands.
It's the pick of the Docklands pubs when it comes to views from the 15th floor, and also doubles up as one of the best Melbourne Docklands restaurants.
One of the things I like best about this bar are the sweeping 180-degree views of the city skyline you can enjoy while sipping an expertly mixed drink.
The cocktail and food menus here are colourful and fresh and are designed for sharing and casual grazing.
Sunset House

Where: 15th Floor Marriott Hotel, 15 Waterfront Way, Docklands 3008

When: Sunday, Monday – Thursday: 4 p.m – 9 p.m, Friday – Saturday 2.pm – 10 p.m

Phone: (03) 8638 6000
15) Take The Portarlington Ferry To Victoria's Hidden Gem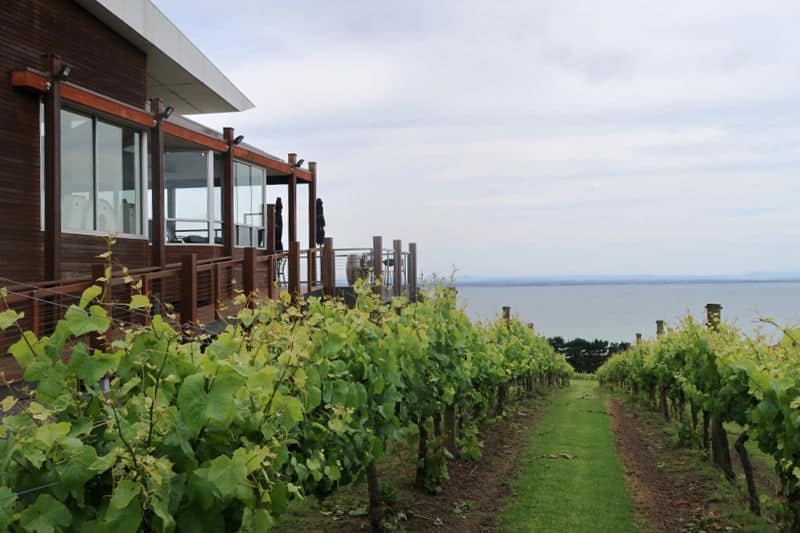 Port Phillip Ferries operates a Melbourne Docklands to Portarlington ferry service. This operates twice per day, and the trip takes around an hour and 10 minutes.
The cruise across the bay is enjoyable in itself, and after arrival, you can then explore this coastal and historic Bellarine Peninsula town as well as the nearby wineries.
Taking the ferry to Portarlington offers visitors to Melbourne an easy way to see an attractive Australian town by the sea – without the effort of driving or working out how to get there.
As well as beautiful views, the town is famous for fresh mussels, so be sure to try some during your day trip.
Click here for ferry tickets and times.
16) Hop On The Geelong Ferry To See The City By The Bay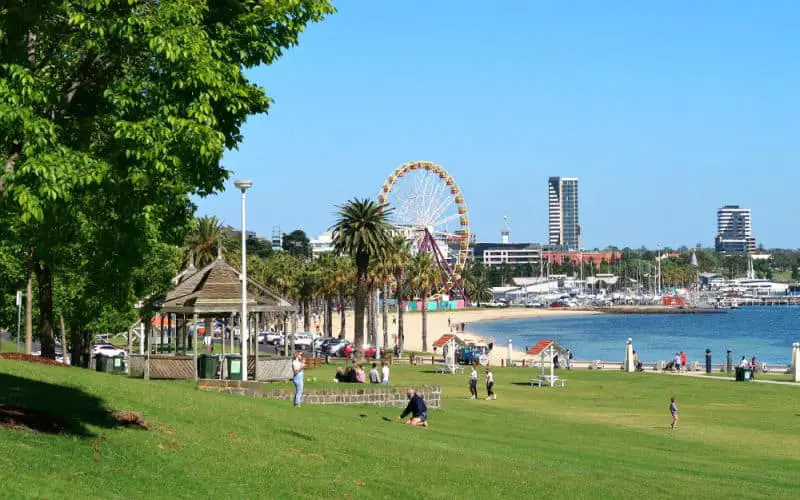 As another alternative to Docklands boat hire, you can also take a ferry to Geelong from the Docklands in Melbourne.
It does take a little longer as the ferry travels via Portarlington, but at just over an hour and a half it is so worth it.
There's heaps to do in Geelong once you get there, and of course, you get to enjoy a scenic trip across the water too.
Geelong waterfront is very popular with tourists and locals, and there's plenty for grown-ups and kids to do once you arrive.
Here you can enjoy Eastern Beach and the promenade, the beautiful Geelong Botanical Gardens, as well as restaurants, cafes, and bars.
A colourful old carousel and Giant Sky Wheel can also be found at the waterfront, among many other attractions.
Click here for more information.
17) Eat At The Best Restaurants in the Docklands, Melbourne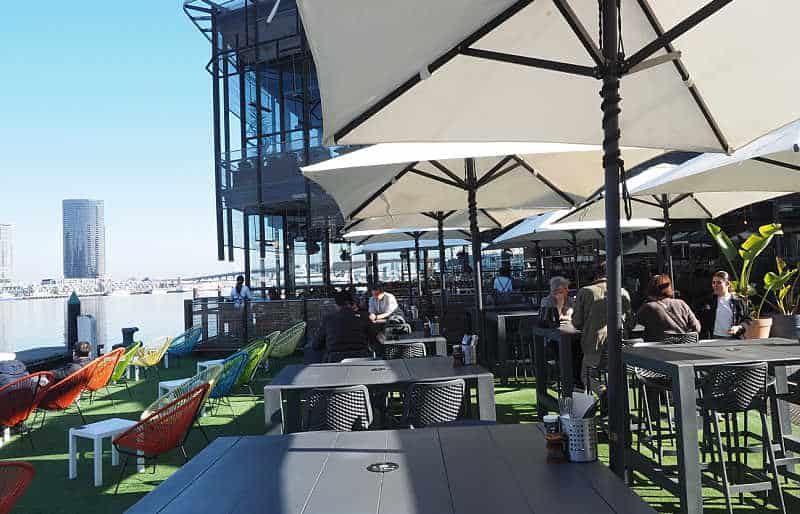 There are some great restaurants in the Docklands in Melbourne. Dining here can mean enjoying river views, and you can also drop into the local bars for pre or post dinner drinks.
The best restaurants in the Docklands include Steakhouse 66. This steakhouse in the Docklands is a grill with glass walls, a heated terrace, inventive mains and indulgent desserts.
Other options include The Hof Docklands, which serves Bavarian food and beer.
Cargo in the Docklands is another top pick. Cargo restaurant in the Docklands is a lively venue open from 11 am until late, and it has a spacious beer garden.
It's a walk-in restaurant first and foremost, so get there early if you want a good table.
18) Raise A Glass (Or Two) At The Best Docklands Bars
You can also dip into some Docklands bars whenever you feel like a drink or bite to eat in Melbourne.
Hightail Docklands is a bar and grill in Collins Square serving drinks and food on weekdays. Platform 28 in the Docklands is also popular for drinks or dinner and is located in what was once a railway shed.
For river views, head to The Wharf Hotel Melbourne which has sports on the TV and a fireplace to gather around. When you're hungry you can order sharing plates and casual bistro-style meals here.
The Marriott Hotel Docklands also offers a cocktail bar by the rooftop infinity pool.
19) Find A Bargain At The Docklands Markets
If you feel like a spot of retail therapy, you can shop at a selection of Docklands markets in Melbourne.
The Docklands Sunday market is probably the most popular, and this takes place weekly on the waterfront.
You can buy everything from clothes and accessories to freshly hand-baked goods at this Docklands community market. It's open between 10 am and 2 pm every Sunday.
The Maker's Market at the District is the place to go for one-off finds brought to you by Melbourne's more creative types, and is held at the District Docklands precinct.
It takes place on the last Sunday of the month, from 11 am to 4 pm.
20) View The Displays At Magnet Galleries, Melbourne Docklands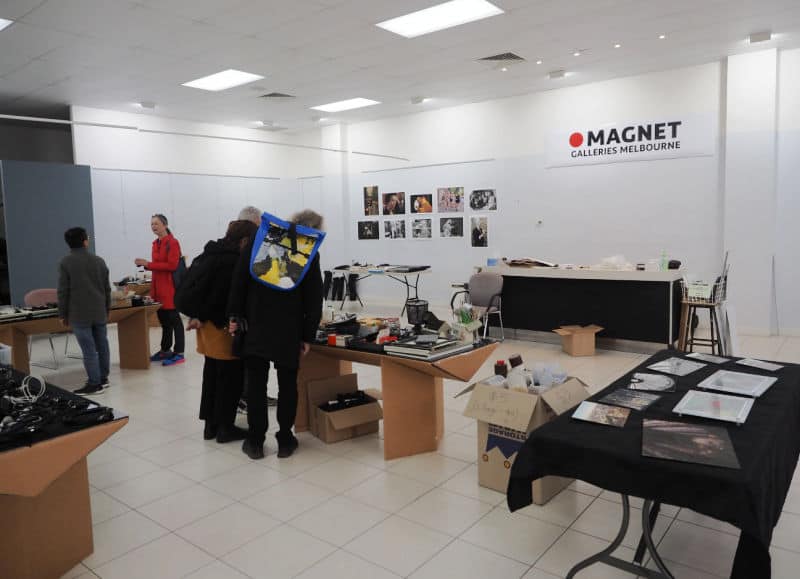 Magnet Galleries in Melbourne can also be found on Wharf Street in the Docklands area.
Australian photography is at the heart of this not-for-profit organisation. The idea is to create a 'living centre of photography', and Magnet is a registered charity and social enterprise.
Although many exhibits are the work of Australians, photography from all over the world is featured at Magnet Galleries.
There is also a bookshop and a library on the premises, venue spaces for hire, and regular market days.
Magnet Galleries is the perfect place to go if you want to discover photography that goes beyond the usual boundaries.
Magnet Galleries

Where: SC G19, Wharf Street, The District, Docklands 3008

When: Tuesday – Saturday 10 a.m – 4 p.m

Phone: (03) 8589 0371
21) Discover The Treasures At The Fox Classic Car Collection
The Fox Classic Car Collection is a Melbourne car museum comprising vehicles donated by the founder of Linfox.
Lindsay Fox's cars include some really sleek dream machines, such as A Porsche 550 Spyder, a Jaguar XJ220, a Ferrari F40 and Mercedes 300SL Gullwing.
The museum is also favoured by architecture enthusiasts, as it's housed in the old Queen's Warehouse building.
If you want to see cars formerly owned by the likes of Bing Crosby or a former Beatle, this is the Melbourne Docklands attraction for you.
Fox Classic Car Collection

Where: 749 – 755 Collins Street, Docklands 3008

When: Thursday & Saturday, some Sundays: 10 a.m – 2 p.m

Phone: (03) 96204086

Entry: From $6.00

Click here for more information.

Note: Prepurchased tickets with allocated viewing times are essential.
Map Of The Best Docklands Things To Do
You can find all the things to do at the Docklands we've listed on the map below.
Where To Stay At The Docklands
When you visit the Docklands you'll need somewhere to stay that's as memorable as your experience is.
My favourite hotel for a convenient location, fantastic views, and reasonable prices is Nesuto Docklands.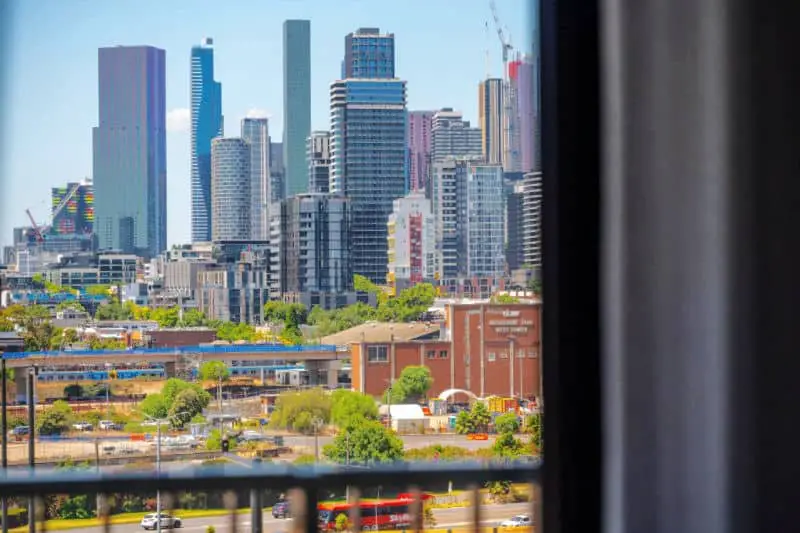 The spacious rooms at Nesuto feature a balcony with city views, cooking facilities, and there are plenty of restaurants nearby.
If it's luxury you're after then we recommend the Marriott Docklands. This 5 star hotel has everything you'd expect from a luxury hotel including a roof top bar and infinity pool.
The Travelodge Hotel Melbourne Docklands is a great budget option with comfortable rooms and cafes right outside the front door.
➡️ Click here to check out other amazing hotels in the Docklands.
Final Word
With so many Docklands things to do, the only question is where to start!
Do you fancy drooling over shiny, streamlined classic cars, shopping till you drop at the markets, seeing a 19th century ship or even taking a free ride on a tram to another part of the city?
You could also spend time uncover at the Ice House or Archie Brothers Cirque Electriq, or buy a ticket to a fixture at Marvel Stadium.
From dining at a steak restaurant in the Docklands, drinking at Hightail bar or sampling Bavarian beer at The Hof downtown to playing mini golf in the dark, taking a cruise or discovering art and history, the Docklands in Melbourne definitely offers something for everyone.
Recommended: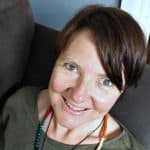 By Audrey Chalmers
Audrey grew up in Victoria and travelled the world but she always called Victoria home. She loves nothing more than exploring her home state and sharing it here.