Looking for the best restaurants in Torquay?
You're in the right place. The Torquay food scene really is thriving right now.
Whether you want to find Torquay restaurants on the Esplanade with sea views or are happy to wander inland a little for a fabulous feed, there are some great restaurants in Torquay to choose from.
A couple of the following options even brew their own craft beers just metres away from your table.
For those seeking vegetarian restaurants in Torquay the town also has lots to offer, as the vast majority of these restaurants have a good range of meatless dishes on their menus.
Join our Great Ocean Road Travel Planning and Tips Facebook Group here. It's the perfect place to ask your questions and be inspired!
There's plenty to pick from when you want to dine out in Torquay.
Read on to find your new favourite eatery in this glorious spot right at the start of the Great Ocean Road.
Here are 15 of the best restaurants in Torquay, Vic. Which one will you try first?
From pasta and pizza to bao buns, steak, tacos, burgers, and brunch dishes, there's something for everyone right here.
15 Of The Best Restaurants In Torquay
Is the best restaurant for you an Italian restaurant in Torquay, a Torquay Indian restaurant or a Japanese restaurant in the Torquay area?
Whichever you prefer, you'll find it below.
1) Bomboras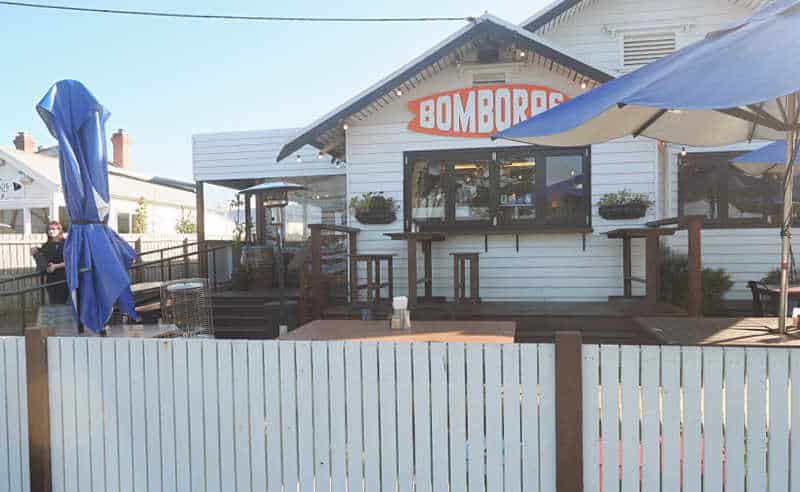 Bomboras Torquay is a laid-back seaside eatery in a prime position right on the Esplanade.
A white weatherboard exterior, royal blue umbrellas, and wooden furniture give this place a fun coastal vibe.
There's also a spacious covered deck for when there's wet weather or if the sun's just too strong to be outside.
With all-day dining options, this is one of the best places to eat in Torquay at any time of the day.
The main's menu includes dishes ranging from lighter salads, pizza and pasta to barramundi with macadamia and ginger, a simple grilled porterhouse steak or ribs glazed with bourbon and BBQ sauce.
The pop-up bar is also open during afternoons and evenings on selected dates and often hosts live musicians.
A scattering of colourful bean bag seats gives you somewhere to relax, drink in hand, as you watch the sun go down over the Surf Coast.
Where: 37 The Esplanade, Torquay 3228

When: Mon, Wed, Sun: 6 a.m – 3 p.m, Thu, Fri, Sat: 6 a.m – late,

Closed Tuesday

Phone: (03) 5264 7881
2) Squires Loft
Also located on Bell Street is Squires Loft Torquay.
It's one of the top steak restaurants in Torquay, and it's been supplying local restaurants with perfectly prepared prime cuts since the mid-1990s.
Committed carnivores who want to sample dinner in Torquay needn't look anywhere else.
With 'degree of doneness' descriptions on the first page of the menu, you know this is a place that takes its steak seriously.
There are other options, however, such as plates based on fried halloumi or charred broccoli.
The entrees list includes other meats and seafood too, such as chicken or King prawn kebabs, or you can opt for a meatless baked mushroom.
With mains, it is pretty much all about the steak, though there are several other options including veggie kebabs or Atlantic salmon.
Where: 6/15 Bell Street, Torquay 3228

When: Wed – Sun from 5.30 p.m

Phone: (03) 5261 4304
3) Fisho's Torquay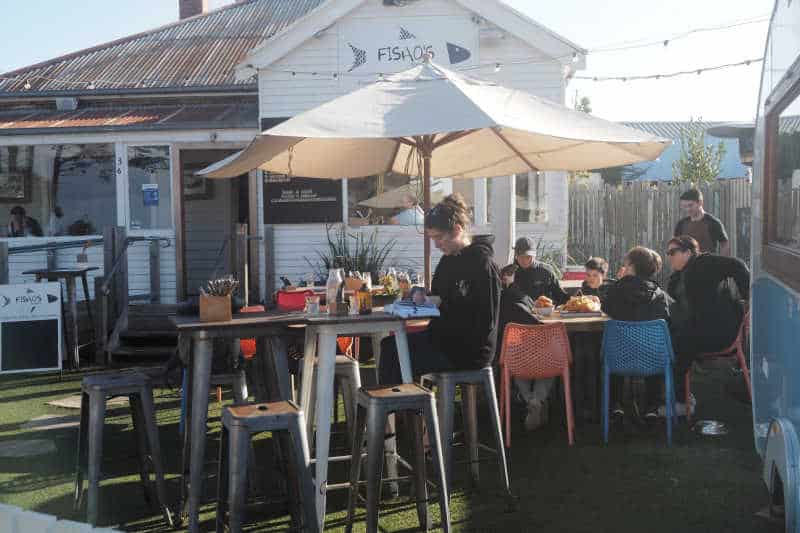 With a beachside position on the Esplanade and a focus on ocean produce, Fisho's in Torquay prides itself on offering the freshest, sustainably sourced local seafood.
For those who want to find seafood restaurants in Torquay with a relaxed feel, your search may well be over.
Looking after the region's beaches is also paramount here, and the restaurant has pledged to stop using any single-use plastics.
Top quality spuds from nearby farms are used for the hand-cut crispy golden chips, though there's more to the menu than superb fish and chips.
The sharing platters serving 4 diners offer great value and feature an interesting mix of ingredients such as arrow squid and gummy shark with sweet potato cakes or chargrilled veggies.
Other mains available include fish tacos or a poke bowl.
Where: 36 The Esplanade, Torquay 3228

When: 7 Days 12 p.m – 8 p.m

Phone: (03) 5264 7739
4) Torquay Hotel Bistro
The bistro at the Torquay Hotel on Bell Street is one of the best restaurants in Torquay to go to when you want something to please everyone.
This classic coastal Torquay pub serves up an impressive selection of delicious dishes in the spacious dining room, or you can enjoy a more casual bite to eat in one of the bar areas.
The Parrilla Grill is a key feature here, using wood smoke and coals to produce deep, satisfying flavour sensations.
Options are inventive – think Za'atar spiced chicken, chorizo sausage or Atlantic salmon, with interesting sides, plus a choice of steaks.
Other menu options range from an Indonesian style Nasi Goreng or wok-tossed salad to clam chowder or baked semolina.
There's also a good choice of drinks, small or sharing plates, and several tempting desserts to pick from.
Where: 36 Bell Street, Torquay 3228

When: Mon – Sat 9 a.m – 5 a.m, Sun 10 a.m – 5 a.m

Phone: (03) 5261 2001
5) Pholklore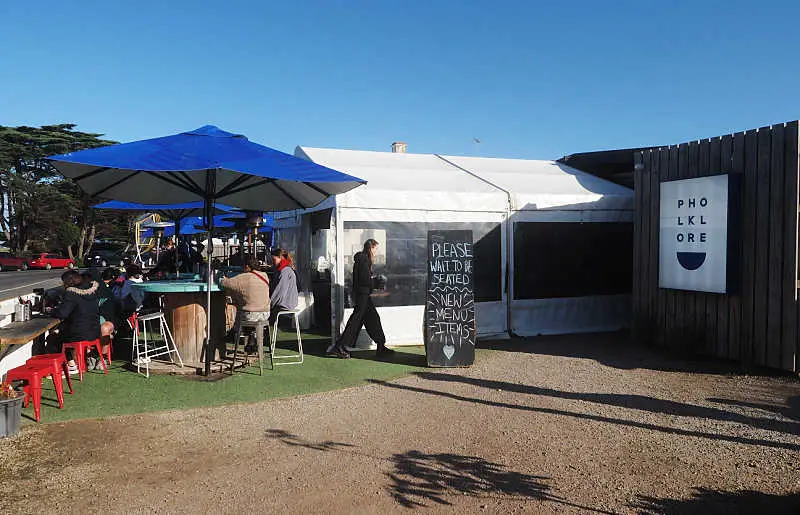 If you're looking for something a little different among restaurants in Torquay, Victoria, why not book a table at Pholklore Torquay?
Also situated on the Esplanade, this eatery specialises in Vietnamese street food.
Fusion cuisine is also a big thing here, with the substantial pho bowls combining flavours from Malaysia, Japan, Thailand, and more.
Vietnamese bread rolls are also hugely popular, and the selection of freshly-baked options varies on a daily basis.
The inventive range of fillings for these includes Vietnamese bolognese, tofu, or Katsu curry.
Other menu favourites at Pholklore include handmade spring rolls with pork or veggies, noodle bowls with pickles, peanuts and dipping sauce, rice paper rolls stuffed with seafood, duck or salad, or small seafood or meatless plates.
Where: 38 The Esplanade, Torquay 3228

When: Mon – Thu: 5 p.m – 9 p.m, Fri – Sun: 12 p.m – 9 p.m

Phone: (03) 5261 4270
6) Roku Den
If you're craving Japanese in Torquay, then Roku Den is the place to go.
It's a local eatery specialising in seafood and sushi that echoes the surf culture of this world-famous region.
Roku Den in Torquay also makes a firm commitment to protecting the local environment.
Favourite dishes at Roku Den include the likes of pulled pork steamed bao buns, deep fried Nori chicken or salmon sashimi.
Whatever you order, the entrees, sushi rolls, sharers, and salads are all very attractively priced.
There's even a kids' option comprising a chicken rice bowl with vanilla ice cream and chocolate sauce for dessert.
Roku Den is located centrally in Bell Street and features a sleek, Asian-style decor within, with lots of polished wood, spotlights, and cherry blossom artwork.
Where: 34a Bell Street, Torquay 3228

When: Mon – Wed 5.30 p.m – 9 p.m, Thu – Sun: 12 p.m – 9 p.m

Phone: (03) 5264 6190
7) Pearl
Pearl in Torquay is no gemstone of the Orient – rather, this is one of the best Italian restaurants in Torquay.
The menu changes constantly and features an array of tempting pasta dishes, plus top quality local wines to wash it all down with.
The decor features deep, dramatic tiled walls contrasting against plain pale grey and patterned monochrome tiles plus industrial-style copper lampshades.
Warm wooden tables and slick black seating complete the look.
As for the menu, much of it can be found on the chalkboards, which showcase a range of daily specials. This also applies to the wine list.
There's a good mix of delectable meat and vegetable pasta to suit all tastes at the stylish Pearl restaurant in Torquay.
Where: 8 Pearl Street, Torquay 3228

When: Wed – Sun from 5.30 p.m

Phone: (03) 5261 7017
8) Doc Hughes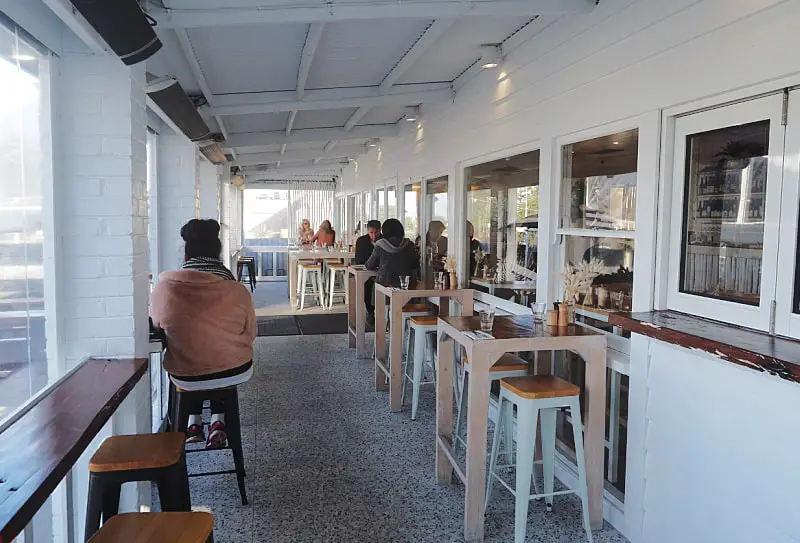 Doc Hughes in Torquay is another spot ideal for those seeking a restaurant in Torquay on the beachfront.
Outside there's a large, laid-back patio with striped umbrellas and picnic-type seating, while within it's incredibly light and bright.
There's lots of blonde wood and white walls, with pops of greenery thanks to the addition of potted plants.
Doc Hughes is an all-day eatery serving breakfast, brunch, lunch, and dinner.
It also does double duty as a cocktail bar, so you can sip a concoction such as an Angel Martini, a Smokey Maple Old Fashioned, or a Grand Margarita while listening to the waves lapping against the shore.
If you've overdone things the night before, Doc's Remedy might be just what you need.
Food-wise, the choices are contemporary with lots of worldwide influences.
Pick between dishes like fish and chips, chilli and lemon squid, kangaroo gnocchi, avocado and wild mushroom risotto, and roast pumpkin salad.
There are several irresistible desserts to round things off with too.
Where: 23 The Esplanade, Torquay 3228

When: Tue – Sat: 8.30 a.m – late, Sun – Mon: 8.30 a.m – 4 p.m

Phone: (03) 4216 6860
9) Blackmans Brewery
Blackmans Brewery Torquay is another of those local places which also has branches elsewhere. 
In addition to Blackmans Torquay, there are venues in Geelong and Ocean Grove.
While Blackmans is primarily a local craft brewery, it's also one of the top Torquay restaurants for lunch or dinner.
The Torquay Blackmans has been styled as a pizza bar, though there are plenty of other options for hungry diners.
Whether you order a burger, a wood-fired pizza, or fish tacos, there are various local craft beers to sip as you enjoy the relaxed ambience of this local brewery and diner.
If you're not a fan of beer not to worry, there's also a decent wine list and even a few cocktails to choose from.
Where: 26 Bell Street, Torquay 3228

When: Fri – Sun from 1 p.m

Phone: (03) 5261 5310
10) Frontbeach Taphouse & Restaurant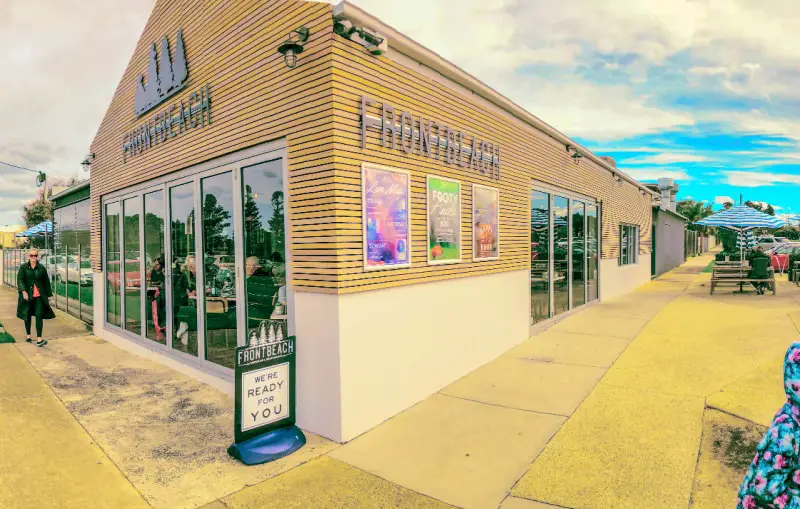 Frontbeach Taphouse & Restaurant is another of those restaurants Torquay, Vic that brews its own range of craft beers on site.
Here you can enjoy a sea view while sampling brunch dishes or relaxed, bistro-style fare.
There are several weekly events to look out for here, placing Frontbeach among the top restaurants in Torquay for Wednesday, Thursday, and Friday nights in particular.
On Wednesdays, there are specials comprising a delicious dish plus a drink, while Thursday is gnocchi night. On Fridays, enjoy live music and an all-night happy hour.
Menus include the Bagel Club featuring fillings like chicken schnitzel, beetroot and pastrami, or the brekky bagel with bacon, scrambled eggs and more.
The regular lunch and dinner menu is helpfully divided into smaller and bigger plates, on-the-side picks, and a list of children's options.
Frontbeach Taphouse & Restaurant Torquay

Where: 16 The Esplanade, Torquay 3228

When: Mon – Fri: 12 p.m – late, Sat – Sun: 8.30 a.m – late

Phone: (03) 5261 9752
11) Lentils Indian Cuisine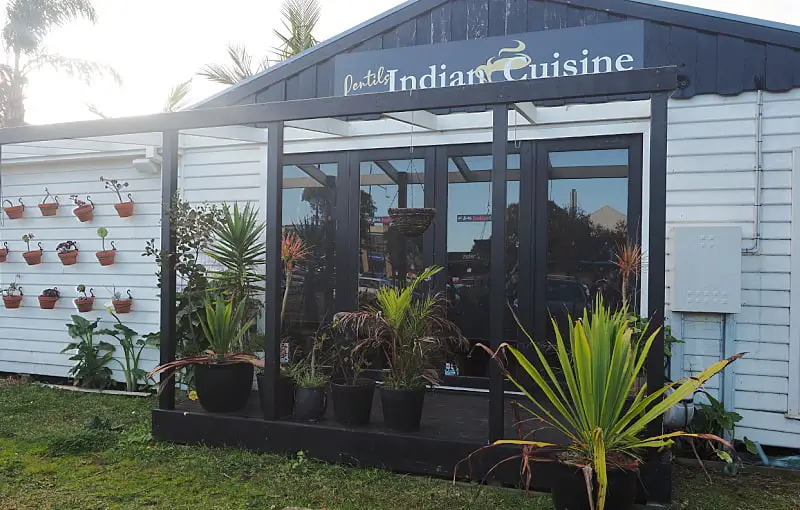 For those in search of something spicy, this Indian restaurant in Torquay is another firm favourite.
Lentils Indian Cuisine is for many the best Indian restaurant in Torquay – and has relocated to larger premises on Cliff Street.
Lentils Torquay offers a range of meat and vegetable based dishes to suit all diners.
Reflecting the diverse cuisine of India is the owner's aim, and there are even Indian beers to complete the authentic experience.
While the interior decor is simple, the dining room is flooded with light thanks to full-length windows.
Whether you order tandoori chicken that's char-grilled to perfection, a flavour packed rice dish, a traditional curry or a succulent kebab, this Indian in Torquay is guaranteed to please the spice loving palate.
Where: 1 Cliff Street, Torquay 3228

When: Mon – Wed: 5 p.m – 11 p.m, Thu – Sun: 12 p.m – 11 p.m

Phone: (03) 5209 2258
12) Perla Tacos
If the idea of eating Mexican in Torquay appeals, then Perla Tacos is the local, coastal eatery for you.
As the pick of the Mexican restaurants in the Torquay area, this place will please anyone with a penchant for classic Mexican fare – plus an expertly-mixed margarita or two to wash it down with!
Once you're inside the venue, you can expect quick friendly service and some of the tastiest Mexican food around.
Menu-wise it's all about traditional dishes with fresh, clean flavours. The tacos are always a hit, but no matter what you choose, you won't be disappointed.
Tacos can be filled with chicken, chorizo, fish, or prawns, and the burrito bowl choices include slow cooked beef. tender chicken with chipotle sauce, and vegetarian options.
There's plenty of hot sauce too if you're looking to spice it up.
Perla Tacos

Where: 9/61 Surf Coast Highway Zeally Bay Road, Torquay 3228

When: Tues – Sat: 12.00 p.m – 2.00 p.m, 4.30 p.m – 8.00 p.m

Phone: (03) 4241 2290
13) Bob Sugar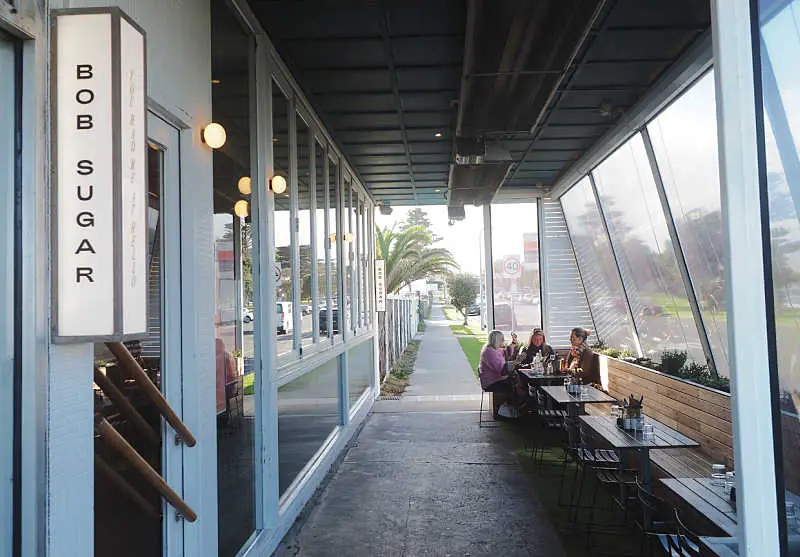 Bob Sugar serves up delicious Asian fusion fare on the Esplanade by the beach in Torquay.
There are Bob's banquets for feeding a crowd (in fact, if there are 6 or more of you then you must pick from these options) while the Date Night menu for two offers great value, and covers all bases from nibbles to desserts and drinks via small and large plates.
There are interesting vegetarian options dotted throughout the menu, such as agedashi tofu, the okonomiyaki pancake, jackfruit bao buns, and pumpkin curry.
For seafood fans, there's the likes of Thai oysters and coconut clams, while keen meat eaters may go for Korean fried chicken, slow-cooked duck bao buns, or the Penang curry made with beef cheek.
The cocktail list offers around 14 options ranging from Berry Maguire or Skinny Bob to the Bangkok Mojito, Bob Zombie, or Rum Dog Millionaire.
There are several mocktails too, plus a pretty extensive wine list.
Where: 17 The Esplanade, Torquay 3228

When: 7 Days 11.30 a.m – late

Phone: (03) 5261 6032
14) Bird Rock Jan Juc 
On Princes Terrace close to the lookout of the same name is Bird Rock Jan Juc.
It's one of those Torquay restaurants for dinner with a cool vibe, an appealing drinks list and a menu featuring various South East Asian favourites.
In winter, the log burning stove also creates a cosy ambience while guests mingle at the dark wooden tables.
Come Sunday and it's all about the Yum Cha set menu, which includes a pot of the signature Tipsy Toddy as well as a selection of mildly to generously spiced dishes.
Menu options include soups, bao buns, salads, dumplings, sharers and gzoya, and there are plenty of meat-free options in the mix.
Save space for dessert if you want to sample their unusual dessert bao. A charcoal bao that's deep fried and served with mint chocolate chip ice cream.
Where: 2 Princes Terrace, Jan Juc 3228

When: Wed, Thu, Sun: 5 p.m – 9 p.m, Fri – Sat 5 p.m – late

Phone: (03) 5261 6743
15) Samesyn
**Temporarily Closed**
The pick of the places to eat in Torquay for those seeking lunch or dinner with a local flavour is Samesyn.
With a menu that reflects the seasons and the region, there is a firm focus on fresh produce and fine wines from the area.
Samesyn Torquay was named to represent togetherness, with people sharing good food with friends and family.
The correct pronunciation, incidentally, is sah-me-san, and the term is an Afrikaans one.
Set menus are the way to go here with a Wednesday to Friday option or one for Saturdays only. Great Ocean duck can be added to either.
A typical feast at Samesyn may include a King salmon taco, Jerusalem artichoke, slow cooked lamb, Muray cod, or fried polenta.
Samesyn Torquay Restaurant

Where: 3/24 Bell Street, Torquay 3228

When: Dinner from 5.30 p.m Wed – Sat, Lunch from 12 p.m Saturday

Phone: (03) 5291 9117
Torquay Restaurants Map
Below we've included a map that shows the exact location of each Torquay restaurant we've listed here.
Best Torquay Restaurant | Final Word  
I hope you've found this Torquay restaurants guide useful.
We've covered all bases with options to suit those seeking vegan restaurants in Torquay, Mexican Torquay restaurants serving delicious dishes from southern North America, or Indian restaurants in Torquay for a taste of the Indian subcontinent.
But, whatever your favourite flavour and location, the ideal eatery for your next Torquay visit is bound to be somewhere on this list!
If you're travelling the Great Oean Road, then check out our 4 day itinerary, the top places to visit in Anglesea, the best Apollo Bay things to do, or the 10 must-visit waterfalls in Lorne.
Read all our Victoria Guides here.
Recommended: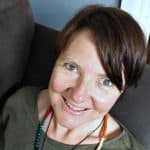 By Audrey Chalmers
Audrey grew up in Victoria and travelled the world but she always called Victoria home. She loves nothing more than exploring her home state and sharing it here.